Irresistibly Divine Peach and Exotic Fruit Jams Whipped Up by KEITA MARUYAMA
Fashion desinger KEITA MARUYAMA's lifestyle line CASA KEITA is collaborating with the pastry shop Equal to release a collection of two luscious jams in Japan. This marks KEITA MARUYAMA's step into the world of food.
The two jams get their names from previous KEITA MARUYAMA collections: SWEET SWEET SWEET and EXOTICA, both of which are sold in mini textile bags.
SWEET SWEET SWEET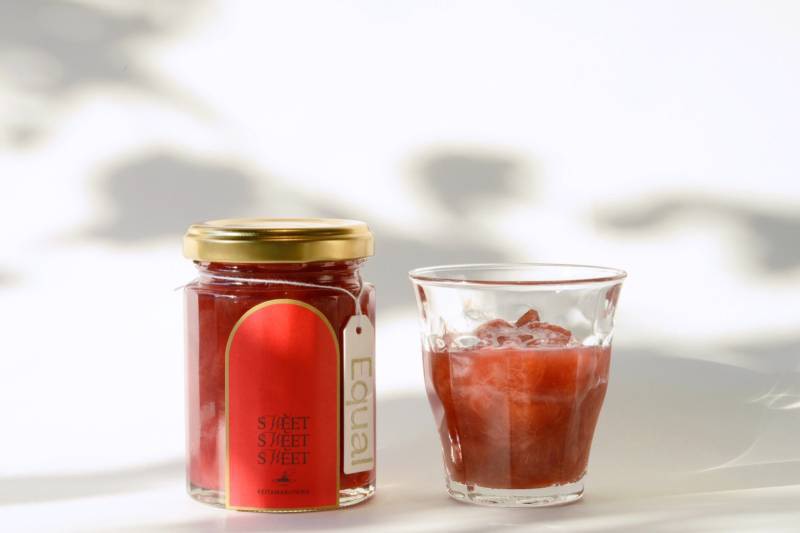 SWEET SWEET SWEET uses a base made from white peaches grown in Yamanashi Prefecture. A hint of sourness is added by griotte cherries.
EXOTICA
Okinawan pineapples are mixed with passion fruit, coconut, and lime to create an exotic flavour, which is enhanced with the scents of galangal and kaffir lime leaves.
Bagged Jam Set | ¥8,000 (Before Tax)
The textile bags can be reused for a multitude of things, like storing small cosmetics, your wallet or purse, smartphone, and so on.
The jam set will be released both in-store at KEITA MARUYAMA in Tokyo on August 20 as well as online from 21:00 (JST).
RELATED ENTRIES
Fruit Packed Sandwiches Get Whipped Up at Limited-Time Shop in Tokyo

The fruit sandwich eatery Maruichi Seika has opened a pop-up shop on the second floor of Kita-Senju Marui in Adachi, Tokyo. The shop is a collaboration between the popular local restaurant Ippo Ippo and Maruichi, a long-standing and much-loved fruit shop.

Fruit is the key ingredient at Maruichi Seika where they want customers stuffing their cheeks with strawberries, oranges, pineapple, and more. Fruit is packed into fat sandwiches and combined with mascarpone cheese for a filling treat. The bread is provided by Furansuya, a local bakery in Kita-Senju that has been running for over 10 years.

A Select Look at the Line-Up

Sky Berry | ¥740 (Tax Included)

This sandwich is named after a particular variety of strawberry is known as the Sky Berry. It's sourced from Tochigi Prefecture and is known for its superior sweetness, juiciness, and the fact that it's low in acidity. Ordering this lets you enjoy three different kinds of well-known strawberry: the titular Sky Berry, the Tochiotome which is also from Tochigi, and the classic Amaou from Fukuoka.

Setoka | ¥840 (Tax Included)

The Setoka is a rare and super sweet, full-bodied citrus fruit that's normally given as a gift in Japan. In sandwich form, it enjoys a perfect balance of sweetness and tanginess.

Pineapple | ¥630 (Tax Included)

The Golden Pineapple from the Philippines is the variety used in this sandwich, packed with mouth-watering sweetness and offering a rich fruity fragrance.

Maruichi Mix | ¥740 (Tax Included)

This sandwich is a combination of fruits including the Amaou strawberry from Fukuoka, the Kanjuku Kiwi from Ehime, and the Premium Banana from the Philippines. It also contains the best picked mikan which are bought fresh from the market every day.

If you've never tried a fruit sandwich in Japan and are in Tokyo this winter, then don't miss out on Maruichi Seika's limited-time line-up.

Information

Maruichi Seika

Address: Kita-Senju Marui Floor 2F – Kitchen Garden 350

Address: 3-92 Senju, Adachi-ku, Tokyo

Kita-Senju Marui Official Website: https://www.0101.co.jp/084/

Vegan Food Heads to Tokyo Midtown at New FRUITS IN LIFE Juice Bar and Deli

FRUITS IN LIFE is a new fruit juice bar and deli set to open in Tokyo Midtown on March 2, 2021. The eatery will serve up a fruity vegan menu.

Slow Juice (6 Flavours) | ¥850 Each (Before Tax)

Smoothies (11 Flavours) | Medium ¥550, Large ¥700 (Before Tax)

Fruful 200 Set | ¥1,250 (Before Tax)

Smoothie Parfaits: Avocado & Banana ¥1,000 (Before Tax) / Amaou Strawberry ¥1,250 (Before Tax)

FRUITS IN LIFE opens its first branch in Tokyo Midtown

Enjoy 200g of fresh fruits with Fruful 200

The menu is entirely plant-based ranging from smoothies and cold press slow juices to avocado toast made with a 100% whole wheat focaccia, the rice paper-wrapped salad baton filled with fruit and veg, and more. The lunch menu also includes the one plate Fruful 200 Set which contains 200g of fruits, and more. There's also fruit desserts like jelly and smoothie parfaits. The Avocado Banana Parfait is packed with vitamins and over 200g of fruits, is only 438ml, and is low in calories.

Information

FRUITS IN LIFE Tokyo Midtown
Grand Opening: March 2, 2021
Location: Tokyo Midtown Plaza Floor B1F

Address: 9-7-2 Akasaka, Minato-ku, Tokyo
Opening Hours: [Weekdays] 8:30-21:00 (Last Orders 20:30) / [Weekends & Holidays] 10:00-21:00 (Last Orders 20:30)

No Fixed Holidays
TEL 03-6447-1190
Fruful 200 Official Website: https://aoki-group.com/fruful200/
FRUITS IN LIFE Official Website: http://www.fruitsinlife.com/

Tokyo's Fruits Salon Serving Up a Full Gourmet Fruit Course

Fruits Salon, a fruit shop located on the second floor of Beauty Connection Ginza in Tokyo, introduced a new lineup of menu items on September 4 which will be available until mid October, all using seasonal grapes grown in Japan.

Fruits Salon opened in November last year and garnered much attention for its full course fruit dishes. Last month, the cafe served up the "Peach Full Course" which proved super popular. Now, they are offering a menu centred on juicy and sweet grapes.

Grape Full Course | ¥4,400 (Tax Included)

1st Plate: Apricot Tofu

2nd Plate: Dégustation

The grape course features three plates and a drink. It begins with a refreshing mix of Shine Muscat grapes, Delaware grapes, apricot tofu, and sake lees ice cream. The second plate is a tasting of four varieties of grape, while the third is a colourful and eye-catching parfait.

3rd Plate: Parfait

After-meal Drink

The parfait is served in a wine glass so you can see each layering of tasty ingredients.

The 90-minute course is reservation-only and invites you to both appreciate the appearance of as well as the taste of each dish.

Melon Parfait Alcohol Set | ¥2,178 (Tax Included)

The cafe is also serving its melon parfait alcohol set once more too for a limited time. It's made to really elevate the flavour of the melon.

If you're a fruit fanatic, then you won't want to miss out on Fruits Salon's new full course.

Information

Beauty Connection Ginza Fruits Salon
Address: GINZA gCUBE 2F, 7-9-15 Ginza, Chuo-ku, Tokyo
Opening Hours: 11:00-20:00
Closed: Tuesdays
TEL: 03-6263-8392

Official Website:  https://www.beauty-connection.jp/fruits/

The 'Junoheart' is a new variety of heart-shaped cherry grown in Aomori Prefecture. On July 2, 2020, they made their nationwide debut in Japan. Sales began at Kimura Fruits in Hankyu Umeda in Osaka.

Aomori Heartbeat (1 Box/2 Cherries): ¥2,160

The Junoheart cherries come in various sizes, including "4L" (over 3.1cm). One box of these high quality cherries contains just two. They are so cute they almost seem a waste to eat. They also make for a great gift to someone special.

Stay Home: 5 Simple and Kawaii Fruit Sandwiches to Try Making During the Lockdown

Here at MOSHI MOSHI NIPPON, we post news and information about Japan in six languages. Our aim is to deliver a variety of content related to Japan for those who love and enjoy Japanese culture.

Right now, people across the globe are in self-isolation as a result of the coronavirus pandemic. The same goes for Japan too, so we've taken this opportunity to create a new series on the website to show how we're spending time at home here in Japan. The future is yet uncertain, and we hope for normality to return for all of us soon. We created a new articles series called Stay Home with which we hope to take your mind off the situation, even for just a little bit, to help you feel calmer. It might give you some tips on what you can do while spending time at home.

In this edition of Stay Home, we're taking a look at five simple and kawaii fruit sandwiches that have been featured with the trending Japanese hashtag #おうちカフェ ("Cafe at Home"). Stuck for ideas for breakfast, lunch, or snacks? Then try making one of these super simple yet mouth-watering recipes.

1: Fruit Sandwich @tgm___n

naho's fruit sandwich is layered in a specific way to make the fruit look like flowers. You can add an artistic touch to your sandwiches with just a bit of prep.

Ingredients
・Bread ・Yogurt ・Strawberries ・Grapes

Method
1: Add Greek yogurt to the sandwich.
2: Cut the strawberries and grapes in a cross-section and stuff into the bread.
3: Wrap and leave in the refrigerator for one hour. Slice down the middle and you're done!

Mari's has served their fruit sandwich open-style and with plenty of fruit. The fresh cream and cream cheese adds a richness to the sandwich.

Ingredients
・Bread ・Fresh cream ・Cream cheese ・Fruits of your choice

Method
1: Layer cream cheese over the bread slices and then the fresh cream.
2: Top with your assorted fruit.
3: Cut into bite-size slices and tuck in!

3: Strawberry Cake Style Fruit Sandwich @_ll_rire_ll_

riE.'s fruit sandwich is just like a cake! By arranging it correctly, she has transformed her sandwich into a strawberry dessert.

Ingredients
・Bread ・Strawberries ・Fresh Cream ・Honey ・Cinnamon

Method
1: Slice a thick cut of bread in half and fill with fresh cream and strawberries.
2: Spread fresh cream on the outside and top with strawberries
3: Drizzle with honey, sprinkle with a little lemon, and enjoy!

4: Cocoa Bagel Fruit Sandwich @chiezzz8

chie's fruit sandwich is made using homemade cocoa bagels and ponkan orange, creating a sweet and sour flavour combination.

Ingredients
・Cocoa bagels ・Ponkan orange ・Greek yogurt ・Cream cheese

Method
1: Mix Greek yogurt and cream cheese to a ratio of 1:1.
2: Cut the bagels in half and add your yogurt and cream cheese mix.
3: Add the ponkan orange and enjoy!

5: Hot Banana & Oreo Crispy Tiramisu Sandwich @ks.daidokoro

Kancho makes lots of different hot sandwich recipes. This is a simple one you can make using a frying pan.

Ingredients
・2 slices of bread ・5 Oreo Crispy Tiramisu ・Greek yogurt to taste ・1 banana ・30g shredded cheese ・Cinnamon powder to taste ・Honey to taste

Method

1: Top one slice of bread with Greek yogurt and add half the shredded cheese.
2: Add the Oreos (and fill the empty spaces with smashed Oreos).
3: Top with sliced banana, the cinnamon powder, and honey.
4: Add Greek yogurt and the rest of the shredded cheese to your other slice of bread.
5: Toast in a frying pan and press. Fry until both sides are a light brown and enjoy!

Bring the cafe experience into your own home with one of these 5 simple recipes.

Get Peachy With Starbucks' Peach On The Beach Frappuccino® This Summer

Starbucks will be releasing their fourth round of summer seasonal drinks. From July 19th, Majority of Starbucks cafés across the country will start to sell the Peach on the Beach Frappuccino®. 

Small boulders of white peach fill the cup, allowing you to enjoy the fulfilling texture of fruit. The sweet, fruity taste will fill your mouth, making your tastebuds want to dance with excitement. 

The frappuccino also contains bright peach sauce, luxurious peach pieces and peach purée. After sinking into the ripe peach pieces, the flavour will melt on your tongue and spread through your mouth. The pinkness of the peach drink will really put you in a peachy mood perfect for the summer! Don't miss out. 

Information

Peach on the Beach Frappuccino®

Price: Tall ¥620 (Tall size only)

※List price shown above (before tax).

Available: July 19 ー August 29, 2019 

Available at majority of Starbucks Cafes in Japan.

※ Sales will end once all stock is depleted. 

Website: https://www.starbucks.co.jp/

Three Perfectly Peachy Parfaits This Summer In Nagoya

Summer is the perfect time to enjoy Japanese peaches, which are particularly juicy and sweet around this time. Peaches go well with red bean paste, cream and a variety of other flavours, which is why you will be seeing a lot of peachy desserts this summer. You just have to try them!

Today, Instagrammer meme, who is a big fan of cute and stylish cafés, will be introducing you to peach parfaits that you absolutely must try in Aichi prefecture.

BLUE STAR CAFE(ブルースターカフェ)/Nagakute

BLUE STAR CAFE has started selling a peach parfait. The peaches are so sweet and juicy that I was moved to tears. The parfait is made up of fresh cream, vanilla ice cream, peach sherbet and frozen peach. It is simple, delicious and very satisfying. 

▼BLUE STAR CAFE

Address: 504 Tsukada, Nagakute, Aichi

TEL:0561 42 6878

Official Website: https://bluestar-cafe.com/

Halleloo Garden(ハレルゥ ガーデン)

I was just waiting and waiting for Halleloo Garden to release their peach parfait and I was far from disappointed. Just looking at the pretty pink peaches is enough to get your mouth watering. When you cut into the peach, it will explode with colourful popping boba. What a fun parfait.♡

The parfait is made up of a variety of fruits including melon, blueberries, grapefruit and apple. It also contains vanilla ice cream, custard, fresh cream, and dried fruit too. Be aware that the contents of this parfait will change according to the season. 

This peach parfait also comes with peach-flavoured black tea with boba. Add this to your parfait and notice the change in flavour as your parfait becomes a milk bubble tea! This was my first experience of popping boba. It was such a fun experience to bite into the boba and feel them explode, flooding my tastebuds with a delicious juicy flavour. Whether Halleloo Garden can serve this parfait seems to be dependent on whether they can receive peaches from their supplier, so I recommend phoning up the café before you turn up to if you want to try this. 

▼Halleloo Garden

Address: Kami-222-1 Miyoshicho, Miyoshi, Aichi

TEL: 0561 56 1080

Official Website: http://www.halleloo.jp/

merry café(メリーカフェ)/Toyoake

merry café serves a beautiful peach parfait that looks just like a bouquet of flowers.

The simple peach compote allows you to enjoy the natural deliciousness of the peaches. During this season, finding peaches that are highly sweet can be a bit of a hit or miss, however there is no doubt that they will be sweet when made into a compote. It was a delicious peach parfait. ♡

▼merry café

Address: 7-18 Komochimatsu Shindencho, Toyoake,

TEL:0562-91-3230

Opening Hours: 11:00 ー 15:00, 17:30 ー 22:00

Official Facebook Page: https://ja-jp.facebook.com/merrycafe1218/

All these pink peach treats look so beautiful. This peachy season is the perfect time to wrap yourself in the wonderful fragrance of sweet peach. Please check out meme's Instagram which is full of information on cute cafés you can visit for delicious desserts. 

Author/ Photographer: meme