teamLab to Open Permanent Exhibition at the New Digital Art Centre 'Nowhere' in the Netherlands
Art collective teamLab is set to open a permanent exhibition at Nowhere, the new immersive digital art centre which will open in Utrecht, Netherlands in 2024.
Nowhere is a 3,000 m² digital art space which teamLab will transform into a breathtaking, ever-changing, immersive, and interactive art world.
Nowhere's exhibition will be dedicated to teamLab and their immersive digital art installations which we have covered extensively. Their exhibitions are a collaboration of art, technology, and nature, and encourage audience participation which results in the art pieces changing form, colour, shape, and so on.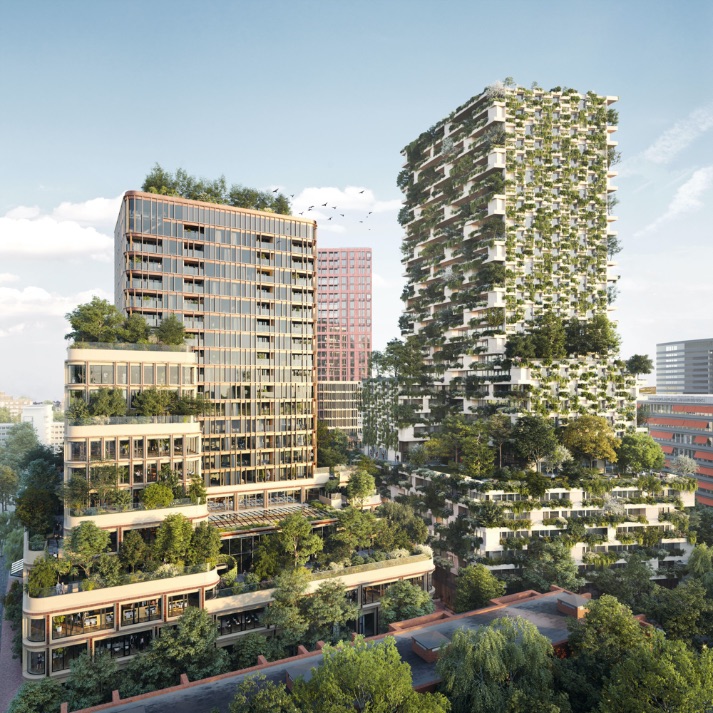 Numerous exhibits from teamLab will be on display including, but not limited to Future Park and Athletics Forest. The former is based on collaborative creativity and co-creation, encouraging participants to be creative with others, while the latter is a "physical creative space" that "promotes growth of the hippocampus of the brain and trains spatial awareness."
Wonderwoods, where Nowhere is being built, is a green development set to open in 2023, boasting 9,649 trees of over 360 species.
Photos: Vero Digital
RELATED ENTRIES
teamLab Borderless Tokyo Celebrates 3rd Anniversary With Two New Installations

June 21 will mark three years since MORI Building DIGITAL ART MUSEUM: EPSON teamLab Borderless first opened. Located in Odaiba, Tokyo, the digital art museum is commemorating its anniversary with two new installations: Sketch Aquarium: Connected World and Sharing Rock Mass, Transcending Space. Experience digital art, which blurs the lines between reality and fantasy, change in real time as people come into contact with it.

MORI Building DIGITAL ART MUSEUM: EPSON teamLab

Sketch Aquarium: Connected World

teamLab describes this exhibit:

The fish drawn by everyone swim around in this aquarium.

Color in a fish on the paper provided. See the picture you have drawn come to life in the massive aquarium in front of you, swimming together with the fish drawn by other people. If you touch the swimming fish, they will swim away. If you touch the food bags, you can also feed the fish.

The tuna you draw will transcend the boundaries of the artwork and swim out into the Sketch Aquariums and Sketch Oceans of exhibitions around the world. And the tuna drawn in other parts of the world may appear and swim in the Sketch Aquarium right in front of you.

Sharing Rock Mass, Transcending Space

teamLab describes this exhibit:

A rock mass floats in the world of the teamLab Borderless museum in Shanghai. The rock mass floats through the hallway of teamLab Borderless Shanghai and sinks into the wall. The rock mass transcends the physical space of the museum itself, the part that sinks into the wall appears in the world of the teamLab Borderless museum in Tokyo.

When people touch the part of the rock mass emerging in Tokyo, it shines with blue light. This light flows to the rock mass sunken into the wall in Shanghai. When people touch the part of the rock mass sunken into the wall in Shanghai, it shines with a red light which flows to the rock mass here in Tokyo. When red light flows into the rock mass, it indicates that someone in Shanghai is touching the rock mass.

teamLab is represented by Pace Gallery, Martin Browne Contemporary and Ikkan Art International.

Information

MORI Building DIGITAL ART MUSEUM: EPSON teamLab Borderless

Address: Odaiba Palette Town, 1-3-8 AOmi, Koto-ku, Tokyo

teamLab Borderless Official Website: https://borderless.teamlab.art/
teamLab Official Website: https://www.teamlab.art/

*teamLab Borderless introduced a booking system on June 1, 2021 to restrict admissions in an effort to combat COVID-19

teamLab Joins Saudi Arabia's Light Upon Light: Light Art Since the 1960s Exhibition

Japanese art collective teamLab have joined Light Upon Light: Light Art Since the 1960s, an art exhibition curated by former curator of the Guggenheim Museum Susan Davidson, and Raneem Zaki Farsi, expert in Saudi Arabia's contemporary art scene, which is now taking place at the King Abdullah Financial District (KAFD) Exhibition Hall in Saudi Arabia until June 12.

© Noor Riyadh

Flowers and People − A Whole Year per Hour by teamLab, 2020.

teamLab are showcasing their immersive art piece Flowers and People − A Whole Year per Hour. The work captures a year's worth of seasonal flowers blooming over the course of an hour, continuously scattering and changing. The piece is not a pre-recorded image that is played back: it is created by a computer program that continuously renders the work in real time. The interaction between people and the installation causes continuous change in the artwork: previous visual states can never be replicated, and will never reoccur. The picture at this moment can never be seen again.


Noor Riyadh is a new citywide annual festival of light and art organized by Riyadh Art, the first national public art initiative in the Kingdom of Saudi Arabia, which transforms the city of Riyadh into a gallery without walls, and a creative powerhouse for the digital age. The Noor Riyadh festival consists of numerous public art installations across the city; "Light Upon Light: Light Art since the 1960s," a landmark exhibition of light art; and a diverse program of talks, workshops and events.

Enjoy Japanese Cherry Blossoms From Your Home With teamLab's 'Sakura Bombing Home'

Japanese art collective teamLab launched their new Sakura Bombing Home experience on March 10 which lets people enjoy Japanese cherry blossoms from the comfort of their own home using digital devices. The service is running until April 30, 2021.

Sakura Bombing Home

How to Participate

Firstly, download drawing paper at teamLab's official website. There are numerous cherry blossom designs to choose from and colour in either on your smartphone or by printing and colouring by hand.

Next, upload your completed cherry blossom illustration.

Your submitted cherry blossom art and other people's from around the world will be compiled into a single art piece to be showcased on YouTube Live.

Finally, you can download your flower art after submission. This is a great opportunity to enjoy Japanese cherry blossom without being in Japan, as well as to stay safe during the spring season if you are in Japan.

teamLab is represented by Pace Gallery, Martin Browne Contemporary and Ikkan Art International.

teamLab Reveals Sauna Art Experience in Collaboration With TikTok

Japanese art collective teamLab has announced a brand new digital art experience which fuses art with saunas. Entitled teamLab & TikTok, teamLab Reconnect: Art with Rinkan Sauna, the interactive exhibition will take place in Roppongi from March 22 to August 31. Bookings are now open.

teamLab & TikTok, teamLab Reconnect: Art with Rinkan Sauna Roppongi

"Every Life Survives in Fluctuating Space"

teamLab Reconnect is a new art and sauna exhibition where visitors experience art in their finest mental state. At the event, visitors take alternating hot and cold baths to open their minds and experience an ever-expanding physical sensation, effectively becoming one with the art.

The event will feature numerous exhibits, one which is entitled Every Life Survives in Fluctuating Space, a collaboration between TikTok and teamLab that can event be experienced at home. It makes use of the TikTok app, which is also part of the art and sauna experience at the exhibition, and so your home, or wherever you are based, can become its own art space.

Every Life Survives in Fluctuating Space captures the life cycle of a flower, which grows according to the size of the space displayed through the camera on Tiktok. The size of the flowers is not predetermined; it is instead determined by the size of the space where you are. If you're outside, the flowers can grow enormously.

If you download TikTok and sign up for a new account you can get a 500 yen discount coupon for teamLab Reconnect. Visit the official website below for more details.

Information

teamLab & TikTok 

Running: March 22, 2021 – August 31, 2021

Where: 5-10-25 Roppongi, Minato-ku, Tokyo

Bookings: Now Open

Tickets/Event Details: https://reconnect.teamlab.art/en

teamLab Serves a Forest Sauna, Ruins Art, and Tea Experience at Mifuneyama Rakuen Hotel

If you visit Mifuneyama Rakuen Hotel in Saga Prefecture, you'll discover teamLab's permanent exhibition teamLab Ruins and Heritage: Rinkan Spa & Tea Ceremony. On Friday (February 19), the exhibition began serving EN TEA, a new brand of tea grown in Hizen.

The exhibition is an art and sauna experience by teamLab and the Mifuneyama Rakuen Hotel Rakan Bath, the winner of SAUNACHELIN in 2019 and 2020. There, visitors can clear their minds, feel the ever-expanding space through their bodies, and immerse themselves in the art and the forest dotted with ruins. After their sauna experience, they can enjoy a cup of EN TEA to wind down.

EN TEA is a brand of tea made in collaboration with tea master Shunichi Matsuo and Maruwakaya, a brand that focuses on Japanese traditional culture and brings together artisans. It's brewed at a low temperature for 15 minutes which lowers the amount of caffeine inside. After enjoying the sauna, visitors can visit the EN TEA HOUSE at Mifuneyama Rakuen Hotel for their cup.

teamLab Reconnect Project Combines Art With the Sauna Experience in Roppongi

Art collective teamLab has announced the opening of teamLab Reconnect: Art with Rinkan Sauna Roppongi which will run for half a year starting this March in Roppngi, Tokyo.

Since 2019, teamLab has been combining saunas with digital art to create wholly new and unique sauna experiences never before seen.

teamLab Reconnect's aim is not to offer a luxury and high-end venue for seeing artwork, but to put visitors into a luxurious state to experience the art. Through contrast bath therapy, where visitors are placed in a hot sauna followed by cold water and then relaxation, they can open their minds and senses to a variety of artworks and in essence become part of the art itself. teamLab hopes this will enable visitors to realise their own existence―their mind, body, and environment―and in turn 'reconnect' with the world and time.

Levitation
teamLab, 2021, Digital Installation, Sound: Hideaki Takahashi

teamLab Reconnect will welcome a variety of new artworks based on teamLab's new art project 'Supernature Phenomenon' which captures different natural phenomena in nature.

Proliferating Immense Life – A Whole Year per Year
teamLab, 2020, Interactive Digital Installation, Sound: Hideaki Takahashi

This artwork captures the life cycle of flowers. It is not a pre-recorded image that is played back; it is created by a computer program that continuously renders the work in real time. The interaction between people and the installation causes continuous change in the artwork, meaning previous visual states can never be replicated, and will never reoccur.

Since opening their sauna in Mifuneyama Rakuen in Kyushu back in 2019, which won the SAUNACHELIN two years in a row in 2019 and 2020, teamLab has gone on to create new works of sauna art such as teamLab: A Forest Where Gods Live and teamLab Ruins and Heritage: Rinkan Spa & Tea Ceremony.

Information

teamLab Reconnect: Art with Rinkan Sauna Roppongi
Location: teamLab Reconnect, 5-10-25 Roppongi, Minato-ku, Tokyo
Running March 2021 – August 2021
Official Website: https://www.teamlab.art/e/reconnect/

teamLab Borderless Shanghai Opens Museum Shop Selling Eco-Friendly Folding Rice Bag

Art collective teamLab opened a shop at their Shanghai-based art museum teamLab Borderless Shanghai on Saturday (December 5). teamLab Borderless Shanghai opened its doors in Huangpu, Shanghai, in November 2019, displaying around 50 pieces of artwork by teamLab. The company's Borderless project is a 'world of artworks without boundaries, a museum without a map.'

The museum's new shop sellings a variety of items, from stickers to postcards to the official teamLab Folding Rice Bag. More items are scheduled to be added to the stock in the future.

teamLab Folding Rice Bag

The eco bag can be folded up and stored when not in use. It's a 30kg rice bag that was acquired directly from the farmer, originally used for storing rice before milling and would normally be discarded after use. It's traditionally used to store and sell rice. Still present in the Japanese countryside today, these bags are made of strong, durable materials that protect the rice inside from moisture and damage. The bag is made of paper, and it can be folded up and stored in your pocket for use at any time.

Information

teamLab Borderless Shanghai
Address: Unit C-2 No 100, Hua Yuan Gang Road, Huangpu, Shanghai

Museum hours are temporarily shortened as below:

Monday:

Closed.

Tuesday to Friday:
10:30 – 18:00 (last entry 17:00)

Saturday, Sunday and public holidays:
10:30 – 20:00 (last entry 19:00)

Official Website: https://borderless.teamlab.art/shanghai/

teamLab's Rinkan Spa & Tea Ceremony, Ruins and Remains Opens as Permanent Exhibit at Mifuneyama Rakuen

Japanese art collective teamLab opened its teamLab: Rinkan Spa & Tea Ceremony, Ruins and Remains series of artworks at Mifuneyama Rakuen in Kyushu as permanent exhibitions on November 10. The artworks can be enjoyed as part of a set which includes enjoying the exhibits as well as a soak in Mifuneyama Rakuen Hotel's sauna and a complimentary cup of Japanese tea.

Rakan no Yu, a sauna located at Mifuneyama Rakuen Hotel, won the Saunachelin Grand Prix two years in a row in 2019 and 2020. The sauna and open-air baths enjoy natural water from Mt. Mifune and are surrounded by the vast nature of the local area.

A sauna and new art experience fusion

Sitting on the borderline of Mifuneyama Rakuen Park is the 3,000-year-old sacred Okusu tree of Takeo Shrine, which is Japan's 7th largest. Also in the heart of the garden is another 300-year-old sacred tree. Knowing the significance of this, Japan's forebears turned a portion of this forest into a garden, utilizing the trees of the natural forest. The border between the garden and the wild forest is ambiguous, and when wandering through the garden, before they know it, people will find themselves entering the woods and animal trails.

Visitors can get their hands on a combo ticket which includes access to teamLab's exhibition as well as daytime entry to the sauna. These are limited to 40 people per day.

Below are some of the artworks that visitors can experience.

Megaliths in the Bath House Ruins
teamLab, 2019, Interactive Digital Installation

Graffiti Nature – Living in the Ruins of a Bathhouse, Red List
teamLab, 2017-, Interactive Digital Installation, Sound: Hideaki Takahashi

Butterflies Dancing in the Depths of the Underground Ruins, Transcending Space
teamLab, 2019, Digital Installation, Sound: Hideaki Takahashi

Forest and Spiral of Resonating Lamps in the Forest – One Stroke, Autumn Mountain
teamLab, 2018, Interactive Installation, Murano Glass, LED, Endless, Sound: Hideaki Takahashi

Information

teamLab Ruins and Heritage: Rinkan Sauna & Tea Ceremony
Location: Mifuneyama Rakuen
Address: 4100 Takeo, Takeo-cho, Takeo City, Saga, Japan
Opened: November 10, 2020
Buy Tickets (English): https://mifuneyamarakuen.teamlabticket.com/#/order

teamLab Borderless to Turn Tokyo's Odaiba Into Digital Winter Wonderland

MORI Building DIGITAL ART MUSEUM: EPSON teamLab Borderless in Odaiba, Tokyo, is set to welcome a world of wonderful winter artworks this year.

teamLab Borderless is a group of artworks that form one borderless world. Artworks move out of rooms, communicate with other works, influence, and sometimes intermingle with each other with no boundaries.

Sketch Christmas

This December, teamLab invites children to create a Christmas world from their own pictures. When they draw a picture of Santa Claus on a piece of paper, he will appear in a town right in front of their eyes as if by magic.

Forest of Resonating Lamps

Throughout December and into January, the lamps at the art museum's Forest of Resonating Lamps area will be changed to blue, inspired by the Blue Grotto sea cave in Italy. Going into January, they will turn red to be inspired by flames.

Proliferating Immense Life

The museum's immense flower art piece Proliferating Immense Life – A Whole Year per Year will welcome numerous winter flowers over the next few months including Jack-in-the-pulpits in December, Chinese aster in January, and Asian bleeding-heart in February. When people touch the flowers they scatter, wither, and die, before being reborn. 100,000 flowers will scatter at once, creating a breathtaking display.

Memory of Topography

This artwork installation depicts a rural mountain landscape of varying elevations. For winter, it will depict wintertime scenery starting from December, from powdery snow to snow storms, kantsubaki midwinter camellias, plum blossoms, and more.

EN TEA HOUSE GENKA-TEI

Enter teamLab Borderless's cafe where flowers bloom inside your cup. The tea house will make tea with a variety of winter flowers like chrysanthemums and cyclamens until December before switching to daffodils and plum blossoms from January to March.

Experience winter like never before at MORI Building DIGITAL ART MUSEUM: EPSON teamLab Borderless.

Information

MORI Building DIGITAL ART MUSEUM: EPSON teamLab Borderless
Location: Odaiba Palette Town
Address: 1-3-8 Aomi, Koto Ward, Tokyo
*Opening hours subject to change depending on the season, check the official website for the latest information
teamLab Borderless Official Website: https://borderless.teamlab.art/

teamLab Displays Artwork at Grand Central Terminal in New York

Japanese art collective teamLab began displaying their permanent public artwork Continuous Life and Death at the Now of Eternity II, Grand Central Terminal at the One Vanderbilt skyscraper in New York on September 14, 2020. The world of the artwork becomes brighter with the sunrise of Manhattan, and becomes darker as the sun sets. The flowers that bloom change throughout the period of one year.

Who is teamLab?

teamLab is an interdisciplinary art collective founded in 2001 in Tokyo, whose team includes several hundred specialists from artists to programmers, engineers, CG animators, mathmeticians, architects, and more.

teamLab aims to explore the relationship between the self and the world and new perceptions through art, and that's exactly what this piece does. In the flow of time of reality flowers are born, bloom, then in the course of time they wither and die. The flowers are eternally repeating the process of life and death. This process is captured in real time in the digital art piece.

Continuous Life and Death at the Now of Eternity II, Grand Central Terminal can be seen at the newly-opened 67-floor One Vanderbilt.

One Vanderbilt

Continuous Life and Death at the Now of Eternity II, Grand Central Terminal teamLab, 2020, Digital Work, Endless

Information

Continuous Life and Death at the Now of Eternity II, Grand Central Terminal

Exhibition: Permanent from September 14, 2020

Address:  One Vanderbilt, 1 Vanderbilt Ave, New York, NY

Official Website: https://www.teamlab.art/e/onevanderbilt/

teamLab Creates New Expressions For its Planets Exhibitions in Tokyo

The interdisciplinary art collective teamLab has added new elements to its Floating in the Falling Universe of Flowers and The Infinite Crystal Universe exhibits at teamLab Planets Tokyo in Toyosu, Tokyo.

Floating in the Falling Universe of Flowers
teamLab, 2016-2018, Interactive Digital Installation, Endless, Sound: Hideaki Takahashi

Floating in the Falling Universe of Flowers showcases a seasonal year of flowers blooming and changing with time and how life spreads out into the universe. Enter a vast, immersive world where over 10 million flowers bloom.

The Infinite Crystal Universe
teamLab, 2018, Interactive Installation of Light Sculpture, LED, Endless, Sound: teamLab

The light sculpture of The Infinite Crystal Universe extends infinitely in all directions. People use their smartphones to select elements to throw The Infinite Crystal Universe. These elements are reborn in three dimensions, creating the artwork. 26 light sculptures have been made for the exhibit.

A survey was carried out with 522 guests who visited teamLab Planets Tokyo between August 31, 2020 and September 13, 2020 in relation to the safety measures put in place at the site against COVID-19. The results showed that 94% of people answered that they felt safe during their time there.

Information

teamLab Planets TOKYO DMM.com
Address: teamLab Planets TOKYO, 6-1-16 Toyosu, Koto-ku, Tokyo
Opening Hours: [Weekdays] 10:00-19:00 / [Saturday] 9:00-20:00 / [Sunday] 9:00-19:00

*Last entries are 30 minutes before closing times
Official Website: https://planets.teamlab.art/tokyo/

teamLab Joins Superblue Miami's Opening Exhibition For 2020-2022

Interdisciplinary art collective teamLab is joining Light and Space artist James Turrell and British artist and stage designer Es Devlin and the opening exhibition of Superblue Miami, a new art centre in Miami, Florida, beginning on December 22, 2020.

Superblue Miami is set to open as the first experimental art centre by Superblue, a new company that looks into experimental art. Superblue will kick off its launch with Every Wall is a Door where large-scale installation art created by teamLab, James Turrell, and Es Devlin will be showcased through to 2022.

teamLab: Between Life and Non-Life

teamLab will showcase a selection of installations themed on the concept of "Between Life and Non-Life" which looks at human and nature and the ambiguity between life and non-life.

Transcending Boundaries / Universe of Water Particles, Transcending Boundaries
teamLab, 2017, Interactive Digital Installation, Sound: Hideaki Takahashi

Transcending Boundaries, A Whole Year per Hour / Flowers and People, Cannot be Controlled but Live Together – Transcending Boundaries, A Whole Year per Hour
teamLab, 2017, Interactive Digital Installation, Sound: Hideaki Takahashi

"teamLab is an interdisciplinary art collective founded in 2001 in Tokyo, whose team includes several hundred specialists. At the heart of their practice lies the belief that digital art can bring people together through shared experiences. Their immersive, colourful installations fuse art and science to encourage meaningful interactions with both the work and other people. As we move around the space, our very actions—along with those of other participants—provoke flowers to bloom, waterfalls to change the course of their flow, and butterflies to twirl in the air. We are reminded that there is strength in the collective and are invited to reconnect with nature and marvel at its beauty."
ーSuperblue