Tangled Inspired Disney Princess Cake Revealed by Ginza Cozy Corner
Ginza Cozy Corner has revealed its new Disney princess cake based on the 2010 animated film Tangled which will be available to order at all branches in Japan from October 1, 2020.
Tangled Dress Cake | ¥3,500 (Before Tax)
The cake is centred on the golden-lock beauty Rapunzel, with her dress as the foundation for the cake. The cake is made with cream chess, strawberry jam, and blueberries, while Rapunzel's iconic hair is lemon flavoured.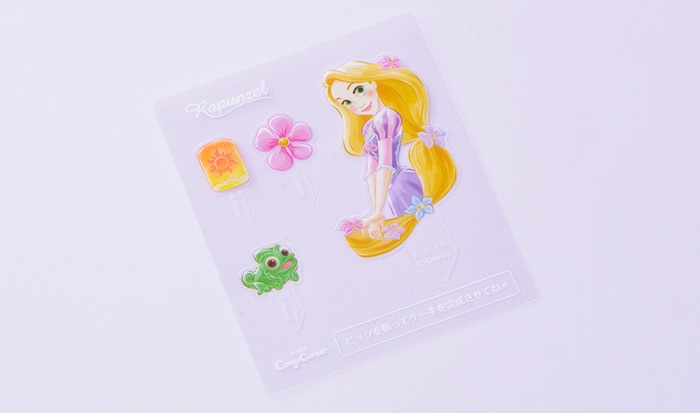 Decorate the cake yourself
The cake comes with the parts for you to decorate yourself. This adds a whole new level of fun to parties!
Exclusive Rapunzel design box
This cake was actually sold earlier this year during the Hinamatsuri festival in Japan, with all 1,000 cakes being sold out. It is now returning on October 1 and is made-to-order only.
Information
<ラプンツェル>ドレスケーキ
店頭受付
予約受付:10月1日(木)より *4日前までの予約限定
引き渡し:10月5日(月)より
Online Orders
Order Here: Ginza Cozy Corner
Order Window: From October 1, 2020
Delivery Window: From October 6, 2020
Official Website: https://www.cozycorner.co.jp/
RELATED ENTRIES
McCafe by Barista to Offer Cookies & Cream Frappe for Winter Season

McDonald's Japan locations with McCafe by Barista installations will begin selling the Cookies & Cream Frappe for a limited time starting December 8, 2021. The McCafe by Barista corner employs full-time baristas serving 'authentic cafe coffee.' 

McCafe by Barista invites guests to enjoy high-quality frappuccinos and smoothies and these locations are offering three unique Frappes this winter. Following the Strawberry Creme Brulee Frappe and normal Creme Brulee Frappe released in late November, the Cookies & Cream Frappe will release soon, filled with rich vanilla sweetness!

Cookies & Cream Frappe Medium: ¥470 / Large: ¥540 (Tax Included) 

 

The drink is a rich blend of creamy vanilla made from Madagascar Bourbon vanilla beans, blended with crunchy Oreo cookie bits and topped with whipped cream and chocolate sauce. What's not to love?

New Year's Mini-Cakes Available for Preorder from Ginza Cozy Corner

Ginza Cozy Corner, a popular cake store in Tokyo, has started accepting preorders for its beautiful selection of New Years' mini-cake sets, called Sweets Osechi. In Japan, osechi refers to traditional foods eaten on New Years Day, which come in a special box, not unlike a bento box. Of course, they aren't usually packed with sweets, but these look absolutely scrumptious. 

In 2011, Ginza Cozy Corner started the 'First Sweets' tradition to invite people to welcome the new year by enjoying some sweets after finishing the traditional osechi dishes. This is when the idea of Sweets Osechi was born, sure to put a smile on your face going into 2022!

9-piece Sweets Osechi: ¥2,400 (Tax Included) 

12-piece Sweets Osechi: ¥3,000 (Tax Included) 

This year's selection includes tarts featuring the Chinese zodiac sign of the Tiger and the first sunrise of 2022. Each set will come in a special box in a bright red design perfectly exemplifying the holiday spirit!

Information

Sweets Osechi

Preorders Now Open

*Preorders will close as soon as items sell out. 

*Preorders can only be made in-store. Online preorders will not be accepted. 

Official Site: https://www.cozycorner.co.jp/

Q-Pot. Releases Monsters, Inc. Collection to Celebrate Film's 20th Anniversary

Japanese accessory brand Q-pot makes jewelry that looks like real sweets and desserts. To celebrate twenty years of the Disney Pixar film Monsters, Inc., the company is releasing an adorable new collection on November 20, 2021. Characters Sulley, Mike, Boo, Randall, and others make an appearance, so be sure to snag your favorite!

CupCake -Sulley- Necklace: ¥11,000 (Tax Included) / Bag Charm: ¥9,900 (Tax Included)

Sulley / Whipped Cream Ring: ¥7,150 (Tax Included) / Earrings: ¥7,150 each  (1 piece, Tax Included)

Everyone's favorite monster has been recreated as a cupcake topped with fluffy whipped cream!

CupCake -Mike- Necklace: ¥11,000 (Tax Included) / Bag Charm: ¥9,900 (Tax Included) / Whipped Cream Ring: ¥7,150 (Tax Included) / Earrings: ¥7,150 each (1 piece, Tax Included)

Mike's eye was made to look like jelly, and each of these items looks almost good enough to eat. 

CupCake -Boo- Necklace: ¥11,000 (Tax Included) /  Bag Charm: ¥9,900 (Tax Included)

Inspired by Boo in her cute monster suit, these items were based on a red sweet potato Mont Blanc cupcake.

CupCake -Randall- Macaroon Necklace: ¥9,900 (Tax Included) / Bag Charm: ¥8,800 (Tax Included) / Transparent Macaroon Necklace: ¥9,900 (Tax Included) / Bag Charm: ¥8,800 (Tax Included)

Randall, with his white teeth peeking out of his mouth, was based on a macaroon with pure white cream. The character can change his body's color from purple to clear, so these give fans a chance to buy their favorite!

Melt Ring: ¥13,200 (Tax Included) *Comes in sizes 11, 13, 15, 17

These rings look like melting ice cream and come in Sulley, Mike, and Randall colors. Each is carefully made with epoxy resin and handmade by craftsmen. 

Mike Collection Ice Cream Candy Necklace: ¥11,000 (Tax Included) / Earrings: ¥7,700 each (1 piece, Tax Included)

Little Mikey Chocolate Earring: ¥6,600 (1 piece, Tax Included) / Charm: ¥5,500 (Tax Included) 

Helmet Candy Charm: ¥5,500 (Tax Included) 

Energy Tank Candy Earring: ¥6,600 (1 piece, Tax Included) / Charm: ¥5,500 (Tax Included) 

Information

Disney Story Dreamed by Q-pot. Monsters, Inc. Collection

Release Date: November 20, 2021

Where to Buy: Q-pot. Locations/Q-pot. Online Shop/Shop Disney

*Release date and product specifications are subject to change. No layaway, pickup, or delivery requests by phone on the first day of release. On November 20, purchase is limited to one of each item per person. 

Q-pot. Shop List: https://www.q-pot.jp/shoplist/

Q-pot. Online Shop: https://shop.q-pot.jp/

Mister Donut Announces Limited-Time Pokemon Christmas Sweets

Popular Japanese donut chain Mister Donut is teaming up with Pokemon for the fourth year in a row! Lots of new themed sweets and merchandise will be available for a limited time starting November 12. 

Together Again This Year Collection

Pikachu Donut

Eevee Donut

Turning-Back Pikachu Donut

Turning-Back Eevee Donut

Pokemon Turning-Back Donut

Christmas Donuts

Pon de Ring Chocolate

Pon de Ring Pudding Flavor

Pon de Ring White

Christmas Set

Donut Set

Drink Set

Merchandise

Mister Donut x Pokemon Blanket

Mister Donut x Pokemon Plate

Mister Donut x Pokemon Mug

This year, guests can enjoy not only Eevee and Pikachu themed donuts, but other adorable Pokemon too! The Pokemon Turning-Back Donuts show these cute characters looking over their shoulder. Adults will fondly look at these designs and remember their childhoods, while children are currently in the midst of becoming Pokemon masters. These are perfect to bring people together during the holiday season.

The Christmas Set comes with three pieces of merchandise: a blanket, a plate, and a mug, all featuring this year's Mister Donut x Pokemon design. How would you like to have this as a gift this Christmas?

©2021 Pokémon. ©1995-2021 Nintendo/Creatures Inc./GAME FREAK inc.
『ポケットモンスター ブリリアントダイヤモンド』
『ポケットモンスター シャイニングパール』 are developed by ILCA,Inc.
ポケットモンスター・ポケモン・Pokémonは任天堂・クリーチャーズ・ゲームフリークの登録商標です。
Nintendo Switchは任天堂の商標です。

Information

Together Again This Year Collection

Mister Donut Pokemon Donuts

Available: November 12 – End of December (While Supplies Last)

Where to Buy: Participating Mister Donut Shops Nationwide

Christmas Donuts

Available: November 12 – End of December (While Supplies Last)

Where to Buy: Participating Mister Donut Shops Nationwide

Christmas Set

Available: November 12 – Until Sold Out

Where to Buy: Participating Mister Donut Shops Nationwide

Official Site: https://www.misterdonut.jp

Disney Harvest Market Announces Christmas Menu and Holiday Merchandise

Located on the 7th floor of Shibuya Hikarie, Disney Harvest Market by Cafe Company is a must-visit spot for Disney fans. Starting November 10, the location will begin selling special Christmas-themed food items, as well as limited-edition holiday goods!

Menu

Christmas Limited-Edition Afternoon Tea Party Christmas Card (Not for Sale)

Special Christmas Plate: ¥2,750 (Tax Included)

Salted Koji Chicken and Vegetable Pot-au-feu with low-sugar Bread: ¥2,530 (Tax Included)

Christmas Merchandise

Limited-Edition Wrapping Paper L (15 Sheets): ¥660 (Tax Included) / S (30 Sheets): ¥440 (Tax Included) / Paper Napkins: ¥770 (Tax Included) 

Harvest Statue Plushie (Pre-Orders Now Available) L: ¥9,680 (Tax Included) / M:  ¥6,380 (Tax Included) / S: 4,180 (Tax Included) 

This limited-time Christmas menu is meant to appeal to both children and adults alike and is filled with Disney magic. The theme this time is '4 Steps for the Future,' which reminds the chefs to take salt, sugar, oil, and calories into account while designing the perfect healthy dishes. The most popular menu item since the restaurant's opening is the Afternoon Tea Party, which is now available in a Christmas version. Those who order it will receive a Christmas card with an original harvest design. The Chicken and Vegetable Pot-au-feu contain heaps of seasonal winter veggies, while the Special Christmas Plate is a perfect sweet snack for after dinner.

The 2.7-meter tall statue of Mickey Mouse on display in the store will also be completely decked out in Christmas decorations, so don't miss out! Pre-orders for the Harvest Statue Plushie will be available on the e-commerce site starting November 10, with items shipping between December 20 and December 23, 2021. 

Information

Disney Harvest Market by Cafe Company

Address: Shibuya Hikarie 7F (2-21-1 Shibuya, Shibuya City, Tokyo)

Phone: 050-3733-5055

Hours: 11:00-20:00 (Last Orders at 19:00)

*Open until 21:00 on Weekends and Holidays (Last Orders at 20:00)

E-Commerce Site: https://d-harvestmarket-shop.com/

Official Site: https://d-harvestmarket.com/

TRUFULL TOKYO Releases First Truffle Ice Cream

Truffles aren't something most people eat every day, but TRUFULL TOKYO wants to change that. The casual truffle brand wants to combine this luxury ingredient with simple dishes to make it easier to chow down on this tasty treat more often, and now, their first product release has been announced! TRUFULL ICE CREAM, playfully created by a French chef, aims to give people a new view of what food can be.

The truffles aren't the only thing that makes this ice cream special. The milk used to create it is gathered at Zao Provence Farm in Miyagi prefecture in the morning and processed the exact same day! After the ice cream is made, it is mixed with plenty of French black truffles, making a flavor like no other. 

The upscale TRUFULL ICE CREAM, a perfect dessert for the discerning adult, is available at CARBON COFFEE in Fukuoka. 

Information

TRUFULL ICE CREAM
Release Date: November 15, 2021

Price: ¥500 for 120ml cup (Tax Included)

Where to Buy: CARBON COFFEE

Address: Royal Building 1F 1-2-34 Daimyo, Chuo-ku, Fukuoka

Official Online Store: Scheduled to Open November 15

Instagram: https://www.instagram.com/trufull_tokyo/ (@trufull_tokyo)

Official Site: https://trufulltokyo.com/

McDonald's Japan Releases New Black Thunder Winter Lightning McFlurry

McDonald's Japan has just released a tasty new treat for winter! The Black Thunder Winter Lightning McFlurry, a collaboration with the popular chocolate bar Black Thunder, is now available at participating locations nationwide. 

This popular collaboration firsts appeared in 2017 and is now available in winter for the first time. Even though the weather is chilly, it's impossible not to want to eat this unique blend of dark and white chocolate. The sugar rush is sure to get you through the day!

Black Thunder Winter Lightning McFlurry: ¥290 (Tax Included) 

Smooth soft-serve ice cream is mixed with Black Thunder incused cocoa cookies and plain cookies, then topped with two types of chocolate sauce. What's not to love about this blend of textures and flavors? Be sure to grab one before they disappear at the end of November!

Information

Black Thunder Winter Lightning McFlurry

Available: November 4 – end of November

Where to Buy: Participating McDonald's Locations Nationwide 

Sales Hours: 10:30-close (Until 1:00AM at 24-hour locations)

Official Site: https://www.mcdonalds.co.jp/

Maison de FLEUR Launches Disney Collection to Celebrate 80 Years of Dumbo

Japanese accessories brand Maison de FLEUR is celebrating the 80th anniversary of Dumbo with some adorable new items! These will only be available on the shop's e-commerce website STRIPE CLUB until November 7, 2021. 

Item Lineup

Dumbo Double Ribbon Tote Bag: ¥5,819 (Tax Included)

Dumbo Drawstring Bag: ¥3,949 (Tax Included) 

Dumbo Side Pocket Tote Bag: ¥6,149  (Tax Included) 

Dumbo Pouch: ¥3,949 (Tax Included)

Dumbo Square Pouch: ¥3,949 (Tax Included)

Lining Print

The items are perfect to use for daily activities, with coloring inspired by the grayish-blue shade of the titular elephant character. Dumbo's pink ears are made of extra fluffy material to make the items even cuter. The Double Ribbon Tote Bag also features Timothy, Dumbo's mouse friend. 

Which item do you find the most adorable? 

Cute Brothers Grimm's 'Rapunzel' Themed Dessert Buffet to be Held for Six Days

Wedding venue 'Art Grace Wedding Coast Tokyo Bay' will be hosting the 'Princess Rapunzel's Flower Sweets Party,' a colorful garden-themed dessert buffet based on The Brothers Grimm's 'Rapunzel' for six days this Winter. The buffet will be open on November 14, November 21, November 23, December 4, December 8, and December 25. 

 

Rapunzel's Singing Voice Rare Cheese Tart

Sweet and Sour Romance Flavored Strawberry Mont Blanc




Rapunzel's Yellow Carrot Salad

Braided Meat Pie

Dressed Up in Flowers Berry Roll Cake

 

You'll find a selection of over 20 delicious desserts that can be enjoyed by both children and adults at the buffet, including a cheese tart topped with a drawing of Rapunzel, a strawberry mont blanc that tastes like a sweet and sour love with a prince, roll cakes and chiffon cakes topped with plenty of flowers. It isn't just sweets either! You can also enjoy braided meat pies, vegetable and chicken meatballs with tomatoes, and a spicy doria among other savory meals.

The buffet will be held in the spacious wedding venue, which boasts impressive views and a gentle sea breeze. The hall will be decorated in flowers, inviting customers into a spectacular new world. Whether you're a couple, a friend group, or a family with children, be sure to check out this floral sweets party!  

 

Information

Dessert Buffet 'Princess Rapunzel's Flower Sweets Party' 

Availability: November 14, November 21, November 23, December 4, December 8, December 25 (Reservations required) 

Opening Hours: First Session 12:30 ~ 14:00 (L.O 13:30) Second Session: 15:00 ~ 16:30 (L.O 16:00)

Location: Art Grace Wedding Coast Tokyo Bay Guest House

Address: 5-8-2 Meikai, Urayasu City, Chiba 279-0014

Details & Reservations:  https://www.bestbridal.co.jp/guestparty/chiba/artgrace_shinura/2021event-79/ 

'Maruko & Cojicoji' Collaborates with Popular Fruit Sandwich Store 'FruitsBOX DAIKANYAMA'

A collaboration between 'Maruko & Cojicoji' and FruitsBOX DAIKANYAMA has been announced. The 'Maruko & Cojicoji Fruit Sandwich POP UP SHOP' will be open between October 16 and October 31 in Kinshicho TERMINA 2.

 

Matcha Bean Paste & Strawberry Sandwich

Hokkaido Suzu Akane! Strawberry Sandwich

Four Seasons! FruitsBOX Sandwich

Crispy Taste! Banana and Chocolate Chip Sandwich

Collab Goods

Tote Bag: ¥2,200 (Tax Incl.)

Parka (FREE SIZE: Length 71cm, Width 58cm, Shoulder Width 52cm): ¥6,050 (Tax Incl.)


 

FruitsBOX DAIKANYAMA is a fruit sandwich specialty store that opened in 2019. The 'Maruko & Cojicoji' lineup will include eight new sandwiches. You'll get addicted to the new Matcha Paste and Strawberry sandwich, which combines the sweet and sour taste of strawberries and a rich bean paste! 

The pop up shop will stock a parka and tote bag, which both feature original artwork, alongside a! exciting collection of 50 Chibi Maruko-chan and Cojicoji items to purchase! Why not check it out?

Information

Maruko & Cojicoji Fruit Sandwich POP UP SHOP

Duration: October 16 ~ October 31 2021

Opening Hours: 11:00 ~ 20:00 (Subject to change)

Fruit Sandwich Store Location: Kinshicho TERMINA 2 1F La Gare Entrance Outdoor Exhibition Hall (Closest train: JR Kinshicho Station North Exit)

Pop Up Store Location: Kinshicho TERMINA 2 1F La Gare Indoor Exhibition Hall

Official Site: https://fruitsbox.net/ 

'Kyoto Yura Hotel M Gallery' New Halloween Menu Features Adorable Monster Motifs

The '1F Lounge & Bar 1867' at the Kyoto Yura Hotel M Gallery will be hosting a Halloween themed afternoon tea from October 1 2021, with tea sets and cocktails available. The premium hotel is owned by Accor, a Paris, France based group that owns over 5,000 hotels and resorts in 110 countries.

The Halloween-themed afternoon tea has been made by Jennie Chiu, a pastry chef who grew up in America, the home of Halloween. The afternoon tea features cute and playful monster motifs, including a witch-hat Mont Blanc, a Cassis and Chestnut Cake topped with a small ghost, and a spider-web topped Raspberry and Chocolate Mousse. For savory treats, Chef Nishimura Niki has prepared Foie Gras soaked in Salted Koji, plus two luxurious lobster dishes.

The creative Halloween cocktails were brainstormed by Yamazaki Sousei, who ranked in the Japan Top 10 category of bartending competition 'WORLD CLASS 2021.' The Halloween and apple pie inspired lineup was inspired by Scotland and the Celtic people, looking back to when Halloween was first celebrated. 

Enjoy some adult-only time in this retro-modern "family mansion" themed space. 

Information

Halloween Afternoon Tea Set

Availability: October 1 ~ October 31 2021

Location: Lounge & Bar 1867 

Serving Hours: 12:00 and 15:00 *Please reserve your table by 17:00 on the day prior to your arrival

Halloween Cocktails

Availability: October 1 ~ October 31 2021 

Price: ¥1,900
Location: Lounge & Bar 1867

Serving Hours/Opening Hours: 11:30 ~ 21:00 (L.O. 20:30) 

Official Site:  https://kyotoyurahotel-mgallery.com/ja

Hello Kitty and Pierre Hermé Collaboration Series Coming to Sanrio Stores

Everyone's favorite cartoon cat Hello Kitty is about to celebrate her birthday! To celebrate, Sanrio is releasing a collection of limited-time goods in collaboration with world-famous patisserie Pierre Hermé starting October 20, 2021. These items will be on sale at Sanrio stores nationwide, in specific department stores, and on the official Sanrio online store. 

Collaboration with Hello Kitty's favorite sweet, Ispahan

Ispahan, a raspberry cake, is Hermé's signature dessert. For Hello Kitty's birthday celebration the creator drew the character in an elegant rose-inspired dress inspired by the sweet. This design was made with the hope that Hello Kitty will continue to bring different people and cultures together for years to come. 

Mascot Keychain  Hello Kitty/Mimmy: ¥2,530

Accessory Case: ¥3,080

Inspired by Pierre Hermé's Ispahan and Satine sweets, fans will love these colorful goods perfect for a birthday celebration. 

Hello Kitty Birthday Doll: ¥15,400 (Tax Included)

Each year a Hello Kitty Birthday Doll is released, and 2021 is no different! This year, the doll is wearing an elegant dress designed exclusively for the collaboration. Each one has an embroidered serial number on the left leg, and quantities will be limited. 

Gâteau Anniversaire Hello Kitty: ¥2,640 (Tax Included)

This special birthday dessert will be available at Pierre Hermé Paris Aoyama from November 1 to November 15. It includes a special Hello Kitty Ispahan along with a scoop of rose ice cream and a dusting of raspberry powder!

©'21 SANRIO 著作(株)サンリオ

Information

Hello Kitty and Pierre Hermé Collaboration Design Series

Release Date: October 20, 2021

Sanrio Official Goods Page: https://www.sanrio.co.jp/goodsinfo/kt-pierreherme-202110/ 

Hello Kitty and Pierre Hermé Birthday Doll 2021

Price: ¥15,400 (Tax Included)

Release Date: October 20, 2021

Where to Buy: Sanrio Stores, Sanrio Areas at Department Stores

Gâteau Anniversaire Hello Kitty 

Available: November 1 – 15, 2021 *Limited-time only

Where to Buy: Pierre Hermé Paris Aoyama 2F Heaven