teamLab's Borderless Autumn Themed Digital Art Exhibition Arrives in Tokyo
teamLab Borderless is a world of artwork without boundaries, a museum without a map created by art collective teamLab. Over at their museum in Tokyo, MORI Building DIGITAL ART MUSEUM: EPSON teamLab Borderless, they are exhibiting a range of autumn themed digital art in time for the changing seasons. Let's take a closer look at what's on show.

September Flowers
October Flowers
Proliferating Immense Life – A Whole Year per Year | teamLab, 2020, Interactive Digital Installation, Sound: Hideaki Takahashi
Proliferating Immense Life – A Whole Year per Year looks at the life cycle of flowers. Throughout the year, with the passing of time, flowers bloom and change. They bud, grow, and blossom before their petals begin to wither and eventually fade away. The cycle of growth and decay repeats itself in perpetuity as the flowers propagate. When too many flowers grow, they scatter and fade all at once. When people touch them, the flower petals scatter and fall away
A variety of autumn flowers will be recreated in digital art, such as Blackberry Lily (September) and Red Spider Lily (October). Visitors who touch these digital flowers will see them wither and decay, and subsequently bloom new flowers in their place.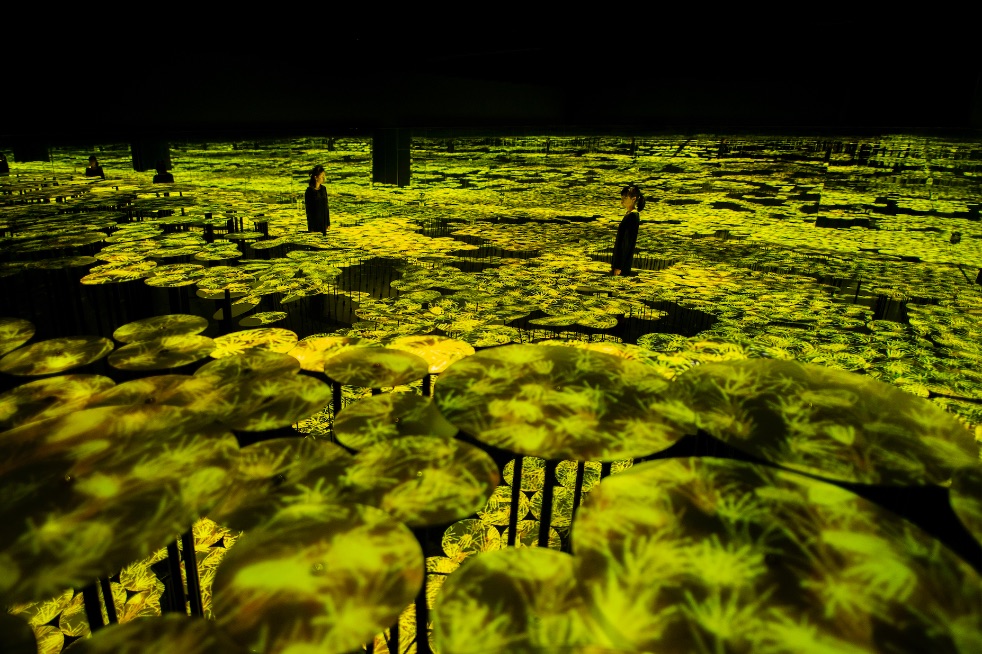 Rice Fields
Autumn Colours
Memory of Topography | teamLab, 2018, Interactive Digital Installation, Sound: Hideaki Takahashi
This artwork installation depicts a rural mountain landscape of varying elevations. The scenery instills in the viewer a feeling of eternal permanence, however with the flow of real time the scenery is continuously changing. In the spring, the rice fields are still small and lush. In summer, they begin to mature, and in fall, they turn a golden color.
The colours of autumn will be depicted in its glorious combination of golds and reds for the exhibit.

Forest of Resonating Lamps – One Stroke, Autumn Mountain | teamLab, 2016, Interactive Installation, Murano Glass, LED, Endless, Sound: Hideaki Takahashi
When a person stands still close to a lamp at Forest of Resonating Lamps – One Stroke, Autumn Mountain, it shines brightly and emits a colour that resonates out. The light becomes the starting point, and it spreads to the two nearest lamps. The light from the two nearest lamps transmits the same colour to other lamps, spreading out continuously. The light transmitted always resonates out as a bright light once, passing to close lamps, until all lamps have shone brightly once, and then returns to the first lamp.
For October, this exhibit will turn into Forest of Resonating Lamps – One Stroke, Autumn Mountain.

Flowers Bloom in an Infinite Universe inside a Teacup | teamLab, 2016, Interactive Digital Installation, Endless, Sound: Hideaki Takahashi
Make tea, and flowers bloom inside the teacup. If you pick up the teacup, the flowers scatter and spread outside of the cup. Flowers bloom infinitely as long as there is tea. The tea in the teacup becomes an infinite world in which the flowers continue to bloom. Drink in the infinitely expanding world.
The exhibition hall's tea house "EN TEA HOUSE" will see a variety of autumnal flowers used including safflower, dianthus, and Chinese aster for September and cosmos, osmanthus, and chrysanthemum for October.
Information
MORI Building DIGITAL ART MUSEUM: EPSON teamLab Borderless
Address: Odaiba Palette Town, 1-3-8 Aomi, Koto-ku, Tokyo
Official Website: http://borderless.teamlab.art/jp
RELATED ENTRIES
Tokyo's Pokémon Café Adds Eevee Frappe to the Menu

The Pokémon Café in Ikebukuro, Tokyo, is adding an apple flavoured Eevee frappe to its ever-growing Pikachu Sweets by Pokémon Café menu. The frappe will be available from October 2 to December 4.

Eevee Apple Pie Frappe

The sweet tang of the apple combines with the caramel to create a tasty dessert drink, topped with whipped cream, crunchy piece bits, and a cute Eevee tail cookie.

Buy the separate Eevee sleeve to put on your drink to make a fully complete and adorable Eevee frappe♡

© 2020 Pokémon.©1995-2020 Nintendo/Creatures Inc./GAME FREAK inc.
Pokémon, ポケットモンスター and ポケモン are registered trademarks of Nintendo, Creatures Inc. and GAME FREAK inc.

Ruriko Temple's Five Story Pagoda to be Lit Up With Magical Illuminations

The Five Story Pagoda of Ruriko Temple is a National Treasure of Yamaguchi Prefecture. The site is commemorating the 600th anniversary since the birth of Sesshū Tōyō, the Japanese master of ink and wash painting, with a special event on September 26 and 27 and October 10 and 11.

The Five Story Pagoda was built in 1442 using skilful architectural techniques from the mid-Muromachi period. It is considered one of Japan's three most beautiful pagodas.

1,000 candles are set to be lit along the pathway to the pagoda, lighting up the way with enchanting light. The spectacle is set to be posted on the official Yamaguchi Prefecture PR YouTube page so that more people can enjoy the show.

2020 marks the 600th anniversary of Sesshū Tōyō who is considered the most prominent master of ink and wash painting in Japan. In his mid 30's, he visited Yamaguchi so that he could cross over to China on the Ōuchi clan's mission to Ming China. He returned to 1483 where he based himself and worked until he passed away in 1506 at age 87.

Information

 Sesshū Tōyō 600th Anniversary Commemoration
Running: September 26, 2020 / September 27, 2020 / October 10, 2020 / October 11, 2020

Candle Lighting: 18:30-21:00
TEL: 083-920-9220
Enquiries on the day: 083-934-6630

*The YouTube video is scheduled to be posted on September 30, 2020. Subject to change depending on the weather.

*To prevent the spread of COVID-19, the site is limiting the number of people allowed at the site at once.

Yamaguchi Prefecture PR Official YouTube Page: https://www.youtube.com/user/PrefYamaguchiKouhou

KAWAII MONSTER CAFE HARAJUKU Collaborates With Alice's Fantasy Restaurant For Halloween Fair

KAWAII MONSTER CAFE HARAJUKU is set to collaborate with Tokyo's three branches of Alice's Fantasy Restaurant to serve up a Halloween themed menu. It will be served from September 19 to October 31.

The Halloween season is right around the corner, and the KAWAII MONSTER CAFE is once again joining in with the spooky festivities. This year, the cafe has joined hands with Alice's Fantasy Restaurant to create a collaborative Halloween menu lineup.

Colourful Rainbow Pasta With Halloween Cream | ¥1,400

Colourful pasta served in rich pumpkin sauce and with a variety of different ghost creams.

Singing Alice's Caesar Salad | ¥1,360

Alice's Fantasy Restaurant's popular Caesar salad heads to KAWAII MONSTER CAFE, an assortment of purple carrots, pumpkin, and other tasty delights. Alice is also hidden in the pasta somewhere as a black witch.

Kingpin Choppy & Henchman Humpty Dumpty Curry | ¥1,300

KAWAII MONSTER CAFE's mascot is served wearing a silk hat and comes with his fellow henchman Humpty Dumpty.

Cheshire Cat Splatter Ice Cream | ¥1,100

Soft serve ice cream topped with crunchy cereal, cotton candy, and chocolate, all drizzled in a splattered sweet strawberry sauce.

Customers who post a photo of their foot onto social media with the hashtag #tokyohalloweencollection can enter for a chance to win some Halloween merchandise.

UNIQLO TOKYO Begins Knitwear Focused Exhibition

UNIQLO TOKYO, the global flagship store of UNIQLO, is now holding an exhibition themed on its knitwear at its first floor LifeWear Square area until October 11, 2020. It's a consolidation of everything that goes into wearing the symbolic style of their LifeWear lineup, covering the art, science, and craftsmanship behind the items.

About UNIQLO TOKYO

UNIQLO TOKYO opened back in June this year in Ginza, Tokyo, as the country's biggest store and global flagship store. UNIQLO TOKYO is the embodiment of UNIQLO's "LifeWear," clothing that the company has created to "improve everyone's life."

SCIENCE: 3D knit installations by Rhizomatiks Architecture

Rhizomatiks Architecture have created a range of installations including mannequins centred on knitwear. Customers will be able to see knitwear being made by the machines right before their eyes.

CRAFTSMANSHIP: Tools used in the manufacturing process

See the strict standards and measures taken to carefully craft each and every UNIQLO cashmere sweater, from the processes carried out to the materials and tools used in the manufacturing process, samples, and more.

ART: Styling

See the headpieces created by Shiseido's top hair and makeup artist Tadashi Harada for displaying the knitwear. Each and every one was made with care and attention for the 20 mannequins.

RAYARD Hisaya-odori Park: The New Landmark of Nagoya Combines Shopping Experience With the Outdoors

Hisaya-odori Park is a park and shopping complex which opened on Friday (September 18, 2020) in Nagoya, Aichi. It will serve culture, experience, and products next to the newly renovated Nagoya TV Tower.

Hisaya-odori Park


Hammock Day


Park Wagons

The park is split into five areas like Hammock Day where you can kick back in one of the hammocks while listening to music, pick up some produce at the Farmer's Market, do some morning yoga, and more. The park will also have a line of trucks and wagons selling food, drink, items, and more.

RAYARD Hisaya-odori Park

RAYARD has also opened its second shopping complex at Hisaya-odori Park following the opening of RAYARD MIYASHITA PARK in Shibuya. The complex houses 35 restaurants and shops, 22 of which have never opened a branch in Nagoya before, which will deliver fashion, sports, food, communication, and so on.

A variety of popular cafes in RAYARD are opening in Nagoya for the first time, like the Snoopy-themed PEANUTS Cafe, the the bakery and cafe ESPRESSO D WORKS which is known for its "100 one hundred" bread which is world's first made with 100% water content, and Karuizawa's very popular cafe and restaurant Eloise's Cafe.

There'll be plenty of sweet treats to tuck into too, like crepes from ROCCA&FRIENDS CREPERIE to TEA which is so popular in Osaka that people can be waiting up to 2 hours in line, matcha desserts from Kyoto-based sweet shop Shimizu-Ippoen, and bonbons from South Korea's number one cafe Cafe de paris.

If you're wanting a real meal, enjoy some casual Italian dining at Arcoba which is managed by the former head chef of Kyoto's famous restaurant IL GHIOTTONE. Or perhaps yakiniku from Yakiniku Tokugawaen which uses Japanese black wagyu from Kyushu as the main meat on its menu. Kouji MARUTANI will also be there serving up local ingredients from Mikawa, food made with koji, a variety of craft sakes, and more.

RAYARD Hisaya-odori Park will offer a wide range of interactive experiences too such as at the creative community cafe FabCafe Nagoya which makes use of 3D printing and digital fabrication, Snow Peak which provides a live view of nature, T4 NAGOYA where you can play ping pon indoors and outdoors, narifuri which sells bicycle apparel, and so on.

There is much and more to see at RAYARD Hisaya-odori Park, so if you're in Japan this year, head to Nagoya to enjoy the autumn atmosphere.

Hotel New Otani Tokyo, Osaka & Makuhari Now Serving Rich Chestnut Pancakes For Autumn

The Tokyo, Osaka, and Makuhari branches of Hotel New Otani are now serving seasonal autumn versions of their specially made pancakes at their coffee shop and all-dining restaurant SATSUKI until November 30, 2020

Fantastically fluffy pancakes

Hotel New Otani has been serving its special pancakes for the past 10 years which have become a favourite amongst guests.

The hotel's pastry chefs have whisked up a variety of flavours in line with the changing seasons this past decade using strictly-selected ingredients including strawberry, melon, mango, chestnut, and more.

A marriage of rich chestnut and fluffy pancake

Hotel New Otani Specially Made Chestnut Pancakes 2020 | ¥2,800 (Before Tax/Service Charge)


Chestnuts are the flavourful theme for autumn 2020's pancakes, made with strictly-selected chestnut astringent skin, sweet bean jelly, and topped with a chestnut macaron.
The pancakes are served with melt-in-the-mouth Italian ricotta. There are two different doughs, one made from coffee flour which has high nutritional value, and the hotel's original "White Cereal" which is a combination of millets and amaranth.
The pancakes are cooked on a low heat for about 5 minutes on each side so they rise to a fluffy 5cm thickness and become startlingly smooth.

Strawberries for winter

For this year's winter, the hotel will be serving strawberry pancakes.

Enjoy a selection of seasonal pancakes when staying at Hotel New Otani.

Information

Hotel New Otani Tokyo
Location: SATSUKI, Hotel New Otani Tokyo Main Lobby
Address: 4-1 Kioicho, Chiyoda-ku, Tokyo
Bookings/Enquiries: 03-5275-3177 (10:00-21:00)
Official Website: https://www.newotani.co.jp/tokyo/restaurant/satsuki/

Hotel New Otani Makuhari
Location: SATSUKI, Hotel New Otani Makuhari
Address: 2-120-3 Hibino, Mihama-ku, Chiba, Chiba Prefecture
Bookings/Enquiries: 043-299-1848 (07:00-21:00)
Official Website: https://www.newotani.co.jp/makuhari/restaurant/satsuki/

Hotel New Otani Osaka
Location: SATSUKI, Hotel New Otani Osaka
Address: 1-4-1 Shiromi, Chuo-ku, Osaka, Osaka Prefecture
Bookings/Enquiries: 06-6949-3234 (07:00-20:00)
Official Website: https://www.newotani.co.jp/osaka/restaurant/satsuki/

Sip Sparkling Wine and Other Drinks Among Tokyo's Nightscape With Sarabeth's HIGH TEA TERRACE NIGHT

The Tokyo branch of New York-based restaurant chain Sarabeth's has announced a special autumn event that goes by the name 'HIGH TEA TERRACE NIGHT.' Set to run from September 23 to October 31, customers will be able to sit on a rooftop terrace in the evening with Tokyo's towering cityscape surrounding them while drinking sparkling wine and other all-you-can-drink free-flow alcoholic beverages—high tea style.


High tea refers to post-dinner evening tea time. At Sarabeth's, customers can look forward to dining on a special set menu for grown-ups with alcohol and other treats.


High Tea Style Set Menu With Free Drink | ¥5,000 (Before Tax)

Served on an afternoon tea stand, tuck into six different appetisers, meatball sliders, and truffle flavoured French fries. For the main dish, there's steak made in a red wine sauce and boletus mushrooms. Free drinks include sparkling wine, red and white wine, beer, high balls, cocktails, soft drinks, and more.

Feel the evening breeze of autumn while indulging in a special high tea experience in Tokyo.

Information

Sarabeth's Tokyo – HIGH TEA TERRACE NIGHT

Running: September 23, 2020 – October 31, 2020

Location: Sarabeth's Tokyo

Address: 1-8-2 Marunouchi, Chiyoda-ku, Tokyo

Serving Hours: 17:00-20:30
TEL: 03-6206-3551
*Free -flow drinks are all-you-can-drink for 90 minutes

*Reservations required by 16:00

Official Website: http://www.sarabethsrestaurants.jp/

Experience a Stylish Picnic at Kobe Nunobiki Herb Gardens

Kobe Nunobiki Herb Gardens is now taking bookings for its upcoming "Garden Picnic 2020 -Autumn Season-" event which is set to run from September 26 to November 23.

The Gaden Picnic event began in spring last year, and this time around, they're hosting a special autumn themed picnic. Visitors can expect to tuck into a seasonal food lineup while enjoying the cooling autumn weather.

Garden Picnic 2020 offers a range of picnic rental necessities from food to drinks, desserts, picnic sheets, chopping boards, cutlery sets, dried flowers, garlands, alphabet letters, blackboards, bubbles, and more, so visitors can enjoy a proper and memorable picnic experience—one that will definitely be Instagram worthy—amongst the autumnal verdure of the Kobe Nunobiki Herb Gardens.

The garden paths, flower beds, and the Rokko mountains offer a beautiful outdoor experience throughout all four seasons. Autumn in particular, as the colours of the mountains transition into vibrant red and yellow hues and sway underneath the clear sky. From cosmos to gorgeous globe amaranth, colourful sage, and other autumnal flowers, it's the perfect setting for an autumn aesthetic picnic.

Information

Garden Picnic 2020
Running: September 26, 2020 – November 23, 2020

Price: Picnic set for two – ¥7,000 (Tax Included)

Includes: Food, Japanese sweets, mini wine bottle (comes with 2 glasses), mineral water, picnic blanket, chopping board, cutlery set, dried flowers (can be taken home), garlands, alphabet letters, blackboard, and bubbles

Booking: Must be booked by telephone called two days prior by 15:00

*Cancellations must be made by 12:00 the previous day, otherwise you will be charged

*10 bookings available per day, first-come, first-served

*Bookings available 10:30-14:00 (JST)

Official Website: https://www.kobeherb.com/event_experience/garden_picnic/

Art and Lifestyle Come Together at Isetan Shinjuku's 'Living with ART' Event

Isetan Shinjuku is now hosting its "Living with ART" event on the 5th floor of the main building until September 29, 2020.

Living with ART brings together collections of artistic products by designers from both inside and outside Japan, from unique items to add accent to your daily life to more daily-use bits and bobs.

STUDIO THE BLUE BOY comes to Isetan Shinjuku for the first time

<STUDIO THE BLUE BOY> Wavy Gradient rug – Orange × Yellow | ¥289,000 (Before Tax)

Keisuke Shoda is a Tokyo-based designer and art director whose name is known both in Japan and overseas. He creates products for his art studio, STUDIO THE BLUE BOY, all of which are sold exclusively online from rugs to interior products and more. Exhibiting at Isetan Shinjuku for the first time, STUDIO THE BLUE BOY's lineup will include their popular rugs, fragrances, bags, and more.

<STUDIO THE BLUE BOY> Zen Garden Collection (Left: Charcoal Grey, Right: Matcha Deep Green) | ¥329,000 Each (Before Tax)

Visitors will also be able to order the Charcoal Grey and Matcha Deep green rugs early from the studio's new Zen Garden Collection line.

Valeria Vasi showcases their new range in Japan for the first time

<Valeria Vasi> Vases | ¥12,000-¥75,000 Each (Before Tax)

Barcelona-based designer Valeria Vasi is showcasing her iconic and eye-catching handcrafted vases. Her designs are simple, but have their own beauty and quality, giving room for a single flower to express its own beauty. She will be selling around 40 items.

<Valeria Vasi> Vases | ¥34,000-¥45,000 (Before Tax)

As well as her ceramic vases, which have a beautiful glossy finish, Valeria Vasi is also selling her newest glass-type vases in Japan for the first time.

Young artists' pictures turned into blankets

<Slowdown Studio> Blanket | ¥32,000 (Before Tax)

Slowdown Studio's products are available in 16 countries worldwide. It is a home product brand that makes items using pictures and illustrations created by young artists around the world. At the event, they will be selling 10 different kinds of blankets, including three from their new TOKYO COLLECTION together with Japanese artists.

<Slowdown Studio> Blanket | ¥32,000 (Before Tax)

The blankets can even be used as wall art.

This is just a snippet of what will be on show at Living with ART. If you're in Tokyo this month, don't miss out on the event.

Experience Old Time Kyoto in Autumn 2020 With Tea and Textiles

Kyoto, the ancient capital of Japan, is also called the birth place of Japanese culture, with a history spanning 1,200 years. Today, we're going to take a look at a number of upcoming events and seasonal items on sale in Kyoto for autumn 2020.

Celebrating 300 years of Tango Chirimen

This year marks 300 years since Tango Chirimen was established, a company located in Tango in northern Kyoto that specialises in a Japanese textile of flat woven silk known as 'chirimen.' There are many local chirimen brands around Japan, but it is the chirimen from Tango that has stood above the rest these past 300 years. The brand is now looking to the start of a new era for itself during its triple century milestone.

LIFE WITH THE QUALITY

Tango Chirimen is currently displaying a collaborative art exhibit at NEWoMan Shinjuku in Tokyo. This includes the entry display made in collaboration with Japanese artist Saki Tanaka, wall art made from woven fabrics, and more.

Running: Until September 30, 2020

Location: NEWoMan Shinjuku

Lineup: Display in collaboration with Saki Tanaka, wall art, and more

United Arrows x Tango Chirimen

United Arrows is also collaborating with the brand and incorporating their logo mark "TANGO OPEN" on a new men's t-shirt.

Product Name: BY Tango Broad Wide Form Tapered Shirt
Buy Here: https://store.united-arrows.co.jp/shop/by/goods.html?gid=52838245
Sold at: BEAUTY & YOUTH UNITED ARROWS stores and their official online store

Taste tea from Uji on Japanese Tea Day

It is generally considered that the first tea of the season in Japan is best enjoyed from the end of April and during May, but in fact Japanese tea is the perfect season to enjoy Japanese tea, specially since the country celebrates Japanese Tea Day (Nihoncha no Hi) on October 1 and 31.

Ujicha, or tea from Uji in Kyoto, boasts some of the most famous kinds of teas in Japan. This includes matcha, sencha, and gyokuro, all of which were first grown in southern Kyoto. Because of this, it is said that Ujicha marks the origins of Japanese tea. So when you visit Japan during autumn, why not celebrate Japanese Tea Day with some authentic tea from Uji?

Ujicha Tea Murie Online Course

The Ujicha Tea Murie Course has been held since 2015 in Kyoto, and this year, the course is heading online for the first time as a result of the pandemic. Learn how to make and serve Uji tea from a professional tea instructor as well as its history and more.

Running: Session 1: September 15, 2020 / Session 2: October 2, 2020 / Session 3: October 17, 2020

Book: Online
Requirements: Download and install Zoom
Official Website: https://www.pref.kyoto.jp/yamashiro/ocha/

Certified Ujicha tea cafes for an authentic experience

Tsujiri Rihei Ginza | Tsujiri Rihei Senju

Nakamura Tokichi Ginza

Tsujiri Rihei Ginza, Tsujiri Rihei Senju, and Nakamura Tokichi Ginza are all cafes in Tokyo that are officially recognised for serving authentic Ujicha tea which also includes proper preparation as well as teaching the history and culture behind the tea. These three cafes are also holding an Ujicha tea stamp rally as well as a Twitter hashtag campaign.

Harajuku's New Carbonara Restaurant Serves Pasta Japanese Style

A new spaghetti carbonara restaurant by the name of Nama Carbonara opened in Harajuku, Tokyo on September 17, 2020.

The restaurant opened in the same building as Harajuku's popular fresh cream shop MILK and bubble tea shop Mot Tram. The restaurant makes its own fresh flat pasta everyday and uses fresh, rich cream sourced from Hokkaido.

The current menu lineup consists of six dishes, from classic carbonara to Japanese twists. Let's take a look at some of them.

Classic Carbonara | ¥790

Walleye Pollack Roe Japanese Carbonara | ¥1,090

Freshly Grated Cheese & Bacon Carbonara | ¥1,090

Seafood, Avocado & Basil Carbonara | ¥1,190

Discover a brand new world of carbonara like never before at Nama Carbonara in Harajuku.

Information

Nama Carbonara (生カルボナーラ専門店 原宿店)

Grand Opening: September 17, 2020

Address: THE SHARE 1F, 3-25-18 Jingumae, Shibuya, Tokyo

Opening Hours: 11:00-19:00 (Last Orders 18:30)

TEL: 03-5772-8858

Official Website: http://www.opefac.com/

Manga Series Tokyo Revengers Gets Exhibition at Tower Records Shibuya

Tower Records Shibuya will host an exhibition dedicated to the ongoing manga series Tokyo Revengers from September 26 to October 18. The exhibition is being held to promote the release of the 19th volume which hits shelves in Japan on September 17.

Tokyo Revengers is a manga series written and illustrated by Ken Wakui. An anime adaptation is scheduled to broadcast in 2021.

The exhibition will feature a variety of works drawn by Ken Wakui for the series, both black and white as well as coloured illustrations, as well as panels of each character, and more. There will also be an exhibit for the upcoming live-action film.


Tokyo Revengers x TOWER RECORDS OSMO Stamps (22 Designs) | ¥909 Each (Before Tax)

Tokyo Revengers Monochrome Panels | ¥30,000 Each (Before Tax, Includes Shipping)

Fans can also get their hands on a range of exhibition-exclusive merchandise, and from October, the exhibition will sell some Tokyo Revengers x Tower Records collaborative merch. There'll be some signed artwork for sale too.

Character Business Cards (11 Designs)

And for every ¥1,000 spent at the exhibit, fans will receive one of 11 possible character business cards.

Information

Tokyo Revengers Exhibition – Tower Records Shibuya
Running: September 26, 2020 – October 18, 2020

Time: 12:00-15:00 / 16:00-20:00 (Last Entries 19:30)

Location: Tower Records Shibuya Floor 8F SpaceHACHIKAI
Entry: Free (But you must book a place online)

Exhibition Information (Japanese): http://towershibuya.jp/news/2020/09/15/148467

TALENT PROFILE

Anna Yano

Released the song "Shape My Story" produced by kz (livetune) in August 2013. Performed as the vocalist on a single for kz's solo project 'livetune' in January 2014. Both songs were used as theme songs for anime series and received attention in Japan and overseas. In October 2015, she formed a new unit with kz called 'livetune+' and they released their first EP "Sweet Clapper" on May 11, 2016.

Ayumi Seto

Active as a model, especially in fashion magazines. Receives tremendous support for her cute and distinct fashion. In February 2014, she debuted her apparel brand 'Aymmy in the batty girls' where she works as a designer. She was the first Harajuku and Aomoji-kei model to establish an authentic apparel brand. She develops clothing items through her unique fashion sense lens.

Ema Tanioku

"Emaeri" is the nickname for models Ema and Eri Tanioku, who are Aomoji fashion model twins. Ema and Eri Tanioku specialise in twin fashion coordination. Over the years their fanbase has increased due to their cute looks. Ema Tanioku spreads Harajuku culture within Japan as well as overseas and works as a Harajuku Tourism Ambassador. Starting off as a model, Ema has broadened her talent range from fashion magazines to TV, and from playing the lead role in dramas to movies.