Review: The 30 Year Old Cafe Chatei Hatou in Shibuya
Hi, everyone. It's Banako of MOSHI MOSHI FRIENDS. Today I'm reviewing Chatei Hatou, a long-standing cafe in Shibuya, Tokyo.
Shibuya is a place that bustles with youth culture and fashion. It's also home to many eateries, but there aren't many places around that you can go to to get away from the busy streets for a quiet break.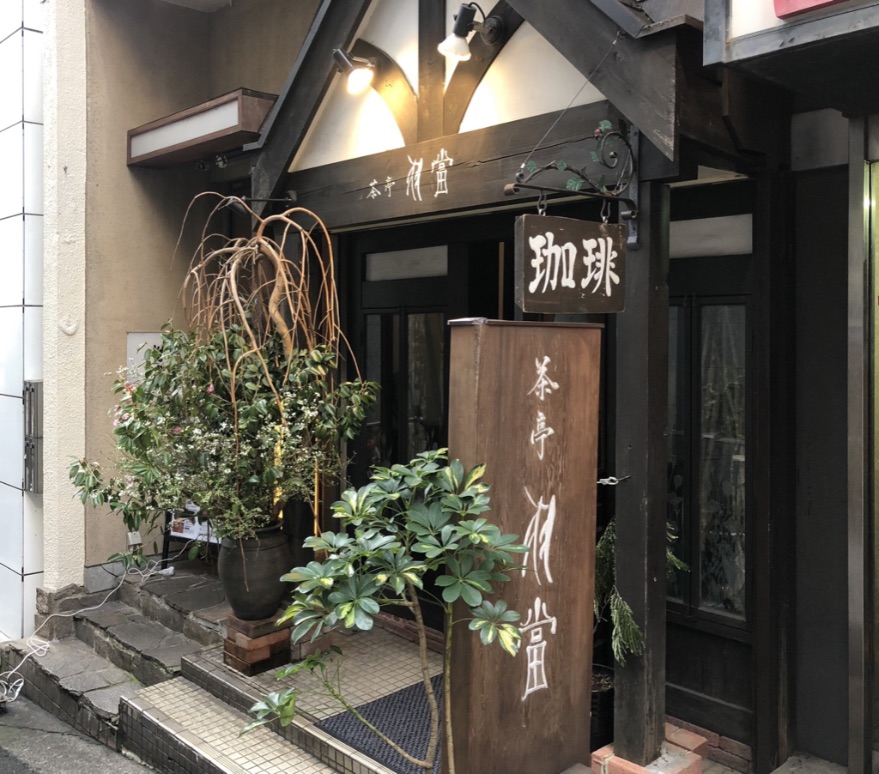 Chatei Hatou opened in 1989 at Miyamasuzaka Shita in Shibuya, where it has gone unchanged and welcomed customers for the past 30 years. It's very easy to get to, being just a 3-minute stroll from the Hachiko Exit of Shibuya Station.
When opening the door to the cafe and stepping inside, the first thing to jump out at you are the rows of coffee cups lined up along shelves behind the counter.
The coffee cup collection features a selection of works by many different makers. There's even a cup in there valued at ¥200,000!
The antiques littered here and there around the cafe elevate the vibe of the cafe. There's a number of seating areas, including the counter seats as well as tables for two, four, or big groups.
I felt the faint tasty scent of the Japanese pudding calling to me so I went and ordered a pumpkin pudding along with a hot chocolate.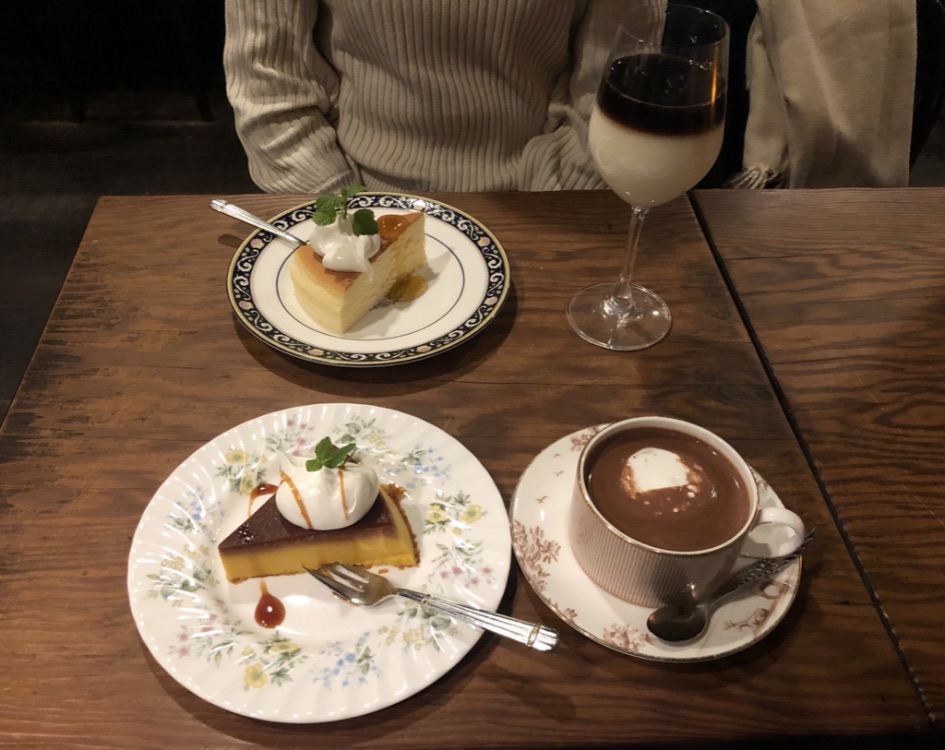 Cafe Chocolat (Hot) ¥950 / Pumpkin Pudding ¥500

The pumpkin pudding was nice and moist and rich in flavour. Nothing short of delicious. It's made even sweeter when eaten together with the fluffy whipped cream―which also elevates the flavour of the pumpkin too.

I was inspired by the cafe owner to go for the cup I chose for my hot chocolate. There is so much variety between the cups; it's fun getting to see rare ones. Be sure to check their Instagram page where they have more detailed write-ups about their coffee cups and coffee varieties.
The cafe has a selection of original coffee blends which they make fresh with the utmost care and consideration. You can buy their coffee beans, take cake away from you, and even order whole cakes, so you can enjoy their delights at home.
Chatei Hatou has stood together with Shibuya these past 30 years. According to the owner, the most important thing about running a cafe is making sure its doors are always open. It's been tough as a result of the pandemic this year, but the cafe is still there as a part of people's lives.
The next time you're in Shibuya, why not enjoy a drink and a sit down at Chatei Hatou?
Information
Chatei Hatou
Address: 1-15-19 Shibuya, Shibuya-ku, Tokyo
Opening Hours: 11:00-23:30 (Last Orders 22:30)
No Fixed Holidays (But may be closed during the New Year Holidays)
Access: 3-minutes on foot from Shibuya Station's Hachiko Exit
Official Instagram: https://instagram.com/hatou_coffee_shibuya?igshid=9ubwybwvpktb
*The cafe is cash-only and has an outdoor smoking area
Writer: Banako
Translator: Joshua Kitosi-Isanga
RELATED ENTRIES
Detective Conan Themed Cafes Open in Japan to Promote Upcoming 'Scarlet Bullet' Anime Film

To promote the upcoming anime film Detective Conan: The Scarlet Bullet which is set to released in Japan on April 16, 2021, seven themed cafes will open in Tokyo, Osaka, Nagoya, and Sapporo from March 24. The cafe is themed on a retro diner which will transport fans back in time to diners inspired by America in the 1950s and 60s.

Main Visual

Bonus Items

RETRO AMERICAN DINER MENU

DETECTIVE BURGER/SNIPER BURGER/ZERO BURGER/BOYISH BURGER/SHERRY BURGER/OSUSOWAKE BURGER – ¥1,599 Each (Before Tax), +¥500 For Acrylic Key Ring

DETECTIVE SUNDAE/SNIPER SUNDAE/ZERO SUNDAE/BOYISH SUNDAE/SHERRY SUNDAE/OSUSOWAKE SUNDAE – ¥1,099 Each (Before Tax), +¥500 For Acrylic Key Ring

DETECTIVE SODA/SNIPER SODA/ZERO SODA/BOYISH SODA/SHERRY SODA/OSUSOWAKE SODA – ¥899 Each (Before Tax), +¥500 For Acrylic Key Ring

CONAN CAFE CLASSIC Menu

APTX-4869 TROPICAL LAND CURRY | ¥1,400 (Before Tax)

COLUMBO MINT SAUCE PASTA ¥1,499 / DELICIOUS TO DIE FOR RAMEN ¥1,099 / POIROT CAFE SANDWICH ¥1,399 (All Prices Before Tax)

AI'S BERRY CHEESE FRENCH TOAST ¥1,200 / RAN'S LEMON PIE ¥1,499 / HIROSHI AGASA'S "SHIPPAI JA" PANCAKES VER.2 ¥1,199 (All Prices Before Tax)

CRIMINAL'S BLACK SESAME STRAWBERRY AU LAIT ¥999 / CRIMINAL'S SOUVENIR MUG +¥1,400 (All Prices Before Tax)

LEFT'S CAFE LATTE ¥899 / YOUNG DETECTIVE SHAKE ¥1,099 / RAN'S BERRY JELLY SODA ¥999 (All Prices Before Tax)

LIMITED EVENT MENU

1st Menu: Detective Conan: The Scarlet Bullet Menu | April 16, 2021 – May 31, 2021

AKAI FAMILY BANQUET ¥1,499 / UNAGI'S KABAYAKI & TARE OKAWARI RICE ¥1,699 / SHUKICHI & YUMI'S DELICIOUS SHORTCAKE ¥1,399 / SCARLET OGURA STRAWBERRY TOAST ¥1,599 (All Prices Before Tax)

2nd Menu: Phantom Thief Kid & Aoyama Sensei's Birthday Menu | June 1, 2021 – July 11, 2021

*Only available at Nagoya cafe from July 1-11

THE JEWEL GARDEN SALAD ¥1,499 / MAGIC SPICE PARFAIT ¥1,200 / AOYAMA-SENSEI BIRTHDAY CURRY ¥1,399 (All Prices Before Tax)

3rd Menu: Shuichi Akai Season 1 Menu | July 1, 2021 – August 15, 2021

4th Menu: Shuichi Akai Season 2 Menu | August 16, 2021 – September 26, 2021

*Menus 3 and 4 exclusive to Shinjuku and Umeda cafes

*Menus 3 and 4 are centred on the character Shuichi Akai

Original Merchandise

Pins (6 Designs) | ¥450 Each (Before Tax)

Acrylic Coasters (12 Designs) | ¥800 (Before Tax)

Mini Acrylic Stands (12 Designs) | ¥900 (Before Tax)

Acrylic Magnets (6 Designs) | ¥500 (Before Tax)

Folders (6 Designs) | ¥300 (Before Tax)

Bandanas (2 Designs) | ¥1,500 Each (Before Tax)

Eco Bag | ¥1,850 (Before Tax)

Chocolate Tin | ¥1,600 (Before Tax)

Fans can tuck into a Detective Conan-themed retro menu as well as get their hands on some exclusive merchandise featuring original chibi art.

Make sure you don't miss Detective Conan: The Scarlet Bullet.

©青山剛昌/小学館・読売テレビ・TMS 1996

THE iDOLM@STER SideM Themed Cafes Open in Ikebukuro, Tennoji, and Nagoya

Three branches of Animate Cafe in Ikebukuro, Tennoji, and Nagoya are now serving as the venues for a limited-time THE iDOLM@STER SideM cafe experience until March 14. Fans of the multimedia series can enjoy a range of themed food and drink as well as get their hands on exclusive merchandise of their favourite characters in chibi form.

Animate Cafe Ikebukuro Exclusive Mini Character Illustration Tapestry

Animate Cafe Ikebukuro "High x Joker" Life-Size Panels

The idol characters will be waiting to welcome you, the Producer, to a special "Sweetie Wonderland" themed space.

Food and drink names, which are inspired by past event that have taken place in THE iDOLM@STER SideM video game, have been translated from Japanese by MMN.

Themed Food Inspired by Past In-Game Events

Ryu Kimura's Workout Tray Don | ¥950 (+¥200 for Cocoa Protein Drink) | Comes With SASUGA Logo Sticker

Super Live Fes 2016 Shiki Iseya – Shiki's Kumacchiman Steamed Bun | ¥750

2020 Valentine's Event – Prepping the Cacao Soil | ¥800

Bubbly AP CIDER!! Live Hokuto Ijūin – Sparkling Moment | ¥600

Jiro Yamashita's Jelly Drink | ¥600

Shoma Hanamura's Night Party Lemonade | ¥600

Merch

Acrylic Key Rings Sweetie Wonderland A-Group (15 Designs) – DRAMATIC STARS / Altessimo / Shinsoku Ikkon /  Café Parade / S.E.M | ¥700

Acrylic Key Rings Sweetie Wonderland B-Group (15 Designs) –  Beit / Sai / THE Kogado / F-LAGS / Legenders | ¥700

Acrylic Key Rings Sweetie Wonderland B-Group (16 Designs) –  Jupiter / W / FRAME / High x Joker / Mofumofuen | ¥700

Pins – Sweetie Wonderland A-Group (15 Designs) – DRAMATIC / STARS / Altessimo / Shinsoku Ikkon / Café Parade / S.E.M | ¥400

Pins – Sweetie Wonderland B-Group (15 Designs) – Beit / Sai / THE Kogado / F-LAGS / Legenders | ¥400

Pins – Sweetie Wonderland C-Group (16 Designs) – Jupiter / W / FRAME / High x Joker / Mofumofuen | ¥400

Pin Cover Sets (3 Included / 15 Designs) | ¥500

Pin Cover Example

Frog Chocolates With 2 Coasters (46 Designs) | ¥1,800カエル型チョコ 注文特典コースター全46種よりランダム2枚付き 1,800円

Clear Tasty Box With PVC Key Ring (15 Designs) | ¥1,800 Each

Campaign

Free Birthday Bromide Campaign

Free Coaster Campaign

©BANDAI NAMCO Entertainment Inc.

Uji Matcha Loaded Pancakes Get Served Up at Eggs 'n Things Japan This Spring

For the entire month of March this year, Eggs 'n Things Japan is serving up "Uji Matcha Tiramisu Pancakes" and "Egg Scramble House Sandwich" at all branches.

The Seasonal Menu


Uji Matcha Tiramisu Pancakes | Eat In ¥1,480, Takeout ¥1,080

 These rich tiramisu pancakes are made with a dough laced in delicious Uji matcha and topped with succulent strawberries.

*The takeout option doesn't come with whipped cream

Egg Scramble House Sandwich | Eat In & Takeout ¥1,380

 A classic BLT layered perfectly so every ingredient stands out for every bite.


A Refreshing, Fruity Springtime Drink


Tropical Fruit Mix | ¥650

 Customers can stay refreshed this spring with this tropical fruit mixed beverage of mango, pineapple, banana, and more.

Japan's Cafe Chain Bread, Espresso & to Open New Branch in Kamata

Hitobito, the company behind Japan's popular bakery cafe chain Bread, Espresso &, is set to open a new branch inside Makita General Hospital in Kamata on March 1. The cafe opened its doors for pre-openings earlier this month with shortened business hours.

 

Bread, Espresso & has 20 branches across Japan including the popular one located in Omotesando, Tokyo. Its frequented by people of all ages for its deliciously soft bread made from 100% Japanese wheat.

The cafe's picture book-like interior design caters to children featuring bread-shaped tables and cute illustrations.




Customers are welcome to try out the free samples on display. Each sample has a little card detailing various information which customers can take to the register if they want to buy that item. Often in Japanese bakeries there are tongs and trays which customers are free to use, but this new style of service lessens contact with others for a safer trip during the pandemic.

The bakery serves Bread, Espresso & classics like French toast and their mu pastries, as well as alternatives like gluten-free breads, no-sugar treats, and more.

Information

Pan, Espresso & Kamata

Address: 8-19-1 Nishi-Kamata, Ota-ku, Tokyo

Opening Hours:  9:00-21:00 (Until 18:00 during pre-opening)

Holidays: None (Except Sundays during pre-opening, after it will be open 7 days a week)

TEL: 03-6424-7920

Pan, Espresso & Official Website: http://www.bread-espresso.jp/

Disney Japan Celebrates Minnie's Day With Exclusive Minnie Mouse Merchandise

Minnie's Day is set to fall in Japan on March 2, so to celebrate, Walt Disney Japan is getting in on the festivities nice and early by announcing the release of a new Minnie Mouse merchandise collection, called the "Disney ARTIST COLLECTION by Kelly Park," which will be officially released at Disney stores in Japan on February 23. Pre-sales will also roll out at select stores and Disney Japan's online store shopDisney from February 19.

©Disney

©Disney

Plushie ¥3,300 / Makeup Brush Set ¥2,640 / Tote Bag ¥2,090 / Room Fragrance ¥4,180 / iPhone Case (iPhone 11) ¥3,520 / Mirror ¥2,420 / Ballpoint Pen & Notebook Set ¥1,980 – (Prices Include Tax)

©Disney

nuiMOs Plushie ¥2,750 (Tax Included)


Kelly Park is an artist that is enjoying immense popularity in South Korea right now. Their new "Disney ARTIST COLLECTION by Kelly Park" is an exclusive release in collaboration with Disney Store.

The line-up is a celebration of all things Minnie Mouse for her big day, aptly named "Minnie's Day," on March 2. Vibrant blue is the main colour for the collection which Kelly Park has created to support fellow dreamers out there – those who have big hopes and aspirations in their everyday lives. The designs are bright, beautiful, and full of positivity, making them a perfect pick for the coming spring season. Minnie fans can feel fresh this spring season with fahsion items, accessories, stationery, a variety of lifestyle goods, and more.

Disney's popular nuiMOs plushie range will welcome an exclusive new Minnie Mouse plushie on February 26 which features the date "March 2, 2021" on it for Minnie's Day. It also comes with a pin. These plushies are limited-edition and only 320 will be sold – a number that of course aligns with March 2.

Celebrate the day of the original Disney Princess with the new Disney ARTIST COLLECTION by Kelly Park.

Shibuya PARCO Reveals Fashion Campaign Key Visual For Spring 2021

Shibuya PARCO has unveiled its key visual for its Spring 2021 fashion campaign "SHIBUYA PARCO S/S NEW LOOK" which features Japanese model Lala Takahashi.

SHIBUYA PARCO S/S NEW LOOK Key Visual

In the visual, Lala Takahashi is donning the 'Pablo' series by UNDERCOVER which is inspired by Picasso's 'Blue Period.' It's been transferred onto a print of an abstract oil painting by Jun Takahashi. The photo was taken by visual artist Takako Noel, while the conceptual headpiece, which is made from recycled plastic, was created by hair stylist Haruka Tazaki.

The campaign brings with it a wave of new fashion and cosmetic items from stores inside Shibuya PARCO. A special coupon that can be used on the PARCO online store from February 9 to 28 is also available. It comes in response to stay-at-home measures raised in Japan due to the pandemic.

Cute Milk Bottle Pudding Releases at Milk Bakers in Tokyo

Tokyo-based bakery Milk has released an adorable new milk pudding at two of its branches, both of which are served in cute milk bottles.

Smooth Pudding / Milk Pudding – ¥380 Each (Tax Included)

Box of 4

Box of 8

Pudding Soft

Carefully-selected and fresh milk of high quality is used to make these Japanese-style puddings, known as purin. Each and every one is handmade individually, and they can be bought separately or in boxes of 4 and 8. No preservatives, additives, of any nasty stuff is added to the dessert either.

Also on the menu is a milk-loaded soft serve ice cream. The cup it's served in has a cute retro design to it.

Information

Milk Pudding
Available: Milk Sano / Milk Shibuya
Address: 2-7-1 Sano, Adachi-ku, Tokyo
TEL: 03-5613-5550
Opening Hours: 10:00-18:00
Closed: Wednesdays
Official Website: https://tokyo-milk.jp/

Enjoy a Valentine's Day Bath at Ofuro Cafe no Yu Hakuju in Saitama

Ofuro Cafe Hakuju no Yu is holding a special Valentine's Day event for lovers which will run from February 6 to 14.

Though the bath house is split between male and female, couples can write messages of love to their special someone on a heart-shaped plaque made from Japanese cypress wood. The plaques were made in collaboration with the local business Kanezawa.

Choko Sweet Sake Shake | ¥630 (Before Tax)

For the Valentine's event, the bath house is also serving up a special shake beverage made with chocolate and sweet sake. The polyphenol in chocolate is said to be good for health and beauty, making it a perfect choice for a day of luxury at Ofuro Cafe Hakuju no Yu.

Guys who visit the bath house on Valentine's Day itself will also receive free Valentine's chocolate.

Information

Valentine's Bath
Running: February 6, 2021 – February 14, 2021
Venue: Ofuro Cafe Hakuju no Yu
Address: 337-1 Wataruse, Kamikawa, Kodama District, Saitama
TEL: 0274-52-3771
Official Website: https://ofurocafe-hakujyu.com/

■About Ofuro Cafe

Ofuro Cafe is a chain of hot spring brands made for long stay periods. It offers a variety of free services such as coffee, magazines, comics, massage chairs, PC rental, and more. The experience created is like being invited to a friend's house to kick bck and relax. There are three branches in Saitama including Ofuro Cafe Utatane, Ofuro Cafe Hakuju no Yu, and Ofuro Cafe Bivouac, as well as one branch in Mie, Ofuro Cafe Yumoriza. It also has three franchise branches: Ofuro Cafe Bijinyu in Shizuoka, Ofuro Cafe Biwakoza in Shiga, and Ofuro CafeSeiyukan in Hokkaido. "おふろcafe(R)" is a registered trademark of ONSENDOJO INC.

■ONSENDOJO INC.
Founded in March 2011. Manages hot spring facilities including the Ofuro Cafe brand as well as resort facilities, consultation services, and supporting regional businesses.
http://onsendojo.com/

Blue Bottle Coffee to Open Pop-Up Stores at Shibuya Scramble Square in Tokyo

Blue Bottle Coffee Japan has announced that it will open a pop-up store on the second floor of Shibuya Scramble Square in Tokyo from February 10 to March 15.

Cacao Candy & Instant Coffee Set | ¥2,800 (Before Tax)

Coffee Set | ¥3,200 (Before Tax)

Sweet Bean Jelly & Instant Coffee Set | ¥3,000 (Before Tax)

The pop-up shop will sell a variety of Blue Bottle Coffee products like fresh coffee beans, mugs, Valentine's Day gifts, item sets, and more.

Information

Blue Bottle Coffee Pop-Up Store
Running: February 10, 2021 – March 15, 2021
Location: Shibuya Scramble Square Floor 2F

Address: 2-24-12 Shibuya, Shibuya-ku, Tokyo
Opening Houes: 11:00-20:00
Official Website: https://store.bluebottlecoffee.jp/

hotel koe tokyo Celebrates 3rd Anniversary With Luxurious Financier Strawberry Open Sandwich

hotel koe tokyo is celebrating its third anniversary by serving up a special financier strawberry open sandwich at the koe lobby on the first floor.

Financier Strawberry Open Sandwich | ¥1,045

The sandwich is made using a financier bread baked by the hotel koe bakery. This fluffy and airy treat has crunchy sides and sits on top of a bed of fresh cream bathed in crème anglaise. It's finished with a loaded topping of fresh strawberries which add a sweet and tangy flavour to the sandwich.

If you're staying in Tokyo this month, don't miss out on this limited-time treat which is being served from February 8 to 28.

Information

hotel koe tokyo Financier Strawberry Open Sandwich
Where: koe lobby @ hotel koe tokyo
Serving Dates: February 8, 2021 – February 28, 2021

Serving Times: 15:00-18:00提供期間:2021年2月8日(月)~2月28日(日)
Opening Hours:

[Morning] 7:30-11:00 (Last Orders 10:30)

[Lunch] 11:00-15:00 (Last Orders 14:30)

[Tea Time & Dinner] 15:00-20:00 Last Orders 19:30)

Official Website: https://hotelkoe.com/food/

Valentine's Themed Menu Now Serving at FENDI CAFFE by ANNIVERSAIRE in Omotesando

Luxury Italian brand FENDI is currently teamed up with the iconic Aoyama-based ANNIVERSAIRE CAFÉ OMOTESANDO to serve up a special Valentine's Day themed menu at the cafe which it's calling "FENDI CAFFE by ANNIVERSAIRE."

Cake Set | ¥2,800 (Before Tax)


Tart Saison | ¥1,000 (Before Tax)

The cake set and tart saison are revamps of current menu items, now topped with in-season strawberries. The cafe has also been adorned with romantic red roses and multi-coloured decorations for this year's Valentine's Day.

Information

FENDI CAFFE by ANNIVERSAIRE
Running: November 28, 2020 – February 14, 2021
Where: FENDI CAFFE by ANNIVERSAIRE
Address: 3-5-30 Kita-Aoyama, Minato-ku, Tokyo

Opening Hours: 11:00-20:00
TEL: 03-5411-5988
FENDI Official Website: http://www.fendi.com

Pompompurin Themed Desserts and Drinks Now Being Served Up in Osaka

The Osaka-based fruit parlour and bakery Season&Co., which is located on the first floor of LINKS UMEDA, is celebrating the 25th anniversary of Sanrio's popular character Pompompurin with a themed menu of desserts and drinks until April 12, 2021.

Menu item names have been translated from Japanese by MMN.

Pompompurin Peeking From the Nabe Hot Pot | ¥1,000 (Before Tax)

Pompompurin's Specially-Made Parfait | ¥1,600 (Before Tax)

Pompompurin's Strawberry Omelette | ¥1,600 (Before Tax)

Pompompurin's Pudding Juice | ¥730 (Before Tax)

Pompompurin's Mixed Juice | ¥730 (Before Tax)

NMB48 x Pompompurin's Chocolate Cake | ¥700 (Before Tax)

NMB48 x Pompompurin's Osaka Cupid | ¥500 (Before Tax)

The menu includes a range of Pompompurin themed drinks and desserts as well as merchandise. There's also two items made in collaboration with NMB48.

For every order, customers will receive a free lunch mat, and if they spend over ¥1,000 (before tax) on anything on the menu, including the merch, they'll get a free sticker.

Information

Season&Co. x Pompompurin Collab Cafe
Running: January 27, 2021 – April 12, 2021
Where: FRUITS PARLOR+BAKERY Season & Co.

Address: LINKS UMEDA 1F, 1-1 Ofukacho, Kita-ku, Osaka-shi, Osaka
Opening Hours: 9:30-20:00 (Last Orders 19:30)
Official Website: https://season-co.shop