Kawaii Kirby's Dream Land Hand Cream Releases This September
Japanese cosmetic brand Lovisia is releasing three new hand creams with adorable Kirby packaging this autumn. The creams will begin rolling out on Lovisia's official website, variety shops, and select Lawson stores in Japan at the end of September.
Pink Lush
Kirby's Dream Land Hand Cream | ¥800 (Before Tax)
"Pink Lush" is the concept attached to the hand cream line-up, which is coloured a cute Kirby pink. There are three different designs: one with Kirby on a flower bed and wearing a flower crown, another with Kirby and Waddle Dee blowing bubbles, and another with Kirby inhaling assorted fruits.
Stay moisturised with Kirby throughout autumn and winter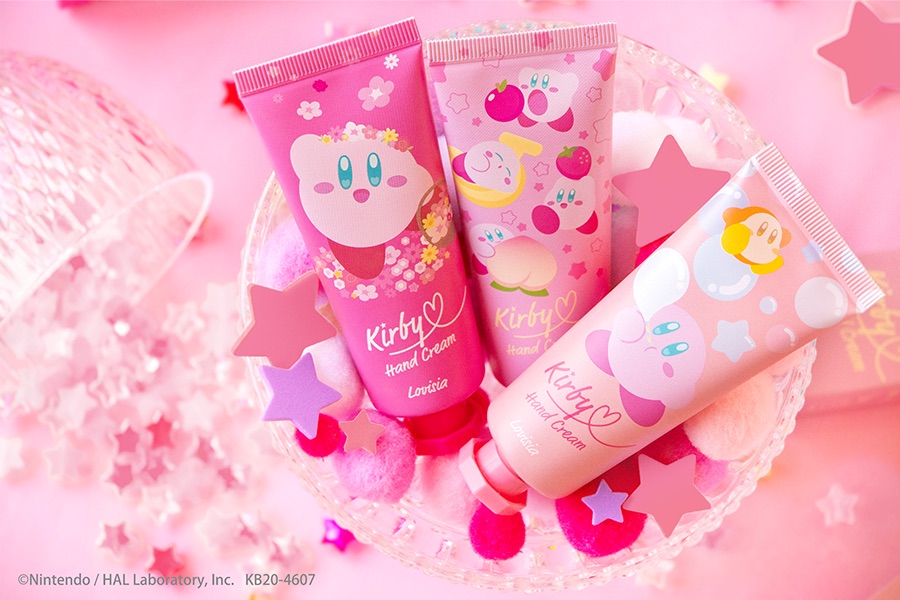 Made in Japan, the hand creams contain collagen and hyaluronic acid, so your hands won't be all sticky after applying the cream. Having hand cream is a must during these times when we all need to keep our hands washed, so why not do it in style with this pink line-up?
Three fragrances to choose from
Each cream also has its own combination of scents so your hands are left smelling great too.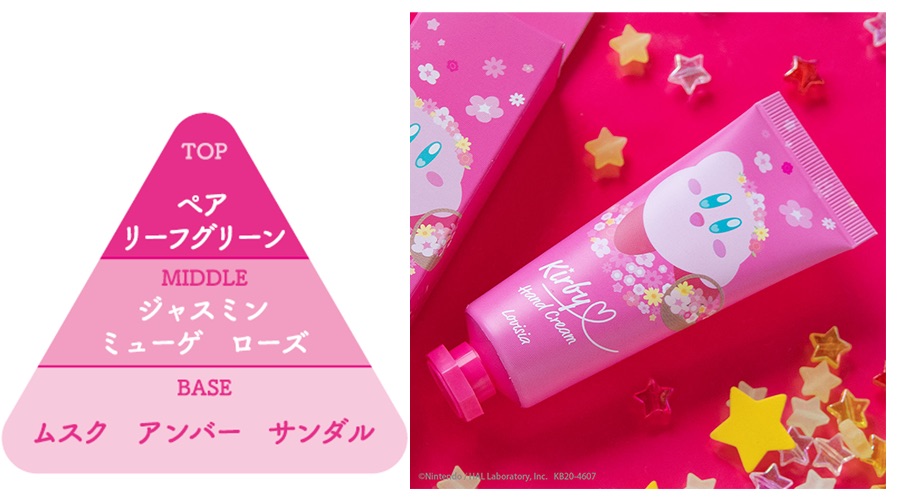 01 Floral Shower
Inspired by the smell of flower beds, the base fragrances include musk, amber, and sandal wood. The middle notes are jasmine, lily of the valley, and rose, while the top notes are pear and leaf greens.
02 Pure Fruity
This fruity hand cream has musk, amber, and cedarwood for the base and jasmine, rose and honeysuckle for the middle notes. It's toped with pear and apple.
03 Fresh Soap Bubbles
The final hand cream also has musk, amber, and cedarwood for its base notes. The middle notes are jasmine, rose, and magnet, and the top notes fresh lemon and green apple.
©Nintendo / HAL Laboratory, Inc. KB20-P2209
Information
Kirby's Dream Land Hand Creams
Release Date: Late September 2020
Available: Lovisia, Lawson, variety shops in Japan
Official Website: https://lovisia.jp/kirby/
RELATED ENTRIES
Kirby and Waddle Dee Sweets Released to Celebrate Character's 30th Anniversary

Character-inspired Japanese confectionary series Tabemas has announced two new sweets inspired by Kirby and Waddle Dee from the popular game series! These will be available at select AEON and AEON Style locations starting November 18.

Kirby is celebrating his 30th anniversary in 2022, and the popular character has been seeing plenty of press time and special events to celebrate. Now, fans can snag these traditional sweets–though they might be too cute to eat!

The character's round and puffy body have been recreated perfectly with mild sweetness and a smooth custard flavor.

While the bean paste inside the Kirby sweet is custard-flavored, Waddle Dee features a smooth chocolate flavor. Grab these while supplies last!

(C)Nintendo / HAL Laboratory, Inc. KB22-P4730」

Information

Tabemas Kirby 2022

Varieties:

Kirby (Custard)

Waddle Dee (Chocolate)

Release Date: November 18, 2022~

Where to Buy: AEON and AEON Style locations nationwide (Not available in the Tohoku region on Okinawa)

*Available while supplies last.

*Items may not be available at some stores.

Kirby Cafe Reveals Exclusive Winter 2022 Menu

The Kirby Cafe has announced a warm and tasty new winter menu! New items will be available from November 17, 2022 until February 28, 2023, and are sure to warm up fans of the beloved video game series.

Menu

Winter Kirby Burger & Pasta with Powdered Snow Cheese (30th Anniversary Version)

Winter Waddle Dee Burger & Pasta with Powdered Snow Cheese

Waddle Dee's Dreamy White Stew

Chef Kawasaki's Winter Hors d'oeuvres with Roast Beef

Transform! Carby Cake

Kirby's Dream Ricotta Pancake

Whispy Woods Blessed Tart

Elfilin's Twinkle☆Frozen Drink

The Winter 2022 menu offers a variety of adorable and tasty menu items featuring Kirby and his friends all dressed up for the colder months. From a burger and pasta set to piping hot stew and fluffy ricotta pancakes, there's sure to be something for every taste. 

 

The Carby cake, inspired by Kirby's special transformation in the recent game Kirby and the Forgotten Land, has been reimagined in a winter version. Fans won't want to miss out!

This winter, come enjoy plenty of Kirby-inspired treats while you can!

©Nintendo / HAL Laboratory, Inc.

Lovisia Cosmetics Releases New Kirby Hand Cream Collection

Lovisia Cosmetics, which has sold nearly 2 million items, has now launched a collection of Kirby hand creams inspired by the zodiac! Sales will begin on November 9, and items can be purchased from the Lovisia online store and sundry shops nationwide. 

The Lovisia cosmetic series launched in July 2018, and each of the product's designs makes them perfect for gift-giving. The brand has become a hot topic on the web and social networking sites.

Lovisia Kirby Horoscope Hand Cream: ¥880 each (Tax Included)

The new Kirby hand cream collection comes in 12 varieties, each representing a different constellation. In addition to four types of flower extracts used as moisturizing ingredients, each also contains collagen, hyaluronic acid, Vaseline, and mineral oil to moisturize the skin. 

Be sure to try these flower-scented hand creams!

Kirby Celebrates 30th Anniversary with New Anniversary Cake and Plates

A new Anniversary Cake celebrating 30 years of Kirby is now available for purchase! Orders are open now on the Premium Bandai website.

Those who purchase the cake will be able to decorate it with the included chocolate pens and chocolate plates. The three layers of strawberry mousse, vanilla-flavored mousse, and sponge provide a super fluffy texture and sweet and sour flavor. The cake also comes with original plates featuring Kirby's face with his mouth wide open! Orders will begin shipping in December, and you'll want to grab your cake soon–orders will stop when the product is sold out. 

(C)Nintendo / HAL Laboratory, Inc. KB22-P4238

Wearable Kirby Fan Available as Crane Game Prize

Kirby fans, watch out! An adorable Kirby Wearable Fan is now available in certain crane games!

This small fan is designed to be hung around the neck by a string and will be perfect to keep you cool while spending time outdoors.

Kirby's round body will make you stand out in a crowd in the best way. The neck strap also comes with a safety feature making it safe for children to wear as well.

The fan is rechargeable via USB and has three speeds. The prize is available in crane games nationwide now, so go out there and win this perfect summer item!

© Nintendo / HAL Laboratory, Inc.

Kirby Cafe Tokyo and Fukuoka Reveal Peach-Inspired Summer Menu

Kirby Cafe TOKYO and Kirby Cafe HAKATA will begin selling special summer-themed food and drink items on July 7. The Kirby Cafe Summer 2022 event will introduce seven peach-themed goodies to the menu through September 11. 

Menu

Transform! Carby Cake ~WELCOME TO THE NEW WORLD!~

Kirby's Peach♡Peach Parfait

Summer Souvenir Parfait Glass

Awoofy's Footsteps in the Desert Pizza

Waddle Dee's Friendly Rice Croquettes

King Dedede's Full Tummy! Massive Beast King Plate

Rolling ♪ Peach Soda

(Includes Summer Souvenir Parfait Glass)

Rolling ♪ Summer-Colored Pineapple Soda

Summer Souvenir Acrylic Muddler (3 varieties)

Visitors to the two cafe locations can enjoy peach-flavored treats like Kirby's Peach Parfait and an adorable cake based on the pink puffball's Carby form seen in the new game Kirby and the Forgotten Land. Those wanting something more savory can enjoy Waddle Dee's Friendly Rice Croquettes and the absolutely huge King Dedede's Full Tummy! Massive Beast King Plate. 


Come enjoy the warmer months with Kirby and friends!

Story

Summer is returning to the Kirby Cafe. Thinking of the warmer months, Chef Kawasaki has created a special menu! As a Waddle Dee, filled with great excitement, wandered through the forest…it saw tons of lush, ripe peaches. 

"Huh? That pink, round peach reminds me of something…" 

Then came Kirby, who was looking forward to the summer menu more than anyone else. 

"Ah, that's right! The peach looks just like Kirby!"

Happy to have solved the riddle, Kirby smiled brightly at Waddle Dee. Gazing at this glorious summer scene with tons of juicy peaches ready to be eaten, he couldn't help but imagine tons of tasty treats! Peach parfait, sparkling soda, blue jelly sparkling like the ocean…not wanting to forget these ideas, Kirby and Waddle Dee gathered the peaches and began cooking.

Please come and enjoy this summer with Kirby and his friends under the dazzling sunshine!

©Nintendo / HAL Laboratory, Inc.

Information

Kirby Cafe Summer 2022

Available: July 7 – September 11, 2022

Locations: Kirby Cafe TOKYO, Kirby Cafe HAKATA

Official Site: https://kirbycafe.jp

Kirby and Suntory Tokucha Team Up for New Video, "Kirby and the Secret of Your Stomach"

Suntory's popular Iyemon Tokucha tea was released with a revamped design on April 5, 2022. To celebrate the return of many people's favorite drink, the company has teamed up with popular game character Kirby for an adorable new YouTube video available on the Suntory channel!

The video highlights the health benefits of Suntory's Green Tea Lemon Tokucha through the eyes of Kirby, who has retained his adorable shape even after sucking in tons of objects for the past 30 years.

 

The video starts with a scene from an early Kirby title in which Kirby swallows Waddledy. The story follows Waddledy and his Suntory Tokucha as they venture deep into Kirby's stomach. How does his journey end? You'll have to watch to find out…

This story is a play created by Waddle Dee to entertain King Dedede, the King of Dream Land. The King is desperate to learn the secrets of the Tokucha, and the other characters are surprised and happy to see everyone's favorite penguin taking an interest in his health!

Kirby and the Secret of Your Stomach

Enjoy the video and try to find some tasty Tokucha in a store near you!

© Nintendo / HAL Laboratory, Inc.
KB22-P4135

Information

Kirby and the Secret of Your Stomach
Now Available to Stream

Confectionery Brand 'Edible Mascot' Celebrates Kirby's 30th Anniversary with New Sweets

It's hard to believe that Kirby is turning 30 today, bursting onto the video game scene back in 1992. To commemorate this special occasion, Bandai's Candy brand Tabemas (meaning 'Edible Mascot') is selling some adorable sweets inspired by the character at Lawson stores nationwide starting April 26, 2022. The items will be available in the chilled dessert section, and these items won't be available at LAWSON STORE100. 

Edible Mascot Kirby 30th: ¥353 each (Tax Included)

The Kirby sweets are made of mochi, the perfect food to express the character's round and squishy form, and the Warp Star is made of nerikiri. Nerikiri is a traditional Japanese sweet made from mochi flour and white bean paste, and it's especially easy to mold and carve into detailed shapes.

Kirby (Strawberry Flavored) Warp Star (Chocolate Flavored)

*Image for reference only. 

Kirby is filled with strawberry-flavored filling, while the Warp Star is stuffed with chocolate. Fans can find eight different expressions on Kirby's face, including a big smile and a sleeping expression. The Warp Star features a 30th-anniversary logo, perfect for photos.  Which one is the most adorable?

What's your favorite Kirby game?

© Nintendo / HAL Laboratory, Inc. KB22-P3638

Information

Edible Mascot – Kirby 30th

Available Now

Kirby 30th Anniversary Music Festival to be Held at Tokyo Garden Theater

The Kirby game series turns 30 on April 27, 2022, and to celebrate this impressive event, the Kirby 30th Anniversary Music Festival will be held on August 11!

 

While the event will be held in person at the Tokyo Garden Theater, fans from all over the world will also be able to watch for free on YouTube.

The concert will feature songs from the series performed by a "big-band style ensemble" made up of 35 musicians, with Kirby himself participating in real-time on an LED monitor, dancing around as fans celebrate his birthday.


Those attending the concert venue in person will be able to snag a special penlight that will sync to the music for some extra magic. 

What's your favorite Kirby soundtrack?

©HAL Laboratory, Inc. / Nintendo

Kirby Cafe Introduces Karby Cake from Kirby and the Forgotten Land to Menu

Starting April 1, 2022, fans of the new Kirby game 'Kirby and the Forgotten Land' can enjoy a tasty cake inspired by Karby at the Kirby Cafe in Tokyo and Hakata! Two limited-time menu items commemorating the 30th anniversary of Kirby will also be available. 

The newest Kirby game sees everyone's favorite pink puffball with a brand-new ability, allowing him to transform into various objects by sucking them up. The trailer for the game shocked Kirby fans around the world after Kirby transformed into an entire car!

Transform! Karby Cake

The Karby Cake replicates a special dish that appears in Kirby and the Forgotten Land's Waddle Dee Café. It's a strawberry-flavored blancmange (a French gelatin-based dessert) laid over a sponge cake with fruit layers.

Kirby Burger and Meat & Veggie Pasta (Standard Version)

Kirby Burger and Meat & Veggie Pasta (30th Anniversary Version)

Souvenir Plate

Happy Birthday☆Kirby
Available: April 1 – May 31, 2022


 

The popular Kirby Burger and Meat & Veggie Pasta menu item will be available in a special 30th-anniversary version for a limited time only. This includes a souvenir plate, and fans won't want to miss it!

The Kirby Cafe is also selling a Happy Birthday☆Kirby cake, a simple dome-shaped sponge cake filled with fruit covered in icing and cherries.

Come celebrate Kirby's 30th anniversary while you can!

©Nintendo / HAL Laboratory, Inc.

Jill Stuart Beauty Reveals Limited-Edition Cherry Blossom Spring Collection

Jill Stuart Beauty has launched a limited spring collection, 'Crystal Bloom Sakura Bouquet.' These items, inspired by beautiful double-layered cherry blossoms, are now available for purchase both in-store and online!

Jill Stuart Crystal Bloom Sakura Bouquet Eau de Parfum

Jill Stuart Crystal Bloom Sakura Bouquet Perfumed Hand Cream

Jill Stuart Sakura Bouquet Bloom Mixed Blush Compact

21 – Rosy Cherry Blossom

Jill Stuart Sakura Bouquet Lipstick – Lip Jewel Gemmy Satin / Jill Stuart Sakura Bouquet Lipstick Case

106 – Cherry Waltz

107 – Fluttering Petals

Jill Stuart Sakura Bouquet My Lips 01 – Fluffy Cherry

Cherry blossoms are a symbol of spring and continue to entrance people each year. Sakura in full bloom have the power to bring people together, and this spring, Jill Stuart hopes that this fragrance and beauty collection can do the same.

Kyary Pamyu Pamyu Produced Science-based Hair Care Brand "Curuput" Makes its Debut!

Artist Kyary Pamyu Pamyu has started a science-based hair care brand named 'Curuput.' The brand's first product, the 'Deep Damage Care Set (Shampoo, treatment, and hair mask)' will be available for a limited time at beauty counters nationwide and online from November 1 2021. 

  

One of Kyary's defining features is her vivid hair color. Behind the scenes however, she has been suffering with damaged hair to maintain her bleached hair. Her goal is to create a future where everybody, including Kyary herself, can dye their hair freely, without the worry of damage. With this in mind, she began production of her own science-based hair care brand that focuses on damaged hair and smells great too.

 

From the moment you wash off the 'Curuput' shampoo and treatment, your hair will feel silky and moisturized. By using the triple care routine, the products will not only care for your existing hair damage, but continue to repair your hair by preventing future harm.

 

 

Kyary's tie-up song 'Perfect Onei-san' plays in the background of the official brand interview, and features on her upcoming 5th album "Candy Racer.' The album is scheduled to be released on October 27. 

 

 

Why not try Kyary Pamyu Pamyu's new haircare brand 'Curuput' for yourself?

 

Message from Kyary Pamyu Pamyu

"After many meetings, I think the shampoo is complete! I'm so, so excited for it to finally be released.

I have been having fun bleaching and coloring my hair since I was 18, but my hair would become damaged no matter what I did. I haven't been able to enjoy my 'ideal hair' often, because I'd worry about the condition, and I've even been holding back from dying it due to damage concerns. But then I realized, "this isn't me." It's the same with shampoos – I'd find a great shampoo but I'd dislike the smell, or vice versa.

This new shampoo was created over many meetings and every detail has been considered. In order to create the best hair product, we wanted to create something that made your hair go "Kyurun" (bounce). We also paid special attention to the scent! Each time I would test the prototype version, my hair would become even closer to my ideal hair, so I'm really happy that I had the opportunity to develop 'Curuput.' 

We put a lot of thought into this brand, so I would be really happy if everybody could give it a try!"