7 Best Spots to Visit During Autumn in Ishikawa Prefecture's City of Kaga
Ishikawa Prefecture is generally split into two areas—Kaga and Noto—and these areas are home to six cities dubbed Kaga no Kuni, or "Kaga Country." The cities include Kaga, Komatsu, Nomi, Kawakita, Hakusan, and Nonoichi. Today, we'll be looking at some of the must-visit spots in these cities to visit during the autumn season.
Kaga Country's Autumn Colours
Natadera Temple in Komatsu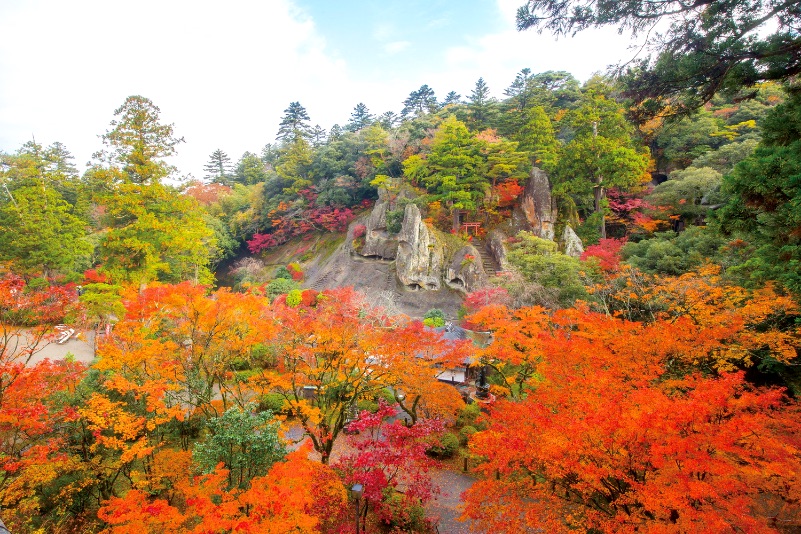 The beautiful Natadera Temple is a symbol of southern Kaga and even has a Michelin star in Michelin Green Guide Japan. It's home to a large number of important cultural properties such as the picturesque Kigan Yusenkyo Rock Formations. Visitors can ross the Fugetsukyo Bridge to reach the observation deck from which their eyes are treated to all the fiery colours of autumn.
Address: Yu-122 Natamachi, Komatsu, Ishikawa
TEL: 0761-65-2111
Natadera Temple Official Website: http://www.natadera.com/
Kakusenkei Gorges in Kaga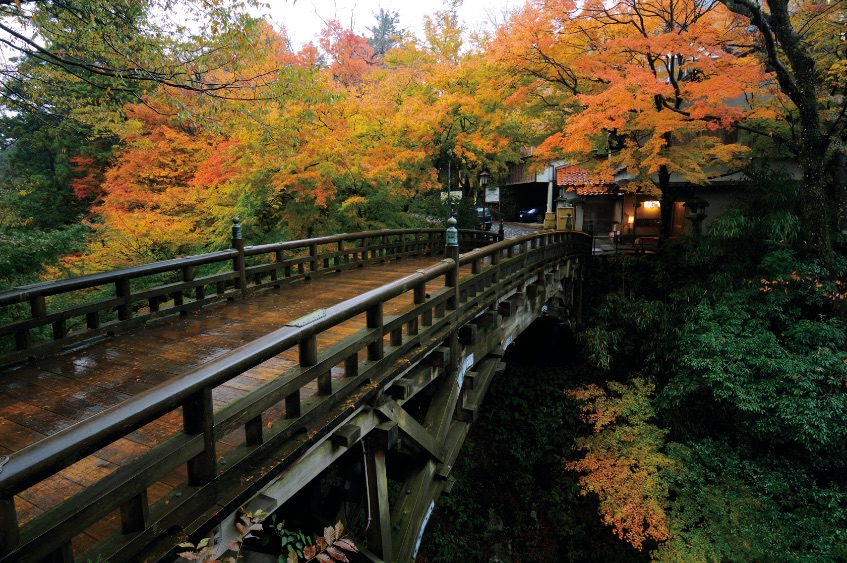 The Kakusenkei Gorges are located in a valley where the Daishoji River runs. Its autumnal beauty is said to be the most beautiful in all of Japan's Hokuriku region. The 1.3km stretch of the valley has a public footpath which is perfect during autumn as you gaze at the red and yellow leaves overlooking the river below.
Address: Kakusenkei Gorges, Yamanakaonsen Kajikamachi, Ho, Kaga, Ishikawa
TEL: 0761-78-0330
Information: https://www.yamanaka-spa.or.jp/global/eng/view2.html
Matsusaki in Nomi
Matsusaki is an onsen ryokan (hot spring Japanese inn) that was built during the Edo Period. It's enjoyed greatly for its open-air baths which boast their own water source as well as their kaiseki-ryori traditional Japanese multi-course dinner made using local ingredients. It's also the setting for the Japanese novel Umi no Naru Toki. It boasts a gorgeous garden with an area that overlooks trees which blossom beautifully in autumn.
Address: 3-1 Tatsunokuchimachi, Nomi, Ishikawa
TEL: 0761-51-3111
Matsusaki Official Website: https://www.matsusaki.jp/
Jumoku Park in Hakusan
The park located by the Ringyoshiken Center in Ishikawa Prefecture is home to a variety of towering regional trees. There are 900 trees of 130 different species, which give rise to beautiful cherry blossoms in the spring. It also enjoy incredible autumn scenery and is home to rolling fields and a Japanese-style garden too. It offers must-see views throughout all four seasons.
Address: Ho-1 Sannomiyamachi, Hakusan, Ishikawa
TEL: 076-272-0673
Information: https://www.pref.ishikawa.lg.jp/ringyo/about/park.html
Aramata Gorge in Komatsu
Aramata Gorge is known as one of the Eight Views of Kano. The Osugidani River flows through this year, and there's huge strangely shaped rocks and rolling trees which create an incredible sight to see. There's a 400m path which bustles with people during the autumn months who flock to see the verdure.
Address: Akazemachi, Komatsu, Ishikawa
Bettou Suspension Bridge in Hakusan
Bettou Suspension Bridge is the entryway to the highset peak of Hakusan. The discharge of rocks to the area in 2004 meant that the bridge had to be rebuilt. The towering bridge offers a panoramic view of autumnal trees and bushes.
Address: Shiramine, Hakusan-shi, Ishikawa
Tedori Gorge in Hakusan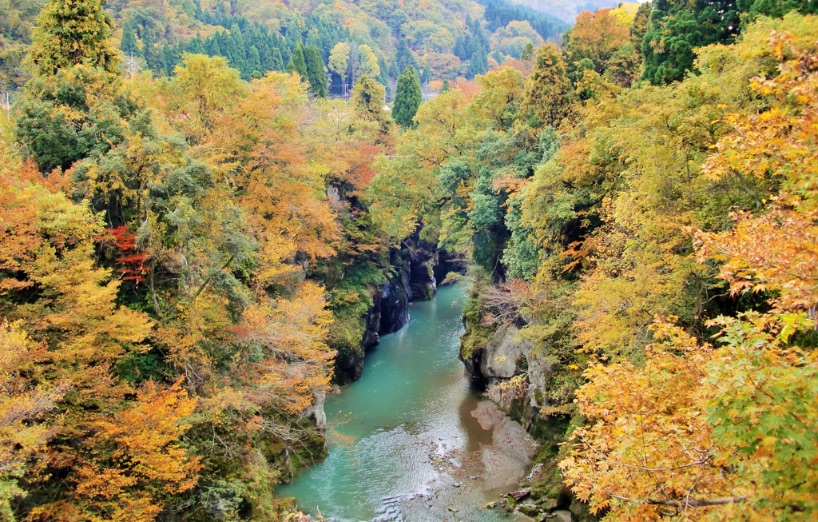 The beautiful Tedori Gorge was created as a result of the flow of Tedori River. Along the 8km path, which runs from Komon Bridge to Taizan Bridge, is a 20m-30m precipitous cliff. The surroundings along the bridge are a must-see, bringing people together every year to see the autumn environment.
Address: Kamashimizumachi, Hakusan, Ishikawa
RELATED ENTRIES
Travel Japan's Miyagi Prefecture Together With Pokémon's Lapras

Lapras is the official mascot Pokémon of Miyagi and is set to hold a new autumn and winter campaign starting on November 1 to encourage people to travel around Miyagi with the placing of new Poké Lid manhole covers, a stamp rally around the prefecture, and more.

Guidebooks and Posters

Tourist information centres, major tourist facilities, and major stations on the JR East Japan Railway and JR Hokkaido Railway will be selling guidebooks with Lapras showing travellers and sightseers what to enjoy this during this autumn and winter in Miyagi Prefecture.

New Lapras Poké Lids

New Lapras design Poké Lids will be rolled out in 20 towns around Miyagi from early December as part of Japan's ongoing Poké Lid project to place Pokémon manholes around the country. This will bring Miyagi's total count up to 35. Tottori Prefecture recently added Sandshrew and Sandslash lids, and Fukushima welcomed Chansey designs in August.

All of the Poké Lids placed in Japan feature completely original Pokémon designs making each individual one the only one in the world. The Pokémon Company is also working to make each one of them PokéStops for Pokémon GO.

Miyagi Stamp Rally

A stamp rally will be held from November 1, 2020 to March 1, 2020 which will have people travelling around Miyagi Prefecture to collect all the stamps for a chance to receive exclusive prizes.

Miyagi Prefecture x Lapras x Hotel Metropolitan Sendai East

Hotel Metropolitan Sendai East, a hotel which is connected directly to Sendai Station, is now offering a special Lapras hotel plan which offers themed amenities to hotel guests including a giant plush toy

Bookings: Available from October 26, 2020

Start Date: November 1, 2020

Lapras Snow Sledding

Ski resorts in Miyagi will also be offering a Lapras sleds. The locations include Izumigatake Ski Resort, Spring Valley Izumi Kogen, Onikobe Ski Area, Uenono Ski Area, Yakurai Family Ski Area, Miyagi Zao Shiroishi Ski Resort, and Miyagi Zao Eboshi Resort.

©2020 Pokémon. ©1995-2020 Nintendo/Creatures Inc. /GAME FREAK inc.

Pokémon, ポケットモンスター, and ポケモン are registered trademarks of Nintendo, Creatures Inc., and GAME FREAK inc.

Information

Lapras x Miyagi Autumn and Winter Campaign

Location: Miyagi Prefecture

Start Date: November 1, 2020

Official Website: https://laplace-miyagi.jp/

See the Sun Sit Atop Mount Fuji at Tokyo's Sunshine 60 Observation Deck

SKY CIRCUS Sunshine 60 Observation Deck is holding its 5th Tentai Kanshokai this year where visitors can witness the phenomenon known as Diamond Fuji, a rare occurrence that only happens several times a year where the sun looks like it is sitting on top of the mountain peak and looks like a sparkling diamond. The first session was held on October 1, 2020 and the next ones will be held from November 12 to 18.

Diamond Fuji (Photo by Bic Camera Inc)

The phenomenon occurs most often during the winter solace when the days are shorter and can do so for both the sunrise and sunset depending on the time and place. SKY CIRCUS Sunshine 60 Observation Deck offers a spectacular view for this visual wonder.

Diamond Fuji at SKY CIRCUS

Running: November 12, 2020 – November 18, 2020

Time: 16:10-16:30

Location: SKY CIRCUS Sunshine 60 Observation Deck

Price: Entry to Observation Deck only

*Depending on the weather conditions the phenomenon may not be visible

The Sunshine 60 building is also offering rooftop viewings to the 30 people between November 14 and 16, with 10 people allowed per day on a first-come, first-served basis. The 227m view offers the perfect vista for a photo and so a photographer will be on site in co-operation with Bic Camera to take photos of people on the day.

Rooftop Photos

Running: November 14, 1010 – November 16, 2020

Time: 15:30-17:00

Price: ¥5,000

How to Book: Telephone bookings only on 03-3989-3457 from October 30 at 10:00am (JST). 10 people per day, first-come, first-served.

*Check the Important Notices before visiting

Information

SKY CIRCUS Sunshine 60 Observation Deck

Address: Sunshine City, Sunshine 60 Building Floor 6F, 3-1 Higashi-Ikebukuro, Toshima-ku, Tokyo

Opening Hours: 10:00-22:00 (Last Entries 21:00)

TEL: 03-3989-3457

Official Website: https://sunshinecity.jp/en/

Hoshino Resorts KAI Poroto to Open in Hokkaido in January 2022

Hoshino Resorts, Japan's premiere hotel management company boasting over 40 properties both inside and outside Japan is set to its new onsen ryokan (hot spring Japanese style inn) Hoshino Resorts KAI Poroto in January 2022 following the completion of a partnership agreement with Shiraoi, Hokkaido on June 28, 2018.

KAI Poroto comes as the 19th property for the KAI brand, following KAI Nagato (opened in March 2020), KAI Kirishima (scheduled to open in January 2021), and KAI Beppu (scheduled to open in summer 2021). It will also be the third KAI property to open in Hokkaido, following RISONARE Tomamu in Shimukappu and OMO7 Asahikawa in Asahikawa. The new property will be designed by Japanese architect Hiroshi Nakamura.

(Hiroshi Nakamura & NAP)

Guests will be able to enjoy Shiraoi onsen water at KAI Poroto. The water comes from a "moor spring" which contains organic minerals derived from plants. This type of water is rare throughout the world. KAI Poroto faces the shores of Lake Poroto and is surrounded by the natural forests of Hokkaido where many species of wild bird live. All guest rooms boast a lake view where changes in scenery throughout the seasons can be enjoyed.

KAI Poroto will is cooperating with both the town of Shiraoi as well as "Upopoy", the National Ainu Museum and Park, which has the aim of becoming a "symbolic space for ethnic harmony". The facility will respect Ainu culture and provide a place of accommodation for guests to experience it.

Upopoy: A symbolic space for ethnic harmony

A symbolic space for ethnic harmony by the name of "Upopoy opened in Shiraoi, Hokkaido on July 12, 2020. This national centre serves as a base for the reconstruction and development of Ainu culture, which is in danger of survival. The main facilities are the National Ainu Museum and the National Ainu Park. The National Ainu Museum is the first national museum in Japan centred around indigenous Ainu people and the history and culture of the people as expressed through their perspective. This is expressed in a variety of different exhibits. The National Ainu Park is a field museum, where Ainu culture can be taught through a number of programs. Experiences on-site include the Ainu traditional dance, which is registered as UNESCO intangible cultural heritage, wood carving, and embroidery workshops, as well as food and traditional performing arts experiences. "Upopoy" means "to sing (in large numbers)" in the language of Ainu.

Designed by Hiroshi Nakamura

Japanese architect Hiroshi Nakamura is behind the design of KAI Poroto. "Poroto" means a large lake in the Ainu language and KAI Poroto boldly draws this lake into its premise. In the lobby of the birch forest, guests will be greeted by a magnificent view of the lake, which leads to Mount Tarumae. Guests can also relax in the lounge while watching the flames in the fireplace, something which was at the centre of Ainu people's lives. On the surface of the lake, a bathhouse called Kashi, which is built using traditional Ainu construction methods, stands like a village. The open-air bath makes one feel as if you are immersed in the lake. The design has been created in a way that is modern, inspired by the lifestyles, nature, and family of Ainu people.

World's First Mario Cafe and Shop Opens at Universal Studios Japan in Osaka

Universal Studios Japan (USJ) announced earlier this month that its new Nintendo-themed area SUPER NINTENDO WORLD will open in spring 2021. While the grand opening of SUPER NINTENDO is still a while away yet, USJ has everyone covered, as the new and first of its kind Mario Cafe & Store officially opened inside the park's Hollywood Area on October 16, 2020.

The cafe and shop is dream come true for fans of the Mario bros as they enter into a world inspired by the video game series with Mario and Luigi and level decorations in every corner. It can be easily spotted thanks to the red and green "M" and "L" letters on the windows symbolising Mario and Luigi as well as the Mario and Luigi hats. Gamers can enjoy this exciting space while they wait for the official opening of SUPER NINTENDO WORLD.

Themed food and merchandise line-up

Decorations are instantly recognisable with Question Blocks and Pipes on the walls, Mario Mushroom-coloured tables, and more.

The food line-up includes dishes, drinks, and desserts like pancake sandwiches made to look like Mario and Luigi's hats, fruit dream soda inspired by the brothers' moustaches, and a selection of original merchandise which reads "WHOSE CAP?" on it like T-shirts and more. You can see more of what's on the menu here.

© Nintendo.

Japan's Elephant Zoo Ichihara Elephant Kingdom to Receive Revamp For Spring 2021

Ichihara Elephant Kingdom is the home to the largest number of elephants in Japan. The zoo has announced major renovations set for completion next spring which will allow for the elephants to live an even more enjoyable life.

Ichihara Elephant Kingdom is located in central Chiba and is home to 12 elephants. It's also home to around 80 other species of animals like red pandas, beavers, capybaras, hippos, and more. The zoo also has a variety of attractions, like the Elephant Ride which sits behinds where the elephants live, and the Elephant Lift where you can ride up and down an elephant trunk. The Head of  Ichihara Elephant Kingdom, Sayuri Sakamoto, served as the writer for the 2005 Japanese drama film Shining Boy & Little Randy. One of the zoo's Asian elephants, Randy, was also a model for the film.

The renovations will introduce a new home for the elephants as the current one is seeing wear over time, as well as a new large-scale pond for the elephants to play in, a playground, and more. The zoo has always ensured a safe distance between visitors and the elephants so people can enjoy watching them will making sure the elephants stay happy. It is now creating new spaces to continue that service.

The water pond the zoo is building for the elephants is called Elephant Splash, and they are launching a crowdfunder on October 27, 2020 to ask for people's help with funding the project. It will allow a new space for the elephants to play which visitors are sure to enjoy too, like seeing the 1- and 2-year-old Ramu and Momoka splashing around.

The crowdfunding project has nine different tiers including tickets to an evening cherry blossom party at the park, a chance to ride the elephants, and more. The campaign will end on January 15, 2021, the same date as Ramu's birthday.

Information

Ichihara Elephant Kingdom

Opening Hours: 10:00-16:00 (Last Entries 15:00)

Access

Car:
About 5 minutes from Ichihara-Tsurumai interchange of Ken-O Expressway

Highway-Bus:
About 65 minutes from Tokyo station,
About 80 minutes from Yokohama station,
About 35 minutes from Haneda airport
to Ichihara-Tsurumai Bus Terminal.
About 5 minutes by our free shuttle bus from Ichihara-Tsurumai Bus Terminal.

Train:
About 10 minutes from Takataki station of Kominato railway by the zoo's free shuttle bus.

Official Website: http://www.zounokuni.com/english/

Fujikawaguchiko Autumn Leaves Festival 2020 Begins This November

The Fujikawaguchiko Tourism Association will host this year's Fujikawaguchiko Autumn Leaves Festival, which will be the 22nd run, to help support the tourism industry in the northern region of Fuji which has seen a great impact as a result of the COVID-19 pandemic.

With much less people travelling to Japan during the pandemic, and the virus having continued for a long time, the Fujikawaguchiko Tourism Association is instead focusing on travellers within the country by hosting various events that can be enjoyed at Fujikawaguchiko.

All the necessary precautions will be taken at this year's festival, including taking people's temperature upon arrival, the mandatory wearing of face masks, alcohol gel being available at the site, and more. This will protects not only the locals but sightseers too, and so cooperation is being asked of everyone visiting.

At this year's festival, visitors can look forward to the popular Momiji Tunnel of maple trees which will be lit up at sunset until 10:00pm. The beautiful autumn colours can be enjoyed with Mount Fuji in the background. There will also be food, souvenirs, and a variety of activities to be enjoyed.

The Momiji Tunnel is an absolute must-see for anyone visiting Yamanashi during autumn and is nothing less than Instagram-worthy.

Information

22nd Fujikawaguchiko Autumn Leaves Festival
Location: Around Lake Kawaguchi
Running: November 7, 2020 – November 29, 2020

Opening Hours: 9:00-19:00 (Light up is from sunset to 22:00)
Access: 25 mins from Kawaguchiko Station by bus (nearest bus stop: Itchiku Kubota Art Museum Stop)
Entry: Free

*Please observe social distancing and government guidelines in relation to COVID-19.

*Fujikawaguchiko is a World Heritage Site and recognised as a place of natural beauty. Please take your trash home with you.

Tokyo Midtown Announces Winter Event 'MIDTOWN WINTER MOMENTS'

Tokyo Midtown has announced that its winter event 'MIDTOWN WINTER MOMENTS' will run from November 19, 2020 to February 28, 2021.

"ANOTHER WORLD" is the concept for this year's rendition of the annual event, which will see new winter illuminations, Christmas decorations, the opening of an ice rink, and plenty of other fun experiences for people to enjoy throughout the entire day, right into the evening.

MIDTOWN WINTER LIGHTS

A highlight of the event will be the "MIDTOWN WINTER LIGHTS," warm illuminations to light fires in hearts during the cold winter season that will create a dazzling spectacle the likes of which cannot be missed.

Path of Light – An Illuminated World

The pedestrian walkway will welcome a strip of gorgeous golden lights affixed to towering trees to guide your way. More golden lights than ever before are being prepared this year to pull visitors into a romantic and dreamy world.

SNOW LIGHT GLOBE – A World of Snow

The SNOW LIGHT GLOBE is a giant 3-meter tall and 4.5-meter wide snow globe inside which glistens sparkling snow, crystals, and aurora. The lights are ever-changing throughout the day, presenting itself differently every time you look at it.

STEP LIGHT – A Colourful World

STEP LIGHT is a fun and interactive illumination display with lights that light up when you step on them, creating a colourful walkway.

Running: November 19, 2020 – February 28, 2021

Time: 17:00-23:00 (Until 24:00 around the plaza)

Location: Midtown Garden

MIDTOWN ICE RINK – A World of Ice

MIDTOWN ICE RINK is something people in Tokyo look forward to every winter. This year, the rink is opening in November. It's one of the biggest ice rinks in Tokyo and provides real ice for people to skate on, welcoming everyone from children and beginners to pros. The rink will be open into the evening too when it will be lit up so people can enjoy a little night skating session.

Running: November 19, 2020 – February 28, 2021
Time: 11:00-21:00 (Last Entries 20:00)

*Opens at 17:00 on November 19 and is closed on January 1

*Opening hours subject to change depending on weather
Location: Tokyo Midtown
Prices:

General (High School Students and older) – Weekdays ¥2,000 / Weekends & Public Holidays ¥2,500

Children (Junior High School Students and younger) Weekdays ¥1,500 / Weekends & Public Holidays ¥2,000

Midtown Christmas Trees

Various Christmas trees will be set up in the Tokyo Midtown garden area, indoors, and elsewhere to set in the holiday season mood.

Running: November 19, 2020 – December 25, 2020

Present Christmas Tree – A World of Fantasy

The Tokyo Midtown garden will welcome a mysterious kind of Christmas tree for the first time every this year—one which sprouts presents. 25 presents will be grown, and in December one will be given out each day.

Time: 17:00-23:00
Location: Midtown Garden

Santa Tree – A Miniature World


Around 1,800 individual Santa Claus ornaments will make up the 4-meter tall Santa Tree inside the Tokyo Midtown Galleria

Time: 11:00-Midtown
Location: Galleria 1F Tree Shower

Choose! Choose! AR Tree – An Original World

Tokyo Midtown also has something for people to enjoy at home. They can use an app that makes use of AR tech so that a Christmas tree can appear when you go to take a photo which you can decorate with an assortment of ornaments. There's over 1,000 possible combinations. More details about this will be posted on the event website in early November.

Gaze at the Starry Sky in a Hot Swimming Pool This Winter at HOSHINOYA Okinawa

HOSHINOYA Okinawa has announced its new "Hoshizora Hot Pool" experience where guests will be able to stay warm in the hotel's warmed-up swimming pool while gazing up at the winter night sky. It will run from December 1, 2020 to February 28, 2020.

Okinawa enjoys a mild winter each year; it's uncommon for the temperature to dip below 15℃. Winter is a time where all of us enjoy being in the warmth of indoors, but in Okinawa you can enjoy being outside even during the cold season. And that's where Hoshizora Hot Pool comes in as the end of the year approaches, a time when there are many events and celebrations to be had.

The outdoor pool at HOSHINOYA Okinawa can be heated and so is perfect during the winter season. Guests are invited to soak in the infinity pool, where you can hear the sounds of the waves, and where it looks like the sea and sky become one. Almost all 88 of the constellations can be seen in Okinawa, and since the sky is clear during the winter nights, it's the opportune time to be turning your gaze skyward.

Glowing lanterns make for a romantic atmosphere

When the sun sets, lanterns are lit by the poolside and breathe a warmth light to the cool evenings. The lights sway back and forth, reflecting off the water to create a magical atmosphere.

Hot cocktails by the pool

Guests will also be able to order from the bar once the lanterns are lit from the evening with a selection of refreshing drinks made with fresh fruits to hot cocktails to warm the body.

Float beneath the starry sky to the sounds of the waves

Guests can enjoy floating in the pool as an endless tapestry of stars unravels itself overhead. The Hoshino Resorts Banta Cafe will be open for business in the evening too. Guests can order some fruity desserts, rent lanterns, and more.

Information

Hoshizora Hot Pool
Address: 474 Gima, Yomitan, Nakagami District, Okinawa
Running: December 1, 2020 – February 28, 2021
Price: Free (Drinks from the bar however must be paid for)

Time: Open 24 hours (But only adults can use the pool after sunset)

Bar Opening Hours: Sunset until 22:00

*Available to HOSHINOYA Okinawa guests only

Irumi Banta
Opening Hours: 19:00-22:00 (Last Orders 21:00

Price: Dessert Set for Two = ¥2,728 (Before Tax)

*Available to guests and non-guests

Official Website: https://hoshinoya.com

Ibaraki Prefecture Announces Official Tours of Mount Tsukuba and Lake Kasumigaura

Ibaraki Prefecture has been promoting the areas of Mount Tsukuba and Lake Kasumigaura with a variety of events and programs since 2018. For 2020, one of the programs the prefecture has announced is 'Mount Tsukuba PLAY 2020' which invites people on a trial tour around Mount Tsukuba and Lake Kasumigaura.

About Mount Tsukuba

Mount Tsukuba is the doorstep to tourism in Ibaraki Prefecture, known for its iconic double peaks which has it listed officially as one of the "100 Most Beautiful Mountains in Japan." The mountain offers 10 different courses for climbers, all of which boast gorgeous views and scenery throughout all four seasons. It also has a famous shrine halfway up the mountain known as Tsukubasan Shrine which is considered the physical enshrinement of the mountain itself. The shrine has long been a place of worship for people.

About Lake Kasumigaura

Lake Kasumigaura is the second-largest lake in Japan after Shiga Prefecture's Lake Biwa. It is loved by locals and tourists for its beautiful natural environment and the expanse of its breathtaking view. It also has its own cycling route, Tsukuba Kasumigaura Ring Ring Road, which is an official National Cycling Route that has become a popular route with cyclists in recent years.

During the autumn season on weekends, the area offers a special long-ride cycling tour as an opportunity for people to soak up the local area, as well as kids programs, concerts for parents and their children, and other activity programs and guide tours. Bookings are now available online.

A Look at Mount Tsukuba PLAY 2020

Mount Tsukuba and Lake Kasumigaura – 2 Day 1 Night Sports Experience Tour

Mount Tsukuba PLAY 2020 is offering a special sports tour for elementary school kids where a guide will take them to climb Mount Tsukuba and canoe around Lake Kasumigaura, amongst other activities.

A Photogenic Tour in the Small Town by the Lake Shore

atacamaki, a 'slow photographer' and resident of Kasumigaura, will be taking photographers on a two day trip around the lake and surrounding area with rental bicycles to teach them how to shoot photos like a pro.

Concert in Tsukuba Forest

A concert will be held for children in the forest where they can lay down on the grass and be at one with nature as they enjoy the performance. The performance will be played by Akashi Yamada, the forest instructor and a singer-songwriter.

Cycling Along the Kokai River and Near Chikusei With Tsukuba Mounta in the Background

A local guide will give parents and children a tour of Tsukuba and all the must-see spots. The 37km cycling tour will offer plenty for people to see and encourages beginners to cycling.

A Long Cycling Tour Around Lake Kasumigaura, Kitaura, and Tsukuba

The program also offers a two-day long distance cycling tour of 100km.

Get Lucky in Marriage and Matchmaking This October in Shimane's City of Matsue

Japan's city of Matsue in Shimane Prefecture is wanting to create a new kind of sightseeing and tourist experience that encourages people to stay for a time in the city, and so it has launched the "Re Happy! Campaign."

In the old Japanese calendar, October is known as Kamiarizuki, or 'the month when deities are around.' The Izumo region of the country is known as a place where deities from all across Japan gather, and so October here has been called the one true Kamiarizuki. There are many different kinds of deities, but today we'll be looking at those associated with matchmaking and marriage, and mapping out a route you can take around Matsue to up your luck when it comes to these things.

Shop Name: Ohori to Hakucho


We begin at Ohori to Hakucho, a confectionery shop that sells cute sweet treats and local delicacies, some of which are themed on increasing your luck with marriage ties.

Kounkaku inside Matsu Castle

There are many old and traditional Japanese houses around Matsue Castle which make for Instagram-worthy photos, so find the right spot as you walk around and snap some pictures.

Heart-Shaped ema board


Ema are small wooden plaques strung up at shrines on which people write their wishes. Write one yourself so that the deities can receive your desires.

Tamatsukuri Onsen

After a long stroll of sightseeing, head to the Tamatsukuri Onsen hot spring for a relaxing bathe. It's said that sitting in an onsen hot spring beautifies your skin. Sit back and enjoy the fireworks on the screen while sipping on some high-grade sake.

Matsue is a great place to visit whether on your own or as a couple, with plenty of spots to up your luck with matchmaking and marriage.

Snow Fireworks to Light Up the Winter Skies of Miyazaki at Phoenix Seagaia Resort

Phoenix Seagaia Resort, a resort located in Miyazaki Prefecture whose brand slogan claims them as the most beautiful in all of Japan, has announced a heart-warming new experience for the winter season.

Seagaia's Snow Fireworks

Miyazaki doesn't see a lot of snowfall, but this winter, the prefecture is welcoming an all-new fireworks festival which will launch fireworks into the sky that falls like pure white snow. Phoenix Seagaia Resort is also offering a guest plan which combines a stay at the resort with front row seats to the fireworks.

Running: December 4, 2020 – February 27, 2021 (Fridays and Saturdays only + January 10, 2021)
Time: 20:00 (Approx 3 minutes)
Bookings: https://bit.ly/3lurZWK

Starlight Winter Illuminations

THE LIVING GARDEN is the garden area of Sheraton Grande Ocean Resort exclusive to guests. This winter, the garden will be lit up with 30,000 LED lights and lanterns to create a magical, starry sky-like atmosphere by both of the garden's pools.

Running: November 1, 2020 – February 28, 2021
Location: THE LIVING GARDEN, Sheraton Grande Ocean Resort
Illumination Times: Sunset to 23:00

Price: Free (Exclusive to Sheraton Grande Ocean Resort guests)

A Cosy Menu For a Warm Stay

Gazebos by the waterside at THE LIVING GARDEN

S'mores

Sheraton Grande Ocean Resort will also serve s'mores, hot cocktails, and other treats at THE LIVING GARDEN with gazebos and fire pits. Enjoy fluffy marshmallow s'mores served with nuts and salted chocolate.

Running: November 6, 2020 – February 28, 2021 (Excluding Wednesdays & Thursdays)

Times: 19:30-23:00 (Last Orders 22:30)

Location: KUROBAR, THE LIVING GARDEN, Sheraton Grande Ocean Resort

Ashikaga Flower Park Turns On the Lights For 'The Garden of Illuminated Flowers'

Ashikaga Flower Park in Ashikaga, Tochigi, has announced an illumination event for the autumn and winter seasons called "The Garden of Illuminated Flowers ~Flower Fantasy 2020~" which will run from October 17, 2020 to February 7, 2021.

The annual event is being held a week later than usual in order to implement the necessary precautions against COVID-19 and to ensure visitors are divided from one another so that they can enjoy the event as always safely. Masks will need to be worn and visitors must sanitise their hands as well as have their temperature checked with the on-site thermal camera before entering the park.

Held for the 19th time this year, the event was ranked among the Top 3 biggest light-up events in Japan in 2017 alongside Sapporo White Illuminations and Huis Ten Bosch Illuminations. It was also ranked top by night view critics in Japan as best the illumination event for four consecutive years.

So, why is this event adored so much?


The Miraculous Great Wisteria

Due to COVID-19, people were unable to enjoy the blossoming wisteria during this year's spring season, but now they can be enjoyed in autumn and winter in the form of illuminations.

Illuminated Water Lilies

Water lilies are enjoyed from summer through autumn. These water lily lights by the waterside are like little individual flower spirits.

Illuminated Rose Garden

A panoramic spectacle of vivid red rose lights. A special blue light-up will also take place to give gratitude to frontline workers who will be busy this season.


A Flower Story of Illuminated Wisteria

The multicoloured wisteria that bloom from mid-April to mid-May at the park are also being represented as dazzling illuminations which will reflect off the water surface to create a magical atmosphere.

Snow World

Santa Claus will be at the park from late November to late December to hand out presents to children.

Enter a romantic world of Japanese illuminations at Ashikaga Flower Park.