Tottori Prefecture Adds New Sandshrew and Sandslash Pokémon Manhole Covers
Five more locations across Tottori in Japan are set to place new Sandshrew and Sandslash manhole covers around the prefecture, including the original and Alola designs. The new covers arrive in addition to the one placed back in March. They are part of Japan's ongoing Poké Lid project to place Pokémon manholes around the country.
To date, there are currently Poké Lids in Tottori, but the new designs will bring it up to 19.

Sandshrew and Alola Sandshrew were chosen as official ambassadors of Tottori in December 2018 to help promote the wonders of the prefecture. Both of them attend tourist sites around Tottori as well as perform at events. Sandshrew is of course a Pokémon that likes the sand, which is perfect as Tottori is home to the largest sand dune in Japan.
All of the Poké Lids placed in Japan feature completely original Pokémon designs making each individual one the only one in the world. The Pokémon Company is also working to make each one of them PokéStops for Pokémon GO.
Sandshrew & Sandslash Stamp Rally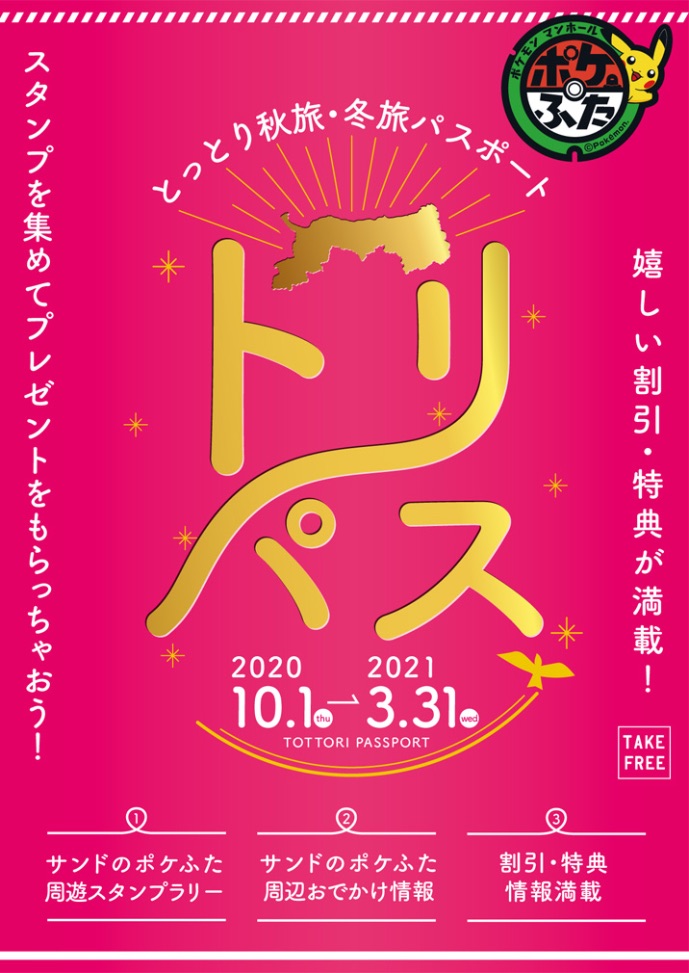 Tottori has also announced a special stamp rally in collaboration with Tori Pass for people to enjoy sightseeing across the prefecture. Participants will take their stamp sheet to facilities nearby each Poké Lid to get a stamp.
Those who collect all 19 stamps can enter for a chance to win some Sandshrew merchandise. 100 lucky people will be chosen randomly. The stamp sheets also have information on sightseeing spots near each Poké Lid as well as coupons and more.

©2020 Pokémon. ©1995-2020 Nintendo / Creatures Inc. / GAME FREAK inc.
RELATED ENTRIES
Pokemon GO Launches Second Hills Campaign in Japan, New CM Set in Fukiya, Okayama and Starring Mitsuki Takahata Airing Nationwide

A new commercial for Pokemon GO's second 'Let's GO to the Hills' campaign is now airing nationwide, calling on all players of the smartphone game to work up a sweat while exploring new scenery around Japan. Set in the Fukiya district of Takahashi, Okayama, the ad stars the popular actress Mitsuki Takahata. The 'Let's GO to the Hills' campaign focuses on hills and slopes, and players might find some fun new Pokemon on their travels.

The new commercial began airing nationwide on January 20, and its setting–the Fukiya district of Takahashi, Okayama–has flourished since the Edo period as a leading copper and red ocher producer. Red ocher is a byproduct of copper production and is used in many traditional Japanese crafts, even called Japan Red by some.

Several popular Pokemon appear alongside Takahata in the ad, including Chimchar, Fletchling, Hisuian Voltorb, Nyabby, Darumaka, and Charizard. Be sure to listen out for Takahata's Okayama accent!

From January 20 until July 19, a 4-meter-high real-world PokeStop will appear at the former Fukiya Elementary School in Fukiya Furusato Village. Yes, it will be linked to the game as well!

Curtains and tapestries featuring Pokemon silhouettes and dyed Japan Red will also appear in the village, and each will point the way to real PokeStops. While it might be a little off the beaten path, come enjoy Fukiya and see what kinds of Pokemon you can find!

©2023 Niantic, Inc.
©2023 Pokémon. ©1995-2023 Nintendo/Creatures Inc. /GAME FREAK inc.
ポケモン・Pokémon は任天堂・クリーチャーズ・ゲームフリークの登録商標です。

Information

'Let's GO to the Hills' – Fukiya Furusato Village, Okayama Ver.
CM Broadcast Start Date: January 20, 2023
Broadcasting Area: Nationwide
Official Site: https://www.pokemongo.jp/

Shock Your Crush with a Pikachu Engagement Ring, Available Now

U-Treasure, a company offering proper jewelry inspired by pop culture, has announced a Pikachu engagement ring! The item was made available on December 13 and can hold large diamonds from 1-1.999 carats. Each ring features a male and female Pikachu, perfect for the Pokemon master in your life. Along with this, a silver version made from cubic zirconia featuring the same design is available to pre-order until January 31, 2023.

[Pokemon] Pikachu Carat Solitaire Ring

Pokemon Shirts Introduces New Patterns from Pokemon Diamond and Pearl

On December 9, Original Japan released 32 new patterns for the popular Pokemon Shirts line, this time from Pokemon Diamond & Pearl.

With the addition of these new designs, customers can choose from a total of 493 patterns. These patterns can also be used in masks and bandanas.

32 New Patterns from Pokemon Diamond & Pearl!

The new patterns were inspired by 'Evolution and Legends.' Fans can find popular Pokemon like Giratina, Rotom, and Weavile, so be sure to check out the website for more details. 

Dark Ball and Quick Ball Buttons are Now Available!

To celebrate these new patterns, new buttons inspired by the Dark Ball and Quick Ball are now available. Fans can also choose from the traditional Pokeball, Great Ball, Hyper Ball, Premier Ball, Moon Ball, and Dive Ball. 

Pokemon and Puma Collaborate for the First Time: Shoes, Apparel, and Bags Available Now

Puma and Pokemon are joining forces for the first time. The Puma x Pokemon collection officially went on sale on November 12, offering fans a collection of sneakers, bags, apparel, and more.

The playful new collection incorporates iconic images of popular Pokemon like Pikachu, Bulbasaur, Charmander, and Squirtle. The shoe lineup includes popular models like the Slipstream, Suede Classics, and Rider FV. Pokemon can be found hiding on the shoe's tongue, insole, and heel, and fans are sure to love these stylish kicks. For apparel, customers can grab cotton T-shirts, crew-neck sweatshirts, hoodies, sweatpants, and more. Complete your look with a beanie or messenger bag. 

The Puma x Pokemon collection is on sale at Puma Store Harajuku Cat Street, Puma Store Osaka, Puma Store Odaiba, Puma Store Fujimi, Puma Store Kyoto, Puma Sapporo Factory, Puma Store Fukuoka, and the official Puma online store. 

Information

Pokemon x Puma

Release Date: November 12, 2022

Details/Online Shop: https://jp.puma.com

Mister Donut Reveals Limited-Time Pokemon Christmas Collection

Mister Donut has revealed its annual Pokemon Christmas collaboration. This marks the 5th year that the popular sweets chain is teaming up with the legendary franchise, and starting on November 9, fans can find themed sweets and merchandise for a limited time. 

Pikachu Snowman Donut

Christmas Collection Donut Set

New to the lineup in 2022 is the Pikachu Snowman Donut. This will be sold alongside the always-popular standard Pikachu Donut which will be sold in a cute Christmas sleeve. Customers can also look forward to the sleepy Pikachu Donut and the fluffy Jigglypuff Donut this holiday season.

Mister Donut Blanket (White)

Mister Donut Glasses (Set of 2)

The Christmas Set will include the Mister Donut Pokemon Blanket, which is available in two patterns, as well as a pair of Pokemon glasses. Fans are sure to enjoy these new illustrations of Pikachu and Jigglypuff made exclusively for the collaboration. 

Pikachu Donut

 

The popular Pikachu Donut is back! The fluffy yeast pastry is filled with whipped cream with a pudding flavor and chocolate coating. 

Pikachu Snowman Donut

 

Also filled with whipped cream, the Pikachu Snowman Donut is coated with white chocolate.

Be sure to check out this exclusive collection of sweets and goods before they're gone!

©2022 Pokémon. ©1995-2022 Nintendo/Creatures Inc. /GAME FREAK inc.

ポケットモンスター・ポケモン・Pokémonは任天堂・クリーチャーズ・ゲームフリークの登録商標です。
Nintendo Switchのロゴ・Nintendo Switchは任天堂の商標です。

Information

Mister Donut Pokemon Christmas Collection

On Sale:

Donuts: November 9 – late December 2022 (While supplies last)

Goods: November 9 (While supplies last)


Official Site: https://www.misterdonut.jp

Artist Yu Nagaba Creates New Patterns for Pokemon Shirts in Special Collaboration

Pokemon and Original Inc. are back with some new Pokemon Shirts in collaboration with the popular visual artist Yu Nagaba! Customers can head onto the official Pokemon Shirts website now to grab one of these cute new Pikachu-inspired designs. 

The apparel brand Original Stitch was created by an engineer working in Silicon Valley who wanted to make it easier to shop for clothes. After launching a test service in 2013 and establishing the brand's parent company, Original Inc., in 2015, the company began developing its custom shirt service. Those buying from the site can customize every detail of their shirt and order in as little as five minutes. These shirts are carefully tailored by craftsmen at a factory in Japan.

Two New Designs Made in Collaboration with Popular Artist Yu Nagaba

Two printed patterns and one unique embroidery have been added to the collection for a limited time. Yu Nagaba's designs can be used to cover entire shirts or can be used as accents on collars and sleeves. Customers can even use the embroidery on a plain shirt to make something more subtle. 

Yu Nagaba's casual depiction of Pikachu shows why his art is so beloved. Silly and subtle, both Pokemon fans and fans of Nagaba's art are welcome to snag one of these shirts before they're gone. Check out the website for more details.

Pattern: Yu Nagaba (White)

Pattern: Yu Nagaba (Black)

Embroidery: Pikachu (Yu Nagaba)

Official Pokemon Baby Brand Monpoke Reveals Autumn/Winter Collection

Monpoke, the official Pokemon baby brand, has released the lookbook for its 2022 Autumn/Winter collection! New items include pajamas, jackets, and other apparel and sundries for infants and toddlers. Monpoke, which launched in 2019, has added two new familiar Pokemon to the lineup this time around–Gengar and Mimikyu. 

Nighttime-only Diapers featuring Sleepymon Design

Pikachu and the Nighttime Adventure, the Second Book in Rikako Matsuo's Monpoke Picture Book Series

The adorable diapers will help keep babies dry all night, and these helpful products will be released nationwide in early November 2022. The new picture book will be released on September 21, so be ready to add it to your nighttime reading routine.

©Pokémon. ©Nintendo/Creatures Inc./GAME FREAK inc.

Pokemon Shirts Offering New Embroidery Options Featuring Popular Silhouettes

Starting September 2, customers will be able to snag some new customizable shirts from Original Stitch featuring embroidered silhouettes of popular Pokemon!

Fans will be able to add these silhouettes to the left chest, right hem, or left cuff of their shirt. 25 different Pokemon are available to choose from, all from the original game titles, Red and Green. 

Light Blue Dungaree / Navy Oxford / Gray Navy Dungaree / Black Checkered Gingham / Gray Kanoko

Poke Ball / Great Ball / Ultra Ball / Premier Ball / Dive Ball / Moon Ball

Customers can choose from six fabrics, including dungaree in light blue and gray-navy, black checkered gingham, white herringbone, and more.

For shirt buttons, customers can also choose from a collection of Poke Balls from the series. These customizable shirts are available to order globally. 

Pokemon GO Holds Special Drone Show in Akagawa, Yamagata Prefecture

To celebrate six years of Pokemon Go, an incredible drone show was held during the Akagawa Fireworks 2022 presentation in Yamagata Prefecture on August 20, 2022. 

The presentation sought to get audiences excited for summer fun, with the phrase "let's go on an adventure this summer" appearing in the air above the huge audience of 40,000. The Pokemon GO logo and popular Pokemon were recreated by around 700 drones.

Music from the mobile game played during the impressive show, as Pikachu and a 100-meter-tall Charizard moved across the sky. Alolan Exeggutor, Gengar, Wailord, and Rayquaza also appeared, creating a night to remember for Pokemon fans in the town of Tsuruoka. 

Pokemon GO Special Drone Show at Otaru Ushio Matsuri

The show itself was a surprise for the audience, with applause and excitement instantly palpable as it began. After the drone presentation concluded, the Akagawa Fireworks display began.

The Pokemon GO Special Drone Show was first held at the 56th Otaru Ushio Matsuri in Otaru, Hokkaido on July 24. Watch it in full above!

©2022 Niantic, Inc.
©2022 Pokémon. ©1995-2022 Nintendo/Creatures Inc. /GAME FREAK inc. ポケモン・Pokémon は任天堂・クリーチャーズ・ゲームフリークの登録商標です。 

Information

Pokemon GO Special Summer Drone Show at Akagawa Fireworks 2022  

Date: August 20, 2022 / 19:05-19:15

Venue: Akagawa Fireworks Presents 2022 / Fireworks Launching Area

Official Site: https://www.pokemongo.jp/

Pokemon Baby Brand Monpoke Releases First Baby Rings

U-Treasure, known for its gorgeous jewelry for adults inspired by pop culture icons, has released something for babies as well! Under the official Pokemon baby brand Monpoke, the company has unveiled some adorable baby rings to commemorate your child's birthday. The pieces are on sale now.

Customers can design their own special piece of jewelry for their child by selecting a Pokemon and a birthstone. The back of each ring can be engraved with up to six characters, where you could include a child's name, birthday, weight, or height. They are made in sizes to fit children's tiny fingers, and parents can also wear them as necklaces until the children grow up. Many people give them as gifts to commemorate their child's first steps into adulthood. Monpoke is the first official Pokemon brand to appear at U-Treasure Concept Store Ikebukuro and the online shop.

Which of these beautiful designs would you choose? 

Available Pokemon: Pikachu, Gengar, Eevee, Smeargle, Ludicolo, Piplup, Mime Jr., Dedenne, Mimikyu

 

Available Stones: Garnet, Amethyst, Aquamarine, Diamond, Emerald, Moonstone, Ruby, Peridot, Sapphire, Pink Tourmaline, Blue Topaz, Tanzanite

Information

Monpoke Baby Ring

Release Date: August 18, 2022

Where to Buy: U-Treasure Concept Store Ikebukuro, U-Treasure Online Shop

Online Shop/Details: https://u-treasure.jp/special/86

Pokemon Shirts Releases Second Round of Designs Inspired by Diamond and Pearl

Pokemon and Original Inc. are back with some new Pokemon Shirts. The second round of patterns inspired by Diamond and Pearl were released on July 22, 2022!

Dialga Pattern

Lucario Pattern

 

25 new designs have been added, bringing the total to 429 patterns. Fans can customize a number of products with the design of their choice, from T-shirts to masks and bandanas. 

Honchkrow Pattern

The new patterns feature Pokemon like Dialga, Lucario, and Honchcrow, among many others. For more information, check out the Pokemon Shirts official site!

*Customers can combine patterns when customizing a shirt. 

A third round of designs will be announced in the future, so keep an eye on the official website and Twitter page for more details.

Information

Pokemon Shirts

Available Countries: Japan, America, Taiwan, Hong Kong, Singapore, Malaysia, Philippines, India, Indonesia, England, Spain, Germany, Italy, France, Canada, Australia, New Zealand

Official Site: https://originalstitch.com/jp/pokemon

FamilyMart Starts Pokemon Campaign, Pikachu Pineapple Frappe Now Available

FamilyMart stores nationwide have started a campaign in collaboration with the free-to-play mobile game Pokemon Cafe ReMix! From June 21 until July 18, visitors will be able to pick up some special treats and exclusive merchandise.

Pikachu Frappes

A new addition to the Frappe series, customers will be able to enjoy Pikachu's Pineapple Frappe starting June 21, featuring Pikachu in a cute cafe uniform. Made with golden pineapple pulp, the drink is perfect for summer, offering a refreshing sweet and sour taste. There are three cup designs available–one with Pikachu in red, one in blue, and another in green.

Original Merchandise Campaign

Part I: June 21, 10:00~ / Original PP Coaster (4 varieties)

Part 2: July 5, 10:00~ / Cafe Menu Design Original Memo Pad (4 varieties)

*Sample Images

A goods campaign is also underway. Customers purchasing three qualifying products will receive exclusive merchandise–while supplies last, of course! The event will run from June 21 at 10:00 through July 18.

Stamp Campaign

Left: 5 stamps, Original Lunch Bag / Right: 10 stamps, Original Plates (Set of 3)

Collecting stamps on the FamilyMart app can also net fans some special prizes! At the same time, Pokemon fans can use the app to win tickets to Pokemon GO Fest 2022 Sapporo.

© 2022 Pokémon. © 1995-2022 Nintendo/Creatures Inc./GAME FREAK inc.
Developed by Genius Sonority Inc.
ポケットモンスター・ポケモン・Pokémonは任天堂・クリーチャーズ・ゲームフリークの
登録商標です。Nintendo Switchのロゴ・Nintendo Switchは任天堂の商標です。

©2022 Niantic, Inc. ©2022 Pokémon. 
©1995-2022 Nintendo/Creatures Inc. /GAME FREAK inc. 
ポケモン・Pokémonは任天堂・クリーチャーズ・ゲームフリークの登録商標です。