Tokyo National Museum Announces VR Experience of the Famous Pine Trees Screen
Tokyo National Museum has announced that it is set to showcase the Shōrin-zu byōbu, or Pine Trees Screen, in VR at its TNM & TOPPAN Museum Theatre from October 7, 2020.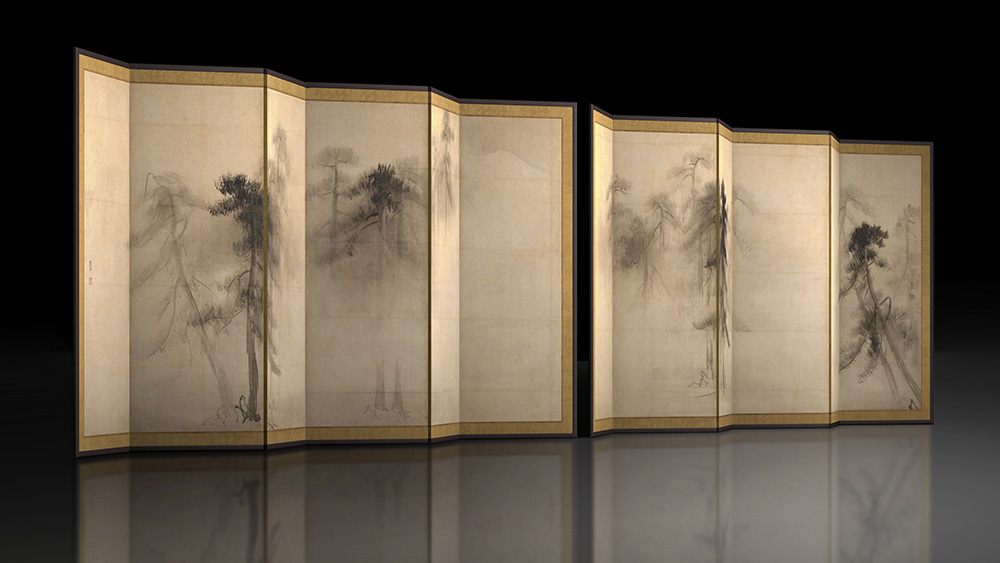 Japanese artist Hasegawa Tōhaku's Pine Trees Screen has been digitally rendered in 25,376,150,000 images so that visitors can appreciate the details of this ink-on-paper work of this officially-recognised National Treasure of Japan.
Additionally, another one of Tōhaku's works, Kaedezu Kabeharitsuke (Maple Trees) will also be available to view in VR from October 6 to November 29.
About the Pine Tree Screens
Of the many National Treasures kept at Tokyo National Musuem, Hasegawa Tōhaku's Shōrin-zu byōbu is one of the most popular. It's a piece that has much mystery surrounding it, with people not knowing the pine tree location that he painted, or why he painted it. The VR experience will look into how the painting may have come about as well as take a stroll through Tōhaku's other works, his life, and more.
The VR experience is an incredible opportunity for people unable to visit Tokyo National Museum to see a masterful and respected piece of Japanese art.
Information
National Treasure Shōrin-zu byōbu in VR (Japanese Title: 国宝 松林図屛風―乱世を生きた絵師・等伯―)
Running: October 7, 2020 – January 17, 2020
Closed: December 21, 2020 – January 1, 2021
Showing Times: Wednesday-Sunday and Public Holidays at 11:00, 12:00, 13:30, 15:00, 16:00
Location: TNM & TOPPAN Museum Theatre
Official Website: http://www.toppan-vr.jp/mt/en/
RELATED ENTRIES
Tokyo's New Art Cafe WHAT CAFE Opens in Tennozu

Warehouse TERRADA opened up the new art cafe 'WHAT CAFE' in Tennozu, Tokyo, on October 15, 2020.

Left: Overlap of paint (dot3) by Soichi Yamaguchi | Right: Ichijiteki ni Inu, Ichijiteki ni Hito, Ichijiteki ni E by Dan Isomura

WHAT CAFE will serve as a hub to support artists in Japan's art industry by functioning as both a gallery and cafe in a 800㎡ space. The gallery will change out the artwork from time to time to allow for more artists to showcase their works to visitors throughout the year. There will be hundreds of pieces shown in an entire year.

Left: Peel off the paint "No.125" by Haruna Shinagawa | void #35 by KIKUCHI Ryo

Tokyo's Tennozu area is looking to become a major stop for art in Japan and is currently home to various art facilities like the pigment lab PIGMENT TOKYO and Japan's biggest gallery complex TERRADA ART COMPLEX.

If you're interested in contemporary art in Japan, and are visiting Tokyo, then you won't want to miss a stop to Tennozu. Be sure to stop by WHAT CAFE.

Information

WHAT CAFE
Address: 2-1-11 Higashishinagawa, Shinagawa-ku, Tokyo
Opening Hours: 11:00-18:00

*No fixed holidays but the facility may be closed for certain events

Official Website: https://cafe.warehouseofart.org

New Studio Ghibli Book Focuses On the Main Characters' Daily Lives

Tokuma Shoten Publishing released a new picture book entitled Studio Ghibli no Ironna Kurashi in Japan on October 9, 2020 which is centred on the everyday lives of the protagonists from 13 of Studio Ghibli's animated feature films.

The book looks at where the characters of these films reside and what kinds of lives they live, whether it be in the Toxic Jungle of Nausicaä of the Valley of the Wind, or Sophie taking up the role of the cleaning lady in Howl's Moving Castle, or Sosuke and Lisa who live upon the cliff in Ponyo.

Life in the castle in Howl's Moving Castle ©2004 Studio Ghibli・NDDMT

Who's who in the family? What kind of house do they live in? What job do they work? These are the questions that the book will answer as it delves deep into the livelihoods of the globally-beloved characters conceived by the incredible minds of Studio Ghibli.

The town of Koriko in Kiki's Delivery Service ©1989 Eiko Kadono・Studio Ghibli・N

Arrietty's house in The Secret World of Arrietty ©2010 Studio Ghibli・NDHDMTW

Noboru Yoshida (Art Supervisor for The Secret World of Arrietty)

The house that Satsuki and Mei move to in My Neighbor Totoro, the dwelling of Totoro, the wartime life of Seita and Setsuko living in Kobe in Grave of the Fireflies, the town where Kiki begins her life living alone at the age of 13, and so on.

The book is a must-have in the collection of any fans of Studio Ghibli, and is sure to make you want to step into those magical worlds once again.

Information

Studio Ghibli no Ironna Kurashi (Japanese Title: スタジオジブリのいろんなくらし)
Films Featured: Nausicaä of the Valley of the Wind, Laputa: Castle in the Sky, My Neighbor Totoro, Grave of the Fireflies, Kiki's Delivery Service, Princess Mononoke, My Neighbors the Yamadas, Spirited Away, Howl's Moving Castle, Ponyo, The Secret World of Arrietty, From Up on Poppy Hill, The Tale of Princess Kaguya
Release Date: October 9, 2020

Price: ¥1,800 (Before Tax)

Size: B5 Hardback

Pages: 96 full colour

Publisher: Tokuma Shoten Publishing Co., Ltd.
Product Page: https://www.tokuma.jp/book/b535734.html

Tokyo's Mickey Mouse Exhibition 'THE TRUE ORIGINAL & BEYOND' Previews 5 Japanese Artworks

The Asahi Shimbun and Nippon TV are set to host an exhibition centred on Mickey Mouse at the MORI ARTS CENTER GALLERY in Roppongi, Tokyo, from October 30, 2020 to January 11, 2021, in celebration of 90 years since Mickey Mouse's screen debut. The exhibition will showcase works shown at the Mickey: The True Original Exhibition held in New York in 2018-2019.

Before the exhibition opens, five participating Japanese artists have each revealed their never-before-seen artworks which will be on display.

The Tokyo exhibition will be a travel back through time, looking at Mickey Mouse from the past to the present. It will be split into three zones: "The Origin," "The True Original," and "Beyond." The five artists showcasing their work early will be featured in the "Beyond" zone and include Tomoko Oshima, Kosuke Kawamura, Nana Soeda, Calligrapher MAMI, and WAKU. Below are their featured pieces along with their comments.

Tomoko Oshima | Comment

"What's fascinating about Mickey Mouse is, for reasons I can't begin to work out, how he became a part of each person's life. I was raised in a household that banned cartoon characters, so it always felt like something unobtainable. Mickey Mouse is like a hero to all of us. He's dazzling and radiant, a kind of being I can't look directly in the face of. When working on my Mickey Mouse art [for the exhibition], my concept was to create a Mickey that's special only to me, so I challenged myself to turning that Mickey Mouse that everyone feels happy looking at and loves into my usual art style."

Oheya (Bedroom), Tomoko Oshima

Kosuke Kawamura | Comment

"What I find fascinating about Mickey Mouse is that no matter how old I get, he always transports me away from the real world to a world of dreams. He's an idol of mine. I even have my own collection of merchandise I've been collecting over the years. For the exhibition, I needed to creating something for the Beyond [zone], so I tried shaping Mickey Mouse from how I see him in my head. I've always made sure to balance my artwork in such a way that it can be seen in two ways. When you stand close, you can see the detailed composition, but when you step away, it looks different. This time around I gave myself a little challenge and made the silhouette of his face and hands using flowers. If you get close to it you'll see that it's made up of lots of flowers, but stand from afar and you'll be able to see the facial expressions and his pointing figure. I'd like people to give both a go, so when you've looked at it up close then take a step back."

Untitled, Kosuke Kawamura

Nana Soeda | Comment

"I feel Mickey Mouse's appeal from his long history and how he has changed overtime, so I tried to express these aspects in the piece I made. The theme for it is centred on Mickey Mouse in the future, so when I was thinking about what he might look like in the future, I looked to past [designs] and tried fixing them up. So in my piece there's a trace of looking back at past Mickey Mouse while giving him an update. Creating those 'futures' made me feel like I was walking through my own past and processes. You can't know exactly what's to come in the future even for someone as internationally popular as Mickey Mouse. But by learning from past memories and mistakes, you can draw on those to create a future, don't you think? That's something I wanted to convey in this piece, and I did so by creating something that's close to the Mickey Mouse of the past with both 2D and 3D surfaces. The Mickey Mouse I drew is the one of ages past that looks completely different to his appearance today. But those look at it might feel something newer about it than older. That, or they might feel uncomfortable seeing him in a way they're not used to. I want people to take their time looking at both and feeling whatever they feel when they do."

LOVE, Nana Soeda

Calligrapher MAMI | Comment

"I've captured Mickey Mouse's silhouette as its own kanji by using calligraphy. His appearance is iconic worldwide, and by making him recognisable through this common language, I've tried to create a new kanji, effectively breaking the language barrier of calligraphy, something which is difficult in itself to overcome for people. Another thing with calligraphy is that you can write the same piece hundreds of times which means it can be fine tuned over and over. I believe that overlaps with Mickey Mouse's design as he has too has evolved for a hundred years. But by no means have his designs he just spring out of existence immediately. He has undergone trial and error through the times, and always shines bright. It's because of everyone who will see my piece as this exhibition that I've been able to create something I can feel from the heart."

ZEN Mickey, Calligrapher MAMI

WAKU | Comment

"I think the appeal of Mickey Mouse lies in the fact that people around the world all remember him from their childhoods. We form memories during our childhoods, and ever I've been able to recognise those memories inside of me, Mickey Mouse was something that was always close to me. When I see three circles together, Mickey Mouse's face comes into my mind. He might be the first internationally recognisable symbol. I felt that the affinity between symbolism and neon signs is very high. So for my piece, I incorporated the techniques used for traditional Japanese neon signboards, something which I see less of these days. I took that and created the three Mickey Mouse circles using light."

Untitled (Still Being Worked On), WAKU

Information

MICKEY THE TRUE ORIGINAL & BEYOND
Running: October 30, 2020 – January 11, 2021

Time: 10:00-20:00

Venue: MORI ARTS CENTER GALLERY (Roppongi Hills Mori Tower Floor 52F)

Entry Price: General ¥2,800 / Junior & High School Students ¥2,000 / Elementary School Students ¥1,200 / Preschoolers – Free
Official Website: mtob.exhibit.jp

Review | ART AQUARIUM MUSEUM: A Magical Place Swimming With Life

ART AQUARIUM MUSEUM officially opened permanently in Nihonbashi, Tokyo, on August 28, 2020. Before that, it was simply an exhibition that was held around Tokyo which brought together over 10 million visitors throughout its run, exhibiting goldfish in a variety of breathtaking ways.

We visited ART AQUARIUM MUSEUM together with Japanese model Yuna Yabe to take a deeper dive into what lies within those doors.

ART AQUARIUM MUSEUM can be found in Nihonbashi, an area of which served as one of many places where ART AQUARIUM previously held its exhibitions. Nihonbashi is steeped in tradition and is actually the place where Japan's goldfish culture spawned from during the Edo Period.

ART AQUARIUM was conceived and is managed by Hidetomo Kimura, an author and general producer. It's a collaboration between art, design, and entertainment, all fused into an aquarium to create a completely unique experience. The museum has taken what was once a pop-up exhibition and expanded it many-fold, housing close around 30,000 goldfish.


The aquarium is divided into different areas each with its own unique theme that plunges visitors into a multitude of fantastical worlds. One of the must-sees when visiting ART AQUARIUM MUSEUM is the masterful Oiran works—giant goldfish bowls as pictured above—which are inspired by the red light district of the Edo Period.

Perhaps the most striking and gorgeous part of the Edo Period was Hanamachi, the districts where geisha worked. The high-ranking courtesans, known as Oiran, engaged in what was known as the Oiran Dochu, or procession of the courtesans, and this too has been captured at the museum in the designs of the beautiful fish tanks in this area.


Another unmissable part when visiting the aquarium are the Goldfish Shrines, towering fish tanks lined up like a column of water trees which make for an incredible viewing experience.

The lighting and music is ever-changing, and so transports visitors into a completely different realm every time. It can be one way one moment, and in the next instant it changes entirely.


From the second floor you can overlook the fish shrines with dynamic 3D visuals in the background. These visuals change depending on the season, so you'll be in for a treat however many times you visit.

There are countless works of goldfish art scattered throughout the aquarium—too many to count, so your eyes will never grow tired.


Suigian Lounge – Old Pine Tree Area

ART AQUARMIUM MUSEUM even has its own dining lounge where guests can enjoy a meal while gazing at a painting of old pine trees, a cultural property of the Edo Period said to have been painted by those of the Kano school of Japanese painting. Traditional performances are also carried out on the stage for diners.


These drinks are ¥1,200 each (before tax)

Every five days, a new line-up of cocktails is served at Suigian Lounge. Japan used to be divided into 24 sekki rather than the now-used four seasons of springs, summer, autumn, and winter. These were further divided into 72 Kō, which are five days apart each. That's where the lounge gets its idea for changing its cocktails every five days. So you're sure to find an interesting flavour on every visit.


Kagyo Ryoran – Joy Area 

Kagyo Ryoran is a separate cafe lounge at the aquarium where they serve authentic Japanese sweets in collaboration with famous confectionery shops.


From Left Clockwise: Goldfish Sarasa ¥750 / Palet D'or Cacao Soda ¥900 / Echire Butter & Cream Castella ¥800 / lohasbeans coffee Matcha Tiramisu ¥850 / Goldfish Jelly ¥750 (All Before Tax)

The cafe serves up range of tasty Japanese desserts, from traditional ones to others inspired by goldfish and some made in collaboration with other shops.

Large Plush Toys: ¥3,200 Each (Before Tax)

The aquarium event sells its own souvenirs, such as goldfish plushies in various sizes, original confections, collaborative products, and more.

"Everything was magical—the goldfish, the sounds, the lights, the atmosphere!" explains Yuna. "They have a lot of different varieties of goldfish, and the fish tanks come in all shapes and sizes, which makes for plenty of Instagram-worthy moments. And since it's inspired by Edo culture, it has a Japanese vibe to it too. The fish are always swimming around, so no two moments are ever the same, meaning you're offered something fresh every time you visit."

If you're visiting Tokyo, be sure to pay a visit to ART AQUARIUM MUSEUM.

Information

ART AQUARIUM MUSEUM
Address: 1-3 Nihonbashihoncho, Chuo Ward, Tokyo
Opening Hours: 10:00-22:00 (subject to change)
No Fixed Holidays
General Admission: Adults (13 and over) ¥2,300 (Tax Included) / After Dark Ticket: Adults (13 and over) ¥2,000 (Tax Included)

*Free for 12 and under
Official Website: https://artaquarium.jp/en/

*ART AQUARIUM MUSEUM is currently operating with social distancing and COVID-19 preventative measures. Special permission was granted to take these photos safely without a mask.

Tokyo's TERRADA ART COMPLEX Ⅱ Welcomes 3 Modern Art Galleries

TERRADA ART COMPLEX Ⅱ, an art complex facility in Tokyo managed by Terrada, has announced the opening of three new galleries: Contemporary Tokyo, Tokyo International Gallery, and UG Gallery.

gallery UG Tennoz

gallery UG is not only celebrating its 20th anniversary this year, but opening its second-ever gallery at TERRADA ART COMPLEX Ⅱ. The gallery, like the Galerie Maeght in Paris, helps support the creation of artists' work as well as carries out various promotions and creates opportunities for the growth of young, up-and-coming artists. It aims to help expand the space of contemporary art, which it will do throughout the year at its new gallery with various exhibitions, such as solo exhibitions including one that showcases the amusement of 3D art, to more specialised exhibitions.

Contemporary Tokyo

Contemporary Tokyo takes on a more international approach by helping support Japanese artists based in Tokyo and various cities throughout China. The gallery will participate in numerous annual art fairs as well display the artworks of many contemporary Japanese artists. Looking towards the future, Contemporary Tokyo will eventually welcome artwork from Chinese artists, becoming a bridge between the art worlds of Japan and China.

Tokyo International Gallery

Tokyo International Gallery (TIG) was founded in 2019 with a mission to introduce global artists and global methods to the insular Japanese art scene. TIG wishes to to rethink the position of art in society, including environmental issues, urban planning, historical traditions, freedom of expression, and the questions and expressions that arise in the relationship between individuals and groups, subjectivity and objectivity, as well as dealing with subjects that are not framed or not actively discussed in a "borderless" manner. Its aim is to exhibit experimental works by a variety of unique artists.

TERRADA ART COMPLEX Ⅱ plans to open around 10 galleries by spring 2021 as well as a cafe and garden. TERRADA ART COMPLEX Ⅰ, which opened in September 2016, currently has 6 galleries which are also a must-see together with the upcoming new ones.

Information

TERRADA ART COMPLEX
TERRADA ART COMPLEX Ⅰ, 1-33-10 Higashishinagawa, Shinagawa-ku, Tokyo
TERRADA ART COMPLEX Ⅱ, 1-32-8 Higashishinagawa, Shinagawa-ku, Tokyo
Access: 8-minutes on foot from Exit B of Tennōzu Isle Station via the Rinkai Line / 11-minutes on foot from the Central Exit of Tennōzu Isle Station via the Tokyo Monorail Haneda Airport Line

Official Website: https://terrada-art-complex.com/ja/

Creamy Mami and Kimagure Orange Road Manga Artist Akemi Takada Gets Exhibition in Okayama

Kurashiki City Art Museum is now holding an exhibition dedicated to Japanese manga artist and character designer Akemi Takada. Titled TAKADA Akemi Exhibition: Angel Touch, the exhibition is set to run until November 8, 2020.

Akemi Takada majored in graphic design at Tama Art University. After graduating, she entered the world of animation where she learned character design working for the Japanese animation company Tatsunoko Production. She went on to design characters for a range of popular anime series such as Creamy Mami, the Magic Angel, Kimagure Orange Road, Patlabor, and more. Today, she works as an illustrator as well as a designer for book covers.

Angel Touch ©TAKADA Akemi


Creamy Mami, the Magic Angel ©Pierrot

The exhibition introduces original pictures of famous anime characters and Takada's illustration work. Though solo exhibitions have been held many times for her in both Japan and abroad, this hails as one of the largest exhibitions ever with 200 drawings. Fans will also get to see new works as well which were drawn for the exhibition.

Kimagure Orange Road ©Izumi Matsumoto / Shueisha・Nippon TV・Toho


Creamy Mami, the Magic Angel 2

Kirby Star Allies Original Art Book Releases September 24

The all new Kirby Star Allies: The Original Art Book will be released on March 16, 2021—the third anniversary since the release of Kirby Star Allies on the Nintendo Switch. Pre-orders opened on Thursday (September 24).

Kirby's first official art book

Kirby Star Allies: The Original Art Book | ¥2,700 (Before Tax)

In the 28 years since Kirby has been announced, this comes as the first ever official art book in the Kirby's Dream Land series.

The book will feature over 500 pieces of art beginning from the launch of Kirby Star Allies to its free patches, from character art to backgrounds, rough sketches, key visuals, and more.


The book will also include comments and interviews with the game's creators. Fans in Japan who pre-order the book from Value Mall by October 3, 2020 will also receive a free gift.

©2018-2020 HAL Laboratory, Inc. / Nintendo
© ambit 2020

Mickey Mouse Exhibition 'THE TRUE ORIGINAL & BEYOND' to be Held in Roppongi

The Asahi Shimbun and Nippon TV are set to host an exhibition centred on Mickey Mouse at the MORI ARTS CENTER GALLERY in Roppongi, Tokyo, from October 30, 2020 to January 11, 2021, in celebration of 90 years since Mickey Mouse's screen debut. The exhibition will showcase works shown at the Mickey: The True Original Exhibition held in New York in 2018-2019.

 

Walt Disney's concepts and ideas are formed around innovation, creativity, imagination, and storytelling. And one character who walked that journey with him and continues to this day is none other than the iconic Mickey Mouse, who since making his first appearance in Steamboat Willie in 1928, has gone on to be a symbol of the Walt Disney Company loved by people the world over.

Mickey: The True Original Exhibition in New York

The Mickey: The True Original Exhibition held in New York looked at how Mickey Mouse has influenced art and pop culture over the years, covering everything from Steamboat Willie which hailed as Walt Disney's first black and white sound film to over 100 colour short animations, artwork, and more.

Keiichi Tanaami – "Mickey's Japan Tourism"

Javier Sanchez Medina – "Studio for Mickey's hands"

The exhibition was ran from November 2018 to February 2019 and saw installations from over 20 international artists including New York-based artist Daniel Arsham and Los Angeles-based artist and graphic designer Brian Roettinger.

Brian Roettinger – "(L)imitation of Sound"

DRx – "3000% Mickey Be@r"

The Tokyo exhibition will be a travel back through time, looking at Mickey Mouse from the past to the present. It will be split into three zones: "The Origin," "The True Original," and "Beyond."

The Beyond zone will welcome original artwork from five Japanese artists.

 

Original Merchandise – Pin Badge

Original Merchandise – Ballpoint Pen

The exhibition's museum shop will have exclusive Mickey Mouse merchandise for sale, as well as pre-sales on other items. See new official goods from works like Steamboat Willie and Fantasia as well as items designed by Japanese artists. It's a chance to see Mickey in a variety of different ways.

Free eco-bag

Visitors to the exhibition will also receive one of four original eco-bags for free upon arrival.

Information

MICKEY THE TRUE ORIGINAL & BEYOND
Running: October 30, 2020 – January 11, 2021

Time: 10:00-20:00

Venue: MORI ARTS CENTER GALLERY (Roppongi Hills Mori Tower Floor 52F)

Entry Price: General ¥2,800 / Junior & High School Students ¥2,000 / Elementary School Students ¥1,200 / Preschoolers – Free
Official Website: mtob.exhibit.jp

teamLab's 'A Forest Where Gods Live' Exhibition in Saga Introduces Autumn Inspired Digital Art

teamLab's annual A Forest Where Gods Live exhibition is currently taking place at Mifuneyama Rakuen Park in Saga Prefecture until November 8, 2020. For autumn this year, the digital art team has introduced a seasonal piece entitled Forest and Spiral of Resonating Lamps in the Forest – One Stroke, Autumn Mountain.

Forest and Spiral of Resonating Lamps in the Forest – One Stroke, Autumn Mountain
teamLab, 2018, Interactive Installation, Murano Glass, LED, Endless, Sound: Hideaki Takahashi

Available to see for this autumn season only, ​Forest and Spiral of Resonating Lamps in the Forest – One Stroke, Autumn Mountain showcases Kasane no Irome, which are nuances of layered colours that were seasonal colours created in silk before Japan's modern era, in the form of lit lamps.

The lamps in the exhibition shine brightly and then fade. In the light, one can see the eight autumn Kasane no Irome colours: Budding Leaves, Green Leaves, Fallen Green Leaves, Yellow Leaves, Fallen Yellow Leaves, Fallen Leaves, Fallen Red Leaves, and Autumn Leaves.

Flowers Bloom in an Infinite Universe inside a Teacup
teamLab, 2016, Interactive Digital Installation, Endless, Sound: Hideaki Takahashi

Make tea in the tea house at the exhibition. Flowers will bloom inside the teacup, which if you pick up, sends the flowers scattering and spreading to the outside of the cup. Flowers will bloom infinitely as long as there is tea. For September, there are safflowers, dianthus, and Chinese asters, while next month will introduce cosmos, osmanthus, and chrysanthemums.

Ever Blossoming Life Rock
teamLab, 2017, Digitized Nature, Sound: Hideaki Takahashi

Megaliths in the Bath House Ruins
teamLab, 2019, Interactive Digital Installation

You can also see autumn flowers in the Ever Blossoming Life Rock and Megaliths in the Bath House Ruins exhibits too.

Visitors can also get set tickers which includes entry to the exhibition as well as a dip in the Rakan no Yu hot springs of Mifuneyama Rakuen Hotel. These tickets are limited to 40 people per day.

Information

teamLab: A Forest Where Gods Live

Running: July 22, 2020 – November 8, 2020
Address: Mifuneyama Rakuen, 4100 Takeo, Takeo-cho, Takeo City, Saga, Japan

Hours

Jul 22 – Sep 13, 2020 19:00 – 22:30
Sep 14 – Oct 11, 2020 18:00 – 22:30
Oct 12 – Nov 8, 2020 17:00 – 22:30

*Enter from Entrance 1. Entrance 2 is only available 60 min after the opening.
*Last entry is 22:00.

Official site:http://mifuneyamarakuen.teamlab.art/

Tokyo National Museum Announces 'Journey Through Asia' Exhibition

Tokyo National Museum has announced its 7th run of its Journey Through Asia exhibition, and this time, the museum will feature China. The event will take place from September 8 to October 11.

The theme this year is "Legends." This word is rooted in the legends of history, but in modern times has been attached to those in the sports and art world. It's a word that has diversified over time, and this year's Journey Through Asia will further build on its meaning through the lens of Asia in three perspectives: "What Legends Showed," "What Legends Made," and "What Legends Collected."

The museum is currently limiting the number of people allowed in the museum at once as a measure against COVID-19. Several annual events and tours have also been postponed.

Information

Journey Through Asia – Asian Legends
Running: September 8, 2020 – October 11, 2020
Venue: Tokyo National Museum
Opening Hours: 9:30-17:00 (until 21:00 on Fridays & Saturdays)

Closed: Mondays (Except September 21) / September 23

Price: General ¥1,800 / University Student ¥500 / High School Students and young & Seniors – Free

*You must book online in advance to visit the museum

Exhibition Page: https://www.tnm.jp/modules/r_event/index.php?controller=past_dtl&cid=5&id=8543&lang=en

Monet & Matisse Exhibition at Hakone's Pola Museum of Art Expanded

Pola Museum of Art in Hakone, Kanagawa is currently holding an exhibition centred on Monet and Matisse titled Monet and Matisse: Visions of the Ideal. Eight more Monet works and six more Matisse pieces were added to the exhibition on Saturday.

The exhibition opened on June 1, but due to the situation surrounding the COVID-19 pandemic, the museum was not able to obtain the full line-up of artwork from abroad that was originally scheduled to be exhibited. The entire range is now on display, including Monet's Wisteria borrowed from Musée Marmottan Monet in Paris as well as Matisse's tapestry The Lute from Mobilier National, also in Paris.

Claude Monet, Wisteria, 1919-1920
Musée Marmottan Monet, Paris ©Musée Marmottan Monet, Paris, France / Bridgeman Images 原画:アンリ・マティス 

Henri Matisse, The Lute, 1947-1949, Pola Museum of Art
Mobilier national, Paris © Mobilier national / Isabelle Bideau

No.35 Claude Monet, Water Lilies, 1907
Musée d'Art Moderne et Contemporain de Saint-Étienne Métro-Pole
Yves Bresson / Musée d'Art Moderne et Contemporain de Saint-Étienne Métropole


No.80 Henri Matisse《光の縞模様のある室内》1942年 油彩/カンヴァスマティス美術館、ル・カトー=カンブレジ
Musée départemental Matisse, Le Cateau-Cambrésis
Photo Musée départemental Matisse, Philip Bernard


The exhibition is running until November 3, 2020, and is a chance for people in Japan to enjoy the original works from two of France's most famous painters.

Information

Monet and Matisse: Visions of the Ideal
Running: August 8, 2020 – November 3, 2020
*Closed September 1-3
Opening Hours: 9:00-17:00 (Last Entries 16:30)

Pola Museum of Art
Address: 1285 Sengokuhara, Hakone, Ashigarashimo District, Kanagawa Prefecture
TEL: 0460-84-2111

Official Website: https://www.polamuseum.or.jp/english/exhibition/20200423s01/

Red Bean Paste Shaved Ice & Seasonal Products at Ginza Sony Park This Summer

Ginza Sony Park has announced a range of seasonal items and food for Summer 2020.

Toraya Cafe・An Stand

Red Bean Paste Shaved Ice with Matcha & Rice Flour Dumplings | Small ¥841, Regular ¥901 (Tax Included) | Ginza Park Floor B3F | Available: Until September 29, 2020

Loaded with red bean paste and in-house made honey, this limited edition shaved ice is served with matcha sweet bean jelly made with Uji matcha.

Red Bean Paste Shaved Ice with Cointreau & Coffee | ¥540 (Tax Included) | Ginza Park Floor B3F | Available: Until September 17, 2020

This one's for the grown-ups, served with Cointreau and Hawaiian coffee.

An (Red Bean) Paste – Raspberry | ¥864 (Tax Included) | Ginza Park Floor B3F | Available: Until Late August 2020

Enjoy a raspberry version of the bean paste for yourself which has been mixed with brown cane sugar.

THE CONVENI

CHECKER SHOPPER BAG | ¥7,700 (Tac Included) | Ginza Park Floor B1F

THE CONVENI is selling a checked shopper  bag made from thin PVC so that it does not get dirty easily and also makes it waterproof. The bag, which bears the name of the store, also has pockets inside the bag.

Ginza Sony Park Art Walk

SHUN SUDO – "ART IN THE PARK"

Left: NAIJEL GRAPH | Right: SP. by yuko mohri (Available until August 26)

Ginza Sony Park will also display a range of large-scale art including SHUN SUDO's wall art ART IN THE PARK, work from NAIJEL GRAPHIC, and more.

BOTTEGA VENETA 'THE CHAIN' Exhibition Image | August 16, 2020 – August 30, 2020

A huge installation art piece called THE CHAIN by BOTTEGA VENETA will be displayed on the rooftop for a limited time. This installation piece has been taken around the world, and serves as a message of strength and connection to people during the COVID-19 pandemic.

Ginza Sony Park 2nd Anniversary


Free stickers will be handed out until August 16, 2020 to celebrate the 2nd anniversary of Ginza Sony Park, which has delivered unique forms of entertainment to Tokyo's district of Ginza.

Information

Ginza Sony Park
Address: 5-3-1 Ginza, Chuo-ku, Tokyo
Opening Hours: 11:00-19:00

*Reduce hours. Usual hours are 10:00-20:00.

Official Website: https://www.ginzasonypark.jp/