UGG Reveals Colourful New Merchandise in Collaboration With Tadanori Yokoo
Japanese sneaker selection shop 'atmos' and Southern California-based global lifestyle brand UGG® (a division of Deckers Brands [NYSE: DECK]) are teaming up with Japanese graphic designer and artist Tadanori Yokoo to release the colourful new CA805 x Yokoo sneakers along with a capsule collection of apparel featuring his artwork on October 9, 2020 in Japan.
CA805 X Yokoo Self Portrait | ¥20,000 (Before Tax)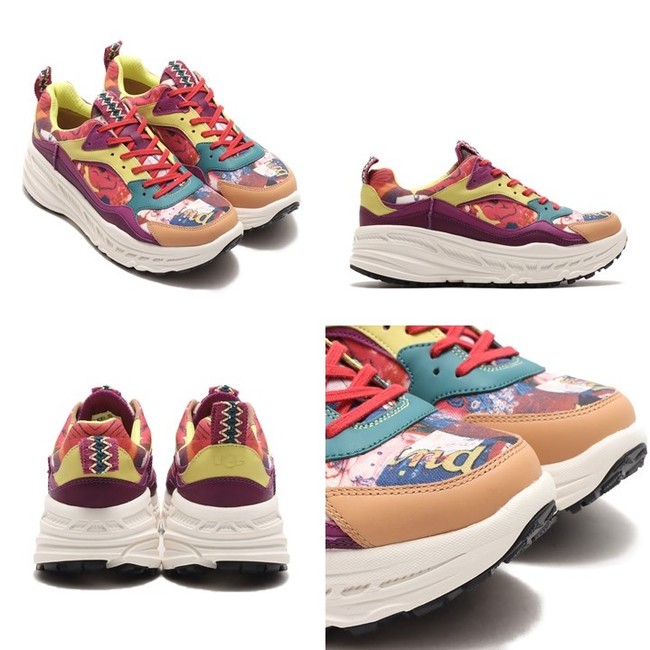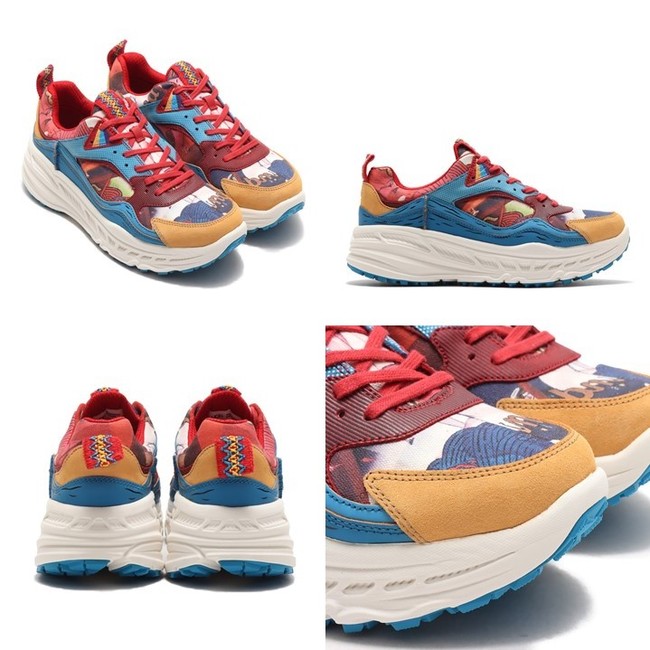 CA805 X Yokoo Wonderland RED MULTI/PURPLE MULTI/BLUE MULTI | ¥20,000 (Before Tax)
The CA805 sneaker collection is made up of two designs: Self-Portrait and Wonderland II, both of which comes in four different colourful prints.

UGG x Yokoo Tadanori Hoodie | ¥14,000 (Before Tax)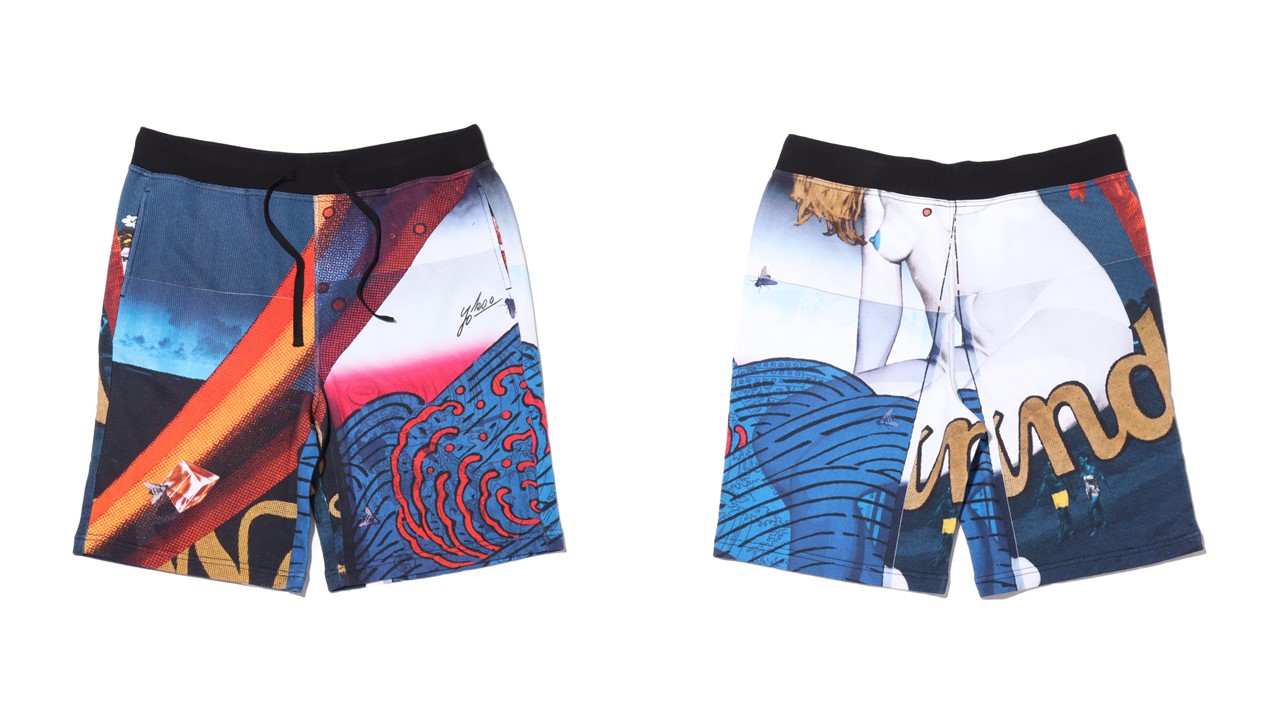 UGG x Yokoo Tadanori Shorts | ¥8,000 (Before Tax)
UGG x Yokoo Tadanori T-Shirt | ¥6,000 (Before Tax)
The line-up also includes unisex T-shirts, shorts, and hoodies featuring famous prints by Yokoo, showcasing the high level and quality of his craftsmanship.
The collection will be released in Japan at UGG@mos, atmos, and atmos pink stores as well as their online shop and at UGG® Ginza and UGG® Japan's online shop on October 9. At UGG@mos, the collection will be available only until October 30.
Information
CA805 x Yokoo Collection
Release Date: October 9, 2020
Availabke: UGG@mos / atmos / atmos pink / atmos online shop / UGG® Ginza UGG® Japan online shop
Official Website: https://www.atmos-tokyo.com/
RELATED ENTRIES
X-girl & atmos pink Collaborate With Nike On New Sneaker Models

Nike released a stylish new model of their Fontanka Edge sneakers in Japan on Friday (February 26) which was created in collaboration with X-girl and atmos pink.

NIKE FONTANKA EDGE "Light Arctic Pink" PINK

NIKE FONTANKA EDGE BLACK/LtGREEN

The new Fontanka Edge models are lightweight and fitted with highly durable Zoom X soles. They are made with a fusion of TPU and mesh for even greater durability, and their comfort has been taken to the next level. The uppers fuse seamlessly with the rest of the shoe to give them a stylish, complete look.

BAPE® Collaborates On adidas Originals Superstar Models

BAPE® has teamed up with adidas Originals once again for a 2021 Spring/Summer Collection which includes the release of a collaborative model of Superstar model sneakers at A BATHING APE® stores and online on Saturday (February 27).

The Superstar sneakers come in two colour variations. This includes a fusion of the BAPE signature "STA" and adidas Originals' iconic three stripes. The heels bear both brand's logos.

There's also a camo design of black and white contrast which pays respect to the OG Superstar models released in 1969 known as the "Celean & Celassic." The sneakers are also laced with red and blue mystic tones.

Reebok Promotes Contemporary Street Culture Scene with 'CLUB C WILD REMIX' Video

Global fitness brand Reebok released its new 'CLUB C FVS' model sneakers on Monday (February 15). The suede-woven shoes make up part of the brand's CLUB C series which first released back in 1985.

Reebok released a video entitled 'CLUB C WILD REMIX' on YouTube on Monday in promotion of the new models. The video is themed on aspects of contemporary street culture such as fashion, music, dance, and skateboarding. It features appearances of eight up-and-coming creators to the tune of the popular Japanese song Get Wild, a track that was a hit in Japan back in 1980, the same era as when CLUB C first dropped.

CLUB C WILD REMIX

The 'CLUB C WILD REMIX' is a new arrangement of the popular song Get Wild, remixed for eight individual videos by each of the aforementioned creators, all of which are strung together in the video. The video also incorporates 80's retro-style animation, CG, live-action, video game aesthetic, TikTok dances, and more. All of this comes together to form a nostalgic amalgamation of that 80's retro vibe and modern street culture.

shigge (Music Arranger) | Comment

"CLUB C is a Reebok classic. They are the best kicks, even I spent my youth together with them. They have a history and culture, something which I incorporated into my remix of this famous song together with eight talented individuals. It' a remix that prays for the continuation of CLUB C and respects its history as a diverse and unwavering line that expresses new ideas."

CLUB C FVS

Originally released in 1985, the Reebok 'Club Champion' model was created to suit the needs of tennis players, focusing on durability and high performance. The late 70's saw the rise of a tennis boom. These shoes evolve the refreshing silhouette and unique look of tennis shoes from performance models to shoes that can be worn in day-to-day life. In the 80's, Reebok's Club Champion created the basic white sneaker trend, something which continues today.

The Line-Up (Prices Include Tax)

CLUB C FVS – From Top Left: [GX2495] Porcelain・Core Black・Footwear White / [GX2495] Core Black・Core Black・Footwear White – ¥9,900 Each

CLUB C FVS – From Bottom Left: [GX5068] Core Black・Core Black・Chalk / [GX5069] Classic White・Classic White・Chalk / [GX5070] Pantone・Pantone・Chalk – ¥6,990

The CLUB C FVS incorporates vulcanized soles, a process often used in the outer soles of skating shoes that makes the rubber more durable, making them suited to the skater scene. The models take the orthodox CLUB C tennis shoes and turns them into something completely wild and new.

Don't miss out on the new CLUB C FVS drop from Reebok.

©1987 by SUNRISE Music INC. & Jun & Kei Music Publishers, Inc

Information

CLUB C WILD REMIX

Released: February 15, 2021

Where: Reebok Japan Onlne Shop / Reebok Classic Stores (Harajuku/HEP FIVE/DiverCity Tokyo/Abeno HOOP, Tachikawa Tachihi/Yokohama Vivre/Nagoya Minato AQULS) / ZOZOTOWN / Rakuten / Rakuten Fashion / Yahoo! / Locondo / Magaseek / Wowma / ABC-MART Grand Stage / ABC-MART Online 

*GX5068 and GX5069 models exclusive to Reebok's online store and Reebok branches

Porudct Page: https://reebok.jp/classic/clubc/

Yoon Ahn's AMBUSH x Nike x NBA Collection Launches Globally On December 11

Yoon Ahn is teaming up with Nike and the NBA to release a new apparel capsule collection on December 11, 2020.

As the first female designer to collaborate with the NBA, Yoon, who is the Creative Director at AMBUSH®︎, is serving fresh energy for female fans of basketball this winter.

Nike x AMBUSH NBA Collection: JACKET BK ¥35,000 / PANTS BK ¥20,000 / TOP BK ¥12,500 / JACKAT LA ¥35,000 / PANTS LA ¥20,000 / TOP LA ¥12,500 / BASKETBALL ¥10,000 (All Before Tax)

Yoon has drawn on her multidimensional and multidisciplinary perspective to reimagine Los Angeles Lakers and Brooklyn Nets apparel, from pants to sleeved tops, jackets, and more.

Nike x AMBUSH DUNK HI ¥20,000 (Before Tax)

The apparel line-up also includes the AMBUSH® approach to the iconic Nike Dunk. Channelling Japanese bike, car and truck culture, the shoes are given an elongated and heightened form, with Swooshes extending beyond the heel-like bike pipes.

The Nike x AMBUSH NBA Collection launches globally on December 11, 2020.

YOON | Comment

"The project began with a conversation about making women feel proud to represent their favorite teams. We were considering how to balance the culture of the sport without losing style. I thought of all these amazing and strong female characters from the '90s who would come out in men's clothes, and I wanted to see how we could carry that attitude, but bring in more feminine forms."

VERBAL | Comment

"Yoon is someone who thinks outside the box, and that's the case for DUNK too, which is both simple at first glance and littered with innovative ideas. The ladies NBA capsule collection is a must-check-out too, it has attitude."

Onitsuka Tiger Releases New Autumn/Winter Sneakers in Premium Line 'THE ONITSUKA'

Onitsuka Tiger is a Japanese contemporary fashion and sports brand that combines heritage with innovation. Their simple yet timeless "THE ONITSUKA" line features hybrid design dress hoes and sneakers that match every style from casual to formal.

Many of the shoes in THE ONITSUKA line feature shoes with uppers made from internationally-renowned, high-quality leather from Kobe cattle, as well as αGEL Foam soles for high shock resistance and comfort, and shark tooth soles made from rubber sponge for added durability and comfort.


JUMPA Unisex Model | ¥38,000 (Before Tax)

Inspired by ski boots and fitted with a large tongue. Made entirely with Japanese leather.

CHUKKA-S (Men's Model) | ¥43,000 (Before Tax)

Classic chukka boots with hidden laces to give a smart appearance.

BLUCHER MT (Unisex Model) | ¥50,000 (Before Tax), BLUCHER LO (Unisex Model) | ¥48,000 (Before Tax)

Based on the first ever basketball shoes released by Onitsuka Tiger in 1950. The upper features multiple colours and materials to create an original knitted tweed look.

Paris Fashion Week: Tanya Heath Paris and Yumi Katsura Collaborate to Redefine Heels

Yumi Katsura and Tanya Heath Paris have announced a special collaboration together.


The collaborative collection is set to run from June 15 to 28 this year over on Yumi Katsura's official website where they will stock shoes, heels, and other special items that are normally only available at their Paris branch.

Traditional Japanese Beauty x Paris Spirit For Women Who Want Style and Originality

Whether at weddings, parties, or during a special occasion in their life, shoes are a fundamental part of an outfit for many women. Despite that, high heels often lead to pain for the wearer.


Tanya Heath Paris is a brand that was launched by French designer Tanya Heath in 2009 which creates a unique line of shoes that have adjustable height and removable heels. This allows easy adaptability for the wearer, allowing them to change from a walking heel to a high heel with the simple click of a button. The initial design took a total of 3 years of research and development, 14 engineers, 3 shoe designers and technicians. The result was a product that has redefined the possibility of shoes.


Tanya Heath Paris has taken its concept of supporting women being free to choose when they can be cute, sexy, powerful, and elegant to collaborated with Yumi Katsura to create a heel inspired by Hokusai's famous painting The Great Wave off Kanagawa. The design comes from Yumi Katsura's dress which features a design from the same painting and is sold at Paris Fashion Week every year.

Yumi Katsura is also now selling a special ready-to-wear "Paris Coutour" collection on their website, with prices ranging from ¥50,000~¥200,000.

Order Accessories by Yumi Katsura's Creative Team

Yumi Katsura's made-to-order accessory range for wedding dresses is a popular service. They are now offering made-to-order accessories for people to enjoy at home and not just for weddings for a limited time only.

Check out Yumi Katsura's official Instagram page to see their ready-to-wear collection and shoes made in collaboration with Tanya Heath Paris.

Onitsuka Tiger x Shu Uemura Announce Unisex Sneaker and Cosmetic Collaborations

Japanese fashion brand Onitsuka Tiger and professional makeup artist brand Shu Uemura have joined up to release a new pair of collaborative sneakers and line of cosmetic products.

Since their individual establishments, both Onitsuka Tiger and Shu Uemura have hailed as pioneering brands from Japan, cementing their names across the globe. Together, Onitsuka Tigerーa brand which fuses heritage and innovation around fashion and sports in their contemporary collectionsーand Shu Uemuraーa company which inspires the millennials to bring out their unique and inner beautyーhave collaborated to release a pair of sneakers as well as 11 cosmetic items.


The new sneakers by Onitsuka Tiger are a new model that take inspiration from the company's DELEGATION EX™ pair which released back in 1964 and were worn by Japanese sports players back then. Glossy enamel has been added to bring to mind cosmetics, and matte has been used to create smooth calves. Tokyo Red is used for the colouring. The mid soles have volume and are made with spongy FLYTEFOAM™ Propel, ensuring comfort. Both ends of the spare laces, which are also Tokyo Red, bear the brand logos. The overall design screams active and urban sporty.


Unisex Shoes – ¥17,000 (Before Tax)

Shu Uemura's new collection of 11 items is made up of five different cosmetic products which come in Onitsuka Tiger's iconic key colours: Tokyo Red, Energy Orange, Indigo Blue, and others. They also bear Onitsuka Tiger's stripes. The cosmetics elicit stylishness and an energetic mood.

The new Onitsuka Tiger shoes were released on May 1, 2020 at select stores and online shops both inside and outside Japan.

Yutaro Features in PUMA's Promotional Material For 80's Fast Rider Sneakers

Inspired by their Fast Rider sneakers from the 80's, PUMA has forged two new models of the running shoes: the Future Rider Ride On and Style Rider Ride On. A special website went live in Japan featuring Japanese actor and model Yutaro as the model for promoting the sneakers.

The new models feature a cool and fun street style design for the new generation while retaining but revamping that retro look. Yutaro, who began his career from the age of 15 working in a second-hand clothing store and eventually went into modellingーand this year featured in the Japanese drama series Sherlockーdons the Ride On's and walks the streets of Tokyo in the photo shoot wearing outfits co-ordinated by himself.

In an interview for the promotion, Yutaro looked back at the complexes and indifferent personality of his past and how he grew as an individual after getting into modelling and working. He said his world became more colourful like the Ride On sneakers.

Future Rider Ride On

These sneakers feature an iconic pop style combining vibrant colours like neon green, red, and blue. The lightweight uppers are made from ripstop nylon with a suede overlay an minimum padding. The mid soles are made from the new Rider Foam which has high resilience. The outer soles and TPU stabilisers are made with superior comfort and stability in mind.

Style Rider Ride On

The eye-catching blue Style Rider Rider On's are made with TPU gel and boast an upfront fun street style. These sneakers are also made with the newly-developed Rider Foam on the mid soles. The thick mid soles are lightweight and cushioned, and the sneakers enjoy a strong grip.

Both styles have ridden the wave of generations to reappear in current times. Be sure to check out the special website featuring more content with Yutaro and Riders.

Information

Future Rider Ride On

Price: ¥9,000 (Before Tax)
Stock No.: 372838
Colours: 1

Style Rider Ride On

Price: ¥11,000 (Before Tax)

Stock No.: 372839
Colours: 1

Now available at PUMA stores, the PUMA online store, and select stores in Japan.

PUMA RIDER Special Website: https://puma-rider.com/ 

Yutaro Official Website: https://asobisystem.com/talent/yutaro/

Godzilla 65th Anniversary Sneakers Released by Patrick

To celebrate the 65th anniversary of the Godzilla franchise, stylish sneaker company Patrick has created 4 different shoe models: Godzilla Marathon, Chibi Godzilla Marathon, and two Chibi Godzilla Velcro.

Chibi Gozilla was created this year for the anniversary and is aimed at children. A book entitled Ganbare Chibi Godzilla was released in October last year and by the following month, huge orders were placed as the book received huge attention. A second picture book was released in May this year titled Nakayoshi Chibi Godzilla. In the books, a cute and tiny Godzilla befriends an equally cute and tiny Mothra and Anguirus. The first Chibi Godzilla animated film is also now airing at TOHO cinemas across Japan, attraction the attention of not only kids but movie fanatics too. A Hollywood movie titled Godzilla: King of the Monsters was also released earlier this year and became a worldwide hit.

And now, from the big screen and books, the Godzilla craze is now entering the real world in the form of sneakers. Let's take a look at the models.

Godzilla Marathon (Unisex) *Adult size

These sneakers are made from a special lacquer material to make it feel like Godzilla's tough, amour-like skin. The specially-designed insoles and woven logo are sure to be a hit with Godzilla fans.

Chibi Godzilla Marathon (Unisex) *Adult size

The entire shoe is covered with illustrations of Godzilla. The insoles have logos have also been specially designed for this model.

Chibi Godzilla Velcro

Also featuring Chibi Gozilla's iconic green colour is this model pair with Velcro for an easy fit. The kids version comes with double Velcro.

The line-up features sneakers that both kids and adults alike can enjoy. Which pair is your favourite?

TM &(C) TOHO CO., LTD.

TM &(C)  TOHO CO., LTD. Designed by Chiharu Sakazaki

Information

Godzilla Marathon

Price: ¥19,000 (Before Tax)

Size: 35-45 (22.5cm-28.0cm)

Colour: Black
Material: Steer Leather
Release Date: End of October 2019

Chibi Godzilla Marathon

Price: ¥15,000 (Before Tax)

Size: 35-45 (22.5cm-28.0cm)

Colour: Green
Materials: Nylon x Velvet
Release Date: End of October 2019

Godzilla Velcro

Price: Kids Model ¥7,500 (Before Tax) / Junior Model ¥9,500 (Before Tax)

Size: Kids 14.0cm-18.0cm / Junior 19.0cm-22.0cm

Colour: Green
Materials: Nylon x Velvet

Release Date: End of October 2019

Available At: Patrick and Godzilla Store Tokyo

Godzilla Store Tokyo Official Website: https://godzilla.store/tokyo/

Sangacio Collaborates With New York City to Release Japanese NYC Sneakers

Sangacio have combined the official NYC trademark with the Japanese character "にゅ" (Nyu, meaning "New") to create their new "NYU YORK" logo.

The design is a linguistic fusion that takes the "Nyu" from the brand's "Nyuuzu" collection which itself comes from the Japanese phrase for "New Shoes." The sneakers have the official City of New York stamp of approval on them along the bottom as well as the Central Park symbol on the tongue.

NYU YORK GREEN: ¥30,240 (Tax Included)

Every pair of these sneakers is made to order and crafted from carefully selected material by shoe experts. They come with a year's free guarantee and offer repairs during that period.

NYU YORK NAVY: ¥28,890 (Tax Included)

The funky Japanese hiragana characters offer a fun design while also promoting the fact they are made in Japan to the world. Pick your pair and incorporate them into your outfit!

Information

Sangacio "にゅ YORK"

On Sale: December 3, 2018 (2 Colours)

Product Name: にゅYORK GREEN

Price: ¥30,240 (Tax Included)

Sizes: 22.0cm-30.0cm

Product Name: にゅYORK NAVY/YELLOW

Price: ¥28,890 (Tax Included)

Sizes: 22.0cm-30.0cm

On Sale: December 18 (2 Colours)

Product Name: NYU YORK DENIM

Price: ¥26,460 (Tax Included)

Sizes: 22.5cm-29.0cm

Product Name: にゅYORK RED/WHITE

Price: ¥28,890 (Tax Included)

Sizes: 22.5cm-29.0cm

Guarantee: 1 Year (Includes maintenance throughout this period)

Product Page: https://sangacio.base.ec/blog/2018/11/22/104245

Vegeta & Majin Buu adidas Originals by Dragon Ball Z to be Released on November 24

The third kick of sneakers in the adidas Originals by Dragonball Z brand has been announced for a November 24 release. This ongoing sneaker line will see 8 different models appear throughout the rest of 2018 all based on three of the main hero x villain fights from the internationally beloved anime series.

The first two releases in this collection were the Goku-inspired ZX 500 RM DB's and the Frieza-themed YUNG-1 DB's. The second two releases were the Gohan design DEERUPT RUNNER DB's and the Cell-coloured PROPHERE DB's.

The next two pairs fans can look forward to are the OREGON ULTRA TECH DB's and KAMANDA 01 DB's inspired by Vegeta and Majin Buu respectively.

Vegeta (OREGON ULTRA TECH DB D97054): ¥20,000

Based on one of Dragon Ball's most memorable characters, the uppers on the OREGON ULTRA TECH DB's make use of blue and gold, a colour-combo reminiscent of Vegeta's battle suit. Embroidery is also used on the toe box to recreate his armour. His white gloves, boots and chest piece are portrayed through the white used on the outside of each shoe. Fans will also instantly recognise the iconic quote on the heel tab which reads "Over 9000!"

Majin Buu (KAMANDA 01 DB D97055): ¥18,000 (Pre-Tax)

The KAMANDA 01 DB's are inspired by Majin Buu, the most powerful villain in Dragon Ball. The pink nubuck uppers feature the adidas Three Stripes but made in the image of the holes dotted around Buu's head and body. The heel patch includes the letter "M" written on it like on Buu's belt, and the outer-sole is wrapped in transparent rubber to recreate his pants. There are many little details and references to Buu, and there's also the golden KAMANDA logo.

Have you been following this sneaker series? It's a must-have for fans of Dragon Ball. Which pair do you want the most?

Information

adidas Originals by Dragonball Z

Available Stores

adidas Originals Flagship Store Tokyo

adidas Original Shops in Japan

adidas Brand Core Stores (Shibuya, Shinjuku, Sendai, Nagoya, Hiroshima)

adidas Online Shop: http://shop.adidas.jp/originals/dragonballz

DEERUPT RUNNER ATMOS Trainers to be Released in Collaboration With adidas Originals & atmos

adidas Originals is teaming up with atmos―the purveyors of Tokyo sneaker culture―to release the new collaborative DEERUPT RUNNER ATMOS models. They drop on November 10.

DEERUPT RUNNER ATMOS G27330 – Price: ¥13,000 (Pre-Tax)

This new pair of bright-red sneakers features a grid design and is made with a completely new structure with Deerupt Runners as the base.

The uppers and mid soles use a stretchy mesh to cover the sneakers. The light and comfortable insoles follow in the footsteps of a foam pocket. The iconic three stripe logo of adidas can also be seen through the mesh.

The golden tips of the shoelaces bring a sophisticated tinge to the overall design.

Information

DEERUPT RUNNER ATMOS

Release Date: November 10, 2018

Available Stores

adidas Originals Flagship Store Tokyo

adidas Original Shops in Japan

Shinsaibashi, HEP FIVE, LaLaport IWATA, LaLaport Shin Misato, Abeno Hoop, LaLaport Fujimi, Girls Shop Shibuya 109, Yokohama Vivre, DiverCity Tokyo Plaza, Fukuoka, Lazona Kawasaki, adidas Brand Core Store Sendai, Shinjuku, Shibuya, Nagoya, Hiroshima

Atmos Official Website: http://www.atmos-tokyo.com/

adidas Originals Official Website: https://shop.adidas.jp/originals/