Picasso's Ceramic Works to be Displayed at Tokyo's New YOKU MOKU MUSEUM
YM House is set to open the new YOKU MOKU MUSEUM in Minami-Aoyama, Tokyo, on October 25, 2020. The museum began taking bookings on October 2. It will limit the number of people allowed in the museum at once as a precaution against the spread of COVID-19 so that visitors can enjoy the works on display without worry. Tickets are available directly at the museum on the day, but since there's a capacity limit, it's recommended that visitors book online.
About YOKU MOKU MUSEUM
YOKU MOKU is a Japanese confectionery company best known for their Cigare cookies which are shaped to look like cigars. The company was founded by Noriichi Fujinawa, who maintained that "confections are creations." Toshiyasu Fujinawa, the Chairman of YOKU MOKU Holdings, will act as the Museum Director at YOKU MOKU MUSEUM where a wide selection of artworks from YOKU MOKU's collection will be displayed, including the Picasso ceramics the company has collected for over 30 years.
About the YOKU MOKU Collection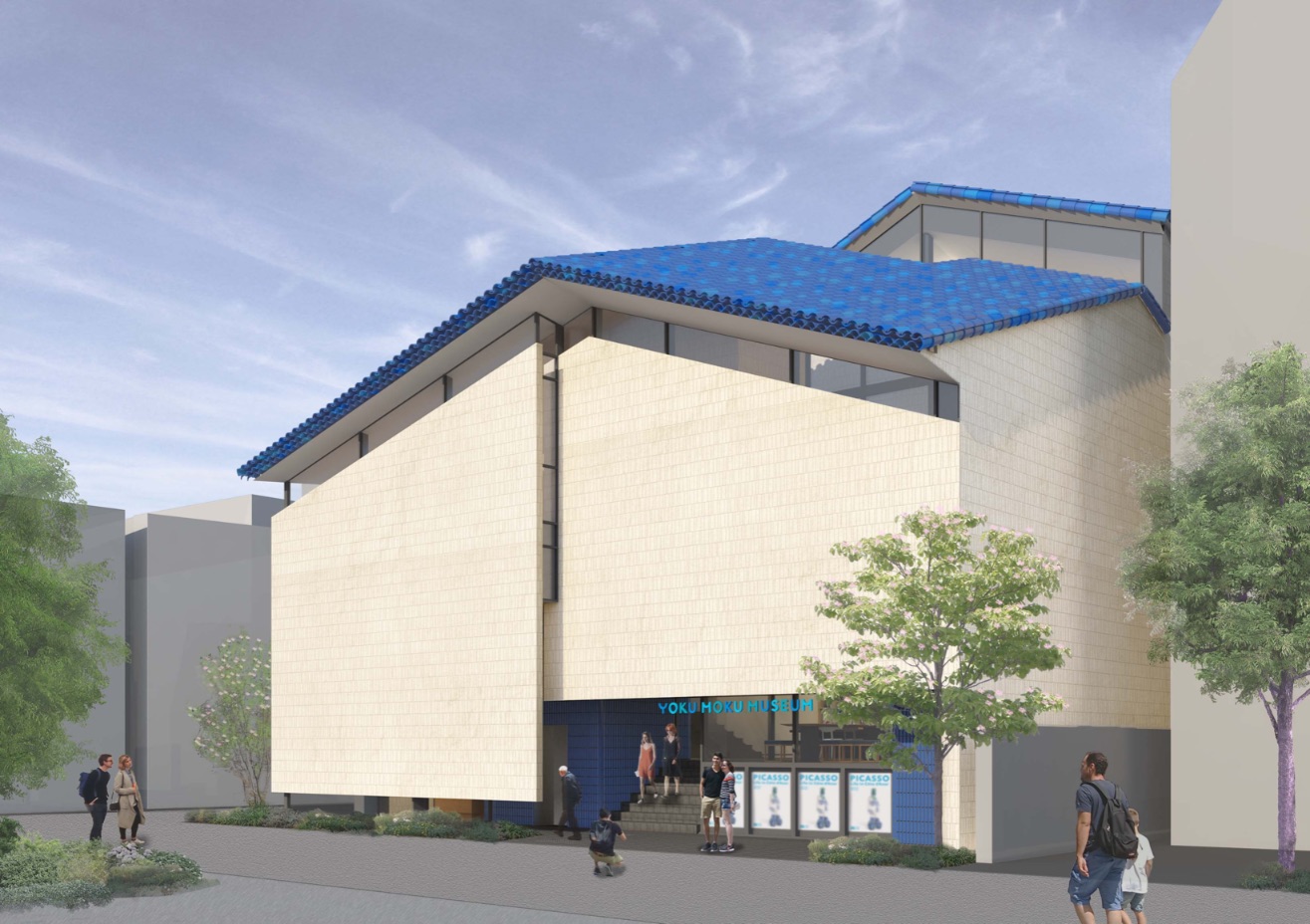 YOKU MOKU's collection boasts a comprehensive line-up of Picasso's ceramics that the artist himself made at the Madoura workshop in Vallauris. That makes the works in the collection even more prized as the ceramics themselves were shaped by Picasso's skilled hands.
The artist's passion for ceramics developed in 1947 and he worked on them at the Madoura workshop until his death in 1973. He forged everything from bowls to plates, jugs, and more.
Information
YOKU MOKU MUSEUM
Address: 6-15-1 Minami-Aoyama, Minato-ku, Tokyo
Opening Hours: 10:00-17:00 (Last Entries 16:30)
Closed: Mondays / New Year Holidays / October 26, 2020
Access: 12-minutes on foot from Omotesando Station
Bookings: https://www.e-tix.jp/yokumokumuseum/
*Information subject to change depending on COVID-19
RELATED ENTRIES
Popular LINE Sticker Character Opanchuusagi Inspires Cafes in Tokyo and Osaka

The popular character Opanchuusagi, created by illustrator Kawaisoni, has inspired two collaboration cafes! Fans of the adorable rabbit will be able to grab themed dishes and goods in both Tokyo and Osaka from July 7 until August 21. Does the character look familiar? You've probably seen her on social media or on LINE!

Opanchuusagi does her best for everyone but tends to fail in hilarious ways. The melancholy character has been getting increasingly popular lately, leaving comments like "poor thing," or "so cute!"


Cafe Visitor Bonus / Menu Order Bonus

Menu

Opanchu Curry

Opanchu Omurice

Opanchu Burger

Opanchu Shaved Ice

Opanchu Pancake

Opanchu Parfait

Opanchu Missing-Underpants Soda

Opanchu Pink Soda

Opanchu Strawberry Milk

Opanchu Latte

Goods

The Opanchuusagi Cafe will offer a lineup of cute menu items perfect for posting on social media, from the curry and burger to the shaved ice and latte. The cafe will also sell original merchandise, so don't miss your chance to snag some!

 

Why not come relax at this unique cafe on a hot summer day? 

©KAWAISOUNI!

Information

Opanchuusagi Cafe

Venues/Dates: 

Ikebukuro, Tokyo

BOX cafe&space Matsumoto Kiyoshi Ikebukuro Part 2
July 7 – August 21, 2022

Matsumoto Kiyoshi Ikebukuro Part 2, 4F (1-22-8 Higashiikebukuro, Toshima-ku, Tokyo)

Umeda, Osaka
BOX cafe&space Umeda LOFT

July 7 – August 21, 2022

Umeda LOFT, 1F (16-7 Chayamachi, Kita-ku, Osaka)

Official Twitter: https://twitter.com/opanchu_cafe
Reservations / Official Site: https://opanchuusagi-cafe.jp/


NANA Manga Artist Ai Yazawa's Exhibition Commemorated by Six Manga Magazines

The Ai Yazawa ALL TIME BEST Exhibition will be opening Takashimaya stores in Shinjuku, Osaka, and Yokohama, before traveling to the Aeon Mall Okayama and Daimaru Tokyo. The Tokyo exhibition will be opening on July 20, and to commemorate the big event, six of Shueisha's shojo manga magazines will be including clear color folders inspired by Yazawa's most famous works!

Yazawa's most popular manga series include Tenshi Nanka Ja Nai, Neighborhood Story, Paradise Kiss, and Nana. This exhibition will serve as a 'best-of album' for her many beloved works. 

The Ai Yazawa ALL TIME BEST Exhibition will feature over 300 original drawings and illustrations, as well as never-before-seen materials from the production of Yazawa's many manga series and anime adaptations. Many readers say that Ai Yazawa's works taught them about the important things in life, such as love, dreams, and fashion. Which inspired you the most?

On Sale June 23 – The Margaret Summer Issue Supplement, 'Neighborhood Story  Zama ver.'

Front: Ai Yazawa / Shueisha ©

Back: Ai Yazawa / Shueisha ©

On Sale July 1 – Ribon Magazine August Issue Supplement 'Tenshi Nanka Ja Nai Ribon ver.'

Front: Ai Yazawa / Shueisha ©

On Sale July 13 – Bessatsu Margaret August Issue Supplement 'Tenshi Nanka Ja Nai Betsuma ver.'

Ai Yazawa / Shueisha ©

On Sale July 20 – Margaret #16 Appendix 'NANA Margaret ver.'

Ai Yazawa / Shueisha ©

On Sale July 26 – Cookie September Issue Supplement 'NANA Cookie ver.'

Ai Yazawa / Shueisha ©

On Sale July 28 – Cocohana September Issue 'Paradise Kiss Cocohana ver.'

Ai Yazawa / Shodensha ©

Each clear folder features the image of a famous scene from one of Ai Yazawa's works. Be sure to grab these rare supplements before they're gone!

 

Information

ALL TIME BEST Ai Yazawa Exhibition

Dates/Locations/Hours:

■Tokyo Exhibition

July 20 – August 8, 2022

Shinjuku Takashimaya 11F Event Space

10:00-19:00 (Closes at 17:30 on August 8)

 ■Osaka Exhibition

August 24 – September 12, 2022

Osaka Takashimaya 7F Grand Hall

10:30-18:30 (Closes at 16:30 on September 12)

■Yokohama Exhibition

September 21 – October 10, 2022

Yokohama Takashimaya Gallery 8F

10:30-18:30 (Closes at 16:30 on October 10)


■Okayama Exhibition

November 26 – December 25, 2022

Aeon Mall Okayama 5F, Okayama Mirai Hall


■Kyoto Exhibition

January 4 – January 22, 2023
Daimaru Museum Kyoto (Daimaru Kyoto 6F)


Clear Folder Details: http://ribon.shueisha.co.jp/yazawaai-ten2022/

Official Site: https://www.takashimaya.co.jp/store/special/yazawaai_ten/index.html


Sailor Moon Museum Details Second Round of Exclusive Merchandise

The Sailor Moon franchise's 30th-anniversary museum will run from July 1 to December 30 at Tokyo's Roppongi Museum. The series became a global phenomenon in the 1990s and remains massively popular to this day.

 
The exhibition will feature the largest-ever exhibition of original illustrations by Sailor Moon's creator Naoko Takeuchi, at over 600 pieces. The museum will have three phases, each swapping out different pieces, so fans can have a different experience depending on when they visit!

The event will include an 'immersive experience theater,' which will display colored images on a massive 4.5 x 8-meter screen with special effects. Fans can also enjoy a 'hologram manuscript exhibit,' which will display the Sailor Scouts' famous dialogue. Plenty of merchandise will also be available for purchase, with the second round of available goods just announced!

Original Merchandise (Second Lineup)

Clear Folder ('90s Anime Logo)

Clear Folder (Random, 5 varieties)

Masking Tape Holder

Masking Tape (Luna, Artemis & Diana)

Hat ('90s Anime Logo)

Cloth Shirt ('90s Anime Logo)

Aurora Sticker (Random, 10 varieties)

Reversible Cushion (Luna & Artemis)

Pochette (Luna)

Face Powder Collection (5 varieties)

The second round of original merchandise features many items utilizing the '90s anime logo, including a shirt, hat, and clear folders. A themed masking tape holder was made to resemble Sailor Moon's Moon Stick, and the tape itself features the cats Luna, Artemis, and Diana.

 

The interior of the special store created for the exhibition was designed by Wataru LINDA Igarashi, an art director known for his cute pieces based on the concept of 'window shopping.' 

Come experience some serious nostalgia at the Sailor Moon museum later this year!

© Naoko Takeuchi

Information

Sailor Moon Museum

Running: July 1 – December 30, 2022

Vol.1: July 1 – September 4

Vol. 2: September 10 – November 6

Vol. 3: November 12 – December 30

Closed: September 5-9, November 7-11

Hours: 10:00-18:00 (Last entry at 17:30)

Venue: Roppongi Museum (5-6-20 Roppongi, Minato-ku, Tokyo)

Official Site: sailormoon-museum.com

Sailor Moon Museum Details Exclusive On-Site Merchandise

The Sailor Moon franchise's 30th-anniversary museum will run from July 1 to December 30 in Tokyo's Roppongi Museum. The series became a global phenomenon in the 1990s and remains popular to this day.



The exhibition will feature the largest-ever exhibition of original illustrations by Sailor Moon's creator Naoko Takeuchi, at over 600 pieces. Rare original color drawings and some never-before-scene creations will be on display, and fans won't want to miss this incredible chance. The museum will have three phases, each swapping out different pieces. Fans can have a different experience depending on when they visit!

Postcard Set (A): ¥880 (Tax Included)

Clear Folder A (Set of 2): ¥770 (Tax Included)

Nakayoshi Extras Reprint – Premium Card Collection Graffiti Ver. 1 / Ver. 2: ¥1,650 

 

A special store at the exhibition will sell original goods featuring original artwork by the original series creator Naoko Takeuchi. Postcards and clear folders feature colorful designs of famous scenes from the series, and longtime fans will appreciate a reproduced collection of trading cards that appeared in Nakayoshi Magazine.

 

New original goods will be available during each period of the museum. In late June, the interior of the exhibition and the second batch of original merchandise will be revealed!

© Naoko Takeuchi

Information

Sailor Moon Museum

Running: July 1 – December 30, 2022

Vol.1: July 1 – September 4

Vol. 2: September 10 – November 6

Vol. 3: November 12 – December 30

Closed: September 5-9, November 7-11

Hours: 10:00-18:00 (Last entry at 17:30)

Venue: Roppongi Museum (5-6-20 Roppongi, Minato-ku, Tokyo)

Official Site: sailormoon-museum.com

UNIQLO Releases UT Collection Inspired by the Great Museums of the World

UNIQLO's graphic T-shirt brand UT has launched an artful new collection! The Museums of the World collection of men's shirts features beloved museums like the Tate Modern, the Louvre, the Museum of Fine Arts Boston, and more. This valuable collection was made possible by UNIQLO's continued art initiative, as the company has continued to work with museums around the world to share the wonders of art with as many people as possible.

A Collection Allowing Customers to Enjoy the World's Best Museums as Part of Their Daily Lives

This collection brings together some of the world's most beloved museums, with designs inspired by the exteriors of these well-known homes of art. The Louvre design fully captures the iconic pyramid, while the contemporary MoMA is expressed with simple lines. The name of each museum is also printed on one sleeve for extra style.

UNIQLO's Art Initiative


UNIQLO has partnered with some of the world's leading museums over the years. Through free admission programs, sales of collaborative products and various events, these museums aim to provide opportunities for more people to experience and deepen their understanding of art.

May 2013 – Present / The Museum of Modern Art (New York, USA) 

March 2016 – Present / Tate Modern (London, England) 

September 2017 – Present / Museum of Fine Arts (Boston, USA) 

March 2018 – Present / Barcelona Museum of Contemporary Art (Barcelona, Spain)

February 2021 – Present / Louvre Museum (Paris, France)

Don't miss this unique collection! Which museum would you like represented in your wardrobe?

Tokyo City View at Roppongi Hills Welcoming Guests for Rainy Season Fun

During late spring and early summer, Japan enters the rainy season. From mid-June until early July, Tokyo City View, the indoor observatory at Roppongi Hills, will be giving people a way to enjoy this dreary time. From photo spots to afternoon tea and cute menu items at the on-site restaurant and cafe, this is one of the best places to spend time in Tokyo. 

Photo Spot Transforms Rainy Weather into Sunny Weather

Starting June 13, three photo spots featuring colorful umbrellas will appear around Tokyo City View. Even if it's pouring rain outside, it's always sunny under these pop-art umbrellas! Take some shots 250 meters above the streets of the city and post them on social media!

Normally, Tokyo City View ticket holders can enter the Sky Deck rooftop deck for an additional ¥500. For a limited time, a special set ticket including Sky Deck will be available at the on-site ticket counter! On rare sunny days during the rainy season, guests can enjoy the open-air Sky Deck, a perfect place to refresh and unwind.

Running: June 13 – July 4, 2022

Admission: ¥2,000 (General Admission, Weekdays) 

Details: https://tcv.roppongihills.com/jp/news/2022/06/5723/

*Certain areas of the indoor observatory will be closed during this period. 

Spend a Rainy Day at THE SUN & THE MOON Cafe & Restaurant

NY Cheesecake with Caramel Sauce: ¥1,280 (Tax Included)

Banana Split: ¥1,150 (Tax Included)

THE SUN & THE MOON Cafe and Restaurant is attached to Tokyo City View. At the cafe section, guests will be able to order some cute new items from the dessert menu to sweep away the rainy day blues. 

The restaurant section offers a spectacular city view and is filled with greenery, intending to make guests feel like they're in a forest in the sky. On a rainy day, you may feel like you're in the rainforest! Come enjoy a cup of tea and gaze out at the city.

The Roppongi Hills Observation Deck regularly hosts the Roppongi Astronomy Club. On July 7, the Tanabata Special Viewing Event will invite guests to enjoy a sparkling night view of Tokyo and the stars above. On July 15, a special Moonrise Viewing will be held, where visitors can watch the moon rise from the direction of Tokyo Skytree.

How would you like to spend a rainy day in this spectacular Tokyo landmark? 

Sailor Moon Museum Reveals Collection of Original Drawings Made for Current Exhibition

The Sailor Moon franchise's 30th-anniversary museum will run from July 1 to December 30 at Tokyo's Roppongi Museum. The series became a global phenomenon in the 1990s and remains popular to this day.


The exhibition will feature the largest-ever collection of original illustrations by Sailor Moon's creator Naoko Takeuchi. Rare original color drawings and some never-before-scene creations will be on display. The museum will have three phases: volume 1 (July 1 – September 4), volume 2 (September 10 – November 6), and volume 3 (November 12 – December 30), and during each phase, new works will be available for guests to peruse.


The event will also include an 'immersive experience theater,' which will display colored images on a massive 4.5 x 8-meter screen with special effects. Fans can also enjoy a 'hologram manuscript exhibit,' which will display the Sailor Scouts' famous dialogue. Anime materials and a selection of classic merchandise from the 90s to the modern-day will be available to peruse, as well as outfits from the musicals.

Prior to the start of the exhibition, three new original drawings have been created by original author Naoko Takeuchi. These exclusive images will be on display throughout the event!

© Naoko Takeuchi

Information

Sailor Moon Museum

Running: July 1 – December 30, 2022

Vol.1: July 1 – September 4, 2022
Vol.2: September 10 – November 6, 2022

Vol.3: November 12 – December 30, 2022
*Closed September 5-9, November 7-11
Hours: 10:00-18:00 (Last entry at 17:30)

Venue: Roppongi Museum (5-6-20 Roppongi, Minato-ku, Tokyo)

Official Site: www.sailormoon-museum.com

Ueno's National Museum of Western Art Celebrates Reopening with Live Commentary for 'In Dialogue with Nature' Exhibit

The National Museum of Western Art, located in Ueno Park, reopened in April 2022 after being closed for renovations for 18 months. The first special exhibition post-reopening will feature Van Gogh's works in Japan for the first time, along with paintings depicting modern nature from both the National Museum of Western Art and the Museum Folkwang in Essen, Germany.

To commemorate the post-renovation reopening of the National Museum of Western Art in Tokyo, this exhibition traces the development of modern art born out of the dialogue between nature and humankind.

The event was realized in collaboration with the Museum Folkwang, and both institutions were founded on private collections: that of Karl Ernst Osthaus (1874–1921) in Germany and Matsukata Kojiro (1866–1950) in Japan.

The exhibition will feature over 100 paintings, drawings, prints, and photographs from both museums, spanning from German Romanticism to the art of the twentieth century, ranging from Impressionism to Post-Impressionism. 


Guests can enjoy all aspects of the infinite expanse of nature as shown in both collections, from the smallest roadside flowers to the vast universe and all humanity contained within. Would you like to come and experience this unique exhibition?


Information

The National Museum of Western Art Reopening Event
In Dialogue with Nature: From Friedrich, Monet and Van Gogh to Richter

Running: June 4 – September 11, 2022

Closed Mondays, July 19 (*Open July 18 and August 15)

Venue: The National Museum of Western Art (Ueno Park, Tokyo)

Hours: 9:30-17:30 (Open until 20:00 on Fridays, Saturdays)

Niconico Museum Homepage: https://ch.nicovideo.jp/niconicomuseum

GELATO PIQUE HOMME Limited Concept Store Opens at Hankyu Men's Tokyo for Father's Day

Men's roomwear brand GELATO PIQUE HOMME will open a limited-time concept store at Hankyu Men's Tokyo from June 15 until June 21, 2022. 

The store will offer a wide variety of items, including light and comfortable loungewear perfect for summer and unisex items perfect for partners. In addition, GELATO PIQUE x BE@RBRICK collaboration items will also be available for purchase. 

Popular around the world, Medicom's BE@RBRICK figure can now be purchased in full Gelato Pique loungewear, with customers able to choose between 400% and 1,000% sizes. Shoes are also available for each figure.

The summer collection includes soft and lightweight items perfect for the heat, including sweatshirts, long pants, and ultra-thin shirts.

Hand soap and face wash will also be available. Gelato Pique Homme's original citrus mint blend is made with bergamot and patchouli essential oils sourced from France.

Come pick up some of these items, perfect for Father's Day!

Information

GELATO PIQUE HOMME LIMITED CONCEPT STORE
Running: June 15 – June 21, 2022
Address: Hankyu Mens Tokyo Main Base, 1F (2-5-1 Yurakucho, Chiyoda-ku, Tokyo)
Hours: 11:00-20:00
*Business days and hours are subject to change.

GELATO PIQUE HOMME Official Site: https://gelatopique-homme.com/

TOOTH TOOTH TOKYO in Ebisu Releases New Evening Parfait for Adults

TOOTH TOOTH TOKYO, a French bistro located in Ebisu, will offer three unique parfaits perfect for adult palates starting June 1, 2022 for a limited time.

These three sweet treats are perfect for an after-meal snack or a reward for a hard day's work. As delicious as they may be, they're also delightful to look at, each made with care and filled with seasonal fruits. An evening at TOOTH TOOTH TOKYO will be a luxurious and colorful experience this summer.

White Peach Fromage Parfait with Honey Tuile: ¥2,000 (Tax Included)
The melt-in-your-mouth parfait includes sweet peach covered with Earl Grey tea leaves, homemade apricot pound cake, lemon mousse, and a crispy honey tuile for a touch of luxury.

Parfait Exotica ~Mango Quenelle and Coconut Blancmange & Pistachio: ¥1,900 (Tax Included)
This mango treat with a dollop of coconut blancmange is made extra delicious with a pairing of pistachio ice cream. Dried pineapple and lotus flowers garnish this mature summer dessert. Enjoy the rum-soaked dried fruits!

Caramelized Figs & Red Wine Spiced Chocolat: ¥1,600 (Tax Included)
Juicy caramelized figs doused with spiced sangria make up the heart of this dish. The Belgian chocolate ice cream is served with a light cheese tuile, an accent with just the right amount of texture and saltiness.

Information

TOOTH TOOTH TOKYO

Venue: Tre di Casa Ebisu 1F/B1 (3-17-12 Higashi Shibuya-ku, Tokyo)
Hours:

Monday-Thursday, Saturday: Lunch 11:30-15:00 / Cafe & Dinner 15:00-23:30 (Last Order at 22:30)

Sunday: Lunch 11:30-15:00 / Cafe & Dinner 15:00-23:00 (Last Order at 22:00)

Friday: Lunch 11:30-15:00 / Cafe & Dinner 15:00-28:00 (Last Order 23:30)
*Closed from 15:00-16:00 

Official Site: http://www.toothtooth.com/restaurant/tooth-tokyo/

Popular Unko Museum to Open First Pop-Up in Shizuoka with a Stunning Mt. Fuji View

The poop-themed Unko Museum is heading to Shizuoka for the first time! Guests will be able to visit the unique exhibition from July 15 until September 25, 2022.

The Unko Museum has previously popped up in Yokohama, Tokyo, Shanghai, Fukuoka, Hiroshima, and even online. In Shizuoka, it will be held inside S-Pulse Dream Plaza, a spectacular venue with a view of Mt. Fuji. The educational museum features tons of poo-themed attractions, from the poop-spurting Unko Volcano to a game area. 

The museum first opened in 2019 and made news around the world. Since the flagship location opened in Tokyo, over 800,000 visitors have come to openings around the world.

While it may seem like a strange way to spend a day, would you like to come and experience this museum for yourself?

Information

Unko Museum Shizuoka

Address: S-Pulse Dream Plaza, 3F Special Event Space (13-15 Irifunecho, Shimizu-ku, Shizuoka)

Running: July 15 – September 25, 2022
Hours: 10:00-18:00 (Last entry at 17:30) *Open 13:00-18:00 on weekdays in September (Last entry at 17:30)
Open Daily
Details: https://www.sut-tv.com/event/exhibit/shizuo/

The Rose of Versailles Celebrates 50th Anniversary with Exhibition at Tokyo City View

Tokyo City View in Roppongi Hills will hold The Rose of Versailles 50th Anniversary Exhibition -The Rose of Versailles Forever- from September 17 until November 20, 2022. 

Riyoko Ikeda's historical romance manga was first serialized in Shueisha's Weekly Margaret manga magazine from April 1972 to December 1973. The epic historical drama set in the French Revolution-era overturned the common perception at the time that historical stories were not appropriate for girls' manga, and the series was a huge hit, winning the hearts of girls from the start. It became so popular that it received tens of thousands of fan letters per month, and became an immortal masterpiece that changed the history of shoujo manga.

The Rose of Versailles tells a story over 2,000 pages long, but this exhibition focuses specifically on Marie Antoinette and Oscar François de Jarjayes, the two main characters of the story. Guests will be able to see rare original drawings, along with Ikeda's thoughts and words at the time. Ikeda was only 24 years old at the time when she drew some of these incredible pieces, and she continued studying painting during the series' serialization. 

Even after serialization ended in 1973, the series only continued to grow in popularity. Adapted for the stage by the Takarazuka Revue in 1974, it became a social phenomenon, and an anime series followed in 1979.

In the Takarazuka Revue section of the exhibition, Oscar's room from the play will be recreated, and stage costumes and props will be on display.

Come enter the dreamlike world of The Rose of Versailles while enjoying a spectacular view of Tokyo from 250 meters up!

©池田理代子プロダクション

©池田理代子プロダクション/集英社

©大野愛子

Information

The Rose of Versailles 50th Anniversary Exhibition – The Rose of Versailles Forever –

Running: September 17 – November 20, 2022
Venue: Tokyo City View
Official Site: https://verbaraten.com/