Kikkoman Helps Coca-Cola Create Japanese Dashi Beverage You Can Drink Straight
Coca-Cola has teamed up with Kikkoman to release a new beverage in the GO: GOOD line of soup drinks which was created for busy people in a hurry that still need to get their fill. Their new collaborative Japanese dashi flavour will be released in Japan on October 12, 2020.

The new Japanese dashi flavour is made using specially-selected katsuo bonito, kombu, and ago flying fish extract to create an authentic dashi that you can drink straight from the can. It makes for a perfect addition to any lunch or bento assortment, and it can even be enjoyed on its own.
Three flavours already available on the market also underwent a can design change last month. This includes the Corn Potage, Ebi Bisque, and Minestrone.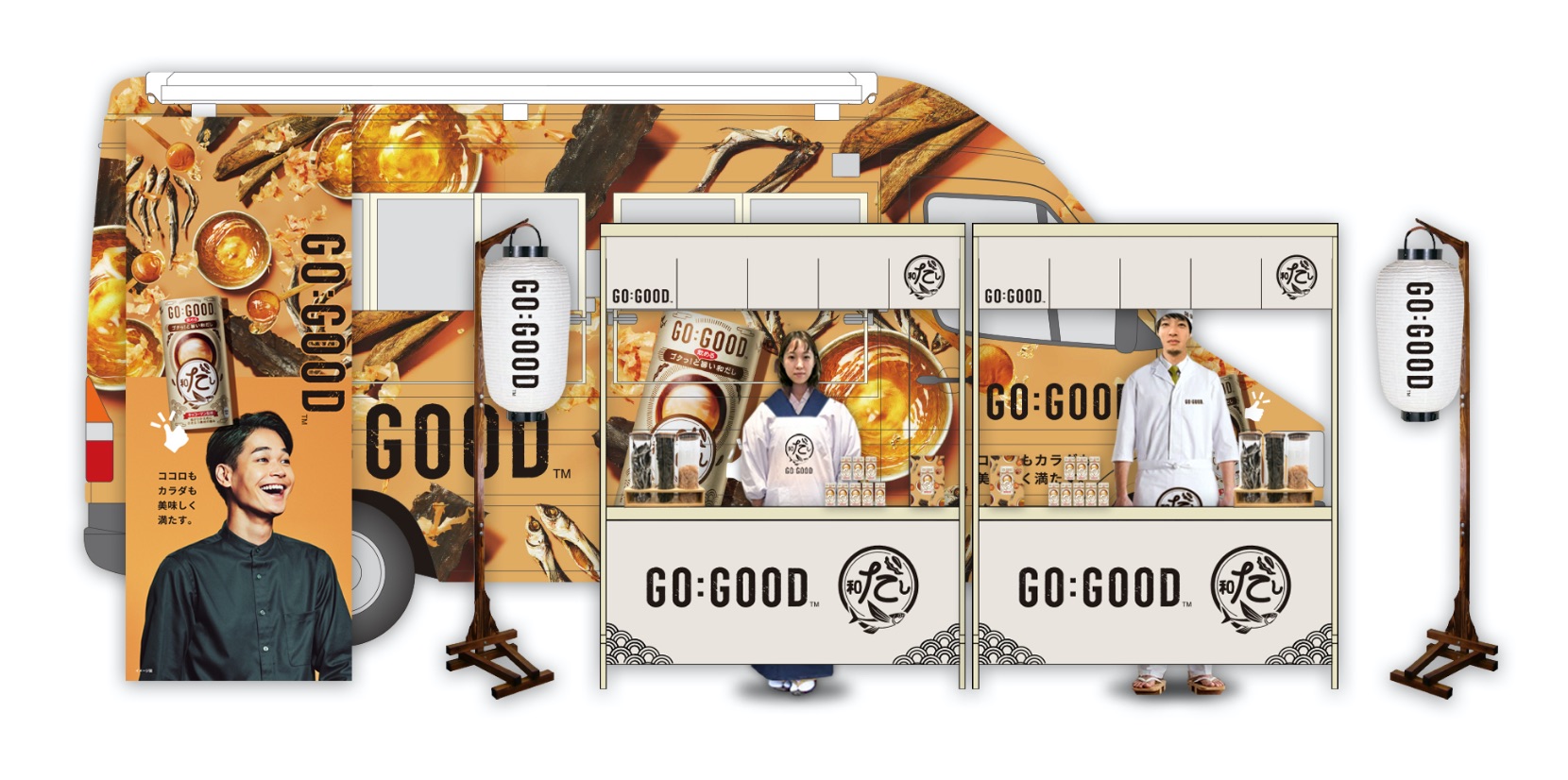 Samples of the new dashi flavour will be handed out at places around Japan via food trucks.
Fill your belly and feel nourished with a can of GO: GOOD.
Information
GO: GOOD JApanese Dashi
Release Date: October 12, 2020
Available: Select supermarkets as well as shops and vending machines in Japan
Official Website: https://c.cocacola.co.jp/go_good/
RELATED ENTRIES
Pokémon Cafe and Pikachu Sweets by Pokémon Cafe Reveal New Desserts Including Polteageist Tea Set

Pokémon Cafe and Pikachu Sweets by Pokémon Cafe are releasing a new teatime menu at their respective branches on October 24, 2020.

Pokémon Cafe

Polteageist & Sinistea Tea Party! Fruit Tea Set ~Apple Flavoured~ | ¥1,188 (Tax Included)


Polteageist & Sinistea Tea Party! Fruit Tea Set ~Strawberry Flavoured~ | ¥1,188 (Tax Included)

Pokémon Cafe is serving up two different fruit tea sets based on the Ghost-type Pokémon Polteageist and Sinistea. Customers are free to pour in their desired amount of fruit syrup which changes the colour of the tea. The sets come with a cute cookie too.

Pikachu Sweets by Pokémon Cafe

Left: Polteageist's Tea Party! Fruit Tea ~Mixed Berry Flavour~ / Right: Polteageist's Tea Party! Fruit Tea ~Peach Orange Flavour~ | ¥700 Each (Before Tax)

Pikachu Sweets by Pokémon Cafe is also going to serve up some Polteageist themed fruit teas as well as a selection of desserts like macarons and financier almond cakes which have Pokémon tail and ear designs.

After ordering one of the Polteageist fruit teas, customers can place their cups under the Polteageist tea pot as pictured above and activate the pot to dispense their drink, so it's like Polteageist  really pouring tea for you.

Left: Swirlix Strawberry Macaron | Middle: Pikachu Vanilla Macaron | Right: Galarian Ponyta Pistachio Macaron – ¥500 Each (Before Tax)

Treat yourself to one of the super cute Swirlix, Pikachu, or Ponyta macarons each with designs that tell you instantly which Pokémon they're inspired by.


Polteageist Fruit Tea and & Pikachu Macaron Set

Customers can order a tea and macaron combination set too.

Pikachu Parfaits

Pikachu Glass Parfait Set | ¥1,500 (Before Tax)

An adorable set of Pikachu parfaits, one being caramel banana flavoured and the other chocolate.

Pikachu Tea Party Assortment – Pika Pika Pikavee Set | ¥2,800 (Before Tax)

Another set to share between friends and family, this time with two Pikachu glass desserts as well as Pikachu and Eevee cupcakes.

Pikachu Tea Party Assortment – Ghost Type Set | ¥2,800 (Before Tax)

This set comes with the Pikachu glass desserts as well as Ghost-type Gengar and Litwick mousse cakes.

The Polteageist teapot and Sinistea teacup used at the Pokémon Cafe and Pikachu Sweets by Pokémon Cafe will also be released at Pokémon Center Online in Japan on December 5, 2020.

© 2020 Pokémon.©1995-2020 Nintendo/Creatures Inc./GAME FREAK inc.
Pokémon, ポケットモンスター, and ポケモン are registered trademarks of Nintendo, Creatures Inc., and GAME FREAK inc..

Information

Pokémon Cafe (Nihombashi, Tokyo)
Address: Nihombashi Takashimaya SC East Bldg. 5F, 2-1-2 Nihombashi, Chuo Ward, Tokyo
Business Hours: 10:30-22:00
No Fixed Holidays (Except when Nihombashi Takashimaya SC is closed)
Reservations: https://www.pokemoncenter-online.com/cafe/reservation.html

Pokémon Cafe (Shinsaibashi, Osaka)
Address: Daimaru Shinsaibashi Honkan 9F, 1-7-1 Shinsaibashisuji, Chuo Ward, Osaka, Osaka Prefecture
Business Hours: 10:00-21:30
No Fixed Holidays (Except when Daimaru Shinsaibashi is closed)
Reservations: https://www.pokemoncenter-online.com/cafe/reservation.html

Pikachu Sweets by Pokémon Café 

Address: Sunshine City Alpa Floor 2F, 3-1-2 Higashiikebukuro, Toshima City, Tokyo

Opening Hours: 10:00-20:00
Official Website: https://www.pokemoncenter-online.com/cafe/pikachu_sweets/

*Opening hours subject to change, please check in advance before travelling.

*Food served and duration subject to change without notice.

*Photos are for illustrative purposes only.

*Seat reservations are taken online only – phone reservations not available.

McDonald's Japan Brings Back the Crème Brûlée Latte & Frappe For 2020

McDonald's Japan has announced that it's once again bringing back its crème brûlée coffee drinks to McCafé by Barista branches of McDonalds on October 14, 2020. The line-up includes the Crème Brûlée Frappe, Crème Brûlée Latte and Iced Crème Brûlée Latte.

The fast food chain's crème brûlée beverages have been sold every autumn and winter since 2015 and are enjoyed for their perfect combination of sweetness and richness.

Crème Brûlée Frappe: Regular ¥460 / Large ¥500

The delightful Crème Brûlée Frappe contains a mix of caramel sauce, subtly sweet crème brûlée whipped cream, and crème brûlée syrup, all combined inside an espresso latte. Topping the drink is more crème brûlée whipped cream, caramel sauce and crushed cookies. The cookies have been baked lightly which together with the whipped cream change the flavours of the cream's sweetness and espresso's richness on each sip.

Crème Brûlée Latte: Small ¥350 / Regular ¥390

The Crème Brûlée Latte combines crème brûlée syrup with bitter espresso and fluffy foamed milk. It's topped with crunchy cookies and whipped cream.ほ

Iced Crème Brûlée Latte: Regular ¥390 / Large ¥430

Like the hot drink, the Iced Crème Brûlée Latte contains the crème brûlée syrup and espresso but is served with cold milk. It's topped with crushed cookies, crème brûlée flavoured whipped cream and caramel sauce.

Suntory Beverage & Food International unveiled its new seasonal Caramel Punch flavour of its Pepsi Japan Cola beverage which will hit shelves in Japan for a limited time from October 20, 2020.

Pepsi has released many different seasonal and limited-edition drinks in Japan, from their popular Pepsi Sakura cherry blossom flavour to their Sparkling Christmas edition.

Pepsi Japan Cola Caramel Punch | ¥140 (Before Tax)

Caramel Punch maintains that refreshing taste of Pepsi Cola and enjoys a rich sweetness and slightly salty kick that's perfect for the autumn season.

If you're in Japan for autumn this one's a must-try.

Information

Pepsi Japan Cola Caramel Punch
Release Date: October 20, 2020
Suntory Official Website: http://suntory.jp/sb

Starbucks Japan Unveils Candied Sweet Potato Frappuccino®

Starbucks Coffee Japan has revealed the second beverage in its Artful Autumn @ Starbucks® series of drinks. The "Candied Sweet Potato Frappuccino®" will be released at Starbucks branches in Japan on September 23, 2020.

Candied Sweet Potato Frappuccino® | Tall Size Only – ¥590

Each drink is made using a whole chopped and blended Japanese daigaku imo candied sweet potato to serve those autumn flavours, with its marbled golden colour also reminiscent of the autumn leaves. It's topped with whipped cream, black sesame seeds, and sweet potato syrup.

Truly the perfect dessert drink to sip on for the changing seasons.

Information

Candied Sweet Potato Frappuccino®
Serving: September 23, 2020 – October 31, 2020

Available: Starbucks in Japan (select branches not participating)

Starbucks Coffee Japan Official Website: https://www.starbucks.co.jp/

Sweet Potato Milk Bubble Tea Pours Into Chun Shui Tang For Autumn

Chun Shui Tang, a chain of Taiwanese bubble tea stores, is adding a new limited-time drink to the menus of all branches in Japan on September 16: the "Tapioca Sweet Potato Milk Tea."

Tapioca Sweet Potato Milk Tea | ¥650 (Before Tax)

The beverage is made with annouimo sweet potatoes grown on the island of Tanegashima in Kagoshima Prefecture. The potatoes are known for their high sugar content, adding a delicious natural sweetness to the tea. It's blended with a high grade sugar syrup and topped off with whipped cream and sweet potato chips to create a dessert drink.

Those who order the drink via the Smatapi (スマタピ) app from September 9 can get the drink early before its general release on September 16.

In Japan for the autumn season? Enjoy the tasty autumn flavour of sweet potato with the Tapioca Sweet Potato Milk Tea.

Information

Tapioca Sweet Potato Milk Tea

Release Date: September 16, 2020

*Mobile pre-sales available from September 9 to those who order using the Smatapi (スマタピ) app

Available: All Chun Shui Tang shops in Japan

Chun Shui Tang Japan Official Website: https://www.chunshuitang.jp/

Japanese Chawanmushi Egg Custard Dessert Turns Into Drink in Tokyo

Japanese food company Ninben has announced that it is extending its sales period for its drinkable chawanmushi dessert at Nihonbashi Dashi Bar in Tokyo until September 30.

Chawanmushi is a refreshing Japanese egg custard dessert that's perfect for cooling down during the summer, and seeing as the summer heat isn't letting down in Japan just yet, Ninben's drinkable rendition is now available until the end of September.

Chawanmushi Drink | ¥300 (Tax Included)

The chawanmushi drink is a collaboration between the owner of Suzunari and Ninben's Nihonbashi Dashi Bar. The drink was created to get more people enjoying the delicious taste of dashi. Exclusive to Nihonbashi Dashi Bar, which is located inside Ninben in Nihonbashi, Tokyo, the drink is being served for takeout only.

Normally, chawanmushi is eaten with a spoon, so using a straw adds an entirely new experience to enjoying the dessert. It's seasoned with salt from Christmas Island which elevates the flavour of the egg and dashi.

It's still hot in Tokyo, so if you're in the city, then why not order one to cool down?

Information

Nihonbashi Dashi Bar
Address: COREDO Muromach 1 (Floor 1F), 2-2-1 Nihonbashimuromachi, Chuo-ku, Tokyo

TEL: 03-3241-0968

Official Website: www.ninben.co.jp

Autumn Flower Topped Cream Sodas Served at Floral Cafe and Bar HANABAR in Koenji

HANABAR, a floral themed cafe and bar in Koenji, Tokyo, released two breathtaking new cream sodas on Friday which capture the sentimental feeling of summer transitioning to autumn.

HANABAR opened in September 2017 as Japan's "first dried flower cafe." A sister store, gmgm, opened last year selling gorgeously gourmet doughnuts topped with dried flowers. Both stores as produced by Nana Yui, a dried flower artist.

Lavendel | ¥1,100

Coloured an eye-catching purple, this autumn-time cream soda is made with lavender, butterfly pea, and lime.

Aimatsurika | ¥1,100

A refreshing mix of jasmine, grapefruit, and lemon topped with sweet ice cream that has a citrus fruit aftertaste.

The flowers draped inside the ice are all elderflower which has high nutritional value.

Beat the Japanese heat this summer in Tokyo with one of these tantalising cream sodas.

Information

Floral Autumn Colour Cream Sodas
Serving: August 28, 2020 – Late October 2020

HANABAR
Address: 3-30-6 Nishi-Ikebukuro, Toshima-ku, Tokyo
Opening Hours: 12:00-22:00
No Fixed Holidays

Official Website: https://www.hanabar.tokyo/

4 Must-Try Colourful & Kawaii Cream Sodas in Kyoto

The rainy season in Japan, known as Tsuyu, is finally coming to a close, which means the real summer is right around the corner. And what better way to stay cool in Japan during the summertime than with a glass of coo, refreshing cream soda?

We've compiled a list of 4 must-try cream sodas in Kyoto recommended by Tiara on Instagram, who posts photos on her Instagram of drinks and desserts she tries around the Kanto region of Japan, and who has kindly provided us with photos on this occasion too.

and C Kyoto | Kita-ku

Yellow Cream Soda / White Cream Soda / Red Cream Soda / Blue Cream Soda

and C Kyoto is a stylish bar, cafe, and second hand clothes store located right by Hirano Shrine. They serve four different colours of their cream soda which look super cute when lined up in a row.

and C Kyoto
Address: 30 Hirano Kamihatchōyanagichō, Kita-ku, Kyoto
Opening Hours: 12:00-23:00
Closed: Tuesdays
Instagram: https://www.instagram.com/andc102/

BABBI GELATERIA KYOTO | Gion Shijo

Mango Passion / Classic Blue / Amaou Strawberry

BABBI GELATERIA KYOTO is located along the Kamo River and is famous for its gelato. They also sell some super refreshing cream sodas topped with their tasty gelato.

BABBI GELATERIA KYOTO
Address: 134 Saitocho, Shimogyo Ward, Kyoto
Opening Hours: 13:00-20:00 (Temporary hours due to COVID-19)
TEL: 075-585-5200
Official Website: http://www.babbi.co.jp/showcase/gelateria-kyoto/

Kissa Zou | Imadegawa

Pudding a la Mode / Lemon Squash & Elephant Cookie

This cute cream soda comes with an elephant-shaped cookie. The custard pudding has a rich eggy flavour.

Kissa Zou
Address: 440-3 Santeichō, Kamigyō-ku, Kyoto
Opening Hours: 10:00-18:00 (Last Orders 17:00)
No Fixed Holidays
Instagram: https://www.instagram.com/kissa_zou/

Bread, Espresso & Arashiyama Garden | Arashiyama

Cherry Blossom Cream Soda

This old cafe is renovated from an old family estate which was built at the end of the Edo Period and is designated as a cultural property of Kyoto. This beautiful cafe coincides with the gardens and has gorgeous thatched roofing.

Bread, Espresso & Arashiyama Garden
Address: 45-15 Sagatenryuji Susukinobabacho, Ukyo Ward, Kyoto
Opening Hours: 10:00-18:00 (Last Orders 17:00)
TEL 075-432-7940
Official Website: https://bread-espresso.jp

Tiara has lots of other delicious dessert recommendations over on her Instagram, so be sure to follow her if you're travelling in the Kansai region and are in need of a sweet treat.

Original Text & Photo: @happy_pinkrose_tiara

Translation: Joshua Kitosi-Isanga

*The information about the items on this list are correct at the time of publishing. For the latest information, please visit each cafe's official websites and social media pages.

Flower Miffy Juice Garden Asakusa Now Open and Serving Adorable Drinks

The new "Flower Miffy Juice Garden" opened as a permanent addition to Flower Miffy Asakusa on July 21, 2020. Flower Miffy is a Miffy-themed flower and merchandise shop.

Colourful Jelly Soda – Gerbera/Tulip/Sunflower/Lavender: ¥580 Each (Before Tax)

Four new Miffy drinks are being served for the opening of Flower Miffy Juice Garden. Each is a soda beverage is filled with colourful jelly, elderflower syrup made from real flowers, and a soft, bouncy kind of jelly. Each drink itself looks like a colourful bouquet.

Miffy Cream Soda: ¥680 (Before Tax)

Flower Miffy Juice Garden will also introduce the "Miffy Cream Soda" on Saturday August 1 which is a colourful jelly soda topped with ice cream, a Miffy wafer, and flower-shaped chocolate.

Lemonade: ¥480 (Before Tax)


Apple Juice: ¥480 (Before Tax)

Other available drinks include sweet and sour lemonade made using lemons grown in the Seto Inland Sea, 100% apple juice, and other cute delights.

Information

Flower Miffy Juice Garden Asakusa
Address: Aiso Bldg. 1F, 2-19-7 Kaminarimon, Taito-ku, TOkyo

Opening Hours: [Weekdays] 11:30-18:00 / [Weekends & Holidays] 10:30-18:00

Official Website: https://www.benelic-flower.com/
*Please note that the opening hours of Flower Miffy Asakusa and Juice Garden Asakusa are different

Houjicha Milk Tea and Genmaicha Milk Tea Made With Japanese Tea Leaves Serving at Gong cha

Gong cha's limited-time "Houjicha Milk Tea" and "Genmaicha Milk Tea" beverages are popular each year, and they returned once again on June 17.

Japanese Tea

Gong cha's menu item "Japanese Tea" was released in 2018 exclusively for Japan, and is enjoyed every year during its annual limited-time run. Made using tea leaves from Japan, its authentic taste and aroma has people begging for more when the year's run is up.

2 Flavours This Year

Houjicha Milk Tea (Regular Size: ¥470) / Recommended Topping: Milk Foam (+¥70) | Serving: From June 17, 2020 for a limited time

The Houjicha Milk Tea is the iconic drink of Gong cha's "Japanese Tea" series. It's a blend the best high quality houjicha and kukicha tea leaves, both of which are grown in Shizuoka Prefecture. Roasting and using them together gives a sweet and deeply rich aroma. Add milk foam as a topping and you've got yourself a rich milk tea.

Genmaicha Milk Tea (Regular Size: ¥470) / Recommended Tapioca (+¥70) | Serving: From June 17, 2020 for a limited time

The Genmaicha Milk Tea is an original blend of Japanese genmai rice and tea leaves from Shizuoka Prefecture. This milk tea keeps the original delicious flavour of the tea and wafts a fragrant rice aroma.

McDonald's Set To Release Refreshing Hokkaido Melon Frappés To Kick Off Summer

Devoted to selling authentic coffee, McDonald's Japan's McCafé by Barista coffee service is all set for the hot summer days ahead with delicious Hokkaido melon drinks. The Hokkaido Melon and Milk Frappé is making a return to the menu along with the brand new Hokkaido Melon Choco Frappé. The drinks will appear on the menu from June 24, 2020 for a limited period.

Enjoy the luscious flavour and fragrance of Hokkaido melons in the form of a refreshing frappé. Although the Hokkaido Melon and Milk Frappé has returned to the McDonald's menu year after year since 2018, this year marks the debut of the Hokkaido Melon Choco Frappé.

Hokkaido Melon and Milk Frappé M Size: ¥470, L Size: ¥540


Vibrant Hokkaido melon is pureéd into a fruit sauce (2% fruit content). This is mixed with milk to bring out its full-bodied fragrance. The juicy, melt-in-the-mouth sweetness will leave you wanting more. The whipped cream topping is drizzled with more melon sauce. Mix the drink to enjoy the delicious combination of juicy melon and sweet cream.

Hokkaido Melon and Choco Frappé M Size: ¥490, L Size: ¥560


Enjoy a sweet smoothie of rich and juicy melon punctuated with notes of Belgian couverture chocolate sauce (54% Belgian chocolate) and whipped cream. With 2% fruit content Hokkaido melon pureé as the base of the smoothie, milk is added to create a mellow flavour. Crunchy chocolate Oreo® pieces are sprinkled on top along with a drizzle of chocolate sauce, adding a hint of bitter chocolate flavour.

As the weather gets hotter, make sure to cool down with a refreshing cool drink. If you've never tried Hokkaido melon, now's your chance!

Information

Hokkaido Melon and Milk Frappé
Hokkaido Melon and Choco Frappé
Release Date: June 24, 2020 – Around the End of August, 2020
Available At: McDonald's Cafés in Japan with a McCafé by Barista

McDonald's Official Website: https://www.mcdonalds.co.jp/

Matcha and Fruit Shaved Ice & Other Desserts Arriving to Saryo FUKUCHA in Kyoto This Summer

Saryo FUKUCHA is a cafe that was opened by FUKUJUEN in Kyoto Station in April 2019. A new batch of seasonal summertime menu items are set to arrive this June, including shaved ice drizzled in Uji tea and fruit sauce, a refreshing Uji matcha soda made with fresh fruit and jelly, and floats. These items will be served from June 1 to September 30 with a takeout option available.

Summer Menu

Uji Matcha & Fruit Shaved Ice


Matcha Berry Shaved Ice: ¥950 / Strong Matcha Berry Shaved Ice: ¥1,100 / Houjicha Banana Shaved Ice: ¥950 (All Before Tax)

The "Matcha Berry" shaved ice is paired with rich Uji matcha ice cream and berry sauce. It's also topped with a wafer cake shaped like a flower and filled with white bean paste, rice flour dumplings, and fruit.

Uji Tea White Peach Soda / Uji Tea Lemon Soda: ¥650 Each (Before Tax)

Full-bodied kabusecha tea from Uji made into a soda with fresh fruit pieces and jelly for a refreshing combination. Pick from super refreshing lemon or subtly sweet white peach.

Uji Matcha Float / Houjicha Float: ¥700 Each (Before Tax)

These floats are made using the best tea leaves selected by FUKUJUEN which are used to make a rich and frothy tea latte. Added to that is a dollop of soft serve ice cream topped with red bean paste and dried wheat gluten. Choose between authentic Uji matcha or aromatic houjicha.

Takeout Menu

Strawberry Flower Wafer Cake / Chestnut Houjicha Wafer Cake: ¥350 Each (Before Tax) 

Fruit wafer cakes are a popular dessert at Saryo FUKUCHA, and for the first time ever they are making them available for takeout so customers can enjoy them at home too. Pick from the strawberry flower flavour made with white bean paste or the chestnut and houjicha with chocolate cream.

Cream Anmitsu (Matcha/Houjicha): ¥700 (Before Tax)

FUKUCHAs specially-made anmitsu, or syrup-covered anko bean jam, is the perfect way to cool down on a hot summer's day. It's mixed with Uji tea honey and topped with various toppings like milk agar-agar, black soybeans, rice flour dumplings, white peach, raspberry, and mizu manju.

Information

Saryo FUKUCHA
Address: 901 Higashi Shiokojicho, Karasumadori Shiokoji Sagaru,, Shimogyo-Ku Kyoto Station Bldg. 2F, Kyoto 600-8216 Kyoto Prefecture
Opening Hours: 8:30-21:00 (Last Orders 20:30)
*The cafe is currently running on reduced opening hours as of May 26, 2020. Hours are now 10:00-19:00 (Last Orders 18:30). Times are subject to change.
TEL: 075-744-0552

Official Website: https://fukucha-fukujuen.com/