Studio Ghibli's Whisper of the Heart Celebrates 25th Anniversary With Original Merchandise
All branches of the official Studio Ghibli merchandise Donguri Kyowakoku in Japan, along with the shop's online website Sora no Ue, are releasing a new collection of merchandise to celebrate the 25th anniversary of the beloved animated feature film Whisper of the Heart.
Merchandise Line-Up

Whisper of the Heart Clock | ¥17,000 (Before Tax)
This clock is inspired by the one that appears in the movie when the protagonist Shizuku Tsukishima meets the shop owner. It features all the details of the clock seen in the film like the Elf Princess and the miners at the bottom.
Whisper of the Heart Baron | ¥18,000 (Before Tax)
This figurine is like the Baron has stepped out of the film and into the real world. Green Tiger's Eye are used for his eyes.
Whisper of the Heart Wristwatch (ACCK 716) | ¥13,000 (Before Tax)
The clock face features a beautiful rendition of the King of the Dwarves and the Elf Princess that's sure to have you sucked into their magical world.
Bonus Items
Desk Pad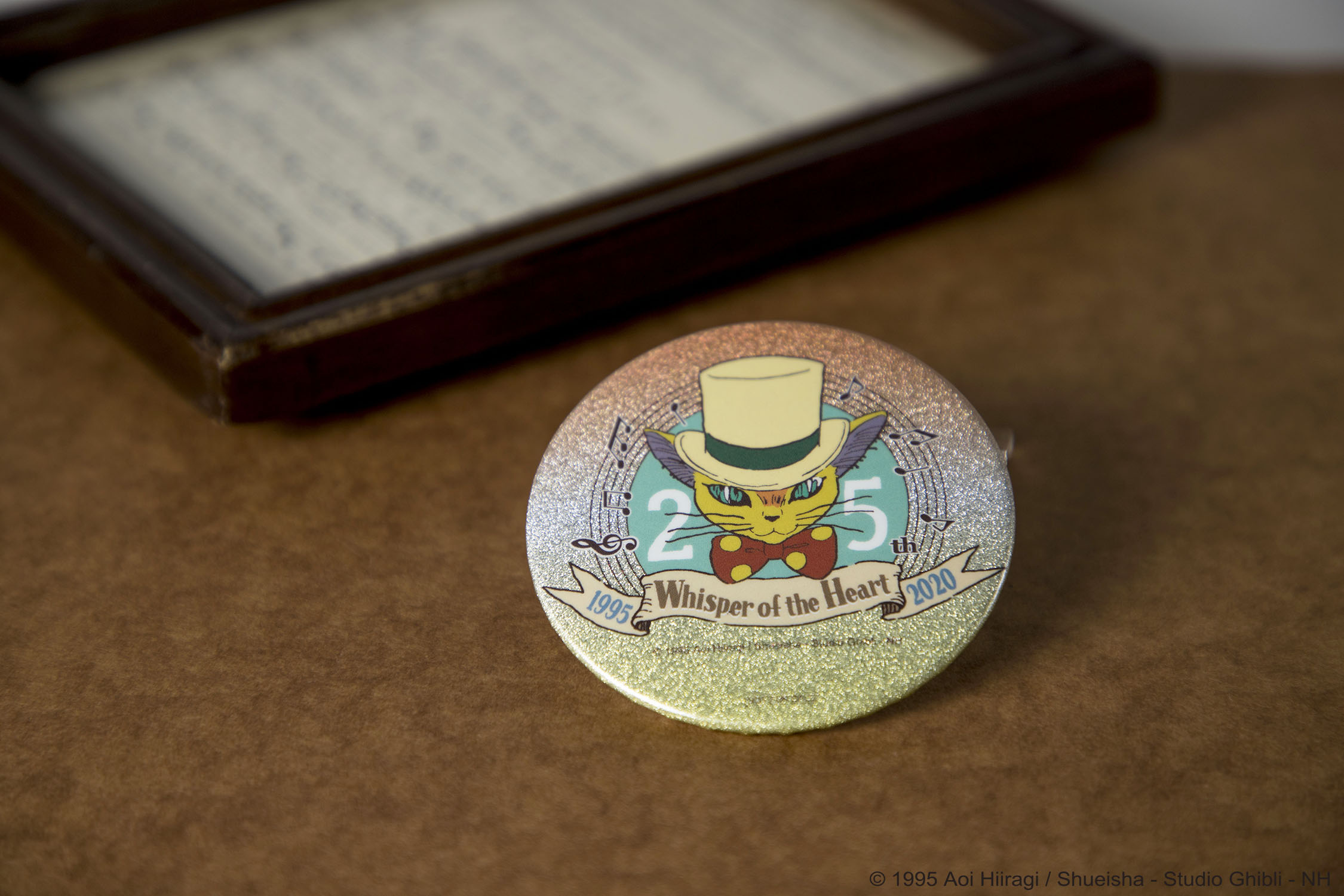 Original Mirror
Customers can receive either an exclusive desk pad or mirror when they spent over ¥4,000 (before tax) on merchandise at the shop. These two bonus items are available while supplies last.
Will you be watching Whisper of the Heart once again in celebration of the 25th anniversary?
RELATED ENTRIES
Studio Ghibli Secrets Revealed in Kyoto Exhibition Featuring Miyazaki Collaborator Toshio Suzuki

The Toshio Suzuki and Ghibli Exhibition opened at The Museum of Kyoto on April 23, 2022.

Toshio Suzuki, a producer at Studio Ghibli, has worked with both Hayao Miyazaki and Isao Takahata on a number of beloved masterpieces. The exhibition will feature a large bookshelf housing 8,800 of Suzuki's publications. Many of these were published before Suzuki joined Studio Ghibli, and guests are invited to see how the producer was inspired to join the legendary studio after working as an editor at a manga magazine. 

This exhibition was realized after Suzuki himself proposed the idea of exhibiting his books for the first time. At the press preview, Suzuki made a statement. "My dream was to collect all the books I've read over the past 70 years and display them in one room. Today, I'm so happy to stand in the middle of it. On one hand, I'm amazed by how much there is. On the other hand, I feel like there could always be more."

©TS ©Studio Ghibli

The giant bookshelf containing 8,800 tomes was based on a brick-and-mortar store that once served as Suzuki's 'hideout.' The wallpaper was designed by William Morris, a favorite of the producer since his youth. Among the many books on display, one area is lined with issues of Kinema Junpo, Japan's oldest film magazine. Suzuki notes that he thought about throwing them out each time he moved, but luckily, he decided to keep them! Some issues are from the Taisho era and are incredibly valuable. If you want to read them yourself, you are welcome to do so at the exhibition!

Many of Studio Ghibli's most famous works were born from casual conversations between Isao Takahata, Hayao Miyazaki, and Toshio Suzuki. Suzuki has played a large role in film advertising, including many of the memorable posters and ads almost everyone has seen. He has always included each film's most inspiring song in television ads, which has dramatically increased audience attendance. After all, who doesn't love the music in Studio Ghibli films?

What's your favorite Ghibli film?

Information

Toshio Suzuki and Studio Ghibli Exhibition

Running: April 23 – June 19, 2022
Closed on Mondays *Open on April 25, May 2

Hours: 10:00-18:00 *Open until 19:30 on Fridays (Last entry 30 minutes before closing)

Venue: The Museum of Kyoto 4F, 3F Exhibition Room (623-1 Higashikatamachi, Nakagyo Ward, Kyoto)

Official site:https://suzukitoshio-ghibli.com/

Toshio Suzuki and Studio Ghibli Exhibition Returns to Terrada Warehouse in Tokyo

From July 1 until September 7, the Toshio Suzuki and Studio Ghibli Exhibition will be held at Warehouse Terrada in Shinagawa, Tokyo. The exhibition was first held in 2019 and is dedicated to Studio Ghibli's co-founder and producer Toshio Suzuki. Following showings in Nagasaki and Kyoto, the event will come to Tokyo with bonus content including art and calligraphy by Suzuki himself.

The theme of the exhibition this time is "Words that Inspired Toshio Suzuki", with a new exhibit being a huge bookshelf with over 8,800 books and novels. Each of the books is believed to have influenced Suzuki in some way, so fans can gain a rare insight into what kinds of works shaped the producer's way of thinking. The exhibit has the look and feel of Suzuki's "hideout" spot Rengaya, where he broadcasts his radio series from.



Another new exhibit is the Bath House area, which features a huge motif of the Bath House from Spirited Away! 

Which Studio Ghibli film has had the biggest impact on you?

©TS ©Studio Ghibli

Information

Toshio Suzuki and Studio Ghibli Exhibition

Tokyo Exhibition
Running: July 1 – September 7, 2022
Location: Warehouse Terrada B&C Hall/E Hall
*Tickets will go on sale in April. 
Official Site: https://suzukitoshio-ghibli.com/

Kyoto Exhibition
Running: April 23 – June 19, 2022

Location: The Museum of Kyoto

Studio Ghibli Theme Park to Open in Nagakute, Aichi Prefecture in November 2022

The Aichi Prefectural Government announced that part of the Studio Ghibli theme park will open on November 1 in the city of Nagakute. 

During the announcement, the first video and key visual of the park was released, both created by Studio Ghibli. The tourism video highlights the appeal of Aichi Prefecture and features local tourist spots, encouraging those visiting the theme park to also spend some time touring the prefecture.





Three areas of the Ghibli Park will open on November 1 of this year: Ghibli's Grand Warehouse, the Hill of Youth, and Dondoko Forest. Two additional areas–Mononoke's Village and the Valley of the Witches–are scheduled to open in November 2023.


Ghibli no Daisoko (Ghibli's Grand Warehouse)


Three times the size of the Ghibli Museum in Mitaka, Ghibli's Grand Warehouse will be an indoor area featuring shops, restaurants, ongoing exhibitions, and a small theater. An interactive area featuring oversized objects will allow visitors to feel as though they've stepped into Arrietty's world, while another part of the space will recreate the sky garden from Laputa: Castle in the Sky. The Warehouse will also have a My Neighbor Totoro-inspired playground complete with Catbus.

Seishun no Oka (Hill of Youth)

Serving as the entrance to the park, the Hill of Youth features a yellow observation tower which will double as the main gate. The area will showcase the antique shop from Whisper of the Heart, featuring curiosities from films like Laputa: Castle in the Sky and Howl's Moving Castle. The Hill of Youth will also feature a mini version of the Cat Bureau from the movie The Cat Returns.

Dondoko Mori (Dondoko Forest)

Dondoko Forest will feature Satsuki and Mei's house from My Neighbor Totoro. A completely immersive experience, guests will notice that much of the local nature is intact–Miyazaki himself asked that no trees were to be cut down in the building of the park. 

Which Ghibli film would you like to see brought to life at Ghibli Park?

 © Studio Ghibli

Information

Ghibli Park

Opening Date: November 1, 2022

Studio Ghibli Announces Spirited Away 20th Anniversary Campaign

In celebration of Spirited Away's 20th anniversary, Studio Ghibli's official shop Donguri Kyowakoku and online shop Sora no Ue is holding a special campaign for the animated film.

Studio Ghibli has created an original logo for the 20th anniversary featuring Chihiro riding on Haku when he turns into a dragon. It also features Noface at the bottom on the red bridge that leads to the mysterious bathhouse. The bridge itself includes the year of the film's release '2001' as well as this year. Noface has also taken on two forms to make up the '20th.'

More details on the campaign will be announced on a later date via official press releases and on the website and social channels of Donguri Kyowakoku.

Laputa: Castle in the Sky Crystal Necklace Inspired Accessory Collection Releases

Benelic released a new collection of seven accessories inspired by the crystal necklace and cube from Studio Ghibli's animated film Laputa: Castle in the Sky at Donguri Kyowakoku stores and the online shop Sora no Ue in Japan at the end of May.

The collection is part of the Studio Ghibli-themed "Pomponner" accessory series by Benelic. Pomponner is French for 'doll oneself up' or 'get dolled up.' It includes piercings, earrings, rings, and hairbands.

The crystal has been made from blue semi-transparent epoxy, giving it a high quality look. It's also glow in the dark, so leave it in a place with lots of sunlight and then put it somewhere dark where it will illuminate. The accessories are simple in design too so can be worn outdoors and at the office while still celebrating the Studio Ghibli classic.

Laputa: Castle in the Sky Accessory Series

Crystal Piercings & Earrings | ¥1,980 (Tax Included)

 

Crystal and Cube Piercings & Earrings | ¥2,750 (Tax Included)

Crystal Ring (Sizes: 11/13) | ¥1,980 (Tax Included)

 

Crystal & Cube Ring (Sizes: 11/13) | ¥2,200

 

Crystal Hairband | ¥1,540 (Tax Included)

Studio Ghibli's Animated Films Get Official Mini Glass Plates

Benelic has revealed a new collection of 18 mini glass plates inspired by Studio Ghibli's animated filmography. The collection will be released at Donguri Kyowakoku stores and their online shop Sora no Ue in Japan on May 22.

Mini Glass Plates | ¥770 Each (Tax Included)


These 11cm plates feature colourful designs of characters from multiple Studio Ghibli movies enjoying food and drink such as Satsuki and Mei from My Neighbor Totoro, Chihiro from Spirited Away, Kiki from Kiki's Delivery Service, and more. The plates can be used for serving small portions or simply as beautiful interior decoration.

Plate up a light snack like biscuits and to enjoy with a nice cup of tea with this gorgeous line-up.

Studio Ghibli Shop Adds New My Neighbor Totoro and Spirited Away Items

Japan's official Studio Ghibli store Donguri Kyowakoku and its online shop Sora no Ue are releasing two new folding fans and gauze handkerchiefs at the end of this month.

My Neighbor Totoro Folding Fan | ¥3,278 (Tax Included)

Spirited Away Folding Fan | ¥3,278 (Tax Included)

My Neighbor Totoro Gauze Handkerchief | ¥440 (Tax Included)

Spirited Away Handkerchief | ¥440 (Tax Included)

The folding fans and handkerchiefs are inspired by the Studio Ghibli classics Spirited Away, which celebrates its 25th anniversary this year, and My Neighbor Totoro. The former features a resplendent floral pattern along with familiar faces like No-Face, the Makkuro Kurosuke dust bunnies, and the Boh Mouse, as well as decorations reminiscent of the bath house from the movie. The latter is a relaxing dark purple with Totoro and his friends watching the dancing fireflies. The handkerchiefs feature the same respective designs. This collection is perfect for the arrival of summer, so if you can get your hands on them, don't miss out.

Studio Ghibli's Earwig and the Witch Gets Recipe Picture Book

Japanese publisher SHUFUNOTOMO released a new recipe picture book based on the Studio Ghibli's 3D CG movie Earwig and the Witch on April 28.

Earwig and the Witch Recipe Book | ¥1,540 (Tax Included) 

The book features simple to follow recipes including famous British meals, desserts inspired by the movie, and lots of other mouth-watering delights that look like something straight out of Earwig and the Witch.

St. Morwald's Home for Children's Shepherd's Pie

Shepherd's pie is a classic British meal and makes an appearance in the movie when Earwig eats it at St. Morwald's Home for Children. It's her favourite meal: mash sat on top of a tomato sauce-loaded mince, carrots, green beans, onion, and paprika combo.

 

Boy Scout Fried Toast

Fried toast is another common food on the British breakfast menu. The recipe takes thickly-sliced bread and fries it in the juices of bacon and sausage. It's based on the scene where Earwig messes up making her fried toast. The recipe is made Frech-style with egg, milk, sugar, and butter.

 

Earwig's Pretzels

Using hot cake mix, learn how to make frosted white chocolate pretzels that look like Bella Yaga's magical worm minions

Goro Miyazaki | Comment (Taken From Recipe Book)

"Cooking is fun, isn't it? I myself love cooking: taking various ingredients and peeling them, chopping them, crushing them, and mixing them. You boil, you steam, you simmer, you fry. Using fire makes it all the more fun. What I make doesn't always turn out perfect, but you can turn off and forget everything while you're cooking, but it's an amazing feeling when you sit down to eat the fruits of your labour and people tell you what you made is delicious. It's even more amazing when you eat something that someone else made for you. Tasty food is like magic. Speaking of which, the magical spells that Earwig learns at Bella Yaga's house are a lot like cooking. Carving, crushing, mixing. I'm sure that if you're a skilled witch you'll be a skilled cook too. I hope the people who read this book and think for the first time that they want to try out cooking will try making all sorts. Getting better at cooking might even lead you on the path to becoming a witch."

The recipe book's front cover was designed specially for this book by Goro Miyazaki.

Spirited Away's Makkuro Kurosuke Dust Bunnies Get Official Accessories

Benelic is set to release a new collection based on Studio Ghibli's Spirited Away at the end of this month at all Donguri Kyowaku stores and official online shop Sora no Ue in Japan.

The collection features six items based on the adorable Makkuro Kurosuke dust bunnies and includes piercings, earrings, bracelet, necklace, ring, and hairpin.  The necklace and bracelet are fitted with adjusters, and all the accessories are fitted with cute and colourful stars inspired by the Japanese konpeito sugar candy.

Spirited Away Konpeito Series

Piercing | ¥1,760

 

Earring | ¥1,760

 

Necklace | ¥1,540 

Ring | ¥1,320

Bracelet | ¥2,200 

Hairpin Set | ¥1,100

Information

Spirited Away Konpeito Series

Releasing: Late April 2021

Where: Donguri Kyowakoku / Sora no Ue

Official Website: https://www.donguri-sora.com

Studio Ghibli's Totoro, Spirited Away, Laputa, and Kiki Release Official Mug Planter Collection

Benelic are releasing four new mug planters at Donguri Kyowakoku and online at Sora no Ue, both official Studio Ghibli merchandise shops in Japan, this month.

The porcelain planters include designs for My Neighbor Totoro, Kiki's Delivery Service, Laputa: Castle in the Sky, and Spirited Away, each capturing the wonderful world of the beloved animated movies. They make for the perfect plant pots for around your home.

The designs up close

My Neighbor Totoro | ¥3,960 (Tax Included)

 

Kiki's Delivery Service | ¥3,960 (Tax Included)

 

Laputa: Castle in the Sky | ¥3,960 (Tax Included)

 

Spirited Away | ¥3,960 (Tax Included)

Tokyo's Studio Ghibli & Animate Exhibition Reveals Original Merchandise Collection

Matsuya Ginza is set to host the "Animage & Ghibli Exhibition" which will run from April 15 to May 5. The event will pay homage to Hayao Miyazaki's Nausicaä of the Valley of the Wind manga which was serialised in Animage by showcasing a range of never-before-seen cell artwork, as well Mamoru Oshii's OVA art film Angel's Egg, and much more.

With two weeks until it begins, the exhibition has revealed some of the exciting original and exclusive merchandise anime fans can expect to get their hands on. Tickets for the event were released on Saturday.

Teto Plush Toy ¥11,000 (Tax Included) / Ohmu Plush Toy ¥14,300 (Tax Included)

Bath Towel ¥8.800 (Tax Included)

Tapestry ¥16,500 (Tax Included)

Multipurpose Cases ¥3,300 Each (Tax Included)

Notebook ¥495 (Tax Included)

Square Pins ¥440 Each (Tax Included)

Animage Logo Pins ¥330 Each (Tax Included)

Wooden Brooches ¥1,320 Each (Tax Included)

Stainless Steel Bottles ¥3,520 Each (Tax Included)

Handkerchiefs ¥1,650 Each (Tax Included)

The exhibition is a nostalgia fest and celebration of animation during the 70's and 80's, a time when 'anime' was yet to be widespread in the vocabulary of ordinary Japanese people. It wills how how the anime boom really set off after the release of Mobile Suit Gundam in 1979 which was lauded for its animation quality, as well as how Toshio Suzuki, a producer at Studio Ghibli, approached Hayao Miyazaki and Isao Takahata during his time as an editor at Animage. The exhibition will also feature the works produced by Suzuki and much more. Over 200 materials will be showcased for the duration of the exhibition.

 

Around 150 pieces of original merchandise will also be sold at the event, including gorgeous must-grabs for fans of Nausicaä of the Valley of the Wind that capture its wonderful world, such as a tapestry featuring the design taken from the film's opening credits.



A special exhibit will also take place entitled ALL ABOUT TOSHIO SUZUKI which covers everything about Studio Ghibli's famous producer. Other things to look forward to include books and merch for the upcoming animated film Earwig and the Witch directed by Hayao Miyazaki's son Goro Miyazaki, merch for the internationally beloved animated hit Spirited Away which is celebrating its 20th anniversary this year, and more.

© 1984 Studio Ghibli – H© 1986 Studio Ghibli© 1988 Studio Ghibli© 1989 Eiko Kadono – Studio Ghibli – N

Studio Ghibli Fashion Brand Reveals New My Neighbor Totoro Bag Collection

Japanese company Familiar will release a new collection of bags based on the classic Studio Ghibli animated feature film My Neighbor Totoro on March 16 via their online shop. The bags will be released by Studio Ghibli no Ano Fuku ("Those Studio Ghibli Clothes"), a fashion brand created by Ano Fuku and Studio Ghibli.

The two bags feature the iconic movie scene of Mei, Satsuki, Totoro, and the little Totoros sat upon a tree branch.

Denim Bag – ¥19,800 / Sub Bag ¥16,500 (Tax Included)

This is the third and final bag collection to be released in this bag series. The first collection was inspired by the bus stop scene from My Neighbor Totoro as well as Ponyo running along the water in Ponyo. The second collection was the classic scene of Kiki flying over the town with Jiji on her broomstick from Kiki's Delivery Service. Restocks of these two collections are now available too.

1st Collection

Ponyo Denim Bag ¥19,800 / Ponyo Sub Bag ¥16,500 / Totoro Bus Stop Denim Bag ¥19,800 / Totoro Bus Stop Sub Bag ¥16,500 (Tax Included)

 

2nd Collection

Kiki's Delivery Service Denim Bag ¥19,800 / Kiki's Delivery Service Sub Bag ¥16,500 (Tax Included)