POKÉMON AIR: The Cute Pikachu Toy That You Can Ride Launches New Orders
Japanese company JAM launched the POKÉMON AIR back on October 1, an adorable 50cm long Pikachu toy that can be sat on, which sold out immediately. Due to its success, it has announced that it will begin a second wave of orders on October 26 at 11:00am (JST) via their online store.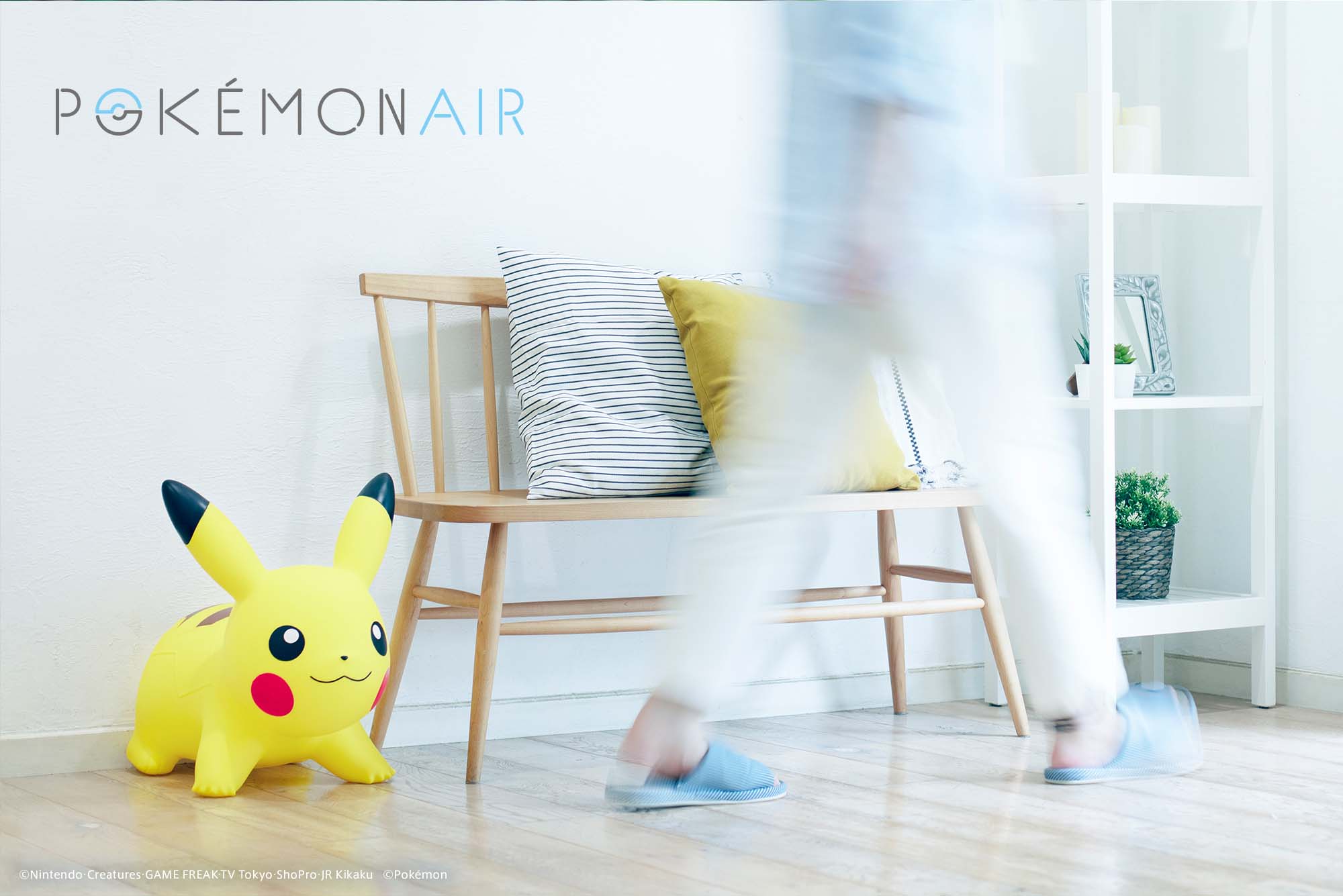 POKÉMON AIR | ¥7,500 (Before Tax)
The big, round, and plump Pikachu has many uses, whether for sitting or leaning on when you want to read or play games, hugging, or using as interior design.
Shipping will roll out in Japan from mid-December just in time for Christmas, so those who missed out on the first batch of orders now have a chance to get their very own Pikachu too.
RELATED ENTRIES
Pokémon Postboxes Arrive in Yokohama For a Whole Year

Japan Post Service has teamed up with Pokémon to set up three postboxes with Pikachu, Eevee, and Piplup designs in Yokohama. They first opened on July 7, 2021 and will be available until June 30, 2022.


Yokohama is no stranger to Pokémon as it is the city that hosts the annual Pikachu Outbreak event, one which is set to return this year from August 7-13. It is also one of the cities taking part in the Poké Lid project to place Pokémon manhole covers across Japan.

And if you post your letter in the postbox pictured below, located in Yokohama Port Post Office, your envelope will be stamped with a special Pokémon stamp.

Information

Pokémon Postboxes

Locations: 2 at Yokohama City Hall / 1 at Yokohama Sakuragi Post Office
Running: July 7, 2021 – June 30, 2022

Pokémon Stamp Post Service

Location: Yokohama Port Post Office
Running: July 7, 2021 – June 30, 2022

POKÉMON COLORS Exhibition Opens at Matsuya Ginza

Matsuya Ginza opened its POKÉMON COLORS exhibition on July 22 which is set to run until August 11. The event is a kaleidoscope of bright colours and shapes of Pokémon and Pokémon motifs, with four activities and one installation to enjoy, as well as 160 original pieces of merchandise for fans to buy.

Logo mark

Art Deli Key Visual | ¥4,400

Pikachu Design Pouches – Assorted Pokémon Design Pouches | Small: ¥1,650 Each, Large ¥3,300 Each

Get your hands on a range of vivid and stylish Pokémon items, take photos at the many different photo spots dotted around the event, and learn the latest news about the Pokémon franchise.

Indigo dye art piece

Dangling from the first floor atrium is a 20-meter Pokémon art piece made by the dye group BUAISOU who used the traditional Japanese art of indigo dyeing to create it.

©2021 Pokémon. ©1995-2021 Nintendo/Creatures Inc./GAME FREAK inc.
ポケットモンスター・ポケモン・Pokémonは任天堂・クリーチャーズ・ゲームフリークの登録商標です。

Information

POKÉMON COLORS

Running: July 22, 2021 – August 11, 2021

Location: Matsuya Ginza – Floor 8F

Opening Hours: 10:00-20:00

Official Website: https://pokemon-colors.com/

Official Pokémon Baby Brand monpoké Unveils Autumn/Winter 2021 Lookbook

Pokémon's official baby brand monpoké revealed their 2021 AUTUMN/WINTER LOOKBOOK' on their official website. First launched in July 2019, this month sees the release of some special new items, including the brand's first Eevee designs, in celebration of its 2nd anniversary.

2nd Anniversary Line-Up

Introducing the "monpoké Collection" by Asics, a Pikachu themed line-up that comes part of their children's shoe series SUKU². Pre-sales for the footwear opened on Asics' online store on July 8 with general sales set to roll out on July 17 at Asics Kids Ginza, Asics Kids Grand Front Osaka, select Asics Walking branches, select shoe shops, and elsewhere in Japan.

Plus2do, an organic cotton clothing brand, has released a new line of haramaki with cute embroidery that are great for babies who get cold tummies. Made from high quality organic cotton, the haramaki are all carefully crafted by artisans, and will roll out at Plus2do and elsewhere from July 29.

Inujirushi Honpo is offering a range of apparel and gifts for babies aged from birth to 12 months such as an apron suit, birth preparation set, maternity notebook case, and more. They will be released at department stores, including Takashimaya Osaka Store from July 14-20 and at Takashimaya Yokohama Store from July 21-August 3.

Takihiyo is releasing a line-up of clothing items for children aged 1-3 such as caps, outerwear, pants, pouches, and more at specialist stores from July 29.

Other items will also enter the collection in August such as Eevee plush toys from Sekiguchi, wooden rattles from Kawada, and more.

More details on the product will be released on the official Pokémon Japan homepage and Twitter in the lead up the releases.

©2021 Pokémon. ©1995-2021 Nintendo/Creatures Inc./GAME FREAK inc.

Japan's Poké Lid Project Lays Down Seven New Manhole Covers in Hokkaido

Seven new Pokémon manhole covers were laid in Hokkaido on July 7 as part of the Poké Lid project to place Pokémon-design manhole covers across the country. The new designs include Alola Vulpix, Togekiss, Bewear, Ditto, Combusken, and more, which were placed in Hakodate, Otaru, Nemuro, Noboribetsu, Hombetsu, Rikubetsu, and Nakashibetsu.

アローラロコンとロコンと「ポケふた」

Hokkaido is now home to 26 Poké Lids

All of the Poké Lids placed across Japan feature completely original Pokémon designs making each individual one the only one in the world. The Pokémon Company is also working to make each one of them PokéStops for Pokémon GO.

Appointed in November 2018 as the leader and deputy leader of the "Hokkaido Aficionado Expedition," Alolan Vulpix and Vulpix have been promoting Hokkaido in their respective capacities. Alolan Vulpix is known as the Fox Pokémon and thrives in snow mountains. It was chosen to promote Hokkaido, one of Japan's snowiest regions.

©2021 Pokémon. ©1995-2021 Nintendo/Creatures Inc./GAME FREAK inc.
ポケットモンスター・ポケモン・Pokémonは任天堂・クリーチャーズ・ゲームフリークの登録商標です。

Japan's Poké Lid Project Lays Down Two New Manhole Covers in Tokyo

Two new Pokémon manhole covers have been laid in Tokyo as part of the Poké Lid project to place Pokémon-design manhole covers across the country. This includes a Tyrunt & Wynaut cover at the National Museum of Nature and Science and a Baltoy & Bronzor cover at Tokyo National Museum.

Tokyo's new Poké Lids

All the current Poké Lids

All of the Poké Lids placed across Japan feature completely original Pokémon designs making each individual one the only one in the world. The Pokémon Company is also working to make each one of them PokéStops for Pokémon GO.

©2021 Pokémon. ©1995-2021 Nintendo/Creatures Inc./GAME FREAK inc.
ポケットモンスター・ポケモン・Pokémonは任天堂・クリーチャーズ・ゲームフリークの登録商標です。

McDonald's Japan Releases Pikachu Desserts

Mc Donald's Japan released its new Sweets Trio Fruchu menu on Friday which features a line-up of three fruit-flavoured Pikachu items: the Yellow Peach McShake, Chocolate Banana McFlurry, and Hot Apple Custard Pie.


The menu items comes in limited-edition cups and packaging featuring the adorable Pikachu.




Yellow Peach McShake | Small ¥120 – Regular ¥200 (Tax Included)

A fruity and refreshing summery McShake made with sweet and sour yellow peach with that satisfying creamy McShake texture. Available in small and medium, both sizes come with three different cup designs each for a total of six.

Chocolate Banana McFlurry | ¥290 (Tax Included)

The Chocolate Banana McFlurry is served in an ice cream cup with a fresh squirt of milky rich soft serve and drizzled with banana and chocolate sauces. The ice cream is finished with a sprinkle of crunchy yellow cornflakes. Another perfect choice for cooling down in the hot summer weather. There are three possible cup designs to receive.

Hot Apple Custard Pie | ¥150 (Tax Included)

The apple custard pie is served hot with a crunchy outside and filled with custard cream made with fresh apple and vanilla beans and seasoned with caramel and cinnamon. There are three possible packaging designs to receive.



McDonald's Japan is also serving a Pikachu-style Happy Meal as part of the collaboration which come with one of six possible toys.

Pokémon x Tokyo Banana Expands Across Japan

The Pokémon Tokyo Banana confection series launched its first two products that it ever released at Yume Town, Yume City, LEC, and Yume Mart branches in the South-west most part of Honshu, Shikoku, and Kyushu on May 14.

Pikachu Tokyo Banana (Banana Flavour) | Includes 2 | ¥292 (Tax Included)

Eevee Tokyo Banana (Caramel) | Includes 2 | ¥292 (Tax Included)

Heart-shaped tail ends

Six different packaging designs each for Pikachu and Eevee

Tokyo Banana are popular cream-filled cakes and are the official souvenir sweet of Tokyo. The Pokémon series turns these fluffy treats into cute confections for you to enjoy with your favourite Pokémon during snack time.

Pikachu was the first to enter the Pokémon Tokyo Banana series who was turned into a banana custard cream-filled sponge cake. The second was Eevee with the fluffy sponge a delicious caramel macchiato flavour and filled with sweet banana custard cream

The confections are both branded with adorable heart-shaped tails, and each comes with one of six possible packaging designs.

©2021 Pokémon. ©1995-2021 Nintendo/Creatures Inc./GAME FREAK inc.
ポケットモンスター・ポケモン・Pokémonは任天堂・クリーチャーズ・ゲームフリークの登録商標です。

Ditto Pokémon Pink Gold Necklace Released by Japanese Luxury Jewellers U-TREASURE

Japan's luxury character jewellery brand U-TREASURE, which creates accessories for character-loving adults, welcomes its new Ditto Pokémon necklace coated in pink gold.

Ditto Necklace Silver (Pink Gold Coating) | ¥17,600 (Tax Included)

Ditto is known for its shapeshifting ability to transform into anything. This Normal-type Pokémon, first introduced in Generation I, has turned into a luxury pink gold necklace so you can take it with you on your Pokémon Trainer adventures wherever you go.

Poké Lid Project Lays Down New Manhole Covers in Kyoto

Five new Pokémon manhole covers were laid in Kyoto on Tuesday as part of the Poké Lid project to place Pokémon-design manhole covers across the country.

Kyoto Original Poké Lids

The five Poké Lids are located in Arashiyama, Okazaki Park, Maruyama Park, Umekoji Park, and Nishikyogoku Athletic Park.

All of the Poké Lids placed across Japan feature completely original Pokémon designs making each individual one the only one in the world. The Pokémon Company is also working to make each one of them PokéStops for Pokémon GO.

 ©2021 Pokémon. ©1995-2021 Nintendo/Creatures Inc./GAME FREAK inc.

Mew Pokémon Diamond Necklace With Pink Gold Coating Releases in Japan

Japanese character jewellers U-TREASURE is now taking limited-time orders for a new pink gold-coated necklace based on the beloved Pokémon Mew. It's available to buy until April 13 at the U-TREASURE Concept Store in Ikebukuro and on their official website.

Pokémon Silver Pink Gold Coated Mew & Poké Ball Necklace | ¥17,600 (Tax Included)

The gorgeous necklace features Mew sat on top of a Poké Ball with its cute tail wrapped around the necklace chain. The Poké Ball has a sparkling diamond at its centre. A stylish piece that any Pokémon lover will want to wear!

Pokémon GO and the Pokémon Trading Card Game Collaboration Announced For Summer 2021

The Pokémon Company has announced a collaboration between Pokémon GO and the Pokémon Trading Card Game (Pokémon TCG) for Summer 2021.

Cross Collaboration to Commemorate Pokémon's 25h Anniversary

This year marks the 25th anniversary since the release of Pokémon Red and Blue, as well as the 5th anniversary of Pokémon GO. In celebration, The Pokémon Company has various things planned for players of both games. It has not yet revealed much, but the following has been confirmed.



Professor Willow Card Obtainable Worldwide in Pokémon TCG

For the first part of the collaboration, Professor Willow will feature as a card in Pokémon TCG worldwide this summer. The artwork and content of the card will be revealed in late May.

Further announcements regarding the cross collaboration are to be announced at a later date, so stay tuned.

Information

Pokémon GO
©2021 Niantic, Inc. ©2021 Pokémon. ©1995-2021 Nintendo/Creatures Inc. /GAME FREAK inc.

Pokémon Trading Card Game
©2021 Pokémon. ©1995-2021 Nintendo/Creatures Inc. /GAME FREAK inc.

Official Website: https://corporate.pokemon.co.jp/en/

Pokémon, My Melody, Moomin and More Valentine's Day Chocolates Arrive at Daimaru Tokyo

The Hoppe Town area of Daimaru Tokyo is currently celebrating Valentine's Day up to February 14 with the release of a selection of gift chocolates by six brands in collaboration with popular characters.

Pokémon Chocolate Set (Large Box) | ¥1,404 (Tax Included)

My Melody x Goncharoff Chocolates (Contains 21) | ¥2,160 (Tax Included)

Moomin x Merry Chocolate's Hattifatteners Chocolates (Contains 11) | ¥1,188 (Tax Included)

Dick Bruna by Morozoff: Picture Book Chocolates (Contains 15) – ¥864 (Tax Included) / Miffy Pouch Chocolates (Contains 8) – ¥1,320 (Tax Included)

Chatrois Kitten Tiny Plain Chocolates | ¥783 (Tax Included)

Katanukiya Angel Panda | ¥684 (Tax Included)

Which of these cute and tasty-looking treats has caught your eye the most?

©Nintendo・Creatures・GAME FREAK・TV Tokyo・ShoPro・JR Kikaku ©Pokémon
©1976,2021 SANRIO CO,LTD.APPROVAL NO.L613374
©Moomin Characters™

Information

Daimaru Tokyo Valentine's Sweets
Running: January 27, 2021 – February 14, 2021

Location: Hoppe Town on Floor 1F of Daimaru Tokyo
Official Website: https://www.daimaru.co.jp/