CASETiFY Showcases New Pokémon Mobile and Smart Device Accessory Collection
CASETiFY is launching its second fully-customisable mobile and smart device accessory collection in collaboration with Pokémon worldwide on November 13.

CASETiFY is a global lifestyle brand established in LA that has enjoyed hugely popularity with celebrities and influences around the world for their services that enable you to customise your digital devices from smartphones to Apple Watches and more.
The new accessory collection will drop worldwide on November 13, 2020 at 17:00 (JST) via CASETiFY's official website. The series is inspired by the themes of past, present, and future, with this second collection being focused on the present.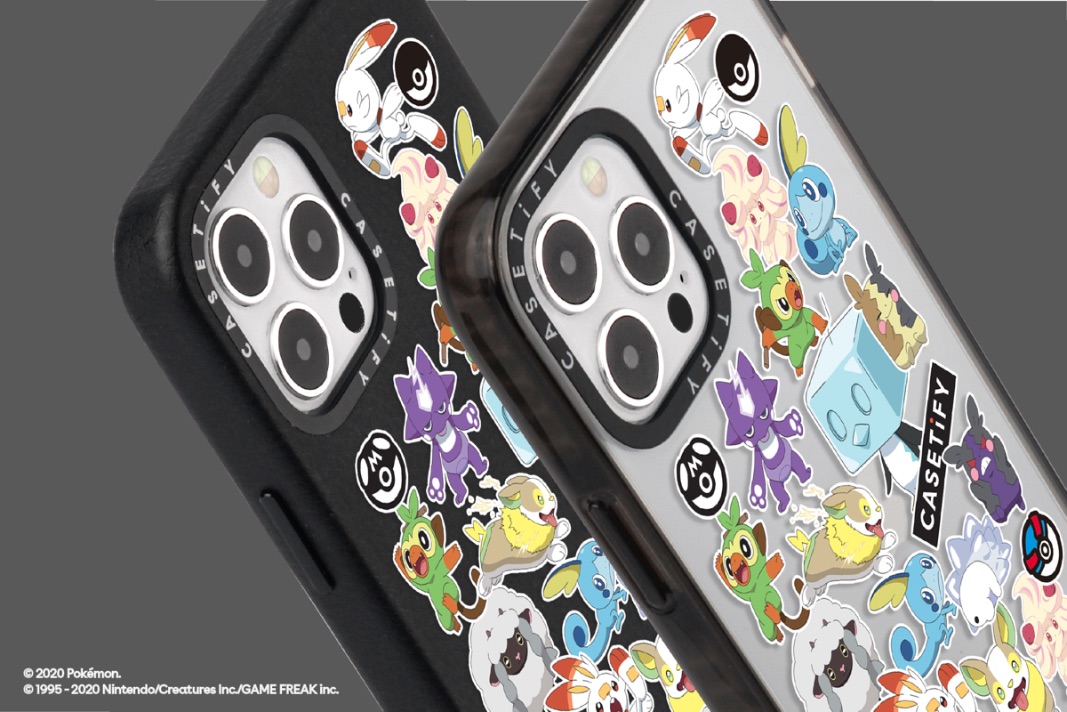 Officially titled CASETiFY & Pokémon 2020: Drop 2, the second collection is based on the Pokémon of the Galar Region, with familiar faces such as Grookey, Scorbunny, Yamper, Morpeko, and more making an appearance on CASETiFY's luxury vegan leather case line which is known for its durability.

A new item added to the collection is a sling for storing your mobile phone. New case designs have also been added to the line-up, including sticker designs.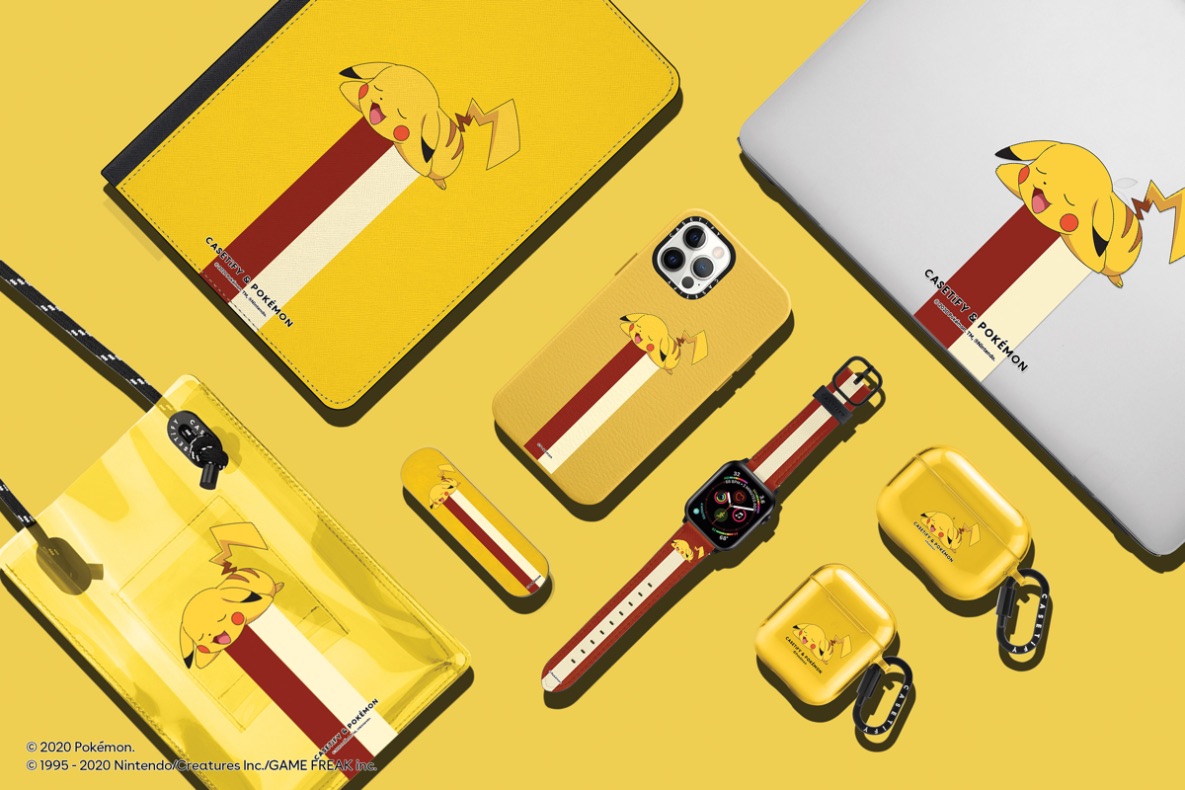 Accessories can be used with the iPhone, AirPods, Apple Watch Band, iPad, MacBook, and more.
The CASETiFY & Pokémon collection is part of CASETiFY co-lab, a creative program which collaborates with top brands and artists around the world.
© 2020 Pokémon. © 1995 – 2020 Nintendo/Creatures Inc./GAME FREAK inc. TM, ®, and character names are trademarks of Nintendo.
Information
CASETiFY & Pokémon 2020: Drop 2
Products: iPhone Case, AirPods/Pro Case, Apple Watch Band, iPad Case, MacBook Case, Smartphone Sling, 2-in-1 Grip Stand
Release Date: November 13, 2020
Official Website: https://www.casetify.com/pokemon
RELATED ENTRIES
Japanese Koala's March Cookies Collaborates With Pokémon On Cheesecake Moomoo Milk Flavour

Koala's March is one of the many tasty treats made by Japanese confectionery company Lotte. They are bite-sized cookies with sweet fillings. Lotte is teaming up with Pokémon to release 48 Koala's March products with Pokémon prints on them.

Koala's March With Pokémon – Cheesecake Moomoo Milk Flavour

The crunchy biscuits feature a variety of Pokémon prints on them along with the Pokémon's names' in Japanese. They are filled with sweet cheesecake-flavoured chocolate. The collaboration is inspired by Moomoo Milk, an HP-restoring medicine seen in Pokémon. Together with the original Koala's March prints, there are a total of 96 individual designs to find.

A proper tasty snack for any Pokémon Trainer out there!

©LOTTE/Koala's March Project

©Nintendo・Creatures・GAME FREAK・TV Tokyo・ShoPro・JR Kikaku ©Pokémon

Seiko to Drop New Pokémon Watch Collection | MOSHI MOSHI NIPPON

Seiko is teaming up with Pokémon to release four limited-edition watches on December 11, 2020. Each model will be available to buy from Seiko in Japan.

Pikachu Icon Design Model SCXP175 | ¥30,800 (Tax Included)

The Pikachu Icon Design Model SCXP175 features a modern design with a yellow dial and black Pikachu silhouette. Pikachu's tail is used as the watch hands, underneath which is a nod to Pikachu's effectiveness as a lighting-type Pokémon against water-types. The watch has a leather strap with Pikachu's paw prints running down it.

Pikachu Green Model SCXP177 | ¥30,800 (Tax Included)

The Pikachu Green Model SCXP177 features a green dial inspired by Pikachu running through Viridian Forest. The second hand also has Pikachu's tail and the leather strap has Pikachu's paw prints.

Eevee Model SCXP179 | ¥30,800 (Tax Included)

The cute Eevee Model SCXP179 has coloured dots for the hours which represent Eevee's nine different evolutions. The leather strap has Eevee's paw prints.

Mewtwo Model SCXP181 | ¥30,800 (Tax Included)

The Mewtwo Model SCXP181 is purple to represent the Psychic-type Legendary Pokémon Mewtwo. The leather strap reads "Pokémon" on it.

There are three different underside designs featuring a closed Poké Ball, an open Poké Ball, and a closed Great Ball.


Each watch comes in a special box and with an additional nylon strap, which you can swap out with the leather one, as well as a Poké Ball design cloth.

©Nintendo・Creatures・GAME FREAK・TV Tokyo・ShoPro・JR Kikaku ©Pokémon

Pokémon Cosmetic Series: Ditto Face Mask Gets Added to the Set

Monosense has announced the release of a new Pokémon Gift Set which will hit Lovisia shops and variety stores in Japan as well as online on November 26, 2020.

The Pokémon cosmetic series has been a huge success in Japan since it launched, spanning face masks, hand cream, lip cream, lip gloss, point packs, mirrors, and body gel. The face masks however have proven the most popular, having sold over 600,000 of them (as of June 2020).

Ditto gets added to the series

Pokémon Face Mask Set (Includes 5) | ¥2,150 (Before Tax)

Pokémon Trainers can keep their faces moisturised while out in the wild with this set of five face masks. The collection includes the familiar Pikachu, Mew, Eevee, and Mew masks, and adds an all-new Ditto version. Skin can get pretty dry during the cold autumn and winter months, so these made-in-Japan face masks will keep Trainers' skin moisturised thanks to the collagen, hyaluronic acid, and shea butter in them.

Pokémon Gift Set

Pokémon Gift Set (4 Versions) | ¥1,200 (Before Tax)

The Pokémon Gift Set is a single box containing hand cream as well as a hand towel which comes with an emblem of the Pokémon you decide to choose. The hand cream is made with collagen and hyaluronic acid which keeps hand soft—super effective for throwing all of those Poké Balls. The Pikachu cream is "Pure Soap" scented, Eevee is "Pink Bouquet," Psyduck is "Sweet Peony," and Mew is "Floral Shampoo."

The gift sets come in cute packaging branded in pastel colours. Who will you choose?

Select stores in Japan will bag customers' Pokémon cosmetic products in a limited-edition bag too. The perfect Pika-gift for any lover of Pokémon!

Information

Pokémon Face Mask Set / Pokémon Gift Set
Release Date: November 26, 2020
Available: Variety shops in Japan / Lovisia online website
Product Page:  https://lovisia.jp/pokemon/

Make Your Own Chocolate Pokémon Pies With Lotte's Confectionery DIY Kit

Japanese confectionery company Lotte is launching a new version of its popular Choco Pie dessert in collaboration with Pokémon.

Pokémon Trainers out there with sweet tooths are given an ordinary blank Choco Pie which they can decorate with the accompanying assorted chocolates, nuts, and sweets to create their favourite Pokémon. They can create their own from their mind or follow the recipe provided.

Choco Pie Art with Pokémon will be released by Lotte in Japan on November 24, 2020.

©Nintendo・Creatures・GAME FREAK・TV Tokyo・ShoPro・JR Kikaku ©Pokémon

Pikachu Caramel Frappes Zap Their Way to Pikachu Sweets by Pokémon Cafe This Holiday Season

Pikachu Sweets by Pokémon Cafe in Ikebukuro, Tokyo, is adding the new "Caramel Pika Pika Frappe" to its menu this holiday season from December 5, 2020 to January 15, 2021.

Caramel Pika Pika Frappe | ¥700 (Before Tax)

The adorable beverage is based on the Japanese custard pudding known as purin. It's laced with caramel sauce, closed off with a squirt of whipped cream, and finished with a sprinkling of chocolate chips for accent.

Pikachu Sleeves

The drink also comes with one of four possible Pikachu sleeves which feature designs in promotion of the upcoming animated film Pokémon the Movie: Secrets of the Jungle (also known as Pokémon the Movie: Coco) which will be released in Japan on December 25, 2020 and in the US in 2021.

© 2020 Pokémon.©1995-2020 Nintendo/Creatures Inc./GAME FREAK inc.
Pokémon, ポケットモンスター, and ポケモン are registered trademarks of Nintendo, Creatures Inc., and GAME FREAK inc.
© Nintendo・Creatures・GAME FREAK・TV Tokyo・ShoPro・JR Kikaku
© Pokémon © 2020 Pikachu Project

Pokémon Silicone Ring Phone Straps Keep Trainers Company in the Wild

Retail company Hamee recently released a new collection of Pokémon silicone ring phone straps in Japan.


Pokémon Silicone Ring Straps | ¥990 Each (Before Tax)

 These cute straps are sure to keep Trainers out there company while their Pokémon sleep in their Poké Balls.

Designs include Pikachu and Ditto which not only look adorable but will keep your phone safe from falling while you're using it too.

The rings are made from soft silicone which won't damage the phone or its screen if it touches them and also doesn't case discomfort when worn on the finger. They weigh in at just 3g. Use them not only on your phone case but digital camera, pass case, and more as a convenient hook.

They match perfectly with the Pokémon iFace First Class phone case series too.

©2020 Pokémon.
©1995-2020 Nintendo/Creatures Inc./GAME FREAK inc.

UNIQLO Announces Loungewear Collaboration With Pokémon and Sumikko Gurashi

Japanese clothing retailer UNIQLO has announced a loungewear collection for the holiday season in collaboration with Pokémon and Sumikko Gurashi—the latter being a set of fictional characters created by San-X. Set to roll out in Japan from November 19, the fleece line-up is the perfect gift for the coming winter months.

Pokémon Line-Up

Everybody's favourite Pokémon are coming together for this cosy collaboration. The fleece set's theme is "Night Explorer" which imagines the wearer exploring the night together with their Pokémon. The designs feature moon and star motifs with neon colouring.

When the collection launches, those who purchase one of the Pokémon fleece sets in Japan will receive a set of two clear-coloured Pokémon figurines. And if they order online via UNIQLO's website, their order will be shipped in a special Pokémon box.


Buyers will also receive a card with a code on it to participate in a special campaign.

Sumikko Gurashi Line-Up

The corner-dwelling Sumikko Gurashi character merchandise is themed on a sleepover with items made warm, fluffy, and cosy.


The three Sumikko Gurashi sets will launch online only on December 18.


Picking up either of the fleece sets or poncho blanket sets from December 18 will land you one of the above-pictured plush toys.




UNIQLO will also be selling limited-edition Sumikko Gurashi gift cards too both online and in-store when the sets are released.

Online Pokémon Escape Game Launches in Promotion of Pokémon the Movie: Secrets of the Jungle Anime Film

SCRAP launched a new online escape game entitled "Escape From the Mystery Pokémon Jungle" on November 14, 2020 in promotion of the upcoming anime film Pokémon the Movie: Coco which will be released in Japan on December 25, 2020. The film will also be released in the US in 2021 under the title Pokémon the Movie: Secrets of the Jungle.


SCRAP is a Japanese company that specialises in the creation of escape games. Since the outbreak of the pandemic, SCRAP has been hosting online escape games for people around the world. It has collaborated with Pokémon every year since 2013, with 300,000 participants having played the games collectively. This new escape game has players watching a video on the game's official website while using a pen and paper to solve the puzzles and mysteries of the Mystery Pokémon Jungle.

Players can download and print the materials they will need for the game from the website. This will be their puzzle-solving kit which includes gimmicks of its own that will require assembly with tape. And since the game can be played at any time, players can choose what time works best for them when they have a free slot in the day.

The game offers a selection of different courses including two different two-person standard courses as well as a lighter family course for parents to play with their children.

The escape game is a great way to celebrate the upcoming and highly-anticipated release of Pokémon the Movie: Secrets of the Jungle.

©Nintendo・Creatures・GAME FREAK・TV Tokyo・ShoPro・JR Kikaku
©Pokémon
©2020 Pikachu Project

Pokémon Themed Hotel Rooms Open in Tokyo and Kyoto at APARTMENT HOTEL MIMARU

Japanese real estate company Cosmos Initia teamed up with The Pokémon Company last year to offer Pokémon themed hotel rooms at two branches of APARTMENT HOTEL MIMARU in Tokyo and Kyoto. The rooms have received high praise from guests, and so they have decided to offer the rooms in two more branches.

The new rooms will open at MIMARU TOKYO Ginza EAST on December 1, 2020 and MIMARU Osaka Nanba NORTH on January 14, 2021. Room bookings opened at both hotels on Friday (November 13).

Each part of the Pokémon Rooms are decorated in all things instantly-recognisable to fans of the franchise including in both the dining and bedroom spaces.


Guest kitchens also come with a batch of original plates and mugs to make their Pokémon stay even more fun. Rooms also come with various themed novelties such as a small bag, welcome card, and hand towel.

Fans of Pokémon planning a trip to Tokyo or Osaka will definitely want to check out APARTMENT HOTEL MIMARU.

©2020 Pokémon. ©1995-2020 Nintendo / Creatures Inc. / GAME FREAK inc.

Pokémon, ポケットモンスター, and ポケモン are registered trademarks of Nintendo, Creatures Inc., and GAME FREAK inc.

Pokémon Illuminations to Light Up Lake Sagami Pleasure Forest This Year

Lake Sagami Pleasure Forest's annual SAGAMIKO ILLUMILLION winter event is set to run from November 14, 2020 to April 4, 2021, and this year, it has been announced that a new Pokémon area will be set up at the event with Pokémon illuminations.

About SAGAMIKO ILLUMILLION

SAGAMIKO ILLUMILLION is an annual winter event held at Lake Sagami Pleasure Forest. About an hour from the main city, the event takes place up a high slope with the 6 million lights becoming one with the surrounding natural environment. The event uses the latest in lighting technology and has gotten bigger and better every year. In 2018, it was chosen as one of Kanto's three biggest illumination events.

Pokémon Illuminations

This year marks the 12th run of SAGAMIKO ILLUMILLION, and this time around it's collaborating with the Pokémon franchise with lots of colourful illuminations set to light up forest and trees. Wild Pokémon illuminations roam everywhere and there are plenty of Pokémon photo spots to take your picture with including Pikachu sleeping in the forest, Charmander taking a nap by an open-air, and more.

Eevee Friends Rainbow Lift

The Rainbow Lift this year features nine colours inspired by Eevee and all of its evolutions. Ride up high with a carpet of colourful lights underneath.

Pokémon Gondola

The Pokémon decoration-wrapped gondola will ride visitors up 420m high. There are 36 different Pokémon gondola designs to see.

Pokémon Street

There are plenty of photo opportunities to be had at the event, from a Pikachu 100,000 volt exhibit to Pikachu napping by a fire and more. Take a picture with your favourite Pokémon.

Pikachu's Forest of Light

Visitors will definitely want to check out the forest too which is filled with Pikachu. Deep in the forest stands a giant, towering Pikachu too. Various Pikachu-related events will also take place including a Pikachu light show, a photo meeting, and more.

・Illumination Show: Tickets
・Photo Meet-Up: To attend, visitors can buy a ticket at the Pleasure Station or visit the site's official Twitter

Coaster (For illustrative purposes only)

Visitors who order from the ILLUMILLION menu at the park's Wild Dining restaurant will receive a Pokémon lunch mat, and if they order a drink one of eight possible coasters. They can also receive a Pokémon eco-bag if they spend over ¥3,000 at Pleasure Station.

©2020 Pokémon. ©1995-2020 Nintendo/Creatures Inc. /GAME FREAK inc.

Pokémon, ポケットモンスター, and ポケモン are registered trademarks of Nintendo, Creatures Inc., and GAME FREAK inc.

Information

SAGAMIKO ILLUMILLION
Address: 1634 Wakayanagi, Midori-ku, Sagamihara, Kanagawa
Running: November 14, 2020 – April 4, 2021

Illumination Times: 16:00-21:00 (Last Entries 20:30)

*Illumination times to begin from 17:00 starting in February

Official Website: https://www.sagamiko-resort.jp/illumillion/

Tokyo Banana Launches Pokémon Confection Series With Pikachu as First Catch

Tokyo's official souvenir sweets brand Tokyo Banana has launched its new Pokémon Tokyo Banana series of confections.

The first tasty entry to the series is the Pikachu Tokyo Banana which will begin rolling out in limited quantities at 7-ELEVEN convenience stores across Japan from November 21, 2020. It will subsequently arrive as a permanent product at the Tokyo Station branch of Tokyo Banana on December 10, 2020.

Pokémon turn into adorable Tokyo Banana confections

Pikachu Tokyo Banana | Banana Flavour (Contains 2) | ¥291 (Tax Included)

Tokyo Banana are popular cream-filled cakes and are the official souvenir sweet of Tokyo. The Pokémon series turns these fluffy treats into cute confections for you to enjoy with your favourite Pokémon during snack time.

Pikachu: The first in the delicious line

Pikachu is first up in the Pokémon Tokyo Banana series. The adorable Pokémon has been turned into a banana custard cream-filled sponge cake.


There are six Pikachu designs in total which include Pikachu making a variety of cute faces as well as its tail.

Each of the Pikachu Tokyo Banana confections are individually packaged in bags which have a Poké Ball design.

Special packaging designs

The individual treats are then packaged in one of six possible Pikachu packets.

Pikachu Tokyo Banana will first roll out at 7-ELEVEN convenience stores in the locations listed below on the respective dates before heading to Tokyo Banana at Tokyo Station on December 10.

Scheduled

November 21 Release
Tokyo / Kanagawa / Chiba / Saitama

November 28 Release
Hokkaido / Aomori / Iwate / Akita / Miyagi / Yamagata / Fukushima / Ibaraki / Tochigi / Gunma / Niigata / Toyama / Ishikawa / Fukui

December 5 Release
Yamanashi / Nagano / Shizuoka / Aichi / Gify / Mie / Okayama / Hiroshima / Tottori / Shimane / Yamaguchi / Tokushima / Kagawa / Ehime / Kochi

December 12 Release
Osaka / Kyoto / Hyogo / Shiga / Nara / Wakayama / Fukuoka / Saga / Nagasaki / Oita / Kumamoto / Miyazaki / Kagoshima

*Not available in Okinawa

*7-ELEVEN sales are available while supplies last

Tokyo Banana – JR Tokyo Station

Pikachu Tokyo Banana will arrive at the JR Tokyo Station branch of Tokyo Banana inside HANAGATAYA on December 10. The second Pokémon is scheduled to be released in January 2021.

©2020 Pokémon. ©1995-2020 Nintendo/Creatures Inc. /GAME FREAK inc.
Pokémon, ポケットモンスター, and ポケモン are registered trademarks of Nintendo, Creatures Inc., and GAME FREAK inc..

Information

Pikachu Tokyo Banana

Pre-Sales: November 21, 2020
*Available at select 7-ELEVEN branches in Japan while supplies last

Pokémon Tokyo Banana @ Tokyo Station
Release Date: December 10, 2020
Location: HANAGATAYA at JR Tokyo Station
Tokyo Banana World: https://www.tokyobanana.jp/

Catch the Chansey Pokémon Doughnut at Mister Donut This Winter

Mister Donut Japan revealed last month that it is set to team up with Pokémon this winter with a special campaign starting on November 15. Before then however, from November 13, the doughnut chain will be releasing the "Mister Donut Chansey Christmas-chu Collection" of doughnuts and merchandise.

Mister Donut Chansey Christmas-chu Collection

Pikachu Doughnut (Custard Whip) | ¥240 (Before Tax)

Mister Donut is releasing four doughnuts this year, one of which is the popular Pikachu doughnut from last year which is coated in chocolate.

Chansey Doughnut | ¥200 (Before Tax)

Chansey, which is known as Lucky in Japanese, is bringing you luck this year in the form of a strawberry chocolate-coated doughnut complete with an adorable face, ears, and belly.

Poké Ball | ¥200 (Before Tax)

Great Ball | ¥200 (Before Tax)

The Poké Ball doughnut has also been transformed from the classic Pon de Ring doughnut from last year and turned into an actual ball shape. It's filled with whipped cream and coated in a strawberry glaze while the Great Ball version is filled with custard whipped cream and is coated in chocolate.

Pon de Ring Wreath: Pudding Flavour, Strawberry Flavour, Chocolate Flavour | ¥150 (Before Tax)

For the holiday season, Mister Donut is also bringing back their classic Pon de Ring series in three flavours.

As well as doughnuts, Pokémon fans can get their hands on a selection on Christmas mugs and bowls too. Perfect for putting under the tree this year.

©2020 Pokémon. ©1995-2020 Nintendo/Creatures Inc./GAME FREAK inc.
ポケットモンスター・ポケモン・Pokémonは任天堂・クリーチャーズ・ゲームフリークの登録商標です。

Information

Mister Donut x Pokémon

Pon de Ring Wreaths

Running: November 13, 2020 – Late December 2020
Available: Most Mister Donut branches in Japan

Official Website: https://www.misterdonut.jp