Hello Kitty Turns Into Pixelated Figurine in Collaboration With Adam Lister
Isetan has teamed up with New York-based artist Adam Lister to release an official Hello Kitty figurine which hit the company's online store on Wednesday (November 11). It is also available to buy internationally via Adam Lister's online shop.
SPECIAL PRODUCT DESIGN & MEDICOM TOY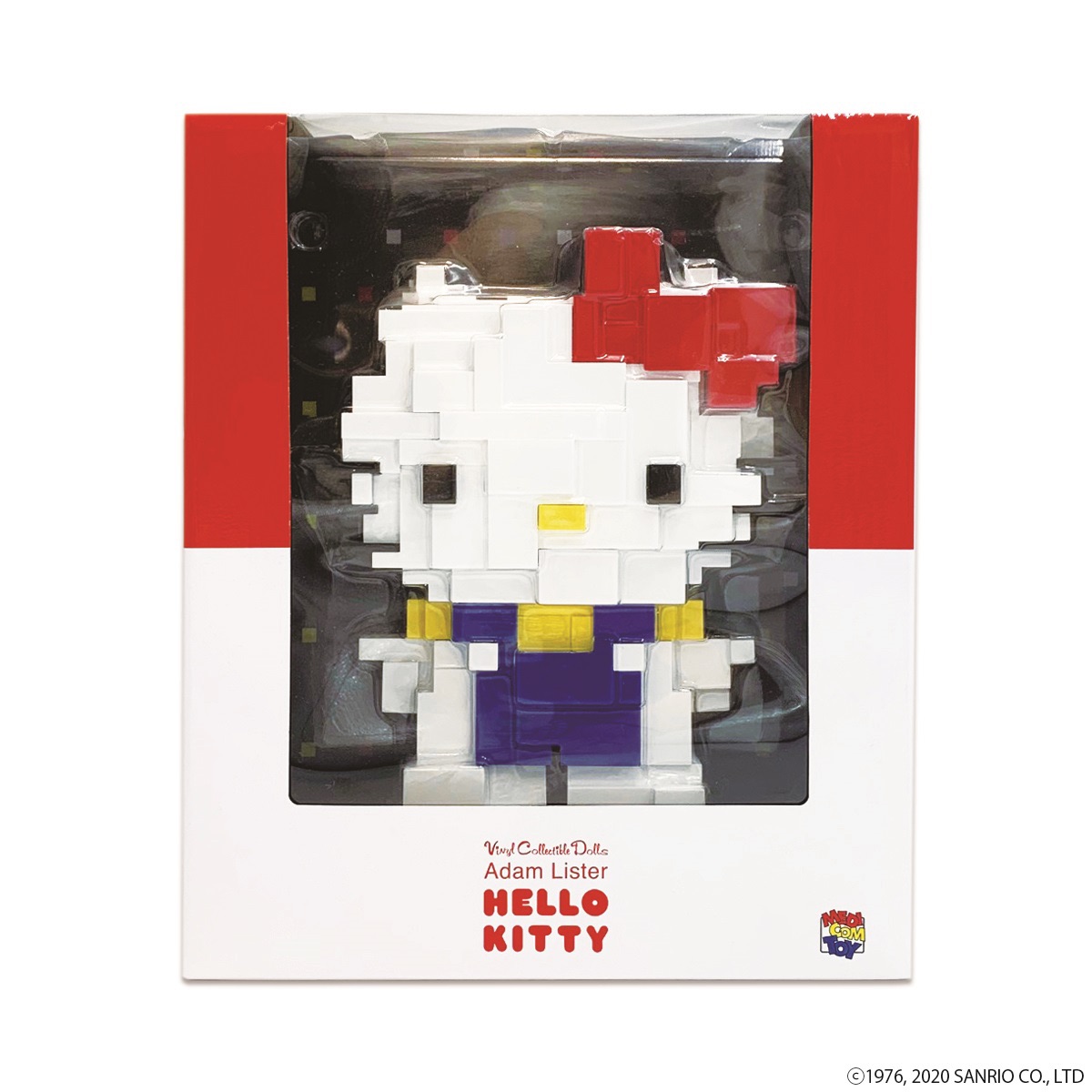 Adam Lister x HELLO KITTY (18cm Tall) | ¥18,700 (Tax Included)
The toy was made in collaboration with creative design company SPECIAL PRODUCT TOYS and MEDICOM TOY.
Adam Lister brings his signature pixelated style
Adam Lister is a New York-based visual artist whose work consists of geometric interpretations of iconic imagery and pop culture references. He breaks down classic images to their most elemental forms by combining the deconstructed and minimal aesthetic of pixelated graphics with the transparency of watercolour paint and the flatness of acrylic paint.
Lister's artwork has been exhibited in numerous galleries throughout the world and he has also collaborated with streetwear brands, athletic companies, and other artists.
©1976, 2020 SANRIO CO, LTD. APPROVAL No. L614063
RELATED ENTRIES
Sanrio Design Face Masks by Maison de FLEUR Keep You Stylish and Safe

Maison de FLEUR has revealed a new collection of face masks created in collaboration with Sanrio which will be released in Japan on February 23.

Sanrio Character Collab Masks | ¥2,200 Each (Tax Included)

My Melody

     Cinnamoroll

Little Twin Stars

Pompompurin

Kuromi

The masks are designed from the popular Sanrio characters My Melody, Cinnamoroll, Little Twin Stars, Pompompurin, and Kuromi. The parts that hook over your ears are fitted with a big, cute satin ribbon, and the front of the masks feature a gold leaf print matte design.

The masks can be used both as a fashion item and for protection against COVID-19.

Information

Maison de FLEUR x Sanrio Character Collab Masks

Release Date: February 22, 2021 at 20:00 @ STRIP CLUB / February 23, 2021 @ Maison de FLEUR stores

STRIPE CLUB Official Website: https://stcl.page.link/Z3cE

ZOZOTOWN: https://zozo.jp/

Little Twin Stars Doughnuts at Floresta Celebrate White Day

Floresta Nature Doughnuts, a doughnut cafe in Japan that hand-makes doughnuts using organic ingredients, is celebrating White Day this year by releasing two doughnuts based on the Little Twin Stars which will be served from March 1 to 14.

The Little Twin Stars, also known as Kiki & Lala, are two of the most popular characters by Sanrio, the company known for such iconic faces as Hello Kitty.

Kiki & Lala Doughnuts | ¥450 (Before Tax)

Kiki & Lala are twins who were born on the Star of Compassion. The doughnuts capture the cute duo atop fluffy pink clouds made from strawberry and white chocolate.

The doughnuts are made without any additives or colouring. The ring part of the doughnut is coated in a strawberry chocolate made from organic strawberry powder for a sweet and sour kick.

 

Celebrate White Day this year, the sequel to Valentine's Day in Japan, with the Little Twin Stars.

©'21 SANRIO CO., LTD. APPROVAL NO. L615092

Gundam x Hello Kitty Collaboration Merchandise Now Available to Buy Outside Japan

Online Japanese proxy shopping service ZenPlus is now stocking items of the ongoing Gundam x Hello Kitty collaboration by the anime apparel brand R4G. This means if you're outside Japan, you can now finally get in on this unique and exciting collaboration.

Gundam x Hello Kitty

Gundam x Hello Kitty T-Shirt / Field Coat

Gundam x Hello Kitty Anime Scene T-Shirts

The Gundam x Hello Kitty collaboration began in 2019 to tie in the 40th anniversary of the popular Mobile Suit Gundam franchise and the 45th anniversary of Sanrio's most popular character Hello Kitty. Now the project is heading overseas for fans worldwide to enjoy the collaboration.

Perfectly Pink Sanrio Valentine's Day Collection Heads to Maison de FLEUR

For Maison de FLEUR's annual "PINK MANIA" Valentine's season event, it is teaming up with Sanrio to release a positively-kawaii pink collection of bags at its stores in Japan on February 11. The line-up also made a pre-release on the online shop STRIPE CLUB last week.

PINK MANIA x Sanrio Characters Collection: Azato Melody / Azato My Sweet Piano / Azato Cinnamoroll / Azato Bonbonribbon / Azato Pochacco

PINK MANIA Double Ribbon Tote Bag | ¥5,290 (Before Tax)

PINK MANIA Side Pocket S Tote Bag | ¥5,290 (Before Tax)

PINK MANIA Side Pocket M Tote Bag | ¥5,990 (Before Tax)

PINK MANIA Ribbon Pouch | ¥3,590 (Before Tax)

PINK MANIA Pouch | ¥3,590 (Before Tax)

PINK MANIA Face Mask Case Pouch | ¥3,590 (Before Tax)

Interior design of each bag and pouch

PINK MANIA is an event held by Maison de FLEUR every year around Valentine's Day where select items turn all pink. This year's line-up includes some of the brand's iconic tote bags and pouches as well as some new entries. Familiar faces from Sanrio include My Melody, My Sweet Piano, Bonbonribbon, Pochacco, and Cinnamoroll.

Go pink and kawaii this Valentine's Day with this year's PINK MANIA collection.

Cute Hello Kitty and Little Twin Stars Face Masks Release in Sanrio Collaboration

Japanese sneakers select shop atmos pink teamed up with Sanrio to release a cute collection of face masks on Thursday (January 28).

KIKI&LALA★atmos MASK Colours: White/Blue – ¥1,400 (Before Tax)

HELLO KITTY♡atmos MASK Colours: White/Pink – ¥1,400 (Before Tax)

The masks can be washed and are durable, fast-drying, block pollen, and cut UV. Face masks are part of everyday life now, so why not add a little fun to routine?

Pokémon, My Melody, Moomin and More Valentine's Day Chocolates Arrive at Daimaru Tokyo

The Hoppe Town area of Daimaru Tokyo is currently celebrating Valentine's Day up to February 14 with the release of a selection of gift chocolates by six brands in collaboration with popular characters.

Pokémon Chocolate Set (Large Box) | ¥1,404 (Tax Included)

My Melody x Goncharoff Chocolates (Contains 21) | ¥2,160 (Tax Included)

Moomin x Merry Chocolate's Hattifatteners Chocolates (Contains 11) | ¥1,188 (Tax Included)

Dick Bruna by Morozoff: Picture Book Chocolates (Contains 15) – ¥864 (Tax Included) / Miffy Pouch Chocolates (Contains 8) – ¥1,320 (Tax Included)

Chatrois Kitten Tiny Plain Chocolates | ¥783 (Tax Included)

Katanukiya Angel Panda | ¥684 (Tax Included)

Which of these cute and tasty-looking treats has caught your eye the most?

©Nintendo・Creatures・GAME FREAK・TV Tokyo・ShoPro・JR Kikaku ©Pokémon
©1976,2021 SANRIO CO,LTD.APPROVAL NO.L613374
©Moomin Characters™

Information

Daimaru Tokyo Valentine's Sweets
Running: January 27, 2021 – February 14, 2021

Location: Hoppe Town on Floor 1F of Daimaru Tokyo
Official Website: https://www.daimaru.co.jp/

Pompompurin Doughnuts Celebrate Sanrio Character's 25th Anniversary This Valentine's Day

Floresta Nature Doughnuts, a doughnut cafe that hand-makes doughnuts using organic ingredients, has baked up a new 'n' tasty collection of kawaii doughnuts to celebrate the 25th anniversary of Sanrio's popular character Pompompurin. The "Pompompurin Valentine Doughnuts" will be served from February 1 to 14 for the lead up to Valentine's Day.

Character Doughnuts (Pompompurin/Muffin) | ¥450 Each (Before Tax)

The Pompompurin and Muffin doughnuts will arrive in the first week on February 1. The doughnuts are covered in white chocolate sprinkled with strawberry powder, freeze-dried strawberries, and a chocolate heart. Sat comfortably on top of them are good friends Pompompurin and Muffin. Pompompurin is pumpkin flavoured.

Korokoro Cup Doughnuts (Pompompurin & Macaron) | ¥600 (Before Tax)

Arriving on the second week from February 8 is a cup of round, bite-sized Pompompurin and Macaron doughnuts.

Online pre-orders for the doughnuts opened on January 30.

©'21 SANRIO CO., LTD. APPROVAL NO. L615071

Pompompurin Themed Desserts and Drinks Now Being Served Up in Osaka

The Osaka-based fruit parlour and bakery Season&Co., which is located on the first floor of LINKS UMEDA, is celebrating the 25th anniversary of Sanrio's popular character Pompompurin with a themed menu of desserts and drinks until April 12, 2021.

Menu item names have been translated from Japanese by MMN.

Pompompurin Peeking From the Nabe Hot Pot | ¥1,000 (Before Tax)

Pompompurin's Specially-Made Parfait | ¥1,600 (Before Tax)

Pompompurin's Strawberry Omelette | ¥1,600 (Before Tax)

Pompompurin's Pudding Juice | ¥730 (Before Tax)

Pompompurin's Mixed Juice | ¥730 (Before Tax)

NMB48 x Pompompurin's Chocolate Cake | ¥700 (Before Tax)

NMB48 x Pompompurin's Osaka Cupid | ¥500 (Before Tax)

The menu includes a range of Pompompurin themed drinks and desserts as well as merchandise. There's also two items made in collaboration with NMB48.

For every order, customers will receive a free lunch mat, and if they spend over ¥1,000 (before tax) on anything on the menu, including the merch, they'll get a free sticker.

Information

Season&Co. x Pompompurin Collab Cafe
Running: January 27, 2021 – April 12, 2021
Where: FRUITS PARLOR+BAKERY Season & Co.

Address: LINKS UMEDA 1F, 1-1 Ofukacho, Kita-ku, Osaka-shi, Osaka
Opening Hours: 9:30-20:00 (Last Orders 19:30)
Official Website: https://season-co.shop

Hello Kitty Hairbrushes Ensure Your Locks Are Kept Kawaii at All Times

Hairbrush brand WetBrush® joined hands with Sanrio to release a new collection of Hello Kitty design brushes at drug stores and variety stores across Japan on Friday (January 15).

Under My Umbrella | ¥1,540 (Before Tax)

Bubble Gum | ¥1,540 (Before Tax)

Original | ¥1,540 (Before Tax)

WetBrush® is a hairbrush brand sold in over 70 countries worldwide that can be used on damaged hair, wavy hair, thin hair, wigs, and more without causing damage to lovely locks, leaving hair detangled and silky smooth.

The Hello Kitty collection features three brushes with different designs – a must have for any fan of Sanrio's most recognisable face.

Information

WetBrush® x Hello Kitty Collaboration
Released: January 15, 2021

Available: Drug stores and variety stores in Japan (Select branches not participating)

Official Website: http://www.wetbrush.jp

D-UP x Hello Kitty Eyelash Fixer EX Launches in Japan

If you're looking to look as cute as Hello Kitty, then you'll want to pick up the new D-UP Eyelash Fixer EX, a product by D-UP released in collaboration with Sanrio on Friday (January 22) at Don Quijote stores in Japan. The product will also begin rolling out at variety shops and drug stores from March 5.

D-UP Eyelash Fixer EX is a super strong glue for false eyelashes. First released in 2000, it has gone to enjoy huge popularity in Japan where it has sold over 27 million units. It is also popular outside of Japan too.

With face masks now a norm for everyone worldwide, makeup trends are now tending towards the eyes, and so D-UP is launching its 5th collaboration with Hello Kitty, a partnership which first began in 2021.

D-UP Eyelash Fixer EX552 Hello Kitty S | ¥5,990 (Tax Included)

The packaging and product design features a retro style coloured in pastel colours and Hello Kitty.

Information

S5D-UP Eyelash Fixer EX552 Hello Kitty S
Pre-Release: January 22, 2021 @ Don Quijote
General Release: March 5, 2021
D-UP Official Website: https://d-up.co.jp/

Hello Kitty Valentine's Day Chocolates by Bicerin Are Sure to Surprise Your Lover

Café Al Bicerin released a special collection of chocolates in Japan for Valentine's Day on Wednesday (January 20) in collaboration with Hello Kitty.

Café Al Bicerin is a cafe in Torio, Italy, that first opened back in 1763. It has a long history and is a place that was enjoyed by the likes of Friedrich Nietzsche and Ernest Hemingway.

Bicerin × Hello Kitty Love Assortment | ¥2,160 (Tax Included)

Bicerin × Hello Kitty Love Assortment | ¥2,160 (Tax Included)

Valentine's Baci di Dama (Includes 5) | ¥1,350 (Tax Included)

© 2021 SANRIO CO., LTD. APPROVAL NO. L617585

Information

Bicerin x Hello Kitty Valentine's Collection
Released: January 20, 2021
Available: Bicerin Japan (Ginza SIX, Takashimaya Shinjuku, Midland Square, Hankyu Umeda, Roppongi Hills, Tokyo Midtown Hibiya)
Official Online Store: https://shop.bicerin.co.jp/
Official Website: http://www.bicerin.co.jp/

Pompompurin Celebrates 25th Anniversary With Special Birthday Party Event

This month marks the 25th anniversary of Sanrio's popular character Pompompurin, and to celebrate, the kawaii character-creation company is honouring the adorable golden retriever both online and offline with a special birthday event, the selling of commemorative merchandise, and more.

Pompompurin 25th Anniversary

Pompompurin first came out of the kennel in 1996. The golden retriever is known for his trademark beret and his iconic colour scheme which is inspired by the Japanese custard pudding dessert known as purin―which is also where he gets his name from! He is a popular face amongst fans of Sanrio's character cast, and that's proven in the fact that he has placed top in the annual Sanrio Character Ranking three times. He lost to Cinnamoroll in the 2020 Sanrio Character Ranking, coming in second, but maybe he has a chance this year?

Pompompurin has over 600,000 followers on his official Twitter account, where he posts pictures of his easy-going, everyday life and what he's up to (probably not much during the day though as he is known for loving afternoon naps). The custard-coloured doggo also has over 20,000 registered members of his Pompompurin Ambassador program which has "Pombassadors" publishing social media posts and blog entries about Pompompurin.

Birthday Event – "Pom Shusokai"

A birthday event titled "Pom Shusokai" (Pom General Meeting) will take place at Sanrio Puroland, a theme park in Tokyo themed completely on Sanrio's character roster, on March 21, 2021. At the general meeting, Pompompurin will appear "not as a stakeholder, but as the Head Pom" where various exciting things will take place in the run up to his actual birthday which falls on April 16. Tickets go on sale from mid February, but Pombassadors will get early access. Full details on what to expect at the event will be announced in the coming weeks on Sanrio's homepage.

25th Anniversary Merchandise

A cute, original line-up of three merchandise designs has been created to commemorate Pompompurin's 25th.

Anniversary Design Items: Celebration, Collection, World Rice

Celebration Designs

Collection Designs

Rice From Around The World Designs

The collection will roll out at select Sanrio stores, variety stores, and pop-up shops in Japan from in early February.

Pompompurin x Pastel Desserts Collab

Pompompurin is also collaborating with the desserts brand Pastel who have baked up a special pudding-flavoured 25th anniversary chiffon cake. It will be sold at Pastel branches in Japan from March 15.

©︎'76, '90, '96, '21 SANRIO 著作(株)サンリオ