Make Your Own Chocolate Pokémon Pies With Lotte's Confectionery DIY Kit
Japanese confectionery company Lotte is launching a new version of its popular Choco Pie dessert in collaboration with Pokémon.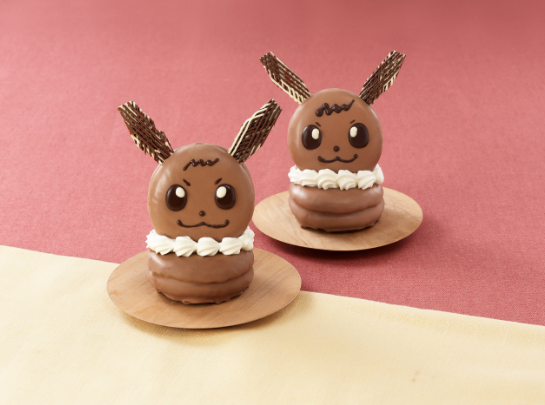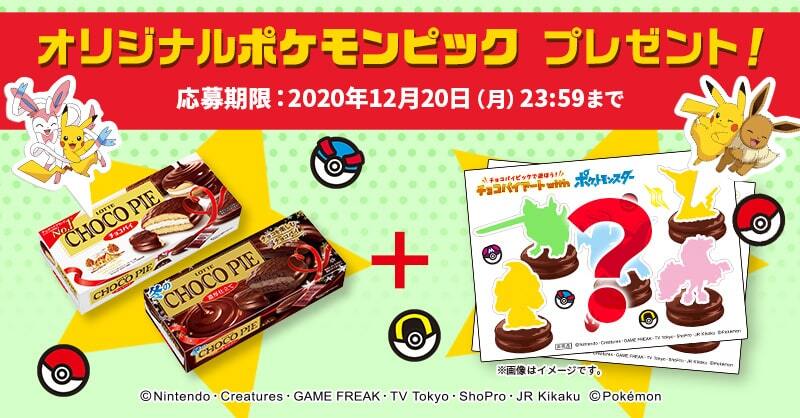 Pokémon Trainers out there with sweet tooths are given an ordinary blank Choco Pie which they can decorate with the accompanying assorted chocolates, nuts, and sweets to create their favourite Pokémon. They can create their own from their mind or follow the recipe provided.
Choco Pie Art with Pokémon will be released by Lotte in Japan on November 24, 2020.
©Nintendo・Creatures・GAME FREAK・TV Tokyo・ShoPro・JR Kikaku ©Pokémon
RELATED ENTRIES
Shiseido x Pokémon T-Shirts Collab Exhibition Held at Minato Mirai, Yokohama

The limited-time 'BEAUTY EXPANSION' exhibition is being held at 'Shiseido Global Innovation Center S/Park' between October 15 and 20 2021. 

 

For the event, Shiseido's beauty artists have collaborated with 'Pokémon Shirt,' the personalized Pokémon shirt service. The special exhibition relives the visual collaboration between Shiseido's top hair and makeup artist Harada Tadashi and 'Pokémon Shirt,' with behind the scenes footage and more.

From the inspiration for the Harada Tadashi and 'Pokémon Shirts' collaboration to the three key visuals,  the exhibition has been split into sections to show how the visuals were created. With drawings, crocheted hair parts, and more, you'll learn about the order of production, how visuals are created, and even how new ideas about beauty are formed. 

 

Not only can you relive the creation process of a top creator, but you will also experience the ever-changing and evolving expression of "beauty." The music used for the promotional video was inspired by the key visuals and produced by Conisch, a music writer and producer who has worked for many animated TV shows and has even previously written the theme song for Pokémon. The hair and makeup fashion show held on October 20 will be broadcast on YouTube, with guest appearances from Harada Tadashi and Conisch themselves. The incredible show will combine the world of Pokémon, the key visuals, and all kinds of motifs to match the space, so be sure to check it out! 

 

©Pokémon. ©Nintendo/Creatures Inc./GAME FREAK inc.
ポケットモンスター・ポケモン・Pokémonは任天堂・クリーチャーズ・ゲームフリークの登録商標です。

Information

BEAUTY EXPANSION

Duration: October 15 ~ October 30 2021 (closed on Sunday)

Venue: Shiseido Global Innovation Center (S/PARK)

Official Site: https://spark.shiseido.co.jp/ 

Opening Hours: 11:00 ~ 18:00

Address: 1-2-11 Takashima, Nishi-ku, Yokohama City, Yokohama 

Entry Cost: Free

 

Online Streaming

Availability: October 20 ~ December 31 2021

Shiseido on YouTube: https://www.youtube.com/user/SHISEIDOofficial 

'Maruko & Cojicoji' Collaborates with Popular Fruit Sandwich Store 'FruitsBOX DAIKANYAMA'

A collaboration between 'Maruko & Cojicoji' and FruitsBOX DAIKANYAMA has been announced. The 'Maruko & Cojicoji Fruit Sandwich POP UP SHOP' will be open between October 16 and October 31 in Kinshicho TERMINA 2.

 

Matcha Bean Paste & Strawberry Sandwich

Hokkaido Suzu Akane! Strawberry Sandwich

Four Seasons! FruitsBOX Sandwich

Crispy Taste! Banana and Chocolate Chip Sandwich

Collab Goods

Tote Bag: ¥2,200 (Tax Incl.)

Parka (FREE SIZE: Length 71cm, Width 58cm, Shoulder Width 52cm): ¥6,050 (Tax Incl.)


 

FruitsBOX DAIKANYAMA is a fruit sandwich specialty store that opened in 2019. The 'Maruko & Cojicoji' lineup will include eight new sandwiches. You'll get addicted to the new Matcha Paste and Strawberry sandwich, which combines the sweet and sour taste of strawberries and a rich bean paste! 

The pop up shop will stock a parka and tote bag, which both feature original artwork, alongside a! exciting collection of 50 Chibi Maruko-chan and Cojicoji items to purchase! Why not check it out?

Information

Maruko & Cojicoji Fruit Sandwich POP UP SHOP

Duration: October 16 ~ October 31 2021

Opening Hours: 11:00 ~ 20:00 (Subject to change)

Fruit Sandwich Store Location: Kinshicho TERMINA 2 1F La Gare Entrance Outdoor Exhibition Hall (Closest train: JR Kinshicho Station North Exit)

Pop Up Store Location: Kinshicho TERMINA 2 1F La Gare Indoor Exhibition Hall

Official Site: https://fruitsbox.net/ 

'Kyoto Yura Hotel M Gallery' New Halloween Menu Features Adorable Monster Motifs

The '1F Lounge & Bar 1867' at the Kyoto Yura Hotel M Gallery will be hosting a Halloween themed afternoon tea from October 1 2021, with tea sets and cocktails available. The premium hotel is owned by Accor, a Paris, France based group that owns over 5,000 hotels and resorts in 110 countries.

The Halloween-themed afternoon tea has been made by Jennie Chiu, a pastry chef who grew up in America, the home of Halloween. The afternoon tea features cute and playful monster motifs, including a witch-hat Mont Blanc, a Cassis and Chestnut Cake topped with a small ghost, and a spider-web topped Raspberry and Chocolate Mousse. For savory treats, Chef Nishimura Niki has prepared Foie Gras soaked in Salted Koji, plus two luxurious lobster dishes.

The creative Halloween cocktails were brainstormed by Yamazaki Sousei, who ranked in the Japan Top 10 category of bartending competition 'WORLD CLASS 2021.' The Halloween and apple pie inspired lineup was inspired by Scotland and the Celtic people, looking back to when Halloween was first celebrated. 

Enjoy some adult-only time in this retro-modern "family mansion" themed space. 

Information

Halloween Afternoon Tea Set

Availability: October 1 ~ October 31 2021

Location: Lounge & Bar 1867 

Serving Hours: 12:00 and 15:00 *Please reserve your table by 17:00 on the day prior to your arrival

Halloween Cocktails

Availability: October 1 ~ October 31 2021 

Price: ¥1,900
Location: Lounge & Bar 1867

Serving Hours/Opening Hours: 11:30 ~ 21:00 (L.O. 20:30) 

Official Site:  https://kyotoyurahotel-mgallery.com/ja

Eggs'n Things Popular Halloween Menu Returns for Limited Time

EGGS'N THINGS JAPAN have announced that between October 15 and October 31, their most popular Halloween item ever – the 2018 Halloween Trick Pancakes – will be returning to Eggs'n Things and Eggs'n Things Coffee stores nationwide. 

 

 

The black pancake batter is kneaded with cocoa and is topped with subtly sweet pumpkin cream shaped in a cute spider pattern, finished with a swirl of purple taro whipped cream. Eggs'n Things have even hidden a colorful, popping trick inside the pancake. 

 

Have some fun this Halloween at Eggs' Things!

Information

Halloween Trick Pancake

Cost: ¥1,730 (Tax Incl.)

Availability: October 15 ~ October 31 2021 

Participating Stores: Eggs'n Things, Eggs'n Things Coffee stores nationwide 

※This item is not available to take out.

Patisserie Antenor in Kobe Releases Limited-Time Halloween Cakes

Antenor, a beloved patisserie located in Kobe, began selling limited-time Halloween-themed cakes on October 1, 2021. The exciting lineup will have guests ready for the scariest day of the year, offering sweets made with purple sweet potato, Mont Blanc, and pumpkin. 

Halloween Petit Four – Available from October 16 until October 31

Pumpkin Mont Blanc – Available from October 1 until October 31

Halloween Cheesecake – Available from October 1 until October 31

Gateau Chocolat Classic Cake – Available from October 1 until October 31

Halloween Assortment (M) – Available from September 1 until October 31

The Halloween Assortment (M) includes three types of popular cookies and is available now ahead of the October holiday. It would make a perfect gift, so snag one of these festive boxes before they're gone!

Halloween Sweets Buffet Coming to Haneda Excel Hotel Tokyu for Two Days Only

Moshi Moshi Nippon has delivered news on tons of Halloween treats this holiday season, but can there ever really be enough? Haneda Excel Hotel Tokyo has announced a special two-day-only Halloween Sweets Buffet on October 30 and 31 at the location's Flyer's Table restaurant on the second floor. 

Pumpkin Cheese Tart

Ghost Mousse

Black Cream Puff

 

Guests can enjoy a variety of spooky treats all incorporating fall flavors like chestnut, pumpkin, sweet potato, pear, and apple. Offerings include the Pumpkin Cheese Tart, a mildly-sweet cheese tart made with sour cream, cottage cheese, and cream cheese, and topped with pumpkin cream; the Ghost Mousse, a chestnut mousse made to look like a ghoul; and the Black Cream Puff, made with black cocoa and a cassis cream filling. 

 

At the demonstration corner, guests can see the Sweet Potato Mont Blanc being made. Those wanting something besides sweets can enjoy a selection of sandwiches decorated in Halloween style!

KEYUCA Celebrates Halloween with Limited-Edition Autumn Sweets

Dolce Felice and Keyuca Sweets, two sweets brands produced by lifestyle shop KEYUCA, have come together to sell some new treats inspired by the autumn season, along with the Halloween vibe. The autumn-inspired sweets will be on sale starting October 1 at participating shops and online, while the Halloween sweets will be sold for three days only, from October 29 to 31. Preorders are open now. These delicious delicacies will be filled with fall ingredients, including Hokkaido-grown Ebisu pumpkin cream and chestnut. 

Limited-Time Halloween Sweets

Petit Halloween Pound Cake, 2 pieces

On sale: October 1 – October 31 *While supplies last. 

Monster Shortcake / On sale: October 29 – October 31

*Available to preorder at all stores starting October 1

Monster Eclaire / On sale: October 29 – October 31

*Available to preorder at all stores starting October 1

Monster Mont Blanc / On sale: October 29 – October 31

*Available to preorder at all stores starting October 1

Limited-Time Autumn Sweets

Ebisu Pumpkin Eclaire

Chestnut Mont Blanc Shortcake

Various limited-edition treats signify the coming of Halloween, with monster, black cat, and jack-o-lantern motifs. How would you like to bring home some of these ghoulish delights?

2021 Halloween Sweets Collection Coming Soon to Cerulean Tower Tokyu Hotel

The pastry shop at Cerulean Tower Tokyu Hotel will start selling an absolutely gorgeous selection of Halloween sweets starting October 1, 2021. 

Purple Sweet Potato Mont-Blanc (S, pictured left and right): ¥630 (Tax Included) / (M, pictured center): ¥2,700 (Tax Included)

Chatnoir: ¥745 (Tax Included) 

Pumpkin Pudding: ¥626 (Tax Included) 





The sweets included in this year's lineup are meant to bring some joy to those who have struggled during the past year of lockdown, and those who might not be able to attend their favorite seasonal events this year. In this lineup of three beautifully decorated treats, guests can bring the spirit of Halloween home. Which of these would you want to add some spooky flair to your kitchen?

New Specialty Shop in Shinjuku Selling Edible Jewels for a Limited Time

Mahou no Kohakutou, a shop specializing in sweets that look exactly like sparkling jewels, will be open for a limited time from October 1 to October 10, 2021, inside the Shinjuku Marui Main Building. These unique treats are actual amber candy, but it's hard to want to eat something that looks so expensive. 

Each piece is cut by hand

Pieces from the Magical Vial Series

Finished amber candy

Amber candy before the drying process

Amber sugar is often appropriately called rock candy due to its mineral-like appearance. Despite their hard appearance, these treats have a much more complex texture than you'd think, crunchy on the outside but chewy on the inside. It takes about one week to crystallize each piece to get the right texture, and chefs must constantly keep an eye on the process by turning the sweets when needed and adjusting the humidity. 

Rather than using a machine or mold, each of these jewels is formed by hand, one by one. This means each one is completely different!

All coloring is accomplished with natural food-derived dye, and the sweets contain no synthetic coloring or flavoring. All it takes is a few simple ingredients to create something scrumptious! 

Villain-Themed Halloween Sweets Buffet Opens for One Day Only in Saitama

The Omiya ART GRACE Wedding Chateau in Saitama will hold an all-you-can-eat Halloween buffet on October 31, 2021. Guests can enjoy as many villain-themed treats as they like, all prepared and decorated by the skilled on-site wedding patissier.

In addition to sweets–like the sorcerer's macaroon, pirate pudding, and cold-hearted chocolate mint ice cream–guests can also treat themselves to all-you-can-eat savory meals, including pirate's seafood pizza and devil black curry. A photo spot will also be available in the main dining room, which will be entirely decorated for the occasion. This is the perfect event for a girl's night out or for families with children, so be sure to make your reservation now!

Information

Mischievous Villains Dessert Time ~Art Grace of Terror~

Open: October 31, 2021, *Reservations required. 

First Seating: 11:00-12:30   Second Seating: 13:15-14:45

Address: Omiya ART GRACE Wedding Chateau/Guest House (1-816-7 Uetake-cho, Kita-ku, Saitama)

Access: 9-minute walk from JR Toro Station

Phone: 048-614-0811

Reservations: https://www.bestbridal.co.jp/guestparty/saitama/artgrace_chateaux_omiya/2021event-73/

Sheraton Grande Tokyo Bay Hotel Offering Halloween Sweets Throughout October

Cafe Toastina, located inside the Sheraton Grande Tokyo Bay Hotel, will be serving up some Halloween-themed sweets throughout the month of October! While it's possible to simply stop by and snag one of these monstrous treats, each Friday, a special Halloween edition of the popular Friday Sweets Buffet has also opened reservations. 

Jack-o'-lantern Tart: ¥800

 

How can you have Halloween without a carved pumpkin? Featuring dough filled with pumpkin and a topping of maple jelly and mousse, this cream-covered treat is sure to satisfy even the biggest sweet tooth. Atop the smiling pumpkin sits a cookie, chestnuts, pistachio cream, and a ghost made of chocolate. (Actually, it might be too cute to eat.) 

Monster Cream Puff: ¥800

This puff pastry is filled to the brim with custard cream and apple compote, then topped with sweet potato vanilla mousse. The monster's face is made with purple sweet potato cream and chocolate, which makes this the perfect treat for autumn. 

Pistachio Frankenstein: ¥800

Crunchy chocolate sits atop this ghoulish mix of pistachio mousse, chocolate, and cherry jelly. Decorated to resemble one of the most recognizable Halloween monsters, each eyeball is made of white chocolate. The result? He might be more cute than scary. 

Mummy Bread (pictured left): ¥400

 

Each one of these fluffy treats is made with a mix of cocoa-flavored dough and cookie dough and filled with chocolate custard, fresh cream, and raspberry jam. 

 


Jack-o'-lantern Meat Danish (pictured right): ¥500

Each crispy pastry is filled with beef bolognese, three types of mushrooms, and bechamel sauce, before being baked to perfection. 

The #SheratonSweetsBox (October Edition)

Each month, a new collection of eight mini-sweets is released by the hotel. The limited-edition October box is packed with a jack-o'-lantern, a one-eyed monster, and Frankenstein peeking out from the lid. 

Along with all of these tasty snacks, the hotel itself will be decorated in line with the theme of 'Halloween Laboratory.' Staff members will be dressed in white lab coats, and guests may feel like some scary monsters have escaped–so don't miss out on this full Halloween experience!

Information

Halloween Sweets & Bakery

Running: October 1 – October 31, 2021

Friday Sweets Buffet

Running: Each Friday from October 1 – October 29, 2021

Times: 1st Seating, 13:00-14:40 / 2nd Seating, 15:00-16:40

Price: Adults ¥3,200 / Children 4-12 ¥1,600

Reservations: https://toastina.sheratontokyobay.com/ 

Location: Sheraton Grande Tokyo Bay Hotel, Cafe Toastina

Hours: 10:00-22:00

Phone: 047-355-5555

"Katanukiya" opens in Fukuoka, Selling Kumamon Katanuki Baum for Limited Time Only

Ginza-based Katanukiya, a store that specializes in shaped Baum, will be opening a limited-time shop in Daimaru Fukuoka Tenjin between October 1 and October 31. The store will stock both the 'Panda Series' and panda sable. 

Kumamoto Panda Baum: ¥594 (Tax Incl.)

Kumamon Shaped Katanuki Baum: ¥540 (Tax Incl.)

Ghost Panda Baum: ¥540 (Tax Incl.)

Panda Baum: ¥540 (Tax Incl.)

Amabie Baum: ¥540 (Tax Incl.)

 

The new 'Kumamoto Panda Baum' will be debuting at the Daimaru Fukuoka Tenjin store, along with the 'Kumamon Shape Katanuki Baum.' A new baum featuring the Amabie, a creature which is said to have appeared in Kumamoto during the Edo period and represents a bright, hopeful future, will also be available. Why not enjoy some cute character Baum this Autumn?

 

Information

Katanukiya Limited-time Shop

Shop Duration: October 1 ~ October 31 2021

Location: Daimaru Fukuoka Tenjin, Main Building 2F Confectionery Exhibition Hall

Official Site: https://www.daimaru.co.jp/fukuoka/