In just 94 days, approximately 200,000 people came to the "Moudoku-ten" (Deadly Poison Exhibition) that was held in Summer 2014.  After receiving lots of positive reviews and requests for more, it was decided that a second exhibition will take place at Sunshine Aquarium's special exhibition area. The exhibition is currently running and is receiving lots of praise. Ren Koseki, a passionate lover of reptiles, has produced a report on the event. Whether you have already been or not, it is 100% worth a read!
The atmosphere of the exhibition is eerie and is decorated with an underlying purple tone. Visitors start the exhibition in the area that looks like a witch's poison-making chamber. It is here that the poison level of the creatures is explained. Don't forget to check it out!
The polka dot stingray seen on the exhibition's poster is full of impact, and it is here that it will come to greet the visitors. The polka dot stingray is so cute, you would want to pet it… despite the deadly poison hidden at the centre of the tail, which can cost you your life if you don't call an ambulance when struck…. What an extraordinary beauty.
Do you know about all the poisonous frogs at the exhibition? Although the strength of their poison varies, there are a huge variety of poisonous frogs. The danger level of many species of frog is still unknown. At this exhibition, the Oriental Fire-bellied toad is a must see – that is, if you can find it! It is the master of disguise! "It looks like a figurine! So cute!! ♪" exclaimed Ren-chan, full of excitement when she managed to spot the deadly toad. If you spot one in the wild, no matter how cute you think it is, you must never touch it!
If you're sat there thinking about just how cute and adorable these creatures look you are so wrong! This is where they show their true deadly powers! As one might anticipate, a tarantula will make a debut appearance at the next deadly poison exhibition.
It is fairly large to say the least! You're also wrong to think that poisonous creatures are limited to land. There are many sea creatures that look safe at a glance, but hide poison in their internal organs. In order to survive, they conceal poison in different parts of their bodies.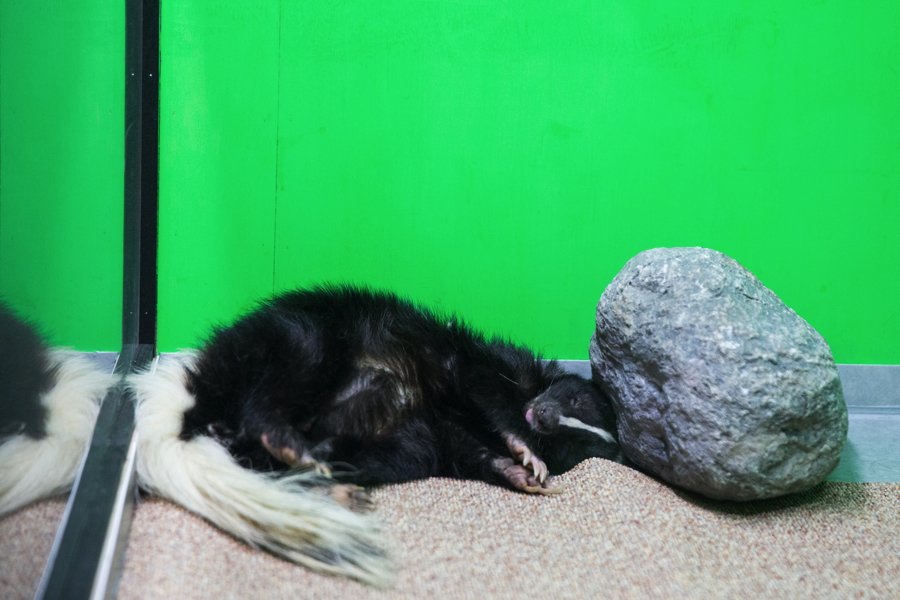 The animal holding the spotlight for the second exhibition is…a skunk!?
Look at a picture of a skunk, and you will realise that they look quite small – in reality they are about the same size as a small dog, but as we know, they really have quite an impact! When you visit them during naptime, you will notice their adorable sleepy faces!
※ The striped skunk exhibition is currently being postponed from 21st April.
When you think of a skunk, you will immediately think of the horrendous stench it can release from its rear end! This stench can be smelt for up to 1km away and even has the ability to temporary blind predators. After seeing a cute skunk in a Disney movie, you will not be able to even imagine what deadly things it is capable of! It's also worth mentioning that you can smell a safe and weakened sample of skunk odour at the exhibition that was recreated by a perfumer. However, as it is skunk odour, the smell resembles that of raw waste and can be rather shocking. We recommend avoiding a sniff of it before or after eating! You have been warned♪
Last but not least, the creatures that have killed many with poison have been gathered in the danger zone. One creature worthy of note is an edible fish, which requires the chef to hold a special licence to avoid risk of death – the all too familiar puffer fish. All this and much more! For those who like a good challenge, there will also be a corner where you can touch a Black-banded sea krait!
As we send our thoughts to the numerous dramas and deaths that were caused by poison, such the death of Cleopatra and other famous beings in history, this exhibition is a reminder that poison can be hidden in places that we don't expect. This exhibition satisfies our curiosity for knowledge! Scary but kind of cute – come meet these wonderful deadly creatures yourself!
■Information
毒毒毒毒毒毒毒毒毒展・痛(Moudoku-ten Deadly Poison Exhibition 2)
Exhibition end date:~25th June (Sun)
Opening times:10:00~20:00 ※ Last entry 30 mins before closing time
Venue:Sunshine City World Import Mart Building, Roof top special exhibition venue
Fee:¥600
※Aquarium main building users, yearly access passport holders, SKY CIRCUS Sunshine 60 viewing platform, KONICA MINOLTA PLANETARIUM, Ancient Orient Museum, Namco Namja Town, J-WORLD TOKYO and many other institution event participation: ¥400
−−−
Related article:【Tokyo Stroll】Strolling around Asakusa for half of the day finding the stereo typical sightseeing spots and new spots.
Related article:Tokyo Skytree torn apart by giant Titan! Attack on Titan Collaboration Event: Infiltration Successful