Kyoto's New Cafe YOJIYA CAFE Ocha no Crepe Serves Tasty Takeout Matcha Crepes
YOJIYA CAFE opened up a new cafe called YOJIYA CAFE Ocha no Crepe in Kyoto on November 30, 2020, serving a selection of crepes made with Uji matcha and specially-selected ingredients.

YOJIYA is a Kyoto-based company that first opened 116 years ago specialising in aburatorigami blotting paper. Today, the company has expanded its range of cosmetic and beauty items, and it even operates two cafes in Kyoto. On Monday (November 30), it opened YOJIYA CAFE Ocha no Crepe in Nijo Fuyacho, Kyoto, an all-new cafe serving takeout crepes.
Ocha no Crepe Matcha | ¥750 (Tax Included)

The cafe's signature matcha crepe is filled with cream, rice flour dumplings, and matcha from Uji. The crepe pastry itself is made from an original blend of two types of wheat flour. The cream is a delicious blend of three types of cream plus matcha cream. It's also filled with crunchy pie which is cooked fresh every morning. The crepe is finished with an illustration of a matcha teacup and whisk made from matcha.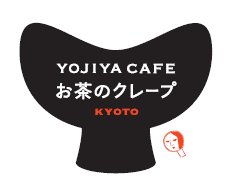 The high quality matcha crepes are made the perfect size and with the perfect combinations so they can be enjoyed even after a meal.
Be sure to pay a visit to YOJIYA CAFE Ocha no Crepe when visiting Kyoto.
Information
YOJIYA CAFE Ocha no Crepe
Grand Opening: November 30, 2020
Address: Nijo dori & Fuyacho-dori, Hoteiyachō, Nakagyo Ward, Kyoto
Opening Hours: 11:00-18:00
No Fixed Holidays
TEL: 075-255-9292
YOJIYA CAFE Official Website: http://www.yojiyacafe.com
RELATED ENTRIES
Peanuts Comic Launches 70th Anniversary Birthday Campaign in Japan

Japan's five Peanuts comic-themed cafes are now holding a birthday plan campaign in celebration of the series' 70th anniversary.

Each cafe branch is offering something different

PEANUTS Cafe Nakameguro x WHYTROPHY With Birthday Rosette

PEANUTS DINER Yokohama With Embroidered Striped Pin

PEANUTS DINER Kobe With Embroidered Striped Pin

PEANUTS Cafe Snoopy Museum With Tote Bag

PEANUTS Cafe Nagoya With Tote Bag

Campaign Art

Customers at the cafes will also be randomly selected to stay at the PEANUTS HOTEL and will receive a free sticker as pictured above. All who order the birthday plan and their group will even receive a free present.

(C) 2021 Peanuts Worldwide LLC (短縮形 (C) 2021 Peanuts)

Rich and Divine Matcha Roll Cake Gets Baked by 170 Year Old Japanese Tea Shop

Japanese tea shop and cafe Tsuboichi Seicha Honpo has baked up a brand new matcha roll cake made with high quality matcha leaves specially selected by their own tea experts. If indulgence is your calling, then this cake is the perfect accompaniment with a cup of tea whether it be matcha, Japanese tea, black tea – or any other of your favourite kind of tea.




The cake is a striking black colour, one that is featured in traditional Japan. The soft matcha filling provides an eye-catching contrast to the sponge. It's baked on a high temperature over charcoal and bamboo which serves to deepen the colours even more and elevate the vividness of the green matcha.

Cafe time can now be enjoyed at home with this very special treat.

Demon Slayer: Kimetsu no Yaiba Holds Wisteria Event in Japan to Ward Off Demons

Keifuku Electric Railroad launched an event on Boxing Day last year in Japan in collaboration with the TV anime series Demon Slayer: Kimetsu no Yaiba. The event is still taking place and is set to end on April 11.

At Arashiyama Station on the Randen Line, there is a temporary area draped with wisteria flowers that commuters are encouraged to participate in as part of the collaboration. Built to ward off demons, fans of the anime series can write their own messages to be strung up on the flowers. They can write their thoughts and feelings on the characters and series as well as wishes and prayers for COVID to soon be over for all. It's been a popular photo spot amongst passengers. And if you head from this area up to the roof, you can gaze out at the incredible view of Arashiyama.

The New Disney Kyoto Traditional Design Series Combines Disney With Kyoto Craftsmanship

Kyoto City and Japanese company Shintsu are set to release their Disney/Kyoto Traditional Design Series after previously having to postpone the release due to the pandemic. It will be available from April 27 to May 10 and celebrates the skilled, dexterous hands of Kyoto's expert craftsman and their industry which has been passed down for thousands of years. They have innovated to create something brand-new that captures both the craft and culture of Kyoto and the contemporary wonder of Disney.

Comments from the Creators

©Disney

Okazen | Comment

"We have existed inside our town in Kyoto for 200 years. We make a variety of items from garments for maiko apprentice geisha to our own company-originals products. For this Disney/Kyoto Traditional Design Series, we wondered how we could express the world of Disney using the kyoyuzen Kyoto-style method of dyeing. We made something with detailed consideration, looking at all the intricate things in the dyeing process. Our Fantasia furisode long-sleeved kimono features a truly treasured scene which enabled use to incorporate many different methods in order to capture the expression, clothing, and all the stars as much as possible. We believe this piece will suck everyone into Fantasia's world."

©Disney

©Disney

Asahido | Comment

"For producing something for the Disney/Kyoto Traditional Design Series, we asked gave one of our craftsmen free rein to put their own individual self into the work. At the time, they were primarily an illustrator, so we were worried if the judges would overlook them, but the end result was something that looks truly complete and finished. The traditional craftwork of Kiyomizu pottery is a process of hand making and hand drawing each and every little thing. I believe it's this quality that gives the characters warmth and life. I'd love for people to take it in their hands themselves and take their time looking at it in a full 360°."

©Disney

Tsujikura | Comment

Tsujikura is Japan's oldest wagasa Japanese umbrella shop. We've been in Kyoto since 1690. In that small space underneath the washi Japanese paper and bamboo, one enters a rich world where they can feel the four seasons of Japan. Our umbrella for the Disney/Kyoto Traditional Design Series uses a very advanced technique known as kiritsugi, a type of cutting and patching. We displayed Mickey Mouse and Minnie Mouse on handmade washi paper which we dyed. You can feel an affinity with the umbrellas for their simple and minimal designs. Our aim was to incorporate Disney elements into a traditional Japanese umbrella pattern."

Other Featured Works

©Disney

aiba

©DISNEY Based on the"Winnie the Pooh" works by A.A. Milne and E.H. Shepard .

Asahido

©Disney

Kamiya

©Disney

©Disney

EIRAKUYA

©Disney

Okazen

©Disney

Katoriya

©Disney

Kanbayashi Shunsho Honten

©Disney

KYUKYODO

©Disney

Shoyeido

©Disney

Tankosha

©Disney

Tsujikura

©Disney

Nakajima Zougan

©Disney

Nakamura Rosoku

©Disney

Miyawaki Baisen-an

Poké Lid Project Lays Down New Manhole Covers in Kyoto

Five new Pokémon manhole covers were laid in Kyoto on Tuesday as part of the Poké Lid  project to place Pokémon-design manhole covers across the country.

Kyoto Original Poké Lids

The five Poké Lids are located in Arashiyama, Okazaki Park, Maruyama Park, Umekoji Park, and Nishikyogoku Athletic Park.

All of the Poké Lids placed across Japan feature completely original Pokémon designs making each individual one the only one in the world. The Pokémon Company is also working to make each one of them PokéStops for Pokémon GO.

 ©2021 Pokémon. ©1995-2021 Nintendo/Creatures Inc./GAME FREAK inc.

Tokyo's New Vegan Dessert Shop the vegan marshmallooow Opens in Ginza

Ginza Mitsukoshi is welcoming a limited-time vegan dessert shop by the name of 'the vegan marshmallooow' which is open from April 1 to June 30. This shop is known amongst the vegan community in Japan for its vegan cakes, and due to that positive response, is now opening its first long-term promotional pop-up shop in collaboration with Mitsukoshi Isetan Group.

Online orders opened at Mitsukoshi Isetan on March 27 with a delicious line-up that includes their signature vegan chocolate cake.

A look at just some of the mouth-watering line-up

Chocolate Cake

Their number one most popular order: a gorgeously gluten-free mirror cake made with rich chocolate.

 

<NEW> Whole Fruit Cake

For those who like something a little more fruity and refreshing, this juicy cake is topped with assorted fruits like setoka orange, peach, kiwi, blueberry, strawberry, and more. The gluten-free sponge and soy cream give it a light texture that's also rich.

 

<NEW> Special Chocolate Cake Slice

An exquisite three-layered version of the shop's iconic chocolate make made with plant-based ingredients. Its triple tier is formed harmoniously of sponge, chocolate mousse, and cream. A single serving for a single sweet tooth.

Strawberry Shortcake

Two moist layers of gluten-free strawberry sponge with a soy milk base. Smooth, creamy, light, and delicious.

 

Mont Blanc

This mont blanc is specially made with Japanese chestnuts. The addition of soy cream elevates the nutty flavour throughout. A crunchy tart and fluffy sponge also makes for a textural sensation.

the vegan marshmallooow's vegan cake now available online at Mitsukoshi Isetan

Vegan Chocolate Cake Set (3 Pieces)

Godzilla vs. Kyoto Event Begins This Spring

Kyoto Tower is set to be host to the upcoming Godzilla vs. Kyoto event which is running from April 16 to June 30. 

Key visual illustrated by Yusuke Nakamura

Stamp design

Stamp design

Stamp rally postcard

Godzilla vs. Kyoto Official Merchandise

Novelty illustrated by Yusuke Nakamura – available for the first 50 people each day

Kyoto Tower will hold a stamp rally event as part of Godzilla vs. Kyoto which will have people trying to find stamps in six locations in the tower as well as at Toji Temple and elsewhere. There is also a selection of official merchandise, a Godzilla exhibition, and much more planned.

If you're in Japan this spring, don't miss Godzilla taking over Kyoto.

TM & (C) TOHO CO., LTD.

イラスト/中村 佑介 TM & (C) TOHO CO., LTD.

Shinjuku's Takano Fruit Parlour Serves Up Strawberry Desserts For the Spring Season

This spring, Takano Fruits Parlour is serving up a special strawberry-themed course menu at its Shinjuku branch starting on April 5. It comes as part of the restaurant's monthly fruit theme where they shine a spotlight on a single fruit each month. This month is strawberries which are adorning everything from appetisers to the main and dessert with a collection of succulent delights.

Spring Strawberry Course | ¥4,400 (Tax Included)

The course includes an apéritif, strawberry soup, beef cooked in a strawberry and demi-glance sauce, fruit salad, a hot dessert, strawberry chiboust, strawberry art palette assortment, a chilled strawberry dessert, and a choice of coffee, tea, or cafe au lait.

Information

Spring Strawberry Course

Running: April 5, 2021 – April 28, 2021 (Weekdays Only)

Where: Takano Fruit Palrour

Address: 3-26-11 Shinjuku, Shinjuku-ku, Tokyo

Time: [Morning Slot] 11:00-13:30 / [Afternoon Slot] 16:30-18:30

TEL: 03-5368-5147

Official Website: https://takano.jp/parlour/

Matcha and Latte Cookies and Drinks Released by Yojiya

Kyoto makeup brand Yojiya is now selling its own collection of snacks and drinks which it released via its website last week.

Yojiya Matcha Sandwich Cookies | ¥1,400 (Tax Included)

Yojiya Cafe Latte Chocolate Cookies | ¥1,350 (Tax Included)

Yojiya Matcha Milk | ¥950 (Tax Included)

Yojiya's snack line-up is made with the idea of being able to enjoy high-quality food products at home. Their collection includes crunchy matcha and cafe latte cookies along with matcha milk, the latter of which is made with famous Uji matcha from Uji, Kyoto. Perfect for a tea/coffee break or as a souvenir.


Masaki Suda Appears in New Mister Donut Japan Commercial

Japanese actor and singer Masaki Suda appeared in a new commercial for Mister Donut which hit Japan last week. The name of the commercial translates to "there's always something good inside the box."

On January 27, 2020, Mister Donut celebrated its 50th anniversary. The doughnut chain boasts around 960 stores in Japan. In their latest commercial, they promote the joy of opening a box of their doughnuts when ordering takeout.

Information

Mister Donuts Commercial
Initial Broadcast: March 25, 2021 (Japan)

Japanese Milky Candy Themed Hotel Rooms Open in Collaboration With Hoshino Resorts

Hoshino Resorts has launched a hotel plan at its BEB hotel branches called "Milky Sweet Room Stay." The plan was devised in collaboration with Japanese confectionery brand Fujiya and their popular Milky soft candy. Guests will be able to stay in rooms decorated in all things Milky, an experience that is running from March 26 to June 30.

Milky Sweet Room

Look like Peko-chan, the Milky mascot, with the top and overall set

Find Peko-chan at Hoshino Resorts BEB5 Karuizawa

Make a Milky smoothie on a bicycle at Hoshino Resorts BEB5 Tsuchiura

Milky Sweet Room Stay opening campaign

Guests will be able to enjoy Milky like they never have before in all kinds of deliciously sweet ways. Rooms are adorned with Milky cushions, a doll of Peko-chan who is the face of Milky, Milky wallpaper and decorations, Milky bath products, and of course Milky candy.

At the Karuizawa branch of Hoshino Resorts BEB5, guests must locate Peko-chan in three locations around the area. Those who find all three will win all-you-can-eat French toast covered in Milky sauce. at the Tsuchiura branch, guests can get a set of ingredients to make their own smoothie by pedalling on a bicycle. It takes about 30 seconds for your Milky shake to be ready.

The iconic Milky packaging design is also being revamped in celebration of the brand's 70th anniversary. As part of the celebration, guests can expect t see a line-up of past designs along with some rare ones. Hoshino Resorts is also holding a campaign to promote the room where dix people can win a ¥50,000 voucher for Hoshino Resorts as well as a set of assorted Milky candy.

Cherry Blossom Chocolate and Soda Releases From MAISON CACAO

Japanese aromatic raw chocolate brand MAISON CACAO is launching a new Kamakura-based brand called Shiki to Maison ("Four Seasons & Maison") which will feature chocolates that capture the events and culture found throughout the four seasons in Japan.

The first entries to the series are cherry blossom chocolates which are available from March 26 to April 4, as well as cherry blossom drink which can be enjoyed on March 27 and 28.

 

Aroma Raw Chocolate SAKURA ¥2,200 / Cacao Vinegar Soda SAKURA ¥550 (Before Tax)

Aroma Raw Chocolate SAKURA

Indulge in a box of these luxury cherry blossom chocolates which are made with 100% cacao powder which have a refreshing white chocolate aftertaste. The chocolates are made with cherry blossom as well as a fresh cream laced with salt-pickled cherry blossom. They also include a paste made from liquid drawn from cherry blossom petals. It's a taste of Japanese spring with every bite.

Cacao Vinegar Soda SAKURA

This springtime beverage includes a cacao vinegar made from cacao pulp and is coupled with fragrant cherry blossom. This one is available at the Komachi and Cacao Hanare branches as well as at CHOCOLATE BANK.

Information

Shiki to Maison Sakura Sweets

Japanese Product Name: 四季とメゾン 桜スイーツ

Serving: March 26, 2021 – April 4, 2021

MAISON CACAO Official Website: https://onlineshop.maisoncacao.com/