McDonald's Japan Reveals 2021 New Year's Fukubukuro Lucky Bags
McDonald's Japan is collaborating with the camping and outdoor brand Coleman to release fukubukuro lucky bags for the New Year in limited quantities.
McDonald's Fukubukuro 2021 | ¥3,000 (Tax Included)
Those in Japan can sign up to enter a lottery to win one of the bags up until December 22, 2020 at 23:59 (JST).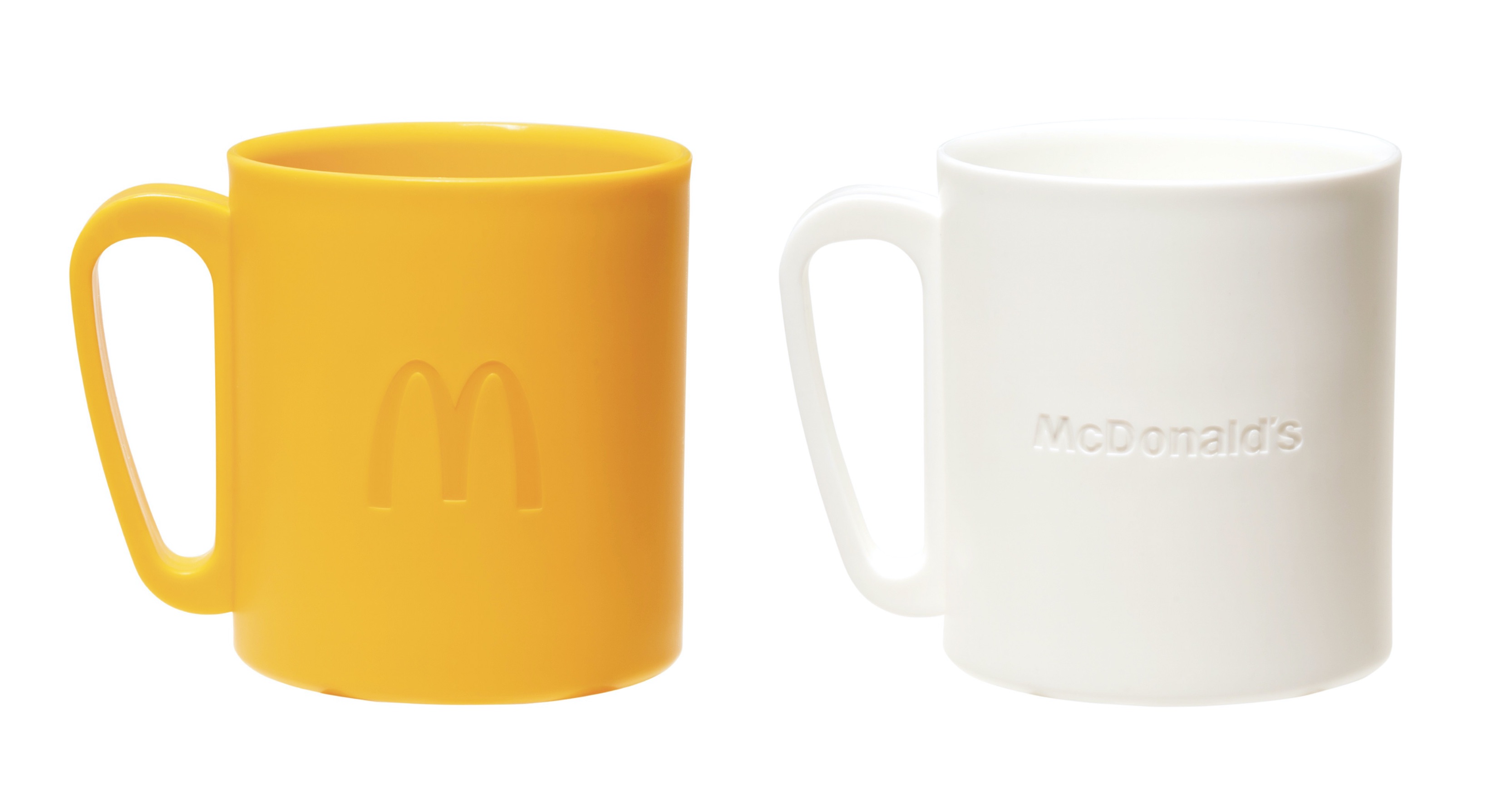 Tote Bag / Square Pouch / Mug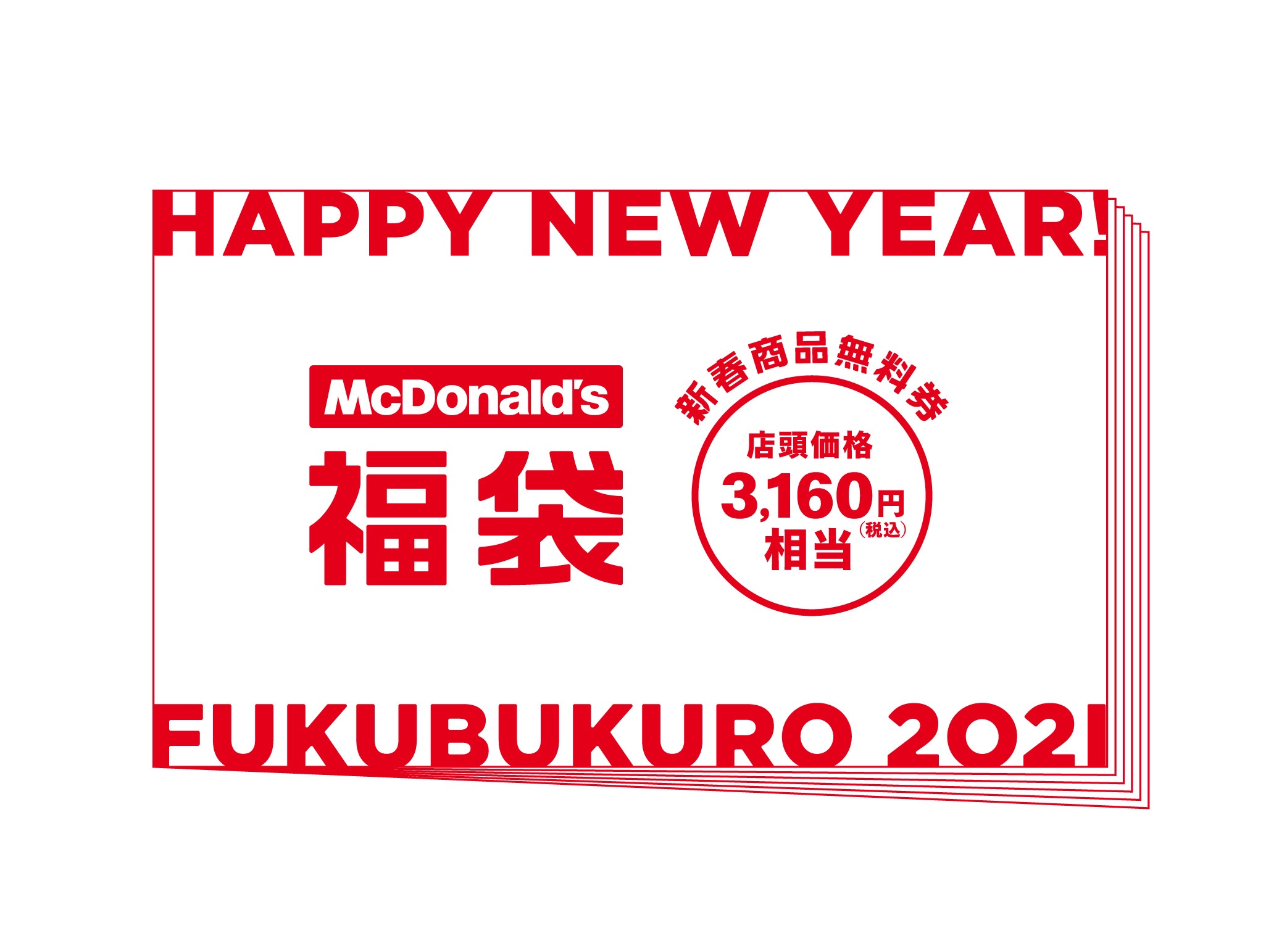 Fries Clock / McDonald's Voucher
The lucky bags include a variety of merchandise combining McDonald's and Coleman designs as well as an alarm clock, a McDonald's voucher priced at ¥3,160, and more.
Gold McCard | ¥500
One in every ten lucky bags also contains a Gold McCard voucher worth ¥500 too.
Information
McDonald's Fukubukuro 2021
Web Applications: Until December 22, 2020 at 23:59 (JST)
Winners Contacted: December 24, 2020
Fukubukuro Delivered: January 1, 2021 – January 3, 2021
Campaign Site: https://www.mcdonalds.co.jp/campaign/fukubukuro/
RELATED ENTRIES
McDonald's Fry Buzzer Used in New Remix Featuring Ado and Asmi Mega-Hits

On January 13, McDonald's Japan released a colorful music video on YouTube featuring two of the biggest J-pop mega-hits of the last year! The remix combines Ado's Odo and asmi's PAKU with the familiar sound of the French Fry buzzer. A rhythm game using this song will also be available on TikTok starting on January 30!

In March 2019, the McDonald's French Fry buzzer became a popular theme on TikTok with over 150 million views.

This remix may not be what most people expected, but it's incredibly catchy and might make you hungry at the same time. Check out the McDonald's Fry Buzzer Remix at the link below!

The neon-drenched music video features 3D models of both Odo-chan and PAKU-chan along with the three French Fry Brothers hanging out at an incredibly colorful and futuristic McDonald's restaurant.

Be sure to check out the rhythm game coming to TikTok for a limited time starting January 30!

McDonald's Japan Launches Festive Doraemon-Themed Summer Sweets

On August 5, McDonald's Japan will begin selling some summer-only sweets! The McShake Doraemon Ramune and Doraemon Choco Banana Pie items are based on a summer festival, and the packaging will feature adorable Doraemon imagery. 

These treats will bring back memories of summer festivals, with popular flavors like chocolate banana and ramune. Each sweet will be available in a total of six newly-designed packages, so you might need to buy a few until you get your favorite character!

McShake Doraemon Ramune

The McShake Doraemon Ramune features the nostalgic flavor of ramune and a creamy texture. Two types of ramune flavors were used to create a taste that will keep you coming back for more, and citrus flavors were added to create a refreshing flavor perfect for summer. This tasty treat is available in three versions–Doraemon, Nobita, and Gian.

Doraemon Chocolate Banana Pie

The Doraemon Chocolate Banana Pie consists of a crispy pie crust packed with banana filling and a rich chocolate sauce. Fans of Doraemon can grab this pie in three different sleeves–Dorami, Shizuka, and Suneo.

※Product images for illustration purposes only. Actual products may vary.

Happy Meal

Round 1: August 5 – August 11

Round 2: August 12 – August 18

In addition, Doraemon-related items will be packed with every Happy Meal starting August 5.

McDonald's 'McCafe by Barista' to Offer Uji Matcha Sweets for Spring

McDonald's Japan locations with 'McCafe by Barista' areas will begin selling special spring treats for a limited time starting April 6, 2022. Customers will be able to grab the 'Strawberry Uji Matcha Frappe' and the 'Uji Matcha Mont Blanc Tart.'

McCafe by Barista invites guests to enjoy high-quality frappes and smoothies. The Uji Matcha Frappe was added to the regular product lineup in June 2021, and features a mellow matcha flavor. The Strawberry variant is coming back for the first time in three years. The Mont Blanc Tart is a new addition, and is a perfect treat to enjoy with this popular frappe! 

Strawberry Uji Matcha Frappe: ¥490

The Strawberry Matcha Frappe mixes together the full-bodied flavor of matcha together with sweet and sour strawberries. It includes both a strawberry paste made from whole strawberries and a strawberry whipped cream at the bottom. The drink is topped with more strawberry whipped cream and a sprinkling of matcha powder. The refreshing taste of the strawberry sauce coupled with the whipped cream serves to elevate the great flavor of the Uji Matcha even more.

Uji Matcha Mont Blanc Tart: ¥390


The Uji Matcha Mont Blanc Tart is made with Uji Matcha batter, Uji Matcha whipped cream, white bean paste, and green tea cream. The refined sweetness is complemented by the mellow aroma and slight bitterness of Uji Matcha.

How would you like to enjoy these treats beneath the cherry trees?

Information

Strawberry Uji Matcha Frappe

Uji Matcha Mont Blanc Tart

Available: April 6 – Mid-May, 2022

Available at Participating McDonald's Japan Locations with 'McCafe by Barista'

Official Site: https://www.mcdonalds.co.jp/

McDonald's Japan Offering Sakura Mochi Pie to Celebrate Springtime

McDonald's Japan will start selling the new Sakura Mochi Pie starting March 23, 2022 for a limited time only.

The new pie is inspired by sakura mochi, a traditional wagashi sweet popular during spring. 

Sakura mochi is typically made from mochi rice cakes filled with a sweet red bean paste and wrapped in a pickled cherry blossom leaf. The McDonald's pie is filled with azuki red bean paste and a chewy, sakura-flavored mochi that features bits of pickled sakura leaves.


The packaging will also feature spring designs and each pie costs just ¥150. They will be available until mid-April. 

McDonald's Happy Meals in Japan Introduce Battle-Ready Pokemon Mezastar Tags

Starting March 4, McDonald's locations in Japan are selling two new Happy Meals inspired by Pokemon and Tabekko Dobutsu!





Each Pokemon set includes a Pokemon Mezastar tag, allowing kids to battle and catch Pokemon using tags. Five original tags featuring popular characters like Pikachu and Piplup will be available, as well as Legendary Pokemon like Palkia and Arceus! In addition to tags, kids will also be able to play games using Pokemon names on a special Shiritori sheet included with each meal. 





Tabekko Doubutsu is a classic Japanese snack, much like animal crackers in the west. This is the first time these characters are appearing at McDonald's. The lineup includes five varieties of McDonald's original coloring pages and stickers featuring familiar characters such as Lion, Bunny, and Elephant. Each sticker also includes the name of each animal in Japanese and English!

©2022 Pokémon. ©1995-2022 Nintendo/Creatures Inc./GAME FREAK inc.
Developed by T-ARTS and MARV

©ギンビス

Information

Happy Meal 'Pokemon Mezastar' 

Happy Meal 'Tabekko Doubutsu' 

Available: For 2 weeks starting March 4 

Where to Get: Participating McDonald's Locations Nationwide

Official Site: https://www.mcdonalds.co.jp/menu/happyset/

Curious George and Sumikko Gurashi McDonald's Happy Meals Now Available

McDonald's locations across Japan are now offering Curious George and Sumikko Gurashi Happy Meals for a limited time!

The Curious George set features six different toys that can be assembled and controlled by turning the gears. This year's theme is inspired by creativity, shape recognition, and teaching children how things work. When the colorful gears on the toy are turned, the force is transmitted to the swing, Ferris wheel, seesaw, and other items, causing George to swing and spin! The first set of toys include 'George's Seesaw,' featuring George and the Man in the Yellow Hat, and 'George's Swing,' featuring George happily swinging back and forth. The second set will include 'George's Ferris Wheel' and 'George's Rocket Ride.'

The Sumikko Gurashi includes six kinds of puzzles decorated with illustrations of popular characters. The theme of these toys is color and shape recognition, imagination, and communication. The front side of each puzzle shows Sumikko and Minikko, and the backside displays an illustration of a story related to a particular Sumikko character. By putting the pieces together one by one, children develop their ability to recognize shapes and move their fingers with increased dexterity. The inside of the case that comes with the puzzle is decorated with stories about Sumikko and her friends. To commemorate the 10th anniversary of Sumikko Gurashi, a new character called 'Deshi' will appear on the case as well, and by scanning the QR code on the back of the case, customers can play an original mini-game!

From January 8 until January 10, participating locations will also be giving away Curious George and Sumikko Gurashi stickers with the purchase of each set.

Lifestyle Shop KEYUCA Releases Nature-Inspired Hagi Ware for the Holidays

Lifestyle shop KEYUCA is known for its eclectic collection of original clothing, food, and home goods. On December 24, the company will release the new 'Saiun' series to its popular Hagi ware line, which will include new cups and plates perfect to use during the New Year's holiday!

[Hagi ware] Colored Cloud Cup: ¥1,650 (Tax Included)

[Hagi ware] Colored Cloud Plate: ¥2,350 (Tax Included)

KEYUCA's colorful new items remain classy while offering a different take on traditional tableware. Hagi ware is a type of Japanese pottery that originated from the town of Hagi, Yamaguchi, and these pieces usually feature natural and subdued colors. This made them popular with feudal lords, but modern audiences are looking for something a little more chic.

Simple Color Chopsticks, 5-piece Set:  ¥1,760 (Tax Included)

[Mino ware] Small Dish: ¥429 (Tax Included)

Along with these new Hagi ware pieces, a number of other items are also available at reasonable prices, such as colorful small dishes perfect for kaiseki and festive chopsticks.

Ginza Cozy Corner Launches Limited Edition New Year's Chinese Zodiac Tiger Cake

From December 31, 2021, until January 3, 2022, Ginza Cozy Corner locations nationwide will be selling a limited edition New Year's cake featuring the Tiger from the Chinese Zodiac! 

Chinese Zodiac Tiger Cake

Fortune Cookies (10 pieces)

New Year Madeleines (6 pieces)

New Year's Grab Bag (24 pieces / 40 pieces)

Ginza Cozy Corner began selling a variety of New Year's-themed sweets starting in 2011. Traditionally, families in Japan enjoy a luxurious boxed meal called osechi on New Year's Day, and the company wanted to provide something to satisfy people's sweet tooth afterward! This year is the Year of the Tiger, making this chocolate and banana cake the perfect way to welcome 2022. Shops will also be selling other sweets like fortune cookies and mini Madeleine cakes, so there's something to bring a smile to everyone's face.

Information

Chinese Zodiac Tiger Cake

Available: December 31, 2021 – January 3, 2022

Where to Buy: Cozy Corner Locations Nationwide

Official Site: https://www.cozycorner.co.jp/

Winter at Roppongi Hills Observation Deck 2021-2022 Event to Ring in the New Year

Until the New Year, the Roppongi Hills Observation Deck will be hosting a number of winter events for those wanting to celebrate with the Tokyo skyline. 

The Observation Deck will be decorated especially for the New Year's holiday, and in addition to being able to see the first glimpse of Mt. Fuji for 2022, guests can take advantage of a special photo service and Twitter campaign. Seeing Japan's most famous mountain covered in snow is a magnificent way to bring in what will hopefully be a better year. 

THE SUN & THE MOON, the restaurant attached to the 52nd floor indoor observatory Tokyo City View, will also feature a special Tiger-themed drink inspired by the 2022 Chinese zodiac. The Geminids meteor shower viewing event will also be held on the Sky Deck on December 13 and 14, while the Christmas star gazing event can also be enjoyed on these dates.

The '60th Anniversary Sanrio Exhibition: The Beginning of Kawaii' exhibition is currently underway at Tokyo City View. Starting on December 26, the exhibition's main piece called the 'Unforgettable Tower' will be transformed into its anniversary edition. At THE SUN & THE MOON, both the cafe and restaurant will also offer anniversary-themed dishes for a limited time in collaboration with the Sanrio exhibition. Photo spots around the venue will also be revamped for the New Year. 

The Roppongi Hills Observation Deck is currently hosting 'Christmas in the Sky 2021.' 

Information

Tokyo City View (Indoor Observatory) / Roppongi Hills Mori Tower 52F

Sky Deck (Rooftop Observatory) / Roppongi Hills Mori Tower Rooftop

Hours: 

Tokyo City View – 10:00-22:00 (Last Entry at 21:30) 

Sky Deck – 11:00-20:00 (Last Entry at 19:30) *From 11:00-22:00 on December 26 (Last Entry at 21:30)

Official Site: http://tcv.roppongihills.com/

McCafe by Barista to Offer Cookies & Cream Frappe for Winter Season

McDonald's Japan locations with McCafe by Barista installations will begin selling the Cookies & Cream Frappe for a limited time starting December 8, 2021. The McCafe by Barista corner employs full-time baristas serving 'authentic cafe coffee.' 

McCafe by Barista invites guests to enjoy high-quality frappuccinos and smoothies and these locations are offering three unique Frappes this winter. Following the Strawberry Creme Brulee Frappe and normal Creme Brulee Frappe released in late November, the Cookies & Cream Frappe will release soon, filled with rich vanilla sweetness!

Cookies & Cream Frappe Medium: ¥470 / Large: ¥540 (Tax Included) 

 

The drink is a rich blend of creamy vanilla made from Madagascar Bourbon vanilla beans, blended with crunchy Oreo cookie bits and topped with whipped cream and chocolate sauce. What's not to love?

New Year's Mini-Cakes Available for Preorder from Ginza Cozy Corner

Ginza Cozy Corner, a popular cake store in Tokyo, has started accepting preorders for its beautiful selection of New Years' mini-cake sets, called Sweets Osechi. In Japan, osechi refers to traditional foods eaten on New Years Day, which come in a special box, not unlike a bento box. Of course, they aren't usually packed with sweets, but these look absolutely scrumptious. 

In 2011, Ginza Cozy Corner started the 'First Sweets' tradition to invite people to welcome the new year by enjoying some sweets after finishing the traditional osechi dishes. This is when the idea of Sweets Osechi was born, sure to put a smile on your face going into 2022!

9-piece Sweets Osechi: ¥2,400 (Tax Included) 

12-piece Sweets Osechi: ¥3,000 (Tax Included) 

This year's selection includes tarts featuring the Chinese zodiac sign of the Tiger and the first sunrise of 2022. Each set will come in a special box in a bright red design perfectly exemplifying the holiday spirit!

Information

Sweets Osechi

Preorders Now Open

*Preorders will close as soon as items sell out. 

*Preorders can only be made in-store. Online preorders will not be accepted. 

Official Site: https://www.cozycorner.co.jp/

McDonald's Japan Releases the Winter Favorite Gurakoro Burger for 2021

Each winter, McDonald's Japan releases the wildly popular Gratin Croquet Burger, or Gurakoro for short. Starting December 1, this year's iteration of the popular sandwich will be available at shops nationwide. This time, it's the Angus Beef Bolognese Gurakoro, blending a creamy croquette with ripe tomatoes and stewed coarse-ground Angus beef Bolognese. 

The Gurakoro burger is made with a creamy white sauce blended with shrimp and macaroni, combined with cabbage and a special spicy croquette sauce. Basically, it tastes a lot like macaroni and cheese on a bun! Crispy on the outside and velvety on the inside, it's a dish that's perfect to warm you up after a long day in the winter cold. The new TV commercial for the Gurakoro features actress Mikako Tabe, and the theme is 'let's warm up the year.' 

How would you like to give one of these a try?