TV Anime The Quintessential Quintuplets' Season 2 OP and ED Themes to be Performed by Nakano Sisters
It has been announced that the opening and ending themes for the upcoming TV anime series The Quintessential Quintuplets ∬, which will serve as the second season of The Quintessential Quintuplets, will be performed by the five Nakano sisters who are the main characters of the series: Ichika (voiced by Kana Hanazawa), Nino (Ayana Taketatsu), Miku (Miku Itō), Yotsuba (Ayane Sakura) and Itsuki (Inori Minase).
The opening theme is entitled Gotobun no Katachi ('The Shape of Quintuplets') and follows series protagonist Futaro Uesugi's feelings from the first season leading into his realisation of love in the second season. It was written, composed, and arranged by Masahiro Takeda.
The ending theme is titled Hatsukoi ('Puppy Love' or 'First Love'). It's a ballad that sings about the sings you come to learn and realise after falling in love. It was written by Aira Yuki, composed by Art Neko, and arranged by Shuho Mitani.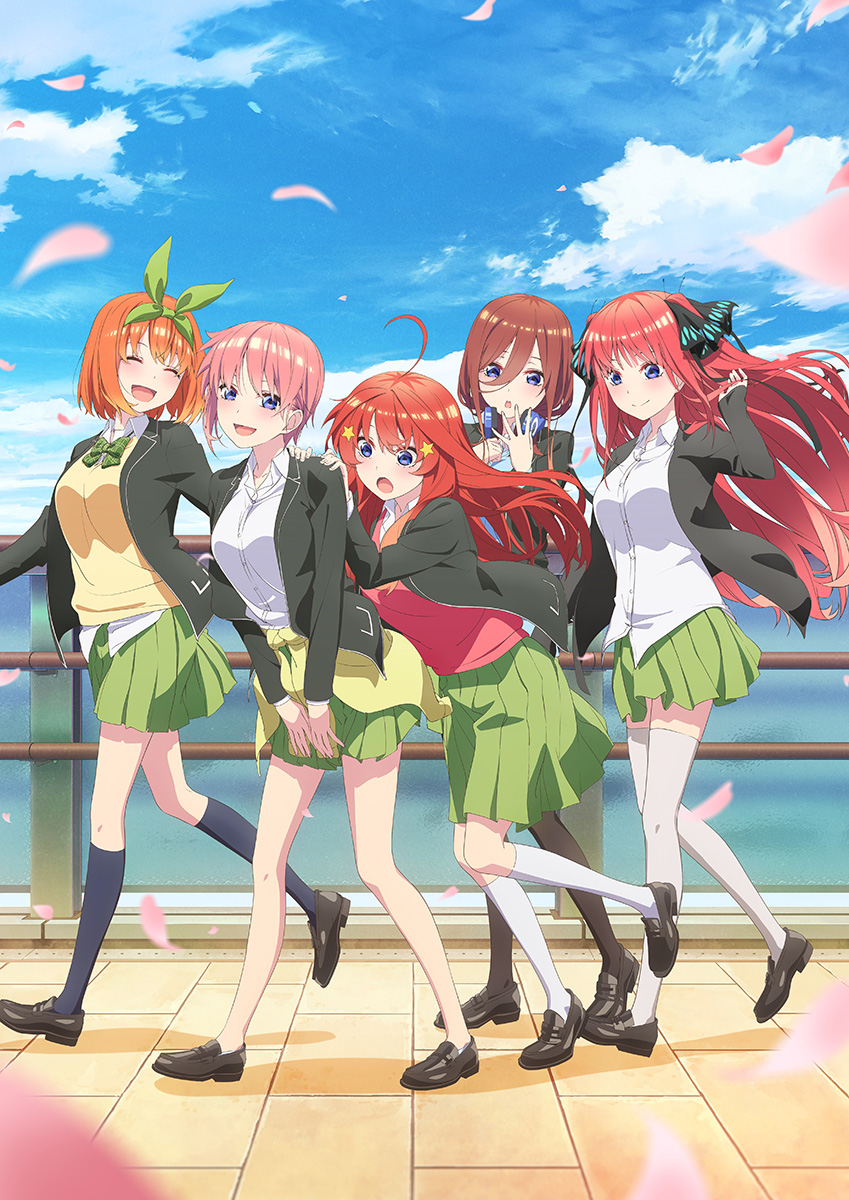 The full version of the opening theme will be released two days after the second season's first episode airs on January 9, 2021. The ending theme will be released on the same day as the season airs on January 7, 2021.
Hear part of the opening theme on Pony Canyon's official YouTube channel below:

Below are comments from the main cast of the Nakano siblings translated by MOSHI MOSHI NIPPON.
Cast Comments
Ichika Nakano (Voiced by: Kana Hanazawa)

"I'm sure there are a lot of you who have read the manga and can picture where the story is going to go. You'll be seeing even more of the sisters this season, and seeing them all together. The first season went down the path of focusing on each individual character, but this time they'll all be together in the same scenes, and each with their own thoughts and feelings, so there won't be many times where they haven't talked about something. Basically, you'll be spending a lot of time with the sisters. I hope people will be able to see their bond with each other, but each of them think differently, so I'd like for people to watch the situations bit by bit and enjoy their changes."
Nino Nakano (Voiced by: Ayana Taketatsu)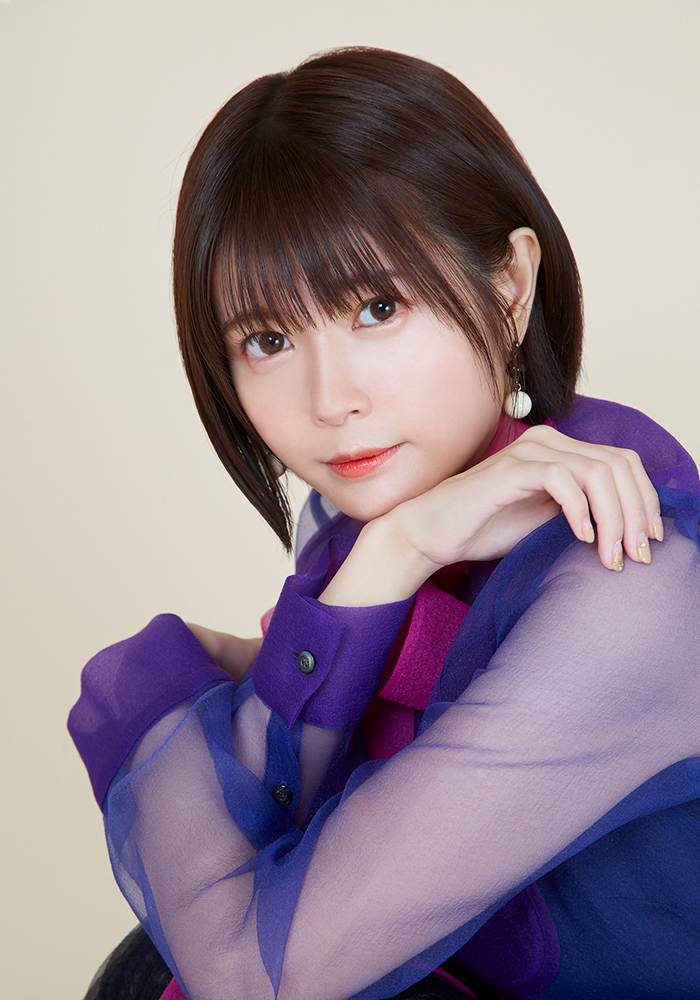 "The second season was originally meant to start in October 2020, but production got pushed back because of the coronavirus, so now it'll begin in January. You've all waited a really long time for this, so everyone in the staff is pouring their strength into it, as are we, the cast, into the voice recording, especially since we can't all be together. I think because of that we've been able to make something really wonderful. All the characters in the promo video are super cute! I got to see Nino-chan's promo video too. I think that sparkle in her eye when she shows her determination was really incredible. The new director is female, so she was really able to add her female perspective to the series, small details lke how the girls move and their cuteness. I'd love it if you all enjoyed those things too. Look forward to when it airs!"
Miku Nakano (Voiced by: Miku Ito)

"To everybody who has been waiting for it: it's finally here! Like all of you, I've been wanting season two to hurry too, when we were recording, and now too while we're waiting for it to start, so I'm super happy we're able to deliver it now. I feel really grateful. Each of the five sisters have levelled up in the second season. I feel like their feelings towards Futaro really comes through, as do their personalities, so please look forward to it."
Yotsuba Nakano (Voiced by: Ayane Sakura)

"If you're waiting for season two, that means you've already seen season one, right? I'm sure you had a hunch how the first season was going to go, but in season two, you'll really get to see the siblings battle it out! But it really has a lot of different elements, like how this is a story of the sisters' bonds with each other, and how it's become popular as a story about family. It introduces new staffs, although it has a different tone to it from the first season, so hope those who have read the manga will think about how that tone from the manga will translate into animation as they wait for it to be released."
Itsuki Nakano (Voiced by: Inori Minase)


"Season two is finally going to air. I think it's a fitting and gorgeous start for 2021. There will also be a level of sadness that wasn't in the first season, like how your chest hurts as a result of love, and coming to dislike yourself a little. The five of them have swung from Futaro until now, and the story of season two will explore where they are going with that. I hope you all see from Futaro's perspective and show your love The Quintessential Quintuplets again. We will work hard so that you all look forward to the series each week!"
©Negi Haruba・Kodansha / The Quintessential Quintuplets ∬ Production Committee

Information
Gotobun no Katachi / Hatsukoi
Early Digital Release: January 9, 2021
Physical Release: February 17, 2021
Price: ¥1,200 (Before Tax) [PCCG.01964]
TV Anime "The Quintessential Quintuplets ∬"
Initial Broadcast: January 7, 2021
Official Website: https://www.tbs.co.jp/anime/5hanayome/
RELATED ENTRIES
The Quintessential Quintuplets ∬ OP and ED Themes Released Digitally

The Quintessential Quintuplets ∬, the second season of the popular TV anime series The Quintessential Quintuplets, began airing on January 8, 2021. The full-size versions of the opening and ending themes, titled Gotōbun no Katachi and Hatsukoi, are now available on music streaming and download services in Japan.

Below are comments from the main voice cast for the five sisters about the second season which were released after the airing of the first episode. Comments are translated by MMN.

Ichika (voiced by Kana Hanazawa), Nino (Ayana Taketatsu), Miku (Miku Itō), Yotsuba (Ayane Sakura) and Itsuki (Inori Minase)

Kana Hanazawa (Voices: Ichika Nakano) | Comment

"After checking out the first episode, I can't help but want to see the second episode already. There are so many elements I'm interested in, and like with the first season it leaves you wondering who Futaro will end up with. Ichika plays a particularly important part in this second season, so I hope you watch over her."

Ayana Taketatsu (Voices: Nino Nakano) | Comment

"I felt a little restless when season two finally started. But [the sisters] are going to fight since they all think mutually. I thought how clumsy they really are when voicing [my character]. But I really felt the connection between the five girls, and I hope everyone watches over them warmly until everything's fixed. You'll see that this is something that will cause Nino to change."

Miku Itō (Voices: Miku Nakano) | Comment

"The second season shows the five sisters growing up. Their appearances change really suddenly, as do their general feelings, dreams, and feelings towards Futaro. Lots of different things. There's also some realistic parts so please look forward to them."

Ayane Sakura (Voices: Yotsuba Nakano) | Comment

"It's a continuation from season one and brings a whole new atmosphere for people to experience. And since it's the second half [of the story], the characters themselves have changed a little too. I hope everyone enjoys the human aspects of the series, both the positive and negative things."

Inori Minase (Voices: Itsuki Nakano) | Comment

"There's a riddle going into the second season which speaks of an incident that happened with Futaro five years ago in Kyoto that he can't forget, and it questions which of the sisters was involved. But how does Futaro feel at seeing that girl again, with all the memories coming back? This is something I want people to pay attention to. The series follows not only the siblings' growth, but considers Futaro's decision and what he's determined on. I hope everyone supports Futaro's growth too."

©春場ねぎ・講談社/「五等分の花嫁∬」製作委員会

Review: Tokyo's The Quintessential Quintuplets MAKEOVER Exhibition

Everybody's favourite sister quintuplet has rolled up to an all-new, revamped exhibition this summer. The Quintessential Quintuplets Exhibition MAKEOVER is currently taking place at Tokyo's Sunshine City World Import Mart Bulding in Ikebukuro until August 30 and will subsequently move to Osaka's Nanko ATC Museum from November 26 to December 6.

Tokyo Report

At the entrance to the exhibition is a message and signature from Negi Haruba, the author and illustrator of the The Quintessential Quintuplets manga series. Nearby are messages from the five sisters, as well as a special video, both of which can only be viewed by attending the exhibition.


Dotted throughout the exhibition are numerous displays that look back at the series, as well as interviews with the author that can be read, and plenty of illustrations of the characters.

There are also photo spots where fans can take photos alongside life-sized panels of the sisters, a full display of the final chapter and turning point of the manga, the sister's dresses, and more.

As it says in the message from Negi Haruba, the exhibition is like a photo album into the daily lives of the Nakano sisters.

All visitors to the event also receive a free mini card. Depending on the day you visit, the design will be different.


Fans can get their hands on exclusive merchandise, including items with original illustrations drawn by Negi Haruba for the exhibition, superdeformed figurines, and plenty more.

©Negi Haruba / Kodansha

Information

The Quintessential Quintuplets Exhibition MAKEOVER
Tokyo
Location: Ikebukuro Sunshine City World Import Mart Bldg. Floor 4F – Hall A
Running: August 15, 2020 – August 30, 2020
Time: 10:00-20:00 (Until 17:00 on August 30)

Slots: 10:00/11:00/12:00/13:00/14:00/15:00/16:00/17:00/18:00/19:00

*You must book a ticket for one of the specified slots at the link below by 16:00 the previous day

Buy Tickets: https://l-tike.com/event/5hanayome-makeover/ (L-Code: 36055)

Osaka
Running: November 26, 2020 – December 6, 2020

Location: Osaka Nanko ATC Museum

*Ticket details TBA

The Quintessential Quintuplets Exhibition MAKEOVER Official Website: http://www.gotobun-exhibition.com/

The Quintessential Quintuplets Get a Full Makeover This Summer For Season Two

Everybody's favourite sister quintuplet is set to roll up to an all-new, revamped exhibition this summer. The Quintessential Quintuplets Exhibition MAKEOVER will take place at Tokyo's Sunshine City World Import Mart Bulding in Ikebukuro from August 15 to 30 and subsequently Osaka's Nanko ATC Museum from November 26 to December 6.


The exhibition is taking place to promote the upcoming season season of The Quintessential Quintuplets and will feature a whole new merchandise line-up, new displays, and more. Series creator Negi Haruba has also illustrated a new visual for the exhibition.

The Quintessential Quintuplets is a manga series written and illustrated by Negi Haruba. The story follows high school student Futaro Uesugi who becomes a private tutor for the sisters of the wealthy Nakano family, all of whom have no interest in study or grades. It's up to Futaro to change their minds.

A second season of the anime series is set to air in January 2021. A mobile game is also in the works. The game is a romance comedy puzzle game whereby the player deepens their bonds with the five sisters. Players take the role of the series protagonist Futaro through an original story with new voice acting recorded for the game.

©Negi Haruba・Kodansha

Information

The Quintessential Quintuplets Exhibition MAKEOVER
Tokyo
Location: Ikebukuro Sunshine City World Import Mart Bldg. Floor 4F – Hall A
Running: August 15, 2020 – August 30, 2020
Time: 10:00-20:00 (Until 17:00 on August 30)

Slots: 10:00/11:00/12:00/13:00/14:00/15:00/16:00/17:00/18:00/19:00

*You must book a ticket for one of the specified slots at the link below by 16:00 the previous day

Buy Ticket: https://l-tike.com/event/5hanayome-makeover/ (L-Code: 36055)

Osaka
Running: November 26, 2020 – December 6, 2020

Location: Osaka Nanko ATC Museum

*Ticket details TBA

The Quintessential Quintuplets Exhibition MAKEOVER Official Website: http://www.gotobun-exhibition.com/

The Quintessential Quintuplets Anime Gets Mobile Game

The popular TV anime series The Quintessential Quintuplets is getting its first ever mobile game. Titled Go-Tōbun no Hanayome Itsutsu Ko Chan wa Puzzle o Go-Tōbun Dekinai (The Quintessential Quintuplets: The Quintuplets Can't Divide the Puzzle Into Five Equal Parts), the game will be released digitally this year.

The Quintessential Quintuplets is a manga series written and illustrated by Negi Haruba. A second season of the anime series is set to air in January 2021. The story follows high school student Futaro Uesugi who becomes a private tutor for the sisters of the wealthy Nakano family, all of whom have no interest in study or grades. It's up to Futaro to change their minds.

The game is a romance comedy puzzle game whereby the player deepens their bonds with the five sisters. Players take the role of the series protagonist Futaro through an original story with new voice acting recorded for the game.

To promote the release of the game, the official Twitter page is running a campaign where fans can receive a signed card by the voice actress cast. Details on how to sign up can be found on the official Twitter page.

Running: May 27, 2020 – June 6, 2020 at 23:59 (JST)
Reward: Signed Card (5 winners to be selected)
Signers: Ichika (voiced by Kana Hanazawa), Nino (Ayana Taketatsu), Miku (Miku Itō), Yotsuba (Ayane Sakura) and Itsuki (Inori Minase)

Be sure to check out the campaign in the run up to the game's release.

©Negi Haruba・Kodansha / "The Quintessential Quintuplets ∬" Production Committee ©G Holdings Co., Ltd. ©enish,inc.

The Quintessential Quintuplets Special Event to be Streamed Online

A special event was set to take place for the anime series The Quintessential Quintuplets at Nakano Sunplaza on May 16, 2020, but due to the COVID-19 outbreak the event has been postponed to April 18, 2021.

In place of the event, and for all of the fans that were looking forward to it, another special event that was held for the series last year at Yomiuri Hall in Tokyo on May 5, 2019, will instead be streamed this Saturday (May 16).

The event was attended by the voice actresses of the five main characters: Ichika (voiced by Kana Hanazawa), Nino (Ayana Taketatsu), Miku (Miku Itō), Yotsuba (Ayane Sakura) and Itsuki (Inori Minase). The quintuplet voice cast spoke about their characters and the show after season one finished airing, played games, read an original script written exclusively for the event, and more. There was also performances of songs from the show including the ending theme Sign by Aya Uchida, the insert-track Gobun no Ichi by the fice sisters, and the opening theme Gotobun no Kimochi.

The stream is being promoted on the anime's official Twitter page from May 11 to 16 with exclusive voice recordings from the cast.

The Quintessential Quintuplets is a manga series written and illustrated by Negi Haruba. Season two of the anime series, The Quintessential Quintuplets∬ will air in January 2021.

©Negi Haruba・Kodansha / "The Quintessential Quintuplets" Production Committee

The Quintessential Quintuplets Character Song Single to be Released in March 2020

The Quintessential Quintuplets is an immensely popular ongoing manga series serialised in Weekly Shonen Jump. As the main story is reaching its climax, the release of a character song single has been announced which will feature songs by the five Nakano sisters. It will hit shelves in Japan on March 4, 2020.

The lyrics and composition of the song has been handed to Mayumi Kaneko who worked on the season one ending theme Sign for the manga's anime adaptation. The music is being arranged by Shuho Mitani who has worked on many songs for some of Japan's biggest idol groups including AKB48 and Keyakizaka46. The tracks promise to capture the bonds between the sisters, as well as their cuteness and shared sisterly feelings.

An event will also be held for the series at Nakano Sunplaza in Tokyo on March 16, 2020. Early applications for the event can be obtained by purchasing a copy of the CD which are coupled with a card to sign up.

If you've yet to jump into the cute world of The Quintessential Quintuplets, then you won't be disappointed. Start reading and watching, and maybe even pick up the sisters' official CD!

©Negi Haruba・Kodansha / "The Quintessential Quintuplets" Production Committee

Information

The Quintessential Quintuplets Character Song Single – "Kore Kara mo Gotobun"

Release Date: March 4, 2020

Group Name: The Quintessential Quintuplets (Kana Hanazawa, Ayana Taketatsu, Miku Itō, Ayane Sakura, Inori Minase)

Price: ¥1,320 (Tax Included)

Stock No.: PCCG.01884

Includes: CD + Blu-ray

Bonus: Early application sign-up card for the event on March 16, 2020 (Details below)

◾︎Exclusive In-Store Bonuses
Animate (Including Online): Bromide
Gamers (Including Online): B3 Poster
Toranoana (Including Online/Excluding Select Stores): Illustrated Card
TBS・MBS Official Online Store Animaru!: Pin Badge (56mm)
amiami: Bromide
7 Net Shopping: Postcard
Sofmap・Animega (Excluding Select Stores): Pin Badge (57mm)
Rakuten Books: Postcard
Amazon.co.jp: Large CD Coverデカジャケット
Kyanime: Card Size Sticker

The Quintessential Quintuplets Event
Date: March 16, 2020

Location: Nakano Sunplaza, Tokyo
*Event title, schedule, time and sign-up TBA at a later date

*This is a pay-to-enter event – when signing up using the application cards coupled with CDs, payment will be made for a ticket

Official Website: https://www.tbs.co.jp/anime/5hanayome/

The Quintessential Quintuplets Special Event in Tokyo to be Released On DVD & Blu-ray

A special event for the anime series The Quintessential Quintuplets was held at Yurakucho Yomiuri Hall in Tokyo earlier this year on May 5, and that event is set to hit DVD and Blu-ray on October 23.

The disc features a kawaii-packed 111 minutes of live performances and character line readings from the cast, including Yoshitsugu Matsuoka, Kana Hanazawa, Ayana Taketatsu, Miku Itō, Ayane Sakura, Inori Minase, and Aya Uchida. Check out the trailer for the DVD and Blu-ray below.

A second season of the anime series has been announced but as of yet there is no confirmed date.

©Negi Haruba・Kodansha / "The Quintessential Quintuplets" Production Committee

Information

The Quintessential Quintuplets Special Event DVD & Blu-ray

Release Date: October 23, 2019

Blu-ray: ¥6,800 (Before Tax) [PCXP.50682]

DVD: ¥5,800 (Before Tax) [PCBP.54076]

When bought at the following stores, you will receive the following exclusive items:

TBS・MBS Official Online Store Animaru!: Hand Towel
Animate (Including Online Shop): Pin Badge (56mm)
Animega (Select Stores) (Including Online Shop): A4 Folder
Amazon.co.jp: Live CD of the event's afternoon slot
AmiAmi: A5 Acrylic Character Plate
Ijiman Web Shop: A1 Poster
Gamers (Including Online Shop): A3 Tapestry
Seven Net Shopping: Large Pin Badge
Toranoana (Select Stores) (Including Online Shop): Long Pin Badge
Rakuten Books: Postcard Size Stickers

*All item designs will be revealed at a later date

canime Limited Edition DVD Blu-ray
Release Date: September 25, 2019

Price: ¥9,800 (Before Tax)

Stock No.: SCXP.00079
POS Code: 4988013915411
Includes: Main Disc (111 mins) + Bonus Disc (80 mins)
本編ディスク:約111分 ※一般流通盤と同内容です
特典ディスク:約80分(昼の部のダイジェスト映像)
Buy: https://canime.jp/product/SCXP000000079/

The Quintessential Quintuplets Official Website: https://www.tbs.co.jp/anime/5hanayome/

Grab Your Copy of The Quintessential Quintuplets Ultra Kawaii Album at Comiket 96

Presales of the upcoming The Quintessential Quintuplets album Gotoubun no Hanayome ~Kawaisa Max Re-mix~ will take place at Comiket 96 before the record's official release. The album will include the opening theme Gotoubun no Kimochi, a coupling track Gobun no Ichi, and character songs for each of the five sisters which will play as a nonstop medley.

The album remixers include PandaBoY who has created tracks spanning anime, J-pop and commercials, and up-and-coming remixer colate. The two of them have included plenty of lines spokeb by the quintuplets in the anime series.

Taster Video


Hearing each of the sisters' lines to the beat of the melodies is making us want to watch the anime series all over again. Like the songs themselves the album's summery cover art is kawaii to the max too!

©Negi Haruba・Kodansha / "The Quintessential Quintuplets" Production Committee

Information

Gotoubun no Hanayome ~Kawaisa Max Re-mix~

Stock No.: BRCG.67

Price: ¥2,500 (Tax Included)

Official Website: https://www.tbs.co.jp/anime/5hanayome/

Album Presale
Location: Comiket 96, Tokyo Big Sight, Pony Canyon booth (Ao Exhibition B Hall No.2232)
Date: August 9, 2019 – August 12, 2019
*A certain number of CDs are prepared each day. However, please note that stock is limited.

Pony Canyon Comiket 96 Website: https://special.canime.jp/comiket/96/

Manga Series 'The Quintessential Quintuplets' Gets Exhibition in Ikebukruo

An exhibition centred on the hugely popular Weekly Shonen Magazine manga series The Quintessential Quintuplets by Negi Haruba is set to take place on the 4th floor of the Ikebukuro Sunshine City World Important Mart building from August 17 to September 1 this year.

Its theme is "an exhibition that both guys and girls can enjoy." Though the series is serialised in a magazine aimed at males, it enjoys huge support from female readers. The anime's first season ran from January to March this year which bolstered the fan base on both sides. It has become the most read romance series serialised in a male magazine by women.

Girls have taken to social media to express their love for the series, with some saying how the worries the quintuplets experience and their growth overlaps with their own. Others have described how cute the heroines are even from a female perspective.

The exhibition will house a plethora of illustrations, including hand drawn pictures by Negi Haruba, unfinished and completed illustrations, as well as outfit displays and more. Original merchandise will also be sold.

If you're a fan of the quintuplets and are in Tokyo in August then be sure to drop by the exhibition.

Information

The Quintessential Quintuplets Exhibition

Locations: Ikebukuro Sunshine City World Important Mart Building Floor 4F (3-1-1 Higashi-Ikebukuro, Toshima Ward, Tokyo)

Running: August 17, 2019 – September 1, 2019

For details on advance tickets and more check out exhibition's official website here: http://www.gotobun-exhibition.com/

TV Anime The Quintessential Quintuplets Character Song Mini Album Artwork Unveiled

A track-by-track preview as well as the CD cover of the upcoming character song mini album for the popular ongoing anime series The Quintessential Quintuplets have been released.

The album features five songs as well as instrumental versions sung by each of the five Nakano sisters: Ichika (voiced by Kana Hanazawa), Nino (Ayana Taketatsu), Miku (Miku Itō), Yotsuba (Ayane Sakura) and Itsuki (Inori Minase).

The songs were each composed and arranged by EFFY, Masaki Honda, Kazunori Watanabe, Keita Miyoshi and Hajime Mitsumasu respectively, a group of music makers at the forefront of the anime song scene.

Track-by-Track Preview

The track-by-track preview showcases the cute choruses of each song and features original illustrations of each character. To hear the full versions, you'll need to pick up a copy of the album.

The manga series has sold over 2.35 million copies. If you haven't checked the series out yet, what are you waiting for?

Information

The Quintessential Quintuplets Character Song Mini Album

Release Date March 6, 2019

Price: ¥2,000 (Before Tax)

The Quintessential Quintuplets Official Website: https://www.tbs.co.jp/anime/5hanayome/

©Negi Haruba・Kodansha / "The Quintessential Quintuplets" Production Committee

℗2019 PONYCANYON INC.

Anime Songs Debuting in January 2019: Part 1

Japanese anime is popular worldwide, and one part of the watching-experience that makes a series so memorable is its opening and ending themes. Here's part one of a list of artists providing music for ongoing series and soon-to-air series.

Lead x Hinomaru Sumo

Three-member dance and vocal unit Lead will release their song Be the NAKED on January 30, 2019 which will be used as the opening theme song for the anime series Hinomaru Sumo starting on January 25. The series depicts themes of friendship, endeavor and victory.

Full Details: https://www.moshimoshi-nippon.jp/155895

ЯeaL x Boruto: Naruto Next Generations

Popular rock band ЯeaL will release Tsuyogari LOSER on February 20, 2019, their new single that will be used as the new ending theme for the ongoing anime series Boruto: Naruto Next Generations. ЯeaL has released a string of smash songs for popular various anime series and they are gaining much attention from anime fans who are anticipating this new release.

Full Details: https://www.moshimoshi-nippon.jp/155887

KANA-BOON x Karakuri Circus

KANA-BOON wrote their new song Haguruma as the second opening theme song for Karakuri Circus. A promotional video for the series was released that includes a snippet of the track. The video features scenes of the characters working together to knock down the circus. Be sure to check it out!

Full Details: https://www.moshimoshi-nippon.jp/155647

The Quintessential Quintuplets

The Quintessential Quintuplets is set to begin airing in January 2019. A video teasing the anime's opening theme song Go-Tōbun no Kimochi was recently released. The song is performed by the series' five Nakano siblings themselves. It begins with the sisters calling out to the series protagonist Fūtarō Uesugi to wake up. It drops into a cute pop song where each sibling expresses their feelings towards Uesugi, from hate to love.

Full Details: https://www.moshimoshi-nippon.jp/155625

Continued in Part 2.

TV Anime The Quintessential Quintuplets Opening Theme Teaser Released

The anime adaptation of Negi Haruba's shonen manga series The Quintessential Quintuplets is set to begin airing in January 2019. It was revealed last month that the opening theme song Go-Tōbun no Kimochi will be performed by the series' five Nakano siblings themselves. You can now hear the song in a new teaser video released on the official PONY CANYON YouTube page below.

The song begins with the sisters calling out to the series protagonist Fūtarō Uesugi to wake up. It drops into a cute pop song where each sibling expresses their feelings towards Uesugi, from hate to love.

The TV edit version of the track will be available to listen to early on the anime music app ANiUTA on December 27. The song's CD cover was also released and can be seen below.

The original manga has published over 1.5 million copies. With an early tease at the anime's opening song the excitement is only set to increase amongst fans.

Information

Go-Tōbun no Kimochi (Opening Theme)

Release Date: January 30, 2019

Unit Name: Go-Tōbun no Itsutsugo (Kana Hanazawa, Ayana Taketatsu, Miku Itō, Ayane Sakura, Inori Minase)

Price: ¥1,200 (Pre-Tax)

POS Code: 4988013296619

Sign (Ending Theme)

Release Date: March 6, 2019

Artist Name: Aya Uchida

First Press Limited Edition A (CD+DVD): ¥1,900 (Pre-Tax) [COZC-1514-1515]

POS Code: 4549767 05915 0

TV Anime "The Quintessential Quintuplets"

TBS: January 10, 2019 (01:28, JST)

Sun Television: January 11, 2019 (00:00, JST)

BS-TBS: January 12, 2019 (02:00, JST)

*Broadcast times subject to change.

http://www.tbs.co.jp/anime/5hanayome/

©Negi Haruba・Kodansha / The Quintessential Quintuplets Production Committee