King & Prince Release New Single 'I promise'
King & Prince released their 6th single I promise from Universal Music Japan on December 16, 2020. The track is the male idol group's first winter love song, A J-pop number singing of a man whose love towards a girl isn't realised but his feelings towards her don't change.
The song is currently being played as the Christmas commercial song at 7-Eleven convenience stores in Japan.
King & Prince「I promise」Music Video Making -Story ver.-

All songs on the single are winter-themed. The track Winter Love Story featured on Regular Edition copies was used as 7-Eleven's Christmas commercial song in 2019, and this is the first time it is being released.
First Press Limited Edition A is coupled with a DVD featuring the I promise music video and the first part of its making-of while First Press Limited Edition B copies feature the second part.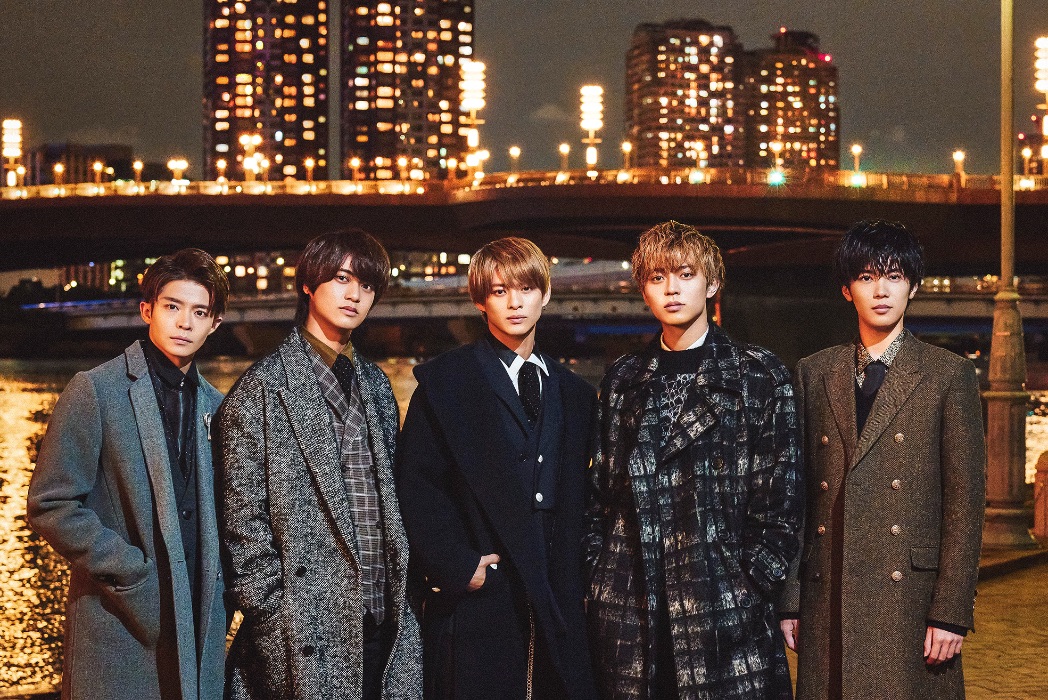 Information
I promise
Release Date: December 16, 2020
First Press Limited Edition A (CD+DVD): ¥1,500 (Before Tax) [UPCJ-9017]
First Press Limited Edition B (CD+DVD): ¥1,500 (Before Tax) [UPCJ-9018]
Regular Edition (CD-Only): ¥1,500 (Before Tax) [UPCJ-5006]
Official Website: https://www.universal-music.co.jp/king-and-prince/
RELATED ENTRIES
King & Prince and SixTONES Make Double Platinum With Latest Singles

The Recording Industry Association of Japan has published its official rankings for February 2021 gold disk records, revealing that Japanese boy bands King & Prince and SixTONES have been certified Double Platinum with their latest singles while SKE48, Kanjani Eight, Kis-My-Ft2, Johnny's West, MISIA, and King & Prince again were certified Platinum. Check out the record-selling tracks below.

Double Platinum Ranking


King & Prince – "koi-wazurai" (Single)

SixTONES – "Boku ga Boku Janai Mitai da" (Single)


 Platinum Ranking


SKE48 – "Koiochi Flag" (Single)

Kanjani Eight – "Kimi to Mitai Sekai" (Single)



Kis-My-Ft2 – "Luv Bias" (Single)

Johnny's West – "Shuukan Umaku Iku Youbi" (Single)

MISIA – "Super Best Records -15th Celebration-" (Album)

King & Prince – "King & Prince CONCERT TOUR 2020 〜L&〜" (Video)

Six records including two singles, three albums, and one video went Gold in January.

Male Idol Group King & Prince Announce New Album 'L&'

01.September.2020 | MUSIC

Universal Music Japan will release Japanese all-male idol group Male & Prince's second album L& tomorrow (September 2).

The album's title refers to "The place of King & Prince; a place where everyone can have fun." Regular Edition copies will include 17 tracks while other copies will have 16. The album will include their single koi-wazurai, Mazy Night which was the main theme for the Japanese television drama Detective Novice, the main theme for the live-action adaptation of Yowamushi Pedal which stars King & Prince member Red Nagase, five songs produced by the group members themselves, and more.

King & Prince – "&LOVE" Music Video Making Digest

First Press Limited Edition 'A' copies of the new album will include the music video and making-of for &LOVE. 'B' copies will include a documentary entitled The Documentary – King & Prince in America- showcasing King & Prince in America making their international debut.

King & Prince – "The Documentary – King & Prince in America-" Digest


Both copies will also features dance lessons by Phil Tayag who is known for choreographing for Bruno Mars. Regular Edition copies will also exclusively feature recording scenes and vocal lessons for King & Prince's song for Bounce.

Information

L&

First Press Limited Edition A (CD+DVD): ¥3,600 (Before Tax) [UPCJ-9015]
First Press Limited Edition B (CD+DVD): ¥3,600 (Before Tax) [UPCJ-9016]
Regular Edition (CD-Only): ¥3,000 (Before Tax) [UPCJ-1002]

Official Website: https://www.universal-music.co.jp/king-and-prince/

King & Prince Release 5th Single 'Mazy Night'

King & Prince's 5th single Mazy Night was released through UNIVERSAL MUSIC LLC today (June 10).

The title track serves as the main theme for the Japanese crime thriller drama series Miman Keisatsu: Midnight Runner starring Kento Nakajima of Japanese idol group Sexy Zone and King & Prince's own Sho Hirano.

King & Prince – "Mazy Night" Music Video

First Press Limited Edition A copies of the single are coupled with a DVD featuring the Mazy Night music video and its making-of, while First Press Limited Edition B copies include a DVD featuring a single-cut version of the music video as well as solo cut versions for each King & Prince member.

Miman Keisatsu: Midnight Runner had its broadcast postponed but is set to begin airing again in the near future.

Information

Mazy Night
Release Date: June 10, 2020
First Press Limited Edition A (CD+DVD): ¥1,500 (Before Tax) [UPCJ 9013]
First Press Limited Edition B (CD+DVD): ¥1,500 (Before Tax) [UPCJ 9014]
Regular Edition (CD-Only): ¥1,000 (Before Tax) [UPCJ 5005]

Official Website: https://www.universal-music.co.jp/king-and-prince/

Sexy Zone's Kento Nakajima and King & Prince's Sho Hirano Feature On Front Cover Of CanCam Magazine

Kento Nakajima and Sho Hirano, who are members of the popular idol groups Sexy Zone and King & Prince respectively, will feature in the May edition of fashion magazine CanCam on both the front cover and with a special interview.

The two artists have formed a new music unit ahead of their co-star roles in the Japanese drama series Miman Keisatsu: Midnight Runner, which is set to begin this April. For fans of Sexy Zone and King & Prince, and of the members themselves, this new project is a dream collaboration. Both of them appear on the front cover of CanCam's May 2020 issue with their short black hair looking sexy and boyish.

What's the relationship between the two of them?

In the 12-page special feature of the two idol stars, there is a cut of Nakajima and Hirano surrounded by lots of flowers, another of them feeding each other strawberries, and plenty of other beautiful photos. In the interview, they explain their relationship together as senior and junior in the same company.

Nakajima said of Hirano: "[He's] a really cute junior. In the entertainment world, there are people I call 'Big Bro,' but there's no one I call 'Little Bro.' He might just be my first Little Bro."

Hirano said: "During my junior years I was allowed to be a backup for Sexy Zone numerous times, so to have a connection to Kento gives me the confidence to lose to no-one."

They both started something to deepen their connection

In the interview, they reveal that Nakajima suggested they exchange diaries between each other to deepen their relationship. On the day of the interview, Hirano was supposed to take the first entry with him, but he actually ended up forgetting in the car. Nakajima said of this: "Sho's clumsiness is cute, but when it gets down to business, he doesn't mess around. He's the hero I want to cheer on."

The interview includes plenty of other information fans will love to read about too, like more about their friendship, and how they feel about their fans. Their new project together is big news for the entertainment industry in 2020.

Information

CanCam May 2020 Issue (Special Issue)


Release Date: March 23, 2020

Front Cover: Kento Nakajima (Sexy Zone) Sho Hirano (King & Prince)
Price: ¥730 (Tax Included)

Publisher: Shokugan

*The front cover of the Regular Issue is different but the inside content is the same

Trailer Released For Ren Nagase's Role as Kaei Karasuma in Film 'According to Our Butler'

According to Our Butler is a short novel mystery series by Japanese author Shiina Takasato that has sold over 1.1 million copies in Japan. The film adaptation directed by Shinji Kuma finally hit Japanese theatres today (May 17).

Ren Nagase of six-member Japanese idol group King & Price―who will celebrate one year since their debut on May 23―is set to play the part of protagonist Kaei Karasuma.

A special promotional trailer showcasing Nagase performance as Kaei was posted on YouTube. The also unveils that the film's main theme song Kimi ni Arigatou ("My Thanks to You") will be performed by King & Prince themselves.

Kaei is the heir to the esteemed and affluent Karasuma family. The day after he returns home from a period of studying abroad in the United Kingdom, his father announces his sudden retirement, and that Kaei will take his place as the head of the family. As a child, Kaei grew up knowing and trusting the family's now senior butler, but is now entrusted with a new butler, the highly intelligent Soma Kisaragi.

Speaking about his performance as Kaei, Ren Nagase commented: "I was told by the directed to play Kaei as someone who is not simply just selfish, but loved by everyone too, so I made sure to be conscious of that." We can see in his performance that he has succeeded in that with his almost adorable selfishness and scene where he is surrounded by people who love him.

He continues: "By nature, Kaei is someone who has a strong perception of colour. This ended up being the cause of a traumatic event that happened when he was younger. Based on that, I made sure to value his warmth as a person as well as how he treasures the people who work for the Karasuma family. Just as Kaei and Soma grown together, I too feel that I have grown alongside Kaei."

©2019 "According to Our Butler" Production Committee

Information

According to Our Butler

Release Date: May 17, 2019

Theme Song: "Kimi ni Arigatou" by King & Prince (Label: Johnnys' Universe)

Publisher: Toei ©2019 "According to Our Butler" Production Committee

Official Website: uchinoshitsuji.com