Order your Randsel backpack featuring an original Disney design from 28th April!
The Randsel backpack has become a global sensation, allowing the wearer to experience high quality and durable leather. Orders for randsel backpacks featuring original designs will be accepted at Tokyo Disney Resort from Friday 28th April.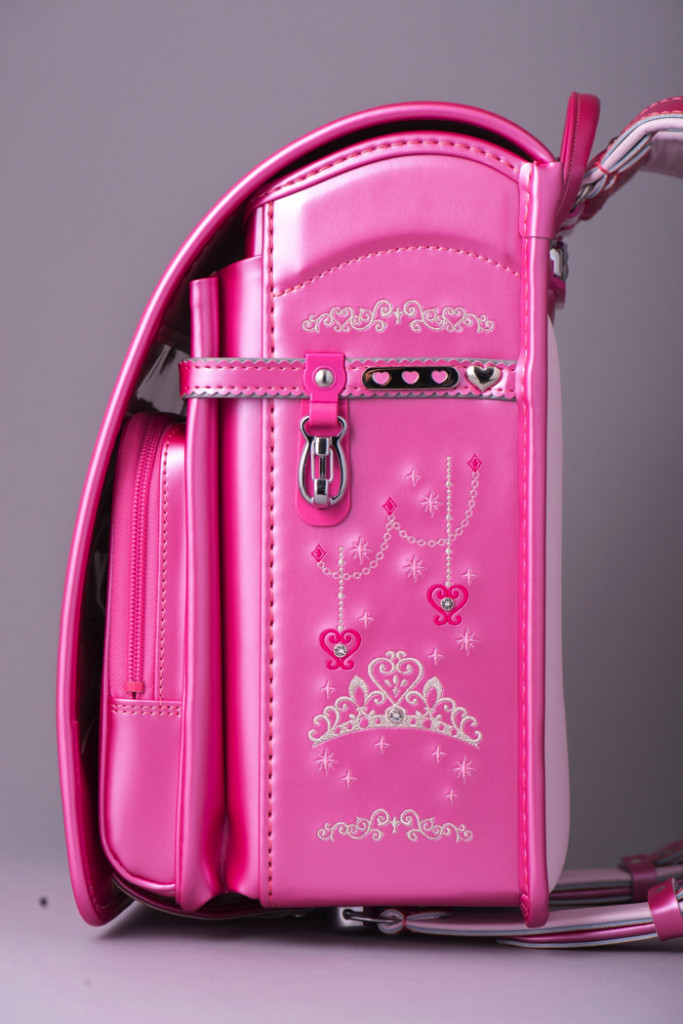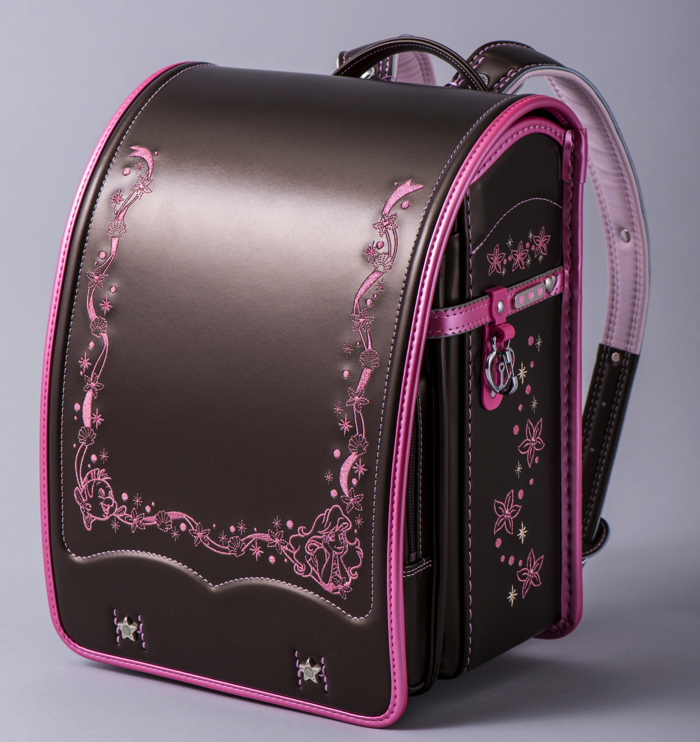 There are three varieties of patterns to choose from; the simple and cute "standard line" , which features a Disney princess design and is decorated with bright colours, and the "premium" and "premium plus" lines which feature a gorgeous embroidered Ariel design, and more!
All three varieties of randsel bags can carry an A4-size file. The double fastener allows the inside pockets to be opened easily, making this backpack perfect for documents and small items. It is not just the aesthetics, but the usage of the backpack was also regarded as a very important feature during the designing stage.
Of course, the aesthetic design of the bag also has many features worthy of note! The range of designs for the reflective studs on the premium plus backpacks include starfish shapes and Mickey Mouse shapes. All in all, the backpacks were designed for a perfect balance of safety, practicality and fun!
Don't miss out on these randsel bags that take aesthetics, fun and practicality to a whole new level! ♪
■Information
Limited order period:Friday 28th April 〜 Sunday 1st October 2017
 ※ Due to certain circumstances, it is possible that the limited order period is terminated earlier than the above given date
Delivery period:After 20th February 2018
Delivery region:Delivered to regions within Japan. Delivery packing includes: ransel backpack, vanity casing and outer packaging (cardboard)
Prices:Premium plus/¥80,000 (price for delivery + tax included) Premium line/¥75,000 (price for delivery + tax included) Standard line/¥58,000 (price for delivery + tax included)
Official website: http://www.tokyodisneyresort.jp/fantasy/randoseru2018/
※ You cannot cancel your order after the purchase has been made. Products can only be returned if they are defective. Deliveries will only be made to addresses within Japan.
−−−
Related article:Tokyo DisneySea® celebrates its 15th anniversary with limited edition BEAMS goods!
Related article:Ayumi Seto directed the production of the brand "Aymmy SPORTS" and Mickey Mouse's collaborative items will be released on April 28th
RELATED ENTRIES
New Must-Grab Disney Merchandise Features Mickey Mouse, Marvel & Star Wars

Japan's consumption tax is set to increase on October 1 from 8% to 10%. If you're looking to bulk buy or grab up must-have items from Japan then now is the perfect time before the percentage goes up!

Today we will take a look some of Disney's premium pieces of merchandise which are must-grabs before the tax increase.

Disney Senryobako – ¥ 2,982,650 (Tax Included) *Rate subject to change

A senryobako, or "thousand gold coin box," is a box that was used during the Edo period to store koban, the former Japanese oval coin. This box features a Mickey and Minnie Mouse design that reads "Forever together" at the top. It also includes a set of 50 koban featuring Mickey and Minnie designs on them. This is a super special and premium gift item!

Available At: GINZA TANAKA

Mickey 90th Anniversary Design Signature Pot (18cm) – ¥30,000 (Before Tax) *Comes in 11 colours

This pot is being released in celebration of 90 years since Mickey's screen debut. The pot lid features the iconic outline of Mickey Mouse. It's also delivered in limited-edition packaging.

Available At: Le Creuset

Movie Masterpiece DIECAST: Avengers 1/6 Scale Iron Man Mark 7 Figure – ¥58,800 (Tax Included) 

This highly detailed figure looks like Iron Man jumped right out of the movie theatre screen. Several different models and pieces are on sale too for each movie the superhero features in the Marvel Universe. Collect them all to create a whole range of poses.

Available At: Hot Toys

ROYAL SELANGOR Star Wars Vehicles "X-Wing" – ¥37,800 (Tax Included)

ROYAL SELANGOR Star Wars Figurine "Darth Vader" – ¥54,000 (Tax Included)

Malaysian-based company Royal Selangor is the largest pewter manufacturer and retailer in the world. Their new X-Wing and Darth Vader models elicit that vintage space opera vibe.

Available At: Royal Selangor

Each and every one of these items is a luxury Disney product. If you're a collector or are looking to buy a present for a fan then now's the best time to grab any of these premium products!

©Disney © 2019 MARVEL © &TM Lucasfilm Ltd.

Kaori's Easy Recipe: Learn to Make Steamed Minnie Mouse Cocoa Cakes

With just a small bit of ingenuity, turn everyday food into something cute using Kaori's easy recipe! With a few simple ideas, an ordinary recipe magically transforms into a cute dish.

Today, I will show you the perfect recipe for making chocolate Minnie Mouse cakes using the Mickey Mouse Tezukuri Okazu Maker kit which you can buy on Belle Maison.

1. Ingredients

About 3-4 prep bowls

1 large egg

40g sugar

Oil or 10g melted unsalted butter

15ml milk

50g weak flour (sifted)

10g cocoa

5g baking powder

2.

①Crack the egg into a mixing bowl, add the sugar and whisk well.

②Add a drizzle of oil or melted butter and milk and whisk again.

③Add the sifted flour and stir in gently with a rubber spatula.

3.

Oil the silicone cake moulds and spoon in your mix.

4.

Steam on a high heat for about 10 minutes.

5.

Now it's time to make Minnie's ribbon. I got this ribbon mould from Daiso. Place it onto some baking paper and outline the shape with a pen. Fill the outline with red-coloured chocolate and leave to set in the fridge. Once it has completely set, add the polkadots.

6.

Once the cake has finished steaming, stick her onto a lollipop stick so it the cake be eaten like a lollipop, and fix the ribbon onto the top of Minnie's head.

And she's finished! It looks cute when you put a Mickey and Minnie one together side by side. You can make a lot of cute recipes using the Okazu Maker, so get your hands on one and try making your own!

Kaori invites you into her world of character-themed food dishes in her recipe series. Be sure to check out her Instagram where she has uploaded many pictures of her character dishes!

©️Disney

Profile

Kaori Kubota (@kaopan27)
I live in Hokkaido and I love to make character themed foods, desserts and pastries♡

I want to see my family smile, so I enjoy putting in a bit of effort to make character foods and changing food into something cute♡

You can see more of my character foods and character bento boxes on my Instagram page→@kaopan27

Enjoy Pirate-Themed Food, Cocktails, Desserts And More at DisneySea This Summer

Tokyo DisneySea launched their special event called Disney Pirates Summer which will run until September 1. The event includes the launch of 16 colourful pirate-themed menus. 

We headed straight to Mediterranean restaurant Cafe Portofino to fill ourselves up on the delicious menu. Cafe Portofino is the nearest restaurant to the entrance of DisneySea. Once you find the Mediterranean Harbor, you will find it on the right. 

 Special set: ¥ 1,880 ① Potatoes and Roast Beef Salad ②Linguine topped with Olive and Caper Tomato Sauce and served with Battered Yellowfin Sole Fish ③ Lychee Pudding with Lemon Jelly topped with Mixed Fruit ④ A choice of Soft Drink ⑤ Pay an extra ¥310 for an alcoholic drink. 

I ordered the special set which is surprisingly big but definitely enough to satisfy the hungry pirates, who are always boasting about their enormous appetite. 

I started with the potato and roast beef salad, which was dressed in balsamic vinegar. The taste was so refreshing which is just what you want during the summer. The rosemary-flavoured potatoes were soft and a perfect match with the beetroot.   

The linguine was chewy and springy and the capers produced a mildly tangy flavour. I am not usually a big fan of olives, but these were very delicious. The battered fish was crispy and not oily, which is suitable for children and adults. 

Just looking at the lychee pudding with lemon jelly is enough to make you feel refreshed. It is packed with fruit and takes on the image of a pirate's treasure chest that is full of colourful rubies. This is the perfect way to clean your palate. 

Ordering the special set allows you to choose a soft drink. If you pay an extra ¥310, you can change this drink into an alcoholic drink. 

Sparkling Cocktail ( Rum and Mango Sherbet) On its own: ¥680

This cocktail takes on the image of a pile of pirate treasure. Mango sherbet sits on top of the cocktail like nuggets of precious gold. The base of the cocktail is rum and peach and the refreshing alcoholic flavour of the rum is moderately sweet, spreading instantaneously through your mouth on your first sip. The solid texture of the mango makes the cocktail even more enjoyable, so please mix it thoroughly before devouring. 

The bakery next to Cafe Portofino called Mamma Biscotti's Bakery is selling desserts which come with souvenirs that you can take home with you.

Mango Jelly and Orange Mousse with Souvenir Mug: ¥800

Jelly, mousse and meringue whip is layered in the mug. This refreshing dessert not only looks pretty, but is also made up of a range of fun textures for you to enjoy. 

You can take the souvenir mug back home with you. Its design features Mickey Mouse and friends dressed as pirates. 

Coffee Roll Cake with Souvenir Plate: ¥800

This is the perfect dessert for adults because it is slightly bitter. The layers of sponge, cream and bitter coffee makes for a range of delicious flavours. This plate's design also features Mickey Mouse, who has dressed up as a pirate for the event. This would be perfect to take home with you to remember your trip!

DisneySea is the perfect place to cool down this summer and create many wonderful memories, so please do pay a visit. 

©️Disney

Get Soaked at Tokyo DisneySea's Pirates Summer Battle Event

True summer is on the horizon as Japan's rainy season slowly begins to let up. Tokyo DisneySea's special summertime event Disney Pirates Summer began on July 7, and if you're looking to cool down from the hot weather, you won't want to miss the Pirates Summer Battle Get Wet show that is running until September 1.

The show is inspired by the world of Pirates of the Caribbean and features Captain Jack Sparrow and Captain Barbossa and his band of pirate comrades. It felt like being thrown into the sea life ourselves when we visited.

It begins with Barbossa, who occupies Port Paradiso, and some of his fellow pirates setting forth to plunder Captain Jack Sparrow's legendary ship. The remaining pirate ruffians left at the port begin loitering around.

The sound of a horn then burst across the water as the legendary ship appeared. On board is Jack Sparrow who has been defeated by Barbossa to which his fellow pirates cheer. Barbossa then set his eyes on us to become pirates too and shouted that he was going to find out if we had what it takes.

The test began and water was fired at the crowd, the pirates yelling at us things, "So ye wanna be pirates?" and "You want treasure too, don't ya?"

It was at that moment that Jack Sparrow appeared once again on a rickety ship. The crowd were tested on what they had learned and were encouraged to intimidate Jack Sparrow, but…

…all of a sudden a merry banquet began! Everybody soaked each other in water, sang and drink. It was during this time that the sly Jack Sparrow took action, causing Barbossa to enrage with fury.

With water shooting and flames blazing during the final battle, who came out victorious? You'll have to visit Tokyo DisneySea to find your! Enter the wild world of the pirates and get wet this summer for Disney Pirates Summer.

©️Disney

Kaori's Easy Recipe: Learn to Make Mickey Mouse Gratin Pie

With just a small bit of ingenuity, turn everyday food into something cute using Kaori's easy recipe! With a few simple ideas, an ordinary recipe magically transforms into a cute dish.

Today, I will show you the perfect recipe for using the Mickey Mouse bread warmer you can buy online at Belle Maison. The warmer can be used for bread, pies and more. They will keep your food from going cold and drying out so it'll still be as delicious as when you put it in!

1. Ingredients

Frozen pie sheets

Frozen gratin

2. Leave the pie sheets to come to room temperature for 5-10 minutes and then roll out slightly.

3. Cut out two large circles for the face. If you don't have a cutter you can substitute it with a cup or something similar

4. Take one of the circles and cut a smaller size circle like below.

5. Using egg yolk, stick the hollow circle from Step 4 onto the circle from Step 3. For the ears, check the size of the face you have cut out and cut them accordingly. Affix to the face with egg yolk.

6. Layer egg yolk over the years and the outside of the face and then pierce holes with a fork all over.

7. Add the frozen gratin to the middle and bake at 200℃ for 13-15 minutes.

The recipe may be simple but looks just like something sold at Mamma Biscotti's Bakery in Tokyo Disneyland! You can add mint sauce to the middle or even make it a meat pie. Whatever you do it's sure to be delicious!

Pop into your bread warmer for cute presentation. These make for great nibbles to share with people!

Kaori invites you into her world of character-themed food dishes in her recipe series. Be sure to check out her Instagram where she has uploaded many pictures of her character dishes!

©️Disney

Profile

Kaori Kubota (@kaopan27)
I live in Hokkaido and I love to make character themed foods, desserts and pastries♡

I want to see my family smile, so I enjoy putting in a bit of effort to make character foods and changing food into something cute♡

You can see more of my character foods and character bento boxes on my Instagram page→@kaopan27

Toy Story 4 Themed Cafe Opens in Tokyo, Osaka, Sapporo& Nagoya

Did you catch Toy Story 4 at the cinema yet? If you're in Japan this summer then you won't want to miss the official Toy Story 4-themed cafes opening in Tokyo, Osaka and Nagoya on July 20 and in Hokkaido on July 21 for a limited time.

The film was released just last month but is only set to hit Japanese theatres on July 12. It serves as the fourth and final film in the Toy Story series, wrapping up the story that first warmed the hearts of the public when the first movie dropped back in 1995.

The cafe will be a toy box of fun for all fans of the films, featuring a Toy Story inspired menu and decorations laced with trivia.

It costs ¥500 (before tax) per person to book a seat at the cafe. Customers who order from the menu will receive one of 13 possible stickers pictured above in the style of theatre tickets.

Everyone who enters the cafe will also receive one of these 13 possible entry bands.

<Woody & Bo Peep> Fateful Reunion Plate (¥1,890)

Fans of Woody and Bo Peep should look at ordering the Fateful Reunion Plate, a chicken sandwich and vichyssoise set based on both characters' outfits. Find the sheep hidden amongst the dish!

<Duke Caboom> High in the Sky! Stunt Burger (¥1,890)

Duke Caboom's chicken burger is served with mint sauce and a heap of assorted vegetables. Fly high in the sky with the dish's delicious combination of flavours.

<Buzz, Ducky & Bunny> Night Carnival Pasta (¥1,790)

This meat pasta dish is topped with colourful vegetables. Keep the fun going at the moving carnival at night!

<Gabby Gabby & The Bensons> Afternoon Tea Set (¥1,790)

Paying tribute to Gabby Gabby and the dummies, the afternoon tea set comes with a tuna sandwich and a fruit and yogurt sandwich. To drink you can enjoy a decaff Earl Grey tea.

<Jessie> Pomegranate Water (¥890 or w/coaster ¥1,790)

Feel refreshed with Jessie's satisfyingly sour pomegranate water.

<Slinky> Orange Yogurt Smoothie (¥890 or w/coaster ¥1,790)

Or order Slinky's orange flavoured yogurt smoothie with kiwi sauce.

Ordering from the food menu will also get each person a specially-made paper apron.

There are lots of other items on the menu to look forward to as well. And don't miss out on the range of exclusive merchandise they have either.

Acrylic Key Ring (13 Designs): ¥500 Each

A5 Folder (10 Designs): ¥350 Each

Mini Duralex Glass (5 Designs): ¥800 Each

The Toy Story hype doesn't seem to show any signs of stopping just yet. Be sure to visit the official Toy Story 4 cafe in Japan.

©Disney/Pixar

© POOF-Slinky, LLC

*All prices include tax. Photos are for illustrative purposes only and so designs are subject to change.

Information

Toy Story 4 OH MY CAFÉ

Locations/Dates

Tokyo: OH MY CAFÉ TOKYO (Tokyu Plaza Omotesando Harajuku) / July 20 – September 16, 2019

Osaka: kawara CAFE&DINING Shinsaibashi / July 20 – September 16, 2019

Nagoya: kawara CAFE&KITCHEN Nagoya PARCO / July 20 – August 25, 2019

Hokkaido: Interlude Cafe / July 21 – September 16, 2019

Toy Story OH MY CAFE Official Website: https://toy.ohmycafe.jp/

Toy Story Official Website: https://toystory.disney.com/

Toy Story Alien Themed Ice Cream Cake Arrives at Baskin-Robbins in Japan

Baskin-Robbins Japan has unveiled its new ice cream cake based on the aliens that appear in the Toy Story franchise which it will begin serving on July 1.

Also known as the Little Green Men, the aliens first appear in the claw machine located inside Pizza Planet. These iconic characters are loved for their cute appearance and speech pattern.

The three large eyes, head and ears of these adorable cake are all made from chocolate. The mouth, which is shaped in such a way as if the alien is about to start talking about 'The Claw,' is made from chocolate whipped cream. The trademark uniform too is made from chocolate.

The cake is served on a colourful mat with illustrations of space, rocks and Buzz.

The cake is filled with popping candy and chocolate chips too. If you loved Toy Story 4, why not celebrate the end of the film series by sinking your claws into the adorable new alien cake from Baskin-Robbins?

©Disney/Pixar

Disney Resort Celebrates Toy Story 4 Release With Exciting Events, Decorations, Food and More!

The brand new movie Toy Story 4 will be released in Japan on July 12 and to celebrate, Tokyo Disney Resort launched the event Funtime with Toy Story 4, which started on June 14 and will run until September 1. 

In the movie, Forky meets Woody and the gang, who have been Bonnie's toys for quite some time now. However, Forky does not think of himself as Bonnie's most precious toy, but rather a used fork that should have been binned a long time ago. As a result, he tries to run away. 

Tokyo Disney Resort is inviting excited Toy Story fans to plunge right into the world of the movie with their immersive event called "Find Forky". 

To escape from Woody and the gang, Forky has run all the way to Tokyo DisneyLand. Woody and friends need your help to rescue him! When you arrive at Tokyo Disneyland, get your hands on a Find Forky map and use the hints around the park to guide you to his whereabouts. 

When you head to the hint locations, you might discover that Forky was just there a moment ago! Where could he be?

If you use the map hints to find Forky, you will also arrive at messages written by Woody and the gang. When you find these messages, make sure to talk to the Toy Story staff at the park and you will receive an original sticker for your discovery.

There is also Toy Story 4 food all around the park. We have already released an article detailing all the irresistible Toy Story 4 food. All the food is very colourful, cute and full of summer vibes. These foods and drinks are perfect to satisfy you on a hot summer's day.

Tokyo Disneyland®

Tokyo DisneySea®

Both Disneyland and DisneySea are full of Toy Story 4 decorations. Both parks feature illustrations of Forky having a fun time playing with Woody and the gang. 

You also cannot miss the special Toy Story 4 goods that have designs of the characters having a blast together. 

The general merchandise shop Emporio even has a beautiful Toy Story 4 popup illustration. I spotted Forky playing hide-and-seek here too!

Here's a product lineup that caught my eye. Look at the Little Green Men wearing a Mickey hat! This sunscreen is essential to protect yourself from sunburn ー an essential Disney item for an intense Disney Resort summer. 

There is also a wide range of sweets on sale so make sure to take your time to decide which you like the best.

As there's quite a bit of time to wait for the movie to be released, come get yourself hyped up at Tokyo Disney Resort. Forky, Woody and the gang are waiting for you. ♪

©Disney

©Disney/Pixar

Kaori's Easy Recipe: Learn to Make Winnie the Pooh S'more Cookies

With just a small bit of ingenuity, turn everyday food into something cute using Kaori's easy recipe! With a few simple ideas, an ordinary recipe magically transforms into a cute dish.

In this edition, we'll be using a recipe from the Disney dessert cookbook Oishii Disney Sweets Recipes. In the book, there is a recipe for making s'more cookies of Mickey's gloves, but I decided to shake things up a bit and make Winnie the Pooh ones instead. The glove recipe is super cute as well, so if you can get your hands on the book I definitely recommend trying that out too.

A s'more is a marshmallow wedged between chocolate and cookies. The cookie dough isn't overly sweet so it's extremely delicious even if you pack full with marshmallows and chocolate.

Ingredients

Cookie Dough

100g unsalted butter

80g powdered sugar

A pinch of salt

20g egg yolk (1 medium egg)

190g sifted wheat flour

S'mores

Marshmallows

Chocolate

Chocolate Pen

1.

Allow the unsalted butter to come to room temperature then knead in a bowl well. Slowly add the the powdered sugar, egg yolk and sifted flour in that order while mixing.

2.

Once the mix comes together, line it across a baking sheet and flatten evenly. Once flat, put in the refrigerator and chill in the refrigerator from at least an hour to overnight. In the recipe book it says to use a round dough cutter but I actually own a Winnie the Pooh cutter so I used that. Cut the dough to the size of your liking. Line them on a baking tray and bake at 160℃ for approximately 20 minutes.

3.

Once baked, leave to cool. Next, start drawing on the face. I made a video to show how I did it so check it out below.

4.

Place the marshmallows on the side of your cookie without the face and melt in a 500w microwave for 20 seconds. Place the chocolate on the warm marshmallows and then pop the face back on. The marshmallows and chocolate are more delicious when melted, so I recommend eating them as soon as you take them out of the microwave.

It was fun to put in the amount of chocolate and marshmallows that I wanted.

They are perfect for parties too!

Kaori invites you into her world of character-themed food dishes in her recipe series. Be sure to check out her Instagram where she has uploaded many pictures of her character dishes!

©️Disney

Profile

Kaori Kubota (@kaopan27)
I live in Hokkaido and I love to make character themed foods, desserts and pastries♡

I want to see my family smile, so I enjoy putting in a bit of effort to make character foods and changing food into something cute♡

You can see more of my character foods and character bento boxes on my Instagram page→@kaopan27

Information

Oishii Disney Sweets Recipes (Japanese Title: おいしい ディズニー スイーツレシピ)

Price: ¥1,200 (Tax Included)

Available: Amazon Japan, Rakuten and elsewhere

Disney's Aladdin Themed Cafe Opens Inside Tokyu Plaza Omotesando Harajuku

Disney's new live-action adaptation of Aladdin opened was released in Japan on June 7. To celebrate its release, two themed cafes were by OH MY CAFE in Tokyo and Osaka.

The Tokyo cafe opened at Tokyu Plaza Omotesando Harajuku on June 14 and the Osaka one at kawara CAFE & DINING on June 15. Both will run until July 15.

The MOSHI MOSHI NIPPON editorial team visited the Omotesando cafe with Japanese model Kanako to report on the cafe's decor and design and food.

The first thing to catch your eye when you enter is Jasmine's gorgeous and intricate dress. Photos with the dress are permitted.

Hanging from the cafe ceiling is an assortment of magic lamps while carpets are draped across the wall. Kanako went dressed up like Jasmine to enter this Aladdin-inspired world.

There are plenty of places to take great photos throughout the cafe, such as these Jasmine silhouettes illustrated on pillars.

Jasmine & Dalia's Colorful Pasta: ¥1,790 (Before Tax)

Magic Carpet's Special Sandwich Wrap: ¥1,790 (Before Tax)

The food of course is also based on the film. The menu includes a delicious and faithful line-up from the curry inspired by the magic lamp to Carpet's sandwich wrap and a colourful pasta dish decorated with Jasmine and Dalia. It's safe to say everything on the menu is Instagram-worthy.

Kanako ordered the pasta dish. She gave it a rave review, saying, "It's colourful and cute. It's cute it has Jasmine and Dalia too♡" We recommend this dish for those who want to eat something light.

Rajah's Orange Smoothie: With Coaster ¥1,690 (Before Tax), Without Coaster ¥750 (Before Tax) / Genie's Yogurt Smoothie: With Coaster ¥1,690 (Before Tax), Without Coaster ¥750 (Before Tax)

For drinks, enjoy the tiger-striped Rajah orange smoothie or the blue Genie yogurt smoothie. Both are super refreshing and perfect for the summer heat.

The cafe also sells exclusive original merchandise including key rings, an iPhone case and much more. Visit the cafe to see the full line-up.

There are also two lunch mats you can get your hands on by booking a table in advance. The design is chosen for you randomly. So if you're planning a trip, don't forget to reserve in advance.

How did you enjoy your visit, Kanako-chan?

"They had Jasmine's dress on display. I felt like I had been sucked into the world of Aladdin. If you love Aladdin or you love Disney, please be sure to pay a visit."

Whether you have seen or have yet to see Disney's new Aladdin movie, if you're in Tokyo or Osaka this summer, don't miss a chance to enter its romantic and oriental world at the official themed cafes.

©Disney

Model: Kanako

Writer: Sayuri Mizuno (MMN Editorial Team)

Translator: Joshua Kitosi-Isanga

Information

OH MY CAFE TOKYO

Address: Tokyu Plaza Omotesando, 4-30-3 Jingumae, Shibuya, Tokyo

Running: June 14, 2019 – July 15, 2019

kawara CAFE&DINING Shinsaibashi

Address: Shinsaibashi Opa Floor 9F, Nishi-Shinsaibashi, Chuo Ward, Osaka, Osaka Prefecture

Running: June 15, 2019 – July 15, 2019

Aladdin Cafe Reservations: https://magic.ohmycafe.jp

Food Review: Tokyo DisneySea & Disney Ambassador Hotel's Toy Story 4 Menu

Hi, everyone. I'm Midori from MMN's editorial team.

To celebrate the release of Toy Story 4, Tokyo Disney Resort are currently holding an event titled "Fun Time With Toy Story 4" at Tokyo DisneySea which will run until September 1. Toy Story fans can roll up and enjoy themed food, merchandise and limited-time photos spots.

I visited the park to try out the themed menus being served both in the park and at Disney Ambassador Hotel.

Head on over to the Mexican restaurant Miguel's El Dorado Cantina at Lose River Delta in Tokyo DisneySea® to find the limited edition food. It's quite a distance from Toy Story Mania! so keep this in mind if you're thinking of visiting there beforehand.

I went ahead and ordered the special set at the counter.

Special Plate Set: ¥1,580 (Tax Included)

The special set includes pork cutlet with pancetta cream sauce, sausage on a bone, turmeric rice, mustard dip, and a soft drink. For an extra ¥400 you can get a dessert thrown in there too.

If you look closely you will see that the rice is shaped into Woody's face, making for an Instagrammable shot. The sausage being on a bone also means you can enjoy chomping it down.

Condensed Milk Mousse & Orange Mango Cream: ¥500 (Tax Included) (*¥400 if you order with the Special Set)

I recommend this dessert whether on its own or with the set. It comes with a cookie of Billy, Goat and Gruff and is topped with strawberries to give it a cute look. The orange and mango cream is refreshing and a perfect summertime dessert.

Strawberry Jelly Melon Soda: ¥400 (Tax Included)

At the same shop you can also order this striking and colourful melon soda. The bottom of the melon soda is packed full of strawberry jelly which taste delicious together.

It also contains pieces of yellow jelly for even more textures. The cup has cute Toy Story illustrations on it.

For an extra ¥500 when ordering a drink you can also get one of these rubber souvenir coasters. These coasters are sold at other shops in the park too with different designs. Check out the official website to see what coasters you can get and where.

Over in the Hyperion Lounge at the Disney Ambassador® Hotel t hey are also serving a special cake set.

Disney Pixar Toy Story 4 Special Cake Set: ¥2,000 / Serving 17:00-22:00 *Limited servings per day

The cake set features an edible Woody and Forky image and mizuame water candy made to look like the moon. It's combined with pineapple cake and yoghurt mousse to create a delicious dessert. The set comes with a choice of tea or coffee.

Toy Story 4 will be released on July 21, 2019. Celebrate its release with a trip to Tokyo DisneySea this summer.

©Disney

©Disney/Pixar

Discover A Whole New World of Exotic Flavours with Ginza Cosy Corner's Aladdin Petit Cake Set

To celebrate the release of the live action adaptation of Aladdin, Ginza Cozy Corner is releasing an Aladdin-themed petit cake set to be sold at all branches that sell fresh cakes. This cake set will take you on an adventure to a whole new exotic world of flavours. The cakes will be sold for a limited time only from June 17 to July 11, 2019.

Aladdin Star Festival Collection (9 mini cakes)

The box is decorated with the iconic scene where Aladdin and Princes Jasmine soar through the night sky. Inside the box, you will discover a wide range of magical petit cakes, each themed around a character or a symbolic item from the film. The theme of three wishes from the film is a sprinkle of inspiration on the cakes. We recommend you think of the story whilst enjoying them.

Let Aladdin sweep you away into a romantic world of exotic flavours with these limited edition sweets.

Information

Aladdin Star Festival Collection (9 mini cakes)

Price: ¥2,500(¥2,700 after tax)

Available: June 17 to approx. July 11, 2019

Ginza Cozy Corner Official Website: https://www.cozycorner.co.jp/index.html