Tomica x Sanrio Adds Badtz-Maru and Pekkle to Toy Car Series
Takara Tomy is set to release its second batch of toy cars in collaboration with Sanrio as part of its Tomica mini car series on January 16, 2021. The collection will be released at toy stores, department stores, Tomica branches, Takara Tomy's online site, select Sanrio stores, Sanrio's official website, and elsewhere in Japan.
Dream Tomica Sanrio Characters Collection 2 (6 Designs) | ¥770 Each (Before Tax)

Hello Kitty

Cinnamoroll

Pochacco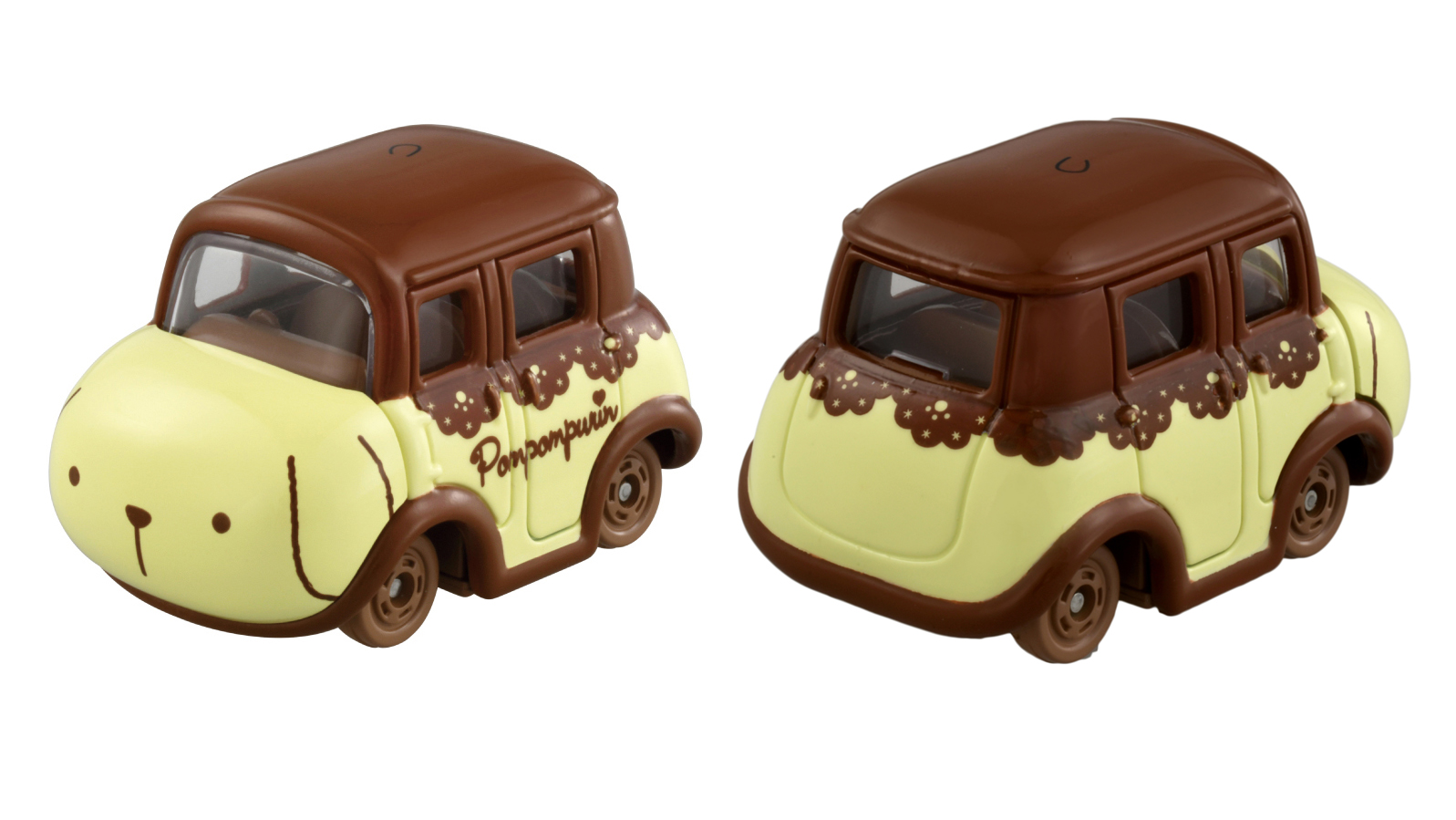 Pompompurin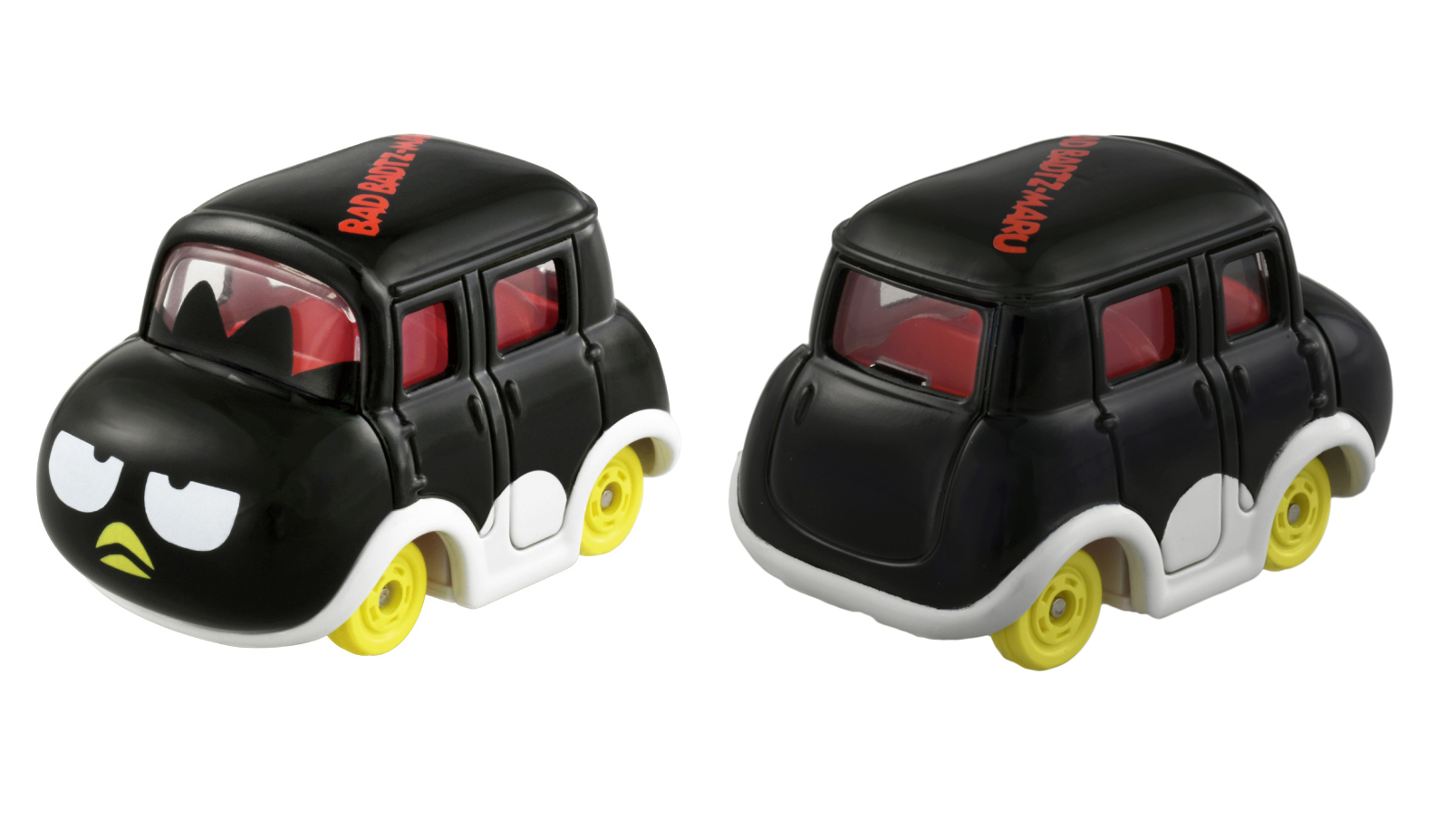 Badtz-Maru
Pekkle
The first collection was released last year as a collaboration between Tomica, which has turned 50 years old, and Sanrio Characters, which has been on shelves since the 1980's. There are six cars in the collection which can be bought individually or as a set for ¥4,200 (before tax).

Get your hands on these cute cars inspired by the Sanrio characters.
© '76, '89, '90, '93, '96, '01, '21 SANRIO CO., LTD.
© TOMY
RELATED ENTRIES
Hello Kitty Hairbrushes Ensure Your Locks Are Kept Kawaii at All Times

Hairbrush brand WetBrush® joined hands with Sanrio to release a new collection of Hello Kitty design brushes at drug stores and variety stores across Japan on Friday (January 15).

Under My Umbrella | ¥1,540 (Before Tax)

Bubble Gum | ¥1,540 (Before Tax)

Original | ¥1,540 (Before Tax)

WetBrush® is a hairbrush brand sold in over 70 countries worldwide that can be used on damaged hair, wavy hair, thin hair, wigs, and more without causing damage to lovely locks, leaving hair detangled and silky smooth.

The Hello Kitty collection features three brushes with different designs – a must have for any fan of Sanrio's most recognisable face.

Information

WetBrush® x Hello Kitty Collaboration
Released: January 15, 2021

Available: Drug stores and variety stores in Japan (Select branches not participating)

Official Website: http://www.wetbrush.jp

D-UP x Hello Kitty Eyelash Fixer EX Launches in Japan

If you're looking to look as cute as Hello Kitty, then you'll want to pick up the new D-UP Eyelash Fixer EX, a product by D-UP released in collaboration with Sanrio on Friday (January 22) at Don Quijote stores in Japan. The product will also begin rolling out at variety shops and drug stores from March 5.

D-UP Eyelash Fixer EX is a super strong glue for false eyelashes. First released in 2000, it has gone to enjoy huge popularity in Japan where it has sold over 27 million units. It is also popular outside of Japan too.

With face masks now a norm for everyone worldwide, makeup trends are now tending towards the eyes, and so D-UP is launching its 5th collaboration with Hello Kitty, a partnership which first began in 2021.

D-UP Eyelash Fixer EX552 Hello Kitty S | ¥5,990 (Tax Included)

The packaging and product design features a retro style coloured in pastel colours and Hello Kitty.

Information

S5D-UP Eyelash Fixer EX552 Hello Kitty S
Pre-Release: January 22, 2021 @ Don Quijote
General Release: March 5, 2021
D-UP Official Website: https://d-up.co.jp/

Hello Kitty Valentine's Day Chocolates by Bicerin Are Sure to Surprise Your Lover

Café Al Bicerin released a special collection of chocolates in Japan for Valentine's Day on Wednesday (January 20) in collaboration with Hello Kitty.

Café Al Bicerin is a cafe in Torio, Italy, that first opened back in 1763. It has a long history and is a place that was enjoyed by the likes of Friedrich Nietzsche and Ernest Hemingway.

Bicerin × Hello Kitty Love Assortment | ¥2,160 (Tax Included)

Bicerin × Hello Kitty Love Assortment | ¥2,160 (Tax Included)

Valentine's Baci di Dama (Includes 5) | ¥1,350 (Tax Included)

© 2021 SANRIO CO., LTD. APPROVAL NO. L617585

Information

Bicerin x Hello Kitty Valentine's Collection
Released: January 20, 2021
Available: Bicerin Japan (Ginza SIX, Takashimaya Shinjuku, Midland Square, Hankyu Umeda, Roppongi Hills, Tokyo Midtown Hibiya)
Official Online Store: https://shop.bicerin.co.jp/
Official Website: http://www.bicerin.co.jp/

Pompompurin Celebrates 25th Anniversary With Special Birthday Party Event

This month marks the 25th anniversary of Sanrio's popular character Pompompurin, and to celebrate, the kawaii character-creation company is honouring the adorable golden retriever both online and offline with a special birthday event, the selling of commemorative merchandise, and more.

Pompompurin 25th Anniversary

Pompompurin first came out of the kennel in 1996. The golden retriever is known for his trademark beret and his iconic colour scheme which is inspired by the Japanese custard pudding dessert known as purin―which is also where he gets his name from! He is a popular face amongst fans of Sanrio's character cast, and that's proven in the fact that he has placed top in the annual Sanrio Character Ranking three times. He lost to Cinnamoroll in the 2020 Sanrio Character Ranking, coming in second, but maybe he has a chance this year?

Pompompurin has over 600,000 followers on his official Twitter account, where he posts pictures of his easy-going, everyday life and what he's up to (probably not much during the day though as he is known for loving afternoon naps). The custard-coloured doggo also has over 20,000 registered members of his Pompompurin Ambassador program which has "Pombassadors" publishing social media posts and blog entries about Pompompurin.

Birthday Event – "Pom Shusokai"

A birthday event titled "Pom Shusokai" (Pom General Meeting) will take place at Sanrio Puroland, a theme park in Tokyo themed completely on Sanrio's character roster, on March 21, 2021. At the general meeting, Pompompurin will appear "not as a stakeholder, but as the Head Pom" where various exciting things will take place in the run up to his actual birthday which falls on April 16. Tickets go on sale from mid February, but Pombassadors will get early access. Full details on what to expect at the event will be announced in the coming weeks on Sanrio's homepage.

25th Anniversary Merchandise

A cute, original line-up of three merchandise designs has been created to commemorate Pompompurin's 25th.

Anniversary Design Items: Celebration, Collection, World Rice

Celebration Designs

Collection Designs

Rice From Around The World Designs

The collection will roll out at select Sanrio stores, variety stores, and pop-up shops in Japan from in early February.

Pompompurin x Pastel Desserts Collab

Pompompurin is also collaborating with the desserts brand Pastel who have baked up a special pudding-flavoured 25th anniversary chiffon cake. It will be sold at Pastel branches in Japan from March 15.

©︎'76, '90, '96, '21 SANRIO 著作(株)サンリオ

Pompompurin's 25th Anniversary Announces More Celebrations at Sanrio Puroland and Harmonyland

This month marks the 25th anniversary of fan-favourite Sanrio character Pompompurin, and to celebrate, Sanrio is holding a special 1-year commemoration to the adorable gold retriever which will run throughout 2021 with a host of events and exclusive merchandise at Sanrio Puroland and Sanrio Harmonyland, and more.

Pompompurin 25th Anniversary Key Visual

Sanrio Puroland Pompompurin 25th Anniversary "Niko Niko" Purin Party With Team Purin Key Visual

Niko Niko Purin Room

Pompompurin 25th Anniversary Special Merchandise

Pompompurin 25th Anniversary Food & Desserts

Pompompurin 25th Anniversary Event in Harmonyland New Costume Design

There's lots to look forward to this year for Pompompurin fans, such as the Pompompurin 25th Anniversary Niko Niko Purin Party With Team Purin event taking place at Sanrio Puroland from March 12 to December 31 where fans can snap a photo in the Niko Niko Purin Room, get their hands on exclusive anniversary merch, tuck into a themed menu, enjoy online content if they can't get to Puroland, and more. Pompompurin is also debuting a cute new costume and fans will get to meet the cute character too.

Sanrio Celebrates My Melody's Birthday With Special Merchandise and More

Sanrio has begun celebrations for My Melody's birthday, which falls on January 18, which includes the announcement of the rental My Melody House, exclusive merchandise, the fan-favourite character appearing on a popular Japanese radio show, and more.

House Mate Rental Building – "My Melody House" (Temporary Name)

My Melody Flower Service Original Design

Novelty Calendar – March 2021

Goncharoff Collab Valentine's Chocolate

MINISTOP Limited-Edition Snowman Cup Dessert | ¥489 (Tax Included)

TOKYO FM Radio Show – "Sky Rocket Company"

My Melody "Itsudemo Issho ni My Melody" app gets memo pad update

My Melody Lottery | ¥700 Per Go (Tax Included)

My Melody Acrylic Clock added to Sanrio's Point Service "Sanrio+"

This autumn, House Mate is opening My Melody-themed buildings that people can rent. As of now it's temporarily called the My Melody House. It will first open in Tokyo before rolling out across Japan, featuring wallpaper, kitchens, baths, toilets, doorknobs, all adorned with My Melody decorations.

Sanrio is also launching a flower delivery service this February which will see flowers delivered to homes in Japan twice a month. The first delivery of the month contain not only the flowers wrapped in My Melody paper but a free My Melody mask too. The second delivery of a month will be coupled with a calendar for the following month.

The character creation company is also collaborating with Goncharoff for Valentine's with cute ribbon-wrapped chocolates. MINISTOP convenience stores in Japan will also begin selling a special cup dessert featuring My Melody as a snowman from January 22.

Sanrio shops and convenience stores in Japan will also roll out a lottery at the end of this month where fans can win a variety of items like cushions, a chocolate fondue maker, coconut plate, and more.

©ʻ76,'21 SANRIO 著作(株)サンリオ

Sanrio Puroland Announces Valentine's Day Themed Online Event

Sanrio Puroland is teaming up with Gekidan No Meets to host a 5-day Valentine's day themed event titled 'VIVA LA VALENTINE' on February 6, 7, 11, 13, and 14. The event comes in response to COVID-19 so people can enjoy the park from the comfort of their own homes.

Join fan favourites Hello Kitty, Dear Daniel, Pompompurin, Cinnamoroll, and Kuromi who will live stream from Puroland after the park closes for a special song and dance show. Music will be performed by a multi-genre line-up consisting of Sayonara Ponytail, Zo Zhit (Dos Monos), Kroi, and Tomggg.

VIVA LA VALENTINE

The event will have its own story that follows Hello Kitty pouring her heart and soul into a new show 'VIVA LA VALENTINE' with Dear Daniel as the first on the list. Everyone is in high spirits as they prepare for the big day. However, the show's sponsor Bias Seika, makes an abrupt and ruthless change to the show just three days before it's scheduled to be performed. What will they do, and what will become of Valentine's Day?

See the Sanrio characters preparing the show


Sanrio Puroland's official Twitter account has been posting live streams of the Sanrio characters working hard in preparation for the show since December 22 with the hashtag #ビバラバ. The first clip was viewed over 50,000 times with supportive comments flying in from fans.

More clips and photos will continue to roll out starting on January 14, 2021 too, so be sure to give them a follow.
Sanrio Puroland Official Twitter: https://twitter.com/purolandjp

Puroland set to come to life on February 6, 2021 after turning the lights out on December 22



Dear Daniel and the gang in a merry circle at Furry Tale Theater on December 28



Dear Daniel exchanging business cards on January 6



Hello Kitty putting up posters on January 12


Catch all the fun at Sanrio Puroland live with a special 50-minute show online.

©1976, 1996, 1999, 2001, 2005, 2020 SANRIO CO., LTD.

Go Strawberry Picking With Hello Kitty and Friends at Sanrio Puroland

Sanrio Puroland opened a special new event last Friday (January 8) called "Sweets Puro" which is themed on strawberry picking.

Characters greet guests in their strawberry-designed outfits

Guests participate in an augmented reality strawberry stamp rally

New character videos play at the illuminations

A strawberry-packed dessert menu

Limited-edition merch

Tables in the food court receive makeovers

Guests can look forward to seeing sparkly new pink-coloured illuminations, snapping sweet photos at the entrance photo spot, getting involved in the AR strawberry picking stamp rally using their smartphones, and more. They can also pay to spend one minute with the park characters who will be dressed in their strawberry outfits, and if they arrive 30 minutes before the first floor character food court opens, they can get the limited-offer morning breakfast "Strawberry Morning Bread Set." The park will even be serving up seasonal alcoholic drinks like the Sweets Puro Strawberry Peach Sour.

The first day of the event saw the characters come out to greet guests in their adorable strawberry and dessert themed costumes. This was followed by a new illumination show, Puro Sweets Party, which took place at Puro Village, and My Melody sang and danced to the music against the bright and beautiful lights. Guests enjoyed a selection of limited-time food like the Pompompurin's Croissant Doughnut Strawberry Sandwich and Hello Kitty's Sweet Strawberry Milk.

©1976, 2009 SANRIO CO., LTD. ©1975, 1976, 1990, 1996, 2001, 2004, 2005, 2010, 2017, 2021 SANRIO CO., LTD.

Information

Sanrio Puroland – "Sweet Puro"
Running: January 8, 2021 – March 9, 2021
Official Website: https://www.puroland.jp

Maison de FLEUR x Sanrio Reveal Kawaii Bag Collection For Second Collaboration

Lifestyle brand Maison de FLEUR and Sanrio have announced that preorders for the second collaboration in their "Maison de FLEUR×Sanrio characters" series will launch on Sanrio's online shop on January 8, 2021.

Ribbon Tote Bags (5 Designs) | ¥6,050 Each (Tax Included)

The cute collection combines fancy frills and ribbons with items inspired by My Melody, Cinnamoroll, Kuromi, as well as two new additions for this second collaboration due to fan demand – Pompompurin and Pochacco.

Items include the Ribbon Tote Bag, Ribbon Backpack, Mobile Shoulder Bag, and Tissue Pouch. Pre-orders run in Japan from January 8 to February 7 with shipping to begin in early March. The collection will subsequently go on general sale at Sanrio stores in late May. Further information will be announced by Sanrio at the end of April.

Ribbon Backpacks (3 Designs) | ¥12,100 Each (Tax Included)


Mobile Shoulder Bags (3 Designs) | ¥5,390 (Tax Included)

The collection is inspired by a tea party which is captured in the fancy designs featured on each item with the five characters enjoying themselves a cup of tea each.

Tissue Pouches (3 Designs) | ¥3,630 (Tax Included)


Mascot Charms | ¥2,970 (Tax Included)

The mascot charms will also make a return this collaboration at select Sanrio shops and the company's online store in late May 2021.

Alternate Colour Mascot Charms (5 Designs) | ¥2,970 (Tax Included)

Sanrio fans can also get their hands on another set of mascot charms with different colours. These will be sold exclusively at Maison de FLEUR stores in Japan and their online shop STRIPE CLUB.

ⓒ'76, '89, '96, '01, '05, '20 SANRIO 著作(株)サンリオ

Sanrio Puroland Announces the Park's First Magic Leap Attraction

Sanrio Puroland has announced that its first-ever attraction using Magic Leap 1 technology will open for a limited time from January 15 to February 14 next year.

Magic Leap 1 is a wearable spatial computer that brings the physical and digital worlds together as one. Puroland guests can look forward to an immersive experience together with their favourite characters including Hello Kitty, Cinnamoroll, and more.

Hello Kitty inside the attraction

Cinnamoroll inside the attraction

Free pins for those who participate

Have a go at Hello Kitty's Space Shooting, a digital shooting game which will earn you a free pin depending on the score you get.

Hello Kitty's Space Shooting


Cinnamoroll's Decoration Cafe lets you put up decorations together with Cinnamoroll using an original collection of stamps. Once you've finished decorating, you can take a photo and download it onto your phone.

Original photo frame

Cinnamoroll's Decoration Cafe

If you get to visit Sanrio Puroland in the New Year, be sure to try out the park's new limited-time attraction.

©1976, 1990, 2001, 2005, 2010, 2020 SANRIO CO., LTD. ©2013, 2020 SANRIO CO., LTD. S/D・G

*MAGIC LEAP is a trademark of Magic Leap, Inc.

Sanrio's My Melody, Pompompurin, and Little Twin Stars Keep Your Face Masks Safe

Sanrio released pre-sales of its new Sanrio Characters Mask Bags for face masks via the online shop Asunarosha on Wednesday (December 9).


Following the success of the Hello Kitty and Cinnamoroll face mask bags released in September, all of which sold out, Sanrio is adding new designs into the mix. The bags are washable and allow you to carry your mask around conveniently and hygienically.

My Melody, Pompompurin, Little Twin Stars (Kiki & Lala) | ¥700 Each (Before Tax)

The new designs include the popular characters My Melody, Pompompurin, and Little Twin Stars (Kiki & Lala).


Hello Kitty, Cinnamoroll | ¥700 Each (Before Tax)

Hello Kitty and Cinnamoroll are also making a return so fans can pick from 5 different designs.

Sanrio Puroland is also releasing a cute collection of face mask and mask cases on December 18.

©1976, 1996, 2001, 2020 SANRIO CO., LTD.

Hello Kitty and Dear Daniel Winter Doughnuts to be Served at Floresta

Floresta Nature Doughnuts, a doughnut cafe that hand-makes doughnuts using organic ingredients, is baking up Hello Kitty and Dear Daniel doughnuts this Christmas from December 11 to 25. They will be served in-store at be available to order online in Japan.


Floresta Hello Kitty & Dear Daniel Christmas Doughnuts | ¥450 Each (Before Tax)

Both ring-shaped doughnuts are covered in a chocolate coating with Dear Daniel's made with organic matcha and Hello Kitty's with strawberry powder made from strawberries grown in Japan. The doughnuts are dusted with organic coconut flakes to look like snow and are decorated with the Star of Bethlehem.

These two doughnuts are naturally sweet and are the perfect kawaii treat to indulge in for this year's Christmas in Japan.

©'76,'99,'20 SANRIO APPR.NO.L610318