Asahi Soft Drinks has announced the release of a new drinks series called Calpis Soda Shifuku no Jikan ("Blissful Time") with the first flavour, lemon, to hit shelves in Japan on January 26, 2021.
The new milky, carbonated soft drink series is aimed at grown-ups looking to wind down and relax with a nice chill drink. The lemon flavour is made with lemon peel extract, adding a citrusy refreshing kick to the bubbly and smooth experience.
If you're in Japan then be on the lookout for this blissful new beverage.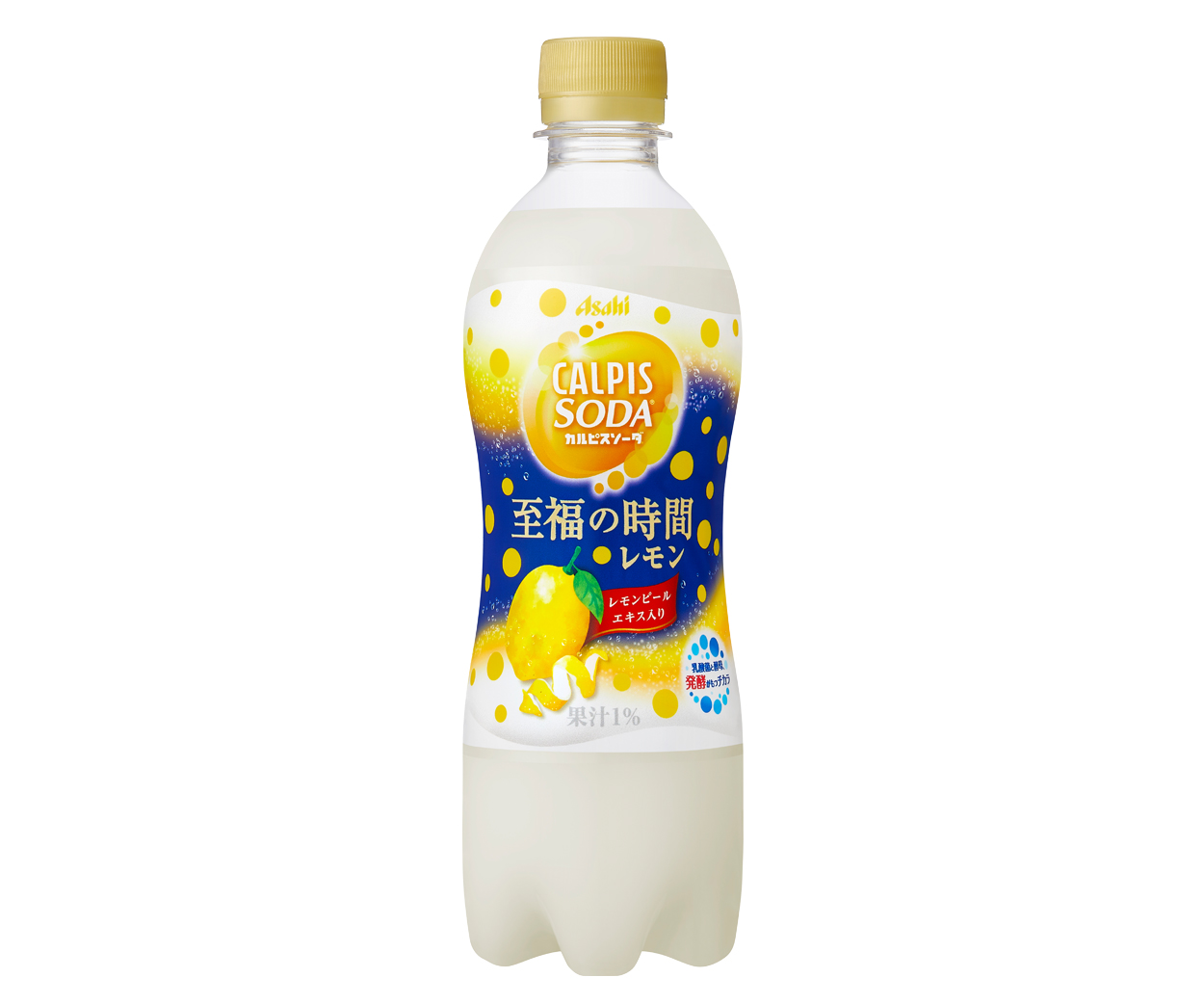 "カルピス," "カルピスソーダ," and "CALPIS SODA" are registered trademarks of Asahi Soft Drinks Co., Ltd.
Information
Calpis Soda Shifuku no Jikan
Japanese Name: 「カルピスソーダ」至福の時間レモン
Release Date: January 26, 2021
Price: ¥140 (Before Tax)
Quantity: 500ml
Region: Japan
Official Website: https://www.asahiinryo.co.jp/
RELATED ENTRIES
CoCo Fresh Tea & Juice Releases Valentine's Day Chocolate CoCo Dinosaur Beverages

Tastea Trustea Japan released two new beverages on Friday (February 5) for Valentine's Day at CoCo Fresh Tea & Juice in Japan: the CoCo Dinosaur and Tapioca CoCo Dinosaur.

CoCo Dinosaur ¥520 / Tapioca CoCo Dinosaur ¥580

The two teach beverages are made with a rich chocolate sauce and fresh milk. They are topped with chocolate and brown sugar syrup for a sweet combination of flavours and textures. An enjoyable beverage that is both refreshing and Instagram-worthy for Valentine's Day.

Information

CoCo Fresh Tea & Juice
Serving: February 5, 2021 – End of February 2021
Where: All 12 branches of CoCo Fresh Tea & Juice in Japan
CoCo Fresh Tea & Juice Japan Official Website: https://cocofreshtokyo.amebaownd.com/

LEMONADE by Lemonica Releases Sweet Spring Lemon Version of its Signature Freshly Squeezed Drink

LEMONADE by Lemonica, a shop in Japan that serves lemonade made with its own original recipe, is now serving its "Sweet Spring" version of its freshly-squeezed Namashibori Squeezy lemonade as the best season for citrus fruits in Japan has arrived.

Namashibori Squeezy: Regular Size ¥444 / Large Size ¥509 (Before Tax)

The Namashibori Squeezy is one of LEMONADE by Lemonica's most popular menu items, made with freshly-squeezed citrus fruits. The shop uses only the best picks of each season, and right now is the ideal season for citrus fruits which calls for the return of the "Sweet Spring" edition of its signature beverage. Sweet Spring is actually the name given to a specific variety of Japanese citrus fruit which is a combination of mikan and hassaku orange. It has a naturally high sugar content and is rich in flavour, adding pure sweetness and a tangy kick to the beverage without being bitter. It's known for being a rare fruit due to the difficulty of growing and harvesting it, so it's not often seen in the markets in Japan. They are normally shipped in January and February and are mostly grown in Kyushu as the island enjoys a lot of sun.

LEMONADE by Lemonica doesn't make its lemonade by adding syrup to lemon juice. It uses whole lemons to create its own original recipe. It highlights how lemons have a lot of different parts which when combined can provide many different flavours including the lemon flesh, juice, peel, white sponge, and stem.

And for the winter season, LEMONADE by Lemonica is introducing some limited-time desserts to its menu made with sweet strawberries.

Snowberry Lemo Pina / Snowberry Hot Lemonade

Brown Sugar Syrup Matcha Latte Arrives at Tully's Coffee in Japan On Christmas Eve

Tully's Coffee Japan is adding a new seasonal drink to its menu on December 26: the "Brown Sugar Syrup & Soy Flour Matcha Latte."

Brown Sugar Syrup & Soy Flour Matcha Latte (Hot/Iced) | Tall ¥520 (Before Tax)

Matcha beverages at Tully's Coffee are all made with Uji matcha from Kyoto. The powder is prepared in-house at Tully's Coffee, ensuring that the original taste and fragrance of the matcha is fresh. Their new seasonal beverage takes their classic Uji Matcha Latte and sweetens it with brown sugar syrup and Hokkaido soy flour.

Brown Sugar Syrup & Soy Flour Matcha Suwakuru® (Frozen) | Tall ¥540, with tapioca +¥100 (Before Tax)

Adding tapioca pearls creates a perfect combination with the syrup and soy flour, creating a taste and texture that's like the traditional Japanese confection warabimochi.

Uji Matcha Kouign-amann | ¥290 (Before Tax)

Tully's Coffee is also baking up some seasonal treats, like a Japanese-style Kouign-amann and red bean paste-filled doughnuts.

Milk Red Bean Paste Doughnuts | ¥300 (Before Tax)

The doughnuts are also made with milk from Hokkaido.

2021 Year of the Ox Mug | ¥1,500 (Before Tax)

And to celebrate the upcoming Year of the Ox, the coffee chain is also rolling out a cute ox-themed mug.

Information

Brown Sugar Syrup & Soy Flour Matcha Latte
Release Date: December 26, 2020
Official Website: https://www.tullys.co.jp

Neon Genesis Evangelion to Collaborate With Mt. Rainier Caffe Latte On Limited-Edition Coffee Cups

The popular chilled coffee beverage Mt.RAINIER Caffè Latte is teaming up with the popular anime series Neon Genesis Evangelion to release limited-edition coffee cup designs from December 15, 2020.。

Mt.RAINIER launched in February 1993 as a pioneering brand of chilled coffee in a cup. Since then, the company has introduced countless flavours which retain the authentic quality of a drink you would sip on in a cafè.

Neon Genesis Evangelion is a mecha anime series that was first broadcast in 1995. The latest entry to its film franchise, Evangelion: 3.0+1.0 Thrice Upon a Time, will be released on January 23, 2021. The franchise's collaboration with Mt.RAINIER serves as promotion for the highly-anticipated film.

The collaborative coffee cup designs will feature on three different beverages: the Mt.RAINIER Caffè Latte, Mt.RAINIER Caffè Latte Espresso, and Mt.RAINIER Caffè Latte Non-Sugar, all of which have two designs each for a total of six possible designs.

Mt.RAINIER is hosting a special campaign over on its Japanese website where 1,995 Evangelion fans can win some exclusive merchandise.

Information

Mt.RAINIER x Evangelion
Release Date: December 15, 2020

Available: Convenience stores in Japan
Mt.RAINIER Official Website: https://www.mtrainier.jp/

Sarutahiko Coffee Releases Pistachio and Mixed Berry Coffee Beverage For Christmas

Sarutahiko Coffee released a Christmas-exclusive seasonal flavour of its popular Jellatte dessert drink on Tuesday (December 1) which it's calling the "Maroron Merry Pudding Jellatte."

Maroron Merry Pudding Jellatte | ¥750 (Before Tax)

The beverage is the second in this year's Christmas themed drinks to be released by Sarutahiko Coffee. It uses a coffee jelly base made from Ethiopian coffee beans and contains layers of mascarpone cheese from Italy, a chocolate sauce made from Cacao Hunters chocolate, milk pudding, four kinds of mixed berry jellies, pistachio milk pudding, milk foam, and to top it all off, chocolate pieces and pistachios.

The pistachio and mascarpone bring a richness to the dessert drink which blends deliciously with the freshness of the berries and full-bodied coffee for a combination that's like a warm and cosy Christmas hug.

Information

Maroron Merry Pudding Jellatte
Serving: December 1, 2020 – December 25, 2020
Available: Sarutahiko Coffee in Japan
Official Website: https://sarutahiko.co

Cheese Tea Shop machi machi Showcases Christmas 2020 Beverage

Taiwanese cheese tea shop machi machi is releasing a new drink in Japan this holiday season on December 1: the 'Flurry Strawberry Milk With Crème Brûlée.'

machi machi is an extremely popular cheese tea chain in Taiwan that has been called the 'king of cheese tea' by Taiwanese news outlets. Each and every cup poured is made fresh with tea from Taiwan to which rich cream cheese is added for a salty kick, creating a new kind of dessert drink.

Flurry Strawberry Milk With Crème Brûlée | ¥750 (Before Tax)


The new Christmas beverage being served in Japan uses fresh strawberries which adds a delightful sweetness to the milk. It's topped with crushed Oreos and combined with crème brûlée for a variety of layered flavours. The Oreos add crunch to the dessert drink so that it's a delicious experience down to the last sip.

If you've never had Taiwanese cheese tea, and are in Japan this Christmas, don't miss out on this seasonal drink, available for the whole month of December.

Information

Flurry Strawberry Milk With Crème Brûlée
Serving: December 1, 2020 – December 31, 2020
Available: machi machi stores in Japan
Official Website: https://machimachi.baycrews.co.jp

Pikachu Caramel Frappes Zap Their Way to Pikachu Sweets by Pokémon Cafe This Holiday Season

Pikachu Sweets by Pokémon Cafe in Ikebukuro, Tokyo, is adding the new "Caramel Pika Pika Frappe" to its menu this holiday season from December 5, 2020 to January 15, 2021.

Caramel Pika Pika Frappe | ¥700 (Before Tax)

The adorable beverage is based on the Japanese custard pudding known as purin. It's laced with caramel sauce, closed off with a squirt of whipped cream, and finished with a sprinkling of chocolate chips for accent.

Pikachu Sleeves

The drink also comes with one of four possible Pikachu sleeves which feature designs in promotion of the upcoming animated film Pokémon the Movie: Secrets of the Jungle (also known as Pokémon the Movie: Coco) which will be released in Japan on December 25, 2020 and in the US in 2021.

© 2020 Pokémon.©1995-2020 Nintendo/Creatures Inc./GAME FREAK inc.
Pokémon, ポケットモンスター, and ポケモン are registered trademarks of Nintendo, Creatures Inc., and GAME FREAK inc.
© Nintendo・Creatures・GAME FREAK・TV Tokyo・ShoPro・JR Kikaku
© Pokémon © 2020 Pikachu Project

Starbucks Japan Reveals Matcha x Matcha White Chocolate Frappuccino®

Starbucks Coffee Japan has revealed that its second instalment of its limited-edition holiday season 2020 beverages will be the "Matcha x Matcha White Chocolate" and "Matcha x Matcha White Chocolate Frappuccino®" which customers can order from November 24. A new batch of festive Starbucks merch will also hit Japanese branches on November 30.

A harmonious fusion of matcha and sweet white chocolate

Matcha x Matcha White Chocolate Frappuccino® Tall ¥590 (Tall-size only)

Matcha x Matcha White Chocolate: Short ¥450 / Tall ¥490 / Grande ¥530 / Venti® ¥570 (Hot option only)

Matcha is one of Starbucks Japan's signature flavours and just to happens to have been in the spotlight in last year's holiday season drinks. This year sees marbling mixture of of rich matcha sauce and sweet white chocolate syrup with the Frappuccino®, finished with a squirt of whipped cream, brownie bits, and snowy powdered sugar. The hot version comes as a marriage of matcha and white mocha mixed together with steamed milk to warm the cockles of hearts during the cold months.

New holiday season merchandise

The theme of the second batch of merchandise is "Brilliant Season" which capture the bright and sparkly vibe of winter like with the snowflake-covered stainless steel bottle, a glass mug with beads in it that move around when shaken, a snow globe, and more. The perfect line-up for capturing the holiday season mood during your coffee break.

Starbucks Japan is currently serving the Berry x Berry No-Bake Cheesecake Frappuccino® and Berry x Berry White Mocha holiday season drinks for the holiday season until November 24 when they will be replaced by the Matcha x Matcha White Chocolate and Matcha x Matcha White Chocolate Frappuccino®. It is also serving the Starbucks® Christmas Blend, Gingerbread Latte, and Macadamia Toffee Latte until Christmas Day.

Information

Matcha x Matcha White Chocolate and Matcha

Matcha White Chocolate Frappuccino®

Running: November 1, 2020 – December 25, 2020

Available: Starbucks in Japan
Starbucks Japan Official Website: https://www.starbucks.co.jp/

Starbucks Japan Reveals Gingerbread Latte For the 2020 Holiday Season

Starbucks Coffee Japan is set to launch the Starbucks holiday season on November 1 with a selection of special drinks and products. The theme this year is "a Special Holiday with Starbucks Classics."

With less than two months to go before Christmas, the coffee chain is set to release a variety of seasonal beverages including the Starbucks® Christmas Blend, Gingerbread Latte, and Macadamia Toffee Latte. It will also release the first range of holiday season merchandise on November 6.

Hot and cosy drinks for the holiday season

Macadamia Toffee Latte: Short ¥440 | Tall ¥480 | Grande ¥520 | Venti ® ¥560

Gingerbread Latte: Short ¥420 | Tall ¥460 | Grande ¥500 | Venti ® ¥540

Winter White Chocolate: Short ¥400 | Tall ¥440 | Grande ¥480 | Venti ® ¥520

The spicy Gingerbread Latte is a must-have on the menu during the holiday season at Starbucks, one that latte lovers look forward to every year. And this year, coffee consumers in Japan have two new drinks to look forward to: the Macadamia Toffee Latte which is a crunchy combination of macadamia nuts and sweet toffee, and the snowy powdered sugar-topped Winter White Chocolate.

Starbucks® Christmas Blend and Cranberry Bliss Bar Pairing

From Left: Starbucks® Christmas Blend Espresso Roast | Starbucks® Christmas Blend | Starbucks® Christmas Blonde Roast – ¥1,520 Each (Before Tax)

A cup of Starbucks's Christmas Blend fills you with that cosy nostalgic feeling of the season. This year's recipe at Starbucks Japan is inspired by the one first sold in 1984 which has a rich, deep blend. It's a coffee combination of dark roast Sumatran, Papua New Guinean, Columbian, and Guatemalan coffee beans. There's also some aged Sumatra coffee in there to elevate the flavour.

Each cup is a complex mix that brings to mind herbs and spices, and hidden within all that a subtle sweetness.

Cranberry Bliss Bar | ¥270 (Before Tax)

Starbucks Japan is bringing back its signature Cranberry Bliss Bar dessert for the holiday season and pairing it with the Christmas Blend. The cake has orange in it which brings a tangy but fresh kick that matches heavenly with the spicy notes.

The First Merchandise Batch

The first batch of holiday season merchandise to drop at Starbucks Japan incorporates Christmas motifs like ribbons, candy canes, and reds and white colouring. The line-up includes a stainless steel bottle with a gingham checked pattern and gold dots to a stainless TOGO cup with a classic design reminiscent of a candy cane, notebooks, and more.

The holiday season is shaping up to be another cosy welcoming again this year at Starbucks Japan.

Information

Starbucks Japan Holiday Season 2020

Running: November 1, 2020 – December 25, 2020

Merchandise Batch 1: November 6, 2020 – December 25, 2020

Starbucks Japan Official Website: https://www.starbucks.co.jp/

Cuzen Matcha Releases in US and Lets You Make Fresh Matcha at Home

World Matcha Inc. launched the Cuzen Matcha machine in the USA on October 21, 2020. The product arrives to the North American market after a hugely successful Kickstarter campaign where it achieved 235% of its funding goal. It has already received praise from some of the country's top chefs and hoteliers including Tartine's Chad Robertson and SingleThread's Kyle Connaughton.

Cuzen Matcha

Cuzen Matcha allows for any person to produce fresh matcha with the company's shade-grown whole organic leaves and award-winning technology. Users simply add fresh leaves grown in Kyushu to the machine, and with the press of a button, it instantly creates freshly-ground matcha, delivering the superior health benefits of matcha to everyone. Sustainability is also at the heart of the brand which incorporates sustainable tea farming, sustaining a tea-growing tradition, and wrapping it all up in sustainable packaging

Eijiro Tsukada (World Matcha Inc., Co-Founder and CEO)

"We have been helped by a lot of people and have put our trusts in them while developing Cuzen Matcha. Now we're launching it into the world to lots of people, even if it reaches only one. We will deliver fresh matcha in a way no one else is along with all of its health and lifestyle benefits. And I hope to create a more sustainable future together with our customers around the world." (Translated from Japanese by MMN)

Pokémon Cafe and Pikachu Sweets by Pokémon Cafe Reveal New Desserts Including Polteageist Tea Set

Pokémon Cafe and Pikachu Sweets by Pokémon Cafe are releasing a new teatime menu at their respective branches on October 24, 2020.

Pokémon Cafe

Polteageist & Sinistea Tea Party! Fruit Tea Set ~Apple Flavoured~ | ¥1,188 (Tax Included)


Polteageist & Sinistea Tea Party! Fruit Tea Set ~Strawberry Flavoured~ | ¥1,188 (Tax Included)

Pokémon Cafe is serving up two different fruit tea sets based on the Ghost-type Pokémon Polteageist and Sinistea. Customers are free to pour in their desired amount of fruit syrup which changes the colour of the tea. The sets come with a cute cookie too.

Pikachu Sweets by Pokémon Cafe

Left: Polteageist's Tea Party! Fruit Tea ~Mixed Berry Flavour~ / Right: Polteageist's Tea Party! Fruit Tea ~Peach Orange Flavour~ | ¥700 Each (Before Tax)

Pikachu Sweets by Pokémon Cafe is also going to serve up some Polteageist themed fruit teas as well as a selection of desserts like macarons and financier almond cakes which have Pokémon tail and ear designs.

After ordering one of the Polteageist fruit teas, customers can place their cups under the Polteageist tea pot as pictured above and activate the pot to dispense their drink, so it's like Polteageist  really pouring tea for you.

Left: Swirlix Strawberry Macaron | Middle: Pikachu Vanilla Macaron | Right: Galarian Ponyta Pistachio Macaron – ¥500 Each (Before Tax)

Treat yourself to one of the super cute Swirlix, Pikachu, or Ponyta macarons each with designs that tell you instantly which Pokémon they're inspired by.


Polteageist Fruit Tea and & Pikachu Macaron Set

Customers can order a tea and macaron combination set too.

Pikachu Parfaits

Pikachu Glass Parfait Set | ¥1,500 (Before Tax)

An adorable set of Pikachu parfaits, one being caramel banana flavoured and the other chocolate.

Pikachu Tea Party Assortment – Pika Pika Pikavee Set | ¥2,800 (Before Tax)

Another set to share between friends and family, this time with two Pikachu glass desserts as well as Pikachu and Eevee cupcakes.

Pikachu Tea Party Assortment – Ghost Type Set | ¥2,800 (Before Tax)

This set comes with the Pikachu glass desserts as well as Ghost-type Gengar and Litwick mousse cakes.

The Polteageist teapot and Sinistea teacup used at the Pokémon Cafe and Pikachu Sweets by Pokémon Cafe will also be released at Pokémon Center Online in Japan on December 5, 2020.

© 2020 Pokémon.©1995-2020 Nintendo/Creatures Inc./GAME FREAK inc.
Pokémon, ポケットモンスター, and ポケモン are registered trademarks of Nintendo, Creatures Inc., and GAME FREAK inc..

Information

Pokémon Cafe (Nihombashi, Tokyo)
Address: Nihombashi Takashimaya SC East Bldg. 5F, 2-1-2 Nihombashi, Chuo Ward, Tokyo
Business Hours: 10:30-22:00
No Fixed Holidays (Except when Nihombashi Takashimaya SC is closed)
Reservations: https://www.pokemoncenter-online.com/cafe/reservation.html

Pokémon Cafe (Shinsaibashi, Osaka)
Address: Daimaru Shinsaibashi Honkan 9F, 1-7-1 Shinsaibashisuji, Chuo Ward, Osaka, Osaka Prefecture
Business Hours: 10:00-21:30
No Fixed Holidays (Except when Daimaru Shinsaibashi is closed)
Reservations: https://www.pokemoncenter-online.com/cafe/reservation.html

Pikachu Sweets by Pokémon Café 

Address: Sunshine City Alpa Floor 2F, 3-1-2 Higashiikebukuro, Toshima City, Tokyo

Opening Hours: 10:00-20:00
Official Website: https://www.pokemoncenter-online.com/cafe/pikachu_sweets/

*Opening hours subject to change, please check in advance before travelling.

*Food served and duration subject to change without notice.

*Photos are for illustrative purposes only.

*Seat reservations are taken online only – phone reservations not available.

Kikkoman Helps Coca-Cola Create Japanese Dashi Beverage You Can Drink Straight

Coca-Cola has teamed up with Kikkoman to release a new beverage in the GO: GOOD line of soup drinks which was created for busy people in a hurry that still need to get their fill. Their new collaborative Japanese dashi flavour will be released in Japan on October 12, 2020.


The new Japanese dashi flavour is made using specially-selected katsuo bonito, kombu, and ago flying fish extract to create an authentic dashi that you can drink straight from the can. It makes for a perfect addition to any lunch or bento assortment, and it can even be enjoyed on its own.

Three flavours already available on the market also underwent a can design change last month. This includes the Corn Potage, Ebi Bisque, and Minestrone.


Samples of the new dashi flavour will be handed out at places around Japan via food trucks.

Fill your belly and feel nourished with a can of GO: GOOD.

Information

GO: GOOD JApanese Dashi
Release Date: October 12, 2020
Available: Select supermarkets as well as shops and vending machines in Japan

Official Website: https://c.cocacola.co.jp/go_good/