PEACH JOHN Luxury New Collection Seduces This Valentine's Day
PEACH JOHN released their new Valentine's Day collection on Wednesday (January 13) at PEACH JOHN stores and their online site in Japan. It's also available to purchase in Hong Kong, China, and Taiwan.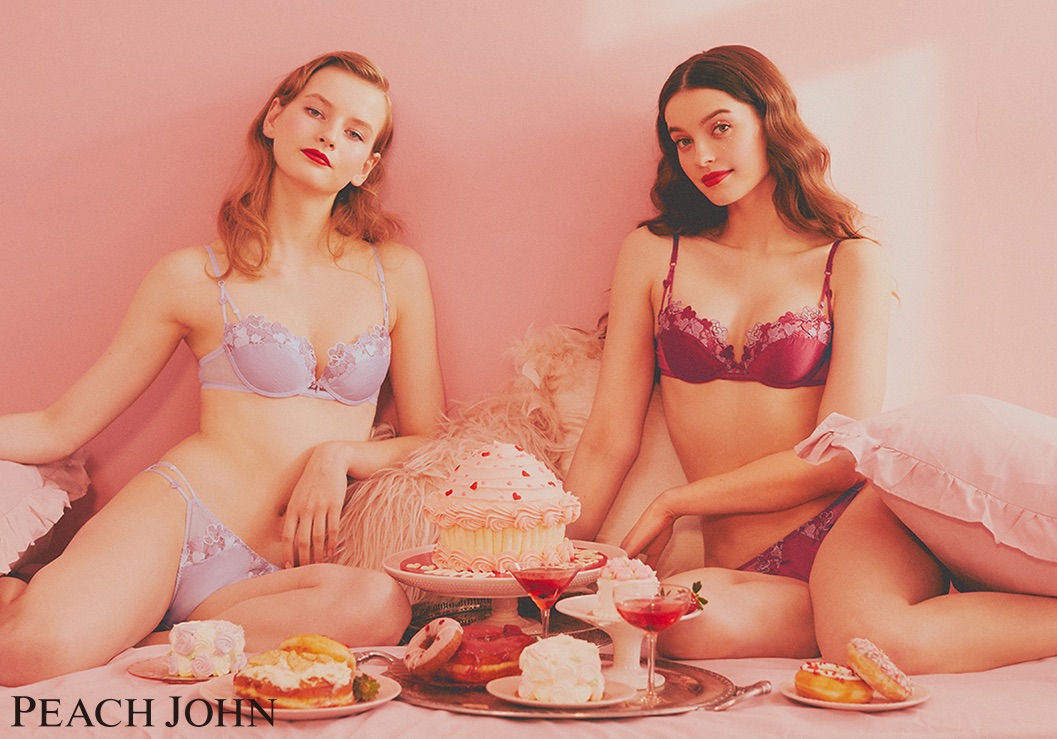 Full of Love Bra Set | Sizes: B-D Cup, UB 70/75 | ¥3,980 (Before Tax)
Amour Rose Bra Set | Sizes: BC-DE Cup, UB 70/75 | ¥3,980 (Before Tax)
Love Fleur Camisole Set | Sizes: S/M, M/L | ¥3,980 (Before Tax)
Bombast Cream Rich Set: ¥3,280 (Before Tax) | Peach John Hipurun Medicated White Cream Set: ¥2,280 (Before Tax) | Eros Beauty Body Milk Set ¥4,100 (Before Tax)
Happy Lovers Love Power Charge Pyjama Set (S/M, M/L): ¥4,980 (Before Tax) | Men's Happy Lovers Love Power Charge Pyjama Set (M/L): ¥5,680 (Before Tax)
This line-up is a true luxurious treat for Valentine's Day.
Information
PEACH JOHN Valentine's Collection
Released: January 13, 2021
Available: PEACH JOHN
Official Website: www.peachjohn.co.jp
RELATED ENTRIES
Japanese YouTuber Saaya Releases Oil Rich Tint Lipsticks From Her Brand Lillua

The Japanese cosmetics brand Lillua launched a new collection of four "Oil Rich Tint" lipsticks on Monday (February 22). The brand is produced by Direct Tech in collaboration with the popular beauty YouTuber Saaya.




Saaya is a popular beauty guru and influencer from Japan. She has over 2.14 million followers across her social media pages including 1.23 million subscribers on YouTube (as of February 22, 2021). On her main YouTube channel, she posts how-to videos on hair and makeup as well as content related to fashion, videos with her siblings, and more.

Saaya launched Lillua to support people to become the person they want to be – someone who they love even more than they did yesterday. The brand released its teaser site on February 19 which blew up amongst her fans on social media. Now, the site has fully launched with its first collection of products.

Lillua's "Oil Rich Tint" is a line-up of glossy lipsticks with a tint effect. The products take into account the reality of wearing face masks everyday by being super easy to apply. They are made using an oil gel which spreads across the lips effortlessly and leaves them feeling soft. They also contain squalane, olive oil, and jojoba oil to moisturise the lips, making them look plump and soft. The collection features four types: 01 Mellow Pink, 02 Gala Deep Red, 03 Lut Terracotta, and 04 Peach Pig.

  

Oil Rich Tint | ¥1,450 (Before Tax)

 

01 Melon Pink

Not just simply cute and sweet – but a romantic pink with a faint dullness to it.

02 Gala Deep Red

Peak with the ever-popular deep red which captivates and captures a gaze in an instant.

03 Lut Terracotta

The nuanced colour of the orange-brown terracotta gives your lips a refined look.

04 Peach Pig

A beautifully joyous natural coral colour you'll find yourself wanting to use everyday.

Every purchase via Lillua's official website will gift members a free original postcard. Additionally, the first 1,500 people to order two or more items will receive an original Lillua pouch.

Little Twin Stars Doughnuts at Floresta Celebrate White Day

Floresta Nature Doughnuts, a doughnut cafe in Japan that hand-makes doughnuts using organic ingredients, is celebrating White Day this year by releasing two doughnuts based on the Little Twin Stars which will be served from March 1 to 14.

The Little Twin Stars, also known as Kiki & Lala, are two of the most popular characters by Sanrio, the company known for such iconic faces as Hello Kitty.

Kiki & Lala Doughnuts | ¥450 (Before Tax)

Kiki & Lala are twins who were born on the Star of Compassion. The doughnuts capture the cute duo atop fluffy pink clouds made from strawberry and white chocolate.

The doughnuts are made without any additives or colouring. The ring part of the doughnut is coated in a strawberry chocolate made from organic strawberry powder for a sweet and sour kick.

 

Celebrate White Day this year, the sequel to Valentine's Day in Japan, with the Little Twin Stars.

©'21 SANRIO CO., LTD. APPROVAL NO. L615092

ROSE LABO Reveals Luxury No-Pesticide Rose Products

"Become beautiful, healthy, and happy with edible roses." That's the concept of ROSE LABO, a brand that promotes a beautiful lifestyle for women. The company has revealed two new makeup products, the Rose Booster Serum and Rose Barrier Lotion, both of which will have pre-sales at Isetan Shinjuku beginning on March 17, 2021.

The Line-Up

 

Rose Booster Serum | ¥4,950 (Tax Included)

 

The Rose Booster Serum is a skincare liquid made with edible roses that are grown without any pesticides by ROSE LABO. The serum is a mix of 20 high quality plant-based ingredients, extracts of 7 different plants, vitamin C, 5 ceramides, komenuka rice bran, and more, all of which lead to a beautiful finish on the face. It gently hones in on areas of the face that are affected by external factors and stress to support the skin's rhythm and have it bloom like a beautiful rose itself. You are left with a healthy complexion and shining gleam that is sure to have you double-taking in the mirror. Plus, you can enjoy the faint scent of rose to finish.

 

Rose Barrier Lotion | ¥3,080 (Tax Included)

The Rose Barrier Location is a face lotion also made with edible roses that are grown without any pesticides by ROSE LABO. It contains a mix of 10 ingredients such as rose water and rose extract. It hydrates and moisturises the skin while also protecting it, making it stronger, and more flexible. This product also has a faint rose scent.

If you're looking for organic, plant-based beauty products, then you won't want to miss ROSE LABO's line-up.

Information

ROSE LABO New Rose Products

Pre-Sale Release Date: March 17, 2021

Where: Isetan Shinjuku Floor B2F Beauty Apocathery

Address: 3-14-1 Shinjuku, SHinjuku-ku, Tokyo

Pre-Order Sign-Up: Opens on March 6, 2021 at midnight via ROSE LABO's official website. Products will be delivered to customers in order. Products will also release at other select stores.

ROSE LABO Official Website: https://www.roselabo.com/

Love Cheese On Valentine's Day in Apple, Basil, and Cacao Nib Flavours

For Valentine's Day 2021, Ginza Wakana released its new "ABC CHEESE" on Monday (February 28) in the line-up of its Ginza Cheese series of miso-tsuke miso-preserved and sakekasu-tsuke sake lees-preserved products.

ABC CHEESE (Box of 3: Apple/Basil/Cacao Nib) | ¥1,620 (Tax Included)

Ginza Wakana first opened its doors back in 1958 in Ginza, Tokyo. It's a store specialising in tsukemono which are foods in Japan, often vegetables, that are preserved in a variety of ingredients. This includes pickling in salt, brine, rice bran, and more. Its focus is to promote the wonder and enjoyment of deep flavours that tsukemono bring to the palette. Tsukemono are rooted in traditional Japanese food culture, and so Ginza Wakana have made it their mission to pass down its tradition.

Wanting to bring something new to the table, Ginza Wakana has developed a new collection of cheeses. The ABC CHEESE collection gets its name after its flavours: Apple, Basil, and Cacao Nibs. It has cheese preserved in miso and sake lees, resulting in a unique flavour combination that mixes Japanese and Western tastes. The triple serving of cheeses is packaged in a stylish gift box for Valentine's Day, making for a very different kind of present for loved ones that they're sure to savour—especially if they're cheese fanatics.

Information

ABC CHEESE by Ginza Wakana
Running: February 8, 2021 – March 15, 2021
Where: Ginza Wakana Online Shop / Ginza Wakana Nihonbashi Mitsukoshi / Ginza Wakana Isetan Shinjuku / Ginza Wakana Daimaru Tokyo / Ginza Wakana Shibuya Tokyu / Ginza Wakana Atre Kichijoji / Ginza Wakana ecute Omiya / Ginza Wakana Nagoya Mitsukoshi Sakae / Ginza Wakana Matsuzakaya Nagoya / … and elsewhere
Online Shop: https://www.ginzawakana.com/

Enjoy a Valentine's Day Bath at Ofuro Cafe no Yu Hakuju in Saitama

Ofuro Cafe Hakuju no Yu is holding a special Valentine's Day event for lovers which will run from February 6 to 14.

Though the bath house is split between male and female, couples can write messages of love to their special someone on a heart-shaped plaque made from Japanese cypress wood. The plaques were made in collaboration with the local business Kanezawa.

Choko Sweet Sake Shake | ¥630 (Before Tax)

For the Valentine's event, the bath house is also serving up a special shake beverage made with chocolate and sweet sake. The polyphenol in chocolate is said to be good for health and beauty, making it a perfect choice for a day of luxury at Ofuro Cafe Hakuju no Yu.

Guys who visit the bath house on Valentine's Day itself will also receive free Valentine's chocolate.

Information

Valentine's Bath
Running: February 6, 2021 – February 14, 2021
Venue: Ofuro Cafe Hakuju no Yu
Address: 337-1 Wataruse, Kamikawa, Kodama District, Saitama
TEL: 0274-52-3771
Official Website: https://ofurocafe-hakujyu.com/

■About Ofuro Cafe

Ofuro Cafe is a chain of hot spring brands made for long stay periods. It offers a variety of free services such as coffee, magazines, comics, massage chairs, PC rental, and more. The experience created is like being invited to a friend's house to kick bck and relax. There are three branches in Saitama including Ofuro Cafe Utatane, Ofuro Cafe Hakuju no Yu, and Ofuro Cafe Bivouac, as well as one branch in Mie, Ofuro Cafe Yumoriza. It also has three franchise branches: Ofuro Cafe Bijinyu in Shizuoka, Ofuro Cafe Biwakoza in Shiga, and Ofuro CafeSeiyukan in Hokkaido. "おふろcafe(R)" is a registered trademark of ONSENDOJO INC.

■ONSENDOJO INC.
Founded in March 2011. Manages hot spring facilities including the Ofuro Cafe brand as well as resort facilities, consultation services, and supporting regional businesses.
http://onsendojo.com/

Valentine's Day Gift Ideas: Japan Releases Whole Melon Cake

Japanese online cake store Cake.jp released its new "Valentine's Whole Melon Cake" on Monday (February 1).

Valentine's Whole Melon Cake | ¥10,000 (Tax Included)

The Whole Melon Cake is a popular dessert on Cake.jp, but this month, it arrives in a chocolate flavour for Valentine's Day. As the name suggests, the cake uses an entire muskmelon which when sliced into reveals a chocolate, melon, and raspberry filled sponge cake.

If you're stuck for ideas on Valentine's Day, this is sure to offer some inspiration.

Information

Valentine's Whole Melon Cake

Japanese Product Name: バレンタイン限定 まるごとメロンケーキ
Released: February 1, 2021
Buy Here (Japan): https://cake.jp/item/3392939/

Japan's First Earl Grey Shop Makes Appearance at Chocolate Mode 2021 Event in Saitama

&EARL GREY, the first shop in Japan to sell exclusively earl grey products, is appearing at the Chocolate Mode 2021 event at Isetan Urawa in Saitama which is taking place until February 14. Visitors can look forward to tucking into a sweet selection of delicious earl grey flavoured ice creams.

Double Chocolate Gelato & Macaron: Chocolate & Continental Earl Grey / Chocolate & Sunshine Earl Grey / Chocolate & Exotic Earl Grey – ¥605 Each (Tax Included)

Earl Grey Rich Milk Tea Gelato: Butterfly Pea & Earl Grey / Pistachio & Matcha / Mango Passion & Jasmine / Mixed Berries & Rooibos / Peche de Vigne & Honeybush Lavender – Single ¥495, Double ¥550, Triple ¥605 (Before Tax)

&EARL GREY has prepared a sweet line-up of rich ice creams made using high quality tea leaves from Japan, China, Sri Lanka, South Africa, and elsewhere. And for Valentine's Day, some of the ice cream options have been topped with cute macarons.

Perfectly Pink Sanrio Valentine's Day Collection Heads to Maison de FLEUR

For Maison de FLEUR's annual "PINK MANIA" Valentine's season event, it is teaming up with Sanrio to release a positively-kawaii pink collection of bags at its stores in Japan on February 11. The line-up also made a pre-release on the online shop STRIPE CLUB last week.

PINK MANIA x Sanrio Characters Collection: Azato Melody / Azato My Sweet Piano / Azato Cinnamoroll / Azato Bonbonribbon / Azato Pochacco

PINK MANIA Double Ribbon Tote Bag | ¥5,290 (Before Tax)

PINK MANIA Side Pocket S Tote Bag | ¥5,290 (Before Tax)

PINK MANIA Side Pocket M Tote Bag | ¥5,990 (Before Tax)

PINK MANIA Ribbon Pouch | ¥3,590 (Before Tax)

PINK MANIA Pouch | ¥3,590 (Before Tax)

PINK MANIA Face Mask Case Pouch | ¥3,590 (Before Tax)

Interior design of each bag and pouch

PINK MANIA is an event held by Maison de FLEUR every year around Valentine's Day where select items turn all pink. This year's line-up includes some of the brand's iconic tote bags and pouches as well as some new entries. Familiar faces from Sanrio include My Melody, My Sweet Piano, Bonbonribbon, Pochacco, and Cinnamoroll.

Go pink and kawaii this Valentine's Day with this year's PINK MANIA collection.

Hear Eve and suis From Yorushika's New Song in Ghana's Special Animation

A special animation was released by Japanese confectionery company Lotte on Monday (February 1) as a commercial for their Ghana chocolate. The video, entitled "Ghana Gift," features a collaboration with Japanese music artists Eve and suis from Yorushika.

Eve x suis from Yorushika's New Song "Heikousen" Features in 'Gift' Animation

The animation was directed by Nobutaka Yoda and written by Genki Kawamura, with character design by Kiyotaka Oshiyama. With the pandemic, it has become difficult to see loved ones and friends and many of us are unable to express our feelings to these special people in our lives directly. Lotte created the animation to promote the gift of giving this Valentine's Day as a way of conveying ties to loved ones. The animation is 30 seconds long but a 4-minute version will be released in the near future.

The Animation's Story

The story follows two children, a high schooler and middle schooler, who are neighbours. Both of them throw paper planes to each other with messages written on them to go shopping, make chocolate, and hang out. But the day before Valentine's Day, we find out the girl has to move away, but before she does, she gives the boy chocolate. The two of them were always together, but they never expressed their love for each other.

The 30-second version can be viewed on YouTube and the official website.

Ghana Gift Twitter Campaign


Ghana launched a retweet campaign on Twitter on Monday where 130 lucky people can win a selection of prizes. Check out the details below.

Campaign – How to Join

1. Follow Ghana on Twitter @ghana-recipe
2. Retweet the daily campaign Tweet

Prizes
A-Tier Prize: Heikousan Limited Edition CD + 5 Ghana Milk Chocolates (30 People)
B-Tier Prize: 2 each of Ghana Milk, Ghana Black, Ghana White, Roast Milk, and Ghana Pink Chocolate (100 People)

Running: February 1, 2021 – February 14, 2021

*Winners will be DM'd on Twitter. Shipping in Japan only from mid March 2021.

Experience Valentine's Day in Augmented Reality With NAKED SWEETS GIFT

NAKED, INC. is collaborating with Tobu Department Store to offer a very different Valentine's Day for people this year. It has introduced a special Valentine's version of its "NAKED SWEETS GIFT" service for the mobile which lets users enjoy treats and desserts in AR.

The item needed to experience this AR service will be given to those who spend over ¥5,000 (tax included) at the Valentine's event "Chocolate Marche" taking place at Tobu Department Store in Ikebukuro, Tokyo between January 30 and February 16. They are available on a first-come, first-served basis.

A delicious world of desserts before your very eyes

The NAKED SWEETS GIFT service is meant as a gift on celebratory days like birthdays and commemorative days, bringing colourful treats to life on your smartphone in the form of 3D visuals to the sound of music.

When customers scan the heart-shaped message card on their smartphone, the Valentine's Day version of NAKED SWEETS GIFT will launch. It's a little something extra to a regular Valentine's card and is sure to bring about smiles to your special someone.

Japan's Gourmet Flower Doughnut Shop gmgm Bakes Up Even More Floral Fancies

For Valentine's Day, the Japanese doughnut shop gmgm released its new collection of "CHACCARI" doughnuts online on January 28 which includes both single and box orders of beautiful doughnuts.

gmgm is a cosy cafe and doughnut shop in Koenji, Tokyo which serves beautiful doughnuts topped with edible flowers.

Raspberry x Chocolate

Almond x Orangette

CHACCARI Pair Doughnuts (Box of 2) | ¥1,300 (Tax Included)

CHACCARI Pair Doughnuts (Box of 4) | ¥2,500 (Tax Included)

CHACCARI Pair Doughnuts (Box of 6) | ¥3,800 (Tax Included)

CHACCARI Pair Doughnuts Premium (Box of 9) | ¥5,100 (Tax Included)

Pick from an ambrosial collection of sweet treats like the gateau chocolate-rich "Raspberry x Chocolate" which balances sweet and tangy with chocolate, the citrusy orange peel-adorned "Almond x Orangette," and more.

Customers can order their pair doughnuts for White Day by scanning the QR code on the CHACCARI Card. White Day can be considered the sequel to Valentine's Day in Japan where those who received gifts on Valentine's Day give a reciprocal present back to those who gifted them.

Take a Luxurious Japanese Bath Just Like at the Old School Public Bath House Kosugi-yu

Kosugi-yu is a long-standing public bath house located in Koenji, Tokyo. Now people have the chance to bathe as luxuriously as at the bath house itself with the release of the Kosugi-yu Milk Bath, now available online in Japan.

Kosugi-yu Milk Bath | ¥2,000 (Before Tax)

First opened in 1933, the famous Kosugi-yu was registered as a tangible cultural property of Japan in January of this year. Part of the proceeds made from the bath product will go towards supporting the maintenance of Kosugi-yu.

Mixing the milk into the bath creates a bathing experience like no other that leaves skin feeling silky smooth. It can be used by both children and adults.