Popular Gacha Series Panda's Ana Releases Cute Picture Book About Mochi Monsters
Iwasaki Shoten published an adorable new picture book titled Mochi Bake Omochi Dakedo, Obake Desu on January 21 which is based on Takara Tomy Arts's hugely popular gacha series Panda's Ana.
The characters have fun at a festival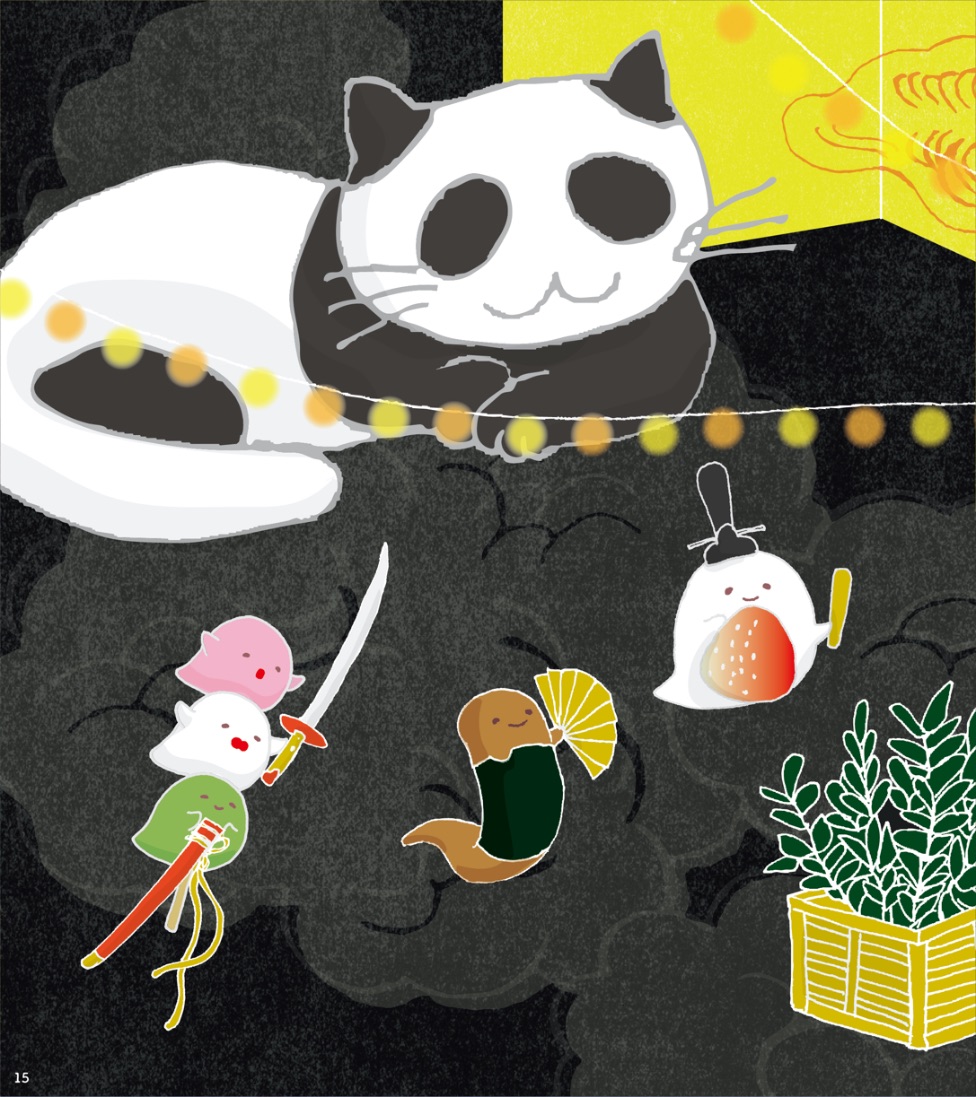 A plan to save the sweets shop
Fun 4-panel comic strips
A quiz about beans by Omame
The Story
The story takes place at a traditional Japanese confectionery store called Kumanekodo (Panda Temple). One day, the mochi sweets at the shop, which are made using traditional mallets and millstones which have been passed down for generations, come to life as Japanese obake (monsters). They are all friends and have fun together every day. The freshly-made mochi wait for the customers at the shop each day.
There are five main characters in the story: the strawberry daifuku Ichigo, cherry blossom mochi Sakura, mugwort mochi Yomogi, soy flour mochi Kinako, and the bean mochi Omame. If you're learning Japanese and love all things kawaii then this is a great book to get your hands on for your reading practice.
Ⓒ Panda's ana
Information
Mochi Bake Omochi Dakedo, Obake Desu
Japanese Title: 「もちばけ おもちだけど、おばけです。」
Artist: Ishihara Eri
Writer: Chisato Seki
Publisher: Iwasaki Shoten
Release Date: January 21, 2021
Price: ¥1,100 (Before Tax)
Available: Bookshops and online in Japan
Official Website: https://www.iwasakishoten.co.jp/
RELATED ENTRIES
Shinsaku Nagata and Actor Tori Matsuzaka Collaborate on New Picture Book

Picture book author Shinsaku Nagata and actor Tori Matsuzaka are leaders in their prospective fields. Inspired by each other's works, the two came together to create their own story after a series of conversations. 303 Books has opened preorders for Maroyaka na Honoo (The Circular Flame) exclusively on the TopCoat Land website. It will be available in bookstores nationwide on March 14, 2022.

Members of TopCoat can enjoy a live reading by Tori Matsuzaka and a live-painting video by Shinsaku Nagata, as well as a recorded conversation between the two. 





A man named Tori Matsuzaka

is full of deep mysteries. 

There's something hidden

way down inside. 

We have created a new picture book.

Shinsaku Nagata





While we've been aware of each other for a long time, 

we could finally talk. 

"It would be great if we could do something," we said.

This is a book that captures our 'now.' 

I hope you'll read it.

Tori Matsuzaka

Summary

Maro, a frilled lizard, was living a quiet and peaceful life in a daze. One day, a flame appears before him, as fast as a jet and as light as a bee. From that day forward, Maro's daily life is changed. Maro's surroundings heat up, and he can see things he couldn't see before! As their lives change, their relationship changes as well. The final world that Maro and the flame discover is…

Information

Maroyaka na Honoo (The Circular Flame)


Author: Shinsaku Nagata

Created by: Shinsaku Nagata, Tori Matsuzaka

Design: Toshimi Hayashi (Tokyu Agency Inc.)

Price: ¥1,800 (Excluding Tax)
Release Date: March 14, 2022
TopCoat Online Shop Preorders start February 14, 2022

https://topcoatshop.jp/

Details: https://303books.jp/maroyaka

TopCoat Land (Membership)

A video of Tori Matsuzaka reading the book and Shinsaku Nagata painting live, as well as a video of a conversation between the two is available for members.
https://sp.tcland.jp/

Artist Macoto Takahashi, Known for Shojo Manga Paintings, Releases Art Collection

You've likely seen Macoto Takahashi's artwork before. Imagine a girl with large, starry eyes, clad in over-the-top elegant clothing. For the past 68 years, Takahashi has been drawing princesses and girls to turn heads, each of them full of life and captivating coquettish energy. 

After his debut in 1953, Takahashi published the manga series Arashi wo Koete and Princess Anne. His signature style of depicting glittering stars in the eyes of his protagonists would have a lasting influence on other manga artists. In the 1960s and 1970s, he was at the helm of many magazine covers and illustrations for popular girls' manga magazines like Nakayoshi, Shojo Friend, and Margaret. 

Since 1992, Takahashi has regularly held solo exhibitions of new works, and these activities have expanded overseas as well. His paintings were used in the 2018 Comme des Garçons SS collection, and there's no sign that his style will fall out of favor any time soon. 

On October 28, an art book filled with Macoto Takahashi's beloved images was released. The 232-page book features over 150 works from the 1960s to the current day and is compact enough to bring anywhere. 

Information

Macoto Takahashi's Jewelry Box

Released: October 28, 2021

Price: ¥3,300 (Tax Included) 

Studio Ghibli's Earwig and the Witch Gets Recipe Picture Book

Japanese publisher SHUFUNOTOMO released a new recipe picture book based on the Studio Ghibli's 3D CG movie Earwig and the Witch on April 28.

Earwig and the Witch Recipe Book | ¥1,540 (Tax Included) 

The book features simple to follow recipes including famous British meals, desserts inspired by the movie, and lots of other mouth-watering delights that look like something straight out of Earwig and the Witch.

St. Morwald's Home for Children's Shepherd's Pie

Shepherd's pie is a classic British meal and makes an appearance in the movie when Earwig eats it at St. Morwald's Home for Children. It's her favourite meal: mash sat on top of a tomato sauce-loaded mince, carrots, green beans, onion, and paprika combo.

 

Boy Scout Fried Toast

Fried toast is another common food on the British breakfast menu. The recipe takes thickly-sliced bread and fries it in the juices of bacon and sausage. It's based on the scene where Earwig messes up making her fried toast. The recipe is made Frech-style with egg, milk, sugar, and butter.

 

Earwig's Pretzels

Using hot cake mix, learn how to make frosted white chocolate pretzels that look like Bella Yaga's magical worm minions

Goro Miyazaki | Comment (Taken From Recipe Book)

"Cooking is fun, isn't it? I myself love cooking: taking various ingredients and peeling them, chopping them, crushing them, and mixing them. You boil, you steam, you simmer, you fry. Using fire makes it all the more fun. What I make doesn't always turn out perfect, but you can turn off and forget everything while you're cooking, but it's an amazing feeling when you sit down to eat the fruits of your labour and people tell you what you made is delicious. It's even more amazing when you eat something that someone else made for you. Tasty food is like magic. Speaking of which, the magical spells that Earwig learns at Bella Yaga's house are a lot like cooking. Carving, crushing, mixing. I'm sure that if you're a skilled witch you'll be a skilled cook too. I hope the people who read this book and think for the first time that they want to try out cooking will try making all sorts. Getting better at cooking might even lead you on the path to becoming a witch."

The recipe book's front cover was designed specially for this book by Goro Miyazaki.

Peter Rabbit English Garden to Open at Mount Fuji in Spring 2022

Fujimoto Lake Biwa Resort is set to welcome the new Peter Rabbit™ English Garden in Spring 2022 which will be themed entirely around English writer Beatrix Potter's fictional animal character Peter Rabbit.

The garden will open as the biggest English-style garden in Japan. Fujimoto Lake Biwa Resort is located right beside Mount Fuji and is known for the Fuji Shibazakura Festival, an annual springtime cherry blossom event. This means the garden will be opening during the perfect season at the site. It will bring to life a magical recreation of the Lake District where the Peter Rabbit stories are set. There will be lots of photo opportunities, a menu themed on the characters, a museum, a shop selling original merchandise, and more. British garden designer Mark Chapman is helping to create this English-style garden.

Not only can visitors enjoy the spring and summer flowers when the garden opens, but the gorgeous hues of autumn too, and all with Mount Fuji in the background.

Information

Peter Rabbit™ English Garden

Opening: Spring 2022

Where: Fujimoto Lake Biwa Resort
Address: 212 Motosu, Fujikawaguchiko, Minamitsuru District, Yamanashi 401-0337, Japan

Fuji Shibazakura Festival Official Website: https://www.shibazakura.jp/

Children's Book Author Leo Lionni Gets Pop-Up Shop in Saitama

A pop-up shops has opened at SOGO Omiya Store in Saitama centred on the Italian-American children's book author Leo Lionni. Another pop-up shop based on the children's book 11 Piki no Neko by Noboru Baba also opened alongside it.

Leo Lionni's Friends Merchandise

Frederick Plush Toy | ¥2,200 (Tax Included) | Only 30 available

Swimmy Mini Letter Set | ¥440 (Tax Included) | Only 30 available

Time Wall Clock | ¥7,480 (Tax Included) | Only 10 available

Original bonus tote bag

11 Piki no Neko Merchandise

Blue Plush Toy (Large Size) | ¥4,400 (Tax Included) | Only 16 available

Toraneko Plush Toy | ¥1,650 (Tax Included) | | Only 32 available

Three Piece Lunch Box | ¥1,430 (Tax Included) | Only 30 available

Bonus pins

Leo Lionni's works are loved the world over and have been translated into many different languages. Fans can get their hands on a range of items, and the first 300 people to spend over ¥5,500 will receive a free original tote bag. This goes for the 11 Piki no Neko shop too – the first 150 to spend over ¥2,000 will receive a free pin.

Information

Leo Lionni's Friends Pop-Up Shop

Running: April 14, 2021 – APril 27, 2021

Where: SOGO Omiya Store (Floor 3F)

Address: 1-6-2 Sakuragicho, Omiya-ku, Saitama-shi, Saitama

Official Website: https://www.sogo-seibu.jp/omiya/