A temple lodging plan which offers "Puchi Shabutu" (tracing a picture of Buddhist image) experience is now available!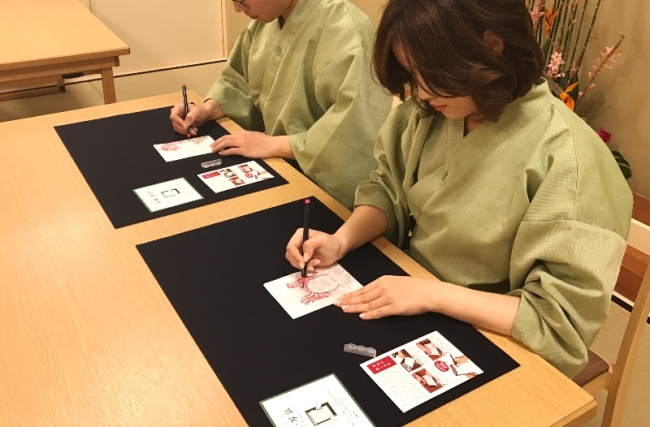 Temple culture community "Fellissimo Oterabu" and "Waku Shitaderamachi," a much-talked-about spot/temple lodging have collaborated together and created a limited program called the "Puchi Shabutu Program" where you trace the rough copy of Fudo Myooh. This program is now gathering much attention as a program in which one can experience ascetic training.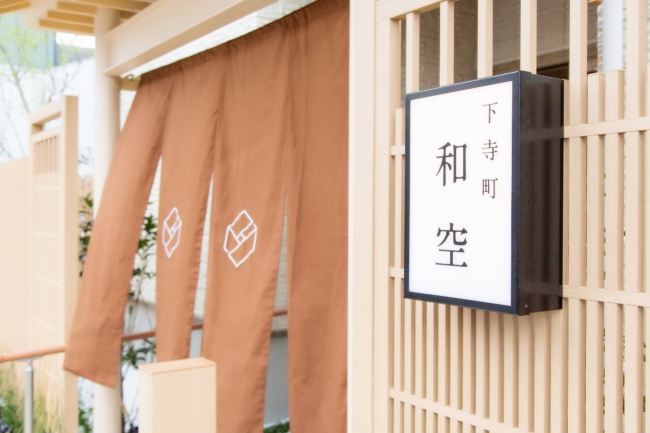 "Waku Shitaderamachi" is an accommodation which offers temple lodging, started on the 23rd of April, 2017 in Shitaderamachi where about 80 temples are located in small area. Temple lodging means an accommodation for worshipers visiting shrines and temples. "Waku Shitaderamachi" offers various temple lodging plans which enables  worshipers to experience cross-religious trainings and cultural activities such as tracing, zazen and morning jobs with the help of nearby temples such as Washu Sohonzan (Shotoku Taishi's temple) and Shitennoji.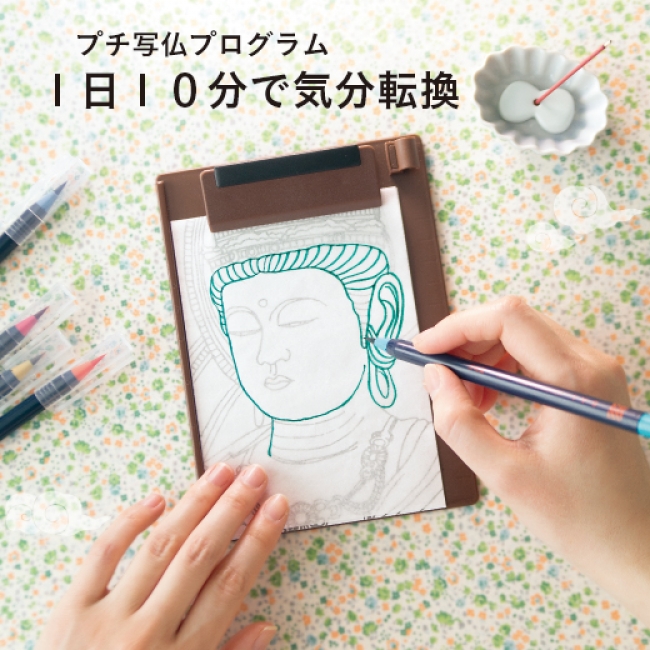 "Shabutu" is a training program where rough copies of Buddhist paintings are traced so as to learn the essence of life. This practice was created to spread the teachings of Buddha instead of learning difficult scripture. The "Puchi Shabutu Program" of "Fellissimo Oterabu" is an original program which one can introduce into his/her daily life. Anybody can experience the training in a short period of time because all you have to do is to trace the post-card sized rough copy of a Buddhist painting. You can calm yourself and rediscover your feelings just by concentrating on the tracing activity of Buddhist paintings.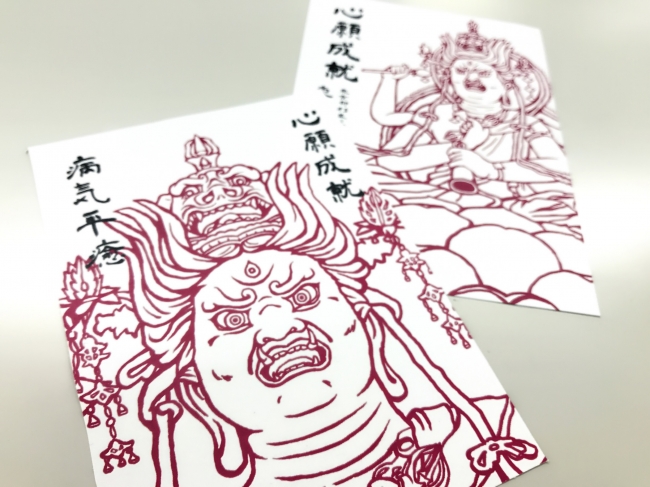 This time, an original "Puchi Shabutu" of Aizen Myooh in Aizen Dosho Manin was created by collaborating with "Waku Shitaderamachi." It is a program where you trace rough copy of AIzen Myooh, who is loved by many persons and is called "Aizen san, the god of marriage ties" using pink-colored ink brush pen.
Let's spend a valuable time with a Bhuddist painting after offering prayers to the temple and enjoying vegetarian dishes.
■Information
Puchi Shabutu Program
http://waqoo-shitadera.com/experience/
 Official site of "Waku Shitaderamachi"http://waqoo-shitadera.com/
−−−
Related article:Visit Temples and Shrines, and Collect Goshu-in!
Related article:Scarlett's Kawaii Kyushu Part 2: Kumamoto
RELATED ENTRIES
Gundam Artist Yuji Kaida Exhibition Announced For Osaka Umeda LOFT

To celebrate 40 years of Yuji Kaida's illustration artwork for the Gundam series, an exhibition entitled Yuji Kaida Gundam Gallery will take place on the fifth floor LOFT Forum of Umeda LOFT in Osaka from August 23 to September 8.

Yuji Kaida is known for his longtime work on box art for Gunpla model kits. The exhibition will feature a gorgeous collection of his iconic Gundam artwork, covering traditional art from Mobile Suit Gundam to Mobile Suit Gundam Wing to digital art in Mobile Suit Gundam: Iron-Blooded Orphans.

Over 70 pieces illustrated by Kaida will be displayed, each categorised into one of four themes. Many of these will include artworks being shown to the public for the first time such as the Gwazine-class battleship.

There will also be enormous towers of piled-up Gunpla boxes, a showcasing titled "Maiking of Hi-νGUNDAM" the process of digital art, and more.

The exhibition is an absolute must-visit for all fans of the Gundam franchise.

©Sotsu Co., Ltd.・Sunrise Inc.

Information

Yuji Kaida Gundam Gallery
Running: August 23, 2019 – September 8, 2019

Time: 11:00-21:00 (Until 18:00 on September 8) *Last entries 30-minutes before closing time
Location: LOFT Forum, Umeda LOFT Floor 5F, 16-7-5 Chayamachi, Kita Ward, Osaka
Entry Price: Adult ¥500 (Includes novelty gift) / High School Children & Below ¥400 (Includes novelty gift) / Elementary School Children & Below – Free
Official Website: https://art.parco.jp/

Sebastian Masuda And Other Phenomenal Artists Create Outstanding Doraemon Exhibition

28 artist groups and individuals have created artistic pieces to represent Japan's favourite animated character Doraemon. From July 12 to September 23, 2019, you can see these magnificent creations at the Doraemon Exhibition Osaka 2019 which will take place at Osaka Culturarium at Tempozan.

The Doraemon Exhibition Osaka 2019 features a range of artists who exhibit their works in Japan and even in foreign countries. This is a fantastic chance to meet a range of new Doraemon that the world has never seen. This event covers a range of genres through modern art that is overflowing with creativity and dedication for the anime character that has grasped the nation. 

On July 11, the day before the opening of the exhibition, there was a special opening ceremony and private viewing event held exclusively for staff and the press, which was a massive success. 

Press releases of the event reveal that artists Yasumasa Morimura and Sebastian Masuda were present at the ceremony for photos and greetings. 

Yasumasa Morimura commented with deep emotion: "I am so happy to have finally taken part in the Doraemon Exhibition. For this creation, I used lots of paper to make the costumes. I collaborated with Junko Koike, collecting lots of Doraemon manga as raw materials for the dress. As Doraemon has the power to manipulate time and space, and has the ability to create a door that leads to anywhere he desires, I thought a grey dress would be appropriate. In fact, the entire exhibition venue is just like the inside of Doraemon's pocket ー it is packed with the work of 28 solo artists and groups. What a fun experience it is. I hope that many people in the Kansai region come see this," he explained.

Sebastian Masuda commented: "I'm actually the same age as Doraemon and I share the same birthday as Noby; the main character from the series. I was born with a love for Doraemon."

He then commented on his art piece: "I actually wanted to make it as big as the Budha statue at Todaiji Temple in Nara, but we wouldn't be able to fit it in the venue so I made it two metres tall instead", he laughed. "I collected materials from markets from all around the world, so the final piece is literally made up of the colours of the world," he continued. 

His message to the people of Osaka is: "I would love it if lots of children came to see this. It would really make my day to hear reactions from them like "whoa, it's huge" or "that's so cool!""

Please come stop by to visit your favourite Doraemon!

Information

The Doraemon Exhibition Osaka 2019

Running: July 12, 2019  ー September 23, 2019 (74 days) 

※ No closed days.

Venue:  Osaka Culturarium at Tempozan (next to the Osaka Aquarium Kaiyukan) 

Address: 1-5-10, Kaigandori, Minato Ward, Osaka

Open: 10:00 ー 17:00 ※ Last entries: 30 mins before closing time 

Entry prices

General:¥1,500

Middle/High School: ¥1,200

4 y/o ー Elementary School: ¥800

Enquiries: (Hello Dial)  TEL: 050-5542-8600 (8:00 ー 22:00, no holidays)

Toy Story 4 Themed Cafe Opens in Tokyo, Osaka, Sapporo& Nagoya

Did you catch Toy Story 4 at the cinema yet? If you're in Japan this summer then you won't want to miss the official Toy Story 4-themed cafes opening in Tokyo, Osaka and Nagoya on July 20 and in Hokkaido on July 21 for a limited time.

The film was released just last month but is only set to hit Japanese theatres on July 12. It serves as the fourth and final film in the Toy Story series, wrapping up the story that first warmed the hearts of the public when the first movie dropped back in 1995.

The cafe will be a toy box of fun for all fans of the films, featuring a Toy Story inspired menu and decorations laced with trivia.

It costs ¥500 (before tax) per person to book a seat at the cafe. Customers who order from the menu will receive one of 13 possible stickers pictured above in the style of theatre tickets.

Everyone who enters the cafe will also receive one of these 13 possible entry bands.

<Woody & Bo Peep> Fateful Reunion Plate (¥1,890)

Fans of Woody and Bo Peep should look at ordering the Fateful Reunion Plate, a chicken sandwich and vichyssoise set based on both characters' outfits. Find the sheep hidden amongst the dish!

<Duke Caboom> High in the Sky! Stunt Burger (¥1,890)

Duke Caboom's chicken burger is served with mint sauce and a heap of assorted vegetables. Fly high in the sky with the dish's delicious combination of flavours.

<Buzz, Ducky & Bunny> Night Carnival Pasta (¥1,790)

This meat pasta dish is topped with colourful vegetables. Keep the fun going at the moving carnival at night!

<Gabby Gabby & The Bensons> Afternoon Tea Set (¥1,790)

Paying tribute to Gabby Gabby and the dummies, the afternoon tea set comes with a tuna sandwich and a fruit and yogurt sandwich. To drink you can enjoy a decaff Earl Grey tea.

<Jessie> Pomegranate Water (¥890 or w/coaster ¥1,790)

Feel refreshed with Jessie's satisfyingly sour pomegranate water.

<Slinky> Orange Yogurt Smoothie (¥890 or w/coaster ¥1,790)

Or order Slinky's orange flavoured yogurt smoothie with kiwi sauce.

Ordering from the food menu will also get each person a specially-made paper apron.

There are lots of other items on the menu to look forward to as well. And don't miss out on the range of exclusive merchandise they have either.

Acrylic Key Ring (13 Designs): ¥500 Each

A5 Folder (10 Designs): ¥350 Each

Mini Duralex Glass (5 Designs): ¥800 Each

The Toy Story hype doesn't seem to show any signs of stopping just yet. Be sure to visit the official Toy Story 4 cafe in Japan.

©Disney/Pixar

© POOF-Slinky, LLC

*All prices include tax. Photos are for illustrative purposes only and so designs are subject to change.

Information

Toy Story 4 OH MY CAFÉ

Locations/Dates

Tokyo: OH MY CAFÉ TOKYO (Tokyu Plaza Omotesando Harajuku) / July 20 – September 16, 2019

Osaka: kawara CAFE&DINING Shinsaibashi / July 20 – September 16, 2019

Nagoya: kawara CAFE&KITCHEN Nagoya PARCO / July 20 – August 25, 2019

Hokkaido: Interlude Cafe / July 21 – September 16, 2019

Toy Story OH MY CAFE Official Website: https://toy.ohmycafe.jp/

Toy Story Official Website: https://toystory.disney.com/

Play Hide And Seek at After Hours Spooky Japanese Theme Park in Osaka

Hirakata Park in Osaka is set to host its scary nighttime horror event "Hide And Seek at Hiraka Park" again this year from August 26 to September 1. Tickets are now on sale via Lawson Tickets. The event is being held in collaboration with MBS, Yami and ICT of NTT West.

The park will take a turn for the worse as soon as evening settles and night envelops the sky, bringing a spooky shift to the usual mirthful atmosphere during the day. Something terrible will lurk in the dark after the park closes.

Participants of this event will need to use their electronic devices, such as a tablet or smartphone, to help them reach the goal within an hour while keeping hidden from any spirits that may be lying in wait in the shadows. We also recommend taking a spare pair of pants.

But that's not all, as guests at the park can now get involved in another frightening experience using VR technology. This VR game, which is called "The Vengeful Sleep Paralysis Ghost's Mansion," was introduced to the park on July 6 and is available for a limited time only.

If you're down for some hair-raising spooks but can't wait until Halloween, then you know where you need to go this summer.

Information

Hirakata Park x NTT West: "Theme Park Hide and Seek"
Location: The whole of Hirakata Park
*The meeting point is at the park's East Gate
Running: August 26, 2019 – September 1, 2019 & September 7, 2019 – September 8, 2019
Time Slots: ①19:00 / ②19:20 / ③19:40 / ④20:00 / ⑤20:20
*Participants are allocated an hour for each slot
*You must be at the East Game meeting point 5 minutes before your chosen slot

Price: Group Ticket (Up to 4 People)  – ¥14,000 (*comes with free bonus

Tickets: Lawson Ticket (L-Code: 55500)
*Where tickets are available on the day, they will only be sold up until 20:00 that day at Lawson and MINISTOP convenience stores. Please use the Loppi ticket machines in the stores and search for the tickets using the L-Code "55500."
Ticket Enquiries: Lawson Ticket – 0570-000-777 (10:00-20:00)

Homepage: https://www.mbs.jp/obake/

Ojamajo Doremi Anime Themed Cafe to Open in Tokyo & Osaka

To celebrate the 20th anniversary of TV anime series Ojamajo Doremi, two themed cafes named Ojamajo Doremi Cafe&Kitchen will open in Tokyo and Osaka from July 12 and August 29 respectively.

Ojamajo Doremi is an original magical girl created by Toei Animation that ran from February 1999 to January 2003. The series was a huge hit with young girls in Japan when it was released, sending them into a magical daze and further spreading the love for magical girl series. The Cafe&Kitchen is aimed at today's young girls and the girls from back then who have now turned into women. The cafe promises to be kawaii through and through.

Doremi's Adoration! Steak Sandwich Plate: ¥1,490と

Steak is Doremi's favourite so there was no way the cafe was going to leave it off the menu. This steak sandwich is served in a baguette and is served with cheese sauce to make the steak even more delicious.と

Momoko's New York Memories… Meat Ball Pasta Salad: ¥1,290

This dish is inspired by Momoko's memories of how New York tasted back when she lived there as a young girl. The salad pasta bowl is colourful and filled to the brim, representing Momoko's overflowing energy and liveliness. Pour the saffron flavoured cream cheese over to make it look and taste even more American.

Ojamajo Doremi's 20th Birthday Cake: ¥1,190

The Cafe&Kitchen is a celebration of the series's 20th anniversary, so they whipped up a birthday cake fitting for a magical girl. It's a combination of roll cake and sponge cake so you're sure to never tire of the flavour. Help celebrate Doremi's 20th by tucking into this whipped cream covered birthday cake!

Magical Girl Apprentice's Rainbow Pancakes: ¥1,190

Based on the iconic colours of the magical girls, this stack of cute pancakes are shaped like hearts. Scoop up the anglaise sauce and eat together with the pancakes for an even sweeter flavour.

Onpu's Purple Tapioca Milk: ¥790

The famous idol Onpu gets her very own brown sugar bubble tea with tapioca pearls. Served in her image colour, the drink is whipped with whipped cream and showered with rainbow sprinkles♡

Aiko's Blue Lemonade Float: ¥890

You're sure to cool yourself down in the summer heat with Aiko's blue lemonade topped with deliciously refreshing ice cream, lime and mint.

Acrylic Key Ring (6 Designs): ¥600

Clear Pouch (1 Design): ¥1,500

With art director by popular creators Etoile et Griotte, who are popular with lovers of kawaii things, the Cafe&Kitchen will also sell a selection of cute and exclusive merchandise.

Customers who book a table in advance (¥500 per person, excluding tax) and order from the menu will receive one of the six above-pictured original clear stickers chosen randomly.

Those who dine at the cafe will also receive one of these two possible original lunch mats.

Finally, customers who order a drink will receive one of six possible character coasters.

Visit the Ojamajo Doremi Cafe&Kitchen this summer to celebrate 20 years since the series first aired.

*All prices listed are pre-tax prices. Photos are for illustrative purposes only

©Toei Animation

Information

Ojamajo Doremi Cafe&Kitchen

Tokyo

Location: Gourmet Stadium II, Dining Park Ikebukuro, Seibu Ikebukuro Floor 8F

Address: 1-28-1 Minami-Ikebukuro, Toshima Ward, Tokyo

Running: July 12, 2019 – August 31, 2019

Osaka

Location: Abeno contact

Address: Abeno Q's Mall Floor 4F, 1-6-1 Abenosuji, Abeno Ward, Osaka

Running: August 29, 2019 – September 29, 2019

Booking Price: ¥500 (Comes with booking present, up to 4 people per booking)

Cafe Website: https://ojamajodoremi-cafe-and-kitchen.jp

Attack on Titan Exhibition FINAL Will Take Place at Hirakata Park in Osaka

It has been announced that Attack on Titan Exhibition FINAL will be on exhibit at Hirakata Park in Osaka from September 21 to December 1.

It was announced earlier this month that the exhibition is also to take place at the MORI Arts Center Gallery on the 52nd floor of Roppongi Hills MORI Tower from July 5 to September 8. The exhibition serves to plunge fans into the world of Attack on Titan in a number of different ways, from art displays to diorama reconstructions of the world and more.

Advance tickets for the Hirakata Park event will be released on July 1.

Information

Attack on Titan Exhibition FINAL (Osaka)

Location: Hirakata Park, Event Hall 1 (Hirakatakōenchō, Hirakata, Osaka)

Running: September 21 – December 1, 2019 (2 Periods: September 21 – October 27 / October 28 – December 1)

*The exhibited content will be different for both periods

Closed: Wednesdays

Opening Hours: 10-:00-18:00 (Last Entries 17:00)

Attack on Titan Exhibition FINAL Website: http://www.kyojinten.jp

POSTOKYO By jouetie Pop-Up Shop to Open at HEP FIVE in Umeda Osaka

Japanese fashion brand jouetie is running a pop-up souvenir shop called POSTOKYO By jouetie on the first floor atrium of HEP in Umeda, Osaka from June 21 – June 30.

POSTOKYO By jouetie will serve original fashion items in a new an original style from the lens of jouetie, who fuse the many cultures of Japan, in the form of a souvenir shop from Tokyo where various cultures and subcultures and fashion mix together. Following the success of the first pop-up shop in Tokyo, demand for the store to open across other parts of Japan has been made clear, and it is now moving to Osaka for the first time.

Yuka Furukawa

Japanese model duo AMIAYA who conceived jouetie will be at the sop on Saturday June 22 from 11:00am to welcome customers. Popular Japanese YouTuber Yuka Furukawa, who is a big fan of the brand, will also make an appearance on June 21.

Let's take a look at some of the items you can expect to get your hands on at the souvenir store.

POSTOKYO Mix Flower Open Colour Shirts: ¥6,000 (Before Tax)

These colourful open shirts are a mix of colour variation and camellias. They are made of super soft and comfortable satin.

NANCY SNAKE POSTOKYO T-Shirts: ¥5,000 (Before Tax)

jouetie has collaborated with paint artist NANCY SNAKE for the first time to release thiese manga-esque t-shirts with unique touches and coloured trims. The main print designs are beautifully coloured with careful detail embroidered by jouetie.

MASAKO.Y POSTOKYO T-Shirts: ¥5,000 (Before Tax)

Another debut collaboration, this time with artist MASAKO.Y. These t-shirt designs are inspired by Japanese izakaya and can be worn and enjoyed by any lover of Japanese cuisine. It also includes Japanese and English letter embroidery.

POSTOKYO Tokyo Bi-Colour No-Sleeve Knit: ¥4,500 (Before Tax)

These summery dresses are perfect for the coming warm season. The back is embroidered with a gorgeously eye catching crane while the front features the word "Tokyo" written in Japanese (東京) in the same colours.

Head to the shop to see even more must-get items from jouetie.

Disney's Aladdin Themed Cafe Opens Inside Tokyu Plaza Omotesando Harajuku

Disney's new live-action adaptation of Aladdin opened was released in Japan on June 7. To celebrate its release, two themed cafes were by OH MY CAFE in Tokyo and Osaka.

The Tokyo cafe opened at Tokyu Plaza Omotesando Harajuku on June 14 and the Osaka one at kawara CAFE & DINING on June 15. Both will run until July 15.

The MOSHI MOSHI NIPPON editorial team visited the Omotesando cafe with Japanese model Kanako to report on the cafe's decor and design and food.

The first thing to catch your eye when you enter is Jasmine's gorgeous and intricate dress. Photos with the dress are permitted.

Hanging from the cafe ceiling is an assortment of magic lamps while carpets are draped across the wall. Kanako went dressed up like Jasmine to enter this Aladdin-inspired world.

There are plenty of places to take great photos throughout the cafe, such as these Jasmine silhouettes illustrated on pillars.

Jasmine & Dalia's Colorful Pasta: ¥1,790 (Before Tax)

Magic Carpet's Special Sandwich Wrap: ¥1,790 (Before Tax)

The food of course is also based on the film. The menu includes a delicious and faithful line-up from the curry inspired by the magic lamp to Carpet's sandwich wrap and a colourful pasta dish decorated with Jasmine and Dalia. It's safe to say everything on the menu is Instagram-worthy.

Kanako ordered the pasta dish. She gave it a rave review, saying, "It's colourful and cute. It's cute it has Jasmine and Dalia too♡" We recommend this dish for those who want to eat something light.

Rajah's Orange Smoothie: With Coaster ¥1,690 (Before Tax), Without Coaster ¥750 (Before Tax) / Genie's Yogurt Smoothie: With Coaster ¥1,690 (Before Tax), Without Coaster ¥750 (Before Tax)

For drinks, enjoy the tiger-striped Rajah orange smoothie or the blue Genie yogurt smoothie. Both are super refreshing and perfect for the summer heat.

The cafe also sells exclusive original merchandise including key rings, an iPhone case and much more. Visit the cafe to see the full line-up.

There are also two lunch mats you can get your hands on by booking a table in advance. The design is chosen for you randomly. So if you're planning a trip, don't forget to reserve in advance.

How did you enjoy your visit, Kanako-chan?

"They had Jasmine's dress on display. I felt like I had been sucked into the world of Aladdin. If you love Aladdin or you love Disney, please be sure to pay a visit."

Whether you have seen or have yet to see Disney's new Aladdin movie, if you're in Tokyo or Osaka this summer, don't miss a chance to enter its romantic and oriental world at the official themed cafes.

©Disney

Model: Kanako

Writer: Sayuri Mizuno (MMN Editorial Team)

Translator: Joshua Kitosi-Isanga

Information

OH MY CAFE TOKYO

Address: Tokyu Plaza Omotesando, 4-30-3 Jingumae, Shibuya, Tokyo

Running: June 14, 2019 – July 15, 2019

kawara CAFE&DINING Shinsaibashi

Address: Shinsaibashi Opa Floor 9F, Nishi-Shinsaibashi, Chuo Ward, Osaka, Osaka Prefecture

Running: June 15, 2019 – July 15, 2019

Aladdin Cafe Reservations: https://magic.ohmycafe.jp

K-Pop Group BTS's BT21 Cafe to Open in Tokyo, Osaka and Nagoya

The BT21 Cafe is set to open on floor BF2 of SHIBUYA109 in Tokyo for a limited time from June 28 to August 19. The cafe will subsequently open in Abeno (Osaka) from July 20 to August 25 and Nagoya from July 25 to September 1.

The concept of the cafe is "a resort in the southern countries." An original summertime menu inspired by the blue sky, beach and sand will be whipped up and based on each of the characters: KOYA, RJ, SHOOKY, MANG, CHIMMY, TATA, COOKY, and VAN. A line-up of original merchandise will also be sold.

The menu is serve as a meal and dessert set with seven of each to choose from.

MANG Garlic Shrimp: ¥1,990 (Before Tax)

BYTATA Loco Moco Don: ¥1,990 (Before Tax)

With your set you will also receive a character card depending on the meal you choose.

Drinks (8 Options): ¥890 Each (Before Tax)

Clear Coasters (12 Designs)

If you order one of the eight Instagram-worthy drinks at the cafe you'll also get one of 12 possible clear coasters chosen randomly.

Those who book a table in advance will receive one of seven possible mini fans too.

Dine with a refreshing menu on the first summer of the Reiwa period and enjoy a resort vibe at the BT21 Cafe.

©BT21

Information

BT21 Cafe

Locations/Running Periods
Shibuya: SHIBUYA BOX CAFE & SPACE (Shibuya BOX 109) / June 28, 2019 – August 19, 2019
Nagoya: NAGOYA BOX CAFE & SPACE (Nagoya BOX) / July 25, 2019 – September 1, 2019
Abeno (Osaka): Abeno contact / July 20, 2019 – August 25, 2019

Reservations
・Reservation Price: ¥650
・June 17 at 18:00 – Cafe website opens
・June 18 at 17:00 – Tokyo reservations open
・June 21 at 17:00 – Osaka and Nagoya reservations open

BT21 Cafe Official Website: http://box-cafe.jp/

New Pokémon Centre DX and West Japan's First Pokémon Café to open in Osaka

A new official Pokémon Centre DX and a new Pokémon Café will open in Osaka on September 20, 2019 in Daimaru Shinsaibashi's Main Building.

This will be the second Pokémon Centre to open in Osaka. The Pokémon café will adjoined to the shop and will be the first ever branch of the Pokémon café to have ever opened in West Japan. This is also the second permanent Pokémon café to open in Japan besides the Pokémon café in Nihombashi.

The new Pokémon Centre DX and Pokémon Café will be situated in a bustling tourist hotspot. On your visit, you can also take a gander around the Shinsaibashi shopping district or  the American Village (America-mura) which is full of entertainment. This area is thriving with department stores, special shops, big brands and so much more. Tourists from other parts of Japan and all over the world are constantly flocking to this giant marketplace.

As the worldwide exhibition event Expo 2025 will be held in Konohana Ward, Osaka, there is no doubt that Osaka is becoming more and more of a Tourist hotspot!

Osaka is a wonderful tourist destination. If you decide to visit, don't forget to include the Pokémon Centre DX and Pokémon Café on your itinerary!♪

©2019 Pokémon ©1995-2019 Nintendo/Creatures Inc./GAME FREAK inc.

Pocket Monsters, ポケットモンスター/ポケモン/Pokémon are registered trademarks of Nintendo/ Creatures Inc./GAME FREAK inc.

Information

Pokémon Centre Osaka DX &  Pokémon Café

Address: Daimaru Shinsaibashi Main Building, 9

1-7-1, Shinsaibashisuji, Chuo Ward, Osaka,

Grand Opening: September 20, 2019 (subject to change)

Closed: Dependent on the closing times of Daimaru Shinsaibashi Main Building.

Official Website: https://www.pokemon.co.jp/gp/pokecen/osaka/

Disney's Aladdin Film Celebrated in Japan With Themed Cafes in Tokyo & Osaka

Disney's new live-action Aladdin film is set to be released in Japan on June 7. To celebrate, two branches of OH MY CAFE in Tokyo and Osaka are set to collaborate with the movie from June 14 and 15 respectively.

"LOVE" is the concept of this collaboration, with everything from the cafe decor to the menu line-up steeped in the essence of romance.

Customers who book a table in advance will randomly receive one of the two above-pictured original Aladdin lunch mats.

Aladdin's Magic Lamp Curry: ¥1,790 (Before Tax)

Receive a magical lamp of your own with this black curry which is accompanied with a fluffy meringue salad topped with your own Genie.

Magic Carpet's Special Wrap Salad: ¥1,790 (Before Tax)

One of many Instagrammable choices on the menu, this plate comes with fried bread made in the image of Carpet and an assortment of ingredients to wrap in the bread.

Jafar's Evil Chicken Cream Plate: ¥1,790 (Before Tax)

This chicken cream plate is inspired by Jafar and is served with a generous portion of delicate saffron rice.

Aladdin & Jasmine's Fruit Drink (Yoghurt Flavour): With Bottle – ¥1,750 (Before Tax) / Without Bottle – ¥750 (Before Tax)

Enjoy this refreshing yoghurt drink poured on top of an assortment of delicious fresh fruits.

A Whole New World Grape Flavoured Starry Sky Drink: ¥1,290 (Before Tax)

Experience a whole new world in the starry night sky with this cloud-inspired shaved ice drink.

The cafes will also sell a range of exclusive merchandise.

Acrylic Key Ring (Aladdin & Jasmine): ¥1,200 (Before Tax)
Acrylic Key Ring (Genie): ¥950(Before Tax)

Charm Set (3 Charms): ¥1,200 (Before Tax)

Enter the world of Disney's Aladdin in Tokyo and Osaka this summer.

©Disney

Information

Aladdin OH MY CAFE

OH MY CAFE TOKYO

Address: Tokyu Plaza Omotesando, 4-30-3 Jingumae, Shibuya, Tokyo

Running: June 14, 2019 – July 15, 2019

kawara CAFE&DINING Shinsaibashi

Address: Shinsaibashi Opa Floor 9F, Nishi-Shinsaibashi, Chuo Ward, Osaka, Osaka Prefecture

Running: June 15, 2019 – July 15, 2019

Aladdin OH MY CAFE Official Website: https://magic.ohmycafe.jp

RAMEN PURISM: Osaka's New Eatery Made in Collaboration With 2 Ramen Restaurants

Popular ramen restaurants Original Ramen Style Hayashi and Human Beings Everybody Noodles in Osaka have crossed chopsticks to open up the all-new restaurant RAMEN PURISM in Shinsaibashi, Osaka.

Hayashi Ryuu Miso Ramen: ¥990

RAMEN PURISM will be the central branch of RAMEN CUBISM which opened in Hong Kong back in January, making it an example of a reverse-import restaurant.

Kindan no Shio: ¥890

Jinrui Mina Shoyu: ¥890

The Hayashi Ryuu Miso Ramen and Kindan no Shio by Original Ramen Style Hayashi and the Jinrui Mina Shoyu by Human Beings Everybody Noodles are served in large ramen bowls specially ordered from a ceramic maker in Kyoto (露古壽窯). The noodles are also prepared in-house meaning customers can enjoy freshly made noodles.

The noodles are made from fragrant bamboo wheat flour while the mouth-watering roast pork is a mix of pork belly and shoulder which is cooked at 160°Cfor 30-minutes until the centre of the pork reaches 70°C.

The glass windows in the restaurant mean that customers can watch the noodles noodles being made in front of them. Jazz music plays while you eat adding luxurious atmosphere compared to other ramen shops. It's located just a 30-second walk from Ebisu Bridge in Souemoncho making access super easy.

Information

RAMEN PURISM

Address: 2-3-12 Shinsaibashisuji, Chuo Ward, Osaka

Access: 370m on foot from Osaka-Namba Station)

Business Hours: 11:00-15:00 / 18:00-23:00

No Fixed Holidays.

Official Twitter Page: https://twitter.com/RAMENPURISM