Tokyo's Fancy New Pink Afternoon Tea at THE GRAND GINZA is Topped With Chocolate and Strawberries
THE GRAND GINZA in Tokyo is getting ready for Valentine's Day and White Day with the revealing of its new afternoon tea menu which will be served from February 1 to March 31.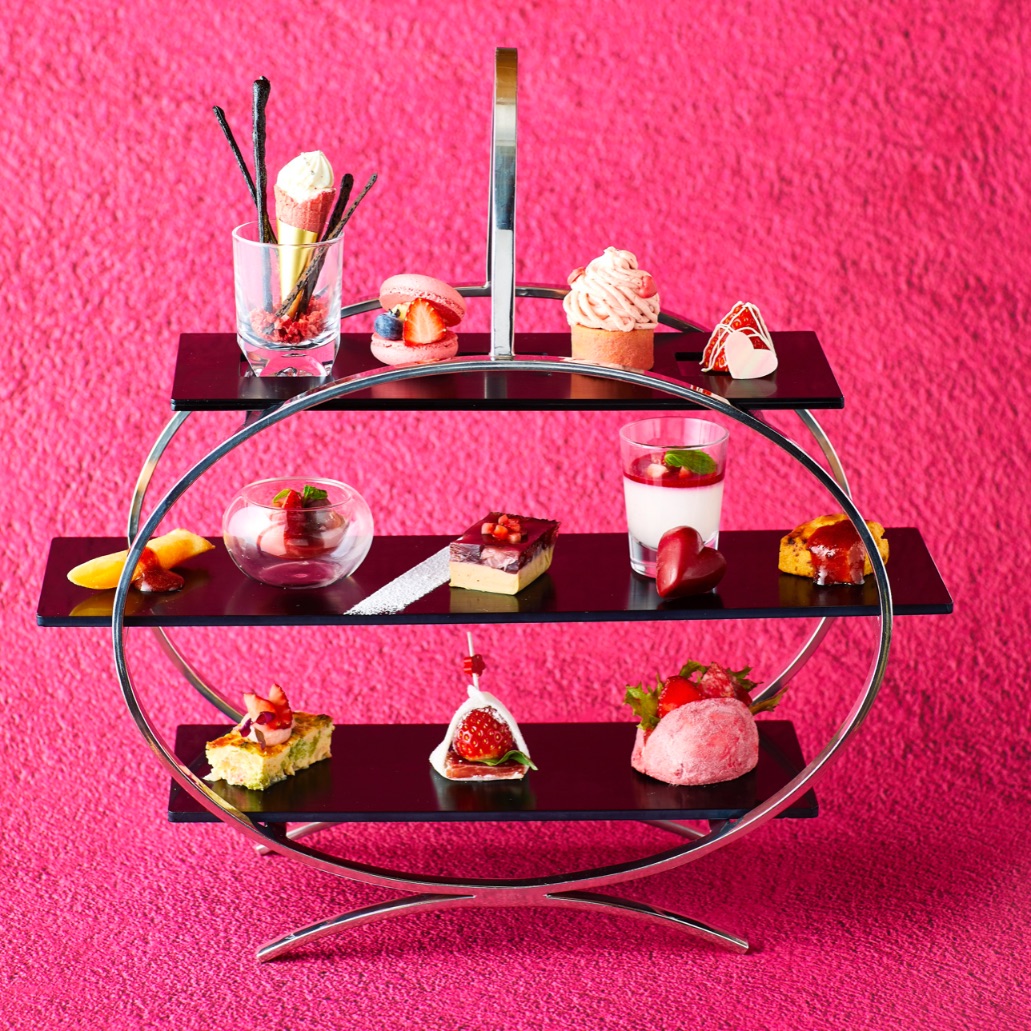 The "Pink Afternoon Tea" is a combination of succulent strawberries and fruity ruby chocolate, which is the fourth type of chocolate alongside milk, dark, and white. It includes a ruby hot chocolate for staying warm during these cold winter months, strawberry macarons, strawberries to dip in ruby chocolate, strawberry quiche curry, and other unique items for a mix of sweet and savoury. There's also a strawberry mille-fuille made with a recipe by Ginza's famous French restaurant Maxim's de Paris.
There are also 18 drinks to choose from including 13 types of teas from TWG. It's a must-visit for Valentine's Day.
RELATED ENTRIES
Mister Donut Collaborates with Belgian Royal Chocolate Brand Wittamer

Mister Donut locations nationwide are now selling products from the 'misdo meets Wittamer' collection, developed in collaboration with the Belgian royal patisserie brand Wittamer. These tasty treats will be available at participating shops until late February. 

Since 2017, under the brand slogan "Good Things Come to Mister Donut," the brand has collaborated with a number of companies from around the world to invigorate its already delicious selection of sweets. To start 2022, the beloved donut chain is teaming up with Wittamer to bring their 'Chocolat Samba' and 'Praline Chocolat' to customers throughout Japan.

The newly-developed chocolate donut batter is made by applying the same method to make cakes to donuts, creating a light mouthfeel very much like taking a bite of chocolate cake. By combining it with ganache cream and whip, the flavor becomes even richer. It might be difficult to take a bite of something so beautiful, but if you're near a Mister Donut, you should give these a try before they're gone!

misdo meets Wittamer Collaboration

Chocolat Samba: ¥200 (Without Tax)
The donut's chocolate dough is covered with ganache cream and filled with ganache whip. Pay close attention to the glossy texture inspired by the Chocolat Samba cake.

Chocolat Hazlenut: ¥200 (Without Tax)
Covered in graham cracker hazelnut cream and filled with ganache whip, the cocoa powder on top takes the flavor to new heights.

Chocolat Caramel: ¥200 (Without Tax)
Caramel mocha cream and ganache blend together with caramel chocolate and nuts for a decadent and luxurious treat.

Chocolat Blueberry: ¥200 (Without Tax)
Chocolate dough and blueberry jam blend seamlessly with ganache cream. Topped with raspberry-flavored chocolate flakes, this is a showstopper.

Information

misdo meets Wittamer Collaboration

Running: January 7 – Late February 
Available at Participating Mister Donut Locations Nationwide

Official Site: https://www.misterdonut.jp

Hotel Made Entirely of Ice Opens in Tomamu, Hokkaido

Hoshino Resort Tomamu, one of the largest stay-and-go snow resorts in Hokkaido, will open a hotel made entirely of ice from January 20 until February 28, 2022. The ceiling, walls, and furniture will all be made of ice, and guests can also enjoy an outdoor ice bath! In addition, a new Ice Dinner will be on offer, where visitors can enjoy a beautiful table surrounded by ice overlooking a forest of white birches while staring up at the starry winter sky.

The seamless dome-shaped ice structure is about 8.5 meters in diameter and 3.5 meters high. Sleeping bags will be provided to guests to keep them warm and comfortable until morning.

Visitors can enjoy a hot spring in the open winter air in Shimukappu Village's Scan Portopia Yunosawa Onsen. 

The aforementioned Ice Dinner features three ice-themed dishes and welcomes guests to sit at a table made entirely of ice surrounded by majestic nature.

The appetizer includes iced vegetables like tomatoes, bell peppers, and cauliflower. Each is dipped in a warm garlic sauce, balancing the sweetness of the veggies, which become more sugary when cold. 

The main course, Iceberg Bouillabaisse, is covered with ice. This begins to melt as the soup pot is slowly heated in front of the guests, revealing gorgeous seafood like cod and shrimp. It's a feast for the eyes as well as the tastebuds!

The frozen fruit dessert mixes strawberries and kiwis with hot wine and a touch of cinnamon. Sweet and sour flavors come together to end the night on a high note.

Information

Ice Hotel

Running: January 20 – February 28, 2022
Price: ¥28,000 per person, per night (Includes tax, service charge)
Check-in: 21:40-22:00 / Check-out: 8:00
Capacity: 1 group per day (Minimum 1 guest, maximum 2 guests)
Eligibility: Must be elementary school age or older and staying at Tomamu The Tower or Hoshino Resort RISONARE Tomamu
Reservations: https://www.snowtomamu.jp/summer/
*Must be made at least 1 week in advance.
Official Site:https://www.snowtomamu.jp

Chocolate Specialty Shop Minimal Offering Rare Strawberry and Chocolate Treats

Japan-based chocolate specialty store Minimal is now offering a limited-edition set of gateau chocolates with fresh strawberries from Mei Strawberries in Kagawa Prefecture. These are available for preorder and are perfect for Valentine's Day!

These sweets were a huge hit last year, selling out immediately. The rare variety of strawberries used is only found in 1 percent of Japanese strawberry farms, and these are blended with milk cream and specialty chocolate. 




The strawberry jam found on the top of each chocolate piece is made from these rare Nyohou strawberries.  Originally a small-grained variety, the Nyohou varietals send from Mei Strawberries in Kagawa Prefecture are larger with a beautiful dark-red color. Fragrant, juicy, and sweet, they also have a slight acidity that provide a more complex flavor.


 

To maximize the natural strawberry flavor, the chocolate is made from Madagascar cocoa beans with a more berry-like flavor. Only slightly roasted, the graininess is intact, leaving a more powerful and rich flavor. A milky sweet cream has also been added to the center to provide a better balance.

This is the second year that the company has worked with these strawberries from Mei, and after making a number of prototypes, Minimal has found the best possible way to express these unique flavors in harmony. 


Information

Fresh Gateau Chocolate & Strawberries featuring Mei Strawberries

Price: ¥3,510 (Tax Included)
Release Date:   

Online Store/LINE Preorders: December 24, 2021~

Yoyogi Ueno Store: January 15, 2022

Sales Period: Until the End of February 2022
LINE: https://page.line.me/yrn4346m?openQrModal=true

Official Site: http://mini-mal.tokyo

Anniversaire Cafe Minatomirai Yokohama to Start Strawberry Garden Sweets Fair

Anniversaire Cafe Minatomirai Yokohama, a popular location for anniversary celebrations, is holding a limited-time Strawberry Garden fair for a limited time, from January 7 until February 6, 2022. Guests can enjoy a collection of strawberry sweets and pink drinks to start the new year in style.

Limited-Time Dessert Menu *Limited Quantities

Strawberry Plate: ¥1,870 (Tax Included)

Strawberry Caramel Pain Perdu: ¥1,870 (Tax Included)

Strawberry Mont Blanc: ¥1,980 (Tax Included)

Limited-Time Drink Menu

Strawberry Tiramisu Latte, Hot (Left)/Iced (Right): ¥1,100 (Tax Included)



Sparkle Berry Soda (Center): ¥990 (Tax Included)

Limited-Time Afternoon Tea Plan *Limited Quantities/By Reservation Only

Strawberry Stand Afternoon Tea: ¥3,800 (Tax Included)


Strawberry Plate Afternoon Tea: ¥3,300 (Tax Included)



Limited-Time Sweets for Takeout *Limited Quantities

Petit Fleur (5 pieces): ¥1,300 (Tax Included)

Information

Strawberry Garden
Running: January 7 – February 6, 2022
Address: Anniversaire Cafe Minatomirai Yokohama (2-1-4 Shinko, Naka-ku, Yokohama, Kanagawa)
Hours: Weekdays 11:00-17:00 (Last Order 16:00) / Weekends & Holidays 11:00-21:00 (Last Order 20:00) *Closed Tuesdays and Wednesdays. Hours are subject to change.
Official Site: https://cafe.anniversaire.co.jp/minatomirai/

The St. Regis Osaka Launches Strawberry Afternoon Tea for a Limited Time

The St. Regis Osaka Hotel is offering a special strawberry-themed afternoon tea set until May 2022. 

Strawberry Afternoon Tea '5th Avenue Collection'

Strawberry  Parfait 'The New York Gallery' 

Strawberry Afternoon Tea '5th Avenue Collection' to GO!

 

The St. Regis New York Hotel was founded in 1904, and is located on 5th Avenue, one of the most famous shopping streets in the world. This new afternoon tea set features a gorgeous three-tiered array of colorful savory and sweet dishes inspired by the many fashion items that line the shop windows of the NYC street. 

The Strawberry Heel Panna Cotta shows a woman's leg peeking out from the dessert clad in a fancy high heel, while the Berry Opera is made to look like a designer bag. Many of the available dishes are made using seasonal strawberries sourced from around Japan.

The French Bistro Ruedor on the first floor is also offering 'The New York Gallery,' a strawberry parfait set of three inspired by the art of New York City. This set also comes with an assorted plate of six savory and sweet items.

The WOW Strawberry, with its pop-art motif, will surprise guests with its massive strawberries and variety of different textures from mousse to jelly. The LOVE Strawberry mixes juicy, sweet, and sour strawberries with pistachio mousse and was inspired by Banksy's 'Balloon and Girl' painting. The Banana & Chocolate parfait pulls from the colorful wall art seen all around the famous city streets.

For those wanting something less sweet, hamburgers, hot dogs, and bagels, all popular on the streets of Manhattan, will be served alongside these strawberry delights. For those wary about the current pandemic conditions, the Fifth Avenue Collection can also be taken home!

Information

Strawberry Promotion 'Strawberry at the Best Address -55th Street, 5th Avenue-

Strawberry Afternoon Tea '5th Avenue Collection'
 Running: January 8 – May ~
Available Time Slots: ①12:00~ ②12:15~ ③12:30~ ④14:30~ ⑤14:45~ ⑥15:00~
*2-hour Seatings

Location: St. Regis Bar 12F

Reservations: https://www.ruedor.stregisosaka.com/stregistogo
*Welcome drink, dress cookie, and glass dessert are not included.
*Reservations are required at least one day in advance.

Strawberry Parfait Set 'The New York Gallery' 
Available: January 8 – May ~ (15:00~ / 15:30~) *Only 5 seatings per day.

 Location: Ruedor French Bistro 1F
https://www.ruedor.stregisosaka.com/

Shiseido Parlour Ginza Salon de Cafe to Hold 'Special Strawberry Day 2022' for Two Days Only

The Shiseido Parlour Ginza Salon de Cafe in Tokyo will hold the 'Special Strawberry Day 2022' event for two days only, on January 14 and 15, 2022. Guests will be able to enjoy a Strawberry Parfait prepared using carefully selected varieties of strawberries from all over Japan. Two varieties of the dessert will be available for the first time in 2022, with twelve varieties available in total–some varieties will only be available on a specific date.

Strawberry Parfait

Special Strawberry Parfait with 'Angel Strawberries' from Saga Prefecture: ¥2,600 (Tax Included)

Special Strawberry Parfait with 'Marihime Strawberries' from Wakayama Prefecture: ¥2,600 (Tax Included) *Only available on January 15

Premium Strawberry Parfait with Strawberries from Saga Prefecture: ¥3,600 (Tax Included)

Premium Strawberry Parfait with 'Mino Musume Strawberries' from Gifu Prefecture: ¥3,600 (Tax Included)

Royal Strawberry Parfait with 'Kotoka Strawberries' from Nara Prefecture: ¥5,000 (Tax Included)

Cocotte de Fraise Sales Period: January 14 – January 15

Information

Shiseido Parlour Ginza 
Address: Tokyo Ginza Shiseido Building 1F (8-8-3 Ginza, Chuo-ku, Tokyo)
Hours: 11:00-20:30 
*Closed during the New Year holiday

FUKUCHA to Offer Limited-Time Strawberry Desserts with Uji Tea Pairings

FUKUCHA Teahouse, a Fukujen cafe in Kyoto, will start a limited-time Strawberries and Uji Tea Fair on January 8, 2022. Last year's Matcha fair was incredibly popular, and certain items will also be available again in 2022. The new menu includes a strawberry version of the popular Herbal Tea Pairing Set, making it even more fun and elegant! Guests can enjoy flavorful Uji green tea along with a number of tasty strawberry treats. 

Mont Fraise: ¥1,150

Mont Fraise means 'mountain of strawberries' in French. This dessert is made with thin white chocolate and sponge cake soaked in matcha syrup with matcha cream and strawberries covering every inch. It is also served with a green tea chocolate sauce. 

Strawberry Pairing Set: ¥1650

The strawberry version of the popular Herbal Tea Pairing Set on the regular FUKUCHA menu.
・Ginger Blend Genmaicha and Strawberry Cheese Tart
・Hibiscus Blend Hojicha and Strawberry Chocolate Bonbons
・Cinnamon Blend Twig Tea with Strawberry Cream
・Peppermint Blend Twig Tea with Large Strawberry

Marscapone Strawberries: ¥1450

Using 10 strawberries, this parfait is designed to look like a herbarium. Putting a spoon into the light mascarpone cream will reveal the bright green color of the matcha chocolate sauce.

Information

Strawberry and Uji Tea Fair

Running: January 8 – May 15, 2022
*Limited to 10 Servings per day.

Official Site: https://www.fukujuen.com/

'It's My Color! ~Rouge Red Room~' Concept Room Allows Guests to Surround Themselves with Red

Strings Hotel Nagoya will open a new concept room from January 15 until April 14, 2022. Those who love the color red won't want to miss it!

'It's My Color' is a room completely dedicated to a person's favorite shade. Imagine dressing up in red and spending time taking photographs in this completely red room. It's perfect for Valentine's Day!

While the room may be red for now, the color may change in the future. Guests can also enjoy a special strawberry afternoon tea set in their room during this event period.

Bandai Candy Releases Second Round of Family-Sized Demon Slayer Tarts

Bandai Candy has begun selling the second round of Demon Slayer-themed tarts! This time, the family-sized treats will feature the taste of two varieties of cheesecake, and will be available at select AEON, AEON Style, MaxValu, and Daiei locations throughout Japan.

Each tart features characters from the popular Demon Slayer anime series with smiles on their faces. With a two-layered structure, customers can enjoy the flavor of baked cheesecake and gelatin cheesecake. Characters included are Tanjiro, Nezuko, Zenitsu, Giyu, Inosuke, Kyojuro, Shinobu, and Kanao.

(C)吾峠呼世晴/集英社・アニプレックス・ufotable

Information

Demon Slayer Big Tart Round Two ~Two Types of Cheesecake~

Price: ¥537 each (Tax Included)

Available Now

Where to Buy: 

AEON / AEON Style (Honshu, Shikoku, Kyushu)

MaxValu (Kanto, Hokuriku, West Japan)

Daiei's Chilled Dessert Corner

※Products only available in limited quantities. 

※Only available at participating stores.

Details: https://www.bandai.co.jp/candy/products/2021/4549660736721000.html 

Oriental Hotel Universal City, the Official Hotel of Universal Studios Japan, Holds Grand Opening

After a soft opening in July 2021, the Oriental Hotel Universal City has spent the last six months remodeling its entrance, lobby, restaurant, and guest rooms. The property has now officially held its grand opening and will be welcoming guests in 2022. 

Hotel Exterior

Guest Room

Restaurant Interior

Restaurant Interior

Huge Hamburgers

Croffle Eggs Benedict

Guest rooms feature earthy color tones and are spacious and functional, with beds provided by popular brand Simmons, promising a good night's sleep. A variety of room types are available, including double rooms, twin rooms, triple rooms, and connecting rooms, allowing for a flexible stay depending on the number of guests. Until March 31, 2022, the hotel is offering the 'New Room Stay Plan,' a long-stay luxury holiday plan that allows guests to stay up to 23 hours on departure day to enjoy shopping and other leisure activities.

The hotel's restaurant has been reimagined with a buffet concept and welcomes guests with high ceilings and large windows for a refreshing morning experience. The interior is accented with a green wall to conjure images of nature, and the breakfast menu is based on the concept of 'Charge from Nature,' offering a wide variety of dishes to help visitors recharge both body and mind.  

オリエンタルホテル ユニバーサル・シティはユニバーサル・スタジオ・ジャパンのオフィシャルホテルです
Universal elements and all related indicia TM & © 2021 Universal Studios. All rights reserved.
CR21-2553
 

Alice in Wonderland' Inspired Afternoon Tea Served at Aoyama St. Grace Cathedral for Seven Days Only

For seven days only from January to April 2022, the Aoyama St. Grace Cathedral wedding hall will open its doors to those wanting their fill of Alice in Wonderland-inspired sweets! 'Alice's Tea Party' will be an afternoon tea experience you'll never forget, and reservations are required.

The limited-time-only afternoon tea will feature a variety of adorable sweets that look like they popped out of a picture book, from Berry and Pistachio Bunny Ears Mousse to the Queen's Chandelier Butter Sandwich Cookies decorated like playing cards. Each sweet makes use of seasonal ingredients like strawberries, perfect with chocolate dips, petite tarts, and macaroons.

Information

Sweets Palette Afternoon Tea 'Alice's Tea Party' 

Running:

January 19, 2022
February 2, February 9
March 2, March 9, March 16
April 6 *Reservations Required
Times:

First Seating 12:15-13:45(Open at 12:00)

Second Seating 14:45-16:15(Open at 14:30)
Price: ¥4,500 per person (Tax and Service Charge Included)
Address: Aoyama St. Grace Cathedral Guest House (3-9-14 Kita-Aoyama, Minato-ku, Tokyo)

Access: 3-minute walk from Omotesando Station Exit A1 on Ginza Line / Chiyoda Line / Hanzomon Line
Reservations: https://www.bestbridal.co.jp/guestparty/tokyo/akasaka_aoyama_omotesando/stgrace_aoyama/2022event-10/ 

Weston Miyako Hotel Kyoto and Okuratouen Release Strawberry & Blue Rose Afternoon Tea

From February 1 until February 28, 2022, visitors to the Weston Miyako Hotel Kyoto can enjoy a leisurely Strawberry & Blue Rose Afternoon Tea courtesy of a new partnership with Okuratouen. 

Top Row

Middle Row

Bottom Row

Okura Pottery is known for its exquisite Blue Rose tableware which features heavily in this collaboration. 


The menu features the special Blue Rose Macaroon with its distinctive high-quality taste along with a variety of sweets and savory dishes surrounded by strawberries and roses. Guests can enjoy this three-tiered selection of goodies from 12:00-16:00 during the event period at the hotel's Mayfair Tea Lounge. 

Information

Strawberry & Blue Rose Afternoon Tea

Running: February 1 – February 28, 2022

Address: Weston Miyako Hotel Kyoto 2F, Mayfair Tea Lounge

Hours: 12:00-16:00 (2-hour block) *Reservations required by previous day at 17:00