Japan welcomed four Disney Princess themed pop-up shops last month, all of which have just released special wrapping paper that can only be bought at the shops. The four stores are located at AEON MALL Matsumoto in Nagano, AEON Lake Town kaze in Saitama, AEON Mall Chikushino in Fukuoka, and AEON Mall Suzuka in Mie and will run until February 28, 2021.
Wrapping Paper (1 Set of 10 A4 Sheets): The Little Mermaid, Beauty and the Beast, Cinderella, Snow White | ¥550 Each (Before Tax)
Free shopping for those who spend over ¥5,500 (tax included) at the shops
Free mask case for those who spend over ¥3,300 (tax included) at the shop
The wrapping paper is perfect for gift wrapping presents. Those who spend a certain amount in-store will also receive the above-pictured novelties.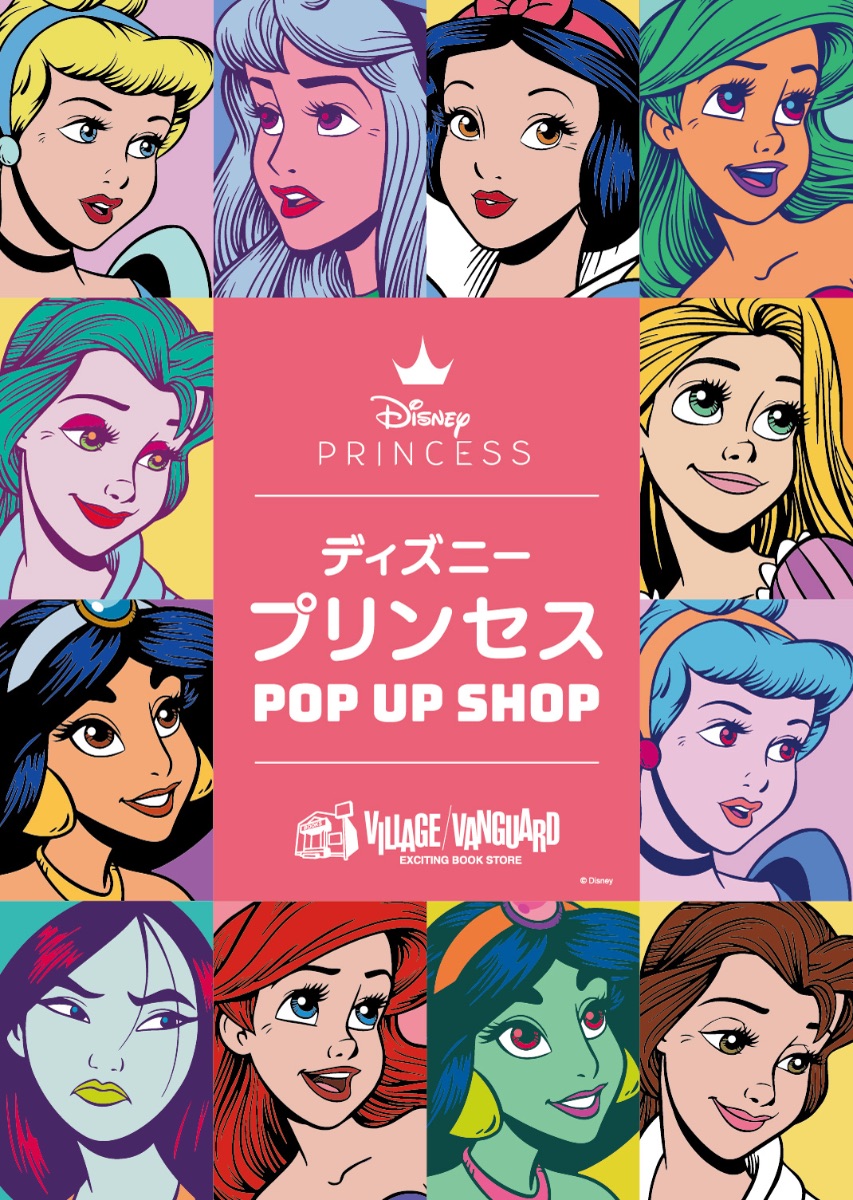 RELATED ENTRIES
Disney: Twisted-Wonderland Hair Wax Features Colouring Inspired by the Disney Villains

A fancy collection of coloured hair waxes were released in Japan last week which are inspired by the colours of the seven Dormitories of Night Raven College in Disney: Twisted-Wonderland, a mobile game created by Aniplex and Walt Disney Japan that's inspired by the villains of Disney's animated films.

Each bottle of hair wax is coupled with one of 22 possible stickers featuring illustrations of the dorm students.

Disney Twisted Wonderland Coloured Wax | ¥2,200 Each (Tax Included)

Colours based on the 7 Dormitories

Heartslabyul: Red

Savanaclaw: Yellow

Octavinelle: Purple

Scarabia: Dark Red

Pomefiore: Blue

Ignihyde: Light Blue

Diasomnia: Green

Are you playing Disney: Twisted-Wonderland? Which Dorm are you part of?

Disney x MOUSSY Release Retro Clothing Collection

High-casual brand MOUSSY has collaborated with Disney to release the "Disney SERIES CREATED by MOUSSY." The Spring/Summer 2021 collection dropped in Japan on Wednesday (February 24).

PALS TAPESTRY SH JKT | ¥34,980 (Tax Included)

PALS TAPESTRY SK | ¥19,910 (Tax Included)

MATCHING OUTFITS POJ | ¥8,250 (Tax Included)

ALWAYS COOL TSJ | ¥6,600 (Tax Included)

The collection combines 70s-80s vintage taste with a 90s street style to create a special retro fusion design. The items are crafted by Japanese artisans from the gobelin-stich fabric series PALS TAPESTRY and feature Minnie and Mickey Mouse in different attire including cute matching outfits.

©Disney

Disney Japan Celebrates Zootopia's 5th Anniversary With New Merchandise

Walt Disney Japan is celebrating the 5th anniversary of the internationally-beloved animated feature film Zootopia with the release of a new merchandise collection which will roll out in the form of pre-sales at select Disney Japan stores and on shopDisney on February 6 before hitting all Disney Japan stores on March 2.

Disney's Zootopia 5th Anniversary Items

The merchandise line-up features familiar faces from the movie such as Nick Wilde and Judy Hopps in the form of T-shirts, figures, plush toys, tote bags, cushions, tissue box covers, and more. It's a must-grab for any fan of the popular film who wants to add to their Disney collection.




©Disney




©Disney

Zootopia Character Tsum Tsum Collection

©Disney

The characters of Zootopia also meet Disney's hugely popular Tsum Tsum plush toy series. There are seven in the collection which capture the cute expressions of each character.


©Disney

Plush Toy Key Rings ¥1,980 Each / Pin Set ¥6,600 / Pouch ¥1,760 / Key Ring ¥990 / Figure ¥4,840 / Mug ¥1,320


©Disney

Tsum Tsum Plush Toys – ¥660 Each

Disney Japan Celebrates Minnie's Day With Exclusive Minnie Mouse Merchandise

Minnie's Day is set to fall in Japan on March 2, so to celebrate, Walt Disney Japan is getting in on the festivities nice and early by announcing the release of a new Minnie Mouse merchandise collection, called the "Disney ARTIST COLLECTION by Kelly Park," which will be officially released at Disney stores in Japan on February 23. Pre-sales will also roll out at select stores and Disney Japan's online store shopDisney from February 19.

©Disney

©Disney

Plushie ¥3,300 / Makeup Brush Set ¥2,640 / Tote Bag ¥2,090 / Room Fragrance ¥4,180 / iPhone Case (iPhone 11) ¥3,520 / Mirror ¥2,420 / Ballpoint Pen & Notebook Set ¥1,980 – (Prices Include Tax)

©Disney

nuiMOs Plushie ¥2,750 (Tax Included)


Kelly Park is an artist that is enjoying immense popularity in South Korea right now. Their new "Disney ARTIST COLLECTION by Kelly Park" is an exclusive release in collaboration with Disney Store.

The line-up is a celebration of all things Minnie Mouse for her big day, aptly named "Minnie's Day," on March 2. Vibrant blue is the main colour for the collection which Kelly Park has created to support fellow dreamers out there – those who have big hopes and aspirations in their everyday lives. The designs are bright, beautiful, and full of positivity, making them a perfect pick for the coming spring season. Minnie fans can feel fresh this spring season with fahsion items, accessories, stationery, a variety of lifestyle goods, and more.

Disney's popular nuiMOs plushie range will welcome an exclusive new Minnie Mouse plushie on February 26 which features the date "March 2, 2021" on it for Minnie's Day. It also comes with a pin. These plushies are limited-edition and only 320 will be sold – a number that of course aligns with March 2.

Celebrate the day of the original Disney Princess with the new Disney ARTIST COLLECTION by Kelly Park.

Disney Japan Celebrates The Aristocats' Marie Day & Cat Day With Cute Feline Merch

Walt Disney Japan is releasing a new collection of merchandise of its famous feline characters in line with Japan's Cat Day and Disney's O'Malley Day, both of which fall on February 22. The items will be released at Disney Stores in Japan on February 16 but pre-sales will hit select shops and Disney Japan's online store shopDisney on February 12.

©Disney

Loungewear ¥5,060 / Mat ¥4,400 / Vanity Pouch ¥2,860 / Sweatshirt ¥4,290 / Snowdome ¥10,780 / Figurines <Dinah> <Marie> <Figaro> ¥2,420 Each / Figurine <Cheshire Cat> ¥2,640 / Cushion ¥4,180 / Mug ¥1,650

Hand Mirror ¥1,760 / Plushie Key Chain ¥2,750 / Smartphone Case ¥3,520 / Mini Towels ¥660 (Prices Include Tax)

Familiar kitty faces from some of Disney's most celebrated animated films can be seen all around in the collection, including cats from The Aristocats, Cinderella, Alice in Wonderland, Pinocchio, and more. Pink is the base colour for the collection, perfect for the forthcoming spring season.

The line-up is a must-grab for any fan of Disney's cats, from figurines and a mug to a cushion, sweatshirt, vanity pouch, and more.

©Disney

Information

Cat Day Merchandise
Pre-Sale Release Date: February 12, 2021

Pre-Sale Locations: Disney Store Sendai Toei Plaza / Disney Store Shibuya Koen-dori / Disney Store Kyoto Shijo Kawaramachi / Disney Store Shinsaibashi

General Release Date: February 16, 2021
Product Page: http://shopDisney.jp/cat-day/2021/

Disney Princess Cakes at Ginza Cozy Corner Tickles the Hearts and Taste Buds of Princesses

Ginza Cozy Corner will open orders for its new Disney Princess Cakes on January 29.

The Little Mermaid Cake (Serves 5-6) | ¥3,500 (Before Tax)

Cake Box

Decorate the cake yourself with the accompanying parts

Beauty and the Beast Collection (9 Cupcakes) | ¥2,500 (Before Tax)

Cupcake Box

Rapunzel Princess Cake | ¥450 (Before Tax)

Ariel Princess Cake | ¥450 (Before Tax)

Tangled Dress Cake (Serves 5-6) | ¥3,500 (Before Tax)

Pick from a variety of cakes inspired by popular Disney Princess like Rapunzel and Ariel. The cake based on The Little Mermaid is limited to just 3,000 cakes. There's also a special selection of Beauty and the Beast cupcakes.

Disney's Mickey and Minnie Mouse Feature on Lotte's Choco Pie Chocolate Treats

Japanese confectionery company Lotte is joining white gloves with Mickey and Minnie Mouse to collaborate on their popular chocolatey Choco Pie treats. The tie-up will roll out in Japan from January 26.

Lotte Choco Pie Heartful W Strawberry

Lotte Choco Pie Heartful W Chocolate

Try and find the Mickey head on the packaging

Get your hands on one of 10 packaging designs

Line up these two to make it look like Mickey and Minnie kissing

 

Handmade Choco Pie Art

This marks Choco Pie's first collaboration with Disney's characters with Mickey and Minnie appearing in ten different designs. Each design has a hidden Mickey head to find (like in Kingdom Hearts III). Lotte is has also showcased some unique designs you can make for Valentine's Day with the Choco Pies, so get creative!

ⓒDisney

Information

Lotte Choco Pie Mickey & Minnie Design
Release Date: January 26, 2021
Official Website: https://www.lotte.co.jp/

Vintage Toy Story Clothing Collection to Drop by Ground Y x Pixar

Yohji Yamamoto's clothing brand Ground Y is teaming up with Disney·Pixar to release a vintage collection inspired by the Toy Story animated film series. It will be released in Japan at Ground Y stores and online at THE SHOP YOHJI YAMAMOTO on January 27, 2021.

Vintage Art Collection_1


Vintage Art Collection_2

The line-up brings together Yohji Yamamoto's iconic monotone colours with Toy Story artwork. It features carefully-selected pieces to capture the beauty of unfinished art, with familiar faces such as Woody, Buzz, Zurg, the Little Green Men, and more, against contrasting black and white hues.

Vintage Art Collection_3


Vintage Art Collection_4

Vintage Art Collection_5


Vintage Art Collection_6

The unisex collection includes a reversible hooded coat made from gabardine, a puffy sleeved sweater woven with high quality silk, hoodies, cut-and-sewns, tote bags, and more.


Vintage Art Collection_7


Vintage Art Collection_13

Modelling the looks are actress Moka Kamishiraishi and actor Eiji Akaso.


A unique and stylish springtime selection by Ground Y and Toy Story.

Japanese food, condiment, and ingredient delivery service Oisix is teaming up with Disney's hit animated feature film Frozen to release a new meal kit as part of their Kit Oisix series. The dish is called "Frozen – World of Ice Snow Stew" and it will hit the company's website for a limited time on January 28.

Frozen – World of Ice Snow Stew | ¥2,149 (Tax Included)

Toothpick for Anna salad

Olaf rice

Recipe instructions

Recipe book and packaging

Lunch mat and toothpicks

In November 2020, Walt Disney Japan signed a contract to start the "Table for Tomorrow" project which looks to serve healthy meals to children. This is the second product in the project line.

The meal kit comes with a recipe book so children can easily follow along with making their Frozen inspired snow stew. It takes just 20 minutes to make and can be served on the Elsa lunch mat that comes with the kit.

Information

Kit Oisix – Frozen – World of Ice Snow Stew

Japanese Name:「アナと雪の女王」氷の世界のスノーシチュー
Running: January 28, 2021 – February 11, 2021
Price: ¥2,149 (Tax Included)

Serves: 2
Official Website: www.oisix.com

Disney Store x South Korean Cosmetic Brand peripera Collaborate on Limited-Edition Packaging

South Korean cosmetic brand peripera and Disney Store Japan are teaming up to feature Minnie Mouse and Daisy Duck on the packaging products of peripera's best selling items. The products are now available to buy via shopDisney and at Disney Store branches in Japan.


peripera is perhaps best known for its lip tint which was released in 2015. It was so successful it was dubbed the 'national tint,' and Japan even enjoyed its own exclusive limited-edition collection.


Eight of peripera's products will feature in part of the collaborative line-up, with Minnie Mouse and Daisy Duck decorating their best selling Ink Velvet tint, glittery Sugar Twinkle Liquid Shadow, Ink Color Cara mascara, and more.

As well as the packaging designs, peripera and Disney Store have come together to create some Disney Store-original items which you can see below, all perfect as gifts to yourself or someone special.

©Disney

Tokyo Banana x Disney Sweets Shop to Open in Kobe Hankyu This Holiday Season

Disney SWEETS COLLECTION by Tokyo Banana is a sweets shop by Tokyo Banana in collaboration with Disney. A pop-up version will open in Kobe Hankyu from December 16 to 22 with a selection of sweets including two special treats releasing to commemorate the 80th anniversary of the Disney film Fantasia.

Fantasia 80th Anniversary Sweets

Disney Fantasia/Tokyo Banana

Disney Fantasia/Tokyo Banana (8 Included) | ¥1,300 (Tax Included)

The packaging features Mickey Mouse's iconic look as the Sorcerer's Apprentice.


The chocolate sponge cakes are filled with chocolate banana custard cream and are decorated with a moon, stars, and Mickey's head.


All boxes of these sweets come with a set of two random postcards too.

Disney Fantasia/Chocolate Sandwich


Disney Fantasia/Chocolate Sandwich (28 Included) | ¥3,024 (Tax Included)

This beautiful box of chocolate biscuit sandwiches will be limited to 80 tins per day.

The light and crunchy cookies are banana milkshake and chocolate flavoured and feature memorable scenes and references to the Sorcerer's Apprentice part of Fantasia.

The pop-up shop will be selling a variety of other collaborative treats too as part of the Disney SWEETS COLLECTION by Tokyo Banana.

Disney Japan to Release New Year's Themed Merchandise This Holiday Season

Walt Disney Japan has announced the release of a new collection of merchandise to celebrate the New Year which will hit Disney Japan stores on December 1, 2020. Pre-sales items will also open at select stores and on ShopDisney on November 27.

The line-up includes a selection of traditional Japanese New Year decorations and more, all with Disney motifs, like daruma dolls, kadomatsu pine decorations, and more.

<Daruma Plush Toy Sets> Mickey Mouse & Minnie Mouse or Chip & Dale – ¥2,750 Each | <Mascot Figure> Donald Duck – ¥2,750 | Shimekazari – ¥2,860 | Kadomatsu – ¥1,980 (All Before Tax)

Welcome the year with good fortune with the red and white Mickey and Minnie or Chip & Dale daruma dolls. They are sure to brighten up any house entrance or room.


Winnie the Pooh Plush (Large) ¥3,300 | Roo or Piglet – ¥1,760 | Eeyore – ¥1,980 (All Before Tax)

The faces of the Hundred Acre Wood arrive dressed in cute cow outfits to represent the Year of the Ox in 2021. Each of them is holding a bottle of milk.


Tsum Tsum Plush Toys  – ¥990 Each (Before Tax)

Disney Japan is also releasing a collection of Tsum Tsum plush toys, each of which is also dressed in cow clothing.


nuiMOs Kimono Plush Toy Set – ¥2,530 Each | Year of the Ox Costumes – ¥1,980 Each | UniBEARsity Plush Toy Costume – ¥3,630 (Before Tax)

nuiMOs and UniBEARsity have created their own New Year's plush toy outfits too in celebration of the Ox.

©Disney
©Disney. Based on the "Winnie the Pooh" works by A.A. Milne and E.H. Shepard.

Information

Release Date: December 1, 2020

Pre-sales: November 27, 2020 at Disney Store Sendai Toei Plaza, Disney Store Shibuya Koen-dori, Disney Store Kyoto Shijo Kawaramachi, Disney Store Shinsaibashi
ShopDisney Official Website: https://shopdisney.disney.co.jp/