Shingo Katori Releases Surprise Track 'Anonymous' feat. WONK For Drama Series
A new Japanese drama series titled Anonymous: Keishicho "Yubisatsujin" Taisakushitsu began airing on January 25, 2021. The show stars Shingo Katori in his first commercial broadcast for a drama series in five years. When the first episode dropped, the show's name Anonymous trended on Japanese Twitter.
Earlier this week, Shingo Katori surprised everyone by releasing the main theme song for the series Anonymous (feat.WONK), which he sings, digitally on music streaming services including Spotify.
When the song was first broadcast, there was much speculation as to who the singer was on Japanese social media, with some having no idea and others saying it sounded a lot like Katori. Turns out it really was him to the surprise of fans.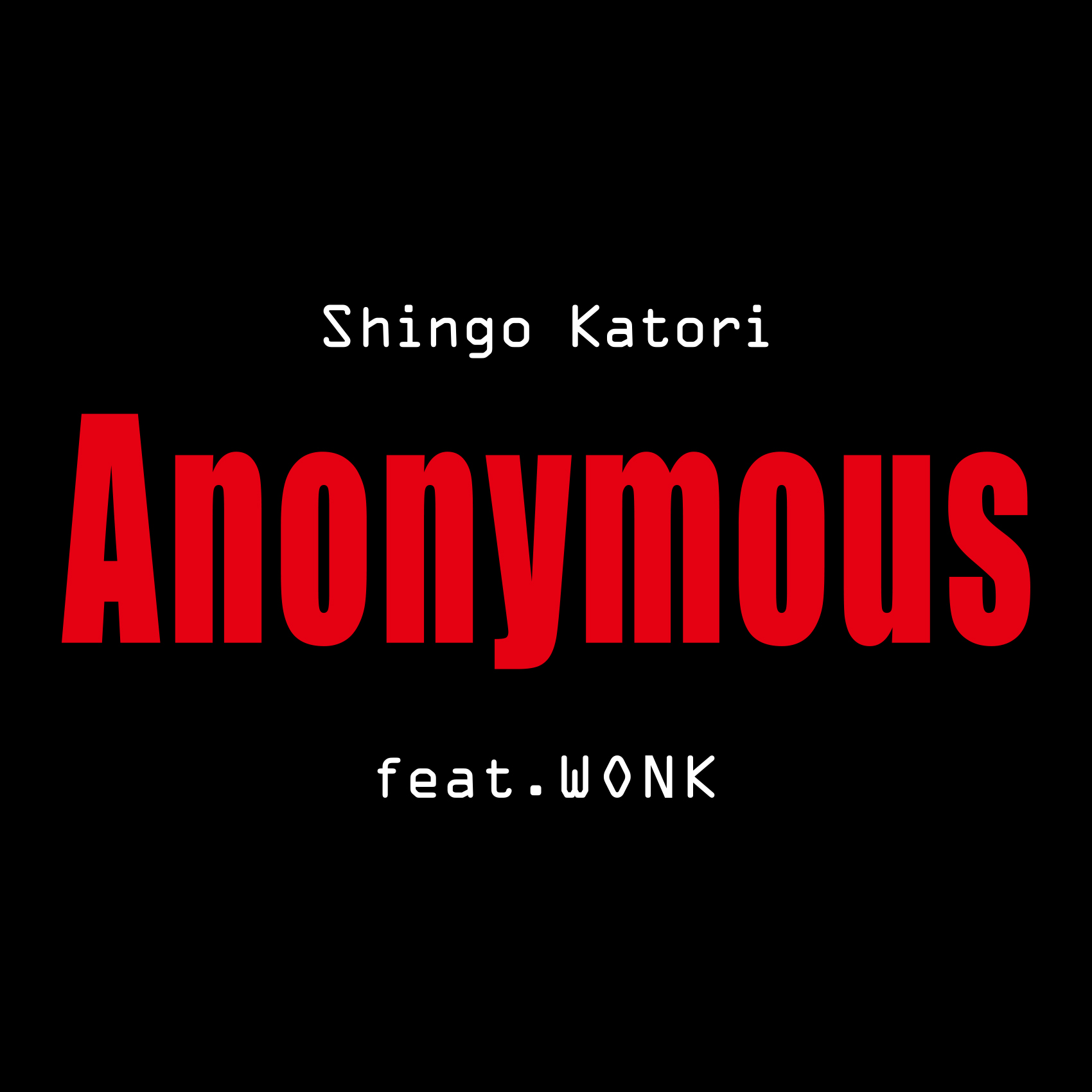 When the second episode aired on February 1, the show's official homepage went live and Katori updated his own personal social media pages with promos for the show. The song comes as his first music release in over year following the huge success of his album 20200101 which dropped on January 1, 2020 and made it to No. 1 on Japan's Oricon charts. He wrote the song in collaboration with music group WONK. The song's theme touches on seeing the light in a dark world and is sung in English.
Katori also released a music video for Anonymous (feat.WONK) earlier this week which is available to watch on his YouTube channel.
RELATED ENTRIES
AiNA THE END Announces New Song 'Dare Dare Dare' For Japanese Drama 'Anonymous'

Japanese singer-songwriter AiNA THE END, who is also known as a member of the Japanese idol group BiSH, announced via her official Twitter page that her new single Dare Dare Dare ("Who Who Who") will be released on music streaming and download services on February 23, 2021. The track will be used as the new opening theme for the ongoing TV Tokyo drama series Anonymous: Keishicho "Yubisatsujin" Taisakushitsu starring Shingo Katori which began airing in January.

AiNA THE END

New Song – "Dare Dare Dare"

Dare Dare Dare is a new song not featured on AiNA THE END's solo album THE END which dropped on February 3 this year. It is produced by Japanese music producer and arranger Seiji Kameda who also produced THE END.

AiNA teased the new single's artwork on her official Twitter account along with a snippet of the instrumental version of the song.

Japanese Drama Series 'Dareka ga Miteiru' to Release Worldwide on Amazon Prime Video

06.September.2020 | MOVIE

Amazon is set to release a new Amazon Original drama series entitled Dareka ga Miteiru (Somebody's Watching) on Amazon Prime Video on September 18, 2020. The 8-episode series will drop worldwide.

The series was created by Kōki Mitani and Shingo Katori, two veterans in the Japanese entertainment industry. in collaboration with Amazon. Both will appear in the series, with Mitani as we've never been him before and Katori bringing humour to the screen.

The series will be released in over 240 countries and territories worldwide. In spite of the different language and culture of those who will watch it outside of Japan, they are sure to be entertained by both Katori's character, who despite messing up all the time you still can't hate them, and Mitani's character, who will draw viewers in with all the happenings around him.

Katori spoke joyously of the series. "'Dareka ga Miteiru' is a really funny series, so I really want a lot of people to see it, even if they watch it by themselves. I'm super happy that the people of the world will get to see this."

He continues: "And I hope Kōki Mitani's character gains fans around the world who love him."

To promote the series, the first two episodes will be premiered on YouTube and Twitter on September 12, and viewers around the world will be able to watch them with Katori and Mitani. You can set a reminder for the YouTube premiere below or follow the series on Twitter.

YouTube Live Premiere

In the series, Katori Shingo's character is a klutz, and so their neighbour's sister comes up with the idea to film everything in secret and upload it to YouTube to make him popular. Check out the trailer below, which showcases the full cast of characters played by some huge names in Japan, as well as plenty of comical moments.

"Dareka ga Miteiru" Trailer

If you're looking for a laugh, then be sure to check out this series created by Kōki Mitani and Shingo Katori, both of whom have brought comedy to Japan in films, drama series, and theatre shows.

© 2020 Amazon Content Services LLC

New Japanese KitKat Commercial Sees Shingo Katori Show Off His Art Skills

Shingo Katori is an official ambassador of KitKat Japan, and he appeared in the latest television commercial for the chocolate brand which began broadcasting on March 27. The commercial was also posted on the KitKat Japan website.

 

Japan has the biggest KitKat market in the world. In September 2019, in an effort to reduce the amount of plastic waste, Nestlé made the decision to alter the packaging of five types of its large size KitKat chocolate bars from plastic to paper. The paper can then be used to make paper cranesーa symbol of hopes and prayers in traditional Japanese cultureーor for writing messages on to give to people.

In KitKat's latest commercial, Shingo Katori comes together with young people to create an art piece from the paper packaging which reads, "Let's all work hard together!" in Japanese.

See the commercial here on the Nestlé website or here on their official YouTube channel.

Shingo Katori's New Album '20200101' Details Revealed, 3rd Single Released

Shingo Katori will release his new album 20200101 on January 1, 2020ーthe title of the record itself referring to New Year's Day. The CD covers as well as tracklist were revealed today. The album is a happy celebration of the new year, one in which the Tokyo Olympics and Paralympics are set to be held.

The 12-track album will include the songs 10% and Trap, both of which peaked at No. 1 on the Japanese digital music charts, and feature a wave of top artists including BiSH, Kishidan, KREVA, SALU, Scha Dara Parr, SONPUB & Mukai Taichi, TeddyLoid & Tanaka, WONK, and yahyel.

Until now, the final featured artist has been kept a secret, but it has been confirmed that it will be Keina Suda, a singer-songwriter whose popularity continues to surge, with over 67 million combined music videos views on YouTubeーincluding a self-cover of Sharuru which itself has 47 million views.

First Press Limited Edition – Miru BANG!

First Press Limited Edition copies with the subheading "Miru BANG!," include a DVD featuring "Music Movies" for FUTURE WORLD (feat. BiSH) and Trap. "GOLD BANG!" copies include a remix of 10% by Yasuharu Konishi. Both editions are also coupled with booklets with special features. You'll have to get your own copy to see what they are!

Katori's third digital single Prologue (feat. TeddyLoid & Tanaka) has also been released. The song serves as the opening track to the album and features acclaimed music producer TeddyLoid and Tanaka who has worked with Boku no Lyric no Boyomi.

More information is to be announced, so stay tuned.

Information

Shingo Katori – "20200101"

Release Date: January 1, 2020

・First Press Limited Edition – Miru BANG! (CD+DVD)

Price: ¥4,040 (Before Tax)

Stock No.: WPZL-31722/3

DVD: "Trap" Music Movie / "FUTURE WORLD (feat.BiSH)" Music Movie

・First Press Limited Edition – GOLD BANG! (CD)

Price: ¥4,040 (Before Tax)

Stock No.: WPCL-13166

CD: Includes bonus track "10% (Yasuharu Konishi remix)

・Regular Edition – BANG! (CD)

Price: ¥3,030 (Before Tax)

Stock No.: WPCL-13167

*When purchased at select stores, the album comes with a silicone bracelet

"Trap" Download/Stream: https://lnk.to/eijxI

"10%" Download/Stream: https://lnk.to/Y38rk

"Prologue (feat.TeddyLoid & Tanaka) Download/Stream: https://lnk.to/NWjnb

CD Pre-Order (Japan): https://contents.atarashiichizu.com/?p=11278&post_type=chizu_topic

Atarashii Chizu Official Website: https://atarashiichizu.com/

Goro Inagaki & Shingo Katori Star in New Non-Alcoholic Beer Commercial Series

A new series of commercials have been released for the non-alcoholic beverage All Free from Suntory starring Japanese musician Goro Inagaki and Japanese actor Shingo Katori.

There is a 15-second and 30-second version, both of which are set to hit Japanese televisions on February 16, but you can watch them now below on Suntory's official YouTube channel.


The theme of the videos is "non-alcoholic restoration" and sees the two celebrities promoting the drink across Japan.

Both Goro and Shingo don bright-blue haori and hakama. Each video stars different guests. The one above includes Japanese comedian Muga Tsukaji who plays their comrade and shares the same yearning for the beverages as they do.

The one below features Yūzō Kayama, a feudal lord the pair serve under.

The highlight scene is in the first commercial when Goro and Shingo sit atop a rocky mountain with the clouds behind them holding their white and blue flags while enjoying a sip of their All Free. Be sure to check both videos out!

Shingo Katori's art exhibition "BOUM! BOUM! BOUM! Shingo Katori NIPPON hatsukoten" to be held at Toyosu, Tokyo

For an 88 day period from Friday 15th March 2019 t0 Sunday 16th June, Katori's exhibition will take place at IHI Stage Around Tokyo. This is the only theatre in Japan to have a 360-degree stage with a rotating seating platform in the centre.

"BOUM!" is the French word for "boom!" and is an onomatopoeia that can be used to describe the thudding of a heartbeat. In September 2018, Japanese artist Katori displayed his first solo exhibition called "NAKAMA des ARTS" at Carrousel du Louvre, which is located on the basement floor of the Louvre art museum in France. Here, Katori displayed more than 100 art paintings. This year, Katori will be building on the theme of breaking through the boundary of common knowledge. The exhibition will include art you can explore and experience with your bodily senses!

For Katori and those who appreciate experiencing and enjoying the aesthetics of art, this exhibition is bound to make your heart race! Those attending the exhibition will be spinning around 360 degrees, enjoying the unique, artistic atmosphere of IHI Stage ARound Tokyo – expectations are high!

Information

Suntory ALL-FREE presents BOUM!BOUM!BOUM!(ブン!ブン!ブン!)Shingo Katori NIPPON Hatsu Koten (First solo exhibition)
Dates:Friday 15th March 〜 Sunday 16th June 2019 (88 days)
※ Closed:19/03, 02/04, 16/04, 07/05, 21/05, 04/06

Exhibition start times:10:00、11:15、12:30、13:45、15:00、16:15、17:30、18:45、20:00
※ A limit of 350 people per exhibition. Each exhibition period lasts 120 minutes.


Location:IHI Stage Around Tokyo  6-4-25 Toyosu, Koto , Tokyo

General ticket sales:
1st round [15th March (Fri) 〜 15th April (Mon)] 10th Feb (Sun) 12:00〜
2nd round [17th April (Weds) 〜 20th May (Mon)] 17th March (Sun) 12:00〜
3rd round [22nd April (Weds) 〜 16th June (Sun)] 21st April (Sun) 12:00〜
As the event will be open for a long period of time, it has been divided into three rounds. 
(For more information about reservations and tickets, please visit the official website.)
Price:General:¥3,500, Secondary/ Middle school students:¥3,000 Children: (Primary school and below) ¥2,500(Designated seating/prices include tax)
※ Under three-year-olds are not permitted to enter the venue. Children over the age of 4 who have not entered school can enter for free.(In this scenario, one parent/guardian can bring only one child and they must sit on the knees of their parent/guardian.)

Official website:http://boum3.com

Goro Inagaki & Shingo Katori Frolic and Fly Giant Kites Together in New Commercial

Japanese musician Goro Inagaki and Japanese actor Shingo Katori are featured in the new TV commercial for the non-alcoholic beer beverage All Free. The commercial began airing in Japan on September 1. There's a 15 second and a 30 second version.

The commercial sees the two stars having fun together at a camping ground surrounded by nature.

Inagaki and Katori crack open cans of All Free while enjoying a BBQ, flying giant 3D astronaut and whale kites, and happily singing "vacation" together.

They make the drink look so delicious you'll want to try it yourself. Check out the video below.

■Information

Suntory – "All Free" New TV Commercial

Kite Flying (15 Seconds / 30 Seconds)

Initial Broadcast: September 1, 2018

Broadcasting: Japan

YouTube

15 Second Version: https://www.youtube.com/watch?v=o7GvzCH1eMI

30 Second Version: https://www.youtube.com/watch?v=KrAPr8QtzpY

AbemaTV – "7.2 Atarashii Betsu no Mado" – About the "All Free" Special Project

Goro Inagaki and Shingo Katori will appear on episode 6 of "7.2 Atarashii Batsu no Mado," a regular show on the internet TV station AbemaTV, on September 2 at 5pm (JST). It is a special episode to promote All free and will see Inagaki and Katori enjoying their day off together by getting involved in outdoor activities together. They will make food, challenge themselves to things and more.

AbemaTV – "7.2 Atarashii Betsu no Mado"

Broadcasting: September 2, 2018 from 5:00pm to 12:15am (JST)

Stream Link: https://abema.tv/channels/special-plus/slots/BVEbBaEmGJP74T

All Free Homepage: http://suntory.jp/ALLFREE/

The Making of Shingo Katori's First Street Art ― Video Released

The Hong Kong Tourism Board have posted a video titled #hkshingoart to promote the first piece of street art by Japanese celebrity and artist Shingo Katori.

In March this year, Shingo Katori produced a piece of street art in Central, Hong Kong as his project for Hong Kong Arts Month. The promotional video showcases the process on how the art was created, its construction as part of the scenery of Hong Kong's streets, and the town of art and its new charms.

Many events are held in Hong Kong every March as part of Hong Kong Arts Month, such as Art Basel. Shingo Katori's first street art piece was created during Hong Kong Arts Month on a wall at Mid-Levels Escalators, the longest escalator in the world. It measures at 4.5m tall and over 6m across. It was drawn freehand and is part of a process to strengthen the ties between Katori and Hong Kong.

The project was decided after Katori visited the Old Town Central area during a TV shoot in 2017, after which the Hong Kong Tourism Board requested his make the piece.

Be sure to check out the promotional video to see Shingo Katori's piece, titled Large Mouth Dragon Boy, for yourself!