Dr.STONE Inspired Silver Ring Collection Releases by Japanese Jewellers ETERNO RÉCIT
Japanese anime and manga-inspired jewellery brand ETERNO RÉCIT released a new collection of silver rings last Wednesday (February 3) based on characters from the popular TV anime series Dr.STONE.
Dr.STONE Ring Collection: Senku Ishigami, Gen Asagiri, Tsukasa Shishio
Senku Ishigami Design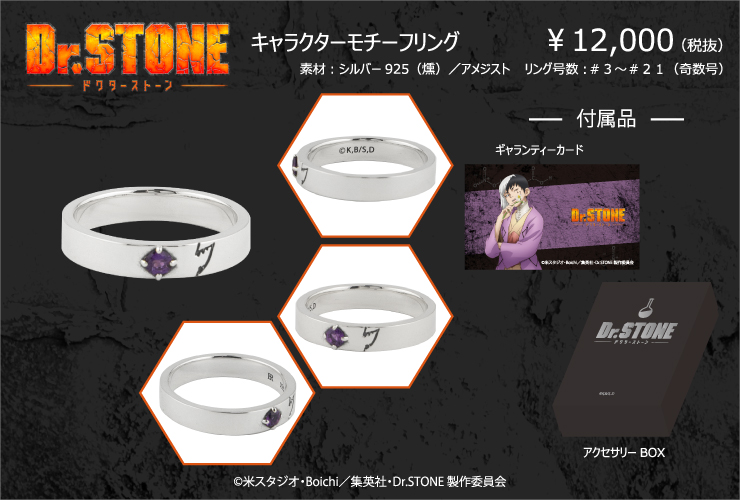 Gen Asagiri Design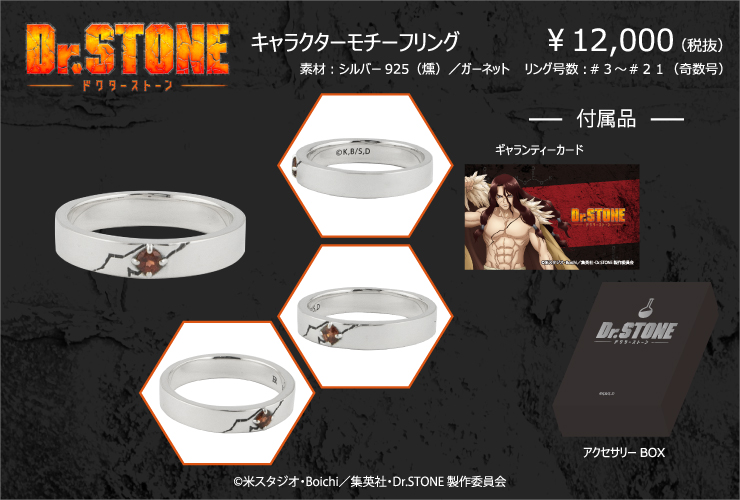 Tsukasa Shishio Design
The collection is a must-grab for fans of the series. Who else is enjoying the ongoing second season?
(c)米スタジオ・Boichi/集英社・Dr.STONE 製作委員会
RELATED ENTRIES
Dr.STONE Mobile Game Announced as in Development

Poppin Game Japan has announced that it is developing a mobile game based on the TV anime series Dr.STONE which is based on the manga series of the same name by Riichiro Inagaki. The game will be released sometime in 2021.

Dr.STONE Story

Dr.STONE is set several millennia after all humans on earth are mysteriously turned to stone. Taiju awakens to find the modern world he once knew completely overtaken by nature. He comes across his intelligent friend Senkuu, a lover of all things science, and together they aim to turn the Stone World back into the world of science they once knew.

The anime's first season aired last year from July to December. A second season will begin airing on January 14, 2021.

New illustration for the mobile game

The new mobile game will have players collecting different items and ingredients to craft scientific tools, battling characters from the story, and more. Full details will be announced at a later date so stay.

©米スタジオ・Boichi/集英社・Dr.STONE製作委員会

*The "Android" name, the Android logo, the "Google Play" brand, and other Google trademarks, are property of Google LLC.
*IOS is a trademark or registered trademark of Cisco in the U.S. and other countries and is used under license. 
*Phone, iPad, iPad mini, iPod touchm, and App Store are trademarks of Apple Inc., registered in the U.S. and other countries.

Information

Dr.STONE Mobile Game
Release Date: 2021

Dr.STONE Anime Series Gets Official Board Game Release in Japan

The popular anime series Dr.STONE is getting an official board game entitled "Senku to Bunmei no Akari" (Senku and the Civilisation of Light) which will be released in Japan on December 24, 2020.

Dr.STONE is a popular manga series written by Riichiro Inagaki and illustrated by Boichi. An anime adaptation aired in 2019 with a second season on the way in January 2021. The series has been praised the world over for its story and animation quality.

The board game was designed by Japanese board game designer Seiji Kaina whose designs have received much praise, including being endorsed at the annual board and card games awards Spiel des Jahres for the game Love Letter. Kaina has also been awarded Golden Geek in four categories on the international board game hobbyist website BoardGameGeek.


The game follows the Dr.STONE story and has players work working together to rebuild civilisation by making a whole list of different items together with the help of series protagonist Senku. Players play as one of six characters from the series such as Chrome and Kohaku as they try to clear the story.

© 米スタジオ・Boichi/集英社・Dr. STONE製作委員会 ©2020Arclight,ink.

Dr. Stone Collaborates With Snickers® Chocolate Bar On TV Commercial

Popular global chocolate brand Snickers® joined hands with the the TV anime series Dr. Stone on Monday for a special collaboration.

Dr. Stone is a hugely popular manga series written by Riichiro Inagaki and illustrated by Boichi and serialised in Weekly Shonen Jump. The manga has over 7 million copies in circulation. The first season of the anime series aired in 2019, with a second slate to begin broadcasting in January 2021.

For the collaboration, the voice actor for Senku in the anime series voiced character lines for a Snickers® commercial.

In the commercial, we see Kusanagi of the Japanese comedy duo Miyashita Kusanagi turned to stone in the Stone World. If you've watched or read Dr. Stone, you'll know that Senku always knows what to do, and is ten billion percent sure that his plans will work, so of course in this there was only a single answer: to feed Kusanagi a Snickers® bar! Check out the results in the commercial below.

Snickers Japan is also holding a Twitter campaign for the collaboration. 40,000 lucky people in Japan who answer the page's quiz questions correctly will get to win a Snickers coupon. Additionally, 100 people will be randomly selected to win a special prize.

Are you looking forward to season two of Dr. Stone next year? Follow us know on Twitter or Facebook and let us know!

©米スタジオ・Boichi / Shueisha・Dr.STONE Production Committee

Use Science to Beat the Dr. Stone Escape Game 'Escape From the Stone Cave'

Escape game creators SCRAP recently teamed up with the popular anime series Dr. Stone to create a wholly original escape game centred around the series which they call "Escape From the Stone Cave." To commemorate the launch of the real-life escape game, SCRAP also teamed up with the latest edition of Weekly Shonen Jump which went on sale on April 27, 2020.

The escape game features a completely original story with full voice acting from the cast. Participants must conduct real science experiments to solve puzzles and crack codes to escape the cave. The game was made with in collaboration with AnotherVision, a puzzle creation company that helped with the puzzles and science experiments.

The latest edition of Weekly Shonen Jump features a three-page special from SCRAP which has readers tearing up the magazine amongst other hidden secrets. Those who manage to solve the magazine puzzle will receive a special digital image from the event's website.

SCRAP have even launched a collection of original "Escape From the Stone Cave" merchandise on their website, including science experiment puzzle kits.

Information

Real Escape Game x Dr. Stone
Gameplay Style

・Max Players: 3 per team

・Time Limit: 40 minutes / Required Time: 50-90 minutes
・Location: SCRAP Kichijoji Nazo Building

Tickets
Trio Ticket (For 3 people only)
Advance Ticket: ¥2,400 per person (¥7,200 total for 3 people)
Same Day Ticket: ¥2,700 per person (¥8,100 total for 3 people)

Pair Ticket (For 2 people only)
Advance Ticket: ¥2,600 per person (¥5,200 total for 3 people)
Same Day Ticket: ¥2,900 per person (¥5,800 total for 3 people)

Solo Ticket (For 1 person only)

Advance Ticket: ¥3,600 per person
Same Day Ticket: ¥3,900 per person

Continue Extension: ¥800 per person for 10 minutes (same-day payments only)

SCRAP Kichijoji Nazo Building
Address: 1-9-7 Kichijoji Honcho, Musashino, Tokyo
Access: 3-minutes on foot from Kichijoji Station's north exit

Event Page: http://realdgame.jp/dr_stone/

Escape From the Stone Cave Merchandise: https://www.scrapgoods.jp/fs/scrap/c/dr_stone

Join Senku and Escape the Stone Cave in the Official Dr. Stone Escape Game in Tokyo

Japanese escape game creation company SCRAP is teaming up with the popular anime series Dr. Stone to bring an all-new escape game entitled "Escape From the Stone Cave" to its site in Kichijoji, Tokyo. The Dr. Stone themed escape game will open on February 21, and fans of the series can also get their hands on a range of original and exclusive Dr. Stone merchandise.

The escape game features a completely original story with full voice acting. Participants will follow in the footsteps of Senku by carrying out actual science experimentsーmade in collaboration with puzzle creator group AnotherVision from the University of Tokyoーwhile solving puzzles and cracking codes to escape the Stone Cave.

Puzzle Solving Science Experiment Kit

Senku Dr. Stone

Five pieces of exclusive merchandise will be released in line with the event, including a folder, a science experiment kit, and more.

Fans of Dr. Stone won't want to miss out on this fun event as they wait for the second season of the anime series.

©米スタジオ・Boichi / Shueisha・Dr.STONE Production Committee

Information

Escape From the Stone Cave

Start Date: February 21, 2020

Time Limit: 40 Minutes / Time Of Arrival: 50-90 Minutes
No. of People (Group): 3 max
Location: SCRAP Nazo Building Kichijoji

SCRAP Kichijoji

Address: SCRAP Nazo Bldg. Kichijoji Honcho, Musashino, Tokyo)

Access: 3-minutes on foot from the North Exit of Kichijoji Station

Official Website: http://realdgame.jp/dr_stone/

Dr. Stone, Haikyu!!, & Gintama Theme Songs to be Featured On BURNOUT SYNDROMES Anime Concept Album

Three-piece Japanese band BURNOUT SYNDROMES announced at the finale of their solo tour at Namba Hatch in Osaka, their home city, that they will release an anime concept album of their best anime songs.

Entitled BURNOUT SYNDROMEZ, the record will be released on March 25, 2020, and will feature theme songs they have performed for various anime series, such as Dr. Stone, Haikyu!!, Gintama, and more.

The album will contain a total of 12 tracks, including their latest single PHOENIX which is used as the opening theme for the ongoing TV anime series Haikyu!! To The Top, as well all of their anime songs to date, two new songs, a remix, a rearrangement, and more.

Anime fans can expect to hear some seriously popular tracks like the second opening theme FLY HIGH!! from season two of Haikyu!!ーwhich was the band's debut singleーas well as the season three opening theme Hikari Are. It also includes their third single Hana Ichi Monme which is the first ending theme of Gintama: Shirogane no Tamashii-hen, the first Dr Stone opening theme Good Morning World, and so on.

The album is a must-have for both anime, manga and game fans as well as fans of BURNOUT SYNDROMES. First Press Edition copies of the album come with the band's first-ever Blu-ray which will feature eight music videos and live performances of six songs from their tour last year. It will also include a comic which has the BURNOUT SYNDROMES members as the protagonists of an adventure story.

BURNOUT SYNDROMES will promote BURNOUT SYNDROMEZ with a Japan tour in 2021.

Information

BURNOUT SYNDROMEZ

Release Date: March 25, 2020

First Press Limited Edition (CD+Blu-ray+Comic): ¥4,200 (Before Tax) [ESCL-5366~5367]

Regular Edition (CD): ¥2,500 (Before Tax) [ESCL-5368]

Official Website: https://burnoutsyndromes.com/

Haikyu!! TO THE TOP

Official Website: https://haikyu.jp/

©Haruichi Furudate / Shueisha・"Haikyu!!" Production Committee・MBS

Dr. Stone's Second Anime Opening to be Performed by PELICAN FANCLUB

Three-piece rock band PELICAN FANCLUB made their major debut last autumn. It has just been announced that their new song Sangenshoku will be used as the second opening theme for the ongoing TV anime series Dr. Stone.

Dr. Stone is a hugely popular manga series written by Riichiro Inagaki and illustrated by Boichi and serialised in Weekly Shonen Jump. The anime adaptation began airing in July. The second opening theme will debut in the anime this October. Details surrounding the CD release will be announced in the near future.

PELICAN FANCLUB wrote the song after reading the manga series. We have yet to hear any of the track itself, but the band are known for the great amplitude of their songs and the unique lyrics by band vocalist and guitarist End Alien. We look forward to hearing what a PELICAN FANCLUB and Dr. Stone collaboration sounds like.

Speaking about their tie-in with the series, End Alien commented: "Me and [the series character] Senku are the same in that we like to make things. By reading the manga and then writing the lyrics, I was able to write in such a way that could be described as like a chemical compound, with both elements mixing together. When you mix colours together they it becomes a new colour."

He continues: "When you mix words together they take on meaning. This song will become something unique to the people who watch the anime series and think about these things. Please enjoy both the opening song we have create along with Senku creating different things with science."

BURNOUT SYNDROMES Release Dr. Stone Opening Theme 'Good Morning World!' Music Video

Rock band trio BURNOUT SYNDROMES just dropped the music video to their new single Good Morning World! which is set to hit shelves on August 21.

The video was shot at a quarry and in a studio in Ibaraki Prefecture in early June. It makes use of drone footage which captures the grand scale of the location and couples together with the aggressive music performances. The lyrics to the song maintain the band's concept of "literary rock" which are presented in calligraphy style typography.

The video contains many iconic scenes, especially the beauty of the instance when the glass breaks which represents a new world forming from destruction.

The song serves as the opening theme for the ongoing TV anime series Dr. Stone. The song was released for digital download today (August 2) and pre-orders for the CD are now open.

Takashi Chiba, the director of the music video, commented the following: "This is a music video that the band really pushed for! Listening to the song, me and the staff wanted to aim for an open location where we could film with a drone. That was the base of our idea which developed from the song's lyrics 'good morning world.' What even was there before we said good morning to the world in the first place? This is something we thought about and arrived at the idea of the old world order breaking to give life to a new world order. We had a black background behind the band which was the old world and then it cuts [to the new world] when the glass breaks […] We edited it so it focuses on the three members. Please check them out as they build a new world from the old broken one […]"

TV Anime Dr. Stone Opening Theme to be Performed by BURNOUT SYNDROMES

It has been announced that 3-piece Japanese rock band BURNOUT SYNDROMES will perform the opening theme Good Morning World! for the upcoming TV anime series Dr. Stone which is set to premiere on Tokyo MX and elsewhere on July 5, 2019.

Dr. Stone is a hugely popular manga series written by Riichiro Inagaki and illustrated by Boichi and serialised in Weekly Shonen Jump. The series won 2nd place in the Comics category for the 2018 Tsugi ni Kuru Manga Awards and send place in the 2018 Shogakukan Manga Awards.

Good Morning World! was written by BURNOUT SYNDROMES vocalist and guitarist Kazuumi Kumagai exclusively for the anime adaptation. The song comes before the band embark on their biggest Japan tour to date.

Speaking about the collaboration, Kumagai commented: "Nice to meet you. We are BURNOUT SYNDROMES, the ones in charge of the opening theme for the anime series Dr. Stone. When I first read the manga, I felt it in my heart that I wanted to sing the main theme for the series. To tell you the truth, I'm a lover of science too [like in the series]. My room is littered with scholarly essays and magazines like Newton. For me, Dr Stone. is like the crystallisation of all things I love. [Good Morning World!] is a song I have confidence in. It was completed after many talks, changing up the patterns in a number of ways, and trial and error. It's packed with enthusiasm. I hope that Senku and the others [in the series] can feel the song. It's completely synchronised with the outlook of the series. Please look forward to it!"

©米スタジオ・Boichi / Shueisha・Dr.STONE Production Committee