GUNDAM FACTORY YOKOHAMA x my route Launch Collaborative Campaign
Japanese company @YOKOHAMA is helping to promote the regional development of Yokohama by collaborating with GUNDAM FACTORY YOKOHAMA using the multimodal mobility service app "my route" with the launch of a campaign.
The campaign is taking place for residents of Yokohama, running from February 8 to 28. All people need to do is download and open the app and fill out the form. Fifty lucky people will have the chance to win a free ticket to GUNDAM FACTORY YOKOHAMA, an amusement park themed on the popular Gundam franchise.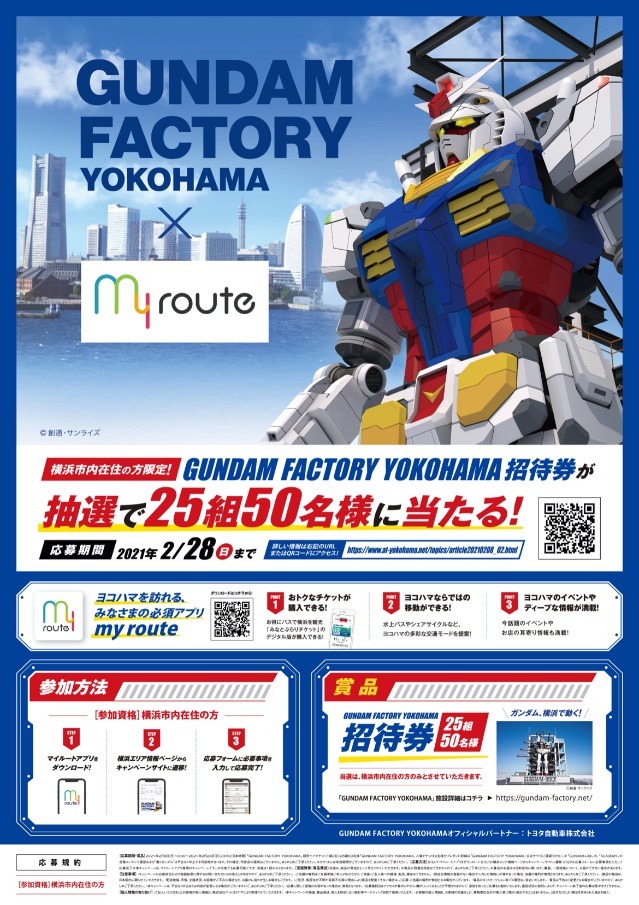 my route is an app that lets users search for the most affordable way to travel as well as letting them book and buy tickets. @YOKOHAMA's portal site is also now linked to the app, offering information about local stores, events, and other information regarding Yokohama.
Information
GUNDAM FACTORY YOKOHAMA Collaboration Download Campaign
Running: February 8 – 28 2021
GUNDAM FACTORY YOKOHAMA
Open: December 19, 2020 – March 31, 2022
Location: Yokohama, Yamashita Futo
Address: 279-25, Yamashitacho, Naka Ward, Yokohama, Kanagawa
Access: Minato Mirai Line
7-minute walk from Motomachi-Chukagai Station (Minatomirai Line)
Yokohama BAYSIDE BLUE Bus: 3-minute walk from Yamashitafuto Bus Stop
GUNDAM FACTORY YOKOHAMA Official Website: https://gundam-factory.net/
Special Edition Website: https://www.at-yokohama.net/topics/article20210208_02.html
RELATED ENTRIES
Private Jet Package Now Available in Toyama Offering Spectacular View of Tateyama Mountains

Mizu to Takumi, a company associated with the Toyama West Tourism Promotion Association, has teamed up with SKYTREK to offer guests a once-in-a-lifetime chance to visit the area via private jet. Reservations for the incredible experience began on June 17, 2022.

Offering an entirely new tourism experience in Toyama Prefecture, visitors can see the area's natural wonders from miles above the Earth. The program also aims to share local culture and more about traditional craftsmanship and cuisine.

Toyama Prefecture boasts dramatic topography, from the massive peaks of the Northern Alps and the Tateyama Mountains to the deep waters of Toyama Bay. To better allow visitors to see the sights, these private jet tours will be chartered on special courses different from standard airlines.

After the flights, guests will be welcomed to explore Takaoka's deep history and culture. Kane no Sanzun, a restored and preserved inn, will welcome visitors, offering a relaxing and rejuvenating time.

Visitors can also book optional excursions to further explore the area, such as a Zen meditation experience at a famous temple in Takaoka, a traditional crafting workshop, and a tour and tasting of the only whiskey distillery in the Hokuriku region.

Come enjoy a trip to Toyama with a whole new perspective!

Airbnb Reveals Top 10 Most Popular Summer Destinations in Japan

Airbnb boasts one of the largest travel communities in the world, filled with users offering up lodging and those eager to visit somewhere new. The Japanese subsidiary of the company has revealed the top spots added to Japanese users 'Favorites (Wish Lists)' from May 1 to May 17, 2022. Where will travelers in the country be headed this summer?

Golden Week is long gone and users are starting to think about where to visit during the hottest part of the year. This national 'Wish List' might make it easier to pick a spot, with many locations highlighting lesser-known areas!

Gujo Hachiman Villa, Limited to 1 Couple Per Day (Gifu)

This completely private rental villa was made for sauna enthusiasts. One lucky pair per day can book this suite along the Yoshida River flowing through Gujo Hachiman, known as the "City of Water and Dance." Currently booked through the end of August, reservations for September and beyond will be available in early June. Book a stay to enjoy the gorgeous autumn foliage!

A House Surrounded by Lush Greenery in the Countryside (Tottori)

Hosted by a family of musicians and architects, this guesthouse invites guests to enjoy gorgeous Nordic-inspired interiors and the serene quiet of the countryside. For those looking to escape the hustle and bustle of the city, this is the perfect spot.

Hoshina Satomachi, Limited to 1 Couple Per Day (Nagano)

There's nothing like spending the summer in a traditional Japanese home. Enjoy a barbeque on the terrace and relax on the massive lawn. This is the perfect spot for families with children or pets!

Coastal Cabin (Chiba)

You can't have summer without a pool. This luxurious coastal retreat boasts a 15-meter pool, outdoor Jacuzzi, bonfire space, and a barbeque. Relax by the pool while listening to your favorite songs or soak in the outdoor bath as you watch the waves crash along the shore.

An Elegant and Peaceful Log Cabin (Nagano)

Located at 1,300 meters above sea level on the Iizuna plateau, this log cabin is situated in the midst of a dense forest. A perfect space for couples, families, or small groups of friends, guests are welcome to enjoy hiking through this gorgeous landscape in the center of Japan!

Hatsune Miku Symphony 2022 Yokohama Reveals Main Visual, keeno Provides New Song

More details about the Hatsune Miku Symphony 2022 in Yokohama have been announced! The main visual, drawn by illustrator Rella, celebrates the 15th anniversary of Hatsune Miku, Kagamine Rin, and Kagamine Len. Megurine Luka, MEIKO, and KAITO also make appearances!

Vocaloid producer keeno has also been chosen to write a song for Hatsune Miku exclusively for the performance in Yokohama. Tickets will go on sale soon, with some seats also including original merchandise. Seats for guests under the age of 18 will also be available. Head to Pia on June 12 to snag your seats!

 

Additional tickets for the earlier Tokyo nighttime performance to be held at Suntory Hall are now on sale. Details for the Osaka performance will be announced at a later date.

The Tokyo and Osaka performances will feature live music performed by a full orchestra, while the Yokohama performance will be hosted by Hatsune Miku and include a massive screen behind the orchestra with footage for the audience to enjoy!

 

Comment from keeno

"I'm so honored to have been asked to write a piece for the Hatsune Miku Symphony 2022 Yokohama concert. 

I hope to bring the audience music that will touch their hearts and minds as it is played by a spectacular orchestra. 

The music isn't finished quite yet, so I'll continue doing my best!"

© Crypton Future Media, INC. www.piapro.net

MAN WITH A MISSION Releases Music Video for 'GUNDAM Iron Blooded Orphans Special Edition' Theme Song

Rock band MAN WITH A MISSION is getting ready to release a new album, Break and Cross the Walls II, on May 25. Ahead of this exciting date, the group has revealed the music video for Blaze on YouTube!

Blaze has been featured as the opening theme for Mobile Suit GUNDAM Iron Blooded Orphans Special Edition, the nine-episode digest edition of the 2015-2017 anime series, since April. The clip is packed with the anime's memorable scenes, so be sure to check it out! 

The theme song is also available on all popular music streaming sites.

Blaze – MAN WITH A MISSION (GUNDAM Iron Blooded Orphans Special Edition Anime Music Video)
https://youtu.be/rTamYmhLOaw

MAN WITH A MISSION will start a nationwide tour, MAN WITH A MISSION Presents Break and Cross the Walls Tour 2022, on June 16.

Minatomirai Yokohama Opens 'Purplish Flower Garden' Summer Event Inspired by Hydrangea

Anniversaire Cafe Minatomirai Yokohama has opened a limited-time fair inspired by beautiful hydrangea! The 'Purplish Flower Garden' event is currently inviting guests to enjoy gorgeous sweets and drinks inspired by these spring and summer blooms until July 10, 2022.

Purplish Flower Plate

Purplish Flower Pain Perdu

Matcha Mont Blanc

Purplish Soda / Rainy Peach

Purplish Flower Stand Afternoon Tea

Purplish Flower Plate Afternoon Tea

Petits Fleur

The menu includes three desserts, two beverages, two afternoon tea plans, and one take-out dessert perfect for enjoying beside the sea. Come enjoy an elegant moment at the 'Purplish Flower Garden' event if you can!

Izu, the Setting for Laid-Back Camp, Now Offering Travel Plans

JR Tokai Tours has released a new travel plan for fans of Laid-Back Camp Season 2, which aired from January to March 2021. The tour will take place in the Izu area, which was heavily featured in episodes 10, 11, and 12. Guests can enjoy a travel plan with single lodging and original goods starting May 23 until June 29, 2022.

Original Stickers

 

The slice-of-life series Laid-Back Camp is currently serialized in COMIC FUZ.

 

Set in Yamanashi and Shizuoka Prefectures, Laid-Back Camp is a relaxing series following a group of high school girls going camping and enjoying their daily lives. The series is based on the author Afro's personal experiences and interviews, and since serialization in 2015, the series has attracted fans from around the world. The original comic has sold over 7 million copies. In 2018, the first anime series premiered, inspiring a spin-off Room Camp in 2020 and a second season in 2021.


Four years after it was announced in 2018, a Laid-Back Camp animated film will arrive in theaters this summer.

EMOCAL, a Project to Support Japanese Regions, Releases Music Using Local Sound Samples

The EMOCAL project aims to support small-town areas of Japan. As a new initiative in the project, specific soundscapes only found in certain areas of the country have been combined with music to create some unique tracks. A selection of musical artists have collaborated with the project to bring these songs to life!


EMOCAL was created by ZOWA's original label, CatchyStuck. The project supports local regions and communities by using ASMR soundscape videos recorded in each region to convey their particular charms to all of Japan. The sounds recorded in each place are considered to be very valuable and are intended to serve two purposes: to bring tourism back after the pandemic and to provide fans of ASMR a way to experience these areas from afar.



Check out each of these unique ambient tracks created by four up-and-coming musicians! Each song is available on viviON's ASMR platform ZOWA and on Spotify.

Ube, Yamaguchi Prefecture / Ikkyuu x Hige Driver, I Love Ikkyuu

Beard Driver created this ambient track with sounds recorded inside of Ikkyuu, a ramen shop.

ZOWA: https://zowa.app/play/20019
Spotify: https://open.spotify.com/track/1RP4RcpJwMrFzoYQbnfDYm?si=f1f1e816adb14db0


Odawara, Kanagawa Prefecture / Miyuki no Hama x Powerless, Seiren

Powerless created this track, inspired by the sounds of waves crashing at Miyuki no Hama, a seaside recreation area 20 minutes from Odawara Station.

ZOWA: https://zowa.app/play/20016
Spotify: https://open.spotify.com/track/5DkQ9FeM7jQBacUf7Nbuxc?si=c7d771e73ddd44b6

Shizuoka, Shizuoka Prefecture / Wasabi Field x baker, On the silent hill

Utogi in Shizuoka city is surrounded by incredible nature. Known as the birthplace of wasabi cultivation, baker used sounds recorded in the area to create this ambient track.

ZOWA: https://zowa.app/play/20017
Spotify: https://open.spotify.com/track/0oIU4x7MjVKmpouRwEPaXZ?si=04dcb805cea540b7

Ibusuki, Kagoshima Prefecture / Cape Tara x SeA0, Akushu

Cape Tara is a popular spot featuring an 800-meter-long sandbar at low tide. The sounds captured here were used by artist SeA0, and this track is sure to make you miss the water.

ZOWA: https://zowa.app/play/20018
Spotify: https://open.spotify.com/track/1Utz5j0oB4GmSDOMVdUcXU?si=eafa1949b3ea44d0

Special Shop to Open in Tokyo and Kanagawa to Celebrate the Release of Dragon Ball Super: Super Hero

A special pop-up store celebrating the upcoming Dragon Ball Super: Super Hero film is coming to four locations in Tokyo and Kanagawa! The film is scheduled to be released on June 11, 2022, and fans can pick up some exclusive merchandise at Shinjuku Station, Kawasaki Station, Ikebukuro Station, and Akihabara Station. The dates are listed below!

Exclusive Products

Special Bonus

Product Lineup

Shop Displays

The pop-up shop will feature exclusive items decorated with popular imagery from the Dragon Ball series. Fans will also be able to grab some home goods themed around the Capsule House where Bulma lives!

As a purchase bonus, customers spending ¥2,500 or more will receive a special holographic sticker!

Each venue will be decorated, so enjoy taking some photos with your family and friends.

Information

DRAGON BALL POP-UP STORE BY FLOWERING

Locations/Dates: 

Shinjuku Station / April 25 – May 8

Kawasaki Station / May 17 – May 24

Ikebukuro Station / June 1 – June 9

Akihabara Station / June 14 – June 23

Official Site: https://www.jr-cross.co.jp/

BTS Characters 'TinyTAN' to Appear at Cafes in Tokyo, Yokohama, Osaka, Nagoya, and Miyagi

The popular BTS chibi characters TinyTAN will be featured at TinyTAN Cafe locations in five cities for a limited time! Nine locations will be open across Tokyo, Yokohama, Osaka, Nagoya, and Miyagi starting April 21, 2022.

The TinyTAN characters were designed by the seven members of BTS to embody their "second selves."

Select Cakes: ¥990

Fruits Deco Style: Strawberry, Fruits Deco Style: Mango, Fruits Deco Style: White Grape: ¥1,760


The menu is packed with desserts, including seven different types of cakes each inspired by a member of TinyTAN.

American Sundae Style Chocolate Cookie, American Sundae Style Caramel Nuts, American Sundae Style Pistachio Honey: ¥1,870

Afternoon Style Tea: ¥3,190

The Afternoon Style Tea includes a base plate that can be customized with guest's favorite fruits and chocolates. Two types of TinyTAN Select Cakes will also be included to share!

Ham (2 types) & Scrambled Egg Peanut Butter Sandwich: ¥1,760

Cafe Style Drink & Cake Set *Prices vary based on drink selection.

Guests can choose from colorful bagel sandwiches, pancakes, and open sandwiches, along with a selection of sweet drinks to match each meal.

Bonuses

Acrylic Stand (7 varieties, random): ¥1,320

Sticky Note Roll: ¥880, Acrylic Nameplate (7 varieties): ¥990 each


Original cafe merchandise and special offers will make visiting the TinyTAN Cafe even more exciting!

© BIGHIT MUSIC. All Rights Reserved

Information

TinyTAN CAFE

Tokyo, Omotesando: BOX cafe&space Omotesando

April 21 – June 5, 2022

Pine Under Flat B1F (5-13-2 Jingumae, Shibuya-ku, Tokyo)

Tokyo, Shinjuku: BOX cafe&space Lumine EST Shinjuku

April 28 – July 3, 2022

Lumine EST Shinjuku B1F (3-38-1 Shinjuku, Shinjuku-ku, Tokyo)

Tokyo, Harajuku: BOX cafe&space Harajuku Alta

April 21 – June 5, 2022

Harajuku Alta 3F (1-16-4 Jingumae, Shibuya-ku, Tokyo)

Tokyo, Omotesando: BOX cafe&space Omotesando Hills

April 21 – June 26, 2022

Main Building, B3F (4-12-10 Jingumae, Shibuya-ku, Tokyo)

Kanagawa, Yokohama: Collabo_Index Lumine Yokohama

April 22 – June 19, 2022

Lumine Yokohama 6F (2-16-1 Takashima, Nishi-ku, Yokohama)

Aichi, Nagoya: BOX cafe&space Nagoya LACHIC #1

April 28 – June 5, 2022

LACHIC B1F (3-6-1 Sakae, Naka-ku, Nagoya)

Osaka, Umeda: BOX cafe&space HEP FIVE

April 28 – June 5, 2022

HEP FIVE 7F (5-15 Kakudacho, Kita-ku, Osaka)

Osaka, Shinsaibashi: Shinsaibashi contact

April 29 – July 3, 2022

1-6-24 Kitahorie, Nishi-ku, Osaka

Miyagi, Rifu: BALLER:S

April 27 – June 26, 2022

AEON MALL Shin-Rifu South Building 2F (3-1-1 Shinnakamichi, Rifu, Miyagi)

Reservations Open

Reservation Fee: ¥660 (Includes Bonus)

TinyTAN CAFE Official Site: https://tinytan-cafe.jp/

UNDER WATER SPACE in Yokohama Illuminated in Cherry Blossom Colors for Spring

UNDER WATER SPACE, a limited-time aquarium space event located at Yokohama World Porters, is lighting up a portion of the event space in gorgeous cherry blossom colors until April 10, 2022 to coincide with the 2022 cherry blossom season!

The pink-lit space and swimming fish give an entirely new feel to the UNDER WATER SPACE event. You won't want to miss experiencing this magical spring illumination! 

Information

Hanami Illumination

Running: April 1 – April 10, 2022

Aquarium Space Travel 'UNDER WATER SPACE'

Running until January 15, 2023

Hours: 10:30-21:00 (Last entry at 20:00)

Address: Yokohama World Porters 4F (2-2-1 Shinko, Naka-ku, Yokohama)
Tickets / Official Site: http://uws-yokohama.jp

ALL TIME BEST Ai Yazawa Exhibition Reveals Key Visual

Ahead of the opening of the ALL TIME BEST Ai Yazawa Exhibition, a key visual drawn by the manga artist herself has been unveiled. The exhibition will begin in Tokyo before traveling to Osaka and Yokohama. 

Yazawa's most popular manga series include Tenshi Nanka Ja Nai, Neighborhood Story, Paradise Kiss, and Nana. This exhibition will serve as a 'best-of album' for her many beloved works. 

The Ai Yazawa ALL TIME BEST Exhibition will feature over 100 original drawings and illustrations, as well as never-before-seen materials from the production of Yazawa's many manga series and anime adaptations. 

The key visual features Nana Osaki from the NANA series and Akira Sudou from Tenshi Nanka Ja Nai. Yazawa's works are filled with love, dreams, and fashion, so come experience her works in a whole new way.

🄫矢沢あい/集英社 🄫矢沢漫画制作所/集英社 🄫矢沢漫画制作所/祥伝社

Information

ALL TIME BEST Ai Yazawa Exhibition

Dates/Locations/Hours:

■Tokyo Exhibition

July 20 – August 8, 2022

Shinjuku Takashimaya 11F Event Space

10:00-19:00 (Closes at 17:30 on August 8)

 ■Osaka Exhibition

August 24 – September 12, 2022

Osaka Takashimaya 7F Grand Hall

10:30-18:30 (Closes at 16:30 on September 12)

■Yokohama Exhibition

September 21 – October 10, 2022
Yokohama Takashimaya Gallery 8F
10:30-18:30 (Closes at 16:30 on October 10)

Details: https://www.takashimaya.co.jp/store/special/yazawaai_ten/index.html

Banyan Tree Rooftop Bar Opens on Japan's Southernmost Island

The Banyan Tree Rooftop Bar, located at Hoshino Resort Risonare Kohamajima on Japan's southernmost island, is holding a special stargazing event until April 20, 2022. Visitors can enjoy a cocktail as they gaze at the countless twinkling stars overhead.

Kohama Island is located within the Yaeyama Islands. With a warm climate, it's comfortable to spend long hours outside, even at night. Kohamajima was also the first island in Japan to be protected by the IDA (International Darkness Association), meaning that no bright manmade lights can interfere with stargazing. Visitors can see 84 of 88 constellations! 

Enjoy a Boundless Starry Sky

The Banyan Tree Terrace will bring guests together to feel the sea breeze and taste colorful mojitos as they enjoy the pleasant weather. Why not spend a relaxing time in a fantastic space lit with faintly glowing candles as you stargaze?

Taste Colorful Mojitos

A limited number of colorful mojitos will be available at a bar counter set up on the terrace for this event only. You can also enjoy Okinawan original mojitos with made with Okinawa lime, brown sugar instead of sugar, non-alcoholic mojitos for children, and tropical fruit mojitos with pineapple and passion fruit.

Munch on Snacks Perfect to Pair with Cocktails

Guests can also enjoy a snack set with salty nuts perfect for enjoying with alcohol!

Information

Banyan Tree Rooftop Bar

Open: March 1 – April 20, 2022
Hours: 19:00-20:00
Location: Banyan Tree Terrace

Official Site: https://risonare.com/kohamajima/