GUNDAM FACTORY YOKOHAMA x my route Launch Collaborative Campaign
Japanese company @YOKOHAMA is helping to promote the regional development of Yokohama by collaborating with GUNDAM FACTORY YOKOHAMA using the multimodal mobility service app "my route" with the launch of a campaign.
The campaign is taking place for residents of Yokohama, running from February 8 to 28. All people need to do is download and open the app and fill out the form. Fifty lucky people will have the chance to win a free ticket to GUNDAM FACTORY YOKOHAMA, an amusement park themed on the popular Gundam franchise.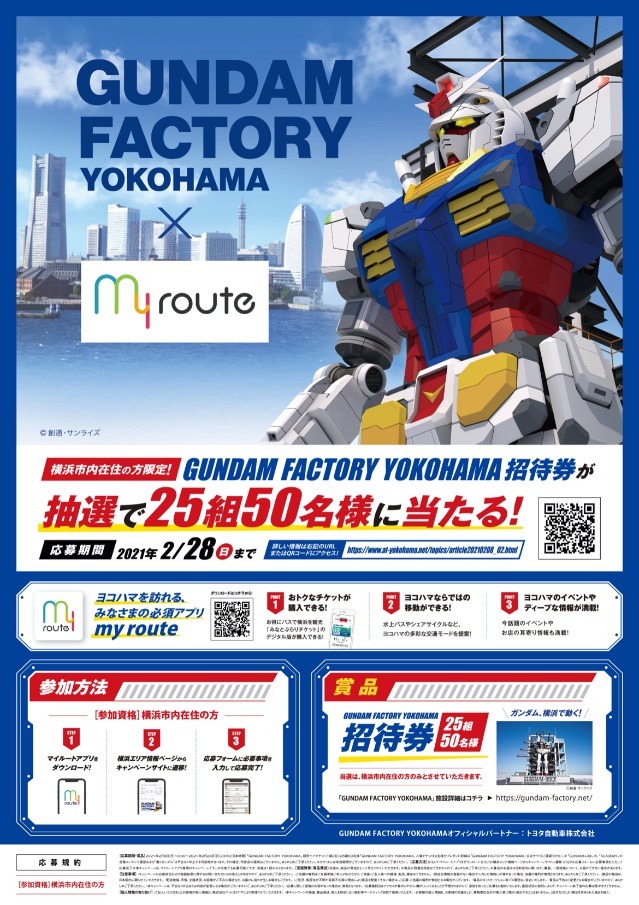 my route is an app that lets users search for the most affordable way to travel as well as letting them book and buy tickets. @YOKOHAMA's portal site is also now linked to the app, offering information about local stores, events, and other information regarding Yokohama.
Information
GUNDAM FACTORY YOKOHAMA Collaboration Download Campaign
Running: February 8 – 28 2021
GUNDAM FACTORY YOKOHAMA
Open: December 19, 2020 – March 31, 2022
Location: Yokohama, Yamashita Futo
Address: 279-25, Yamashitacho, Naka Ward, Yokohama, Kanagawa
Access: Minato Mirai Line
7-minute walk from Motomachi-Chukagai Station (Minatomirai Line)
Yokohama BAYSIDE BLUE Bus: 3-minute walk from Yamashitafuto Bus Stop
GUNDAM FACTORY YOKOHAMA Official Website: https://gundam-factory.net/
Special Edition Website: https://www.at-yokohama.net/topics/article20210208_02.html
RELATED ENTRIES
Glamping Restaurant Malibu Farm to Open at Riviera Zushi Marina for Limited Time

Prepare for the ultimate comfy camping and dining experience! The Riviera Zushi Marina in Zushi City, Kanagawa, is opening a glamping-themed restaurant, Malibu Farm Kamakura Terrace, for a limited time only. Returning from a popular run last year, the comfy spot will be open from October 1 until February 28, 2022, with reservations now open. 

In addition to Malibu Farm's commitment to fresh, organic, and local ingredients, this year's menu will feature sustainable ingredients, with plenty of seafood and vegetables. Guests can relax in the luxurious comfort of their own private tent, enjoying a meal and the crisp sea air. 

Malibu Farm, incredibly popular with celebrities from L.A., opened its Japan location last March at the Riviera Zushi Marina Resort. Looking over the ocean, the locale offers breathtaking scenery with over 900 palm trees and a collection of luxury cruisers and yachts. 

Introduced last winter, the Kamakura Terrace is perfect for winter, with each private tent heated while not obstructing the view and giving guests a safe place to enjoy time with family and friends. This is the ideal location for birthdays and anniversaries, and watching the sunset will offer an unforgettable way to celebrate. 

Yamaha's LovePiano Street Pianos to Appear Along the Hakone Ropeway

The colorfully painted street pianos seen around Japan are set to make an appearance in Kanagawa Prefecture! Two of Yamaha's upright LovePianos will be installed at two stations along the Hakone Ropeway from September 12 until September 25. During this time, anyone can freely play these pianos at Sounzan Station and Togendai Station. From the five distinctly designed LovePiano designs, numbers 1 and 2 will be installed for this event.

LovePiano #1

LovePiano #2

The Hakone Ropeway connects Sounzan Station and Togendai Station, a distance of about 4 kilometers, in 25 minutes. Those travelling this unique cable car line can catch glimpses of Mount Fuji and Lake Ashinoko along the journey.

From March 18 until March 31, one of the LovePianos was installed at Sounzan Station to massive crowds and fanfare. Yamaha Music Japan has continued installing pianos in open spaces such as train stations, airports, and other facilities as part of the LovePiano project, which promotes activities to get the masses interested in piano playing. So far, LovePianos have popped up at over 60 locations, including Shinjuku Station, Shinagawa Station, Sapporo Station, and Osaka International Airport.

LovePiano will also be installed at Odawara Sannomaru Hall and Umemaru Square in the HaRuNe Odawara underground shopping mall from September 5 until the 17th.

Would you want to play one of these pianos in public?

Information

LovePiano

LovePiano

LovePiano Unit 1

Hakone Ropeway, Sounzan Station, 2F cu-mo Hakone

(1300 Gora, Hakone-machi, Ashigarashimo-gun, Kanagawa)

Running: September 12 – September 25, 9:00-16:00

LovePiano Unit 2

Hakone Ropeway, Togendai Station, 1F Event Space
(164 Moto-Hakone, Hakone-machi, Ashigarashimo-gun, Kanagawa)

Running: September 12 – September 25, 9:00-16:00 (September 12, 12:00-16:00)

Official Site: https://jp.yamaha.com/products/contents/pianos/lovepiano/

New BT21 Cafe Coming to Tokyo, Yokohama, Nagoya, Osaka, and Okinawa

The 9th BT21 Cafe ~Relaxing Holiday~ will be open for a limited time in six venues across Tokyo, Yokohama, Nagoya, Osaka, and Okinawa. If you're a fan of these adorable LINE FRIENDS, just take a look at the menu items and goods on offer!

Main Visual

The Menu

Chicken and Orange Hot Sandwich: ¥1,760 (Tax Included) 

Grilled Vegetable Curry: ¥1,870 (Tax Included)

Tandoori Chicken Tacos: ¥1,870 (Tax Included)

Scrambled Eggs with Smoked Bacon: ¥1,870 (Tax Included)

Mug Collection

Combo Meals

Pistachio and Chocolate S'mores: ¥1,540 (Tax Included)

Cinnamon Apple Pie: ¥1,540 (Tax Included)

Maple Lemon German Pancake: ¥1,650 (Tax Included)

Mixed Berry German Pancake: ¥1,650 (Tax Included)

Strawberry Mojito/Kiwi Mojito/Peach Mojito: ¥990 each (Tax Included)

Coffee (Iced/Hot) / Black Tea (Iced/Hot): ¥550 (Tax Included)

Original Merchandise 

Pins (Random, 7 designs): ¥660 (Tax Included)

Acrylic Keyrings (7 designs): ¥770 (Tax Included) / Clear Folder: ¥440 (Tax Included)

Stickers (7 designs): ¥770 each (Tax Included) / Placemat (2 designs): ¥1,000 each (Tax Included)

Swizzle Stick (7 designs): ¥990 each (Tax Included) / Tote Bag: ¥1,650 (Tax Included)

Canvas Pouch: ¥1,980 (Tax Included) / Mini-towel (7 designs): ¥990 each (Tax Included)

Bandana (2 designs): ¥1,320 each (Tax Included) / Marshmallows: ¥972 (Tax Included)

Customers who book a table in advance will receive a randomly selected A5-size clear folder and a random clear coaster for each drink ordered.

The first installment of the 9th BT21 Cafe run, ~MY LITTLE BUDDY~, began in July 2021. The menu and goods, based on cute babies and their friends, received rave reviews. 

 

~Relaxing Holiday~ is inspired by summer and being outside with friends. Menu items look like what people may eat while camping, and the original character art features your favorite BT21 characters eating their favorite foods. Various soups and desserts are available in cute souvenir cups, and anything ordered is perfect for posting on social media!

Which menu item looks the most delicious to you? 

 

*Images for reference only. 

©BT21

Information

BT21 Cafe 9th Run ~Relaxing Holiday~

Tokyo 1:
Address: SHINJUKU BOX café&space Lumine EST (B1F 3-38-1 Shinjuku, Shinjuku-ku, Tokyo)
Running: August 28, 2021 – October 3, 2021

Tokyo 2:
Address: HARAJUKU BOX Alta (3F 16-4 Jingumae 1-chome, Shibuya-ku, Tokyo)
Running: September 16, 2021 – October 31, 2021

Yokohama:
Address: Collabo_Index Lumine Yokohama (6F 2-16-1 Takashima, Nishi-ku, Yokohama, Kanagawa)
Running: September 1, 2021 – October 3, 2021

Nagoya:
Address: Nagoya Box café&space (B1F LACHIC, 3-6-1 Sakae, Naka-ku, Nagoya, Aichi)
Running: September 30, 2021 – November 7, 2021

Osaka:
Address: Shinsaibashi contact (1-6-24 Kitahorie, Nishi-ku, Osaka)
Running: August 27, 2021 – September 23, 2021

Okinawa:
Address: OKINAWA BOX café&space (Naha OPA 2F, 1-20-1 Izumizaki, Naha, Okinawa)
Running: September 3, 2021 – October 3, 2021

Official Site: https://2021-2.box-cafe.jp/

BT21 is a globally popular cast of characters from LINE FRIENDS.
*The products and menu items produced and sold by LEGS COMPANY, Ltd. are the result of an official license agreement with LINE FRIENDS Co., Ltd. and may not be reproduced or sold without permission from LINE FRIENDS Co., Ltd. 

Meiji Marble Chocolate Themed Hotel Room Opens at The Royal Park Hotel Kyoto Umekoji

In celebration of Meiji's popular Marble chocolate, The Royal Park Hotel Kyoto Umekoji is collaborating with the confectionery brand to offer a Marble themed hotel room for guests. The room opened on July 27.

Showa retro-style posters, telephone, and other decorations

Meiji's colourful Marble chocolate was first released in 1961. It turned 60-years-old in February of this year, meaning it has continued to be enjoyed by three generations. Grandparents have passed them onto mothers and fathers, and them to their own children. Now the whole family can celebrate the chocolate in a themed hotel room in Kyoto.


Named the Marble Room, the hotel room is decorated in seven colours just like the chocolates themselves. This includes seven individual pillows on the sofa, balloons, wall decorations, and more. There's even a crane game inside the room where guests can obtain some chocolates for free.

Also inside the room are Showa retro-style posters and a telephone, and guests can watch all of the old Marble commercials on the television which have aired these past 60 years. Guests also receive a free smartphone ring, eco bag, pouch, and other little freebies as part of the plan.

Pokémon Postboxes Arrive in Yokohama For a Whole Year

Japan Post Service has teamed up with Pokémon to set up three postboxes with Pikachu, Eevee, and Piplup designs in Yokohama. They first opened on July 7, 2021 and will be available until June 30, 2022.


Yokohama is no stranger to Pokémon as it is the city that hosts the annual Pikachu Outbreak event, one which is set to return this year from August 7-13. It is also one of the cities taking part in the Poké Lid project to place Pokémon manhole covers across Japan.

And if you post your letter in the postbox pictured below, located in Yokohama Port Post Office, your envelope will be stamped with a special Pokémon stamp.

Information

Pokémon Postboxes

Locations: 2 at Yokohama City Hall / 1 at Yokohama Sakuragi Post Office
Running: July 7, 2021 – June 30, 2022

Pokémon Stamp Post Service

Location: Yokohama Port Post Office
Running: July 7, 2021 – June 30, 2022

Key Coffee Releases Limited Edition 1920's Blend

Key Coffee has recreated its coffee from 1920's when the cafe chain first opened. Named the Yokohama 1920 Founding Blend, the coffee was released on July 20 and will be available at their 54 branches up and down Japan until August 24, the same date when the coffee shop first opened.

Yokohama 1920 Founding Blend

A picture of Key Coffee's Yokohama branch in 1936 when it was known as Kimura Coffee

Retro Showa-style espresso con panna

Milk Brûlée

Yokohama 1920 Founding Blend recreates the same flavour of coffee that the cafe served in 1920 when it first opened in Yokohama, an area bustling with restaurants serving both Asian and Western cuisine. It uses Brazilian coffee beans at its base, a type which was circulated a lot at the time. It has a distinct sweet fragrance and goes well with milk and sugar.

Back them, coffee was a commodity yearned for by the people of Japan. After releasing their hit coffee syrup in 1921, Key Coffee began serving coffee in a way that was simple, tasty, and accessible to everyone such as drip coffee and their Noi coffee-making series. In the 1930's their products began to line the shelves of department stores as they began to develop as a spearhead for the emergence of coffee culture in Japan. They also began selling TOARCO TORAJA in 1978, a highly-regarded premium coffee. Today, the chain continues to be a hub for coffee lovers, and is creating new coffees and techniques.

Japan has been a boom in junkissa in recent years, a classic cafe which blends the atmosphere of the Meiji and Showa periods. Key Coffee is showcasing two coffees on their recipe page which capture this flair including an espresso con panna and milk brûlée.

Satoyama Jujo THE HOUSE IZUMI: Rent Out a Renovated Japanese House in Niigata

Japanese design company Jiyujin launched its new Satoyama Jujo THE HOUSE chain of accommodations this month which offer a single group of guests a one-night stay in an entire house.

The first branch to open is IZUMI which features a fully-renovated Japanese-style house located in the city of Uonuma in Niigata. A gorgeous outlook is offered from the house with an unbroken view of lush forests, rice fields, and Mt. Makihata, which is listed as one of the '100 Famous Japanese Mountains.'

A breathtaking view awaits guests from the open-air bath

The spacious living room

Fully renovated from a 150-year-old private house, the building is supported by beautiful wooden beams and columns, and in the middle the oe, a sunken hearth. This, along with the beams and sashigamoi joints, are made from keyaki Japanese zelkova which is an elm-like tree. This species of tree is rare even in a tree-covered region such as Uonuma. The lumber used for this house was cut, preserved, and dried out for a number of decades before being processed into building material for the house. The heart in the middle of the living room is reminiscent of a time when large families would gather around one and serves to recreate that lifestyle.

The Nishiyama region is known for is production of delicious rice. IZUMI in fact looks out over Kabanosawa, a special and important place of rice production in Nishiyama. This vantage point also gives guests an opportunity to appreciate the hot and cold temperatures of the daytime and evening, the rivers, the shape of the land, and the earth the city sits on. The drastic change in temperatures in the day and night are especially noteworthy as this, along with the basin between the mountains, gives rise to a sea of clouds.

IZUMI sits on a hill that overlooks the rice paddies, making it a perfect location for spotting the sea of clouds. Minamiuonuma's sea of clouds has over a 70% chances of appearing in the autumn and spring seasons.

The number one reason why Japan's old, long-standing, and precious private houses are demolished is due to the cold getting in and it being too dark inside. Even those who want to see them preserved for tradition, including those who live in them already, would rather live in a modern home. That's why Jiyujin has begun a renovation project instead of a demolition one. By refurbishing the houses, the ancient framework can be fixed up and preserved while a range of contemporary amenities are incorporate to fit with modern lifestyles. The Satoyama Jujo accommodations are built so they can be used for over 100 years.

For dinner, there are three options for guests. The first is a dinner at SANABURI which earned itself a Michelin star in Michelin Guide Niigata 2020. The second is a meal at a restaurant that earned the status of Bib Gourmand in the same guide. The third is to prepare your own meal in the house. There are plenty of shops around the station nearby where you can buy local ingredients.

After a delicious meal, guests can take a soak in the open-air tub and enjoy gazing out across the fields and the beautiful mountains which stand almost 2,000 meters high.

Information

Satoyama Jujo THE HOUSE IZUMI

Japanese Name: 里山十帖 THE HOUSE IZUMI

Address: 671-1, Amanosawa, Minamiuonuma, Niigata, 〒949-6433, Japan

Official Website: Opening early July 2021

Access: 7-minutes by car from Jōetsu International Skiing Ground Station (JR Joetsu Line) / 16-minutes by car from Shiozawa-Ishiuchi IC

Sazae-san, Glass Mask, and Other Popular Anime Series Get Exhibition in Yokohama

Takashimaya Yokohama Store has announced a special exhibition centred on the Japanese animation studio Eiken. Titled "50 Years With the Sazae-san Series: The World of Eiken's Animation," the exhibition will begin on August 4 and touch on Eiken's long history of animation such as Sazae-san which has been running since 1969, Tetsujin 28-go, 8 Man, and more.

Chapter 1: Eiken Classical

This section of the exhibition will feature 11 nostalgic anime series such as Tetsujin 28-go and 8 Man.

Chapter 2: 50 Years of Anime History

Cel animations and manga artwork for 27 series from the past 50 years, such as Glass Mask, will be showcased.

Chapter 3: 50 Years of Sazae-san

170 works, such as cel animations and background artwork, of Sazae-san, which has been airing since 1969, will be displayed.

Tetsujin 28-go Photospot

Commemorative Merchandise

A4 Folder | ¥440

Dolomite Coasters | ¥1,100

Sazae-san Ivorn Tote Bag | ¥3,520

Manga Design A4 Folder | ¥385

The exhibition will be split into three 'chapters,' or areas, with around 400 pieces of animation and artwork displayed. Fans of Eiken's series can also get their hands on exclusive merchandise, snap a photo at the photospot, and more.

©小島 功・エイケン ©光プロダクション・エイケン ©平井和正・桑田二郎/TBS ©TBS ©エイケン ©白土三平©エイケン ©長谷川町子美術館   ©横山隆一・エイケン ©田河水泡/講談社・エイケン ©佐藤さとる・村上勉/講談社・エイケン ©1976 雁屋哲・エイケン ©フジテレビ・エイケン ©ちばあきお・エイケン ©畑 正憲・エイケン ©美内すずえ/エイケン ©サトウサンペイ・フジテレビ・エイケン ©村上もとか/小学館・エイケン ©みつはしちかこ・エイケン ©アーネストTシートン・エイケン ©植田まさし/植田プロダクション・エイケン ©うえやまとち/講談社・エイケン ©布浦 翼/講談社・TBS・エイケン ©松竹・TBS・エイケン ©BSフジ・エイケン ©TBS・エイケン ©久里洋二・TBS・エイケン ©2005 ちばあきお/エイケン・プレイボール製作委員会 ©いがらしみきお/竹書房・フジテレビ・エイケン

Information

50 Years With the Sazae-san Series: The World of Eiken's Animation

Japanese Title: アニメ サザエさんとともに50年 -エイケン制作アニメーションの世界-

Running: August 4, 2021 – August 23, 2021

Venue: Takashimaya Yokohama Store Gallery (Floor 8F)

Opening Hours: 10:00-18:30 (Until 16:30 on August 23)

Price: General ¥1,000 (¥800) / University & High School Students ¥800 (¥600) / Junior High School Students and Younger – Free

*Prices in brackets are for groups of 10+ people

Eiken Official Website: https://eiken-anime.jp/50th

KYARY PAMYU PAMYU meets IMABARI: A Visit to the Historical Sea Route

Imabari is a city in Ehime Prefecture that faces the Seto Inland Sea. Since olden times, it has flourished as an important location for marine traffic. It's home to a bounty of recognised national treasures and historical heritage sights, and is also famous for its production of citrus fruits such as mikan. Japanese pop star, model, and icon Kyary Pamyu Pamyu took a trip to this ancient city to discover its wonder and beauty.

A Visit to the Historical Sea Route

Oyamazumi Shrine

A 'power spot' revered by prominent people

Oyamazumi Shrine has been revered by prominent figures throughout history as a place dedicated to the god of the mountain, god of the ocean, and the god of war. It's home to numerous Important Cultural Properties which are available for viewing by the public such as the armour worn by the military commander Minamoto no Yoshitsune when the Minamoto clan won the Genpei War (1180-1185), armour worn by women, and more. The shrine is also a notable power spot for the ancient tree that has stood there for 2,600 years and is now recognised as a natural monument of Japan. Power spots are places in Japan where the spiritually-inclined draw energy from.

Information

Oyamazumi Shrine

Address: 3327 Omishimacho Miyaura, Imabari, Ehime 794-1393, Japan

TEL: 0897-82-0032

Opening Hours: Sunrise to 17:00

National Treasure Building: 8:30-17:00 (Last Entries 16:30)

Official Website: https://oomishimagu.jp/

Kurushima Kaikyo Service Area

Lip-smacking food aplenty

If you're one for great views, then the Kurushima Kaikyo service area is a must-visit, offering a panoramic look at the Kurushima Strait of the Seto Inland Sea. The service area is very well know particularly for the Jaguchi Mikan Juice, something of a city legend in Ehime where you can enjoy fresh mikan juice straight from a tap. You can also tuck a rice bowl dish made with tachiuo hairtail caught in the Seto Inland Sea that's made to look like Kurushima Kaikyō Bridge, or try Imabari's soul food dish: the Imabari Yakibuta Tamago Meshi, a pork, egg, and rice bowl. Don't pass up the chance to snap a photo at the designated photo spot with the Seto Inland Sea in the back either like Kyary above.

Information

Kurushima Kaikyo Service Area

Address: 3-9-68 Ohamacho, Imabari, Ehime, 794-0002, Japan

Food Court: [Weekdays] 8:00-21:00 / [Weekends & Holidays] 7:00-22:00

Shops: [Weekdays] 8:00-21:00 / [Weekends & Holidays] 7:00-22:00

Outside Shopping Area & Cafes: [Weekdays] 9:00-17:00 / [Weekends & Holidays] 9:00-18:00

Official Website: https://www.jb-highway.co.jp/sapa/kurushima.php

Murakami Suigun Museum

Dedicated to the Imabari heroes who protected the ocean




Murakami Suigun Museum is dedicated to kaizoku—pirates, or lords of the sea—something which conjures to mind villainy or bad guys, but the Murakami pirates were also considered heroes who helped maintain order and protect the sea during the Sengoku warring period of Japan. The museum features many displays of Murakami family treasures including the battle surcoat which the pirate leader wore over his armour, proudly bearing the Murakami family crest. Visitors can wear replicas of this coat, which Kyary tired herself: "Now I'm sorta like a military commander too," she said.

Information 

Murakami Suigun Museum

Address: 1285 Miyakubocho Miyakubo, Imabari, Ehime 794-2203, Japan
TEL: 0897-74-1065

Opening Hours: 9:00-17:00

Closed: Mondays (or Tuesday if the Monday falls on a public holiday) / New Year Holidays (Dec 29-Jan 3)

Official Website: https://www.city.imabari.ehime.jp/museum/suigun/

Roadside Station Yoshiumi Iki-iki-kan

A bundle of fun and entertainment in one place

Roll on up to Roadside Station Yoshiumi Iki-iki-kan to enjoy a shichirin BBQ feast with fresh seafood caught in the Seto Inland Sea while gazing out across Kurushima Kaikyo. This building complex serves as a resting spot and is also the perfect place to purchase local souvenirs including Ehime specialty products. It's also famous for its offering the chance to board a boat to ride around Kurushima Kaikyo, renting out bicycles, and more. You'll also be able to meet Koro-chan, a popular fish who has lived there for 30 years.

Information

Roadside Station Yoshiumi Iki-iki-kan

Address: 4520-2 Yoshiumichomyo, Imabari, Ehime 794-2114, Japan

TEL: 0897-84-3710

Opening Hours: 9:00-17:00

Restaurant: 10:00-16:00 (Last Orders 15:00)

Closed: New Year's Day (and certain days in winter)

Official Website: http://www.imabari-shimanami.jp/ikiiki/

Dolphin Farm Shimanami

Meet the cute and friendly dolphins

Dolphin Farm Shimanami, which is connected to Hakata Beach, is the best and biggest place in Japan to interact with dolphins. Visitors can get close to them and the dolphins will show off their tricks and skills. There's even a car camping area you can stay at.

Information

Dolphin Farm Shimanami

Address: 1673 Hakatacho Kanoura, Imabari, Ehime 794-2302, Japan

TEL: 0897-72-8787

Opening Hours: 9:00-17:00

Closed: On days with bad weath

Official Website: https://www.df-shimanami.com/

Hakata Beach

A white sandy beach rolling out 200-meters 

Hakata Beach is located at the base of Oshima Bridge in Hakata. The beach is famous for its salt which is best tried on their popular sweet-tasting sea salt ice cream.

Information

Hakata Beach

Address: 1668-1 Hakatacho Kanoura, Imabari, Ehime 794-2302, Japan

Sea Bathing: Early July – Late August

Official Website: https://www.city.imabari.ehime.jp/kanko/spot/?a=198

Imabari Towels

High quality towels woven with tradition and technique

Imabari is the biggest producer of towels in Japan. Even their white towels alone have countless types you can choose from, allowing you to pick which level of softness and comfort you want. The iconic brand logo is also impactful, capturing the quality, production, and enthusiasm that the makes have for the product. Kyary herself uses them all the time!

Information 

Imabari Towel

Official Website: https://www.imabaritowel.jp/

Sunrise Itoyama

Need a bike?

Sunrise Itoyama, located in the Imabari Central Cycling Terminal, is a rental bicycle service that has bikes and helmets for everyone's needs. Rent out a bike and ride the Shimanami Sea Route which connects Ehime and Hiroshima with a series of bridges that hop across the islands of the Seto Inland Sea.

Information 

Sunrise Itoyama

Address: 2-8-1 Sunabacho, Imabari, Ehime 794-0001, Japan

TEL: 0898-41-3196

Rent-a-Cycle Details: https://www.sunrise-itoyama.jp/archives/rentacycle/

Official Website: https://www.sunrise-itoyama.jp/

Marutomi

The famous restaurant known to every local

If you want the real experience of Imabari's yakitori soul food, you should visit Marutomi, a yakitori eatery. Imabari yakitori is different from the usual Japanese yakitori as it doesn't come skewered. Instead, the chicken is cut into small pieces and fried that way. One of the most popular ways to have it is with the skin on so the outside is crunchy and the inside succulent. It goes perfect with a cup of sake too.

Information 

Marutomi

2-3-6 Katayama, Imabari, Ehime 794-0063, Japan

TEL: 0898-23-2740

Opening Hours: 17:30-22:00

Closed: Wednesdays

Official Website: https://maru-marutomi.jp/

Imabari Castle

A castle by the sea

Imabari Castle, built by the daimyo Tōdō Takatora, is known famously as one of Japan's three "Castles on the Sea" and was also listed in Japan's Top 100 Castles. When it was first constructed, boats could enter the moat from the ocean. It's a site that breathes the prosperity that Imabari has enjoyed as a significant location for maritime traffic, the same Imabari that the Murakami pirates sought to protect. Head on up to the top of the castle to stand on the observation deck and gaze at an unbroken view of the city.

Information

Imabari Castle

Address: 3-1-3 Toricho, Imabari, Ehime, 794-0036, Japan

TEL: 0898-31-9233

Opening Hours: 9:00-17:00

Closed: December 29 – December 31

Official Website: https://www.city.imabari.ehime.jp/museum/imabarijo/

Kirosan Observatory Park

A breathtaking spectacle to remember

Kirosan Observatory Park is officially recognised by Setonaikai National Park. Standing atop the observation deck fills the eyes with wonder as they gaze upon a panoramic stretch of Imabari, the Seto Inland Sea, and Kurushima Kaikyo all at once. Kyary wrapped up her time in Imabari here as the sunset coloured the sky and sea in warm evening hues.

Information 

Kirosan Observatory Park

Address: 487-4 Yoshiumicho Minamiura, Imabari, Ehime 794-2115, Japan

No Fixed Holidays

Open 24-hours a day

Official Website: https://www.city.imabari.ehime.jp/kanko/spot/?a=182

Imabari Tourism Information: https://www.city.imabari.ehime.jp/kanko/

We hope you enjoyed joining Kyary on her adventures across Imabari, and perhaps she even got you a little curious in wanting to visit the city yourself. It's a treasure trove filled with vistas by the sea, in nature, and in the city itself with its Important Cultural Properties. Food is also a big part of travel for many people, so you can rest assured that your belly will be satisfied in Imabari as you try their speciality mikan, fresh seafood fished in the Seto Inland Sea, and more.

Experience a Front Row Seat of Karuizawa's Tranquil Forests at HOSHINOYA

HOSHINOYA Karuizawa has announced a special summer plan for guests called "Mori no Hotori cafe&Bar ~Suijo no Tokutoseki~" (Cafe & Bar by the Forest ~Special Seats on the Water~). The midsummer evening plan is available for one group per day and takes place at the hotel's cafe and bar which sits by a forest and faces the Kera-Ike Pond. It invites guests to relax under the starry night sky on the water and enjoy the sounds of nature while enjoying drinks and bites to eat.

Japan is known for its summer hot summers. However, Karuizawa enjoys a cooler climate, so evenings dip to around 20°C for a comfortable temperature.

Stargazing on top of the water

HOSHINOYA Karuizawa is connected directly to Karuizawa Wild Bird Sanctuary. At the entrance, by the Kera-Ike Pond, is the hotel's Mori no Hotori cafe&bar which is open all year. The cafe/bar fusion is surrounded by Karuizawa's lush forests, and it's here that guests can enjoy sitting on specially-prepared seats on the water. It will feel like they are walking on water as they approach their seats where they can take their shoes off and sit on the tatami mats to gaze at the stars.

Calm the heart with an enchanting performance

When you walk up the stairs that face Kera-Ike from HOSHINOYA Karuizawa, your ears will be met with the enchanting sound of crystal bowls which add a mysterious depth to the natural sounds of the forest, spiriting guests away to another wonderful world.

Indulgent drinks and food

Guests can pick from a range of drinks and bites to eat scented with fruits, wood, and other natural fragrances of the forest. There arw six drinks to choose from including a gin and tonic made with lindera umbellata, a type of camphor, as well as a whisky made with ripe fruits. Food includes chocolate made from lindera umbellata and kuma bamboo grass, cherry blossom and walut chips, and more.

Information

Cafe & Bar by the Forest ~Special Seats on the Water~

Japanese Plan Name: 森のほとりcafe&bar ~水上の特等席~

Running: July 1, 2021 – August 31, 2021
Book Here: https://hoshinoya.com/karuizawa/

*Bookings must be made 5 days in advance

Requirements: Must be aged 20+ years / HOSHINOYA Karuizawa guests only
Time: 20:00-21:00
Capacity: 1 group of two people per day

Notes: Will not take place if it rains

Official Website: https://hoshinoya.com/

Be Surrounded by Glowing Fireflies With Kissho Yamanaka's New Hotel Plan

Kissho Yamanaka, a hot spring hotel in Kaga, Ishikawa, is now offering a firefly-viewing experience as part of a new guest plan until June 15. This gorgeous resort, situated by the Daishoji River in the Kakusenkei Gorges, was awarded three Michelin stars in the Ryokan category of Michelin Guide Hokuriku 2021 Special Issue.

The firefly tour arrives as early summer is soon to begin. As part of the hotel plan, guests can also enjoy a dazzling Firefly Cocktail too.

Feel the rays of early summertime at Kissho Yamanaka.

Information

Firefly & Sunset Hotel Plan

Address: Kissho Yamanaka, 1 Chome-14−3 Yamanakaonsen Higashimachi, Kaga, Ishikawa 922-0114, Japan

Official Website: https://kissho-yamanaka.com/

All About Matsuyama | Final Episode: Introducing the New Matsuyama Tourist Information Centre

The reception staff are ready and waiting to greet customers with a smile

The all new Matsuyama Tourist Information Centre finally opened in the heart of Matsuyama—the capital city of Ehime Prefecture in Japan—in Okaido on May 27. You'll find it on the first floor of Matsuyama Mitsukoshi which isn't even a one-minute walk from Okaido Station. It features an interior fusion combining history and culture with a design inspired by Matsuyama Castle while also throwing in a contemporary feel.

Six giant screens serve as the perfect place for tourism-related PR of Matsuyama

The first sight many visitors will lay their eyes on upon entering the information centres are the six screens spanning 1.5 meters high and 4.5 meters across the wall. Here, a variety of promotional material centred on the highlights of Matsuyama will be displayed.

The information centre offers many useful services, including for foreign customers who don't speak Japanese. There is a translation and interpreting service, money exchange, rental electrical outlets for smart devices, and more. The staff themselves are multilingual, but the interpreting service includes access to a call centre which you can access using the free WiFi or using an iPad. The availability of foreign currency exchange is also extremely beneficial as Matsuyama is a city abundant with long-standing shops that have been around for decades and longer. Another convenience with the centre is easy access to public transport. If you're looking to travel around the prefecture, we recommend paying a visit to the centre first as it's sure to provide valuable information. You can even rent mobile batteries for your smartphone to lessen the stress when sightseeing.

The pictogram shows the many handy services available

Visitors will also find a comprehensive duty-free counter inside the information centre which covers all stores in Okaido, Gintengai, Matsuchika Town, Dogo Shoten, and Ropeway Shotengai. You must spend over ¥5,000 (before tax) on products to be duty-free eligible. Since it's a comprehensive service, if you have multiple receipts you can be exempt from tax as long as all your receipts exceed ¥5,000. Participating stores have special stickers plastered up inside so tourists can quickly and easily identify them.

Stores participating in the duty-free service have stickers and signs to show it

For example, if you spend ¥500 at participating stores in Dogo Shotengai, ¥1,000 in Okaido Shopping Street, and ¥3,500 in Gintengai Shotengai, and take all three of those receipts adding up to ¥5,000 to the information centre, you can get your items duty free. But keep in mind that the receipts have a validity period on them, so be sure to check opening hours.

The Matsuyama Tourist Information Centre serves as the perfect site for bringing in all kinds of tourists, including foreign travellers, to Matsuyama post-COVID. The information also goes by the cute nickname "Dan Dan info." Dan dan is an old Ehime phrase meaning "thank you" and ties in with the smiling and hospitable welcome staff wish to greet guests with. It's exciting to look into the future and see how Matsuyama's tourism and economic growth will develop in its shopping districts, stores, and elsewhere. Make one of your first stops the Matsuyama Tourist Information Centre when visiting the city.