Fruit Packed Sandwiches Get Whipped Up at Limited-Time Shop in Tokyo
The fruit sandwich eatery Maruichi Seika has opened a pop-up shop on the second floor of Kita-Senju Marui in Adachi, Tokyo. The shop is a collaboration between the popular local restaurant Ippo Ippo and Maruichi, a long-standing and much-loved fruit shop.
Fruit is the key ingredient at Maruichi Seika where they want customers stuffing their cheeks with strawberries, oranges, pineapple, and more. Fruit is packed into fat sandwiches and combined with mascarpone cheese for a filling treat. The bread is provided by Furansuya, a local bakery in Kita-Senju that has been running for over 10 years.
A Select Look at the Line-Up
Sky Berry | ¥740 (Tax Included)
This sandwich is named after a particular variety of strawberry is known as the Sky Berry. It's sourced from Tochigi Prefecture and is known for its superior sweetness, juiciness, and the fact that it's low in acidity. Ordering this lets you enjoy three different kinds of well-known strawberry: the titular Sky Berry, the Tochiotome which is also from Tochigi, and the classic Amaou from Fukuoka.
Setoka | ¥840 (Tax Included)
The Setoka is a rare and super sweet, full-bodied citrus fruit that's normally given as a gift in Japan. In sandwich form, it enjoys a perfect balance of sweetness and tanginess.
Pineapple | ¥630 (Tax Included)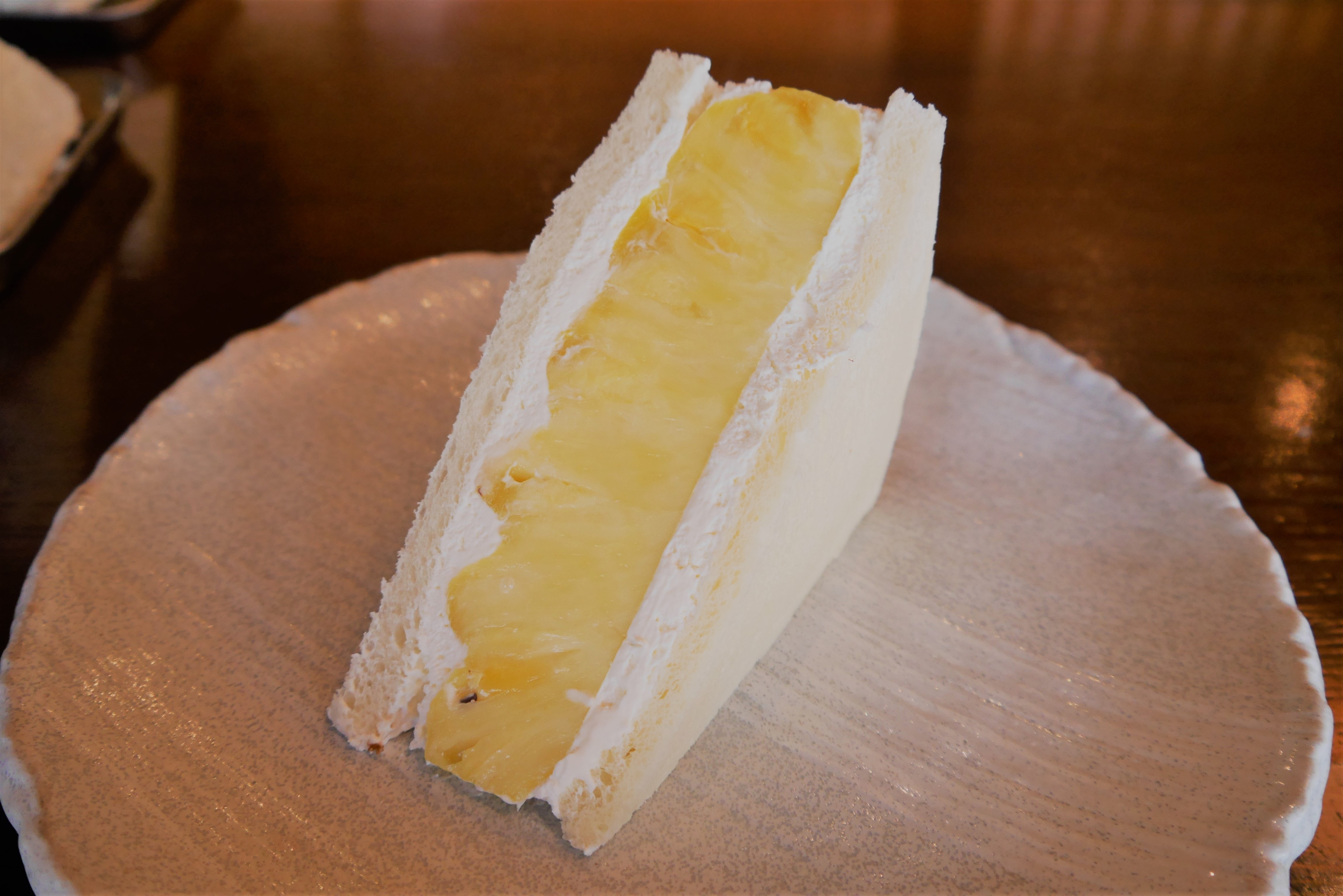 The Golden Pineapple from the Philippines is the variety used in this sandwich, packed with mouth-watering sweetness and offering a rich fruity fragrance.
Maruichi Mix | ¥740 (Tax Included)
This sandwich is a combination of fruits including the Amaou strawberry from Fukuoka, the Kanjuku Kiwi from Ehime, and the Premium Banana from the Philippines. It also contains the best picked mikan which are bought fresh from the market every day.
If you've never tried a fruit sandwich in Japan and are in Tokyo this winter, then don't miss out on Maruichi Seika's limited-time line-up.
Information
Maruichi Seika
Address: Kita-Senju Marui Floor 2F – Kitchen Garden 350
Address: 3-92 Senju, Adachi-ku, Tokyo
Kita-Senju Marui Official Website: https://www.0101.co.jp/084/
RELATED ENTRIES
'Maruko & Cojicoji' Collaborates with Popular Fruit Sandwich Store 'FruitsBOX DAIKANYAMA'

A collaboration between 'Maruko & Cojicoji' and FruitsBOX DAIKANYAMA has been announced. The 'Maruko & Cojicoji Fruit Sandwich POP UP SHOP' will be open between October 16 and October 31 in Kinshicho TERMINA 2.

 

Matcha Bean Paste & Strawberry Sandwich

Hokkaido Suzu Akane! Strawberry Sandwich

Four Seasons! FruitsBOX Sandwich

Crispy Taste! Banana and Chocolate Chip Sandwich

Collab Goods

Tote Bag: ¥2,200 (Tax Incl.)

Parka (FREE SIZE: Length 71cm, Width 58cm, Shoulder Width 52cm): ¥6,050 (Tax Incl.)


 

FruitsBOX DAIKANYAMA is a fruit sandwich specialty store that opened in 2019. The 'Maruko & Cojicoji' lineup will include eight new sandwiches. You'll get addicted to the new Matcha Paste and Strawberry sandwich, which combines the sweet and sour taste of strawberries and a rich bean paste! 

The pop up shop will stock a parka and tote bag, which both feature original artwork, alongside a! exciting collection of 50 Chibi Maruko-chan and Cojicoji items to purchase! Why not check it out?

Information

Maruko & Cojicoji Fruit Sandwich POP UP SHOP

Duration: October 16 ~ October 31 2021

Opening Hours: 11:00 ~ 20:00 (Subject to change)

Fruit Sandwich Store Location: Kinshicho TERMINA 2 1F La Gare Entrance Outdoor Exhibition Hall (Closest train: JR Kinshicho Station North Exit)

Pop Up Store Location: Kinshicho TERMINA 2 1F La Gare Indoor Exhibition Hall

Official Site: https://fruitsbox.net/ 

Jambuka Pancakes Get Tossed and Loaded With Fresh Cream and Fruits in Osaka

Jambuka Abeno Q's Mall is the only place in Osaka where locals can enjoy the incredible pancakes created by the fresh cream desserts specialist shop MILK. This summer, they are now serving a new seasonal treat: the 'Sweet Summer Mikan & Lemon Pancakes.'

Sweet Summer Mikan & Lemon Pancakes | ¥1,089 (Tax Included)

Fresh Cream Milk Pancakes | ¥858 (Tax Included)

Fresh Cream Strawberry Milk Pancakes | ¥1,089 (Tax Included)

Fresh Cream Chocolate Banana Milk Pancakes | ¥979 (Tax Included)

All pancakes are made-to-order and are covered in a rich, creamy sauce made from fresh cream from Hokkaido. Enjoy them plain or topped with fresh fruit.

Information

Sweet Summer Mikan & Lemon Pancakes

Running: July 15, 2021 – August 31, 2021

Location: Jambuka Abeno Q's Mall
Address: Abeno Q's Mall Floor 4F, 1-6-1 Abenosuji, Abeno Ward, Osaka, 545-0052, Japan
Opening Hours: 11:00-21:00
TEL: 06-6636-0555
Official Instagram: https://www.instagram.com/jambuka_abeno/

McDonald's Japan Releases Strawberry and Banana Frappes at McCafe by Barista®

McDonald's Japan released its new Strawberry & Condensed Milk Frappe and Banana Caramel Frappe beverages at McCafe by Barista® branches up and down the country on July 14. The fruity frappes and the perfect choice for the hot summer season.

Strawberry & Condensed Milk Frappe | Regular: ¥490


The strawberry frappe is made with a sweet and tangy strawberry sauce that has fresh strawberry pieces in it as well as juice taken from amaou strawberries grown in Fukuoka which are known for their fresh and sweet taste. Added to the cup is rich condensed milk along with a squirt of whipped cream for a milky and velvety finish.

Banana Caramel Frappe | Regular: ¥490


The banana frappe is filled with a banana puree sauce, banana syrup, and a crème brûlée syrup. It's topped with smooth whipped cream and a drizzle of caramel sauce. The banana and caramel make for a delicious combination.

Benzaiten Daifuku Opens New Fruit Confectionery Store Inside GINZA SIX

Benzaiten opened its first store in 2019 and since then has opened over 50 branches up and down Japan. The confectionery brand, which specialises in fruit-filled daifuki, has now opened a new store inside Tokyo's luxury shopping centre GINZA SIX.

Yellow Papaya | ¥950 (Tax Included)

Tayo no Tamago Red Mango | ¥1,500 (Tax Included)


Fig | ¥1,000 (Tax Included)


Kiwi | ¥650 (Tax Included)

Benzaiten has over 10 types of fresh seasonal fruits ordered in from the market every day to make their daifuku with, most of which use the entire fruit. They are very particular about the mochi used to make the daifuku to ensure the original delicious flavour of the fruit is maintained and maximises. They use two layers of high quality white bean paste and habutai to hand-prepare the daifuku every day.

Information

Benzaiten GINZA SIX
Address: GINZA SIX (Floor B2F), 6-10-1 Ginza, Chuo-ku, Tokyo
TEL: 03-6804-3382
Opening Hours: 11:00-19:00

Official Website: https://benzaiten-daifuku.jp/

Karuizawa's New Apple Farm Opens in Collaboration With Hoshino Resorts and Local Farmers

The Karuizawa-based hotel and hot spring complex Hoshino Onsen Tombo-no-yu joined hands with local apple farmers last year to help support apple cultivation for their apple hot springs. This is now being taken to the next level with the opening of Ringo Tsuchi, an apple farm that Tombo-no-yu staff helped to build. The farm opened on March 19, and locals will be able to visit part of the farm for free starting on April 26.

The project ties in with the global Sustainable Development Goals (SDGs) initiative, specifically the 12th goal: "Responsible Consumption and Production," which looks to ensure sustainable consumption and production patterns. Karuizawa is located in Nagano Prefecture which is ranked as the 2nd biggest producer of apples in Japan. When growing apples, those fruits which incur any kind of damage or grazing isn't shipped to the country's supermarkets or stores. It's these not-so-perfect apples that Tombo-no-yu uses for its apple hot spring experience. Though it may just be a small step towards that goes, it still goes a small incremental way towards achieving it.

Free entry to Ringo Tsuchi

The main raw materials at Ringo Tsuchi ("Apple Earth") are the apples used in the apple hot springs and fallen leaves from around the Hoshino area. In addition to compost and water, the materials are fermented, which adds the necessary nutrients to growing apples and creates soft and breathable soil. And since compost is added, it creates an environment where gardening tools can be used in the earth without any prior preparation.

The completion of Ringo Tsuchi

In the mid-October last year, work was carried out at Nomoto Kajuen Orchards in Mimakigahara Okubo, Nagano, to carefully select picked apples and not-so-perfect apples. These apples were used for the apple hot springs at Tombo-no-yu over a three day period from October 23 to 25. The apples are placed in both the male and female hot springs to float on the water.

After that three-day period, the apples were collected, washed, and cut to be used for compost. Since fermentation removes water content, the staff also had to add water twice a month to manage the compost.

Working with the locals

Katsuya Nomoto is a representative of Nomoto Kajuen Orchards, a farm that grows apples, prunes, and more. The farm takes advantage of the area's high altitude and takes pride in its work to cultivate produce that is healthy to the body and environment using soil microbes as an organic fertiliser. It's also officially recognised as a farm dedicated to supporting Nagano's environment, and carries out school trips for children to visit, creating ties with the local community.

Tokyo's New Vegan Dessert Shop the vegan marshmallooow Opens in Ginza

Ginza Mitsukoshi is welcoming a limited-time vegan dessert shop by the name of 'the vegan marshmallooow' which is open from April 1 to June 30. This shop is known amongst the vegan community in Japan for its vegan cakes, and due to that positive response, is now opening its first long-term promotional pop-up shop in collaboration with Mitsukoshi Isetan Group.

Online orders opened at Mitsukoshi Isetan on March 27 with a delicious line-up that includes their signature vegan chocolate cake.

A look at just some of the mouth-watering line-up

Chocolate Cake

Their number one most popular order: a gorgeously gluten-free mirror cake made with rich chocolate.

 

<NEW> Whole Fruit Cake

For those who like something a little more fruity and refreshing, this juicy cake is topped with assorted fruits like setoka orange, peach, kiwi, blueberry, strawberry, and more. The gluten-free sponge and soy cream give it a light texture that's also rich.

 

<NEW> Special Chocolate Cake Slice

An exquisite three-layered version of the shop's iconic chocolate make made with plant-based ingredients. Its triple tier is formed harmoniously of sponge, chocolate mousse, and cream. A single serving for a single sweet tooth.

Strawberry Shortcake

Two moist layers of gluten-free strawberry sponge with a soy milk base. Smooth, creamy, light, and delicious.

 

Mont Blanc

This mont blanc is specially made with Japanese chestnuts. The addition of soy cream elevates the nutty flavour throughout. A crunchy tart and fluffy sponge also makes for a textural sensation.

the vegan marshmallooow's vegan cake now available online at Mitsukoshi Isetan

Vegan Chocolate Cake Set (3 Pieces)

Shinjuku's Takano Fruit Parlour Serves Up Strawberry Desserts For the Spring Season

This spring, Takano Fruits Parlour is serving up a special strawberry-themed course menu at its Shinjuku branch starting on April 5. It comes as part of the restaurant's monthly fruit theme where they shine a spotlight on a single fruit each month. This month is strawberries which are adorning everything from appetisers to the main and dessert with a collection of succulent delights.

Spring Strawberry Course | ¥4,400 (Tax Included)

The course includes an apéritif, strawberry soup, beef cooked in a strawberry and demi-glance sauce, fruit salad, a hot dessert, strawberry chiboust, strawberry art palette assortment, a chilled strawberry dessert, and a choice of coffee, tea, or cafe au lait.

Information

Spring Strawberry Course

Running: April 5, 2021 – April 28, 2021 (Weekdays Only)

Where: Takano Fruit Palrour

Address: 3-26-11 Shinjuku, Shinjuku-ku, Tokyo

Time: [Morning Slot] 11:00-13:30 / [Afternoon Slot] 16:30-18:30

TEL: 03-5368-5147

Official Website: https://takano.jp/parlour/

Vegan Food Heads to Tokyo Midtown at New FRUITS IN LIFE Juice Bar and Deli

FRUITS IN LIFE is a new fruit juice bar and deli set to open in Tokyo Midtown on March 2, 2021. The eatery will serve up a fruity vegan menu.

Slow Juice (6 Flavours) | ¥850 Each (Before Tax)

Smoothies (11 Flavours) | Medium ¥550, Large ¥700 (Before Tax)

Fruful 200 Set | ¥1,250 (Before Tax)

Smoothie Parfaits: Avocado & Banana ¥1,000 (Before Tax) / Amaou Strawberry ¥1,250 (Before Tax)

FRUITS IN LIFE opens its first branch in Tokyo Midtown

Enjoy 200g of fresh fruits with Fruful 200

The menu is entirely plant-based ranging from smoothies and cold press slow juices to avocado toast made with a 100% whole wheat focaccia, the rice paper-wrapped salad baton filled with fruit and veg, and more. The lunch menu also includes the one plate Fruful 200 Set which contains 200g of fruits, and more. There's also fruit desserts like jelly and smoothie parfaits. The Avocado Banana Parfait is packed with vitamins and over 200g of fruits, is only 438ml, and is low in calories.

Information

FRUITS IN LIFE Tokyo Midtown
Grand Opening: March 2, 2021
Location: Tokyo Midtown Plaza Floor B1F

Address: 9-7-2 Akasaka, Minato-ku, Tokyo
Opening Hours: [Weekdays] 8:30-21:00 (Last Orders 20:30) / [Weekends & Holidays] 10:00-21:00 (Last Orders 20:30)

No Fixed Holidays
TEL 03-6447-1190
Fruful 200 Official Website: https://aoki-group.com/fruful200/
FRUITS IN LIFE Official Website: http://www.fruitsinlife.com/

Tokyo's Fruits Salon Serving Up a Full Gourmet Fruit Course

Fruits Salon, a fruit shop located on the second floor of Beauty Connection Ginza in Tokyo, introduced a new lineup of menu items on September 4 which will be available until mid October, all using seasonal grapes grown in Japan.

Fruits Salon opened in November last year and garnered much attention for its full course fruit dishes. Last month, the cafe served up the "Peach Full Course" which proved super popular. Now, they are offering a menu centred on juicy and sweet grapes.

Grape Full Course | ¥4,400 (Tax Included)

1st Plate: Apricot Tofu

2nd Plate: Dégustation

The grape course features three plates and a drink. It begins with a refreshing mix of Shine Muscat grapes, Delaware grapes, apricot tofu, and sake lees ice cream. The second plate is a tasting of four varieties of grape, while the third is a colourful and eye-catching parfait.

3rd Plate: Parfait

After-meal Drink

The parfait is served in a wine glass so you can see each layering of tasty ingredients.

The 90-minute course is reservation-only and invites you to both appreciate the appearance of as well as the taste of each dish.

Melon Parfait Alcohol Set | ¥2,178 (Tax Included)

The cafe is also serving its melon parfait alcohol set once more too for a limited time. It's made to really elevate the flavour of the melon.

If you're a fruit fanatic, then you won't want to miss out on Fruits Salon's new full course.

Information

Beauty Connection Ginza Fruits Salon
Address: GINZA gCUBE 2F, 7-9-15 Ginza, Chuo-ku, Tokyo
Opening Hours: 11:00-20:00
Closed: Tuesdays
TEL: 03-6263-8392

Official Website:  https://www.beauty-connection.jp/fruits/

Irresistibly Divine Peach and Exotic Fruit Jams Whipped Up by KEITA MARUYAMA

Fashion desinger KEITA MARUYAMA's lifestyle line CASA KEITA is collaborating with the pastry shop Equal to release a collection of two luscious jams in Japan. This marks KEITA MARUYAMA's step into the world of food.

The two jams get their names from previous KEITA MARUYAMA collections: SWEET SWEET SWEET and EXOTICA, both of which are sold in mini textile bags.

SWEET SWEET SWEET

SWEET SWEET SWEET uses a base made from white peaches grown in Yamanashi Prefecture. A hint of sourness is added by griotte cherries.

EXOTICA

Okinawan pineapples are mixed with passion fruit, coconut, and lime to create an exotic flavour, which is enhanced with the scents of galangal and kaffir lime leaves.

Bagged Jam Set | ¥8,000 (Before Tax)

The textile bags can be reused for a multitude of things, like storing small cosmetics, your wallet or purse, smartphone, and so on.

The jam set will be released both in-store at KEITA MARUYAMA in Tokyo on August 20 as well as online from 21:00 (JST).

The 'Junoheart' is a new variety of heart-shaped cherry grown in Aomori Prefecture. On July 2, 2020, they made their nationwide debut in Japan. Sales began at Kimura Fruits in Hankyu Umeda in Osaka.

Aomori Heartbeat (1 Box/2 Cherries): ¥2,160

The Junoheart cherries come in various sizes, including "4L" (over 3.1cm). One box of these high quality cherries contains just two. They are so cute they almost seem a waste to eat. They also make for a great gift to someone special.

New Open Fruit Sandwich Shop 'Fruits Panda by bekkaku' Opens at Kyoto Tower

Kyoto-based confectionery company Bijuu opened its new shop "Fruits Panda by bekkaku" inside Kyoto Tower on June 4, 2020.

 

Premium sandwiches made with high quality bread

Fruits Panda by bekkaku serves colourful and Instagrammable open sandwiches made from bread baked by Kyoto-based luxury bread company bekkaku which is topped with a variety of fresh fruits and one of the shop's rich creams. The in-house made creams, whether it be the caramel cream, condensed milk cream, or another, all bring out the delicious taste of both the fruit and bread.

Strawberry Panda (Strawberries/Red Bean Paste/Condensed Milk Cream): ¥350 (Tax Included)

Topped with fresh strawberries and sweet red bean paste, this open sandwich is served with a side of velvety condensed milk cream for a harmony of flavours.

Kiwi Panda (Kiwi/Honey Cream): ¥350 (Tax Included)

Sweet and sour kiwis coupled with sweet honey is a match made in heaven that creates a refreshing aftertaste.

Banana Panda (Banana/Chocolate Cream): ¥350 (Tax Included)

Subtly sweet fried bananas and rich chocolate cream are a classic combination which create a full-bodied aroma and delicious aftertaste.

The shop will also be selling bekku's "Tanabiki" bread, so if you visit the shop, use this opportunity to try out their luxurious loaves.

Fruits Panda by bekkaku plans to serve seasonal combinations too so customers can enjoy their open fruit sandwiches all year round.

Information

Fruits Panda by bekkaku

Location: Kyoto Tower (Floor 1F), 721-1 Higashishiokojicho, Shimogyo Ward, Kyoto, 600-8216

Instagram: @fruitspanda