Japan's Popular Capybara Character Kapibara-san Releases Surprise Merchandise Box
Japanese subscription box service SURPRISE BOX began a collaboration with the adorable Kapibara-san on Wednesday (February 10) to offer a collection of surprise boxes for fans.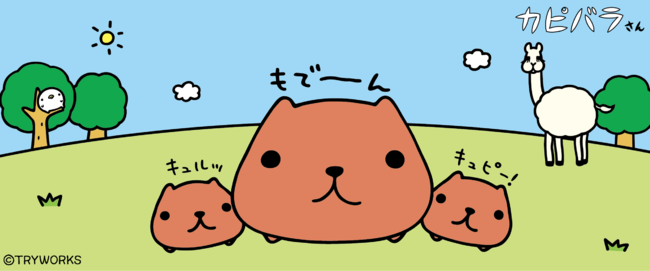 Kapibara-san is a character created by Tryworks – it even has its own anime series. The subscription service is offering three box plans at varying prices, each of which contain a collection of unknown merchandise related to the cute capybara. While the contents are a mystery, everything is sure to be tear-inducingly kawaii.
Information
Kapibara-san Surprise Box
Order Window: February 10, 2021 – March 10, 2021
Delivery: End of April 2021
Price Plans: ¥3,500 / ¥5,500 / ¥10,500 (Tax & Shipping Included)
Buy Here (Japan): https://surprisebox.jp/lineup/KAPIBARASAN
RELATED ENTRIES
Stop-Motion Anime Series Pui Pui Molcar Releases Cute and Fluffy Merchandise

The popular stop-motion anime series Pui Pui Molcar released a small collection of cute items over on the Japanese anime, manga, and hobby merchandise website CharaDepa on Thursday (February 18) including key rings, an acrylic dioramas, and badges.

Box of Badges (Contains 5) | ¥2,000 (Before Tax)

Acrylic Key Rings | ¥620 (Before Tax)

Acrylic Diorama | ¥1,800 (Before Tax)

Pui Pui Molcar is an ongoing stop-motion anime series produced by Shin-Ei Animation and Japan Green Hearts that began airing on January 5 of this year.

©見里朝希JGH・シンエイ動画/モルカーズ

See Capybara Bathing in a Yuzu Hot Bath at Izu Shaboten Zoo This Winter

Izu Shaboten Zoo's annual "Capybara Yuzu Hot Bath" event is set to return this winter from December 19, 2020 to January 5, 2021.

In Japan, there's a saying that you won't catch a cold if you take a hot yuzu bath, and so it has been a custom since the Edo period to float the fruits on top of the water during the winter season.

Izu Shaboten Zoo's "Capybara Yuzu Hot Bath" event first started in 1996 and has continued every year since throughout the winter and over the New Year. Visitors flock to see the capybara looking content as they enjoy their warm citrus-smelling baths.

The zoo's adorable capybara plush toy makes a return this year too. They are made with traditional Japanese colours like indigo blue and emerald green. Their cute appearance are sure to have you feeling warm and fuzzy inside.

Japan's Construction Industry is About to Become Fun With Kajikawa Construction x ASOBISYSTEM's 3K Project

Kajikawa Corportation and ASOBISYSTEM CO., LTD are looking to revamp the perceived image of the construction industry in Japan with the launch of the 3K Project. The three "K's" of the project are the Japanese words Kawaii (cute), Kirei (clean), and Kirakira (shiny).

Construction work is generally perceived by a different set of three K's: Kitsui (severe), Kitanai (dirty), and Kiken (dangerous), but the number of young people, both men and women, working in the industry in Japan is on the rise, resulting in the work environment changing too. That's where Kajikawa Corporation and ASOBISYSTEM's 3K Project comes in, which aims to re-brand the industry.

That begins with the unveiling of the 3K Project's official mascots: Corny, Gungun & Nonnon, Scoppy, and Metty, a band of construction tools and equipment, each of which has their own unique traits and personalities and who will be used in promotional material about the 3K Project.

A set of GIF stickers of these characters has been released on GIPHY aimed at encouraging people who are challenging themselves to new things during increased time at home as a result of the pandemic.


The stickers can be found on Instagram stories by typing the following terms in Japanese: 3Kプロジェクト (3K Project), 3Kスタンプ (3K Stamp), カワイイ (Kawaii), キラキラ (Kirakira), キレイ (Kirei), or "Kawaii" in English.

Everyone around the world has had to adapt to a new lifestyle of more time staying indoors, and so we haven't been able to meet with friends and family in person as much. These GIFs are a cute way to show them that you're working on yourself.

Stay tuned for more updates about 3K Project as it works towards changing the face of Japan's construction industry.

Capy Neko Cafe: Japan's First Cat and Capybara Cafe Opens in Tokyo

Capy Neko Cafe is the newest animal cafe to hit Tokyo. Located in the neighbourhood of Kichijoji, right by the station, customers are able to interact with both cats and capybara at the same time.

Japan is famous for its host of animal cafes, from the ubiquitous cat cafes to more unique ones like the owl cafe. But Capy Neko Cafe stands out from the rest as being the first cafe in Japan to combine cats and capybara.

You might wonder whether it's actually safe to pet a capybara. They may be the largest rodent in the world, but they in fact loved to be pet by people. They are gentle creatures that get on with and can live alongside cats. At the cafe, you can take photos of the capybara who are sure to be chilling on the sofas as well as feed them. The comfy environment also means that they'll feel like your very own pet capybara at home.

▶︎Tawashi (Male)

Tawashi is a sensitive, affectionate, and gentle guy. He loves snacks, and he's sure to flop down if you start petting him on the butt. Part of his daily routine is having an afternoon nap on the sofa together with the cats.

▶︎Dan (Male)

The vice store manager of Capy Neko Cafe. He adores humans. He's the kind of guy who'll probably jump up onto you if you cover your lap with a blanket and sit on the sofa.

▶︎Emma (Female)

Another member with a soft spot for humans, Emma is reserved kitty who lets everybody eat their food first. She's a needy and spoiled girlーif she's on your lap, you're not getting up. She's siblings with Dan.

▶︎Cream (Male)

Cream is everybody's idol. He's unapologetically spoiled and a handsome guy with perfectly round black pupils.

This list is just a small taste of the many cute residents to meet at Capy Neko Cafe. The cafe is also active in finding families for their rescued cats. The number of people who want to own a cat in Japan are looking to rescues now instead of pet shops. At Capy Neko Cafe, you get the best of both worlds: you can meet and interact with a cat and see if they're a good match for you.

If you're interested in visiting Capy Neko Cafe, keep in mind that priority goes to those who have booked in advance. This can be done via their official website, so book first and look forward to kicking back and enjoying a cup of tea, coffee or soft drink before interacting with the cats and capybara!

Information

Capy Neko Cafe

Address: PLATANO Floor 2F, 1-5-10 Kichijōji Minamichō, Musashino, Tokyo

Business Hours: 12:00-18:00

Closed: Wednesdays

Official Website: https://capyneko.cafe/

My Hero Academia X Monster Strike Collaboration Commemoration Café Menu Release

To commemorate the collaboration between mobile game Monster Strike and manga My Hero Academia, XFLAG STORE SHIBUYA, SHINSAIBASHI and +(PLUS) HANEDA are releasing a new limited period café menu, which includes brand new drinks that come with original sleeves for the cups.

Character Sodas: Izuku Midoriya, Katsuki Bakugou, Shoto Todoroki, Ochaco Uraraka, Tenya Iida

Price: ¥750 each (before tax)

If you order any drink from this café menu, you will be presented with an original badge that is chosen at random. During the commemoration period, the café space will be decorated with special illustrations and there will be special videos running for visitors to enjoy. 

Information

Limited Café Menu

Running: July 17 ー August 4, 2019 

Available at:

XFLAG STORE SHIBUYA

XFLAG STORE SHINSAIBASHI

XFLAG STORE +(PLUS) HANEDA

The Leo Lionni Cafe in Ginza Extended Its Running Period and Refreshed Its Menu

The Leo Lionni cafe located at Sunday Brunch, MARRONNIER GATE GINZA 1 is remaining open for a longer period due to popular demand. The limited-time cafe will now be open until September 29. This cafe is themed around the world of Leo Lionni; a famous children's picture book author whose illustrated stories include Swimmy and Frederick. Some of his works have even featured in school textbooks. After much anticipation, the cafe has released a brand new menu.

The renewed menu includes three new items which are based on Frederick; the story which has been praised as Lionni's best and most popular by both children and adults. A new Frederick-themed meal, cake and drink will be made available from July 20. When you order the Frederick-themed meal, the world of Frederick will unfold before you as if it has been cut straight out of the book and served up on a plate. There is no doubt that you will find these dishes so cute that you will not want to eat them.

Frederick's Sunny Soup and Rice: ¥1,480

This is a corn, pumpkin and minced chicken dish served with a cold soup and brown rice. This depicts the image of Frederick collecting the sun as he does in the story. The rice is served hot.

"I know it" Cheesecake: ¥1,250 (price with drink set)

This is a baked cheesecake made using rhubarb and summer berries sourced from Hotaru Noen Tatsuno Farm, Nagano. This delicious cheesecake depicts the scene right at the end of the story where the mice praise Frederick saying: "but Frederick! You are a poet," to which Frederick replies: "I know it".

Frederick Cheese Tea: ¥900 

This is a pineapple iced tea with cream cheese and a Frederick biscuit perched on the top. The pineapple flavour is sweet yet slightly sour. This is bound to leave you feeling refreshed, making it the perfect summer drink. 

From July 13 to September 29, 2019, there will be a special discount campaign running at the Minna no Leo Lionni Ten; an exhibition dedicated to Lio Lionni which is currently running at the Seiji Togo Memorial Sompo Japan Nipponkoa Museum of Art. Please consider stopping by. 

Copyright © 2019 by Blueandyellow, LLC Licensed by Cosmo Merchandising

Information

Leo Lionni Cafe

Running: April 3 ー September 29, 2019 

Opening Hours: 11:00 ー 21:00 

Last orders: Food: 20:00, cakes/drinks: 20:30

Reservations can be made for until 5 pm. Customers without reservations will be served on a first-come-first-served basis after 5 pm.

Running at: Sunday Brunch  MARRONNIER GATE GINZA 1 (4th floor)

Address: 2 Chome-2-14 Ginza, Chuo City, Tokyo

* New menu will be released on July 20

Official Website: http://leolionnicafe.com/

Minna no Leo Lionni Ten Exhibition (Tokyo)

Location: Seiji Togo Memorial Sompo Japan Nipponkoa Museum of Art

Running: July 13 ー September 29, 2019 

Opening Hours: 10:00 ー 18:00 (Last entries accepted until: 17:30)

Closed: Mondays (Exceptions: July 15, Aug 12, September 16, 23)

Website: https://www.asahi.com/event/leolionni/

Minna no Leo Lionni Ten Exhibition X Leo Lionni Cafe Reciprocal Discount Scheme

If you attend the Minna no Leo Lionni Ten Exhibition held in Shinjuku and retain your ticket or ticket stub, you can exchange it at the Leo Lionni Cafe for a ¥100 discount off your meal. Likewise, if you attend the Leo Lionni Cafe, you will be presented with a ¥100 discount for entry to the Minna no Leo Lionni Ten Exhibition. 

※ ¥100 will be taken off your meal price at the Leo Lionni cafe for every exhibition ticket presented.

※ Please be aware that ¥100 discounts for the Leo Lionni Exhibition will no longer be available once stocks have been fully depleted. 

Sailor Moon Show Restaurant To Open in Azabu Juban, Tokyo

Dining on Sailor Moon-themed food while being entertained by a live Sailor Moon musical is a dream come true for many. On August 15, 2019, a show restaurant called Sailor Moon-SHINING MOON TOKYO will open in Azabu Juban, Tokyo. 

Japan has already surprised many with the release of a Sailor Moon 2.5D Musical. This is a type of modern Japanese musical theatre based on anime where the characters are brought into the real world. This new show restaurant is aiming even higher, offering a completely new form of live entertainment. 

There isn't a better place for the restaurant to open than Azabu Juban, where the Sailor Moon characters are often seen in the anime. In fact, Azabu Juban is a holy land for all Sailor Moon fans, attracting fans from all over Japan and even from overseas. Once fans heard the news of the show restaurant, excitement spread like wildfire.

There is no doubt that this original show is a fantastic opportunity to delve deep into the world of Sailor Moon. There will also be the opportunity to try meals and drinks that are based on the anime which is not sold anywhere else. Of course, there will also be an area dedicated to the sale of original goods. 

The official website was published ahead of the grand opening of the restaurant. General ticket sales will be launched at 10 am on July 21. Enjoying Sailor Moon-themed meals and drinks while being entertained by a Sailor Moon stage show is a completely unique experience that many are curious about.

©️Naoko Takeuchi

©️Naoko Takeuchi, PNP, Sailor Moon  –SHINING MOON TOKYO –

Information

Sailor Moon  –SHINING MOON TOKYO –

Location: Basement Floor 1, Joule A, 1 Chome-10-10 Azabu Juban, Minato City, Tokyo 

Grand Opening: August 15, 2019 

※ Ticket sales start at 10 am on July 21, 2019

General Ticket Enquiries: info@sailormoon-shiningmoontokyo.com 

Official Website: https://sailormoon-shiningmoontokyo.com/ 

The Helpful Fox Senko-san Anime Themed Food & Drink Served Up in Ikebukuro

The Ikebukuro South Entrance branch of Danmaya Suisan is collaborating with the TV anime series The Helpful Fox Senko-san to served up a range of themed food and drinks from July 30 to August 30.

The story of The Helpful Fox Senko-san follows Kuroto Nakano, a salary man completely exhausted from his mundane routine of simply going back and forth to and from work. One day, an 800-year-old fox girl by the name of Senko appears to him to take care of him. Senko's food has a cosy homemade feel to it that serves to heal the heart and soul of her salary man. The food at Danmaya Suisan serves to bring this idea to life.

Ordering the Senko-san Set will get you all the food Senko-san serves in the anime series including meat and potatoes, sashimi and inarisushi. You'll also receive a free original lunch mat and rock glass designed by Senko-san. These items are available in limited supply.

For drinks, there are two alcoholic and two nonalcoholic, both inspired by Senko-san and Shiro.

If you decide to order a drink you'll receive one of four possible coasters.

Keep in mind that you need to book a table in advance to dine at the cafe, so if you're looking for some personal attention and hospitality from Senko-san, be sure to book ASAP!

Information

The Helpful Fox Senko-san x Danmaya Suisan Ikebukuro South Entrance

Reservations: 070-6407-4611 (Weekdays 10:00-22:00 / Weekends & Holidays 15:00-22:00)

*Please note that due to the high number of people expected, dining will be limited to 90 minutes per table to accommodate more customers

*If you want to order the Senko-san Set then please book this over the phone too

Menu

Senko-san Set: ¥1,080 (Tax Included)
Senko-san Set (With Rock Glass): ¥2,138 (Tax Included) *Limited supply

Alcohol

・Senko-san's Rum Ginger: ¥518 (Tax Included)

・Shiro's Beer Shake: ¥518 (Tax Included)

Nonalcohol

・Senko-san's Mango Smoothie: ¥518 (Tax Included)

・Shiro's Calpis Smoothie: ¥518 (Tax Included)

Danmaya Suisan Ikebukuro South Entrance

Address: Yoronotaki Ikebukuro Bldg. Floor B1F, 1-10-15 Nishi-Ikebukuro, Toshima Ward, Tokyo

Business Hours: Weekdays 16:00-Midnight / Weekends & Holidays 15:00-Midnight

Official Website: https://www.yoronotaki.co.jp/search/detail.html?CN=2793

Pompompurin Cafe Collaborates With Bonobono To Release Cute Summer Menu

Pompompurin cafe Harajuku, Umeda and Yokohama will be collaborating with much-loved manga and anime character Bonobono. The collaboration will see a new menu make its way to the three Pompompurin cafes from July 11 to September 1, 2019. 

The theme of the collaboration is Bonobono and Pompompurin on a fun trip to the beach. The collaboration menu includes four meals that are both cute and delicious enough to fully satisfy both Bonobono and Pompompurin fans. 

Two friends swimming in white curry: ¥1,290 (before tax) 

Order the white curry dish and you will see the two pals are wearing matching mushrooms as hats. Pompompurin has come prepared to swim in the curry with a lifering made from a crispy mochi wafer (monaka). The two friends seem to be having lots of fun on their beach trip. The dish is decorated with large and colourful vegetables, shellfish-shaped ham and starfish-shaped bell pepper. This healthy dish is both filling and beautiful.  

Pompompurin English Muffin and Bonobono Doria (Doria: rice casserole dish with a creamy white sauce) ¥1,390 (before tax )

In the English muffin and doria meal, a slice of English muffin is topped with vegetables and a burger. Pompompurin's face is drawn on a slice of cheese that is placed on top. The meat doria is a casserole topped with a creamy white sauce, decorated with Bononono's face. Both the pals are seen expressing their friendship by wearing matching berets. This comes as a set with a salad topped with shellfish-shaped ham and chips. What a filling meal. 

Pompompurin Pancake Featuring Bonobono : ¥1,090 (before tax)

The pancake dessert plate features a Pompompurin pancake alongside a Bonobono sherbet that is ramune flavoured. The sherbert might be your first time tasting the unique Japanese flavour of ramune. Ramune is a Japanese soft drink that is blue in flavour and perfect for the summer. Make sure to leave enough room for dessert!

Good Pals in a Fluffy Soda ♪: ¥900 (before tax)  

Order the fluffy soda and you will be served with an ocean blue drink. Blue curaçao liqueur and grapefruit syrup are mixed with soda and topped with whipped cream. On top of the drink sits a mango ice cream-flavoured Pompompurin and a marshmallow Bonobono. This refreshing drink depicts the image of the two friends enjoying a swim in the blue ocean. 

Customers who order from the limited-time collaboration menu will receive a free postcard. 

All customers who dine in the café will receive a free table mat. Those who order a drink will receive a free drink coaster. 

※ These will no longer be given to customers when stock runs out.

Fill yourself with delicious and cute meals and drinks.  

© Mikio Igarashi /Takeshobo, Fuji TV, Eiken © 1996, 2019 SANRIO CO., LTD. APPROVAL NO.S601363

Information

Pompompurin Cafe, Harajuku

Address: CUTE CUBE HARAJUKU (floor 3), 1-7-1, Jingumae, Shibuya, Tokyo

Opening Hours: 11:00 ー 21:00 (Last orders: 20:00)  / (Drinks last orders: 20:30)

 

Pompompurin Cafe, Umeda 

Address: Hankyu Sambangai South Bldg. Basement floor 2, 1-1-3 Shibata, Kita-ku, Osaka

Opening Hours: Weekdays: 11:00 ー 22:00(Last orders: 21:30), Weekends/national holidays: 10:00 ー 22:00 (last orders: 21:30)

 

Pompompurin Cafe, Yokohama

Address: YOKOHAMA SOTETSU SQUARE, 2 Chome-1-5 Minamisaiwai, Nishi Ward, Yokohama, 

Opening Hours: 10:00 ー 21:00 (Last orders: 20:30)

  

Bonobono Official Website: http://www.bonoanime.jp/

Pompompurin Cafe Official Website: http://pompom.createrestaurants.com

Kapibara-san Character Cafe to Open in Collaboration With 5 Hands Cafe Branches

The adorable Kapibara-san is joining paws with five Hands Cafe branches in Japan from November 5 to December 25.

This is in fact Hands Cafe's 4th collaboration with Kapibara-san. The key visual for the cafes takes on a Japanese-style design. Six different dishes will be sold.

Kapibara-san's Tsurun Udon Gozen: ¥1,320 (Tax Included) *Not sold at Shibuya branch

This meal includes a cute fried Kapibara-san atop a bed of sanuki udon noodles. It also comes with inari sushi to emphasise that Japanese feel.

White-san's Lovely Steak Gozen: ¥1,390 (Tax Included) *Not sold at Shibuya branch

This dish includes a chicken steak drizzled in Japanese-style sauce and is served with green salad and rice made into the shape of White-san, a friend of Kapibara-san.

Kapibara-san Dorayaki Set (Tax Included): ¥1,160

For dessert, tuck into a Kapibara-san dorayaki red-bean pancake and cream rice flour dumplings and wafer cake. There are three original wafer cake designs to enjoy which are chosen randomly, so look forward to seeing which you get!

The following two Christmas items will also be available from November 26 making for a total of 8 items to choose from.

Kapibara-san & Kokapi's Nosu Nosu Christmas Tree: ¥1,380 (Tax Included) *Available from November 26

The cute baby capybara Kopapi is riding on Kapibara-san's head in this dessert. They are both thick-friend pancakes. Next to them is a strawberry cream puff tower and matcha powder tree.

Kapibara-san's Christmas Houjicha Latte: ¥800 (Tax Included) *Available from November 26

Warm yourself up with this hot houjicha lattte topped with a Kapibara-san marshmallow. The whipped cream Christmas tree is sure to make you feel cosy too.

There's even five pieces of limited edition merchandise to get your hands on too, all with Japanese-style designs including a mug, pin badges and more.

OTONA Kapibara-san Mamezara

Finally, as a gift to customers, if you order one item from the menu you'll receive an original coaster, and if you order two an original mamezara, a tiny Japanese plate. These will change to Christmas designs from November 26.

Enjoy a fun and cute Japanese-style Christmas with Kapibara-san and his friends.

Information

Kapibara-san x Hands Cafe

Running: November 5, 2018 – December 25, 2018

*Select menu items available from November 26

Participating Cafe List

Hands Cafe Tokyu Plaza Omotesando Harajuku (Tokyu Plaza Omotesando Harajuku 5F, 4-30-3 Jingumae, Shibuya, Tokyo)

Hands Cafe Shibuya (Tokyu Hands Shibuya 7F, 12-18 Udagawacho, Shibuya, Tokyo)

Hands Cafe etomo Chuorinkan (2F, 4-6-3 Chuorinkan, Yamato, Kanagawa Prefecture)

Hands Cafe Umeda (Tokyu Hands Umeda 10F, 3-1-1 Umeda, Kita Ward, Osaka)

Hands Cafe Piole Akashi (Piole Akashi West Building 1F, 1-1-23 Oakashicho, Akashi, Hyogo Prefecture)

*The menu is subject to change without prior announcement.

*The items shown are still in development and may differ from the finished product.

Kapibara-san Official Website: https://tryworks.jp/

Hands Cafe Official Website: https://www.handscafe.jp/

©TRYWORKS

8 recommended popular characters' cafes :April 2018

Cafés and menus collaborated with popular characters in Japan are gathering much attention these days. In this article, I will introduce to you some recommended collaboration cafes/menus available on April 2018.

Rilakkuma×Seibu Ikebukuro

"Rilakkuma Town Café" will be opened for a limited time offer along with the 15th anniversary exhibition "Rilakkuma Towne Yokoso"

Photogenic collaboration menus and original goods will be sold. The interiors of the shop using the illustrations of cute Rilakkuma and limited items are awesome!

Detailed information:

Pomupomupurin's birthday menus

The four Pompompurin Cafe branches in Harajuku, Umeda, Yokohama and Nagoya are introducing a special birthday menu to celebrate the popular Sanrio character's birthday. With the tasty meal you'll receive warm and fluffy Pompompurin rice, plump roast chicken and mash potato made to look like Muffin. You can also get a gift box with a red ribbon! Those who eat a meal at one of the cafes will receive a postcard with a limited-edition birthday design and a pin badge! But be quick, because there's only a limited amount available

Detailed information:https://www.moshimoshi-nippon.jp/98186

Alice in Wonderland × Restaurant Mangiare Odaiba

The Italian restaurant Mangiare in Odaiba has announced that it will serve up a limited-edition Alice in Wonderland themed lunch for 4 days. The Alice Sweet Palette Lunch Course will be available on April 29th, April 30th, May 5th and May 6th for ¥3,500. The three-course meal is made up of an hors d'oeuvre containing plenty of organic vegetables grown in mineral-rich red soil, a selection of entrées including seasonal soup and one of either pasta, meat or fish, and a specially made Alice-inspired photogenic dessert palette to top it all off.

Detailed information:https://www.moshimoshi-nippon.jp/96502

Neko no Gohanyasan × Cute Cube Harajuku

Rather than being character-themed, this collaboration café incorporates the theme of "headwear for cats", creating an entirely new kind of collaboration café called "Neko no Kaburimono" (Cats in headwear). Cat photographer Sakura Ishihara has displayed numerous photographs of adorable cats wearing headwear. There is not a single real cat at the exhibition so those who are allergic to cats can also enjoy this exhibition.

Detailed information:https://www.moshimoshi-nippon.jp/99802

Bonobono × TOWER RECORDS CAFÉ

Tower Records are launching round two of their collaboration project with popular anime "Bonobono" which is currently broadcasted by the television station Fuji TV. The cute collaboration menu is themed around Easter. There are 11 collaboration goods and extras for customers to enjoy. Now let's take a look at a few items on the menu!

Detailed information:https://www.moshimoshi-nippon.jp/99796

Sailor Moon × My Melody – Candy Parlor

Bishojo Senshi Sailor Moon and My Melody are teaming up to open a collaborative café called Sailor Moon × My Melody Candy Parlor for a limited period in Osaka, Sapporo, Tokyo and Nagoya. See everybody's favourite magical girls and Sanrio's popular character come to life in the form of food, sweets and drinks served only at this café.

Detailed information:https://www.moshimoshi-nippon.jp/90049

Harapeko Aomushi × MARRONNIER GATE GINZA

The world of "Harapeko Aomushi (The Very Hungry Caterpillar), one of the most loved picture books in the world, will become a café. The café is open from the 18th of January 2018 (Thurs.) in Ginza for a limited time offer! The items on the menu of the café will include French toast, omelet rice, Hamburger and pasta which everybody likes.

The healthy menu items will use lots of fresh and colorful vegetables which is for sure to make customers happy.

Detailed information:https://www.moshimoshi-nippon.jp/84934

Sanrio Characters × Dining Park Ikebukuro

Sanrio Characters Lovely Café" where popular Sanrio characters from back in the 80's will gather, is open at "Dining Park Ikebukuro" located on the 8F of Nishi Ikebukuro Honten, close to the east exit of Ikebukuro Station. It is be opened from the 31st of January (Wed.) to the 17th of April (Tue.). Original menu items of the good-old characters will be sold.

Detailed information:https://www.moshimoshi-nippon.jp/88086

How did you like our collaboration cafés/menus recommendation? Why not visit one of the cafes introduced in this article?

5 Character collaboration cafés opened for a limited time offer (November) in Tokyo

Many character collaboration cafes are opening nowadays and some of them are opened for a limited time offer.

In this article I will introduce to you some collaborative cafes.

Gudetama, an American comic-taste character is unique! "Ikebukuro "Gudetama Café"

"Gudetama Café" is a collaborative café inside of "Dining Park Ikebukuro" which is located at the 8th floor of Seibu Ikebukuro Honten near the East Exit of Ikebukuro Station. Sanrio's very popular character "Gudetama" will be featured in this café and it will be open from the 8th of November 2017 (Wed.) to the 21st of January 2018.

A new "Gudetama" will be depicted with an American comic-taste. You can enjoy the new world of "Gudetama."

■Information

Gudetama Café Ikubukuro Shop

Time: 2017,11,8 (Wed.) to 2018,1,21 (Sun.)

Address: 〒171-0022, 8F of Seibu Ikebukuro Honten, 1-28-1, Minami Ikebukuro 1-28-1, Toyoshimaku, Tokyo

Gourmet Stadium II Gudetama Café Ikebukuro Shop

Business hours: 11:00 to 23:00 (the café will be opened from 10:30 on Saturday, Sunday and holidays)

Holiday: no holiday (depending on the facility)

TEL:03-5949-5675 (dial in)

URL:http://gudetama.createrestaurants.com/

(c)2013, 2017 SANRIO CO., LTD. APPROVAL NO.S582962

Sanrio's collaborative crepes will be sold at MOMI&TOY'S

The "melting crepe" shop "MOMI&TOY'S" has been selling collaborative items with Sanrio's popular characters, "Hello Kitty", "My Melody" and "Cinamonroll." For the collaborative menu items, some fruit which match the image of each characters and a "character monaka" is placed on top of the crepe. In each of these items it looks like the character is peeking at you from the edge of the crepe. They are all truly cute items. Each menu item is rapped with a special paper. The paper is designed with an illustration of the character. There is a fall version and a winter version of the wrapping paper.

Detailed information:http://www.moshimoshi-nippon.jp/ja/71389

■Information

MOMI&TOY'S

Available date: 20,16 (Mon.) to 12,15 (Fri.)

Available shops: MOMI&TOY'S (except some shops)

MOMI&TOY'S: Japan:62 shops, Foreign countries: 30 shops

 

Popular characters will collaborate! Kichijoji PARCO "Panpaka Pants×Pom Pom Purin Pudding Café"

Kichijoji PARCO will start the event called "Panka Pants×Pom Pom Purin Matsuri in Kichijoji PARCO" in commemoration of the collaboration of Panpaka Pants and Pomu Pomu Purin from the 1st of November (Wed.).

 The café offers ogiriginal menus and will collaborate with very popular Baumkuchen "Jiichiro." They will sell limited goods which can only be purchased at Kichijoji PARCO.

>>next page