LeSportsac Reveals My Neighbor Totoro Bag Collection
A new collection of 22 bags inspired by Studio Ghibli's beloved animated feature film My Neighbor Totoro will be released on the animation studio's character merchandise website Sora no Ue and their official store Donguri Kyowakoku on March 10.
The collection is made by American handbag brand LeSportsac. The designs are inspired by children's' ability to discover things when they look at something that adults cannot and feature Totoro, Satsuki, Mei, and other familiar faces. The cute bags' vivid colourings capture the magical world of My Neighbor Totoro.
The Line-Up Excerpt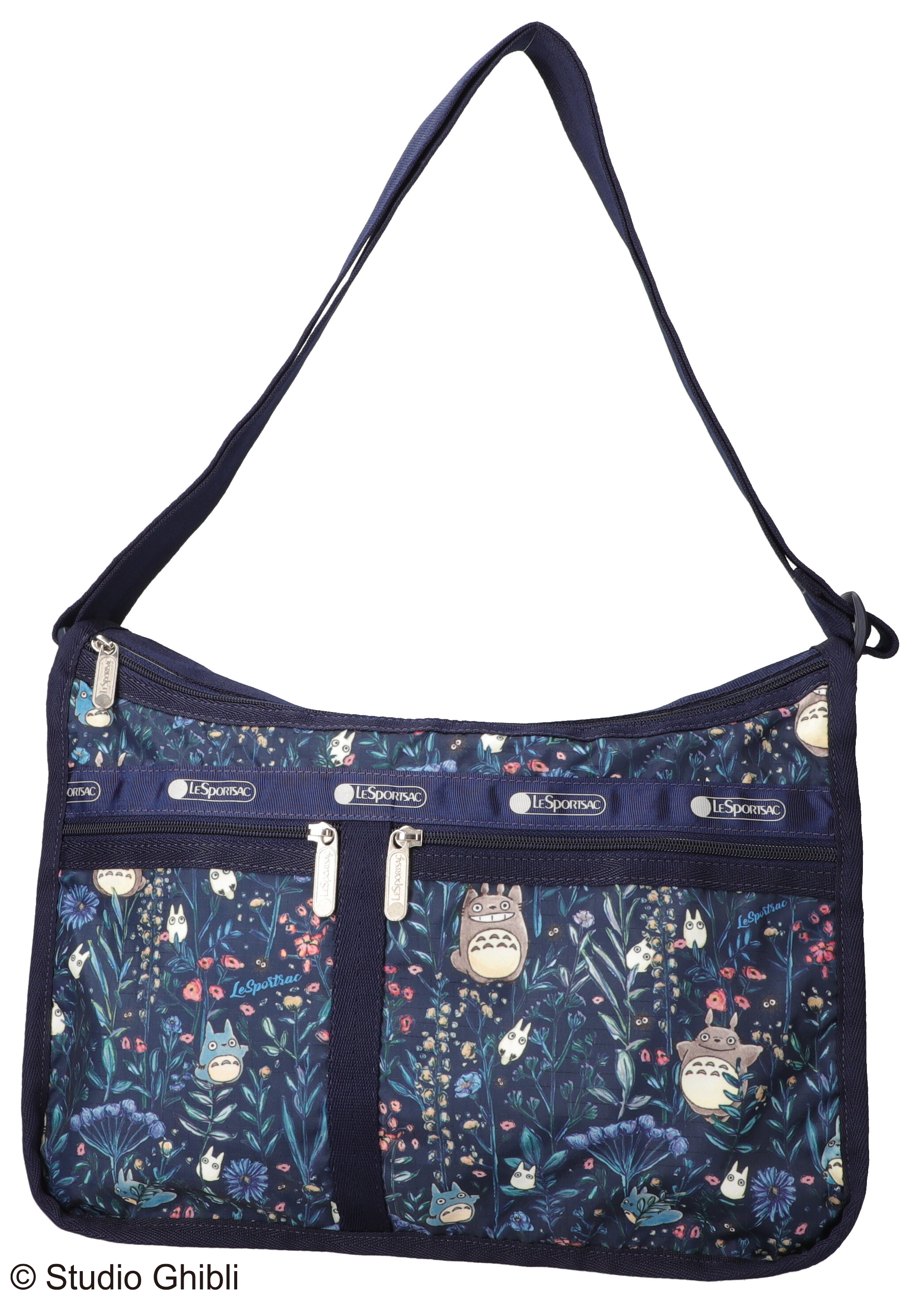 Totoro botanical DELUXE EVERYDAY BAG | ¥17,500 (Before Tax)
Totoro gray EMERALD TOTE | ¥9,000 (Before Tax)
Totoro botanical HARPER BAG | ¥18,000 (Before Tax)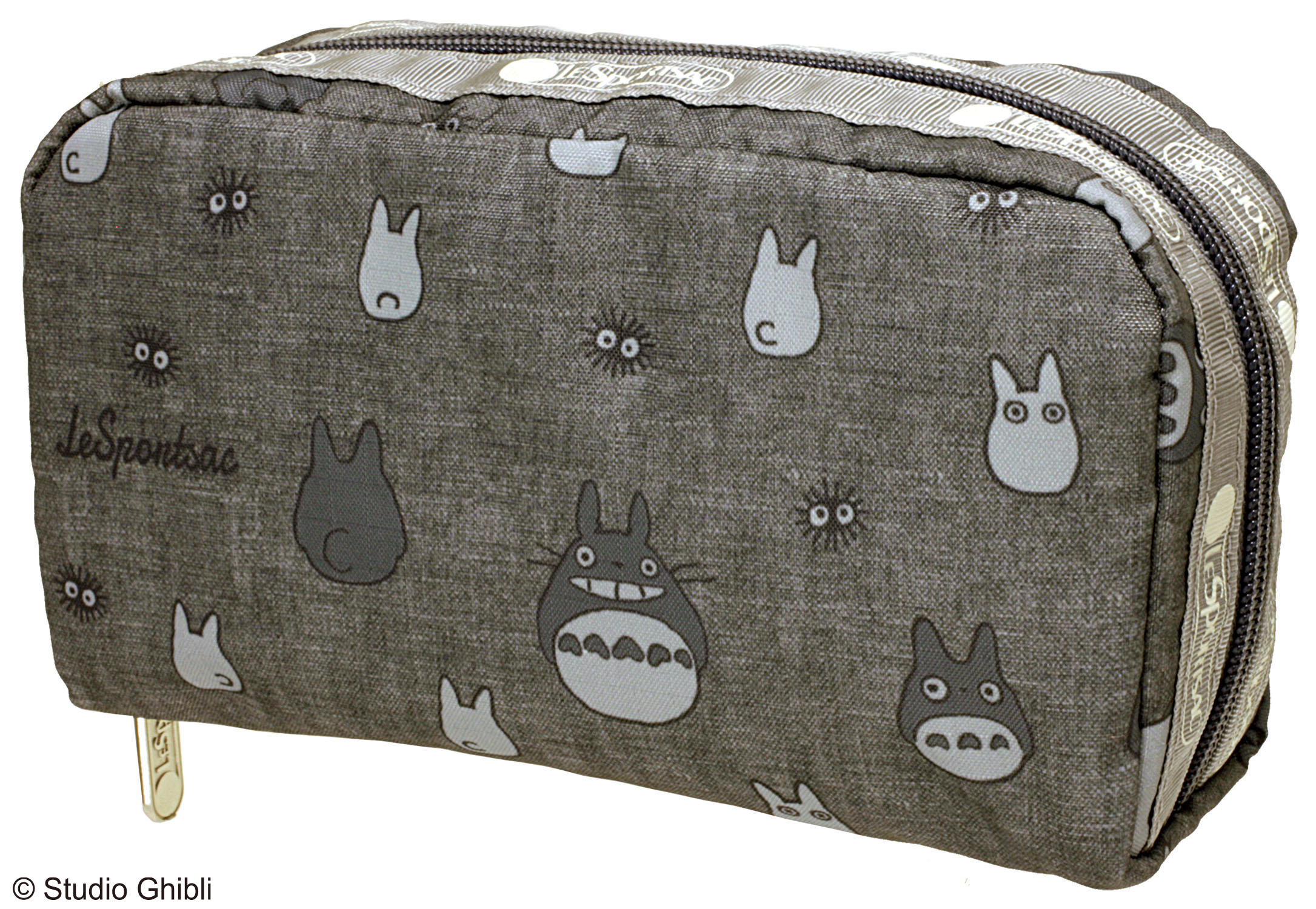 Totoro gray RECTANGULAR COSMETIC | ¥3,200 (Before Tax)
 It wasn′t a dream SQUARE COSMETIC | ¥3,500 (Before Tax)
RELATED ENTRIES
Short Film Featuring Star Wars Character Grogu and Studio Ghibli's Dust Bunnies Released on Disney+

Over the past few decades, Star Wars has become one of the most beloved properties with fans around the world.

 

Grogu, known by many fans as Baby Yoda, first appeared in The Mandalorian, a series on Disney+ currently celebrating its third anniversary. 

 

With his mysterious background and incredible use of the Force, the tiny and adorable character became a hit with fans around the world, quickly making him one of the most popular characters in the recent Star Wars series.

 

World-renowned Japanese animation studio Studio Ghibli recently produced a short animation starring Grogu and Makkuro Kurosuke, also known as the Wandering Soot or, in the title for the short, Dust Bunnies. The characters first appeared in the film My Neighbor Totoro.

 

Studio Ghibli director Hayao Miyazaki and producer Toshio Suzuki have long been friends with Lucasfilm president Kathleen Kennedy, who readily agreed to produce the short as a symbol of their longstanding friendship. The short was directed by Katsuya Kondo.

Will you give this a watch on Disney+?


(C)2022 & TM Lucasfilm Ltd.(C)2022 Studio Ghibli.

Information

Zen – Grogu and Dust Bunnies

Streaming: November 12, 2022

Available on Disney+

Ghibli Park Gives First Look at Ghibli's Grand Warehouse Ahead of November Opening Date

Ghibli Park Phase 1 will open to the public on November 1 in Nagakute City, Aichi Prefecture at Moricoro Park within the Expo 2005 Aichi Commemorative Park. Ahead of the exciting day, fans are getting their first glimpse at the Ghibli's Grand Warehouse area!

For those looking to immerse themselves in the world of Ghibli, look no further. Phase 1 will see the opening of a theater, a shop, a cafe, and three unique exhibits. 

Cinema Orion

The theater will screen ten short films that were previously only available to watch at the Ghibli Museum in Mitaka, Tokyo. 

Trio of Special Exhibitions

The Famous Scenes Exhibition will invite guests to pretend to be a character in their favorite Ghibli films, stepping directly into recreated scenes. In addition, due to how often fans claim that food in Ghibli films looks exceptionally tasty, a special exhibition from the Ghibli Museum is also coming to Ghibli Park featuring these delectable-looking treats. 

The on-site store and cafe will also be selling original products only available at the park. A new trailer has been released for the park as well, showing what fans can look forward to in November. Tickets for Ghibli Park will go on sale on the 10th of each month and are reservation-only, with a date and time assigned for each area. Lottery sales for December admission will run from September 10 until September 21 at 23:59.

© Studio Ghibli

Information

Ghibli Park

Phase 1 Opening: November 1, 2022

Address: Expo 2005 Aichi Commemorative Park (1533 Ibaragabasama, Nagakute, Aichi)

Official Website: https://ghibli-park.jp/

Hot Topic and Studio Ghibli Collab Project HARAJUKU COLLECTIVE Gets Pop-Up Store in Harajuku

HARAJUKU COLLECTION, a Studio Ghibli-inspired apparel collection by popular American counterculture chain Hot Topic, is offering licensed Ghibli goods for fans in the U.S. and Canada. The collection opened its online store for those in Japan on August 10, and a limited time pop-up store has been opened in Harajuku to celebrate the release of this incredible apparel!

Japan Original Items

American Original Items

The store has a colorful exterior that shows Totoro and the Susuwatari playing together. Once inside, guests will be greeted by a massive rainbow Totoro! The shop blends the world of Ghibli with the style of Harajuku.

"If there were colorful and kawaii mushrooms in Totoro's forest, and if it rained acorns one day, maybe he'd need a mushroom umbrella!" This colorful Totoro was inspired by this adorable thought.

The walls are decorated with artwork drawn by the creators of the original Japanese items, and guests are able to see and purchase the products in this special space. Why not visit?

© 1988 Studio Ghibli
© 1989 Eiko Kadono – Studio Ghibli – N
© 1997 Studio Ghibli – ND
© 2001 Studio Ghibli – NDDTM
© 2004 Studio Ghibli – NDDMT

HARAJUKU COLLECTIVE Apparel Collection to Bring Studio Ghibli Merch to Hot Topic in the U.S.

HARAJUKU COLLECTIVE, a Studio Ghibli-inspired apparel collection by popular American counterculture chain Hot Topic, will be available in stores throughout the U.S. and Canada starting in August! These items will be available on the Hot Topic online store in Japan as well, and a limited-time pop-up shop is scheduled to open in Harajuku on August 10. This is the first time that one of Hot Topic's apparel collections will be made available in Japan.

HARAJUKU COLLECTIVE, an Apparel Collection from Studio Ghibli and Hot Topic

Hot Topic has been popular in the states for years, with over 800 stores in America in 2022. Founded in 1988, the company is best known for selling apparel and goods inspired by popular music, games, movies, and anime. The new HARAJUKU COLLECTIVE collection brings the heart of Japanese culture to the chain, adding to the ongoing collaboration with the store and Studio Ghibli which began in 2014. Hot Topic stores will sell original items produced by nine Japanese creators and brands, as well as some original American items produced by Hot Topic's executive designers. 

 
The lineup of Japan-original items includes T-shirts, tote bags, and other items featuring exclusive artwork by up-and-coming creators. These items depict beloved characters from Studio Ghibli's works, as well as logos created for the collaboration. This will be the first time these creators will be releasing items inspired by the famed animation studio, so expect to find a new vision of Studio Ghibli's world!

HARAJUKU COLLECTIVE Limited Time Pop-up Store to Open in Harajuku


To celebrate the collection's release, a pop-up store will be opening in Harajuku for a limited time. Visitors will be able to see and purchase the available items while in this unique space, and more details will be released on the official HARAJUKU COLLECTIVE's social media pages, so keep an eye out!

Information

STUDIO GHIBLI × HOT TOPIC – HARAJUKU COLLECTIVE

Release Date: August 10, 2022

*Only select items to be released in the U.S. will be sold in Japan. 

*Japan-original items will only be sold in Japan.

HARAJUKU COLLECTIVE  Pop-up Store

Open: August 10 – August 28, 2022

Venue: AF GALLERY 1F (3-21-8, Jingumae, Shibuya-ku, Tokyo)
*See HARAJUKU COLLECTIVE's official social media accounts for more information.

Online Store (Japanese)

Open: August 10 – December 31, 2022

*Opening soon.

Special Site (Japanese): https://ghibli-harajukucollective-ec.com/


HARAJUKU COLLECTIVE Official Social Media Accounts (Japanese)
Instagram: @harajuku_collective (https://www.instagram.com/harajuku_collective)
Twitter: @harajuku_collect(https://twitter.com/harajukucollect)

The Toshio Suzuki and Studio Ghibli Exhibition Opens in Tokyo

The Toshio Suzuki and Studio Ghibli Exhibition finally opened on July 1, 2022 at Warehouse Terrada in Shinagawa, Tokyo. 

 

First held at Kanda Myojin in 2019, the reception for the exhibition was incredible, and after popping up in Nagasaki and Kyoto, the newest Tokyo exhibition will be the first held in three years. It features significantly more exhibits and content, so Ghibli fans won't want to miss it. 

Toshio Suzuki, a producer at Studio Ghibli, has worked with both Hayao Miyazaki and Isao Takahata on a number of beloved masterpieces. The exhibition will feature a large bookshelf housing 8,800 of Suzuki's publications. Many of these were published before Suzuki joined Studio Ghibli, and guests are invited to see how the producer was inspired to join the legendary studio.

This exhibition was realized after Suzuki himself proposed the idea of exhibiting his books for the first time following the 2019 event. The giant bookshelf containing 8,800 tomes was based on a brick-and-mortar store that once served as Suzuki's 'hideout.'

The Massive Abura-ya Annex

Chihiro's Bathhouse – Chilled Footbath

No-Face AR

As a limited event, the Tokyo exhibition will also feature the Abura-ya Annex, a huge space that recreates the world of Spirited Away. Visitors can transform themselves into No-Face using AR or enjoy the Chilled Footbath after getting their fortunes told at the Yubaba and Zeniba Luck and Love Fortune Telling Corner. 

8,800 of Toshio Suzuki's Favorite Books

Valuable Documents, Behind-the-Scenes Details, etc. 

No-Face perches atop one of the many bookshelves at the exhibition, lost in a tome of his own. All 8,800 books were read by Suzuki, and all of them influenced the creator's decision to join Studio Ghibli. The wallpaper was designed by William Morris, a favorite of the producer since his youth. Some of the books can be picked up and enjoyed, so be sure to flip through some of these inspiring pages!

Rare materials and copy that led to many of the studio's blockbuster hits are all on display, and visitors can trace the secret story behind the establishment of Studio Ghibli and how the company created everything from Nausicaa of the Valley of the Wind to their latest release Earwig and the Witch. Suzuki is known for his incredible scripts, such as the many lines he wrote for the title character in The Tale of Princess Kaguya.

On June 30, an opening ceremony was held with Suzuki in attendance. "I've stored away so many items that have been important to me in my life, and while it can be somewhat embarrassing to have them on display, I'm glad that so many can appreciate them," he said. "My dream was to collect all the books I've read over the past 70 years and display them in one room. I was so happy when I realized that we could fit all 8,800 books in one space. I hope as many people as possible come to enjoy the exhibition." 

Information

Toshio Suzuki and Studio Ghibli Exhibition

Running: July 1 – September 7, 2022

Location: Warehouse Terrada B&C Hall/E Hall

Toshio Suzuki Studio Ghibli Exhibition Inspires Limited-Time Hotel Suite

The Grand Prince Hotel Takanawa in Tokyo will offer a special suite inspired by the upcoming Toshio Suzuki Studio Ghibli Exhibition from July 1 until August 31, 2022. This will include tickets to the exhibition, which will take place at Warehouse Terrada in Shinagawa from July 1 until September 7. 

Toshio Suzuki, a producer at Studio Ghibli, has worked with both Hayao Miyazaki and Isao Takahata on a number of beloved masterpieces. The exhibition will feature a large bookshelf housing 8,800 of Suzuki's publications and favorite tomes. Many of these were published before Suzuki joined Studio Ghibli, and guests are invited to see how the producer was inspired to join the legendary studio after working as an editor at a manga magazine. To commemorate the exhibition's opening, this special suite is filled with books written by Suzuki along with other books that visitors may enjoy during their relaxing stay. 

In the suite, guests will find a list of 106 books that influenced Suzuki the most. This list will be available to take home. Visitors will also find reproductions of Suzuki's calligraphy. 

©TS ©Studio Ghibli

Studio Ghibli Secrets Revealed in Kyoto Exhibition Featuring Miyazaki Collaborator Toshio Suzuki

The Toshio Suzuki and Ghibli Exhibition opened at The Museum of Kyoto on April 23, 2022.

Toshio Suzuki, a producer at Studio Ghibli, has worked with both Hayao Miyazaki and Isao Takahata on a number of beloved masterpieces. The exhibition will feature a large bookshelf housing 8,800 of Suzuki's publications. Many of these were published before Suzuki joined Studio Ghibli, and guests are invited to see how the producer was inspired to join the legendary studio after working as an editor at a manga magazine. 

This exhibition was realized after Suzuki himself proposed the idea of exhibiting his books for the first time. At the press preview, Suzuki made a statement. "My dream was to collect all the books I've read over the past 70 years and display them in one room. Today, I'm so happy to stand in the middle of it. On one hand, I'm amazed by how much there is. On the other hand, I feel like there could always be more."

©TS ©Studio Ghibli

The giant bookshelf containing 8,800 tomes was based on a brick-and-mortar store that once served as Suzuki's 'hideout.' The wallpaper was designed by William Morris, a favorite of the producer since his youth. Among the many books on display, one area is lined with issues of Kinema Junpo, Japan's oldest film magazine. Suzuki notes that he thought about throwing them out each time he moved, but luckily, he decided to keep them! Some issues are from the Taisho era and are incredibly valuable. If you want to read them yourself, you are welcome to do so at the exhibition!

Many of Studio Ghibli's most famous works were born from casual conversations between Isao Takahata, Hayao Miyazaki, and Toshio Suzuki. Suzuki has played a large role in film advertising, including many of the memorable posters and ads almost everyone has seen. He has always included each film's most inspiring song in television ads, which has dramatically increased audience attendance. After all, who doesn't love the music in Studio Ghibli films?

What's your favorite Ghibli film?

Information

Toshio Suzuki and Studio Ghibli Exhibition

Running: April 23 – June 19, 2022
Closed on Mondays *Open on April 25, May 2

Hours: 10:00-18:00 *Open until 19:30 on Fridays (Last entry 30 minutes before closing)

Venue: The Museum of Kyoto 4F, 3F Exhibition Room (623-1 Higashikatamachi, Nakagyo Ward, Kyoto)

Official site:https://suzukitoshio-ghibli.com/

Toshio Suzuki and Studio Ghibli Exhibition Returns to Terrada Warehouse in Tokyo

From July 1 until September 7, the Toshio Suzuki and Studio Ghibli Exhibition will be held at Warehouse Terrada in Shinagawa, Tokyo. The exhibition was first held in 2019 and is dedicated to Studio Ghibli's co-founder and producer Toshio Suzuki. Following showings in Nagasaki and Kyoto, the event will come to Tokyo with bonus content including art and calligraphy by Suzuki himself.

The theme of the exhibition this time is "Words that Inspired Toshio Suzuki", with a new exhibit being a huge bookshelf with over 8,800 books and novels. Each of the books is believed to have influenced Suzuki in some way, so fans can gain a rare insight into what kinds of works shaped the producer's way of thinking. The exhibit has the look and feel of Suzuki's "hideout" spot Rengaya, where he broadcasts his radio series from.



Another new exhibit is the Bath House area, which features a huge motif of the Bath House from Spirited Away! 

Which Studio Ghibli film has had the biggest impact on you?

©TS ©Studio Ghibli

Information

Toshio Suzuki and Studio Ghibli Exhibition

Tokyo Exhibition
Running: July 1 – September 7, 2022
Location: Warehouse Terrada B&C Hall/E Hall
*Tickets will go on sale in April. 
Official Site: https://suzukitoshio-ghibli.com/

Kyoto Exhibition
Running: April 23 – June 19, 2022

Location: The Museum of Kyoto

Studio Ghibli Theme Park to Open in Nagakute, Aichi Prefecture in November 2022

The Aichi Prefectural Government announced that part of the Studio Ghibli theme park will open on November 1 in the city of Nagakute. 

During the announcement, the first video and key visual of the park was released, both created by Studio Ghibli. The tourism video highlights the appeal of Aichi Prefecture and features local tourist spots, encouraging those visiting the theme park to also spend some time touring the prefecture.





Three areas of the Ghibli Park will open on November 1 of this year: Ghibli's Grand Warehouse, the Hill of Youth, and Dondoko Forest. Two additional areas–Mononoke's Village and the Valley of the Witches–are scheduled to open in November 2023.


Ghibli no Daisoko (Ghibli's Grand Warehouse)


Three times the size of the Ghibli Museum in Mitaka, Ghibli's Grand Warehouse will be an indoor area featuring shops, restaurants, ongoing exhibitions, and a small theater. An interactive area featuring oversized objects will allow visitors to feel as though they've stepped into Arrietty's world, while another part of the space will recreate the sky garden from Laputa: Castle in the Sky. The Warehouse will also have a My Neighbor Totoro-inspired playground complete with Catbus.

Seishun no Oka (Hill of Youth)

Serving as the entrance to the park, the Hill of Youth features a yellow observation tower which will double as the main gate. The area will showcase the antique shop from Whisper of the Heart, featuring curiosities from films like Laputa: Castle in the Sky and Howl's Moving Castle. The Hill of Youth will also feature a mini version of the Cat Bureau from the movie The Cat Returns.

Dondoko Mori (Dondoko Forest)

Dondoko Forest will feature Satsuki and Mei's house from My Neighbor Totoro. A completely immersive experience, guests will notice that much of the local nature is intact–Miyazaki himself asked that no trees were to be cut down in the building of the park. 

Which Ghibli film would you like to see brought to life at Ghibli Park?

 © Studio Ghibli

Information

Ghibli Park

Opening Date: November 1, 2022

NECOREPA Releases 'Save the Cat Bag' to Support Cats in Shelters

Preorders are now open for NECOREPA's new 'POCKET NECO BASKET.' All proceeds will go towards saving the lives of shelter cats and will be used to support shelter activities. 

Calico

Polka Dot Calico

The NECO BASKET series has been very popular, and cat lovers have been eager to support this good cause. Over 3,000 bags have been sold to date. This is the only bag in the world made by cat lovers, for cat lovers, and for cats. 

Each bag is made of thick genuine leather carefully sewn together by a Japanese craftsman. With such a sturdy design, these are perfect as a fashion accessory and for daily use!

SarutaHiko Coffee Releases Collaboration Bag with PORTER for 10th Anniversary

SarutaHiko Coffee have announced that as part of their 10th anniversary celebrations, their fifth celebratory project will be a collaboration with iconic Japanese bag brand PORTER. The bag will be available to preorder on the SarutaHiko Coffee webshop fromAugust 28, 2021. The collaboration bag features a mouton badge that has been dyed using SarutaHiko coffee.

PORTER x SarutaHiko Coffee 'Coffee Bean Shoulder Bag (Bourbon) and Bean Mouton Badge: ¥22,000 (Tax Included)

PORTER x SarutaHiko Coffee 2-way Tote Bag S & Bean Mouton Badge: ¥28,600 (Tax Included)

PORTER x SarutaHiko Coffee 2-way Tote Bag L & Bean Mouton Badge: ¥33,000 (Tax Included)

The unique coffee bean shaped shoulder bag is the perfect size to fit your smartphone, keys, and other small necessities. The product is named after the Bourbon coffee bean, a bean famous for its high quality, calling back to the previous SarutaHiko Coffee collaboration. The 2-way tote bag features the SarutaHiko Coffee and PORTER logo on both sides, so you can swap it around to suit your mood. The bag also has pockets conveniently placed on both the inside and the outside. The L-size tote is suited to daily use, perfect for school and work as it can fit A4 documents and laptops, with a pocket on the side to fit a water bottle or umbrella.

The conveniently sized S-size bag is perfect for neighbourhood shopping trips or short outings.

The bag is dyed a deep coffee brown and has been crafted in a handy unisex design. All collaboration bags come with a removable Bean Mouton badge. The badge is made using mouton that has been dyed using the same beans that are used in SarutaHiko Coffee's

espresso.

 

These collaboration items would make the perfect gift to any coffee-loving friend!

Information

PORTER x SarutaHiko Coffee

Pre Order Start Date: August 28, 2021

Where to preorder: SarutaHiko Coffee Online Shop, SarutaHiko Coffee Taiwan

Online Shop: https://shop.sarutahiko.co/

Sanrio's My Sweet Piano Celebrates Birthday With Merch Line-Up by Maison de FLEUR

Maison de FLEUR is celebrating the birthday of Sanrio's popular character My Sweet Piano with a special merch collection that's now available to order until July 18, 2021.

My Sweet Piano Tote Bag | ¥5,049 (Tax Included)

My Sweet Piano Flat Pouch | ¥3,949 (Tax Included)

My Sweet Piano Pouch | ¥3,949 (Tax Included)

My Sweet Piano Plushie | ¥6,589 (Tax Included)

Inside print

My Sweet Piano is a soft, pink fluffy sheep and My Melody's best friend. Her birthday falls on July 6, and Maison de FLEUR is commemorating the occasion with a collection of four items coloured the same pink as the character including a bag, pouch, and more.

The girly line-up is fitted with pretty pink lace and branded with an illustration of both her and My Melody. There's also a fluffy plush toy which can sit cutely on a shelf, bed, desk, and anywhere else you want to add a bit of kawaii to your room.


ⓒ'21 SANRIO APPR.NO.L629257