Demon Slayer: Kimetsu no Yaiba Mug Lunch Boxes Feature the Characters' Names
Japanese hobby website AMNIBUS is now taking orders for its new collection of lunch boxes based on the TV anime series Demon Slayer: Kimetsu no Yaiba.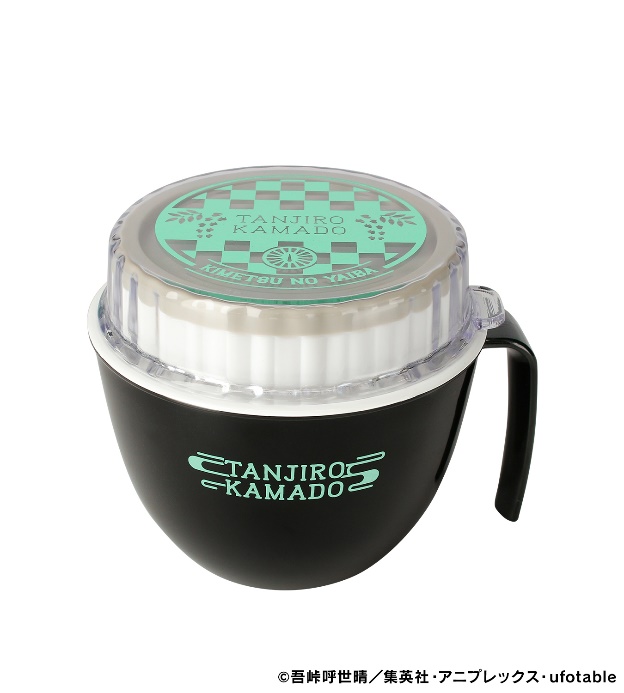 Mug Lunch Box | ¥3,000 (Before Tax)
The lunch boxes are designed to look like mugs, fitted with handles for easy holding. There are designs featuring the names of the main cast of characters including Tanjiro, Nezuko, Zenitsu, Inosuke, and more.
They separate into two sections so you can store a range of different foods and ingredients. Perfect for picnics, work lunch, events, and all occasions!
©吾峠呼世晴/集英社・アニプレックス・ufotable
RELATED ENTRIES
UNIQLO Kids' Holiday Loungewear Collection to Feature Demon Slayer Designs

Demon Slayer continues to be massively popular, and kids will be happy to know that a new collection featuring their favorite characters is coming! UNIQLO locations across Japan will release the Kids' Holiday Loungewear Collection on November 26, 2021. 

The new season of Demon Slayer is coming soon, and this new collection features many popular patterns worn by the series' characters. A special tote bag also features an illustration drawn by ufotable exclusively for this new collection. 

A limited-edition UNIQLO gift card design will also be available during the holiday season. Don't miss out on this collection that kids will love!

©吾峠呼世晴/集英社・アニプレックス・ufotable

Universal Studios Japan 20th Anniversary Christmas Event Opening November 26

The past two years have been difficult, with events being canceled and people having to spend more time inside. Universal Studios Japan is celebrating its 20th anniversary with a new Christmas event, hoping to bring back guests' smiles and offer a place to make new holiday memories. The event will run from November 26, 2021, until January 10, 2022. 

NO LIMIT! ~Happy Christmas!~

#USJ Amazing AR (Christmas ver.)

Winter Exclusive Food and Merchandise

Super Nintendo World

Demon Slayer: Kimetsu no Yaiba

The park will decorate Gramercy Park, found in the heart of the New York section, with a massive Christmas tree, the first to be erected in two years. Featuring different decorations than years past, the tree will be clad in 20th-anniversary colors and adornments and will be the perfect place to take a photo! Plenty of Christmastime entertainment and lights will illuminate the park, giving visitors plenty of hope for the upcoming new year. 

The singing show 'Power of Pop – Christmas Edition' will be held at Mel's stage, and guests can hear popular Christmas tunes sung live. The popular Super Nintendo World area of the park will be welcoming winter for the first time since its opening, with a new lineup of food and merchandise. 

A Demon Slayer: Kimestu no Yaiba collaboration event will also be going on until February 13, 2022. In addition, the Demon Slayer XR ride, the series' first VR roller coaster, themed restaurants featuring character meet-and-greets will also be open, as well as shops selling original Demon Slayer merchandise. 

For the park's 20th anniversary, the popular stage show NO LIMIT! will feature a special Christmas theme, with popular park characters clad in holiday costumes. The collaboration with popular girl's band NiziU has been a major hit so far and will feature their original song FESTA. This new revival is sure to have visitors dancing to the music!

A new Christmas-exclusive AR filter has been added to the park's official Instagram, so don't miss your chance to use it during your visit!

WIZARDING WORLD and all related trademarks, characters, names, and indicia are © & ™ Warner Bros. Entertainment Inc. Publishing Rights © JKR. (s21)
Minions and all related elements and indicia TM & © 2021 Universal Studios. All rights reserved.
© Nintendo
TM & © 2021 Sesame Workshop
© 2021 Peanuts Worldwide LLC
© 2021 SANRIO CO., LTD. APPROVAL NO.  EJ1102001
TM & © Universal Studios & Amblin Entertainment
©吾峠呼世晴/集英社・アニプレックス・ufotable
© Sony Music Labels Inc./JYP Entertainment.
TM & © Universal Studios. All rights reserved.

Information

Universal Studios Japan Christmas Program

Running: November 26, 2021 – January 10, 2022

NO LIMIT! ~Happy Christmas!~

Location: Gramercy Park

*Performances held 3 times a day until January 10, 2022. (Times will depend on date.) 

Official Site: http://www.usj.co.jp/

Demon Slayer Event Scheduled to Take Over Tokyo Skytree

Globally-beloved series Demon Slayer will take over the world's tallest tower starting October 21! The 634-meter spire will be periodically lit up in the image colors of the anime's main characters, and the Tembo Deck will be filled with photo spots, original merchandise, and a themed menu of dishes for fans. 

[1] Observation Shuttle

[2] Arrival Area

[3] Corridor

[4] Wraparound Area (1)

[5] Wraparound Area (2)

[6] Sorakara Point

Limited-Edition Light Purple Ribbon

Original Merchandise

*There will be a limit to the number of items that can be purchased. 

*Items available until sold out.

Guests spending ¥3,000 including tax will receive an original shopping bag. 

Original Photo Service

Original Paper Frame

Original Cafe Menu

Menu Purchase Bonus

Original Coaster Design available from October 21 – November 30, 2021

Original Coaster Design available from December 1, 2021 – January 20, 2022

SKYTREE ROUND THEATER Special Screening

*Video recording is prohibited.

Tokyo Skytree Mascot Sorakara Dressed as Nezuko

Special Illuminations

When guests step out of the elevator 450 meters above the ground, several members of the Demon Slayers Corps will be assembled to meet them at a photo spot. Ribbons the color of wisteria flowers will be available for visitors to write their wishes on, and they can be tied up to create a beautiful tree of prayers and hopes. Original merchandise, food, and photo spots will be available exclusively at Tokyo Skytree during the event. 

Every inch of Skytree's observation floor is decorated with Demon Slayer art. The inclining spiral section is covered with images of popular lines from the series written in calligraphy, and Skytree Round Theater will display a special animated sequence. Skytree's adorable mascot Sorakara will be clad in Nezuko cosplay to welcome guests, and anyone in Tokyo will be able to see the tower light up in various colors representing popular Demon Slayer characters.

©吾峠呼世晴/集英社・アニプレックス・ufotable ©TOKYO-SKYTREE

©吾峠呼世晴/集英社・アニプレックス・ufotable
©TOKYO-SKYTREE

Demon Slayer Game Adds Rui and Akaza as Playable Characters in First Free Update

The highly-anticipated Demon Slayer game is only a day away from launch! Demon Slayer: Kimetsu no Yaiba – The Hinokami Chronicles is hitting consoles and PC on October 14 in Japan and in Europe and North America on October 15. The first free update will be adding Rui and Akaza as playable characters with two more free updates coming sometime after launch. The announcement was published in this week's Weekly Shonen Jump. 

It's unclear exactly when the two characters will be added to Versus Mode, given that the first update doesn't yet have a release date. 

New Playable Characters Included with the First Free Update

Lower Rank 5, Rui 

Upper Rank 3, Akaza

Are you excited for these bad guys to make their appearance? 

©吾峠呼世晴/集英社・アニプレックス・ufotable ©「鬼滅の刃 ヒノカミ血風譚」製作委員会

Demon Slayer and J-League Team ALBIREX Collaboration Goods Now Available

A new collaboration is bringing sports and demon-slaying together! For the SPORTS2021 x Demon Slayer event, the popular series is partnering with three sports leagues: the NPB, J-League, and B.League. Goods are now available for the long-awaited collaboration between Niigata's ALBIREX soccer team and Demon Slayer, so sports and anime fans should snag some merchandise before it's all gone!

Items are available to pre-order online now until 2:00 on September 27, 2021. 

ALBIREX x Demon Slayer T-Shirt: ¥3,600 (Tax Included)

ALBIREX x Demon Slayer Face Towel: ¥2,100 (Tax Included)

ALBIREX x Demon Slayer Mini Towel: ¥600 (Tax Included)

ALBIREX x Demon Slayer Ribbon Magnet: ¥1,980 (Tax Included) 

ALBIREX x Demon Slayer Mug: ¥1,800 (Tax Included) 

Don't miss out on these one-of-a-time items!

Experience the World of Demon Slayer with New AR Experience from au

Starting September 23, Japanese cell phone company au will be releasing a new collaborative project with the globally popular Demon Slayer: Kimetsu no Yaiba series! 

The new experience will allow users with a smartphone to transform into characters from the show, and reenact popular battle scenes from both the anime series and film. The collaboration is taking place to celebrate the return of the series in 2021 for it's second season. 

Demon Slayer x au AR Experience

Augmented Reality: Become Your Favorite Character!

Using a special Instagram AR filter, users can mix different backgrounds and effects from the Demon Slayer series to make it feel as though you're a part of the action!

Famous Quotes from the Series

By pressing a button on the special collaboration site, users can enjoy a collection of 45 random vertical videos featuring their favorite characters saying their famous lines. Take a screenshot of these clips and use one as your wallpaper!

Online Puzzle Game Escape Mission: Escape from the Mugen Train

In this fun escape game, users become a member of the Demon Slayer Corps sent to the Mugen Train to help rescue passengers. 

©吾峠呼世晴/集英社・アニプレックス・ufotable

*「煉獄」の「煉」は「火+東」が正しい表記となります。

Globally Popular Anime Demon Slayer: Kimetsu no Yaiba To Collaborate With New Era

NEW ERA, an international headwear brand, has released a collaborative collection with the hugely popular Demon Slayer: Kimetsu No Yaiba anime, based on the manga by Gotouge Koyoharu. The collaboration will be available in NEW ERA® STORE's nationwide and online from August 19, 2021. 

The lineup is made up of 37 different items, with many themed around characters from the show or featuring the logo.

Demon Slayer: Kimetsu No Yaiba Collaboration page: https://www.neweracap.jp/collections/demonslayer


If you're a Demon Slayer fan then make sure to check out this special collaboration!

Information

Demon Slayer: Kimetsu No Yaiba x NEW ERA

Availability: NEW ERA® STORE nationwide & online

Official Site: https://www.neweracap.jp 

Demon Slayer: Kimetsu no Yaiba – The Hinokami Chronicles Gets Second Visual

The second visual for the upcoming fighting game Demon Slayer: Kimetsu no Yaiba – The Hinokami Chronicles was released in the newest issue of Weekly Shonen Jump on August 10, 2021. 

The second visual drawn by ufotable, the animation studio behind the Demon Slayer: Kimetsu no Yaiba anime series

Game Screenshots from Tsuzumi Mansion on Single-player Mode






The new visual features the playable characters available in Versus Mode, with some not having been seen in the first visual. Those who preorder the game can receive a special limited-quantity ufotable A4 sized clear file, with the first visual printed on the front and the second printed on the back. 

Along with the visual, some new screenshots from Single-player Mode in the Tsuzumi Mansion were also released, and fans were excited to see some images of store-specific purchase perks uploaded on the official website. 

Look forward to Demon Slayer: Kimetsu no Yaiba – The Hinokami Chronicles, releasing on October 14, 2021!

*Playstation® is a registered trademark of Sony Interactive Entertainment Inc.
*Steam and the Steam logo are trademarks or registered trademarks of Valve Corporation in the United States and/or other countries. Steam and the Steam logo are trademarks or registered trademarks of Valve Corporation in the U.S. and/or other countries. Microsoft, Xbox Series X, Xbox Series S, Xbox One, and the Xbox logo are trademarks or registered trademarks of Microsoft Corporation and/or its affiliates.

Video Distribution Service dTV Announces Viewer Rankings for First Half of 2021

Streaming service dTVⓇ has announced its overall viewer ranking for the first half of 2021. Did your favorite shows make the cut?


Jujutsu Kaisen

Tokyo Revengers

Demon Slayer: Kimetsu no Yaiba

Attack on Titan The Final Season

Kimetsu Academy 

dTV First Half Viewer Ranking 2021

Jujutsu Kaisen

(Anime) 

Detective Conan: The Scarlet Bullet

(Anime Film)

Tokyo Revengers

(Anime)

Demon Slayer: Kimetsu no Yaiba

(Anime)

Attack on Titan The Final Seaso

n (Anime)

Furuhata Ninzaburo

Season 1 (Drama)

Detective Conan

(Anime)

Alita: Battle Angel

(Western Film)

Kimetsu Academy

(Anime)

BTS JAPAN OFFICIAL FANMEETING VOL.5 [MAGIC SHOP] (Special)


The first and second seasons of Tozaburo Furuhata are no longer available. Season 3 is out now. 

Pulling in the most views between January and July was Jujutsu Kaisen, the popular anime series following high-schooler Yuji Itadori and his struggle with curses and sorcery. The show took the top spot by a huge margin, sitting at number one for four consecutive months between January and April. What makes it so popular? It could be its blend of horror and comedy, making it an attractive watch for all kinds of anime fans. 

In second place, Detective Conan: The Scarlet Bullet. Who is Shuichi Akai, and what was his involvement in the disaster at the World Sports Games? This is the 24th Detective Conan film, and not one to miss, grossing over $20 million and holding the title of the third highest IMAX opening in Japanese history. 

Rounding out the top three, anime series Tokyo Revengers tells the story of a delinquent with the ability to travel back in time. When his lover is murdered, Takemichi Hanagaki goes back to his junior high school days, intent on saving her life. Airing on dTV beginning in April, viewership has steadily increased, reaching #3 in May and hitting the top spot in June. 


 

Unsurprisingly, two internationally beloved series also made the top ten. Demon Slayer: Kimetsu no Yaiba and Attack on Titan The Final Season sit in fourth and fifth place, making the top five an anime-only club. Kimetsu Academy, a junior and senior high-school spinoff of Demon Slayer sits at number nine, even though episodes are less than two minutes long on average. Never underestimate the power of animation!

The classic 1994 drama series Furuhata Ninzaburo began to climb the rankings after the death of Masakazu Tamura in April this year from heart failure. Though seasons one and two are no longer streaming on the service, season three was just added to the catalogue on August 1!

Hollywood epic Alita: Battle Angel, an adaptation of the sci-fi manga series, was the only western film to crack the top ten. BTS JAPAN OFFICIAL FANMEETING VOL.5 [MAGIC SHOP], which included footage of a special event with fans at the popular KPOP group's last show at Kyocera Dome Osaka in 2019, finishes out the list. 

While these ten might have drawn the most views, there are plenty of other films, concerts, dramas and anime series available on dTV, so be sure to check them out!

Demon Slayer: Kimetsu no Yaiba T-Shirt Collection Releases at Animo

Japanese anime and manga merch website Animo is selling a limited-edition collection of t-shirts based on the characters from Demon Slayer: Kimetsu no Yaiba. The line-up of six tees is available to buy until July 22.

Tanjiro Kamado Long Sleeve T-Shirt | ¥3,900 (Before Tax)

Zenitsu Agatsuma Long Sleeve T-Shirt | ¥3,900 (Before Tax)

Kyojuro Rengoku Long Sleeve T-Shirt | ¥3,900 (Before Tax)

Tanjiro Kamado Big Silhouette T-Shirt | ¥4200 (Before Tax)

Zenitsu Agatsuma Tanjiro Kamado Big Silhouette T-Shirt | ¥4200 (Before Tax)

Kyojuro Rengoku Tanjiro Kamado Big Silhouette T-Shirt | ¥4200 (Before Tax)

© 吾峠呼世晴/集英社・アニプレックス・ufotable

VR Demon Slayer Ride to Open at Universal Studios Japan in September

Universal Studios Japan has announced the opening of a new XR ride based on the anime and manga series Demon Slayer: Kimetsu no Yaiba. Set to run from September 17, 2021 to February 13, 2022, the ride will incorporate the use of VR technology to make guests feel like they are onboard the Mugen Train from the series' anime film adaptation.

On the ride, riders will see images and voices of the series protagonist Tanjiro Kamado as well as other characters such as Kyojuro Rengoku who is a major character in Demon Slayer: Kimetsu no Yaiba the Movie: Mugen Train.

Another rollercoaster at the park called "Hollywood Dream The Ride" will also feature Demon Slayer, with fans able to hear the voices of Kamado and Rengoku as if they are all experiencing the coaster together. Two stories will be told across two periods, each featuring comical dialogue.

©吾峠呼世晴/集英社・アニプレックス・ufotable TM & © Universal Studios. All rights reserved.

Information

Demon Slayer: Kimetsu no Yaiba XR Ride

Running: September 17, 2021 to February 13, 2022

Demon Slayer x Hollywood Dream The Ride

Running: September 17, 2021 to February 13, 2022

・1st Story: September 17, 2021 – November 7, 2021
・2nd Story: November 8, 2021 – February 13, 2022

Demon Slayer Rally

Running: September 17, 2021 to February 13, 2022

Price: ¥1,200 (Tax Included)

Official Website: https://www.usj.co.jp/web/en/us

Demon Slayer: Kimetsu no Yaiba's Nezuko Gets Embroidered Work Shirt Release

The Japanese online anime and manga merchandise website Animo is now taking orders for a work shirt inspired by Nezuko Kamado from the anime and manga series Demon Slayer: Kimetsu no Yaiba until July 22.

The front of the shirt features Nezuko's name in Kanji and romaji while the back features a large embroidered design of the character with the words 'PROTECT HUMANS!'

©吾峠呼世晴/集英社・アニプレックス・ufotable

Information

Demon Slayer: Kimetsu no Yaiba Nezuko Kamado Embroidered Work Shirt
Order Window: July 7, 2021 – July 22, 2021
Price: ¥15,180 (Before Tax)
Product Page: https://animall.jp/products/4549970199506