Cat Themed Beauty Tool Series 'Nyarming' Releases in Japan With Cute Feline Designs
Kai Corporation released its new cat-themed beauty tool series Nyarming in Japan on Monday (March 15) at drugstores, home centres, and elsewhere.
Cat-lovers' beauty routines are about to get even more exciting
The collection comes as the next rendition of Nyammy, a cookware brand by Kai Corporation in February 2017 with cat designs. The series has sold over 900,000 units since its release. Nyarming is the newest entry to Kai's cat line-up with nine cute beauty tools that any cat lover will go feline-feral for.
The Nyarming Collection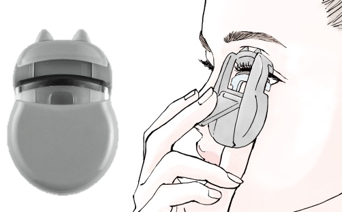 Cat Eyelash Curler | ¥715 (Tax Included)
A cute eyelash curler featuring a round body and cat ears, paying respect to our beloved kitties without being too obvious about it. But these cat ears aren't just for show – they help put your eyelids up so you can catch the hairs from the eyelash hairline properly. The curler is a compact size, just 7cm.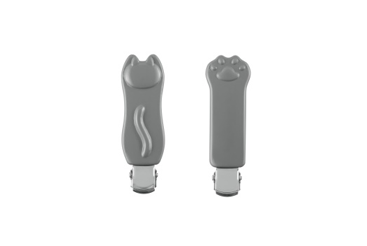 Cat Fringe Clip | ¥400 (Tax Included)
Tie your fringe up with this adorable cat paw clip. Perfect for when you're doing your makeup, working at the desk, and pretty much any situation.
Cat Hairbrush | ¥660
This cat paw hairbrush features a soft paw-like cushion lined with brush bristles which stimulate the hair and scalp. Great for when you need to brush your hair before shampooing or if you're going to blow dry or style it.
Cat Makeup Brush | ¥1,210 (Tax Included)
A cute cat paw makeup brush for applying foundation and blush. The paw takes on the colour of the product you use, making it look even cuter.
Cat Hair Turban | ¥1,045 (Tax Included)
A simple but high quality hair turban that can be conveniently used for applying makeup, washing your face, or relaxing at home.
This is just a select look at a long list of products available in the new Nyarming series – check out Kai's official website for more info.
RELATED ENTRIES
NiziU Feature in Skin Type Friendly Face Mask Collection Promo

Japanese girl group NiziU are set to feature in a new television commercial for LOHAS Pharmaceutical's "ALFACE+" cosmetic face masks which will roll out in Japan on July 1.

ALFACE+ is a skincare brand that sells products that are not only moisturising but accessible to a variety of skin types too. Their face mask collection includes 10 different designs, all of which are presented by each of the nine NiziU members.

NiziU have stepped away from their usual energetic look for this shoot, instead serving more grown-up vibes.

Cute Cat-Shaped Mango Cheesecake Arrives at Neko Neko Cheesecake

Neko Neko Cheesecake released its new seasonal 'Neko Neko W Cheesecake Mango' on Tuesday. Neko Neko Cheesecake is a sister brand of Neko Neko Shokupan by the same company, ALL HEARTS COMPANY, which serves cat-shaped bread.

Neko Neko W Cheesecake Mango | ¥2,430 (Tax Included)


The cute cheesecake is packed full of seasonal mango in the form of a mango and passion fruit sauce layered on top of the biscuit base. The cake is topped with fresh mango, lending a juicy and refreshing flavour to the sweet and tangy cake.

This tropical mango delight is one of many delicious cakes by Neko Neko Cheesecake. Be sure to check out our other coverages on the shop.

Tokyo Mew Mew New Anime Cast Music Group Smewthie Performs Live

In promotion of the upcoming new anime series adaptation of Tokyo Mew Mew New, which is releasing in 2022, the cast hosted an event titled '2nd MEW♡ting' on Saturday May 22 where they read their lines aloud to fans.

The event was held on the same date as Masaya Aoyama's birthday – the male love interest of the series protagonist Ichigo Momomiya. There was a section of the event where Ichigo spoke about the cake she made for Aoyama the day before.

This was Smewthie's first event with a live audience. They performed full versions of bitter sweet darling and Resolution of colors for the first time, amongst other fun things such as a segment similar to a Japanese variety show.

'bitter sweet darling' was the group's first single

Smewthie「bitter sweet darling」Music Video


Smewthie「bitter sweet darling」Dance Performance Video


bitter sweet darling: Track Download ¥250 / Full Single Download ¥1,350 / His-Res Track Download ¥400 / Hi-Res Full Single Download ¥1,800

bitter sweet darling is available on music streaming and download services.

Will you be watching Tokyo Mew Mew New when it airs next year?

©征海美亜・吉田玲子・講談社/「東京ミュウミュウにゅ~」製作委員会
©征海美亜・吉田玲子/講談社

Neko Neko Shokupan x Samansa Mos2 Clothing Collaboration Released

Fashion brand Samansa Mos2 joined paws with the cat-themed bread and pastry store Neko Neko Shokupan to release their first collection together at Samansa Mos2 stores and the online store CAN ONLINE SHOP on May 14.

The Line-Up

Half-Sleeve Photo Print T-Shirts
Colours: Off-White/Unbleached/Beige
Price: ¥3,190 (Tax Included)

Half-Sleeve Monogram Print T-Shirts
Colours: Off-White/Yellow/Brown
Price: ¥3,190 (Tax Included)

Half-Sleeve Back Print T-Shirts
Colours: Off-White/Yellow/Brown
Price: ¥3,190 (Tax Included)

Back print tee design

Shokupan Print Hoodie
Colours: Beige/Khaki
Price: ¥4,290 (Tax Included)


Kid's Line

Photo Print T-Shirt
Colours: Off-White/Yellow
Price: ¥2,530 (Tax Included)

French Flare T-Shirts
Colours: Beige/Khaki
Price: ¥2,530 (Tax Included)

Miscellaneous

Embroidered Canvas Tote Bag
Colours: Unbleached/Beige
Price: ¥3,850 (Tax Included)

Handkerchief
Colours: Beige/Purple
Price: ¥660 (Tax Included)

Reversible Shoulder Pouch
Colours: Beige/Khaki
Price: ¥3,190 (Tax Included)

Bottle Holder
Colours: Beige/Khaki
Price: ¥2,750 (Tax Included)

Mobile Ring Holder
Colours: Beige/Grey
Price: ¥1,650 (Tax Included)

Neko Neko Shokupan are known for their rich and milky cat-shaped bread which uses milk and zero water. They're a hugely popular bakery brand who often find themselves across social media pages including Instagram. This marks their first collaboration with Samansa Mos2 who celebrate their 35th anniversary this year.





The collection features key visuals taken from the Neko Neko Shokupan brand. Items include a variety of tees and hoodies as well as other miscellaneous must-grabs like tote bags, handkerchiefs, bottle holders, and more. There's even a children's line-up as part of Samansa Mos2's kid brand Samansa Mos2 Lagom so parents and their children can coordinate cute matching outfits.





Look felinely-fashionable this summer with the Samana Mos2 x Neko Neko Shokupan collection.

 

Neko Neko Shokupan, a Japanese company that makes cat-shaped bread, is releasing a new limited-time blueberry flavour for the entire month of June at all branches.

Neko Neko Shokupan Blueberry | Single Slice ¥842 (Tax Included)

Their bread arrangements are super popular

The June-exclusive blueberry bread uses blueberry jam in the dough. One bite fills your taste buds with sweet and fruity ecstasy. It can be enjoyed as it is, or made even more delicious by toasting and adding a spread of butter which elevates the sweetness of the blueberry even more.

The cat-shaped bread, which is made with milk, can be decorated with chocolate pens and other decorations to create a unique and original design. Their bread arrangements are super popular on social media. Perfect as a sweet treat to yourself or a gift to someone.

If you're in Japan this June, don't miss out!

Information

Neko Neko Shokupan Blueberry

Price: Single Slice ¥842 (Tax Included)

Available: At all Neko Neko Shokupan branches

Official Website: https://nekoshoku.allhearts.company

MAC Reveals Disney's Cruella de Vil Makeup Collection

MAC Cosmetics is set to launch its new "Cruella" makeup collection inspired by the Disney villain and fashion icon Cruella de Vil from the Disney classic 101 Dalmatians on May 13, 2021. The collection arrives ahead of the upcoming live-action movie Cruella which is set for release on May 28, 2021.

Disney Cruella Collection by MAC

The collection features nine products that bring to life the Disney villain's look, whose origin story about aspiring to become a fashion designer will be portrayed by Emma Stone in the upcoming movie which is set in '70s London during the height of the punk rock era. The line-up combines punk reds with metallic colours, and everything comes packaged in tubes and palettes bearing Cruella's instantly-recognisable black and white colour combo.

Terry Barber, the Director of Makeup Artistry at MAC, said: "With there being such a huge trend for recycling the more niche counterculture moments of previous decades, this collection feels like MAC returning to a celebration of the kind of DIY styling and brave transformation that originally made it such a maverick brand."

A Look at the Collection

MATTE LIPSTICK | $21

A rich matte lipstick formula with high-colour payoff and a creamy matte finish in three Cruella-inspired shades.

RETRO MATTE LIQUID LIPCOLOUR | $25

A liquid lipstick that provides a rebellious rush of Disney's Cruella-inspired colour in a velvety, mattest-matte finish.

PRO LONGWEAR DUAL ENDED EYE LINER | $26

A long-lasting, dual-ended eyeliner featuring creamy, dense colour that glides smoothly across lids.

POWDER BLUSH DUO: CRUEL-LA INTENTIONS | $31

A Cruella-inspired blush duo that provides fantastic colour with ease and consistency.

76 SUPERMODEL LASH | $18

A limited-edition pair of backstage-favourite lashes featuring wispy, full volume for a runway-ready look.

EYESHADOW X 8: CRUELLA TO BE KIND | $45

A magnetic two-piece eye palette packed with a wondrous wave of eight statement shades inspired by the most iconic looks of Disney's Cruella.

The full collection will drop worldwide this Thursday at MAC.

©2021 Disney

SHIRO Reveals New Cosmetic Items For Summer 2021

Japanese cosmetic brand SHIRO is set to release its Ice Mint Body Mist, Ice Mint Body Lotion, and all-new Ice Mint Clay Hand Soap as part of its limited-edition Ice Mint fragrance series online on May 27 before the products head to stores on June 10.

Ice Mint Body Mist | ¥1,980 (Tax Included)


Ice Mint Body Lotion | ¥2,530 (Tax Included)


Ice Mint Clay Hand Soap | ¥2,200 (Tax Included)

The refreshing products arrive in time for the summer season for cooling down on those hot and humid days. Each is imbued with ethanol and refreshing mint for that relieving feeling of refreshment.


Information

SHIRO Ice Mint Series

Online Release Date: May 27, 2021 @ 10:00am (JST)

In-Store Release Date: June 10, 2021

Official Website: https://shiro-shiro.jp/

Hello Kitty x INTERGRATE Design Cosmetics Releasing This Spring

Shiseido's self-makeup brand INTERGRATE is set to release select beauty products with limited-edition Hello Kitty packaging on May 21. The theme of the collection is Meet "LOVELY." In the run up to its release, Hello Kitty cans can enjoy three filters of the popular Sanrio character over on INTERGRATE's official Instagram page.

INTERGRATE Limited-Edition Pro Finish Foundation Special Set K (2 Types) | ¥1,430 Each (Tax Included)

Colour palette

INTERGRATE Limited-Edition Pro Liquid Special Set K | ¥1,760 Each (Tax Included)

Colour palette

INTERGRATE Limited-Edition Water Jelly Crush Special Set K (2 Types) | ¥2,200 Each (Tax Included)

Colour palette

INTERGRATE Limited-Edition Triple Recipe Eyes Special Set K (2 Types) | ¥2,200 Each (Tax Included)

Colour palette

The limited-edition designs feature Hello Kitty and her cute friends who are ready to help you apply your makeup. The collection focuses on three each of INTERGRATE's iconic foundations and eye shadows. This includes the Pro Finish series which has foundation in a compact case, durable liquid foundation, and water jelly crush. Pick from three foundations too which come in a triple set. For this limited-edition collaboration, you can enjoy the pink PK704 and brown BR703, both of which are popular colours.

NiziU Feature in Commercial for KOSÉ's Makeup Fix Product Make Keep Mist EX

KOSÉ rolled out their new commercial in Japan on April 15 for their makeup fix mist product Make Keep Mist EX. The commercial features Japanese music group NiziU along with their new song I AM.

I AM was written specifically for this commercial, which has the NiziU members performing the "mist dance" showing how to use the product. The commercial emphasises how well the Make Keep Mist EX keeps makeup applied to one's face without worrying about it coming off.

The NiziU members released this comment with regards to the product and commercial: "Applying makeup can be a real pain when wearing a face mask, so we use this all [product]! We'd love for you to do this dance while you apply your Make Keep Mist!"

If you're wondering how the shoot went for this commercial, check out the official story released below. 

The Commercial Shoot

The NiziU members entered the studio dressed in full-pink spring suits. They rolled up to the studio's blue set where they looked super cute and readied themselves for the shoot.

 

The take-away from this commercial is the new Mist Dance which has the nine members lined up beautifully together as they spray the mist on their face simultaneously to the tune of the music. It's reported that it took them a while to get it down perfect at first, but after some practice and looking at the monitor, they were able to create something iconic.

"Do it like RIO!" instructed the shoot's director, which prompted RIO to show the other members how it's done.

 

During their break, the other members complimented MAKO's blonde hair and MAKO's blue tips, and MIIHI stroked RIKU's dango hair while saying "Looky here, ice cream! Looks delicious."

In one part of the dance, the members have to go all out and use their whole bodies. They switch up their formations several times and not once did they bump into each other. The members gave tips to each other too, like MAYUKA suggesting a better position during one formation, and RIMA asking which angle looks more beautiful for a certain move in relation to the camera. The result was an incredible display that was shot in one take, resulting in a round of applause from the studio staff.

Check out the commercial below.

Make Keep Mist EX

The new EX version of Make Keep Mist has stronger holding power to keep makeup smudge-free and looking fresh and beautiful all day. The product is available in a normal size and smaller 'trial' size. A new cool type, Make Keep Mist EX Cool, was released on April 16.

 

Make Keep Mist EX ¥1,320 / Make Keep Mist EX Trial Size ¥880 / Make Keep Mist EX Cool ¥1,320 (Tax Included)

Information

KOSÉ x NiziU Make Keep Mist EX Commercial

Initial Broadcast: April 15, 2021

Product Available: KOSÉ / Maison KOSÉ / Drugstores, online, and elsewhere in Japan

Official Website (English): https://www.kose.co.jp/makekeepmist/eng/

Neko Neko Cheesecake Releases New Cat-Shaped Mikan Orange Flavoured Cake

Neko Neko Cheesecake is set to open pre-sales for its new Nyan Cheese Mikan cheesecake at Pastel branches of Neko Neko Cheesecake on April 22 before rolling it out at all Neko Neko Cheesecake branches.

Neko Neko Cheesecake is a sister brand of Neko Neko Kuu Pan from the same company which serves cat-shaped bread.

Nyan Cheese Mikan | Single Slice: ¥237 (Tax Included)

Nyan Cheese Mikan | Box of 4: ¥1,080 (Tax Included)

The cheesecake is made with Brie de Meaux, aka the king of cheeses, and cooked at a high temperature to add a gorgeous browned surface. They contain rich juice from mandarin oranges to give them a refreshing kick perfect for the spring season. A perfect snack or post-dinner dessert.

Japanese Organic Cosmetic Brand SABON to Open Green Pop-Up Shop in Shinjuku

Japanese natural and ethical cosmetic brand SABON is set to promote its line-up with the opening of its Blissful Green Limited Collection Pop-Up Shop at Isetan Shinjuku on April 14.

The pop-up shop serves as a promotional space and pre-sale opportunity for the brand's upcoming Blissful Green Limited Collection which incudes body scrub, body lotion, shower oil, and more. The collection invites people to a luxurious, natural self-care and shower-time experience. The brand will also hold a four-day calligraphy service for the spring season where customers can buy the items as gifts and include a special message.

Calligraphy Service

Customers who spend over ¥12,000 (tax included) can have a special sticker or gift card penned by a professional calligrapher who will write a name and gift message. Full details here in Japanese.

 

Dates/Times

April 16, 2021 @ 13:00-18:00

April 17, 2021 @ 16:00-20:00

April 24, 2021 @ 13:00-18:00

April 25, 2021 @ 13:00-18:00

Blissful Green Limited Collection

The Blissful Green Limited Collection is the embodiment of the SABON brand and offers thanks to the joy we feel being surrounded by nature. It captures the clean air inhaled in the forest, the gentle light filtering through the trees, and the coming-together of the mind, body, and nature. It includes body, face, and home items all packaged inside gorgeous bottles and tubs.

Information

SABON Blissful Green Limited Collection Pre-Release Pop-Up Shop

Running: April 14, 2021 – April 27, 2021

Where: SABON Isetan Shinjuku

Address: 3-14-1 Shinjuku, Shinjuku-ku, Tokyo

Opening Hours: 10:00-20:00

Product Page: https://www.sabon.co.jp/special_contents/Blissful_Green/

Kyary Pamyu Pamyu's Fragrance Brand Nostalgia Syndrome Releases Lily & Jasmine Series

Nostalgia Syndrome opened pre-orders for its new Lily & Jasmine series of fragrances on March 31. The products will be released on April 22.

Nostalgia Syndrome is a fragrance brand produced by Kyary Pamyu Pamyu which launched last year. The new Lily & Jasmine series will be available to purchase online and will also be sold at two brand pop-up shops in Tokyo and Osaka. Those who spend over ¥10,000 online or at either of the stores (tax included) will receive a free Nostalgia Syndrome novelty – these are available in limited supply.

Online Store Novelty: Original Thermal Bottle

Pop-Up Store Novelty: Original Big Eco-Bag

Lily & Jasmine Series

Eau de Toilette | ¥8,250 (Tax Included)

Room & Fragrance Spray | ¥3,300 (Tax Included)

Aroma Diffuser | ¥7,150 (Tax Included)

Bath Salts | ¥3,410 (Tax Included)

Hand Soap | ¥3,520 (Tax Included)

Scented Candle | ¥8,140 (Tax Included)

Eau de Toilette Two-Set (9mL)

Kyary Pamyu Pamyu | Comment

"This is Nostalgia Syndrome's second fragrance release. After mixing together various ingredients, I was finally able to catch the right scent. The theme for this one is 'travel fragrance.' Because of COVID, our time spent outdoors has gone down dramatically, but smells tied to our memories make up part of us all. And smelling them brings back those memories. This is a blend of sweet, sophisticated lily and refreshing jasmine, so it's a really easy one to use that can be enjoyed by both guys and girls. We're also opening our first pop-up shop so please be sure to drop by to try out!"

Lily and jasmine are vibrant fragrances and perfect for the spring season. Order yours today!

Information

Nostalgia Syndrome Lily & Jasmine

Pre-Orders: March 31, 2021 (Shipping from April 22)

Release Date: April 22, 2021

Pop-Up Stores

・+SPBS (SHIBUYA SCRAMBLE SQUARE 2F)

Running: April 22, 2021 – May 26, 2021

Where: +SPBS, SHIBUYA SCRAMBLE SQUARE Floor 2F, 2-24-12 Shibuya, Shibuya-ku, Tokyo

Opening Hours: 11:00-21:00

・Shinsaibashi PARCO

Running: May 13, 2021 – May 20, 2021

Where: Shinsaibashi PARCO Floor B1F, 1-8-3 Shinsaibashisuji, Chuo-ku, Osaka-shi-, Osaka

Opening Hours: 10:00-20:00

Nostalgia Syndrome Official Website: https://www.nostalgia-syndrome.com/