'Ugly Wardrobe' Installation Created From Surplus Garments from Shibuya Fashion Week
Sustainable fiberboard manufacturing company PANECO® has teamed up with the creative collective group 'h220430' to create the Ugly Wardrobe.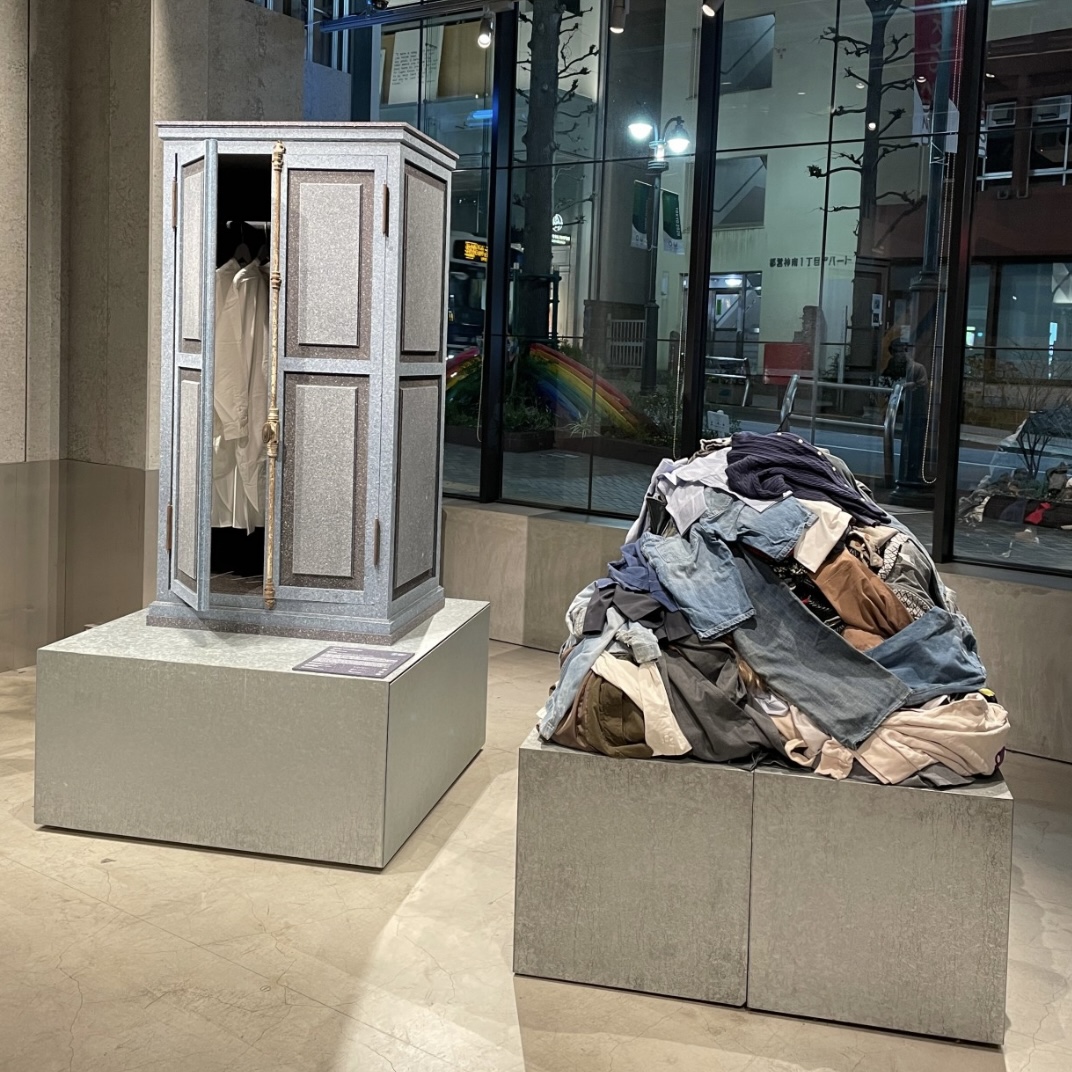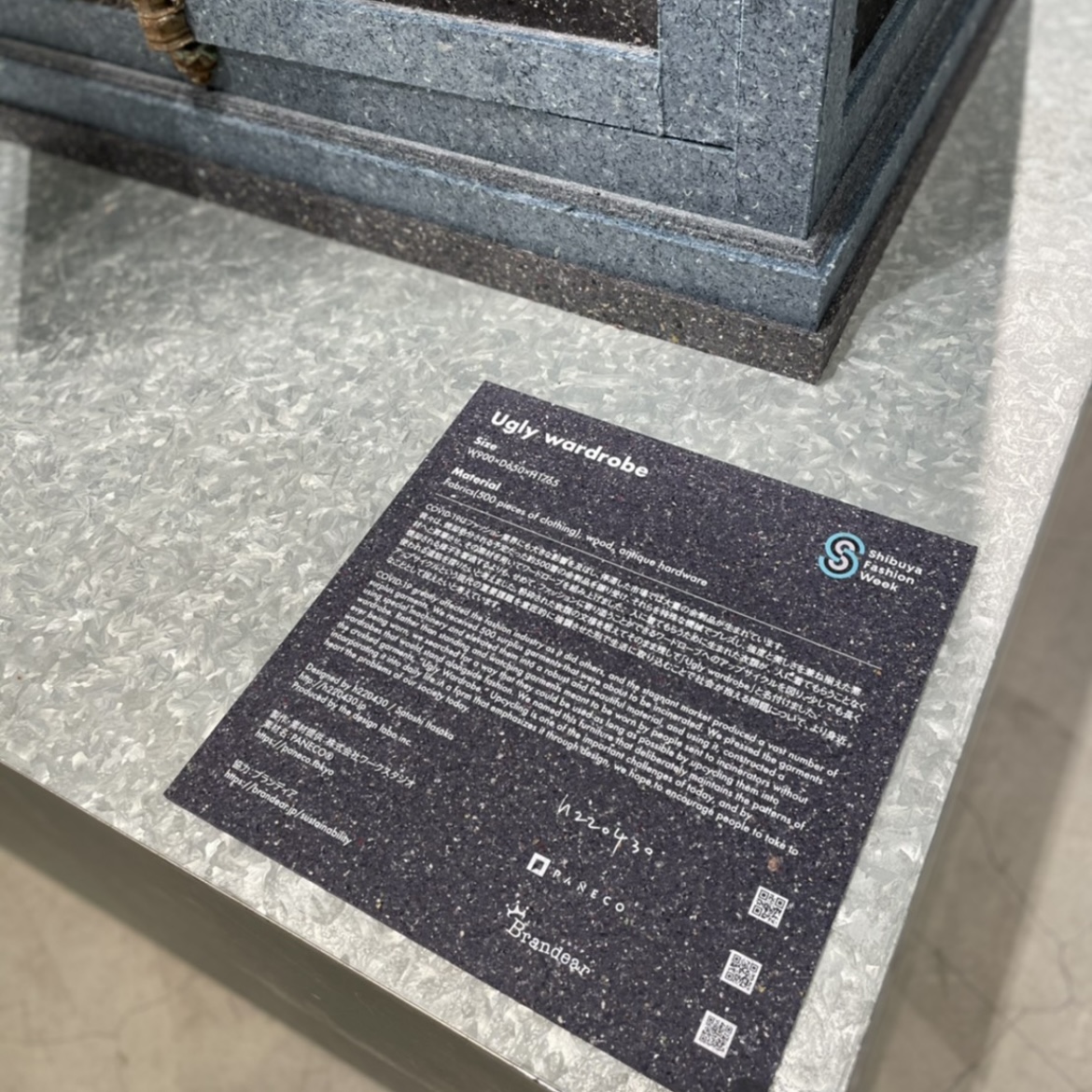 h220430 is a collective of creators focused on designing furniture, lighting, and other interior pieces. With their work, they hope to make people rethink and act against a string of international problems such as deterioration of the global environment and world conflicts.
PANECO® seeks to reduce waste clothing and help create a circular economy with their innovative fiberboard which can be used to make furniture, displays, and many other products.
COVID-19 greatly affected the fashion industry as it did others, and the stagnant market produced a vast number of surplus garments. PANECO® received 500 surplus garments that were about to be incinerated. They pressed the garments using special machinery and elevated them into a robust and beautiful material, and using it, constructed a wardrobe. Rather than watching them be incinerated without ever being worn, they found a way that they could be used as long as possible by upcycling them into wardrobe that would stand alongside fashion.
RELATED ENTRIES
Karimoku Furniture Releases Item Inspired by Disney's Twisted Wonderland "Mirror of Darkness

Karimoku Furniture has started taking orders for items inspired by the Mirror of Darkness from the smartphone game Disney's Twisted Wonderland, which features characters inspired by the villains that adorn Disney's works (Villains), from December 18, 2021.

Karimoku Furniture has been developing the latest woodworking technology research and applications at its own factories for a while now, with the aim of improving the quality and value of wooden furniture. Don't miss out on this unique item, which features the "Disney Twisted Wonderland" logo on the back of the mirror and on the packaging.

ⓒDisney

Artist Maki Ohkojima Collaborates with UpcycleLino to Create Sustainable Items

Artist Maki Ohkojima is inspired by life and the environment. UpcycleLino is creating completely recyclable products that produce zero waste. It makes sense that these two would collaborate, and their new items ask people to think more about their relationship with nature. With a theme of 'circulation,' these items will be on sale at participating shops around Japan and online. 

UpcycleLino × MANDALĀJU Big Band Collared Shirt

UpcycleLino × MANDALĀJU Sketched Tote Bag

UpcycleLino × MANDALĀJU Scarf

The 'Tree of Life' project is inspired by the theme of coexistence between the environment and all living things. It is important to protect limited resources for future generations. UpcycleLino is a completely sustainable company, using fabric scraps from other projects to create brand new clothes. 

People, animals, insects, plants, and all other living things exist in the circle of life, and this is the message conveyed through Maki Ohkojima's art. What can we do to better coexist with the planet? 

©角川武蔵野ミュージアム

Information

Kadokawa Musashino Museum 'Maki Ohkojima Art Exhibition – Perforated Spiral' 

Date: October 8, 2021 ~

Address: Kadokawa Musashino Museum (3-31-3 Higashi Tokorozawa, Saitama)

Hours: Sunday-Thursday: 10:00-18:00 (Last Entry at 17:30) / Friday, Saturday: 10:00-20:00 (Last Entry at 19:30)

Official Site: https://kadcul.com/

Collaboration Items

October 8, 2021~

Where to Buy: 

Kadokawa Musashino Museum Shop

nest Robe: https://store.nestrobe.com/nestrobe/ / CONFECT Online Shop and the following shop locations: Omotesando, Ginza, KITTE Marunouchi, Takasaki, Umeda, Kyoto, Nagoya, Okayama, Hiroshima, Fukuoka, Osaka Takashimaya

10-Day Sustainability Themed Event 'Love Earth, Love Us' to Open at Sendai PARCO

Sendai PARCO will begin a 10-day event focusing on the idea of sustainability starting September 17 and concluding September 26, 2021. 'Love Earth, Love Us' will highlight sustainability-related products and services available at the shops within Sendai PARCO, and a web page has already been opened to get people thinking about this important subject. Those purchasing or using any of these products and services will receive certain added bonuses, as a way to raise awareness and give back to those making an effort to support the health of the planet. 

The main visual used in promoting the event was drawn by Toshiya Nakashima, and depicts Mount Vinicunca in Peru, often called Rainbow Mountain. The drawing was commissioned by Heralbony, an art gallery featuring pieces by those with intellectual disabilities, who will also hold a limited-time pop-up shop inside Sendai PARCO during the event. The shop will sell unique items, including hand towels featuring this gorgeous portrait of Rainbow Mountain, so don't miss out!

Japanese Lifestyle Brand athletia to Launch in UK in October

Eco-friendly Japanese skincare and lifestyle brand athletia will release its products in the UK market this October. The UK version of the brand's website, including an e-shop, is planned to be available to consumers on October 6.

athletia was launched by Kao Group's cosmetics manufacturer e'quipe in February 2020, and prides itself on using only environmentally friendly ingredients, containers, and packaging.

At the time of launch, the company will adopt the DTC model, concentrating on e-commerce and social media in order to show transparency and build trust within the community. During the following year, athletia aims to specifically include other companies' e-commerce sites in its sales strategy, due to the changes the retail world has experienced due to COVID-19.

European consumers have high standards when it comes to sustainable products, social contributions, and corporate transparency, and athletia is confident it can meet the level of excellence needed for further growth in the region. Using the UK as a foothold, athletia plans to expand to other European countries within three years.

The Meguriwa Exhibition to Touch on Sustainability in Japan

Meguriwa, a project promoting sustainability in Japan, will hold a two-day market and exhibition on November 12-13, 2021. The venue for the event isn't a large convention center, but rather an old house forgotten by time in southern Shibuya, surrounded by new development. The space blends traditional Japanese atmosphere with a modern Western style, and promises a sense of nostalgia to all who attend. 

The event will bring together a large collection of artwork, products, and materials from creators and companies all over Japan who focus on recycling-centric creation. This includes products made from wood sourced from forest thinning, as well as those using a portion of proceeds to support environmental conservation efforts. In the midst of major societal changes, humans must continue to coexist with natural phenomena like climate change, viruses, and earthquakes. With this in mind, Meguriwa hopes to share their vision of a 'circular bioeconomy,' in which mankind doesn't separate themself from nature, but instead both fears and appreciates it. 

The event is advertised as a place where people can both learn and have fun while considering our impact on nature, and how we can impact the future. An online seminar, 'The Meguriwa Study Hall,' will take place each week for a month prior to the event!

This event is for a great cause. Get to know local craftsmen and more about long-term sustainability this November!

Information

Meguriwa Exhibition

Dates/Times: 

November 12, 2021   10:30-19:00
November 13, 2021   10:30-18:00

Location: OLD HAUS (An old house with a garden near Namikibashi)

Address: 1-26-32 Higashi, Shibuya, Tokyo

Price: Entrance Free
① Free Ticket: Free
② Priority Admission (Priority Entry): ¥1,000

Details: https://peatix.com/event/1833758/

Art For Social Change Project Launches in Japan Using Waste to Create Art

Innovation Design launched its new 'Art For Social Change' project at haishop in Shibuya Scramble Square on July 21 which sees artwork made from waste.

According to Japan's Ministry of the Environment, 42.74 million tonnes of garbage has been thrown out since 2019. That's the equivalent of around 115 Tokyo Domes, or 918g of waste per person everyday. The waste cannot be exported, and so real action is required to reduce the amount of waste create on the island country of Japan, especially when thinking 20 years down the road.

That's where haishop comes in. Using caps from detergent, which are actually no longer sold, as well as plastic caps and other materials resulting from waste, it will create a new identity for waste together with consumers in the form of art. Art For Social Change aims to send a message to society to make real transformations in the world through the medium of art.

It's easy to imagine what happens when creating a product up to its completion, but considering what happens to it after it's been used is a lot more difficult. Every year, the available capacity at final disposal sites decreases more and more. The important topic at hand is getting everyone in Japan to really treasure the products they buy, to conceive ideas on how to prolong longevity of the things that people purchase, and construct a new society centred on recycling and reusing. And this isn't just a Japan problem – it's a global one. That's the message which Art For Social Change carries.

 

The only conditions on participating with the project is that you agree with its goal and that you use materials on sale at haishop. Everyone is invited regardless of age or gender.

The artworks in action


4th year students from Nitobe Bunka Elementary & Junior High School used waste materials to create 'souvenir' theme products which the children are helping to sell at the shop. The proceeds go back to the school itself while helping teach children about new ways of reusing and recycling.

Souvenirs created by the students of Nitobe Bunka Elementary & Junior High School

Mascara bottles made using caps from detergent bottles

Tendo Mokko Rethinks Japanese Modernity With 'Japanese Modern / 80 Project' to Celebrate 80th Anniversary

In commemoration of Tendo Mokko's 80th anniversary, DAIKANYAMA TSUTAYA BOOKS is hosting the "Tendo Mokko & Japanese Modern" fair from July 7 to August 6 where the new products from the interior design brand is being sold. This includes a new book titled the same as the fair which details the brand's most famous furniture works. New furniture by Hiroshi Nakamura, Koichi Futatsumata, and Wataru Kumano is also being exclusively sold there.

Each participating artist's signed nameplate

Tendo Mokko is a Japanese furniture maker. After the Second World War, they made huge developments the country's architect and design culture in collaboration with architects and designers by creating products rooted in the climate and natural features of Japan. One of the spearheads of this movement was Kenmochi Isamu, a modernist designer who played a pivotal role in the development of Japanese industrial design after World War II. Through the history of Japanese architecture, Tendo Mokko has joined hands with countless famous designers to manufacture furniture.

Last year, the company turned 80 years old. As part of the commemoration, it is looking to dive deep into and rethink Japanese modernity at the Tendo Mokko & Japanese Modern fair where visitors can see their latest wares as well as learn about the process of developing new furniture and more. All of this, along with interviews, is also detailed in the book. Those who pre-order products at the fair will also receive one of the above-pictured nameplates depending on who designed it.

Shiraraso Grand Hotel Announces Traditional Japanese Candle-Making Experience For Guests

As part of the global Sustainable Development Goals (SDGs) project, Shiraraso Grand Hotel is offering a new experience for guests to create shades for warosoku traditional Japanese candles from July 7 to August 31.

Warosoku aren't made with ordinary wax, they're produced from plant-derived Japanese wax. Wakayama was once the biggest producer of this wax. Guests at the hotel will ghet to make their own shade decorations for these candles using decorations like the sea, food, hot springs, and panda.

The hotel is also offering free panda bookmarks to those who post a photo of their shade on Instagram, Twitter, or Instagram with the Japanese hashtag #白良荘グランドホテル.

These Bangles Are Made From Edo Kiriko Cut Glass Bottles

GLASS-LAB released their new GLASS-LAB NEW PRODUCT "WA" collection of bangles made from Edo Kiriko cut glass bottles on their official website on July 1.

GLASS-LAB NEW PRODUCT "WA" Sustainable Clear | ¥18,370 (Tax Included)


GLASS-LAB NEW PRODUCT "WA" Sustainable Black | ¥18,370 (Tax Included)


GLASS-LAB NEW PRODUCT "WA" Sustainable White | ¥18,370 (Tax Included)


GLASS-LAB NEW PRODUCT "WA" Sustainable Green | ¥18,370 (Tax Included)


GLASS-LAB was opened by the Shiina family in 1950 in Koto, a city known for the production of Edo Kiriko, a traditional type of Japanese glassware. The owner eventually passed the factory onto his sons. It is now run by Takayuki Shiina who is highly skilled at sandblasting, so much so he can cut glass to a fine 0.09mm.

This new collection was made in collaboration with designer Yukio Fujita of 'design shop YU.'

Yoshinori Takemura x journal standard Furniture Reveal Limited-Edition TAKEMURA LAMP Collection

Renowned Japanese ceramicist Takemura Yoshinori is releasing his iconic TAKEMURA LAMP collection at the Nihonbashi branch of journal standard Furniture on June 26.

TAKEMURA LAMP

¥71,500 Each (Tax Included)

There are 22 lamps in this collection, all of which are individually crafted with the utmost care and detail. Takemura is known for his gorgeous colour choices and combinations. Takemura used to love chemistry and studied enamel compounds by himself. This has led to him using over 60 colours in his creations. The lamps serve not only to light up a room, but adorn it as an art piece too. They're also a show of journal standard Furniture's craftsmanship.

Information

TAKEMURA LAMP
Quantity: 22
Release Date: June 26, 2021
Available: journal standard Furniture Nihonbashi
Address: Nihonbashi Takashimaya S.C. 3F, 2-4-1 Nihonbashi, Chuo-ku, Tokyo
TEL: 03-5542-1600
Opening Hours: 10:30-20:00

Official Website: http://acme.co.jp/

AMBUSH® Announces Sustainable Outdoor Collaboration Collection

AMBUSH® is set to release a new outdoors collection in collaboration with the thermal-wear brand STANLEY and YOSHIDA-KABAN's main brand PORTER on June 25.

AMBUSH® x STANLEY STANLEY BOTTLE 1 – ¥8,580 (Tax Included) / AMBUSH® x STANLEY STANLEY BOTTLE 2 – ¥6,380 (Tax Included)

AMBUSH® x PORTER NYLON CROSSBODY LARGE BAG – ¥52,800 (Tax Included) / NYLON CROSSBODY BAG – ¥42,900 (Tax Included)
AMBUSH® x PORTER NYLON ECO BAG | ¥24,200 (Tax Included)

The AMBUSH® x STANLEY collection features vacuum bottles and flasks. Stylish and simply designed, the "Go Series" bottles are easy to carry around and are perfect for both outdoor and everyday lifestyle. Hang the finger loop of the bottle from your iconic carabiner by AMBUSH®︎ and enjoy it as an accessory to spice up your outfit. The light and slim stainless steel single walled vacuum insulated flask suits scenes like outdoor camping and even at your kitchen at home.

The AMBUSH® x PORTER collection feature three types of bags.  They come in two colours: black and blue. The CROSSBODY LARGEBAGs have a pocket on the front just the size for STANLEY Vacuum Bottle to fit in. What seems to be a wallet is a foldable eco bag, which can be used as a tote bag when you unfold it.

The sustainable collections come during a month of environmental awareness in Japan as designated by the Ministry of the Environment. It's also during a time when outdoor festivals and camping are starting up again in the country, and are also handy for jogging and shopping, in an effort to cut plastic bottles, cups, bags, and so on.


Comment from AMBUSH® founder VERBAL


"For this collaboration, I was interested in how PORTER and STANLEY's products are easy to use, which matches today's lifestyle. I actually use STANLEY bottles in my studio and when I order coffee at coffee shops, so this was a collaboration I'm happy to have done. PORTER's bags are just the right size. I wanted something that was thoroughly made down to the finest details, so I feel new possibilities [from this collection] which focuses on the necessities. PORTER bags are handy for popping outside so I can use them in the day or at night, and STANLEY bottles I use at work and at home <laughs>"

Information

AMBUSH® x PORTER / AMBUSH® x STANLEY

Release Date: June 25, 2021

Available: AMBUSH®WORKSHOP / AMBUSH®WORKSHOP2 / AMBUSH® Hankyu Umeda Pop-Up Store / AMBUSH®WEBSHOP 

AMBUSH Official Website: www.ambushdesign.com

Hello Kitty Promotes Messages of Protecting the Earth and the SDGs in Short Movie

A section of Deloitte Tohmatsu Group and FC Imabari's educational book Watashi, Chikyu (Me, Earth) has been turned into a short movie featuring Hello Kitty. Released on YouTube on Wednesday, the video is aimed at elementary school children to educate them on the Sustainable Development Goals (SDGs), a global initiative to create a sustainable future.

The 9-minute video takes Hello Kitty on a journey through earth's life from 4.6 billion years ago, animal life on the planet, and the drastic changes that have come about from human activity.

At the end of the video, Hello Kitty has a message for kids: "I wanted to be in this so I can learn about what I can do for our future. I would love for this to get lots of people thinking about what they themselves can do, even if it ends up only being one person."