'Ugly Wardrobe' Installation Created From Surplus Garments from Shibuya Fashion Week
Sustainable fiberboard manufacturing company PANECO® has teamed up with the creative collective group 'h220430' to create the Ugly Wardrobe.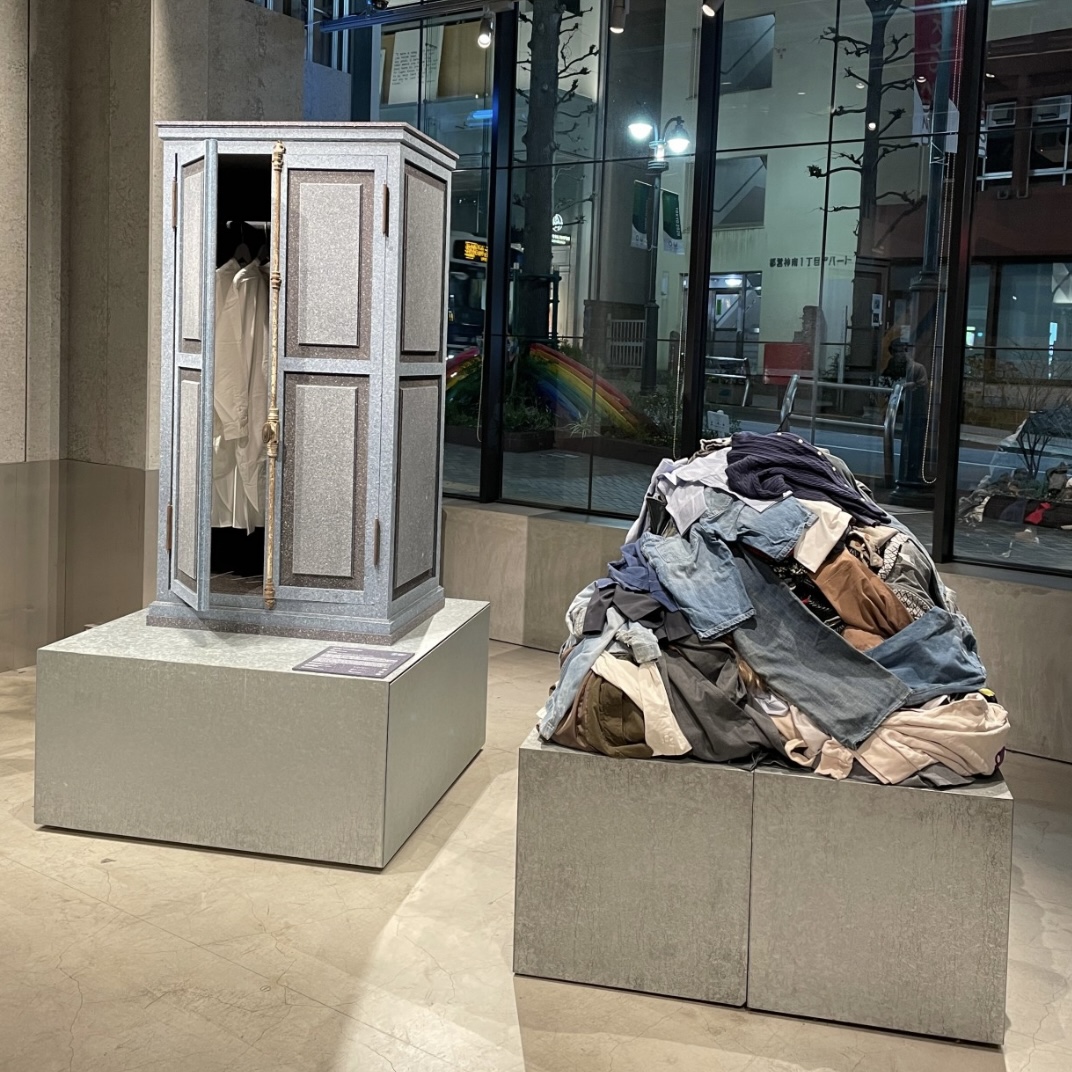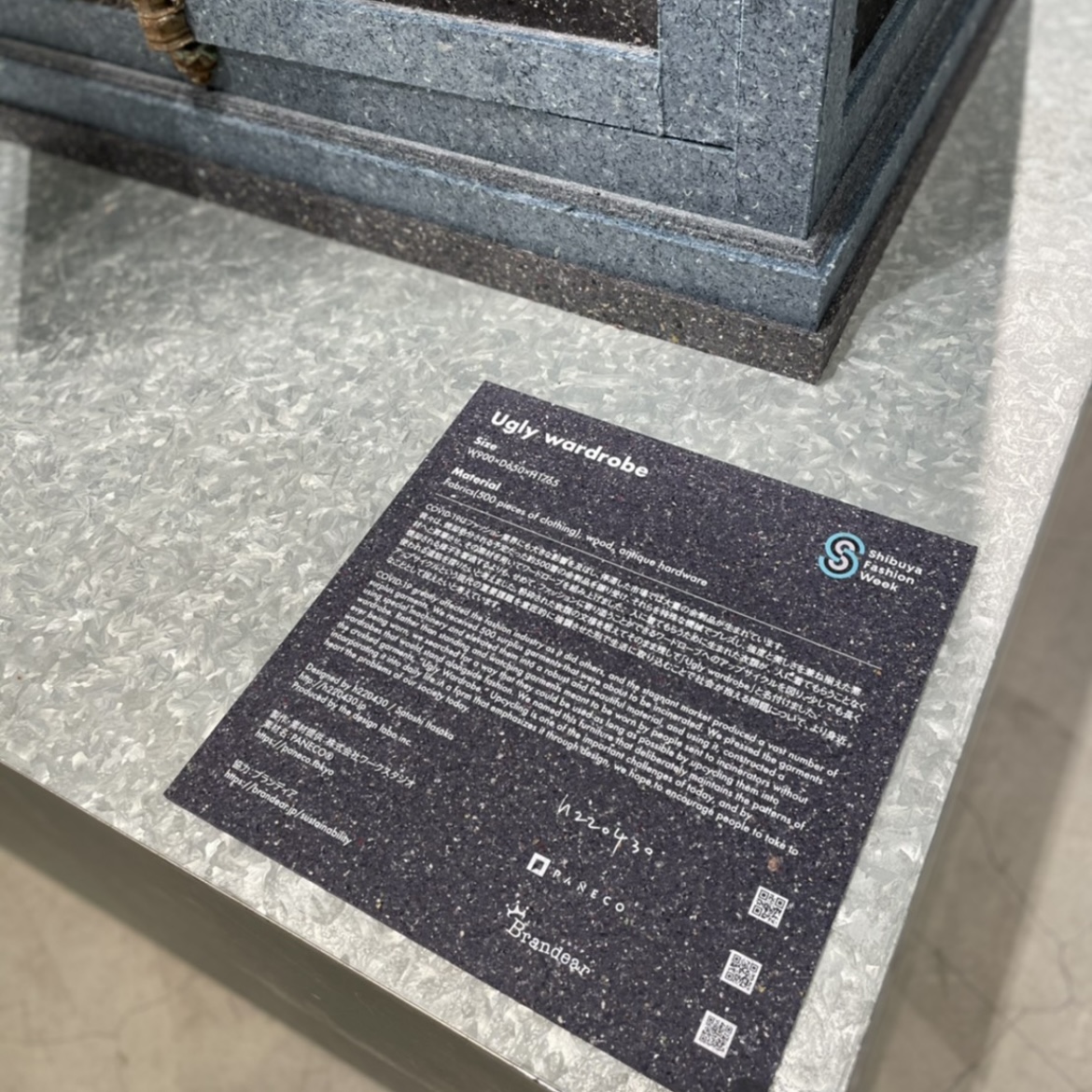 h220430 is a collective of creators focused on designing furniture, lighting, and other interior pieces. With their work, they hope to make people rethink and act against a string of international problems such as deterioration of the global environment and world conflicts.
PANECO® seeks to reduce waste clothing and help create a circular economy with their innovative fiberboard which can be used to make furniture, displays, and many other products.
COVID-19 greatly affected the fashion industry as it did others, and the stagnant market produced a vast number of surplus garments. PANECO® received 500 surplus garments that were about to be incinerated. They pressed the garments using special machinery and elevated them into a robust and beautiful material, and using it, constructed a wardrobe. Rather than watching them be incinerated without ever being worn, they found a way that they could be used as long as possible by upcycling them into wardrobe that would stand alongside fashion.
RELATED ENTRIES
Sustainable Fashion Week Event to Take Place at Earth Day Tokyo 2021

Earth Day Tokyo 2021 is set to run from April 17 to April 25 both online and offline. Messages of eco-friendliness, organic products, sustainability, ethics, and inclusiveness will be at the core of various events held as part of the festival and it will bring together environmental NPOs, charities, and locals.

As part of this year's Earth Day Tokyo, sustainability and fashion are set to interweave with the SUSTAINABLE FASHION WEEK 2020+1 event which is running on April 24 and 25.

With less than nine years to go until the world must achieve the 17 Sustainable Development Goals (SDGs), Earth Day Tokyo believes individuals need to be doing more to change their lifestyles and the way they do certain things. Fashion is an area that enrichens people's lives—but it's also one that can call for environmental action by changing our consumption habits.


SUSTAINABLE FASHION WEEK 2020+1 will bring together various teams and organisations to hold booths and talk sessions online and offline where people can learn about these issues. It's a collaboration between Fashion Revolution Japan, the Japanese branch of the global Fashion Revolution campaign to reform the fashion industry by enabling a greater transparency in the fashion supply chain amongst other problems. Fashion Revolution Week takes place every year on April 24, the same date as the 2013 Dhaka garment factory collapse where 1,134 people died and more than 2,500 people were injured.

The main visual for SUSTAINABLE FASHION WEEK 2020+1 features Japanese singer and artist KOM_I who is best known as a member of the Japanese music group WEDNESDAY CAMPANELA. It was created by HYPE FREE WATER, an artist collective headed by KOM_I and art director Minori Murata. KOM_I will participate in a planned talk program at MIYASHITA PARK on April 24 and 25.


A Message From KOM_I

"HYPE FREE WATER will be taking part in Sustainable Fashion Week at Earth Day this year. Our organisation focuses on the future of water. We want to be able to wear something beautiful without having to make sacrifices like selling out the future or destroying the environment. I'm looking forward to new people getting involved with us as this discussion takes off."

Information

Earth Day Tokyo 2021

Running: April 17, 2021 – April 18, 2021

Earth Day Tokyo Official Website: https://www.earthday-tokyo.org

SUSTAINABLE FASHION WEEK 2020+1

Running: April 17, 2021 to April 25, 2021

Time: 11:30-18:00
Where: Shibuya Miyashita Park / RAYARD MIYASHITA PARK

Address: 1-26-5 Shibuya, Shibuya-ku, Tokyo

Fashion Revolution Japan: https://www.fashionrevolution.org/asia/japan/

JIMOTOTE Tote Bag Releases Releases Tokyo Tama Collection

JIMOTO is a company in Japan whose products and concept is designed around returning to your home or a place you love. Their tote bag brand, JIMOTOTE, is now introducing Tama design bags centred on the Tama area of Tokyo on their official website and at shops around Tama on April 16. They will also be sold at a pop-up shop in as well as at Nonowa Kunitachi from April 16 to 18.

JIMOTO stands for jibun ni modoru tokoro, which is Japanese for that concept of returning to your local region – to your roots. The JIMOTOTE brand started in 2015 with bags design around Hokkaido before introducing Kyushu and Shonan. Tama comes as the fourth entry to the series and includes Kunitahci, Tachikawa, Kichijoji, Chofu, and Hachioji.

Earth Day Tokyo 2021 to Promote Sustainability, Eco-Friendliness, and an Organic Lifestyle at Yoyogi Park

This year's Earth Day Tokyo will take place at Yoyogi Park from April 17-18 where messages of eco-friendliness, organic products, sustainability, ethics, and inclusiveness will be at the core of various events held as part of the festival.

This year marks Earth Day Tokyo's 20th run as part of the global Earth Day initiative and brings together environmental NPOs, charities, and locals. Due to COVID-19, in-person events will only take place on April 17 and 18 but the festival will run online from April 17 to 25.

Earth Day Tokyo 2021 Concert

Concerts will take place across the two-day Yoyogi Park festival. Many musicians and guests have committed themselves to the future of the planet at the Earth Day Tokyo's concerts, with past line-ups including Japan's King of Rock Kiyoshiro Imawano, UA, BONNIE PINK, and more.

This year will see performances from Itou Seikou ITP, Kenichi Nagira, yae, scoobie do, Taiji Sato, Nozomi Nobody, hachi_Aigoz, tico moon, Rokuta Yanagiya, and Ichido Ryutei.

Market area

Every single product at the market booths has a story, and visitors will be able to hear about them from the makers in-person as they shop. And the items sold at the market will be different each day, stocking something to add a little environmental consideration into our lives.

C. W. Nicol's "Nicol's Forest Kitchen" sausages help plant forests

The late Welsh-born Japanese writer, actor, and singer-songwriter C. W. Nicol was the Executive Committee Chairman for Earth Day Tokyo from 2000 until his passing last year. He also launched Nicol's Forest Kitchen in 2011 which has been a regular at Earth Day Tokyo to help protect Japan's forests. The food stall will make an appearance this year too.

C. W. Nicol began to wonder how he could help raise people's interest in forests as well as help revitalise forests that had been destroyed. Nicol's Forest Kitchen project was his answer: to spread awareness through food, and in doing so, the project could help build up forests.

Visitors separate garbage themselves with the help of volunteers

At the Eco Station, volunteer staff will help direct visitors in separating garbage properly, raising awareness on the proper procedures which they can take away home with them.

Information

Earth Day Tokyo 2021 @ Yoyogi Park

Running: April 17, 2021 – April 18, 2021

Time: 10:00-17:30

Where: Yoyogi Park

Entry: Free

Earth Day Tokyo Official Website: https://www.earthday-tokyo.org

KEEN x Murasaki Sports Collaborate on Footwear Release

Murasaki Sports and outdoor/footwear brand KEEN released a new limited-edition model of KEEN's NEWPORT H²O shoes, the NEWPORTのH2, on April 10.

KEEN x Murasaki Sports Limited Edition "NEWPORT H2"

The designer for the alternative models is GRINDLODGE garage project who have captured the gorgeous ocean with the sun and trees reflected on the water surface on them. This design is created using the company's grinder tool which makes each and every pair of shoes unique. The footwear is equipped with KEEN's Newport H2 technology so they can be worn both in and out of the water.



Murasaki Sports is donating 10% of the proceeds made from these limited-edition models to Umi Sakura to help keep Japan's oceans clean. Additionally, Umi Sakura, Murasaki Sports, and KEEN will begin rolling out their two-month #ACTIONFORCHANGE campaign this month in the run up to World Oceans Day which begins on June 8, 2021.


Murasaki Sports aims to teach more people engaged in sports such as surfing about importance preserving the environment through this campaign and footwear release. The brand is one supported by the youth of Japan, so the campaign hopes to pass down these messages of sustainability to young people.

Information

KEEN x Murasaki Sports Limited Edition Newport H2

Released: April 10, 2021 (Limited Edition)

Where: Murasaki Sports

Online Store: https://bit.ly/3cJmKAR

#ACTIONFORCHANGE Instagram Campaign

Running: April 5, 2021 – June 30, 2021

Present for Participating: Special tongs that can be used for picking up trash, camping, and more

How to Participate

・Method A: Post a photo of you in action

Take a photo of you that captures making the ocean beautiful and post on Instagram with the hashtag #アクションフォーチェンジ and/or #ACTIONFORCHANGE and tag Umi Sakura @umisakura_official

・Method B: Repost the official campaign posts

Repost the posts on Umi Sakura @umisakura_official, KEEN @keen_japan, and Murasaki Sports' @murasakisports_official, that have the hashtag #アクションフォーチェンジ on them along with the hashtag #アクションフォーチェンジ and tag Umi Sakura in your post.


*Winners will receive a DM from Umi Sakura's official Twitter account (@umisakura_official)

Umi Sakura: https://umisakura.com/

Karuizawa's New Apple Farm Opens in Collaboration With Hoshino Resorts and Local Farmers

The Karuizawa-based hotel and hot spring complex Hoshino Onsen Tombo-no-yu joined hands with local apple farmers last year to help support apple cultivation for their apple hot springs. This is now being taken to the next level with the opening of Ringo Tsuchi, an apple farm that Tombo-no-yu staff helped to build. The farm opened on March 19, and locals will be able to visit part of the farm for free starting on April 26.

The project ties in with the global Sustainable Development Goals (SDGs) initiative, specifically the 12th goal: "Responsible Consumption and Production," which looks to ensure sustainable consumption and production patterns. Karuizawa is located in Nagano Prefecture which is ranked as the 2nd biggest producer of apples in Japan. When growing apples, those fruits which incur any kind of damage or grazing isn't shipped to the country's supermarkets or stores. It's these not-so-perfect apples that Tombo-no-yu uses for its apple hot spring experience. Though it may just be a small step towards that goes, it still goes a small incremental way towards achieving it.

Free entry to Ringo Tsuchi

The main raw materials at Ringo Tsuchi ("Apple Earth") are the apples used in the apple hot springs and fallen leaves from around the Hoshino area. In addition to compost and water, the materials are fermented, which adds the necessary nutrients to growing apples and creates soft and breathable soil. And since compost is added, it creates an environment where gardening tools can be used in the earth without any prior preparation.

The completion of Ringo Tsuchi

In the mid-October last year, work was carried out at Nomoto Kajuen Orchards in Mimakigahara Okubo, Nagano, to carefully select picked apples and not-so-perfect apples. These apples were used for the apple hot springs at Tombo-no-yu over a three day period from October 23 to 25. The apples are placed in both the male and female hot springs to float on the water.

After that three-day period, the apples were collected, washed, and cut to be used for compost. Since fermentation removes water content, the staff also had to add water twice a month to manage the compost.

Working with the locals

Katsuya Nomoto is a representative of Nomoto Kajuen Orchards, a farm that grows apples, prunes, and more. The farm takes advantage of the area's high altitude and takes pride in its work to cultivate produce that is healthy to the body and environment using soil microbes as an organic fertiliser. It's also officially recognised as a farm dedicated to supporting Nagano's environment, and carries out school trips for children to visit, creating ties with the local community.

Sustainable Concept Store Opens in Nagoya PARCO

Sustainable Think. is a concept shop centred around sustainability and SDGs which first opened in Yurakucho Marui in March. The store has now moved to Nagoya PARCO where it opened on April 3.

A look at some of the participating brands

The store hopes to teach people about the importance of sustainability with a collection of products that are socially- and environmentally-friendly. Sustainable materials and methods are used to produce the items sold at the store.

The store is decorated in 17 colours to represent the 17 Sustainable Development Goals (SDGs), a series of global initiatives being taken to create a sustainable future for people around the world. It also features an installation made from hikkake Japanese washi paper with colourful pull-out boxes containing items by participating brands.

Shibuya PARCO Announces FASHION CAMPAIGN "CYCLE" Sustainability Project

Tokyo-based shopping complex Shibuya PARCO has announced its first full-building project FASHION CAMPAIGN "CYCLE" which is taking place from March 25 to April 5.

'Sustainable' is an indispensable keyword in the fashion industry. Shibuya PARCO is looking to become a new-generation fashion building that fully considerate of the environment through and through, and so it has launched a full-scale sustainability project that encompasses a range of actions, such as accelerating efficient energy use.

For the duration of FASHION CAMPAIGN "CYCLE," items, services, and exhibitions will roll out which align with Shibuya PARCO's sustainability policy. A range of events which also take place. This will include the Sustainable Payback scheme which ears you 10% payback on any select products bought that are tagged as sustainable. There is also be a rooftop flea market called HNF in SHIBUYA PARCO HOUYHNHNM no Furima which is run by Japanese web magazine HOUYHNHNM. 'New vintage' is the theme of the market where customers can get their hands on clothing, tools, music, and more from the 80's onwards. At the CYCLE POP UP STORE, run in cooperation with the creator brand YEAH RIGHT!!, a range of upcycled products from old brand stock will be available for purchase, and American-Japanese model Kiko Mizuhara's sustainable brand 'OK' is also making an appearance.

Event Details

Sustainable Payback

When you spend over ¥5,000 (tax included) on products in Shibuya PARCO with the above-pictured sustainable-certified tag you can get 10% payback.

*Select products only (as tagged)

*¥500 for every ¥5000 spent (for the first 500 customers only)

*¥50,000 max payback

Running: March 25, 2021 – April 5, 2021

Payback Exchange: Saison Counter (Shibuya PARCO Floor 5F)

YEAH RIGHT!! presents CYCLE  POP UP STORE

At this pop-up store, you can get your hands on a range of items that were once old stock from brands and have been upcycled to become completely new products. Items from Kiko Mizuhara's sustainable brand 'OK' will also be sold here.

Running: March 25, 2021 – April 4, 2021

Where: Shibuya PARCO POP UP SPACE on Floor 3F (GYSER PARCO)

HNF in SHIBUYA PARCO HOUYHNHNM no Furima

A flea market run by Japanese web magazine HOUYHNHNM. Get your hands on a 'new vintage' line-up of 80's clothing, music, and more

When: April 3, 2021

Where: ComMunE on Shibuya PARCO Floor 10F

Unique Award-Winning 'Yosegi Stool' Releases in Japan

The Yosegi School from luxury furniture brand TAMEN finally released in Japan on June 15, 2020. The stool was designed by TAMEN's own Brooklyn-based Japanese product designer Yoshiaki Ito.

Yoshiaki Ito is a Japanese product designer based and working in Brooklyn, a borough of New York—a city which itself is an innovator and leader in the contemporary art scene. After studying toy design at a famous US studio for seven years, Yoshiaki Ito set up Yoshi, Inc, and subsequently expanded to launch TAMEN, a brand specialising in high quality and luxury furniture and interior products.

The product perhaps at the forefront of TAMEN's diverse stock is the "Yosegi Stool." Inspired by Japanese Kumiki puzzles, its success led it to win the A' International Design Award in Italy and German Design Award throughout 2018 and 2019.

The Yosegi Stool is crafted from Japanese hinoki cypress and jindai cedar. Its two-tone colour makes it fit in any space, and its multi-functionality means it can double as two stools or a table.

Where the stool shines is how it incorporates both Yosegi inlaid wood patterns and the traditional geometric wooden joint technique known in Japanese as Tsugite.

The stool has been sold exclusively in select high-end furniture shops, like Sotheby's Home in the US, and will now be released in Japan. The stool is made-to-order only and costs $2,500 (¥260,000).