Sumikko Gurashi Cushion Collection Releases to Decorate Your Room
Kotobuki Kougei released a new collection of Sumikko Gurashi cushion from its iebito brand on Friday.
The cushions are part of the "Play Cushion" collection and come in a range of fun colours and with cute designs for making your home and rooms Japanese-kawaii. iebito has been collaboration with Sumikko Gurashi since November 30 last year.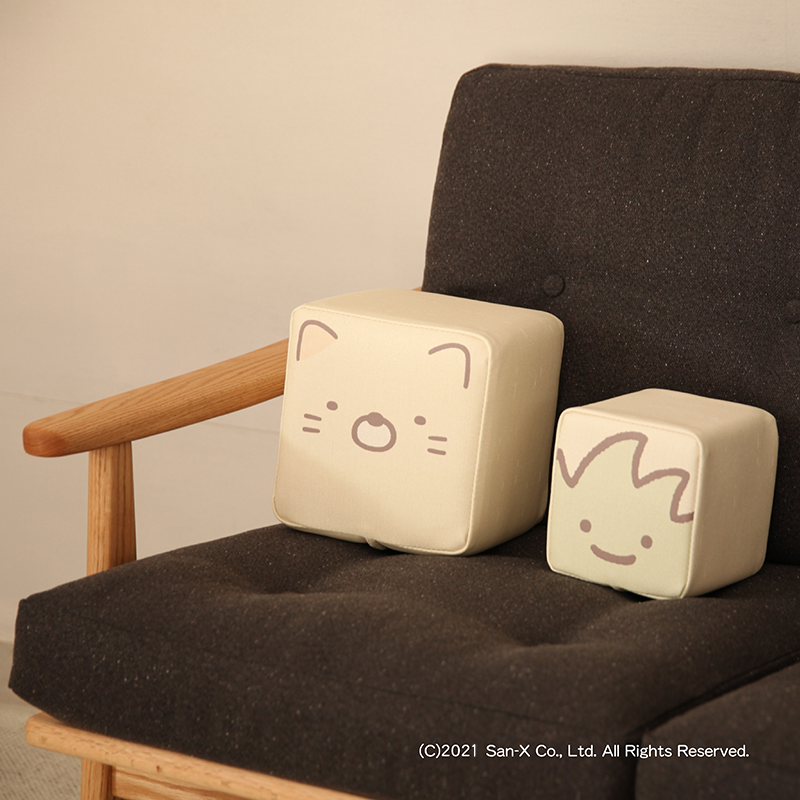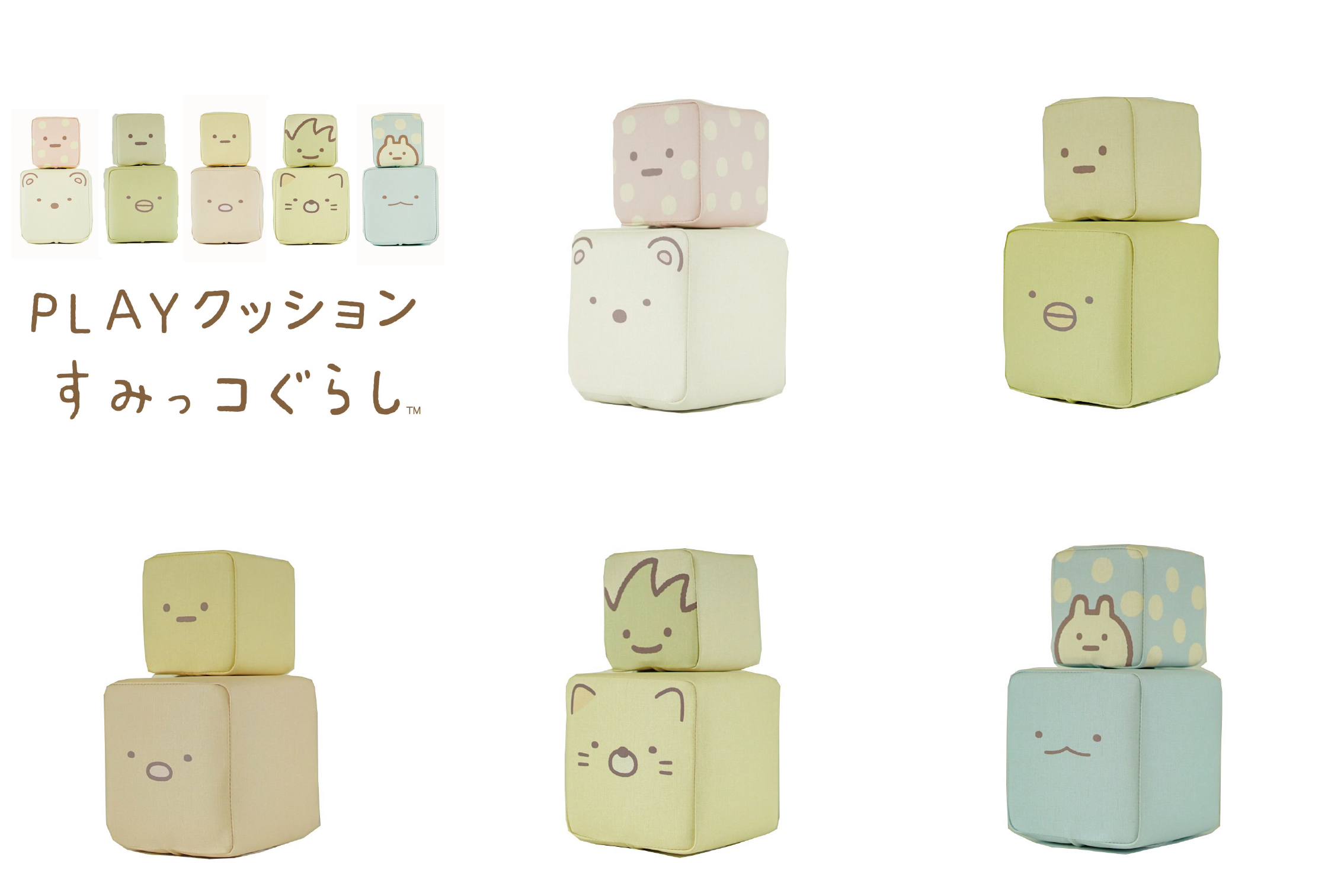 Which pair set do you want the most?
©2021 San-X Co., Ltd. All Rights Reserved.
RELATED ENTRIES
Local Sumikko Gurashi and Rilakkuma Goods for Sale in Shimonoseki

The Daimaru location in Shimonoseki, Yamaguchi Prefecture, will soon begin selling limited edition Rilakkuma and Sumikko Gurashi goods! About 1,400 rare goods previously only available at 10 locations around Japan will be available in Shimonoseki from May 25 until May 30. Inspired by locales around the country, these adorable items will inspire you to travel when you can!

Limited Edition Sumikko Gurashi Goods

Ise Shop Exclusive

Dangling Stuffed Animal

Dangling Stuffed Animal

Jisho-ji Shop Exclusive

Dangling Stuffed Animal

Kyoto Kiyomizu-Zaka Shop Exclusive

Dangling Stuffed Animal

Shrine and Temple Stamp Book

Castella Manju

Dazaifu Shop Exclusive

Dangling Stuffed Animal

Rilakkuma's Teahouse & Rilakkuma's Bath Exclusive Goods

Arashiyama Shop Exclusive

Honey Castella Manju

Miyajima Shop Exclusive

Stuffed Animal

Roasted Mochi Pieces, Soy Sauce Flavor (with Can)

Kurokawa Shop Exclusive

Japanese Pattern Towels

Dogomachi Shop Exclusive

Stuffed Animals

Kusatsu Shop Exclusive

Stuffed Animal

With over 700 Sumikko Gurashi goods available, each symbolizing a specific locale with a cherry blossom theme, it won't be easy to choose which items you'll want to take home. Photo spots will also be set up at the venue, so come snap some pics for social media! Also, look forward to the Summer Bread and Sweets Festival 2022 in the adjacent venue!

Sumikko Gurashi Event to Take Place in Metaverse Entertainment Facility VARK

The 'Sumikko Gurashi ~Let's Go to the Magic Island!~ event is being held on the VARK application until September 30, 2022! By passing through a magical door in the Metaverse by using VARK, users can teleport to the world of Sumikko Gurashi and friends. 

Interior of Paid Area

Your Usual Sumikko

Sumikko Tea House

Stage

Camp

The VARK app can be downloaded for free on iOS and Android devices. Even those without a VR headset can enjoy this event! Admission to specific areas may require a fee, but the main island can be experienced for free. 

Come and meet Sumikko and friends, no matter where you are!

Information

Sumikko Gurashi ~Let's Go to the Magic Island!~
Running: March 23 – September 30, 2022
Platform: VARK
Supported Devices: iOS, Android, Meta Quest 2
Details: https://lp.vark.co.jp/sumikkogurashi-vark/


Rilakkuma & Sumikko Gurashi Festival to Open at Tokorozawa Sakura Town in Saitama

Popular Rilakkuma and Sumikko Gurashi characters will be taking over Tokorozawa Sakura Town in Saitama from April 16 until May 22 during the Rilakkuma & Sumikko Gurashi Festival! Guests will be greeted by the characters themselves, and will be able to participate in tons of fun activities, photo spots, and more!

The festival will have a full lineup of exclusive merchandise only available at Tokorozawa Sakura Town, from cute and useful items like clear folders to fans to use during the summer heat.

A limited collaboration menu with Kadokawa Shokudou will also be available during the event. The 'Rilakkuma & Sumikko Gurashi Festival Picnic Plate' is full of fun finger foods that are easy for both adults and children to eat and includes a special lunch mat. Guests can also participate in a commemorative photo session with the characters dressed in new costumes!

©2022 San-X Co., Ltd. All Rights Reserved.

Sumikko Gurashi Hanko Collection Announced, Includes 9 New Characters

Internet-based hanko shop Hankoz has added nine new Sumikko Gurashi designs to its collection! These stamps are used as official signatures in Japan, so why not liven yours up with one of these cute characters?

All 29 Designs

All 3 Fonts

The Sumikko Gurashi collection includes 29 unique designs to choose from. Popular characters like Shirokuma, Penguin?,Tonkatsu, Neko, Tokage, Ebifurai no Shippo, Tabi, Yama, Mogura, Fukurou, Kinoko, and Furoshiki are available to decorate your name stamp! In addition to first names and surnames, customers can also add old-fashioned characters, pen names, or messages like 'OK' or 'Thank you!'

The Sumikko Gurashi Hanko Collection comes in two types: a self-inking type perfect for signing for packages, and a wood-carved type that can be registered with most financial institutions in Japan. Each stamp comes with a case that is also decorated with these popular characters!

Ⓒ2022 San-X Co., Ltd. All Rights Reserved.

Tokyu Hands to Hold Confection-Filled Valentine's Day Project

Starting January 8, Tokyu Hands stores in Tokyo are holding a special Valentine's Day event called Chocolino Chocoliya featuring a variety of sweets! These aren't just for giving to your sweetheart, but are perfect for friends and family too.

Products at a Glance

Tokyo Zoological Gardens Association / Ueno Zoo
Panda Set with Petit Gaufre & Chocolate Crunch: ¥1,188 (Tax Included) / Panda Baked Cookies: ¥997 (Tax Included)

Urusei Yatsura
Tote Bag: ¥1,760 (Tax Included) / Mug: ¥1,760 (Tax Included) / Star Chocolate: ¥486 (Tax Included)
Chocolate Assortment (5 pieces): ¥756 (Tax Included) / Chocolate Assortment (15 pieces): ¥1,620 (Tax Included)

Merry Chocolate Company
Merry Candy Chocolate Box: ¥378 each (Tax Included) / Assortment: ¥1,944 (Tax Included) 

 Mint Style

30-piece Handmade Kit Series: ¥1,620 each (Tax Included)

Mint Style

Make-at-Home Kit Series: ¥697 (Tax Included) 

Sumikko Gurashi

Silicon Mold Series: ¥935 (Tax Included)


This year's project includes confections that can only be purchased at the Ueno Zoo, where twin baby pandas were recently born. Chocolates with retro-style packaging and those with motifs from popular anime series will also be available, so be sure to swing by and have a look!

Curious George and Sumikko Gurashi McDonald's Happy Meals Now Available

McDonald's locations across Japan are now offering Curious George and Sumikko Gurashi Happy Meals for a limited time!

The Curious George set features six different toys that can be assembled and controlled by turning the gears. This year's theme is inspired by creativity, shape recognition, and teaching children how things work. When the colorful gears on the toy are turned, the force is transmitted to the swing, Ferris wheel, seesaw, and other items, causing George to swing and spin! The first set of toys include 'George's Seesaw,' featuring George and the Man in the Yellow Hat, and 'George's Swing,' featuring George happily swinging back and forth. The second set will include 'George's Ferris Wheel' and 'George's Rocket Ride.'

The Sumikko Gurashi includes six kinds of puzzles decorated with illustrations of popular characters. The theme of these toys is color and shape recognition, imagination, and communication. The front side of each puzzle shows Sumikko and Minikko, and the backside displays an illustration of a story related to a particular Sumikko character. By putting the pieces together one by one, children develop their ability to recognize shapes and move their fingers with increased dexterity. The inside of the case that comes with the puzzle is decorated with stories about Sumikko and her friends. To commemorate the 10th anniversary of Sumikko Gurashi, a new character called 'Deshi' will appear on the case as well, and by scanning the QR code on the back of the case, customers can play an original mini-game!

From January 8 until January 10, participating locations will also be giving away Curious George and Sumikko Gurashi stickers with the purchase of each set.

Sumikko Gurashi the Movie: The Magical Children of the Blue Moonlit Night Reveals Behind the Scenes Footage

Sumikko Gurashi the Movie: The Magical Children of the Blue Moonlit Night was released on November 5, 2021, and continues to draw huge crowds across Japan. Now, a new interview with the film's cast is shedding light on what it took to create such a massive hit. 

The previous film in the series came out two years ago. This time around, what was most important to the staff, and how did they manage to pull in such a huge audience? 

 

The previous film in the series came out two years ago. This time around, what was most important to the staff, and how did they manage to pull in such a huge audience? In this 3-part interview, readers will get the behind-the-scenes details on what happened after the previous film, as well as the many challenges facing the film's staff during the production of the new movie. 

Sumikko Gurashi the Movie: The Magical Children of the Blue Moonlit Night Special Interview
Part 1: https://www.asmik-ace.co.jp/special/7267
Part 2: https://www.asmik-ace.co.jp/special/7274
Part 3: https://www.asmik-ace.co.jp/special/7278

Be sure to check out these special staff interviews to get a glimpse at how this magical movie was created. 

Story


The Sumikkos go camping and meet Wan, Tsuu, Surii, Foh, and Faibu: five legendary wizard brothers who are said to arrive on the nights of the blue full moon. However, the youngest brother, Faibu, is not very good at using magic. What new adventures await the Sumikkos and their new friends?

©2021 日本すみっコぐらし協会映画部

BUMP OF CHICKEN Release Extended Music Video for New Song 'Small World'

On November 5, the new film 'Sumikko Gurashi the Movie: The Magical Children of the Blue Moonlit Night' was released in theaters. An extended music video for the movie's theme song Small World, performed by rock band BUMP OF CHICKEN, has just been uploaded to YouTube. 

The music video takes place in the town that the Sumikko Gurashi characters call home, and shows them living their adorable daily lives. 'The Magical Children of the Blue Moonlit Night' tells the story of the Sumikko's strange encounter on a camping trip, where they meet five legendary wizard brothers who appear only during the blue full moon. Small World is a gentle track, perfect for this sweet story.

Small World, Theme Song for 'Sumikko Gurashi the Movie: The Magical Children of the Blue Moonlit Night' Long PV

Over 400,000 people have seen 'Sumikko Gurashi the Movie: The Magical Children of the Blue Moonlit Night' so far, making it the #1 film in both attendance and box office revenue at last week's domestic box office. A special meet-and-greet was held at Shinjuku Piccadilly on November 18 to celebrate the film's success, with director Takahiro Omori and actor Yoshihiko Inohara in attendance. The members of BUMP OF CHICKEN also expressed their love for the Sumikko Gurashi universe. 

Information

BUMP OF CHICKEN Official Site: 

Sumikko Gurashi Film Theme Song by BUMP OF CHICKEN Now Streaming

The adorable characters of Sumikko Gurashi are back on the big screen! Popular rock band BUMP OF CHICKEN performed the newest film's theme song titled Small World, and the track is now available to stream worldwide!

The set of cute characters were created by San-X, with the first products released in Japan in 2012. They were inspired by the feeling of comfort a person feels when in the corner of a room, and this is shown in their name, translated as 'life in the corner.' The new film, Sumikko Gurashi the Movie: The Magical Children of the Blue Moonlit Night, was released to commemorate the brand's tenth anniversary. The film will follow the Sumikkos on a camping trip where they meet Wan, Tsuu, Surii, Foh, and Faibu: five legendary wizard brothers who appear during the blue full moon. The new film is directed by Takahiro Omori and features a screenplay written by Reiko Yoshida. 

BUMP OF CHICKEN will be streaming a special live show on November 14, titled BUMP OF CHICKEN Studio Live Silver Jubilee. This won't be archived, so be sure to catch it live on YouTube! 

©2021 日本すみっコぐらし協会映画部

'Sumikko Gurashi: Aoi Tsukiyo no Mahou no Ko' x 'Sagamiko Pleasure Forest' Begin New Collaboration Event

The outdoor resort 'Sagamiko Resort Pleasure Forest' in Sagamihara City, Kanazawa, will be opening a limited-time collaboration area to commemorate the release of the 'Sumikko Gurashi: Aoi Tsukiyo to Mahou no Ko' movie. The 'Sumikko Gurashi Forest ~Magical Forest Fairground' will be open to visitors between October 23 2021 and January 11 2022.

 

Can Badge Sample

Collab Attraction – Bumpy Cart

Original Goods

Acrylic Keychain (5 Types): ¥650 (Tax Incl.)

Can Badge (6 Types – Random): ¥520 (Tax Incl.)

Konpeito: ¥600 (Tax Incl.)

Collaboration Menu

Magicians Omelette-Napolitan: ¥1,400 (Tax Incl.)

Let's go Camping! Sumikko Gurashi Ramen: ¥1,400 (Tax Incl.)

Magical Blue Moon Sundae: ¥700 (Tax Incl.)

The event is being held to celebrate the release of the new movie 'Sumikko Gurashi: Aoi Tsukiyo to Mahou no Ko' and features all-new fairground-themed artwork, showing the Sumikko holding candy, park maps, and balloons.

During the event period, there will be a special 'Magical Forest Seal Rally' where visitors can search for magicians hidden throughout the park. There will also be a collaboration attraction where visits can go on a five minute adventure while riding the Sumikko-themed Bumpy Cart. A variety of original goods will be available to purchase, from can badges to acrylic keychains, with collaboration food also available to order.

In addition, the adjacent outdoor facility 'PICA Sagamiko' has produced a new accommodation plan complete with original towels and a sticker rally, allowing visitors to immerse themselves in the new content throughout the day.

Leap into the world of 'Sumikko Gurashi: Aoi Tsukiyo no Mahou no Ko' this Autumn with Sagamiko Pleasure Forest! 

©2021 Japan Sumikko Gurashi Film Club

BUMP OF CHICKEN's New Song 'Small World' Named as Theme Song for New Sumikko Gurashi Movie

San-X have announced that the theme song for the 'Sumikko Gurashi: Aoi Tsukiyo no Mahou no Ko' nationwide roadshow will be BUMP OF CHICKEN's 'Small World.'

 

Theme Song ver.

"With the Sumikko's, I feel somewhat at ease." Those are the negative-but-unique Sumikko Gurashi. Having first been released in 2012, the series is celebrating its upcoming 10th anniversary with the 'Sumikko Gurashi: Aoi Tsukiyo no Mahou no Ko' movie. Inohara Yoshihiko and Honjo Manami will be in charge of the narration once more, encouraging and speaking on behalf of the Sumikko as they lovingly watch over the story.

The theme song was agreed upon after the producer, staff, and director Takahiro Omori heard the thoughts of writer Yokomizo Yuri, who is a fan of the group. 'Small World'  is a beautiful mid-tempo tune with a band sound. The song gently hugs the listener, immersing viewers in the gentle world of Sumikko. 

BUMP OF CHICKEN and writer Yokomizo Yuri each released a statement regarding the theme song announcement. 

A 30-second preview was also released, previewing 'Small World' for the very first time.

 

Be sure to check out BUMP OF CHICKEN's soothing theme song for 'Sumikko Gurashi: Aoi Tsukiyo no Mahou no Ko.'

Comment from BUMP OF CHICKEN


The members were truly moved upon viewing the first movie.

We feel extremely honored to have been chosen to perform the theme song for the sequel.

What will the Sumikko get up to this time?

We're looking forward to the release date.

Comment from Writer・Yokomizo Yuri


Whenever I was feeling down, BUMP OF CHICKEN's music would always be there to tell me that I'm okay, that I'm not alone. They have always influenced and encouraged me.

'Small World' is especially filled with kindness, staying quietly by your side in the same way that the Sumikko do. I was amazed by how perfectly it matches the characters.

I'm hopeful that with the help of this theme song, the film will find a place in the hearts of each viewer, from children to adults. 

Story

One Autumn day, the Sumikko go camping. They gaze into the sky to watch the moon, which seems larger, bluer, brighter than usual.

"A blue moon only occurs once every five years. On that night, a wizard will come to town – and grant your wishes," tells the legend, which comes true when five magical siblings emerge from the forest to visit the Sumikko town!

In the park, supermarket, and even in the forest,

The town is transformed into a magical party, with spells being cast one after another to paint the town in color.

As the wonderful eve draws to a close, the magicians decide to return to the moon. 

But for some reason… Tapioca is..?? Plus, the youngest 'Five' seem to have been taken..?

©2021 Japan Sumikko Gurashi Association Film Club
©2021 SAN-X CO., LTD. ALL RIGHTS RESERVED.


Sumikko Gurashi Themed Cafes Open in Tokyo, Osaka, and Aichi to Commemorate Second Theatrical Movie

To commemorate the release of the their second movie, 'Sumikko Gurashi: Aoi Tsukiyo no Mahou no Ko,' Sumikko Gurashi will be opening the limited-time 'Night Party with Sumikko' cafe in Osaka on October 20, Tokyo on October 21, and Aichi on November 11.

 

(Advance Reservation Benefit Only) Original Invitation with Postcard (Five types)

Menu

Tokage's Night Party Curry: ¥1,430 (Tax Incl.)

Shirokuma's Warming Hot Rice Casserole: ¥1,430 (Tax Incl.)

Five's Recommended Children's Lunch: ¥1,650 (Tax Incl.)

Magician's Party ~Açai Bowl~: ¥1,430 (Tax Incl)

Aoi Tsukiyo's Fruit Punch: ¥1,100 (Tax Incl.) + ¥220 for one mini ice cream

Sumikko's Pudding Ice Cream: ¥880 each (Tax Incl.)

Starry Drink: ¥990 each (Tax Incl)

Dolomite Coaster

Hot Café Au Lait: ¥880 (Tax Incl.)

Original Goods

Acrylic Keyholder (Random out of five): ¥770 (Tax Incl.)

Phosphorescent Sticker (Random out of eight): ¥605 (Tax Incl.)

Acrylic Stand (Random out of five): ¥880 (Tax Incl.)


Muddler (Three types): ¥1,100 each (Tax Incl.)

Mug Cup: ¥1,980 (Tax Incl)

Purse: ¥1,100 (Tax Incl.)

Fluorescent Pen Set: ¥1,100 (Tax Incl.)

A5 Clear File Duo: ¥605 (Tax Incl.)

Bandanna: ¥1,870 (Tax Incl.)

The Sumikko Gurashi characters are beloved by both adults and children for their gentle touch and tone. Their first movie, 'Sumikko Gurashi Tobidasu Ehon to Himitsu no Ko' was released in November 2019 and received great popularity. The sweet story of the Sumikko's adventures through a story-book world attracted over 1.2 million viewers across Japan.

The heartwarming cafe menu includes "Tokage's Night Party Curry," "Shirokuma's Warming Hot Rice Casserole," Five's Recommended Children's Lunch,""Magician's Party ~Açai Bowl~," "Aoi Tsukiyo's Fruit Punch," "Starry Drink," and more. The cute, Instagrammable dishes feature the characters who feature in the movie, which tells a mysterious story that begins under a blue moon in the Sumikko's hometown. A lineup of limited edition goods and perks will also be available, adding to the movie excitement.

 

Enjoy a cute, social-media friendly meal and original merchandise at the exciting Sumikko Gurashi cafe!

©2021 Japanese Sumikko Gurashi Association Film Club

Information

Sumikko Gurashi Cafe

Date/Store

Tokyo: BOX cafe&space Tokyo SolaMachi (Previously TOKYO BOX cafe&space Tokyo SolaMachi)

October 21 ~ December 5 2021

1-1-2 Tokyo Sky Tree Town Solamachi 1F, Oshiage, Sumida-ku, Tokyo

Shinsaibashi, Osaka: kawara CAFE&DINING Shinsaibashi

October 20 ~ December 5 2021

1-4-3 Shinsaibashi OPA 9F, Nishishinsaibashi, Chuo-ku, Osaka City, Osaka

Aichi & Nagoya: BOX cafe&space Nagoya LACHIC 1F (Previously NAGOYA BOX cafe&space A) 

November 11 ~ December 12 2021

3-6-1 LACHIC Basement 1F, Sakae, Naka-ku, Nagoya City, Aichi

Reservation Fee: ¥650 (¥715 incl. tax) *Reservation comes with benefits *Up to four seats can be reserved per application.

Cafe Online Shop opens November 11 12:00 until December 12 at 23:59

Reservations & Official Site: https://sumikkogurashi-movie-cafe.jp 

Official Twitter: https://twitter.com/cafe_sumikko 

Online Shop: https://sumikkogurashi-movie-cafe.jp/online_store