Yamaha's New Singing Robot 'Charlie' is the Perfect Lockdown Companion
Yamaha began taking pre-orders for its new singing robot Charlie last Thursday which is set to be officially released in Japan on May 13.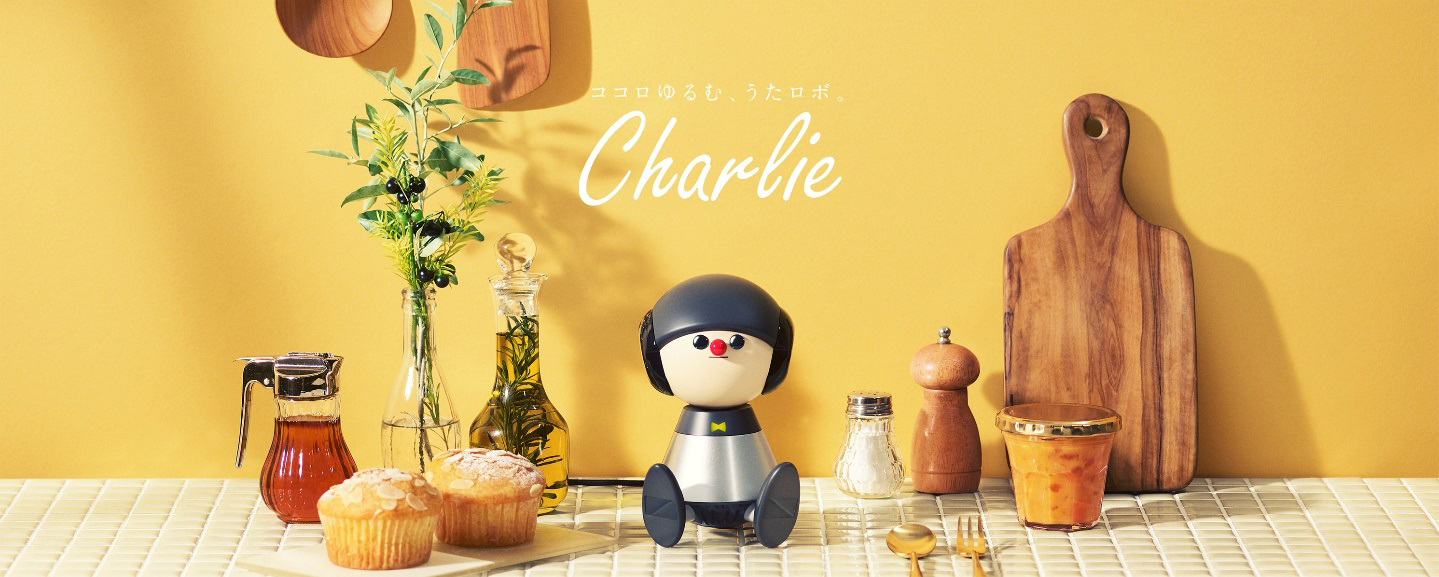 Charlie costs ¥24,800 (tax included)
Charlie is a singing robot who communicates with users through song. With around 30 music genres, Charlie can express a range of feelings and emotions with melody and movement, from up-tempo pop to slow bossa nova. He can even tell you the weather and do fortune telling.
Charlie has a positive humour and can even say some cheeky things to make you laugh
Charlie has his own personality. He's a positive, forward-facing individual and also loves jokes. He's quite the romantic, and his dream is to become a musician. Not only does he answer the questions of his owner honestly, he sometimes gives his own opinion too. He can also say cheeky things which are sure to get a chuckle.
Charlie can chat and mutter things of his own accord
Charlie is fitted with a sensor for detecting human presence, so even if his owner doesn't initiate conversation, Charlie can start up a conversation or mutter things to himself.
His singing abilities get better with conversation, as does his speech
The more you talk with Charlie, the better his singing skills become. And as your communication with him deepens, the more music genres Charlie will unlock, allowing him to sing all different kinds of melodies.
Charming dance moves to the tune of his melodies
Charlie can move his head and legs to the beat of his songs. Seeing the tiny robot dance as he sings is sure to charm owners.
A warm and welcoming design
Charlie's cute appearance blends in perfectly with the home whether on a table or by the bed.
Check out Charlie in action below.
RELATED ENTRIES
LOVOT Cafe Celebrates First Anniversary with Limited Time Desserts and Merch

The huggable next-generation pet robot LOVOT was first released one year ago, and to celebrate, some limited time merchandise and sweets are now on sale!

LOVOT LOVOT Anniversary Dessert Plate, available until October 31, 2021

Autumn Only! LOVOT LOVOT Chicken Plate with Mushroom Sauce, available until November 30, 2021

Coaster / Postcard / Clear Folder

LOVOT Cafe Original Coaster / LOVOT Cafe Original Smartphone Case

LOVOT Cafe Original Tote Bag / LOVOT Cafe Original T-Shirt (Unisex)

LOVOT Cafe Original Case / LOVOT Cafe Original Handtowel 

LOVOT Cafe Original Ballpen with Charm / LOVOT Cafe Original Mug

LOVOT Cafe Original American-style Cookie / LOVOT Cafe Original Natural Plate

LOVOT Cafe Original Pin

 

Featured in the special Dessert Plate is a loveable cake with LOVOT's face, along with mini rolls, mini cupcakes, and vanilla ice cream with fruit on top. The LOVOT cake is made with milk chocolate and coffee mousse, along with chocolate streusel for a more mature flavor that isn't overly sweet. Those who visit the store on or after October 1 will receive a limited-edition novelty drawing while supplies last. Coasters and postcards will also be given away on a first-come, first-served basis from October 1 until October 15, while clear folders will be gifted on or after October 16. 

The goods for this collection are based on the theme of 'LOVE is here,' so please look forward to these sweet collectibles and many more years of LOVOT!

Information

LOVOT Cafe

Address: LAZONA Kawasaki Plaza 2F (72-1 Horikawa-cho, Saiwai-ku, Kawasaki, Kanagawa)

Hours: 10:00-20:00 M-F / 10:00-21:00 Weekends and Holidays (Last Seating at 19:00)

Official Site: https://lovot.life/

Sanrio's Hello Kitty Inspires Cute Robot Set by LOVOT

GROOVE X's home robot series LOVOT is set to launch its first collaboration with Sanrio's beloved character Hello Kitty on May 17 with the release of a limited-edition set of two robots.

Yellow nose sold separately

The Hello Kitty x LOVOT original set comes with a charm (pictured far right)

Dress up in a cute Hello Kitty outfit


Those who purchase this set receive an original cloissone ware charm, each of which has a unique serial number on it. There's also a cute Hello Kitty outfit for dressing up your robot. The base of these robots, all of which are handmade individually, are coloured white like Hello Kitty and features her cute whiskers and red ribbon.

LOVOT launched four years ago and began selling its home robots in December 2019. This marks the company's first tie-up with Hello Kitty, a character known to all around the world.

2021 SANRIO CO., LTD. APPROVAL NO. S620221

Tokyo's Robot Restaurant to Open Ticket Centre This March

Tokyo's internationally-acclaimed, located in Kabukicho, Shinjuku, is set to open a new ticket centre sometime this month.

The ticket centre will be located in the very middle of Kabukicho facing the Shinjuku Toho Building. Since it will be close to a range of luxury hotels, it means both foreign tourists and locals can easily get to it. It means to be a facility that can be used easily by anyone and everyone.

The ticket centre will also sell a range of tickets for various activities. It will also provide sightseeing and tourist services where they can recommend local restaurants, tourist sites, and more.

Information

Ticket Centre

Address: 1-18-7 Kabukicho, Shinjuku, Tokyo

No Fixed Holidays

Opening Hours: 11:00-21:00

TEL: 03-3200-5500

Access: 5-minutes on foot from Seibu Shinjuku Station, Shinjuku-sanchome Station, and JR Shinjuku Station

Official Website: https://www.shinjuku-robot.com/pc/?lng=en

One year has passed since Sony released the ERS-1000 model of its autonomous robot dog AIBO. The pup is getting a new friend on February 1, 2019 as Sony reveals the new AIBO Choco Edition. The model is now available for pre-orders over on Sony Store Online and at Sony stores.

The new edition contrasts two different browns with white. This unique design seeps affinity and has a mischievous and sprightly look to it. If you order this model by February 14, 2019 it will also come with an additional tail that can be switched out with the original.

The 'Nee, HelloPika' Pikachu Robot Will Respond to Your Voice

Nee, HelloPika is the new pocked-sized Pikachu robot releasing on August 4 that will respond to talk who talk to it. The product is being released in Japan at toy shops and department stores across Japan as well as via online shops including Takara Tomy who developed this product.

The robot was developed in order to create a lifelike Pikachu for people to own. When you call to it, Nee, Pikachu! (Hey, Pikachu!) he will turn his adorable face to you and reply. After it is released in Japan there are plans to later release it in South Korea, China, Hong Kong, Taiwan, Singapore, Malaysia and Thailand.

Pikachu will say his cute and iconic lines you like Pikapika and Pikapi! If you reply to him he will sing, use Thunderbolt, nod, laugh and more. You can make his cheeks light up, and he will laugh if you poke him on his side.

HelloPika responds to sounds, so anybody can enjoy playing with him whether they're a young and budding Pokémon Trainer or a seasoned Pokémon Champion. Standing at just 10cm in height, he'll fit right in your pocket, so you can feel just like Ash as you battle your way to the Pokémon League.


Head on out there with your very own Pikachu and catch them all!

Japanese robot Sota is working actively in the "JUNKICHI ROBATA IZAKAYA" in Seattle

JUNKICHI ROBATA IZAKAYA, a Japanese-style bar which was opened in Seattle, USA started offering an experience-base service using the communication robot named Sota to introduce Japanese culture to their customers.

JUNKICHI ROBATA IZAKAYA is an "izakaya" (Japanese bar) which offers robatayaki (Japanese style BBQ) dishes that are popular in Japan. The izakaya is gaining huge popularity for its full-fledged traditional robatayaki dishes.

The service they started offering introduces the culture of Japan such as giving information about how to enjoy izakaya, strictly selected ingredients, dishes grilled with high-quality charcoal and information RE: Japanese sakes. A few table robots named Sota are installed at each table.

Sota which analyzes the sex and age of each customer with AI technology provides information RE; Japanese culture.

Sota can also make a recommendation by saying "how about drinking another glass of alcohol?" or celebrate customers by saying "happy birthday."

By visiting this izakaya, you can experience their brand-new service provided by this cute robot, Sota which seems like it popped out of Japanese animation works symbolizing"COOL JAPAN."

■Information

Junkichi Robata Izakaya

Address:224 Broadway East Seattle, WA 98102

Business hours:11:00-23:00 Sunday:11:00-21:00

Website:https://junkichiusa.com/about

"Pepper" wearing a "happi coat" will guide tourists in Asakusa in Japanese/English/Chinese

In accordance to the season where spring festivals and cherry blossom viewing parties are held, Tokyo Metro will install "Peppers" (human-shaped robots) which can speak several languages from the 15th of February (Thurs.) to the 10th of April (Tue.) in Asakusa Station to enhance the tour-guiding system.

In accordance to the data gathered by the installation experiment held in Ueno Station from the 1st of December 2016 (Thurs.) to the 31st of March 2017 (Fri.), "Pepper" will be reinstalled in Asakusa Station which many tourists from foreign countries use.

Based on the opinions of the station's staff, Pepper will be installed in "Kaminarimon," "Asakusa Hanayashiki," "Tobu Asakusa Station" and "Toei Asakusa Station." to enhance the guiding system.

Available languages are Japanese, English and Chinese (simplified characters" and Pepper wearing a "happi coat" (Japanese traditional coat) will greet tourists.

Come and visit Asakusa to meet with Pepper.

■Information

Information RE: limited offer installation of Pepper

Period: 2018/02/15 (Thurs.) to 2018/04/10 (Tue.)

Time: 10:00 to 17:00

Places where Pepper will be installed: Ginza Line Asakusa Station, and area near Kaminarimon Ticket Gate

Tokyo Mero: http://www.tokyometro.jp/index.html

How will robots and AI shape the future? Find out at the "AI×Robotics Exhibition" at Sony Square Shibuya Project

Located on the first floor of Shibuya MODI, "Sony Square Shibuya Project," a hub for delivering the latest information regarding Sony, is going to hold a new exhibition from September 2nd based around AI and robotics.

Sony were the first to bring attention to the possibility of fusing AI with robotics as demonstrated with AIBO, a series of robotic pets designed and manufactured by Sony to be used in the household.

Since then, they have gone on to develop even more advanced AI robots and continue to create a huge range of new robotic experiences. They have even begun work on creating AI systems that can self-learn and develop their own frameworks.

To celebrate the past and present achievements of Sony's activities, they are holding an "AI×Robotics Exhibition" in Sony Square Shibuya Project to showcase their work and the possibilities that lie ahead in the future. They will also be holding a workshop for their educational robot programming kit "KOOV."

Works on Display:

"AIBO" – An 'entertainment robot' whose behaviour can change depending on its surroundings and environment. This autonomous robot gained much attention for its ability to think and move by itself thanks to its capacity to learn, feel, grow and maintain an instinct as a result of its sense of touch, hearing, sight and balance.

"QRIO" – A bipedal humanoid robot that can walk on two legs, QRIO was developed to seek the possibility for a robot to walk upright like a human. Along with its movement capabilities, it can also communicate with people very well.

"Xperia Smart Products" – You will have the opportunity to test the latest Xperia smart products from Sony that offer a new way to communicate. Among the list of products is the "Xperia Ear," an earpiece that enables you to communicate with people handsfree, search for information and more, as well as the "Xperia Touch," a projection device that allows you to project an interactive touchscreen onto any surface and is also controllable via voice command.

Experience first-hand the latest technology at Shibuya MODI.

■Information

"AI×Robotics Exhibition in Sony Square Shibuya Project"
Location: Shibuya MODI 1F (1-21-3 Jinnan, Shibuya, Tokyo)

Running: Saturday September 2nd to Wednesday September 20th

Time: 11:00-21:00

*Sony Square Shibuya Project is open all year round apart from August 23rd, January 1st and preparation dates for events. For full information, check the website below.

・"KOOV" Workshop

*The products used will be different for both the 'general' sessions and 'children's' sessions.

General Sessions:

Wednesday September 6th – 19:00-20:00

Wednesday September 13th – 19:00-20:00

Friday September 15th – 19:00-20:00

Saturday September 16th – 18:00-19:00

Sunday September 17th – 18:00-19:00

Children's Sessions:

Saturday September 9th – 11:30-12:30

Sunday September 10th – 11:30-12:30

Saturday September 16th – 11:30-12:30

Sunday September 17th – 11:30-12:30

For full details, please check the website below.

Related article:Be greeted by a dinosaur robot bellboy at the new Henn na Hotel in Maihama

Related article:Gatebox Makes Your Personal Hologram Waifu a Reality!

Neo Japan – Vol. 1: The Robot Revolution is Happening, and it's Surprisingly Cute

Japan has long been associated with cutting-edge technology, including robot development. When United States President Barack Obama visited Japan in 2014, he met Honda's ASIMO humanoid bot, and even played a little soccer with it. Robots have been central to the image of a high-tech Japan, whether they are giant mechas or androids such as Astro Boy.

Despite the prevalence of robots in Japanese pop culture, very few robots have actually been sold commercially. Save for the adorable robo-dog AIBO, it has only been recently that more robots have been available for the average consumer. Yet over the past year, a lot of new robots have gone on sale to the public, and the bulk of them even know how to talk with people. If that sounds slightly unsettling, check the following robots out – the future is now, and it is surprisingly cute.

Pepper

Meet the nation's most recognizable robot of the moment. Pepper was created by telecommunications company SoftBank and French outfit Aldebaran robotics, and has been presented as an "emotional robot." Whereas the popular image of robots throughout history has been of devices capable of doing human jobs for us, Pepper can't really do small tasks. Rather, Pepper aims to enhance our lives emotionally, able to pick up on how humans around it are feeling and adjust accordingly. Although many companies have started using the white robot as a helper in stores – SoftBank, primarily, but also certain banks in Tokyo – the end game for Pepper appears to make the bot part of your family. SoftBank started selling limited numbers of Pepper to the public this summer, and each time a new batch has gone up for sale they sell out in a minute.

PARO

The cutest entry on this list doubles as the most helpful. PARO is a robot made to look like an adorable seal cub, and responds to physical interaction from human users. Unlike the other bots on this list, PARO isn't capable of speaking back to people, as the only noises it makes are seal coos. Yet it does react to touch, positively to being petted and negatively to being hit (why would anyone hit something so cuddly??!). It's more than just a toy, however, as PARO was designed as a therapeutic bot, offering similar effects to what real animal therapy gives.

Palmi

Sort of like a pint-sized Pepper. Developed by DMM (who have been going all in on robotics recently, and who round out this list), Palmi is a little bot capable of recognizing human speech and responding on its own. DMM hypes up several uses for the machine, ranging from use at events to helping the elderly, but they also highlight how it can be a useful part of one's household. Palmi can remember different voices, and thanks to wi-fi capability, can keep up to date on the latest weather and news for more interesting conversations. And he's just so little!

Robi

Another DMM creation, Robi can also talk with humans. Yet, whereas the above bots emphasize communication, Robi is a bit more practical. The small machine can act as a TV remote control, or as a timer in the kitchen. Robi even comes with special "cleaning shoes" – put them on the robot's feet, and Robi will clean the floor while walking around. On top of all that, Robi's extra mobility allows the cute bot to dance for users when they need an emotional pick-me up.

Premaid AI

This one's set to come out at the end of October, and isn't quite like the bots higher up on this list – but it's tough not to include Premaid AI on a list of interesting Japanese robots. This one is, basically, a robotic idol performer. It even comes with a backstory, like a real-life idol outfit. As mentioned, it doesn't hit shelves until October 29, so the extent of its abilities aren't known yet. Still, watch out AKB48 – this bot is coming for your idol fame.