【Tokyo Stroll】Strolling in Harajuku which has a lot of great vintage clothing stores that are loved by fashionistas.
Harajuku is the origin of kawaii culture which is broadly known all over the world nowadays. This city is also one of the most popular sightseeing spots that you can get any items from unique young fashion to trendy fashion. Today, I went to visit some places, mainly the vintage clothing stores that certainly have the latest Harajuku culture with Fashionista Yabe Yuna who is active in Japanese fashion magazines etc.
Starting from "Aloha Amigo"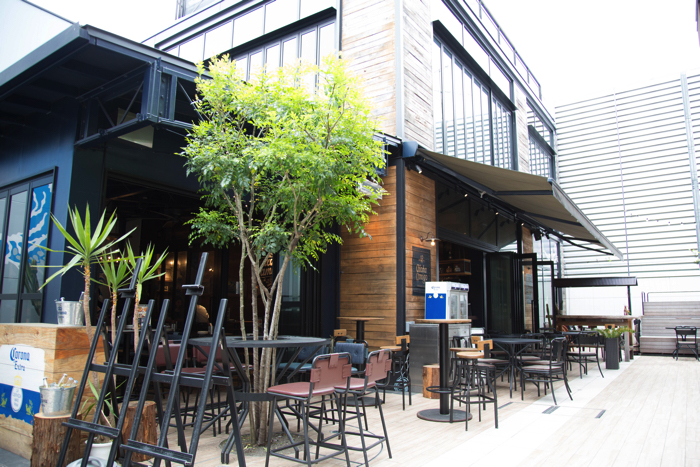 "Aloha Amigo" is a new style mixed culture café and dining located in the commercial facility called "Six Harajuku Terrace." Since this building located in back street of Cat Street, you can spend a relaxing time staying away from the hustle and bustle in this place.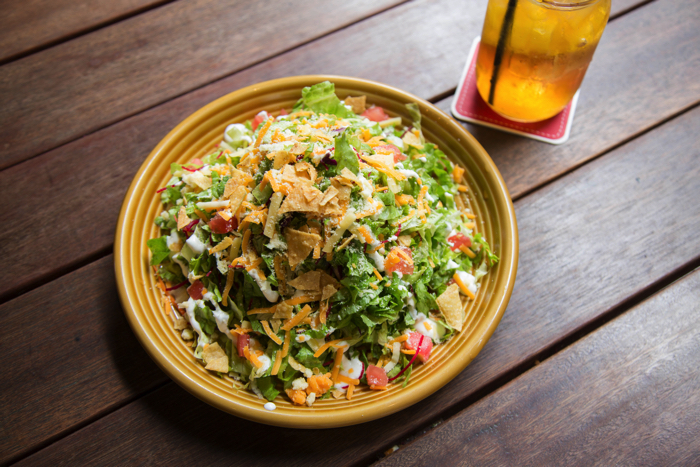 First of all, I ordered "Amigo Taco Rice (994yen include tax)" and "Home-made lemonade. (518yen include tax)" This healthy taco rice has spicy taco meat and fresh vegetables on the top of ten-grain rice. It might look plenty, but even the girls can eat this up easily!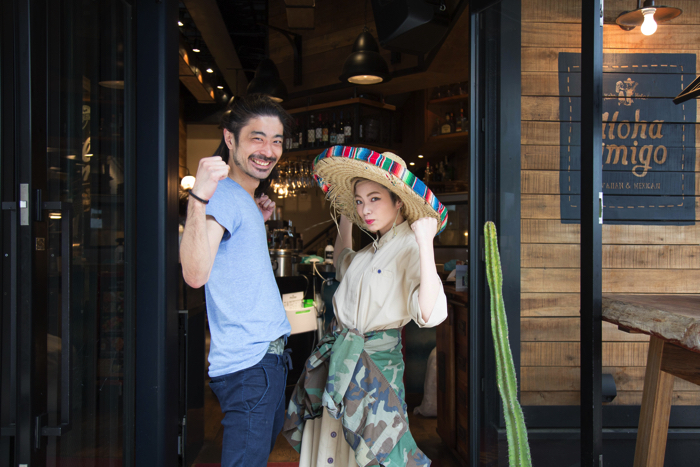 I took a picture with the friendly owner at last! All the staff are friendly, nice, and it has a great atmosphere. This place is really comfortable to me. You don't have to hesitate to talk to them when you visited here.
▼Information
Aloha Amigo
Address:5-16-13 Six Halajuk terrace ,Jingumae, Shibuya-ku, Tokyo
Hours:11:30AM to 11:00PM
Holiday:Open 7 days a week(Except for the year-end and New Year holidays)
Official site:http://harajuku.aloha-amigo.com/
To "thrift-tokyo"
The next one that we visited was "thrift-tokyo" where you can purchase a variety of generations' fashion items and miscellaneous good for a reasonable price. It is also located in the back street of Cat Street. They carry a variety of merchandise from men's to ladies'.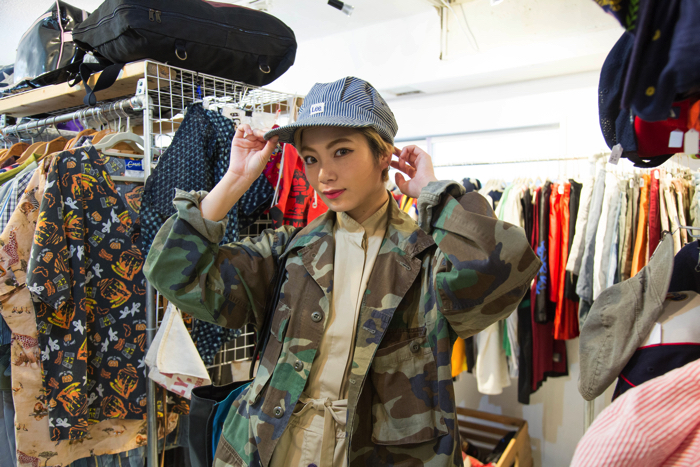 One of the features of this "thrift-tokyo" is that you can get great vintage clothing for a very cheap price. They often do the sales like "50% off buying more than 10 items" or "buy 2 get 1 free."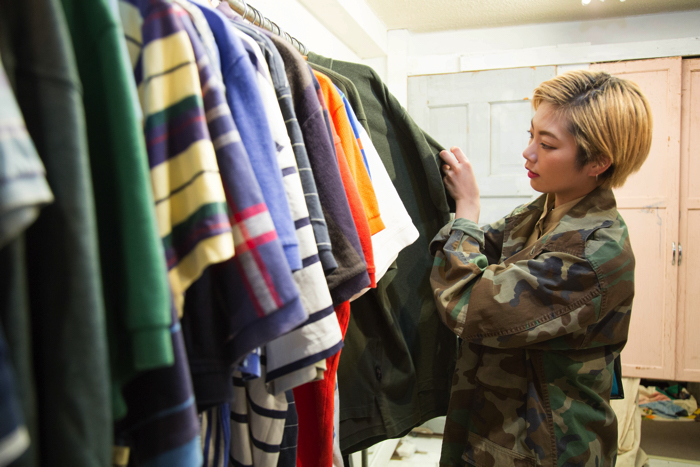 Why don't you find the good one like going treasure hunting?
▼Information
thrift-tokyo
Address:3-18-18 1F Jingumae, Shibuya-ku, Tokyo
Hours:12:00AM to 8:00PM
Holiday:Open 7 days a week(Except for the year-end and New Year holidays)
Official site:https://thrift-tokyo.stores.jp/
>>next page
RELATED ENTRIES
Godfather of Kawaii Sebastian Masuda Celebrates 30 Years in Showbiz with Pop-Up Shop at Roppongi Hills

Sebastian Masuda is a powerhouse of all things cute. From starting the popular Harajuku-based brand 6%DOKIDOKI in 1995 to creating the now-legendary music video for Kyary Pamyu Pamyu's PONPONPON, Masuda is now celebrating 30 years in the industry. An exhibition of the artist's works will be shown in an upcoming exhibition in both Tokyo and Osaka from Fall 2021 until 2022. Prior to that, a Sebastian Masuda pop-up shop is coming to Roppongi Hills and Shibuya PARCO starting this month!

From September 23 until October 17, the art goods brand Sebastian Masuda ART will hold a pop-up shop within the Mori Art Museum Shop on the third floor of Roppongi Hills West Walk. In addition to the latest art goods, including the brand-new 'Inner Voyage' series, a number of Masuda's colorful art pieces will be on display, with some being for sale. 

When visiting Roppongi Hills, don't forget to head up to the 52nd floor for the 60th Anniversary Sanrio Exhibition: The Beginning of Kawaii, running from September 17 until January 10, 2022. Sebastian Masuda's work 'Unforgettable Tower' will be on display when entering the event, while the Tokyo City View store will be selling some of the artist's products! Basically, both the 3rd and 52nd floors will be nothing but kawaii. 

Mori Art Museum Shop

Stickers: ¥550 – ¥2,860 (Tax Included)

 Inner Voyage T-Shirt: ¥7,480 (Tax Included)

Microcosmos -Tattoo Pink & Me-   

Sebastian Masuda & 6%DOKIDOKI 1995→2021

Mesh Top:  ¥10,450 (Tax Included)

Long Sleeve T-Shirt: ¥8,250 (Tax Included)

DOKI DOKI Earrings: ¥4,290 (Tax Included) / Logo Plate Necklace: ¥7,590 (Tax Included) / 6% Logo Pochette: ¥6,050 (Tax Included)

Charm Pouch – Kawaii Company: ¥2,860 (Tax Included) / Sebastian Masuda STUDIO COLOR PALETTE: ¥4,400 – ¥2,860 (Tax Included) Felissimo

The Sebastian Masuda & 6%DOKIDOKI 1995→2021 event will be held from September 17 to October 3 at Hobonichi CultureN, located inside Shibuya PARCO. Guests will be able to look back at the 26-year history of the 6%DOKIDOKI brand. 

2021, much like 2020, has lost a lot of it's brightness due to the ongoing pandemic. Why not surround yourself with some kawaii goods to raise your spirits? 

Information

Sebastian Masuda Pop Up Store

Running: September 23 – October 17, 2021

Address: Mori Art Museum Shop (Roppongi Hills West Walk 3F,  6-10-1, Roppongi, Minato-ku, Tokyo)

Details: https://art-view.roppongihills.com/jp/shop/

Sebastian Masuda & 6%DOKIDOKI 1995→2021

Running: September 17 – October 3, 2021

Address: Hobonichi CultureN (Shibuya PARCO 4F, 15-1 Udagawa-cho, Shibuya-ku, Tokyo)

Basketball Culture Space TOKYO 23 Reopens on Cat Street in Harajuku

TOKYO 23, a shop promoting basketball culture, is set to reopen as a large-scale shop in Harajuku on September 18, 2021. 

TOKYO 23 x JUN INOUE TEE (Black/White): ¥5,500 each (Tax Included)

Guests will enter the space to find a basketball court at the center, both keeping with the theme of the shop and maintaining a minimalist vibe. The location is bold, using a balance of different upcycled materials and gray-tone colors reminiscent of the Tokyo streets. 

JUN INOUE was in charge of designing the lanterns throughout the store, giving a more traditional Japanese feel to the modern storefront. The store is dotted with artworks by Inoue as well as Reina Koyano, both located in Los Angeles. 

The coffee shop "LATTEST" will also be a permanent fixture in the store, and is the perfect place for visitors to relax and take in the art and feeling of the TOKYO 23 store. To commemorate the opening of this massive space, special collaborative JUN INOUE x TOKYO 23 T-shirts will be on sale for a limited time. 

Information

TOKYO 23

Opening: September 18, 2021

Address: Harmony Harajuku 1F (4-28-21 Jingumae, Harajuku, Tokyo)

Hours: 11:00-22:00

Phone: 03-6804-2635

Official Site: https://www.atmos-tokyo.com/brands/tokyo23

Nature-filled Digital Detox Cafe HANARIDA Opens in Harajuku

Zoomers are used to life with their smartphones and computers. While life certainly is more convenient being able to connect instantly with your friends, have you ever felt a certain emptiness despite this? According to the Ministry of Internal Affairs and Communications, young people in their 20s spend approximately four to five hours looking at screens per day. However, sometimes, it can be nice to put down your phone and enjoy a cup of tea with your friends in front of you. With those thoughts, the HANARIDA Harajuku cafe open on August 8 2021. The hidden cafe is filled with flowers and greenery, aimed at adults. Here you can enjoy a quiet time away from the bustle of the city, relaxing with a cup of dry fruit-infused herbal tea.

Every sunday is a digital detox day, meaning that smartphones and laptops are banned in the cafe. You can leave your phone with the staff to receive a free drink. With the comfy interior and a selection of board games, conversations will flow naturally to create a home-like space, even without technology

The flowers and trees in the cafe, which was decorated by a professional flower artist, are all real. The atmosphere changed based on the time of day – the sunshine lights up the cafe while the warm lights make for a relaxing evening. You won't get tired of this cozy space! 

Experience relaxation away from the busy city while watching the flowers bloom throughout the day, as you puff on a dried fruit Hanakemuri hookah. The hookah used by HANADIRA is both nicotine and tar free, meaning they can be enjoyed by non-smokers. 

Their drink selection for Valentine's day 2021 was a huge hit on social media, particularly the Sakicha dry fruit tea. The tea is now available on the menu, so make sure to try it for yourself!

Information

HANARIDA Harajuku

Opening Date: September 8 2021 

Opening Hours: 11:30 ~ 24:00 (No regular holidays)

※Closes at 20:00 until September 12 due to the current state of emergency declaration.

Address: Section L Pop-up House 2F 4-27-2, Jingumae, Shibuya, Tokyo 

Seven minute walk from JR Harajuku Station

https://goo.gl/maps/bXVEsW735gHT7kZD9 

※Under 20s are denied entry to the cafe

Official Site: https://hanarida-official.com/ 

Twin Fashion Icons AMIAYA Release Photobook with STREET Magazine

Tokyo fashion icons and twin unit AMIAYA have collaborated with street-snap magazine STREET on a new photobook! 'AMIAYA x STREET TOKYO FASHION 2021ss' will go on sale August 23 at select bookstores and online.

AMIAYA began their fashion journey in street fashion when they were teenagers, and are currently attracting worldwide attention as icons representing Tokyo style. STREET magazine has been highlighting unique international streetwear since its first issue in 1985, and both parties are using this collaboration to help the fashion industry, which has been adversely affected by the pandemic.

The magazine features snapshots of AMIAYA wearing the hottest Tokyo fashions on the streets of Harajuku and other popular areas around Japan's capital. The photos were taken by Shoichi Aoki, photographer and editor-in-chief of STREET.

Each photo has the power to open up your mind to a new world of fashion, so why not give it a look?





Comment from AMIAYA

 

"The Coronavirus pandemic has given us a new perspective on fashion, and how we can share it from Tokyo to the rest of the world. STREET magazine has so many readers overseas, and it's truly made an effort to boost the Japanese fashion scene. We believe in the potential of fashion to connect Japan to the rest of the world, and we hope that through this collaboration, we share some positive energy through our style."





Comment from the Editor-in-chief of STREET, Shoichi Aoki

"The pandemic has caused unprecedented damage to the entire fashion industry, and it has become more difficult to share Japanese fashion with the rest of the world. Fashion is not something unnecessary–it's something important for Japan, and for humanity as a whole. AMIAYA are Japanese fashion icons that are recognized around the globe. They are somewhere between reality and the virtual world. By having them model on the streets of Tokyo, I wanted to create something to convey the current state of Japanese street fashion with international audiences. It took a year and a half of shooting while adjusting AMIAYA's schedule, but it's finally being published. Even if it seems like a small project, even the smallest activity can have a massive impact."

Information

AMIAMA x STREET TOKYO FASHION 2021ss

Release Date: August 23, 2021

Page Count: 76 pages

Price: ¥4,950 (Tax Included)

Where to Buy: Tokyo TSUTAYA stores/ UNITED TOKYO Jingu-mae, Shanghai, Beijing, Hong Kong

Online Store: https://amiayaxstreet.com (Open August 23, 12:00JST)

Official Site: https://amiaya.asobisystem.com

Japanese Music Artists to Perform at Crocs Japan x atmos pink's Summer Festival

Casual footwear brand Crocs Japan and sneaker select shop atmos pink are set to host a summer pop-up event titled 'Atokuro Natsumatsuri' at atmos pink's flagship store in Harajuku as well as online from July 31 to August 9.

atmos is one of the leading sneaker brands in Japan, while Crocs is a staple of summertime footwear. Together, the two brands are set to deliver an array of summer season content with classic Japanese summer stalls, creating your own custom Crocs Jibbitz™, and more. Additionally, everyone who attends the event and buys something will enter for a chance to win some limited-edition merhandise.

Starting on August 2, a line-up of Japanese artists will perform live on YouTube for the event, with names such as FAKY, Yurufuwa Gang, ELLE TERESA, CHAMELEON LIME WHOOPIEPIE, Atarashii Gakko no Leaders, and more.

Information

Atokuro Natsumatsuri
Running: July 31, 2021 – August 9, 2021

Location: atmos pink Flagship Shop Harajuku

Address: 6-5-3 Jingumae, Shibuya, Tokyo

Opening Hours: 11:00-20:00

Live Schedule​
August 2 @ 21:00 – FAKY

August 4 @ 21:00 – Yurufuwa Gang
August 6 @ 21:00 – ELLE TERESA
August 8 @ 21:00 – CHAMELEON LIME WHOOPIEPIE, Atarashii Gakkou no Leaders

atmos pink channel: https://www.youtube.com/channel/UCkSEEsKnBrGz0bP9XLDkSGw

atmos pink Official Website: https://www.atmos-pink.com/

First Official Chiikawa Shops Open at KIDDYLAND Harajuku and Osaka Umeda

KIDDYLAND has announced the opening of the first official shops themed on the popular character Chiikawa. Named Chiikawa Land, the two stores will open at the Harajuku and Osaka Umeda branches of KIDDYLAND on August 7.

Chiikawa is a popular character first revealed by Japanese illustrator Nagano on Twitter. In December 2020, the official online store Chiikawa Market opened, and Nagano released a book compiling the manga panels they drew and posted on Twitter. With over 550,000 follows on Twitter, Chiikawa has become extremely popular, with even themed cafes and an exhibition, Chiikawa's Forest, having taken place.

Now Chiikawa get its own official shops at KIDDYLAND with merchandise featuring new and exclusive artwork drawn by Nagano and more.

Get your paws on exclusive merch at Chiikawa Land

Smartphone Stickers | 3 Designs | ¥385 Each (Tax Included)

Acrylic Stands | 3 Designs | ¥770 Each (Tax Included)

Pins | 3 Designs | ¥330 Each (Tax Included)

Acrylic Keyrings | 3 Designs | ¥660 Each (Tax Included)

Large Hand Towels | 2 Designs | ¥770 Each (Tax Included)

Mug | ¥1,650 (Tax Included)

T-Shirts | 3 Designs | ¥3,080 Each (Tax Included)

Positively adorable frames for pre-order

Chiikawa Art Frame – Clouds | ¥16,500 (Tax Included)

Chiikawa Art Frame – Faces | ¥16,500 (Tax Included)

Chiikawa Art Frame – Ramen | ¥16,500 (Tax Included)

Buyer bonuses

For every ¥1,100 spent in a single transaction, receive one of three possible Umaibo corn sticks.

For every ¥3,300-¥5,499 spent in a single transaction, receive an exclusive hologram pin.

Spend over ¥5,500 to receive a random special gift: one of four possible lunch boxes or one of five plush pins.

Chiikawa Land shopping bag

Snap a photo at one of the photo spots

Get a stamp at both KIDDYLAND branches

 

©nagano

MOSHI MOSHI ROOMS opens Harajuku-Kawaii themed accommodation called 'HARAJUKU'

Rokuyon, which manages unique accommodations mainly in Shibuya, has opened the fourth room of "MOSHI MOSHI ROOMS", the home-sharing facility, named "HARAJUKU" produced by ASOBISYSTEM, which introduces HARAJUKU culture to the world.

"MOSHI MOSHI ROOMS offers accommodation services in concept rooms full of originality not found in existing hotels or home-sharing facilities. The concept of the fourth room is "HARAJUKU". The room is filled with "KAWAII", one of the representative cultures of Japan. Once you step into the room through the archway, you will feel as if you have wandered into the world of a picture book. The room is inspired by Harajuku, a place where you can enjoy the extraordinary feeling of being lost in a different dimension.

With the opening of the room HARAJUKU, an entire building has been transformed into MOSHI MOSHI ROOMS, with four rooms available for booking via Airbnb. The rooms can be used for a variety of purposes, such as accommodation for domestic and foreign tourists, staycations (casual holiday at home or nearby), girls' parties, and birthday parties with your friends. In order to ensure the safety of the guests, they carry out temperature checks, use alcohol sanitisers and disinfect the rooms with alcohol when cleaning.

The archway at the entrance is a gateway to a world of wonder. From the moment you step into the house, the excitement is bound to build.

The living room is decorated with colourful objects and animals reminiscent of a museum. Why not find your favourite objects and animals, and enjoy taking photos with them?

The bedroom has a queen-size bed, together with a sofa bed and an air bed in the living room, which can accommodate up to four people.

The shower room is equipped with amenities such as shampoo, conditioner, and body soap. The separated washbasins and Toto Washlet toilets have been installed.

The kitchen is fully equipped with a microwave, fridge, and other daily necessities. Colourful KAWAII tablewares are lined up so that you can enjoy the world of the room more.

MOSHI MOSHI ROOMS

The first room  'SAKURA'

The room has received high praise from both domestic and international travelers.

A monument of cherry blossoms, the symbol of Japan, fills the ceiling of the bedroom, creating a gorgeous and unique space.

The second room 'ORIGAMI'

This room is themed on origami, one of the symbols of Japanese culture.

The living room is furnished with benches and stools inspired by a teahouse. Looking up at the ceiling, a number of Japanese umbrellas decorate the space.

The third room 'DOSUKOI'

The room combined the traditional Japanese culture of sento, a Japanese public bathhouse and sumo, Japanese wrestling.

The sumo wrestler's hands and the large bath inspired by a sento attract the viewer's attention. The painted pictures on the walls are the work of Kiyoto Maruyama, one of only three sento painters in Japan.

The rooftop

The rooftop offers an expansive space with a panoramic view of Harajuku. It can also be used for events such as tent saunas and BBQs. Only the rooftop can be rented out as a rental space.

Why don't you create your own story at MOSHI MOSHI ROOMS, a place full of unique concepts that you can only experience here?

Ibuki Sakai x atmos pink T-Shirt Collection Releases

Japanese sneaker select shop atmos pink has teamed up with model and artist Ibuki Sakai to release two t-shirts at atmos pink stores and their official website.

atmos pink x sakai ibuki collaboration raglan tee | ¥4,500 (Before Tax)

atmos pink × sakai ibuki collaboration safari long sleeve tee | ¥4,900 (Before Tax)

The two tees take on a 90's design with sticker collage motifs, something which Ibuki is known for. In promotion of the release, a special installation has been set up at atmos pink's flagship store in Harajuku where it will be displayed until July 25.

The installation is a collection of handmade original accessories, stickers, and other items selected by Ibuki. Additionally, those who purchase her artbook at TSUTAYA will receive a paper doll poster, available on a first-come, first-served basis.

Information

Ibuki Sakai x atmos pink
Installation: July 16, 2021 – July 25, 2021
Location: atmos pink flagship Harajuku

Address: 6-5-3 Jingumae, Shibuya, Tokyo

Peta Peta Kai Event
Tickets: Available from July 16, 2021

Location: atmos pink flagship Harajuku

*Open to those who purchase either of the collaborative t-shirts

Event Date: July 25, 2021 @ 13:00-18:00

1st Slot: 13:00-15:00

2nd Slot: 15:00-17:00
Price: ¥1,000 (Tax Included)
*Max. 15 people per slot

6%DOKIDOKI Celebrates 25th Anniversary With Pullip Doll Collaboration

Sebastian Masuda founded Harajuku's famous fashion brand 6%DOKIDOKI back in 1995. Last year marked the brand's 25th anniversary, and in continuation of the celebration, 6%DOKIDOKI is collaborating with the popular doll brand Pullip on an exclusive model.

The dolls are made to order, and the order window will open at Pullip and 6%DOKIDOKI's online shop on July 1 before going on sale in mid September. Those outside Japan will be pleased to know that 6%DOKIDOKI ships overseas. The brand has many fans outside Japan, especially those with an interest in Harajuku. COVID-19 has rendered travel Japan difficult, so this collaboration is a way of 6%DOKIDOKI also serves as a way of giving Harajuku, 'kawaii' culture, and J-fashion enthusiasts their kick.

Pullip/DOKI DOKI

The exclusive doll model in full

The upper body, hair, and makeup up close

Pullip dolls are known for their large heads and for having lots of movable parts. The eyes can move left and right as well as wink, allowing owners to pose their dolls with a variety of expressions. The concept of the Pullip/DOKI DOKI collaboration focuses on how despite language barriers between countries, colour is universal. It gives us power, especially when dressing up.

6%DOKIDOKI has and continues to make people happy with their colourful line-up. Their doll is another step towards that goal.

©Cheonsang cheonha.All Rights Reserved. Ⓒ6%DOKIDOKI

Information

Pullip/DOKI DOKI
Price: ¥25,850 (Tax Included)

Ages: 15+

Set: Includes doll, hair accessory, shoes, bag, doll stand, and profile card

Size: 31cm

Made in China

*Photos are of a product still in development so subject to design changes without notice

Harajuku's New Snoopy Themed Cafe 'PEANUTS Cafe SUNNY SIDE Kitchen' to Open This Summer

The Snoopy-themed PEANUTS Cafe chain of cafes is set to open the all-new PEANUTS Cafe SUNNY SIDE Kitchen branch inside WITH HARAJUKU in Harajuku, Tokyo, this July, where it will serve an all-new, gorgeous healthy food menu.

The Peanuts franchise has been active in its marketing efforts in Japan this year, promoting messages of love and friendship, themes that are threaded through the globally-celebrated Peanuts comic strip.



PEANUTS Cafe SUNNY SIDE Kitchen keeps with those important themes, serving up a menu of healthy light food as well as sustainable products.

Their food line-up includes no-fry doughnuts, granola made with organic ingredients, open sandwiches stuffed with fresh vegetables, and more. The cafe also has its own collection of merchandise with kitchenware to promote healthy eating as well as environmentally-friendly and sustainable items.

If you're staying in Tokyo and frequenting Harajuku but have had your fill of the district's famous crepes, why not let Snoopy cook you up some healthy grub?

(C) 2021 Peanuts Worldwide LLC

Information

PEANUTS Cafe SUNNY SIDE Kitchen
Location: WITH HARAJUKU

Grand Opening: Late July 2021
Official Website: http://www.peanutscafe.jp/

Explore Harajuku Virtually as Virtual Shibuya Announces New Harajuku Area

Virtual Shibuya has announced that its new Harajuku area will open on May 25, 2021. The virtual experience is hosted on Cluster, a virtual social media platform.

Shibuya 5G Entertainment Project launched the "Virtual Shibuya" back in May of last year in collaboration with KDDI, Shibuya Future Design, and the Shibuya Tourism Association. Officially recognised by Shibuya City, Virtual Shibuya comes in response to the effects of the COVID-19 pandemic which has brought tight restrictions to the economy and people's way of life. It enables people to continue enjoying entertainment from the comfort of their homes by participating in a whole host of virtual events and activities. The project aims to deliver content from Shibuya with live performances from artists, art exhibitions, talks, and more. The use of 5G and the latest cutting edge technology connects the real Shibuya to a virtual space, combining the realms of the digital and real world.

Virtual Harajuku is the second area to open in the service and brings together the iconic locations surrounding Jingumae Crossing such as Laforet Harajuku and Tokyu Plaza. As part of the new area's launch, Japanese pop icon Kyary Pamyu Pamyu has been announced as a Special Supporter of the service. The singer and model made her debut on the streets of Harajuku with her unique fashion. Ten years since her debut, she will continue promoting Harajuku from the service.

Information

Virtual Harajuku au 5G POP DAY OUT 2021
Running: May 25, 2021 – May 31, 2021

Location: Virtual Harajuku (The URL will be revealed in the coming weeks)
Virtual Harajuku Details: https://vcity.au5g.jp/harajuku

Cluster Official Website: https://corp.cluster.mu/

Stay in Harajuku's Yados Jingumae Hotel if You Love Art

Japanese company Rokuyon, which is responsible for creating a variety of hotel plans in Shibuya including at our own MOSHI MOSHI ROOMS, has launched a new project for guests of various hotels who are fans of brands and artists.

For their first endeavour, Rokuyon has teamed up with Yados Jingumae which has undergone major renovations. Guests staying in Room 202 this spring can enjoy a range of artworks as part of the room's exclusive Harajuku Night Owl Art Exhibition, while in summertime Room 301 will incorporate furniture by Sekai Class.

Yados Jingumae Room 202: Harajuku Night Owl Art Exhibition

Living room

Bedroom

Artist room

Participating Artists

CHiNPAN | April 23, 2021 – May 30, 2021

CHiNPAN began their career as an oil painter after getting selected at the 2008 Asia Creative Art Exhibition at The National Art Center in Tokyo. They explore the possibilities of oil painting by not limiting themselves to just paper. "Fusion" is the theme of their work which has taken them to creating visuals for shops, fashion, music, and more.

BANBU | June 10, 2021 – July 19, 2021

BANBU is a 24-y-ear-old artist who studied art abroad in Canada and New York after graduating at a vocational school in Japan. Currently based in Tokyo, they create colourful and eye-catching graphics with their three-eyed character.

Hotel Stay x Artists Come Together

"Harajuku Night Owl Art Exhibition" is the theme of Room 202 which will collaborate with different illustrators, video makers, photographers, and other artists every 1-2 months, shining the spotlight on each of their unique visions.

Yados Jingumae Room 301: Sekai Class

Hotel Stay x Furniture

Vintage furniture and artwork from around the world will be brought together in Room 301 so guests can experience a 'world living' experience. What's more is that all of the furniture, art, and items on display will be purchasable, and will change on a fixed schedule.