【Tokyo Stroll】Strolling in Harajuku which has a lot of great vintage clothing stores that are loved by fashionistas.
Harajuku is the origin of kawaii culture which is broadly known all over the world nowadays. This city is also one of the most popular sightseeing spots that you can get any items from unique young fashion to trendy fashion. Today, I went to visit some places, mainly the vintage clothing stores that certainly have the latest Harajuku culture with Fashionista Yabe Yuna who is active in Japanese fashion magazines etc.
Starting from "Aloha Amigo"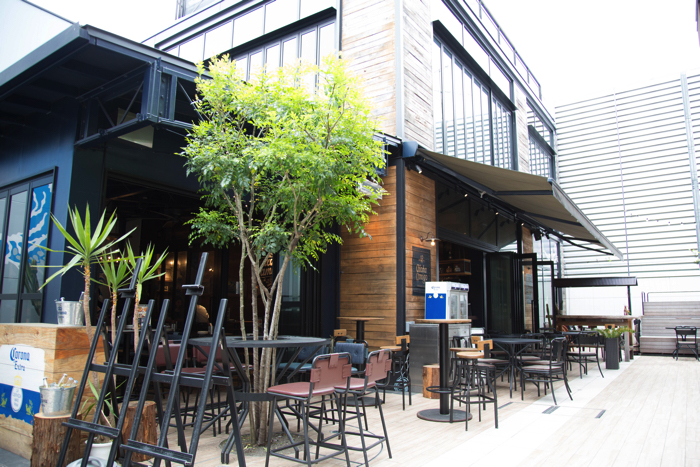 "Aloha Amigo" is a new style mixed culture café and dining located in the commercial facility called "Six Harajuku Terrace." Since this building located in back street of Cat Street, you can spend a relaxing time staying away from the hustle and bustle in this place.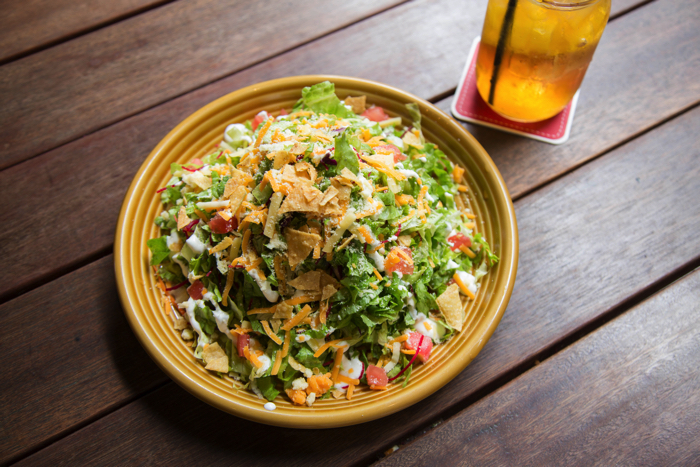 First of all, I ordered "Amigo Taco Rice (994yen include tax)" and "Home-made lemonade. (518yen include tax)" This healthy taco rice has spicy taco meat and fresh vegetables on the top of ten-grain rice. It might look plenty, but even the girls can eat this up easily!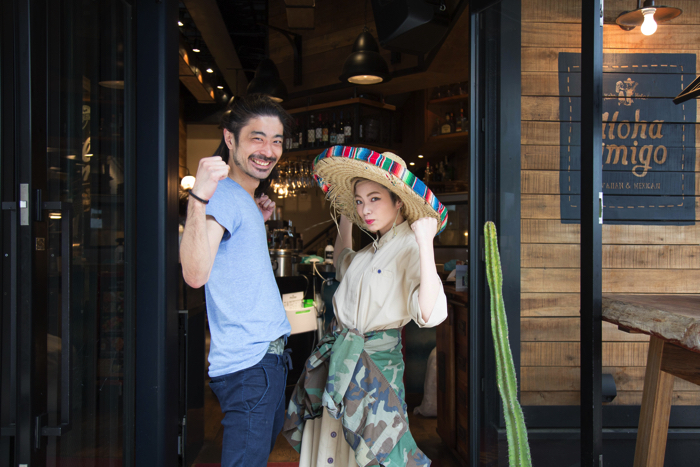 I took a picture with the friendly owner at last! All the staff are friendly, nice, and it has a great atmosphere. This place is really comfortable to me. You don't have to hesitate to talk to them when you visited here.
▼Information
Aloha Amigo
Address:5-16-13 Six Halajuk terrace ,Jingumae, Shibuya-ku, Tokyo
Hours:11:30AM to 11:00PM
Holiday:Open 7 days a week(Except for the year-end and New Year holidays)
Official site:http://harajuku.aloha-amigo.com/
To "thrift-tokyo"
The next one that we visited was "thrift-tokyo" where you can purchase a variety of generations' fashion items and miscellaneous good for a reasonable price. It is also located in the back street of Cat Street. They carry a variety of merchandise from men's to ladies'.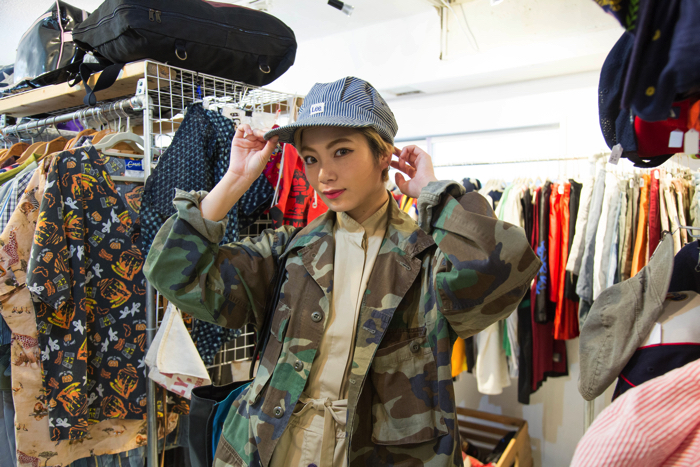 One of the features of this "thrift-tokyo" is that you can get great vintage clothing for a very cheap price. They often do the sales like "50% off buying more than 10 items" or "buy 2 get 1 free."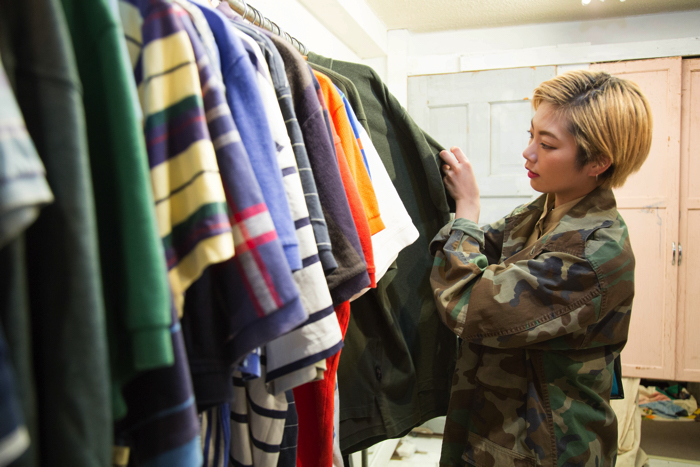 Why don't you find the good one like going treasure hunting?
▼Information
thrift-tokyo
Address:3-18-18 1F Jingumae, Shibuya-ku, Tokyo
Hours:12:00AM to 8:00PM
Holiday:Open 7 days a week(Except for the year-end and New Year holidays)
Official site:https://thrift-tokyo.stores.jp/
>>next page
RELATED ENTRIES
Japanese Music Artists to Perform at Crocs Japan x atmos pink's Summer Festival

Casual footwear brand Crocs Japan and sneaker select shop atmos pink are set to host a summer pop-up event titled 'Atokuro Natsumatsuri' at atmos pink's flagship store in Harajuku as well as online from July 31 to August 9.

atmos is one of the leading sneaker brands in Japan, while Crocs is a staple of summertime footwear. Together, the two brands are set to deliver an array of summer season content with classic Japanese summer stalls, creating your own custom Crocs Jibbitz™, and more. Additionally, everyone who attends the event and buys something will enter for a chance to win some limited-edition merhandise.

Starting on August 2, a line-up of Japanese artists will perform live on YouTube for the event, with names such as FAKY, Yurufuwa Gang, ELLE TERESA, CHAMELEON LIME WHOOPIEPIE, Atarashii Gakko no Leaders, and more.

Information

Atokuro Natsumatsuri
Running: July 31, 2021 – August 9, 2021

Location: atmos pink Flagship Shop Harajuku

Address: 6-5-3 Jingumae, Shibuya, Tokyo

Opening Hours: 11:00-20:00

Live Schedule​
August 2 @ 21:00 – FAKY

August 4 @ 21:00 – Yurufuwa Gang
August 6 @ 21:00 – ELLE TERESA
August 8 @ 21:00 – CHAMELEON LIME WHOOPIEPIE, Atarashii Gakkou no Leaders

atmos pink channel: https://www.youtube.com/channel/UCkSEEsKnBrGz0bP9XLDkSGw

atmos pink Official Website: https://www.atmos-pink.com/

First Official Chiikawa Shops Open at KIDDYLAND Harajuku and Osaka Umeda

KIDDYLAND has announced the opening of the first official shops themed on the popular character Chiikawa. Named Chiikawa Land, the two stores will open at the Harajuku and Osaka Umeda branches of KIDDYLAND on August 7.

Chiikawa is a popular character first revealed by Japanese illustrator Nagano on Twitter. In December 2020, the official online store Chiikawa Market opened, and Nagano released a book compiling the manga panels they drew and posted on Twitter. With over 550,000 follows on Twitter, Chiikawa has become extremely popular, with even themed cafes and an exhibition, Chiikawa's Forest, having taken place.

Now Chiikawa get its own official shops at KIDDYLAND with merchandise featuring new and exclusive artwork drawn by Nagano and more.

Get your paws on exclusive merch at Chiikawa Land

Smartphone Stickers | 3 Designs | ¥385 Each (Tax Included)

Acrylic Stands | 3 Designs | ¥770 Each (Tax Included)

Pins | 3 Designs | ¥330 Each (Tax Included)

Acrylic Keyrings | 3 Designs | ¥660 Each (Tax Included)

Large Hand Towels | 2 Designs | ¥770 Each (Tax Included)

Mug | ¥1,650 (Tax Included)

T-Shirts | 3 Designs | ¥3,080 Each (Tax Included)

Positively adorable frames for pre-order

Chiikawa Art Frame – Clouds | ¥16,500 (Tax Included)

Chiikawa Art Frame – Faces | ¥16,500 (Tax Included)

Chiikawa Art Frame – Ramen | ¥16,500 (Tax Included)

Buyer bonuses

For every ¥1,100 spent in a single transaction, receive one of three possible Umaibo corn sticks.

For every ¥3,300-¥5,499 spent in a single transaction, receive an exclusive hologram pin.

Spend over ¥5,500 to receive a random special gift: one of four possible lunch boxes or one of five plush pins.

Chiikawa Land shopping bag

Snap a photo at one of the photo spots

Get a stamp at both KIDDYLAND branches

 

©nagano

MOSHI MOSHI ROOMS opens Harajuku-Kawaii themed accommodation called 'HARAJUKU'

Rokuyon, which manages unique accommodations mainly in Shibuya, has opened the fourth room of "MOSHI MOSHI ROOMS", the home-sharing facility, named "HARAJUKU" produced by ASOBISYSTEM, which introduces HARAJUKU culture to the world.

"MOSHI MOSHI ROOMS offers accommodation services in concept rooms full of originality not found in existing hotels or home-sharing facilities. The concept of the fourth room is "HARAJUKU". The room is filled with "KAWAII", one of the representative cultures of Japan. Once you step into the room through the archway, you will feel as if you have wandered into the world of a picture book. The room is inspired by Harajuku, a place where you can enjoy the extraordinary feeling of being lost in a different dimension.

With the opening of the room HARAJUKU, an entire building has been transformed into MOSHI MOSHI ROOMS, with four rooms available for booking via Airbnb. The rooms can be used for a variety of purposes, such as accommodation for domestic and foreign tourists, staycations (casual holiday at home or nearby), girls' parties, and birthday parties with your friends. In order to ensure the safety of the guests, they carry out temperature checks, use alcohol sanitisers and disinfect the rooms with alcohol when cleaning.

The archway at the entrance is a gateway to a world of wonder. From the moment you step into the house, the excitement is bound to build.

The living room is decorated with colourful objects and animals reminiscent of a museum. Why not find your favourite objects and animals, and enjoy taking photos with them?

The bedroom has a queen-size bed, together with a sofa bed and an air bed in the living room, which can accommodate up to four people.

The shower room is equipped with amenities such as shampoo, conditioner, and body soap. The separated washbasins and Toto Washlet toilets have been installed.

The kitchen is fully equipped with a microwave, fridge, and other daily necessities. Colourful KAWAII tablewares are lined up so that you can enjoy the world of the room more.

MOSHI MOSHI ROOMS

The first room  'SAKURA'

The room has received high praise from both domestic and international travelers.

A monument of cherry blossoms, the symbol of Japan, fills the ceiling of the bedroom, creating a gorgeous and unique space.

The second room 'ORIGAMI'

This room is themed on origami, one of the symbols of Japanese culture.

The living room is furnished with benches and stools inspired by a teahouse. Looking up at the ceiling, a number of Japanese umbrellas decorate the space.

The third room 'DOSUKOI'

The room combined the traditional Japanese culture of sento, a Japanese public bathhouse and sumo, Japanese wrestling.

The sumo wrestler's hands and the large bath inspired by a sento attract the viewer's attention. The painted pictures on the walls are the work of Kiyoto Maruyama, one of only three sento painters in Japan.

The rooftop

The rooftop offers an expansive space with a panoramic view of Harajuku. It can also be used for events such as tent saunas and BBQs. Only the rooftop can be rented out as a rental space.

Why don't you create your own story at MOSHI MOSHI ROOMS, a place full of unique concepts that you can only experience here?

Ibuki Sakai x atmos pink T-Shirt Collection Releases

Japanese sneaker select shop atmos pink has teamed up with model and artist Ibuki Sakai to release two t-shirts at atmos pink stores and their official website.

atmos pink x sakai ibuki collaboration raglan tee | ¥4,500 (Before Tax)

atmos pink × sakai ibuki collaboration safari long sleeve tee | ¥4,900 (Before Tax)

The two tees take on a 90's design with sticker collage motifs, something which Ibuki is known for. In promotion of the release, a special installation has been set up at atmos pink's flagship store in Harajuku where it will be displayed until July 25.

The installation is a collection of handmade original accessories, stickers, and other items selected by Ibuki. Additionally, those who purchase her artbook at TSUTAYA will receive a paper doll poster, available on a first-come, first-served basis.

Information

Ibuki Sakai x atmos pink
Installation: July 16, 2021 – July 25, 2021
Location: atmos pink flagship Harajuku

Address: 6-5-3 Jingumae, Shibuya, Tokyo

Peta Peta Kai Event
Tickets: Available from July 16, 2021

Location: atmos pink flagship Harajuku

*Open to those who purchase either of the collaborative t-shirts

Event Date: July 25, 2021 @ 13:00-18:00

1st Slot: 13:00-15:00

2nd Slot: 15:00-17:00
Price: ¥1,000 (Tax Included)
*Max. 15 people per slot

6%DOKIDOKI Celebrates 25th Anniversary With Pullip Doll Collaboration

Sebastian Masuda founded Harajuku's famous fashion brand 6%DOKIDOKI back in 1995. Last year marked the brand's 25th anniversary, and in continuation of the celebration, 6%DOKIDOKI is collaborating with the popular doll brand Pullip on an exclusive model.

The dolls are made to order, and the order window will open at Pullip and 6%DOKIDOKI's online shop on July 1 before going on sale in mid September. Those outside Japan will be pleased to know that 6%DOKIDOKI ships overseas. The brand has many fans outside Japan, especially those with an interest in Harajuku. COVID-19 has rendered travel Japan difficult, so this collaboration is a way of 6%DOKIDOKI also serves as a way of giving Harajuku, 'kawaii' culture, and J-fashion enthusiasts their kick.

Pullip/DOKI DOKI

The exclusive doll model in full

The upper body, hair, and makeup up close

Pullip dolls are known for their large heads and for having lots of movable parts. The eyes can move left and right as well as wink, allowing owners to pose their dolls with a variety of expressions. The concept of the Pullip/DOKI DOKI collaboration focuses on how despite language barriers between countries, colour is universal. It gives us power, especially when dressing up.

6%DOKIDOKI has and continues to make people happy with their colourful line-up. Their doll is another step towards that goal.

©Cheonsang cheonha.All Rights Reserved. Ⓒ6%DOKIDOKI

Information

Pullip/DOKI DOKI
Price: ¥25,850 (Tax Included)

Ages: 15+

Set: Includes doll, hair accessory, shoes, bag, doll stand, and profile card

Size: 31cm

Made in China

*Photos are of a product still in development so subject to design changes without notice

Harajuku's New Snoopy Themed Cafe 'PEANUTS Cafe SUNNY SIDE Kitchen' to Open This Summer

The Snoopy-themed PEANUTS Cafe chain of cafes is set to open the all-new PEANUTS Cafe SUNNY SIDE Kitchen branch inside WITH HARAJUKU in Harajuku, Tokyo, this July, where it will serve an all-new, gorgeous healthy food menu.

The Peanuts franchise has been active in its marketing efforts in Japan this year, promoting messages of love and friendship, themes that are threaded through the globally-celebrated Peanuts comic strip.



PEANUTS Cafe SUNNY SIDE Kitchen keeps with those important themes, serving up a menu of healthy light food as well as sustainable products.

Their food line-up includes no-fry doughnuts, granola made with organic ingredients, open sandwiches stuffed with fresh vegetables, and more. The cafe also has its own collection of merchandise with kitchenware to promote healthy eating as well as environmentally-friendly and sustainable items.

If you're staying in Tokyo and frequenting Harajuku but have had your fill of the district's famous crepes, why not let Snoopy cook you up some healthy grub?

(C) 2021 Peanuts Worldwide LLC

Information

PEANUTS Cafe SUNNY SIDE Kitchen
Location: WITH HARAJUKU

Grand Opening: Late July 2021
Official Website: http://www.peanutscafe.jp/

Explore Harajuku Virtually as Virtual Shibuya Announces New Harajuku Area

Virtual Shibuya has announced that its new Harajuku area will open on May 25, 2021. The virtual experience is hosted on Cluster, a virtual social media platform.

Shibuya 5G Entertainment Project launched the "Virtual Shibuya" back in May of last year in collaboration with KDDI, Shibuya Future Design, and the Shibuya Tourism Association. Officially recognised by Shibuya City, Virtual Shibuya comes in response to the effects of the COVID-19 pandemic which has brought tight restrictions to the economy and people's way of life. It enables people to continue enjoying entertainment from the comfort of their homes by participating in a whole host of virtual events and activities. The project aims to deliver content from Shibuya with live performances from artists, art exhibitions, talks, and more. The use of 5G and the latest cutting edge technology connects the real Shibuya to a virtual space, combining the realms of the digital and real world.

Virtual Harajuku is the second area to open in the service and brings together the iconic locations surrounding Jingumae Crossing such as Laforet Harajuku and Tokyu Plaza. As part of the new area's launch, Japanese pop icon Kyary Pamyu Pamyu has been announced as a Special Supporter of the service. The singer and model made her debut on the streets of Harajuku with her unique fashion. Ten years since her debut, she will continue promoting Harajuku from the service.

Information

Virtual Harajuku au 5G POP DAY OUT 2021
Running: May 25, 2021 – May 31, 2021

Location: Virtual Harajuku (The URL will be revealed in the coming weeks)
Virtual Harajuku Details: https://vcity.au5g.jp/harajuku

Cluster Official Website: https://corp.cluster.mu/

Stay in Harajuku's Yados Jingumae Hotel if You Love Art

Japanese company Rokuyon, which is responsible for creating a variety of hotel plans in Shibuya including at our own MOSHI MOSHI ROOMS, has launched a new project for guests of various hotels who are fans of brands and artists.

For their first endeavour, Rokuyon has teamed up with Yados Jingumae which has undergone major renovations. Guests staying in Room 202 this spring can enjoy a range of artworks as part of the room's exclusive Harajuku Night Owl Art Exhibition, while in summertime Room 301 will incorporate furniture by Sekai Class.

Yados Jingumae Room 202: Harajuku Night Owl Art Exhibition

Living room

Bedroom

Artist room

Participating Artists

CHiNPAN | April 23, 2021 – May 30, 2021

CHiNPAN began their career as an oil painter after getting selected at the 2008 Asia Creative Art Exhibition at The National Art Center in Tokyo. They explore the possibilities of oil painting by not limiting themselves to just paper. "Fusion" is the theme of their work which has taken them to creating visuals for shops, fashion, music, and more.

BANBU | June 10, 2021 – July 19, 2021

BANBU is a 24-y-ear-old artist who studied art abroad in Canada and New York after graduating at a vocational school in Japan. Currently based in Tokyo, they create colourful and eye-catching graphics with their three-eyed character.

Hotel Stay x Artists Come Together

"Harajuku Night Owl Art Exhibition" is the theme of Room 202 which will collaborate with different illustrators, video makers, photographers, and other artists every 1-2 months, shining the spotlight on each of their unique visions.

Yados Jingumae Room 301: Sekai Class

Hotel Stay x Furniture

Vintage furniture and artwork from around the world will be brought together in Room 301 so guests can experience a 'world living' experience. What's more is that all of the furniture, art, and items on display will be purchasable, and will change on a fixed schedule.

Coji-Coji's Jiro Becomes Legendary Japanese Mermaid Amabie at Harajuku Event

Nippon Animation began holding the Amabie Jiro Fair at KIDDYLAND Harajuku's Maruko & Coji-Coji Store on April 29, selling merchandise of the character Jiro from Momoko Sakura's manga series Coji-Coji.

Pre-sale merchandise

Free hand towel


Jiro has turned into Amabie once again this year, a legendary Japanese mermaid who is said to emerges from the sea and prophesise either an abundant harvest or an epidemic. People are instructed people to make copies of its likeness to defend against illness.

Fans who spend over ¥8,000 at the Maruko & Coji-Coji store will receive a free original hand towel as pictured above.

Laforet Harajuku Announces LAFORET GOLDEN WEEK

Golden Week is almost here in Japan, and so Laforet Harajuku is readying itself for its special LAFORET GOLDEN WEEK event which will run from April 24 to May 9.

Around 60 stores inside the Harajuku-based shopping centre are participating in this event where shoppers can get their hands on a new wardrobe full of outfits, a stock of items and accessories, and more. There is also a special item available at Charles Chaton on Floor 4F of Laforet that is made as part of a triple collaboration between the store, DJ and music producer Night Tempo, and Rie Kanou, the author of the manga series Slow Motion wo Mou Ichido. At FRAPBOIS on Floor 1.5F, there's a selection of t-shirts, shirts, one pieces and other must-grabs created in collaboration with Osamu Goods. And that's just a taste of the many exclusives to be sold and doesn't take into account all the other events that will take place at this year's LAFORET GOLDEN WEEK. Let's dive deeper.

The Little Cat Shop by MILKBOY | April 30 – May 9 | Floor 1F Entrance Space

The Little Cat Shop by MILKBOY is a cat-themed shop by three brands: MILK, MILKBOY, and LAND. It will incorporate hit motifs from the brands' past line-ups as well as introduce all-new trends. As well as clothes, there are accessories, sofvi toys, and other items, each woven with each of the brand's touch. There will also be a raffle to win exclusive sofvi toys made by notable sofvi artists like IZUMONSTER and Konatsuya. Plus, all customers who spend over ¥10,000 will get an original sticker.

Cat eyes dress ¥32,450 / CAT EYES SHIRTS ¥19,250 / CAT TOWER TEE ¥8,800 / MISCHIEF cat Frill TEE ¥13,200 / Ribbon CAT TEE ¥7,920 (Tax Included)

Kuttsuketemiyou Picture Book Pop-Up Shop | May 1 – May 16 | Floor 2F POP UP SHOP SPACE

Kuttsuketemiyou is a picture book by contemporary artist Ken Kagami and it's getting its first pop-up shop at Lofret Harajuku. The humorous book sees Kagami seeing what would happen if he tried attaching certain things to animals. It's a work of artistic nonsense enjoyed by children and adults alike, and fans of the quirky story can get their hands on a range of merchandise featuring the cute creatures. Kagami will also be doing signings.

Kuttsuketemiyou Book ¥1,650 / Mug ¥2,750 / Tote Bag ¥4,180 / T-Shirt ¥4,950 (Tax Included)

ABEMA 5th Anniversary Laforet Harajuku Campaign

In celebration of ABEMA's 5th anniversary, it is holding a limited-time campaign in collaboration with several popular Japanese TV shows such as Koi to Ookami ni wa Damasarenai and Black Cinerella. ABEMA is a Japanese video streaming website. During the campaign, customers who spend over ¥2,000 at select stores will receive a limited-edition Black Cinderella sticker and a ticket to an online event centred on Koi to Ookami ni wa Damasarenai. They can also enter a raffle to win signed merchandise from the shows if they show their receipt and have spend over ¥2,000.

Harajuku Shopping Week 2021 | April 28 – May 7

Shoppers who spend over ¥1,000 at select stores will receive a scratch card that may net them a ¥1,000 coupon.

UNDER GROUND SNAP Photoshoot | April 29 – May 8 @ 12:00-16:00

A photoshoot will take place down on Floor B1.5F. Those who sign up can have their photo taken professionally by Gothic and Lolita Market which will be featured in the early June 2021 edition of Laforet Harajuku's tabloid as well as on HARAJUKU POP WEB. Info on how to apply can be found on LAFORET GOLDEN WEEK's official website.

Laforet Harajuku Welcomes New Stores For Spring 2021

Starting this month, Laforet Harajuku is readying itself for Spring 2021 with the rollout of items by high-end brands and shops, all with an audience in mind who simply love culture regardless of their age or gender.

4.23 | New Store Opening
《Floor 3.5F》circle in circle

circle in circle welcomes a diverse selection of brands such as l'atelier du savon, CHILD WOMAN, and more. The new store's concept is to act as the perfect place for an appointment with your wardrobe. Every month, the store will collaborate with various different people, and line the shop floor with outfits that will have customers feeling like a kind in a candy store. For its initial opening, circle in circle is collaborating with photographer Kensuke Hosoya.

4.9 | New Store Opening

《Floor 1.5F》LIBERTY TOKYO

"Freedom" is the keyword at LIBERTY TOKYO, where customers are encouraged that it's great to get your hands on the things you want, and great to wear the things you want to wear. The shop stocks a range of apparel and items that combine accessories and fashion. They even sell stickers, merchandise, and more. This custom select shop offers made-to-order products, making each and every one unique and the only one in the world. It also collaborates with artists and other brands.

3.12 | New Store Opening

《Floor 5F》OSEWAYA TOKYO

OSEWAYA TOKYO is an accessory shop offering everything from basics to trends. Their motto is "bring your happiness" which is melded into their range, spanning the latest trends to must-have dailies. They have everything you hope a store specialising in accessories would have.

4.9~6.6 | New Store Opening

《Floor B0.5F》GLAZE KOHL x NUTTY VINTAGE

GLAZE KOHL x NUTTY VINTAGE is a limited-time collaboration shop between chic apparel brand GLAZE KOHL and NUTTY, a vintage shop that first opened in 1995. They line-up features new Spring 2021 items as well as the "GLAZE KOHL add VINTAGE" corner which features a selection of vintage items picked out by designers who themselves are vintage buyers. NUTTY VINTAGE is also offering a huge selection of the best authentic vintage items. Customers can enjoy some little limited-edition gifts when shopping there which are being given out to commemorate the shop's opening.

5.22~6.4 | New Store Opening

《Floor 4F》Mansion Mikura

Mansion Mikura's main store is located at Harajuku Cat Street. This limited-time rendition is a 'mansion' with four tenants – a collection of four second-hand shops including SAUCE which stocks miscellaneous items and second-hand clothes, top ranking vintage name STEP A HEAD, side car charlie which specialises in 'maniac items,' and the long-selling brand vintagesheets.

6.5~7.25 | New Store Opening

《Floor 4F》SAUCE

SAUCE is another vintage store located behind Cat Street. For its limited-time opening, it's selling hats in collaboration with Antage which previously sold out, as well as its own upcycled vintage clothing, as well as vintage clothes, rugs, and more from overseas.

5.22~5.30 | New Store Opening

《Floor 0.5F》vanilla(B0.5F)

vanilla will provide a diverse line-up of unique fashion as well as brands such as att production, room boy pony, phemesaccessories, and more.

5.31~6.6 | New Store Opening

《Floor 0.5F》Ochame Department

At Ochame Department, they believe simply being cute is being, and being the same as others is boring. Their fashion stock and handmade bits and bobs are imbued with the magic to make customers smile.

CLEAN KEEPERS Regular Member Uniforms

CLEAN KEEPERS is a cleaning project that takes place every Saturday at Laforet Harajuku in the hopes of creating a clean town and in turn clean hearts for all. Their uniform worn by regular members has changed into a blouson and one piece produced by ehka sopo on Floor B1F of Laforet. The blouson has a retro feel to it while the one piece has long sleeves and is inspired by 19th century British maids.

CLEAN KEEPERS

Running: Saturdays @ 10:30-12:30 (Booking Required/Cancellation if it rains)毎

Stay in Harajuku's New Hotel Produced by Rolling Roster of Artists

India-ink painter CHiNPAN is collaborating with Rokuyon, who is known for helping to create a range of unique accommodations such as MOSHI MOSHI ROOMS, to launch a new kind of hotel experience in Harajuku beginning on April 23, 2021.

The project's name is Harajuku Yofukashi Art Exhibition, with yofukashi being Japanese for 'staying up late.' It will invite a new artist or creator on board every one or two months as an opportunity for them to showcase their works.

One of the art pieces

Wall art

Works displayed in the living space

The bedroom with art pieces against the walls and on the ceiling

Private area

MOSHI MOSHI ROOMS Series

MOSHI MOSHI ROOMS is our own hotel site located in the heart of Harajuku's tourism: it is within walking distance of Takeshita-dori (Takeshita Street), Meiji-dori, the Ura-Harajuku area, and Omotesando. This makes it the ideal place to stay for travellers visiting Harajuku.

SAKURA | More details here

ORIGAMI | More details here

DOSUKOI | More details here

With art events and exhibitions cancelled or severely restricted due to the pandemic, this project serves as a get promotional opportunity for artists to display their works and for art lovers to appreciate them. It aims to grow and become a new way to enjoy art.

Information

Harajuku Yorufukashi Art Exhibition

Japanese Name: 原宿夜ふかしアート展

Start Date: April 23, 2021

Where: Yados Jingumae (Formerly Wind Jingumae)

Address: 2-26-10 Jingumae, Shibuya, Tokyo

Official Website: https://www.chillnn.com/1773daedf52237