Netflix Announces Original Anime Series 'Eden' Launching Worldwide This Spring
Netflix has announced that its upcoming original anime series Eden will hit the streaming service worldwide on May 27.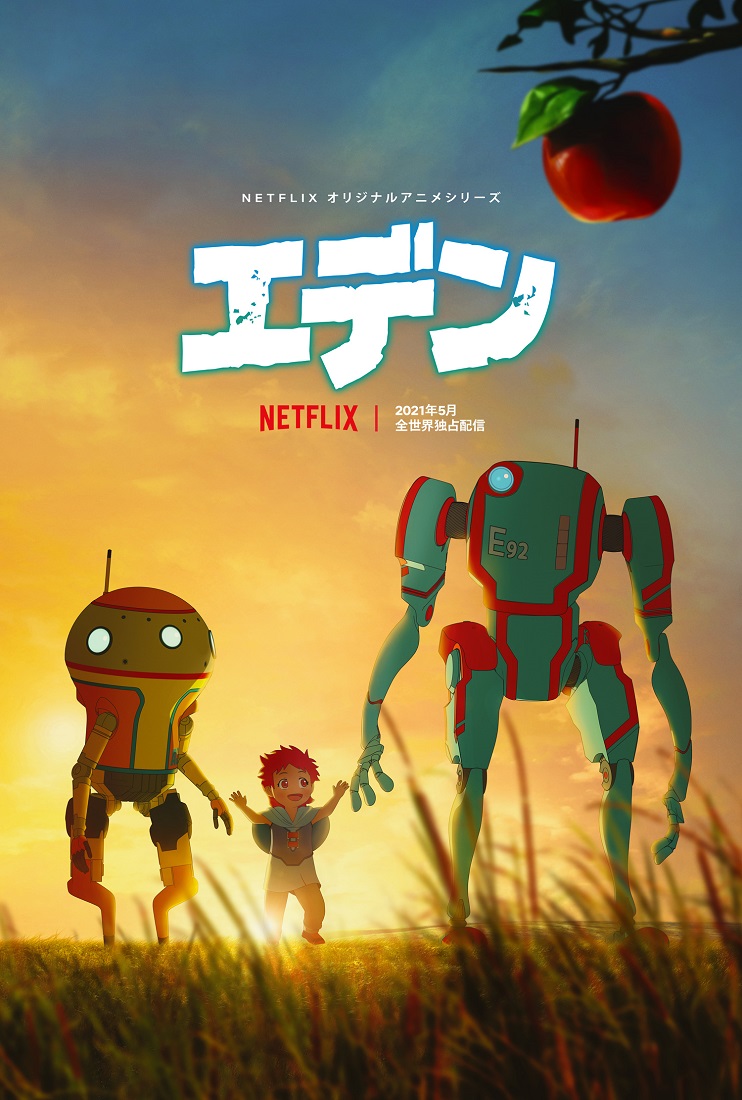 The series is created by Justin Leach (Ghost in the Shell 2) with Yasuhiro Irie (Fullmetal Alchemist) as director and Toshihiro Kawamoto (Cowboy Bebop) as concept designer. It follows the story of two robots, E92 (Kentaro Ito) and A37 (Kyōko Hikami) who raise the last human child.
Netflix describes the series: "Thousands of years into the future, there are no more humans. Only robots live in the mechanical metropolis, "Eden 3″. Or so they thought… One day, two farming robots find a young human girl in the city. The decision they make will change everything…"
Eden | Teaser Trailer | Netflix
"We wanted to put time and effort into showcasing how E92 and A37 become parents for the first time," explains Leach. "Their bonds as parents and child deepen as they raise Sara. They all grow emotionally, they love, and they themselves are loved." (Comment translated from Japanese by MMN)
Irie describes the series as "Enjoyable entertaining" and that "it will get your heart racing." He also describes the animation as "powerful" and says the story has "unexpected developments," as well as the characters being "charming."
Sara is voiced by Marika Kouno who is known for voicing Rin Kohana in Seiyu's Life and Silence Suzuka in Uma Musume Pretty Derby. "Sara wakes up in a wild resided solely by robots," she explains. "She grows and matures as they watch over her. The feelings she has for her precious existence, as well as her curiosity and strong will, are tied to this grand story." (Comment translated from Japanese by MMN)


You can catch Eden when it hits Netflix worldwide on May 27, 2021.

Information
Eden
Release Date: May 27, 2021
Story
Thousands of years into the future, there are no more humans. Only robots live in the mechanical metropolis, "Eden 3". Or so they thought… One day, two farming robots find a young human girl in the city. The decision they make will change everything… (Netflix)
YouTube Trailer: https://www.youtube.com/watch?v=uDz6kMGVAuY&ab_channel=Netflix
RELATED ENTRIES
Netflix Anime BLUE REFLECTION RAY's Ending Theme to be Performed by ACCAMER

It has been announced that Japanese singer ACCAMER will perform the ending theme Saishin for the upcoming anime series BLUE REFLECTION RAY will will premiere on April 9 on MBS, TBS, and BS-TBS's Animeism programming block. The series will follow the story of the role-playing game Blue Reflection which was developed by Gust and released in 2017.

Check out the promotional video for the anime adaptation below.

ACCAMER recently performed the ending theme Be Down for B: The Beginning Succession, the second season of the anime series B: The Beginning which premiered on Netflix on March 18, 2021.

BLUE REFLECTION RAY will be available to watch to anime fans outside Japan from April 9 on Funimation in the United States, Canada, the United Kingdom, Ireland, Mexico and Brazil; on AnimeLab in Australia and New Zealand; and on Wakanim in France, Germany, Russia, and Scandinavian countries.

The ending theme Saishin was written and composed by syudou, who also wrote and composed Ado's Usseewa, and arranged by TomoLow who is known for working with up-and-coming artists milet and EISYU.

ACCAMER | Comment

"syudou worked on the lyrics and composition of Saishin, while TomoLow is on board for the arrangement. The song starts off with some shocking lyrics: 'I hate that me.' It follows the anime's story and also has some of my own thoughts in there. It's so full of emotion that I couldn't stop crying. I sang the song in a way that overlaps with both myself and the feelings that these girl Reflectors have [in the series]. I think it shows a new side to ACCAMER. I'm grateful to be associated with this wonderful work and am look forward to the premiere!"

©コーエーテクモゲームス/AASA

Netflix's Rilakkuma and Kaoru Promotes Official Fan Club With Community Stream Event

San-X is bringing fans of the popular Netflix animated series Rilakkuma and Kaoru with the launching of a community event to get everyone watching the series again together at the same time. Titled "Rilakkuma and Kaoru Watching Party," the event will take place on March 19. Although it's taking place in Japan, this is a fun chance for fan around the world to get involved too.

Rilakkuma and Kaoru has been well-received around the world. Netflix announced it as the second-most watched series in Japan in 2019. Now, fans can come together once again as the event, which is taking place in promotion of the opening of the series' official fan club, has them re-watching the first episode together.

There are two ways to get involved: via the Rilakkuma Community official fan club and on Twitter.

Getting Involved With the Rilakkuma Community Official Fan Club

The room for this event will open on Rilakkuma Community on March 18. There, fans can get ready to tune in to watch the episode together on March 19 at 19:00 (JST). There is a fee to pay if you want to join the fan club, and the website is in Japanese, so you'll need to be able to read the language if you want to use this method.

Fan club members will also receive an exclusive Rilakkuma and Kaoru wallpaper.

Getting involved on Twitter

You can follow the event with the official Japanese hashtag #リラックマとカオルさんを一緒に見ようの会 where people are encouraged to share their thoughts and support for the setries.

©2021 SAN-X CO., LTD. ALL RIGHTS RESERVED.

Netflix Anime Series B: The Beginning Succession Ending Theme to be Performed by ACCAMER

It has been announced that ACCAMER will perform the ending theme Be Down for B: The Beginning Succession, the upcoming second season to the anime series B: The Beginning which will premiere on Netflix on March 18, 2021.

Be Down was written and composed by popular Japanese music producer DECO*27 whose video posts on social media have over 200 million views. Internationally acclaimed Japanese DJ and artist TeddyLoid also lent his sound to the track, as did Rockwell, who is known for their fusion of rock and trippy dance music.

ACCAMER | Comment

"I am over the moon to be performing the ending theme for the anime series B: The Beginning Succession! DECO*27 composed the music and wrote the lyrics for 'Be Down.' The lyrics and powerful, moving melody capture [the character] Koku's feelings of conflict, frustration, and helplessness and how much those emotions hurt. I sing my heart out in the song too. I hope you all enjoy watching the anime and listen to 'Be Down' lots!"




© Kazuto Nakazawa / Production I.G

Netflix Series Rilakkuma and Kaoru Gets Exhibition in Tokyo

An exhibition for the popular stop-motion animation Netflix series Rilakkuma and Kaoru will run at SEIBU Ikebukuro in Tokyo from December 27, 2020 to January 5, 2021. Fans of the series can look forward to plunging themselves into its adorable world with recreated sets, statues, photo spots, limited-edition merchandise, and more.

Stop-motion sets and figures used in the animated series

The actual sets and set pieces used for the stop-motion animation will be exhibited at the event including Kaoru's apartment, Rilakkuma who looks like he's about to pop to life, and more.

Stop-motion animation behind-the-scenes

Catch a behind-the-scene glimpse of the efforts put into creating the series including early sketches, character reference, designs, and more.

Take a photo at Kaoru's apartment

Fans of the series won't want to miss out on a special photo spot recreating Kaoru's apartment with Rilakkuma and co waiting to greet you inside.

Over 500 pieces of limited-edition merchandise

Special Replica Plush Toy Korilakkuma With Serial Number | ¥25,300 (300 available in Japan / 200 elsewhere)

Kaoru's Album Post Card Set | ¥1,650

Plush Pouch | ¥2,200 Each

Fans can get their hands on a selection of exclusive limited-edition merchandise, including a replica Korilakkuma plush toy of which only 200 are available, each with its own unique serial number on the foot.

Bonus Items

Designs given randomly

For every ¥5,000 spent in one transaction (tax included), visitors can receive a free original bag. These are available to the first 200 people per day of the exhibition.

© 2020 San-X Co., Ltd. All Rights Reserved.

Information

Rilakkuma and Kaoru Exhibition
Running: December 27, 2020 – January 5, 2021

Location: SEIBU Ikebukuro Floor 7F
SEIBU Ikebukuro Official Website: https://www.sogo-seibu.jp/ikebukuro/

New Stop-Motion Animated Series 'Rilakkuma's Theme Park Adventure' To Premiere on Netflix

Japanese character manufacturing company San-x has teamed up with TYO Group's animation studio dwarf studios to produce an original Netflix series called Rilakkuma's Theme Park Adventure.

The series is a follow-up to Rilakkuma's first ever stop-motion animated series Rilakkuma and Kaoru which premiered worldwide on Netflix in April 2019. The new series is also a stop-motion animation adventure.

The new series features Kaoru (voiced by Mikako Tabe), Rilakkuma, Korilakkuma and Kiiroitori who are all set for a fun-filled day at an amusement park. Join the gang as they face a number of exciting incidents and make some new encounters at closing time.  There are a total of eight episodes, each of which lasts approximately ten minutes.

The Rilakkuma and Kaoru series ranked at number two on Netflix's list of top 10 most watched shows of 2019 in Japan. The new series will be available to watch in over 190 countries worldwide.

Rilakkuma's fun adventures have only just begun so stay tuned!

©2020 SAN-X CO., LTD. ALL RIGHTS RESERVED

Netflix Announces 'Resident Evil: Infinite Darkness' CG Animated Series

Netflix dropped a trailer for the new CG animated series Resident Evil: Infinite Darkness series on Sunday which is set to release worldwide in 2021.

This marks the first CG series adaptation of the popular Resident Evil horror game franchise. A CG film, Resident Evil: Vendetta, was released in 2017.

The Resident Evil franchise first launched with its first game for the PlayStation back in 1996. The latest entry to the video game franchise, Resent Evil 7, dropped back in 2017 to rave reviews. A sequel, Resident Evil Village, is in the works for next-generation consoles.

The series will be produced and supervised by Capcom's Hiroyuki Kobayashi, a long-time producer on the Resident Evil series who worked on the critically-acclaimed Resident Evil 7, and producer of the three CG films: Resident Evil: Degeneration, Resident Evil: Damnation, and Resident Evil: Vendetta.

The series is described by Netflix as 'horror with a sci-fi twist' and will be centred on popular Resident Evil characters Leon Scott Kennedy and Claire Redfield. Check out the official teaser trailer below.

Stay tuned for the latest updates on Resident Evil: Infinite Darkness, launching worldwide on Netflix in 2021.

©CAPCOM CO., LTD. ALL RIGHTS RESERVED.

Aggretsuko: Season 3 Music Spotify Release Includes 3 Songs by OTMGirls

Three songs by the idol group OTMGirls from Season 3 of Aggrestsuko were released in both English and Japanese on music download and streaming services worldwide, including Spotfy, on August 28.

Aggretsuko is a Netflix Original musical comedy anime series produced by Fanworks that follows Retsuko—a character created by Sanrio—a red panda who works as an accountant at a Japanese company. Retsuko faces constant frustration from her coworkers and superiors, and she lets it all out by singing death metal at karaoke. Season 3 released worldwide on Netflix on August 27, 2020.

Aggretsuko: Season 3 – Three Insert Songs Released Worldwide

Artist: OTMGirls feat. Aggretsuko
Title: Aggressive Girl (Japanese: アグレッシブガール)
Released: August 28, 2020

Stream & Download: Spotify / iTunes / Apple Music

Aggressive Girl CD Single Release

Two of the songs will also be released on OTMGirls'first ever CD single in Japan on September 2, 2020. The single is being mastered by Grammy-award winning American mastering engineer Ted Jensen (Green Day's American Idiot). Tower Records will also sell OTMGirls merchandise alongside the single's release.

Aggressive Girl

Release Date: September 2, 2020

Price: ¥1,000 (Before Tax)

Stock No.: JBCZ-6117

OTMGirls Bazuritai! Music Video

Check out the new music video for OTMGirls' song Bazuritai! which is sure to get your feet tapping and shouting "O! T! M!" along with the track.


YouTube Spin-Off Anime "OTMGirls no Yoki Yoki Channel"

OTMGirls are also getting their own spin-off anime on YouTube which open on September 2, 2020. The anime is directed by Rarecho who is also the director for Aggretsuko.

©2015, 2020 SANRIO サンリオ/TBS・ファンワークス

Aggretsuko: Season 3 Trailer Sees Everyone's Favourite Ball Of Rage Moonlighting at New Underground Job

A new trailer has finally dropped for season three of Aggretsuko along with a series of new animation stills and the announcement of new cast members.

The trailer kicks off at a depressing pace with inside Retsuko's messy room where she has fallen asleep on the ground wearing her VR headset. "I'm no-one special in the grand scheme of things. It's time I lived with my feet on the ground," she ponders timidly. The trailer then switches to a meeting between Retsuko and Gori. Gori asks Retsuko to invest in her new marriage counselling project.

But the story really takes a turn when Retsuko crashes into the back of a certain leopard's car. That leopard happens to be the producer of the underground idol group OTMGirls. He appoints Retsuko as the 'Account Director' for the group, and so begins Retsuko's journey into moonlighting to pay off her debt.

We see a new unicorn character called Seiya in the trailer, who in the Japanese dub will be voiced by none other than Yūki Kaji who is known for voicing Eren Yeager in Attack on Titan and Zeldris in The Seven Deadly Sins. "I remember when I first met 'Aggretsuko,' I was shocked that such a cute girl could scream like that," laughs Kaji. "But I think that polarity is what gets you hooked on this show."

Speaking about his role in the show, Kaji also comments: "Seiya, the unicorn I play, is a really deep character. He finds himself equal to the rest of the world!"

Season three of Aggretsuko will hit Netflix worldwide on August 27, 2020. See the full trailer below.

Aggretsuko Season 3 Netflix Release Date and New Poster Revealed

Netflix has finally confirmed the release date for season 3 of Aggretsuko. Get ready to rage with your favourite red panda on August 27, 2020.

Warning: Potential story spoilers ahead

What is Aggretsuko?

Aggretsuko is a Netflix Original musical comedy anime series produced by Fanworks that follows Retsuko—a character created by Sanrio—a red panda who works as an accountant at a Japanese company. Retsuko faces constant frustration from her coworkers and superiors, and she lets it all out by singing death metal at karaoke. When the first season dropped in April 2018, it became a hit worldwide. Its popularity continued when Season 2 was released in June 2019.

Season 3 Announced

In the run up to Season 3's worldwide Netflix release on August 27, a new poster has been released along with key art of new characters: OTMGirls, a three-member idol group, and their producer.

In Season 2, Retsuko fell in love with Tadano, a donkey, but that shortly ended after he revealed to her that he is not interested in getting married or having kids, resulting in Retsuko going back to her old life as an ordinary office lady. In the new poster, however, we see her wielding an electric guitar, perhaps ready to take on new challenges. We also see familiar faces returning in the poster, along with some new ones.

Season 3 of Aggretsuko will hit Netflix worldwide on August 27, 2020. If you've yet to watch the first two seasons—you have plenty of time to catch up!

©2015, 2020 SANRIO/TBS・Fanworks

Japan Sinks: 2020 Netflix Original Anime Series Spin-Off Project 'Shizumanu Kibou' Launches

Japan Sinks: 2020, the first ever anime adaptation of Sakyo Komatsu's best-selling 1973 disaster novel Japan Sinks, was released worldwide on Netflix on July 9, 2020. The series is directed by Masaaki Yuasa, who is known for his unique free-flowing animation style, having directed such internationally-lauded anime series like Devilman Crybaby, Ping-Pong: The Animation, and The Tatami Galaxy.

Netflix launched a new project called "Shizumanu Kibou" (Unsinking Hope) on July 10 as a spin-off project of Japan Sinks: 2020 which aims to inspire positivity based on the characters that appear in the anime series who never forget the importance of looking forward no matter how difficult the circumstances. The project will archive "music," "words," "images," and other media centred on the series to show hope for the future in the face of adversity.

The film's director, Masaaki Yuasa, is known for throwing in lighthearted rap scenes during importance scenes in his tragic films. Japan Sinks: 2020 is no exception, where the character Kaito sings an uplifting rap. This scene of hope for the future in the series served as the starting point to the Shizumanu Kibou project.

Ongoing content from Kafu, Daichi Yamamoto, and Taichi Mukai

A line-up of creators will be releasing songs, music videos, and a variety of content for the Shizumanu Kibou project going forward. This includes Kensho Ono, who voiced Kaito in the series and performed the rap part; virtual singer Kafu; Daichi Yamamoto who is big in Japan's hip-hop scene; and singer-songwriter Mukai Taichi.

Mic relay spins words of hope

A social media campaign is launching in Japan as part of the project which can be followed with the hashtag #キボウのマイクリレー ('Mic Relay of Hope'). Japanese rapper Ken the 390, who wrote the rap for Japan Sinks: 2020 is hosting this online mic relay, which hopes to inspire a viral trend based on the rap.

Social media posting campaign

A second social media campaign is also being held with the hashtag #キボウの風景 ('scenery of hope') which invites users to post pictures of scenery that is important to them or images that they would like to leave for the future.

You can keep update on the project and the anime series over on the official Japan Sinks: 2020 Twitter page here.

©"JAPAN SINKS : 2020"Project Partners

Netflix's Upcoming Grudge Horror Series 'Ju-On: Origins' New Trailer Released

The new Netflix Original horror series JU-ON: Origins will be released on July 3, 2020. A brand new trailer featuring never before scenes released dropped today on Netflix's official YouTube channel.

Ju-On is a Japanese horror franchise that first hit the scene back in 2000 with two direct-to-video productions, Ju-On: The Curse and Ju-On: The Curse 2. The two movies were a hit with horror fans in Japan, leading to the first theatrical release and third instalment of the series Ju-On: The Grudge in 2003. Since then, the series has continued to scare folk for 20 years during which it has grown into an international franchise. The first Hollywood remakes The Grudge (2004) and The Grudge 2 (2006) reached number one in the US box office, and along with The Ringーa remake of another Japanese horror franchise Ringuーintroduced and sparked a global interest in J-horror.

Ju-On: The Final Curse was supposed to be the final entry to the main film series, but Netflix's JU-ON: Origins is bringing it back to explore something that you may have not even known aboutーthat Ju-On is actually based on real-life events. For the first time ever, this new drama series will explore the origins of the cursed house and the numerous unpleasant incidents surrounding it. Its ties to reality are set to engulf viewers in a terrifyingly real experience.

JU-ON: Origins New Trailer

The new trailer is a snippet from a single scene from the new series, featuring the main character and psychic researcher Kodajima (name reading not confirmed) who is played by Yoshiyoshi Arakawa. A sense of unease and dread lingers throughout the clip, and this feeling is reinforced when Kodajima clocks an unpleasant stain on the staircase, confirming to him that something really did happen in this house.

The policeman who is with Kodajima in the clip and is investigating the incident that happened here says that his subordinates say this house appears in their dreams. He himself also says to Kodajima that he sometimes finds himself forgetting to breathe. It's then that we hear the sound of something smashing in the background.

Several new stills were also released alongside the trailer with some seriously creepy angles. Kodajima himself also looks frozen to death at the sight of something.

JU-ON: Origins will maintain the same scary imagery and fear-inducement that the franchise has built up to now while adding a fresh spin. Don't miss JU-ON: Origins when it drops on worldwide on Netflix on July 3, 2020.

Information

Netflix Original Series – "Ju-On: Origins"

Release Date: July 3, 2020 (Worldwide)

Episodes: 6

Official Website: www.netflix.com/ju-on_origins

Netflix Anime Film 'A Whisker Away' New Promotional Video Features Ending Song

A Whisker Away (Nakitai Watashi wa Neko wo Kaburu) is the second original anime feature film from Studio Colorido. The studio's first feature film Penguin Highway released in August 2018 to critical acclaim (August 2018 release) and went on to win the Japan Academy Prize for Animation of the Year as well as the Axis: The Satoshi Kon Award for Excellence in Animation award at Fantasia International Film Festival for the best-animated feature.

The film is being co-directed by Junichi Sato (Sailor Moon; Princess Tutu) and Tomotaka Shibayama, the latter making his debut as the director of a feature length film. The screenplay is being written by screenwriter Mari Okada (AnoHana; Black Butler; O Maidens in Your Savage Season).

A new promotional video has been released featuring the ending song Uso Tsuki by Yorushika who are also performing the main theme Hana ni Bourei (Flower for the Dead) and insert song Yakou (Walking in the Night).

Yorushika – "Uso Tsuki" x "A Whisker Away"

The video showcases scenes with Hinode and Taro, and even a scene with Muge holding Hinode's hand. The ending song by Yorushika adds another layer to the scenes with its melancholic lyrics and melody.

Yorushika | Comment


n-buna (Guitarist/Composer)

We are a band that creates music based off the concept of a work, so we were concerned on how far we should express the outlook of this film, but we had no reason to be worried. We felt reassured when the director said to us on our first meeting with him that we could do as we liked. One concept from our next album is the feeling between transitioning from spring to early summer, which we thought didn't stray from the film, so we continued writing in the way that we were at the time. All three of the songs we came up with is themed inside a town inside a memory.

'Hana ni Bourei'… a ghost is pretty much just a memory, so this song is about looking at a memory of flowers blooming in the summer.

'Yakou'… the 'night' which we're talking about here is the night of life. Becoming an adult, forgetting things, heading towards death. These things have replaced nighttime [as we know it].

'Uso Tsuki'… it means liar. The lyrics are laced with lines from [Japanese poet] Ozaki Hōsai.

suis (Vocals)

I love animated movies, so I am overjoyed and excited that Yorushika will be heard during the credit roll of one! At the same time, I felt it my goal to make everyone at the end of the film cry, so I wanted to make sure I sang a good song.

*Comments translated from Japanese by MMN

© 2020 「泣きたい私は猫をかぶる」製作委員会