Godzilla Energy Drink Releases in Japan to Promote Godzilla vs. Kong
In promotion of the Godzilla vs. Kong movie, Japanese soft drink manufacturing company Cheerio Corporation released a new energy drink called GODZILLA ENERGY on April 30.
The Godzilla franchise began in 1954 with the first movie release. Since then, it has gone on to receive 29 films, three animations, and three Hollywood adaptations. An anime series began airing last month, and Godzilla vs. Kong was released worldwide on March 31 (but is releasing in Japan on May 14).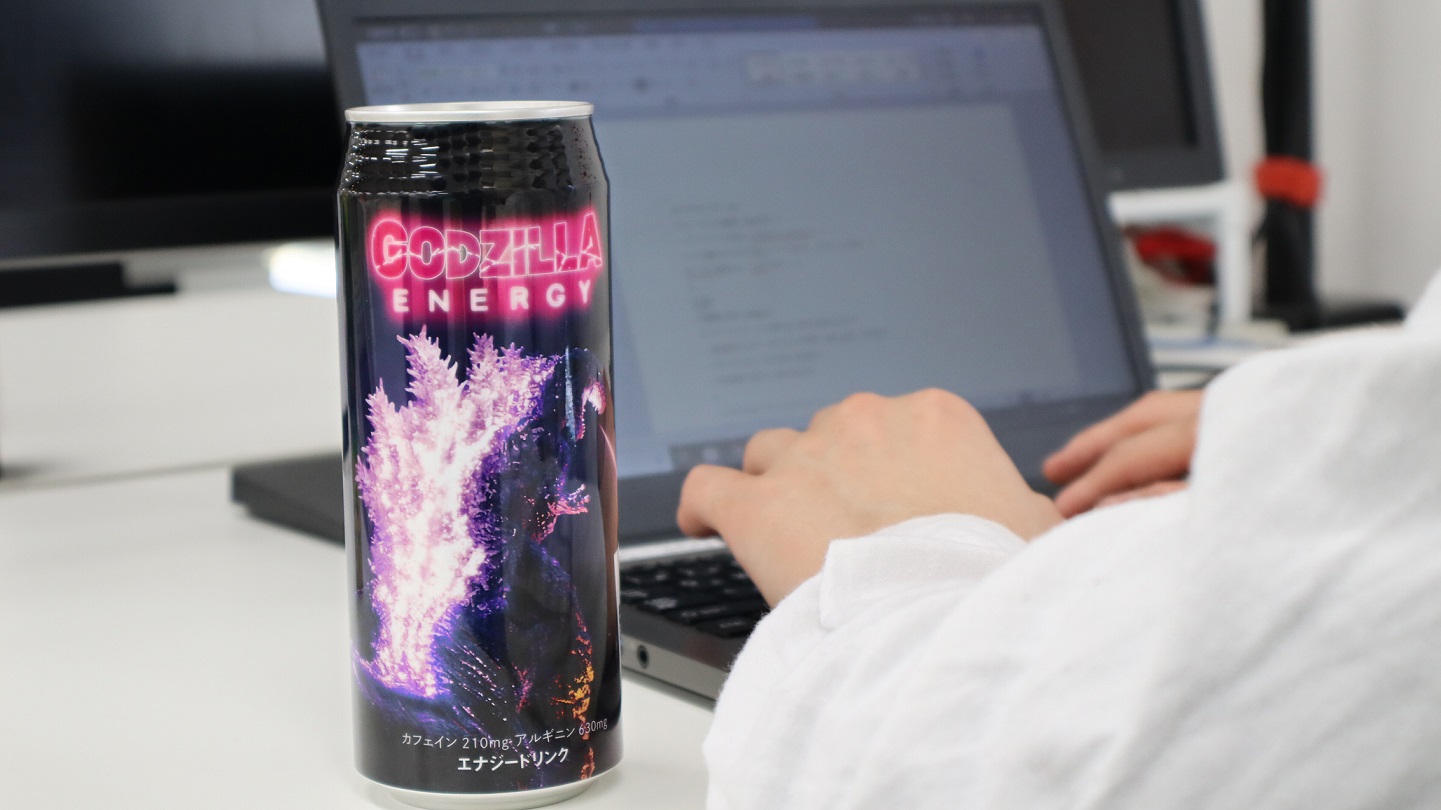 GODZILLA ENERGY is imbued with the full force of Godzilla's energy so you too can stomp relentlessly on your way to victory. The 500ml can has today's standard 210mg caffeine and 630mg arginine今.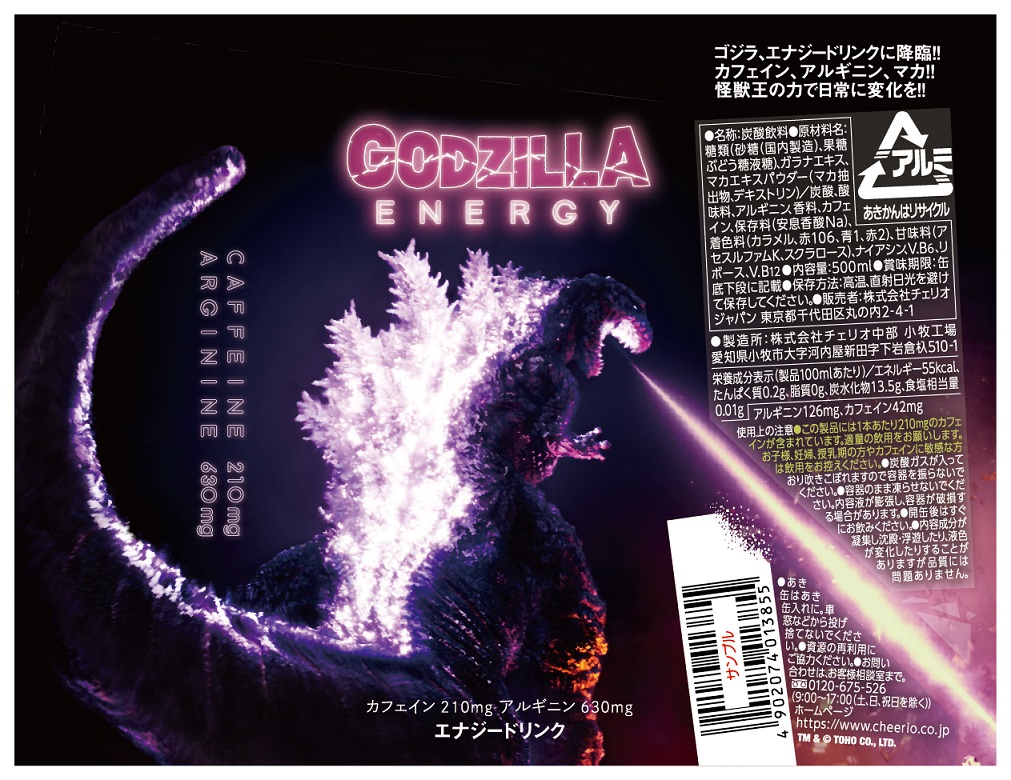 The can's design features a monstrous image of Godzilla with a neon logo and the drink itself is the same vibrant colour.
TM & © TOHO CO., LTD.
Information
GODZILLA ENERGY
Released: April 30, 2021
Where: Japan (Cheerio Online Shop / Cheerio Vending Machines in Japan / Stores in Japan)
Godzilla Official Website: https://godzilla.jp
RELATED ENTRIES
Godzilla Singular Point Merch Collection Stomps its Way Online

A new collection of Godzilla Singular Point merchandise has hit up the Japanese anime, manga, and hobby online store CharaDepa and includes stickers, badges, and multipurpose pouches. The items are available to buy until June 11.

The Line-Up

GG3 Stickers | ¥800 (Before Tax)

Badges | ¥1,500 (Before Tax)

Acrylic Pass Cases | ¥1,500 (Before Tax)

Multipurpose Pouches | ¥1,800 (Before Tax)

TM & © TOHO CO., LTD.

Information

Godzilla Singular Point New Merchandise

Order Window: May 30, 2021 – June 11, 2021

VTuber Yukihana Lamy Releases Her Own Sake Called 'Yuki-Yo-Zuki'

Yukihana Lamy, a Virtual YouTuber associated with hololive, launched her own Japanese sake project in February to bring her dream to life of making her very own sake by hand. That sake has now been released by the name of Yuki-Yo-Zuki, a premium brand daiginjo sake.

The sake was created in collaboration with Meiri Shurui, a Japanese sake brewery which has been around since the Edo Period. Every single ingredient in the drink was considered from scratch including the type of rice, the ratios, yeast, alcohol content, and so on. The sake is made by hand in a brewery located in Mito, Ibaraki.

Yuki-Yo-Zuki uses Fukushogun Daiginjo as its base, a sake that won Gold in the Sake category at IWC2020. It's made with a combination of Yamada Nishiki and Biyama Nishiki rice as well as ginjoka, the highest quality daiginjo, known for its light spicy kick and fruity notes. The bottle features an illustration of Yukihana Lamy drawn by Abara Heiki, an artist Lamy likes, with a fusion of black and silver inspired by the meaning of drink's name: 'Snowy Evening Moon.'

Kirin Announces Restoration Project With Gogo no Kocha Milk Tea

Kirin Beverage launched the Gogo Tea Happiness Project on June 1, 2021. The project will donate the proceeds made from select products to locations in Japan that require support in restoration efforts. The first product to launch is the 'Gogo no Kocha for HAPPINESS Kumamoto Strawberry Tea' which released in limited quantities in Japan on Tuesday.

 

Kirin Group launched a similar project in 2011 called the 'Kirin Bond Project.' in 2016, they began efforts to support the people of Kumamoto after the earthquake that struck there that year – to 'bind' them to the future. From then until 2018, they also shot commercials for their Gogo no Kocha milk tea brand at Miharashidai Station, Shirakawa River, and other places around Kumamoto, as well as promoted the village of Minamiaso to showcase its beautiful natural environment.

The Gogo Tea Happiness Project takes Kirin back to Kumamoto to continue helping to support restoration efforts, something the company has been doing since July 2011 after the Great East Japan Earthquake struck. For every bottle of Gogo no Kocha for HAPPINESS Kumamoto Strawberry Tea sold, not only does 3.9 yen of the proceeds go towards supporting Kumamoto, it also gives people around Japan the chance to try a type of strawberry grown in Kumamoto called yuubeni. The project also ties in with the 35th anniversary of Kirin's Gogo no Kocha tea.

Information

Gogo no Kocha for HAPPINESS Kumamoto Strawberry Tea

Japanese Product Name: キリン 午後の紅茶 for HAPPINESS 熊本県産いちごティー
Released: June 1, 2021

Available: Japan

Price: ¥140 (Before Tax)

Official Website: https://www.kirin.co.jp/

AMAZAKE STAND to Open its Second Branch in Sendai Serving Rice-Malt Sweet Sake

AMAZAKE STAND opened its first branch in Kamakura a year and a half ago as the first store in Japan serving homemade rice-malt amazake sweet sake. The cafe has announced that its second branch will open in Sendai on June 10, 2021. It hopes to promote the delicious taste of amazake to more people and pass it down to the next generation.

Homemade Amazake – Plain (Small Size) | ¥390 (Tax Included)

Strawberry Chocolate Amazake – Blueberry Cheesecake Amazake – Apple Pie Amazake | From ¥600 Each (Tax Included)

Amazake is a great alternative for those who can't handle the taste of ordinary strong sake. The cafe makes it with koji and rice from Tohoku and offers it in a range of different flavours. All beverages are made without granulated sugar and include a range of ingredients that have beautifying effects on the skin and help with recovering from fatigue such as grape powder, amino acids, and Vitamin B.

Enjoy a Cup of High Quality Japanese Tea in the Morning at This New Cafe in Nagoya

Mirume Shinryoku Sabo is a new cafe and tea-lover paradise that opened in Nagoya on May 10, 2021, serving high quality bottled Japanese tea, desserts, and other delicious delights.

Daifuku : Eat-In ¥250 (Tax Included)

Ise Tea Sweet Bean Jelly: Eat-In ¥250 / Store ¥500 (Tax Included)

Ise Tea Cheesecake: Eat-In ¥350 / Store ¥3,300 (Tax Included)

Mirume Shinryoku Sabo is the newest cafe to be opened by Shinryoku Sabo, an award-winning tea company in Mie Prefecture. The cafe's tea experience includes using a kyuusu, which is a type of small teapot, to brew Isecha green tea. Customers can learn the best way to prepare tea from an in-house instructor of Japanese tea, who will also provide backstory on the tea leaves used. Their deliciously brewed cup can be paired with a variety of desserts like daifuku, maju, cheesecake, and more.

The cafe also sells the "Morning Bottle," its signature bottled cold-brew tea which is prepared on the day in the early morning. Bottles can be returned to the cafe to be reused, allowing for no waste. Since the tea is cold-brewed, it also contains little caffeine.

Information

Mirume Shinryoku Sabo
Address: 1-36-57 Nagono, Nishi Ward, Nagoya, Aichi 451-0042, Japan
Opening Hours: [8:00-10:00] Morning Bottle only / [11:00-22:00] Cafe & Store
Closed: Wednesdays

TEL: 052-551-3366

Official Site:https://www.shinryokusabo.co.jp/

Hatsune Miku Features in Pocari Sweat Promotion as Official Ambassador

Otsuka Pharmaceutical released a 30-second video titled "Netsunarero" on their official YouTube channel on May 6 announcing Hatsune Miku and members of Leo/need from the Project Sekai Colorful Stage ft. Hatsune Miku mobile game as the official ambassadors for the Japanese sports drink Pocari Sweat.

The importance of "Netsunare"

The video stresses the importance of netsunare – sweating in order to get used to the heat during summer. Leading the promoting of this message is Hatsune Miku who is followed by Leo/need, MEIKO, Mirai Akari, Fuji Aoi, and YuNi. The video features the original song Waiting for Clear Weather created by Orangestar for the Project Sekai Colorful Stage ft. Hatsune Miku mobile game. The popular track has been streamed over 1.9 million times as of April 2021.

The Character Line-Up

Since December 2019, Otsuka Pharmaceutical has appointed Hatsune Miku, MEIKO, Leo/need, MEIKO, Mirai Akari, Fuji Aoi, YuNi, and other familiar faces as official ambassadors for Pocari Sweat to spread information on how to overcome Japan's hot summer weather to the world. It is part of the beyond2020 project which Otsuka describes: "With an eye to 2020 and beyond, this cultural program will contribute to the creation of a legacy befitting a maturing society that will make the next generation proud, through Japan's strength which consists of its local and diverse culture."

Leo/need from Project Sekai Colorful Stage ft. Hatsune Miku

Project Sekai Colorful Stage ft. Hatsune Miku is a mobile game for iOS/Android. The members of Leo/need include guitarist and vocalist Ichika Hoshino, keyboardist Saki Tenma, drummer Honami Mochizuki, and bassist Shino Hinomori. They will release their first single on June 9, 2021.

Twitter Campaign

Otsuka Pharmaceutical is also holding a Twitter campaign in Japan as part of the promotion where 200 random people can win a box of seven 500ml Pocari Sweat bottles for cooling down in the summer heat.

How to Sign Up

Step 1: Follow Pocari Sweat on Twitter @pocarisweat_jp

Step 2: Retweet or quote any of Pocari Sweat's posts featuring the hashtag #ネツナレろ ("Netsunarero")

Running: May 6, 2021 – May 19, 2021 (Japan Only)

Campaign Site: https://pocarisweat.jp/action/pocarimiku/netsunarero/

© SEGA / © CP / © CPM / © Mirai Akari Project / © YuNi / © Fuji Aoi

Godzilla x Ed Hardy Collection Stomps Its Way Online

Japanese online retailer ARMA BIANCA is now taking orders for an all-new Gozilla and Ed Hardy collaborative collection. ARMA BIANCA's concept is to create merchandise that brings about new value by way of collaboration.

T-Shirt | ¥4,500 (Before Tax)

The collection includes a t-shirt fusing together the worlds of Godzilla and Ed Hardy. It features standard styling and a silhouette adaptable in many situations.

Hoodie | ¥6,980 (Before Tax)

A simple pullover hoodie that can be worn as loungewear or outdoors.

Tote Bag | ¥3,000 (Before Tax)

A handy large-sized tote bag with a versatile design.

Sticker | ¥600 (Before Tax)

The sticker is made from synthetic paper making it water and weather resistant.

TM & © TOHO CO., LTD.

Non-Alcoholic Cocktails Made With Vinegar Get Served at Tokyo's Royal Park Hotel

Royal Park Hotel is collaborating with the Japanese condiment brand Mizkan, which is known for its vinegars, mustards, salad dressings and more, to serve non-alcoholic cocktails made with vinegar. The Non Alco-Vinegar Cocktail Fair will be held from May 1 to June 30.

Royal Park Hotel x Mizkan

Tropical Princess/FLORAL BEAUTY Vinegar Cashew/Frozen Fruity Su/Blueberry Black Vinegar Soy Milk Shake/Vinegar Fruit Yogurt/Ponzu & Tomato Ginger

The non-alcoholic vinegar cocktails were created for both drinkers and non-drinkers of alcohol as a way to enjoy the food scene more. The alcoholic drinks used in cocktails gives them a kick, and so does vinegar when used in food. These beverages combine vinegar with a range of fruits, teas, carbonated water, and other ingredients.

The line-up was conceived by the Vinegar Club who have also posted recipes for various cocktails on their website – links below.

McDonald's Japan Releases Peach Smoothie and Frappe Made From Three Kinds of Peaches

McDonald's Japan is releasing two new beverages at McCafé by Barista® on April 28 each made with three varieties of peach: the Gorotto Peach Smoothie and Fuwa Fuwa Peach Creamy Frappe.

Gorotto Peach Smoothie: Regular ¥440 / Large ¥480

Fuwa Fuwa Peach Creamy Frappe: Regular ¥490 / Large ¥530

McDonald's Japan's original Peach Smoothie and Peach Frappe beverages first appeared in 2015 and have been slurped up by customers every year since. This year, they return even juicier and more delicious than ever before by being made with three kinds of peach juice: yellow peach, white peach, and for the first time, nectarine.

The Gorotto Peach Smoothie cup is topped with a sauce made from fresh white peach pieces that give an exquisite sweet kick to the richly sweet yellow peach. The nectarine adds a sweet and sour layer to the mix for the ultimate peach combination. The Fuwa Fuwa Peach Creamy Frappe has all of this plus a topping of fluffy whipped cream. And for an extra ¥60, customers can double the amount of sauce they can have on either of these drinks.

While these limited-time drinks are on offer, customers can pick up a stamp card. For every peach frappe or smoothie ordered, they'll get a stamp. Collect all four and get yourself a free regular-sized mango smoothie, green smoothie, chocolate frappe, or espresso frappe. The card is valid from April 28, 2021 to September 30, 2021.

Information

Gorotto Peach Smoothie / Fuwa Fuwa Peach Creamy Frappe

Release Date: April 28, 2021

Where: McCafé by Barista branches of McDonald's in Japan

McDonald's Japan Official Website: https://www.mcdonalds.co.jp/

Godzilla Gets a Kaiju on the Earth Legends Board Game Adaptation

Arclight Games and Drosselmeyer have announced that Godzilla is getting a board game adaptation as part Kaiju on the Earth LEGENDS, a new series in the popular board game series Kaiju on the Earth which has sold over 20,000 units.

Kaiju on the Earth is a board game series that depicts mankind's fight against towering Kaiju monsters. Godzilla comes as the first entry to the new Kaiju on the Earth LEGENDS series. Like the original series, it is being developed by Arclight Games and Drosselmeyer.

Kaiju on the Earth LEGENDS: Godzilla

The multiplayer board game sees one player take on the role of Godzilla while the rest play as humans. It is the task of the Godzilla player to destroy landmarks around Tokyo as well as attack humans. The human players must work together to create routes to evacuate citizens to neighbouring prefectures while avoiding the destruction wrought by Godzilla.

The game was teased at Game Marker 2021 Spring at Tokyo Big Sight which was held on April 10 and 11.

The game is set to be released sometime between Winter 2021 and Spring 2022.

TM & © TOHO CO., LTD.

© 2021 Arclight, lnc. / Drosselmeyer & Co. Ltd.

Information

Kaiju on the Earth LEGENDS: Godzilla

Release Date: Winter 2021 – Spring 2022

Kaiju on the Earth Official Website: http://kaijuontheearth.com/

Godzilla vs. Kyoto Event Begins This Spring

Kyoto Tower is set to be host to the upcoming Godzilla vs. Kyoto event which is running from April 16 to June 30. 

Key visual illustrated by Yusuke Nakamura

Stamp design

Stamp design

Stamp rally postcard

Godzilla vs. Kyoto Official Merchandise

Novelty illustrated by Yusuke Nakamura – available for the first 50 people each day

Kyoto Tower will hold a stamp rally event as part of Godzilla vs. Kyoto which will have people trying to find stamps in six locations in the tower as well as at Toji Temple and elsewhere. There is also a selection of official merchandise, a Godzilla exhibition, and much more planned.

If you're in Japan this spring, don't miss Godzilla taking over Kyoto.

TM & (C) TOHO CO., LTD.

イラスト/中村 佑介 TM & (C) TOHO CO., LTD.

Matcha and Latte Cookies and Drinks Released by Yojiya

Kyoto makeup brand Yojiya is now selling its own collection of snacks and drinks which it released via its website last week.

Yojiya Matcha Sandwich Cookies | ¥1,400 (Tax Included)

Yojiya Cafe Latte Chocolate Cookies | ¥1,350 (Tax Included)

Yojiya Matcha Milk | ¥950 (Tax Included)

Yojiya's snack line-up is made with the idea of being able to enjoy high-quality food products at home. Their collection includes crunchy matcha and cafe latte cookies along with matcha milk, the latter of which is made with famous Uji matcha from Uji, Kyoto. Perfect for a tea/coffee break or as a souvenir.