The "Gudetama café" and a Uji Green Tea Tiramisu in "Masu" will be collaborated! It is now available in Osaka from June 5th.
One of the Sanrio's popular characters, a lazy "Gudetama" has been theming in a café, called "Gudetama café HEP FIVE shop." They have been selling a new collaborative product with a green tea specialty shop, called "MACCHA HOUSE Matha-kan" which is famous for a Uji Green Tea Tiramisu in a Masu (a small wooden box). It is selling for a limited time from June 5th to July 9th.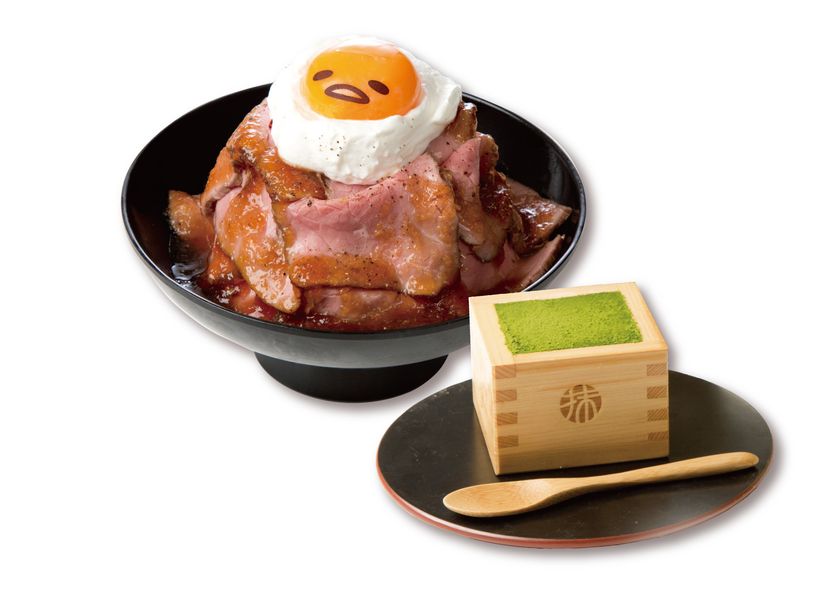 Mountain! A Roast Beef Bowl + Uji Green Tea Tiramisu ¥1600 +tax
The inside of "Gudetama café HEP FIVE shop" is decorated with Gudetama's image colors, yellow and orange. Gudetama's illustrations are drawn on a wall all over. There is a photo spot that you can take a picture with Gudetama. This café is loved by many country's people because there are original goods and unique "Gudetama menu."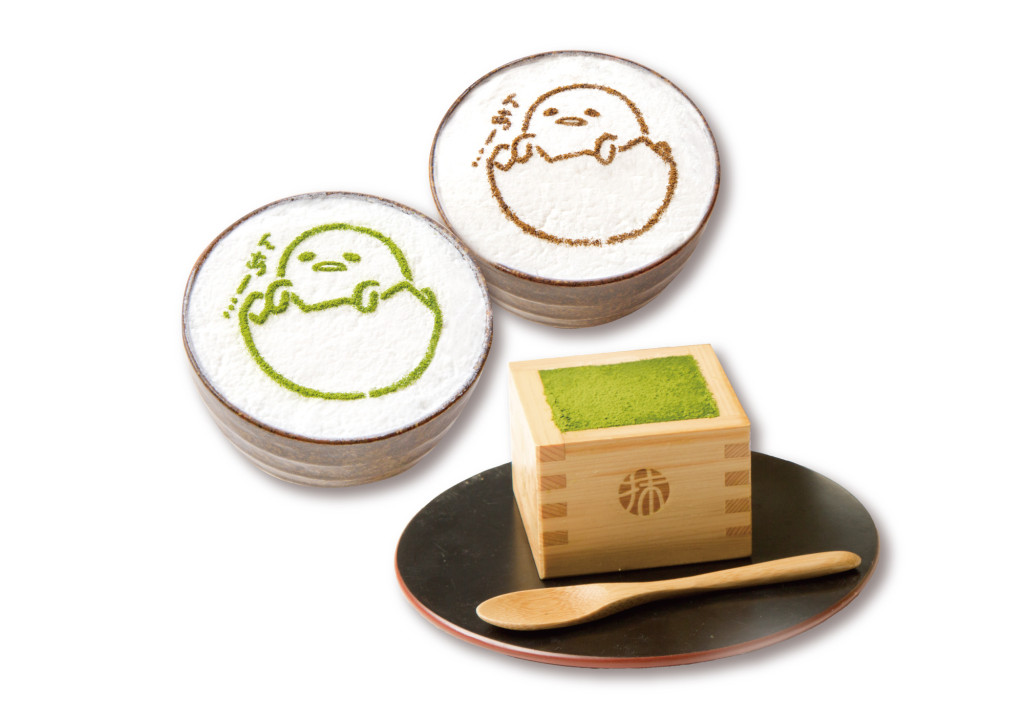 "MACCHA HOUSE Matha-kan" has shops in Singapore, Hong Kong, and other Asian countries.
The concept of"MACCHA HOUSE Matha-kan"is "JAPAN SECOND WAVE", which is reimport of arranged Matcha cultures from overseas. The representative sweets of this store is Uji Matcha Tiramisu in "Masu." The women the age of 20-30 especially love it. It is caught the attention from the medias as a wonderful green tea specialty store.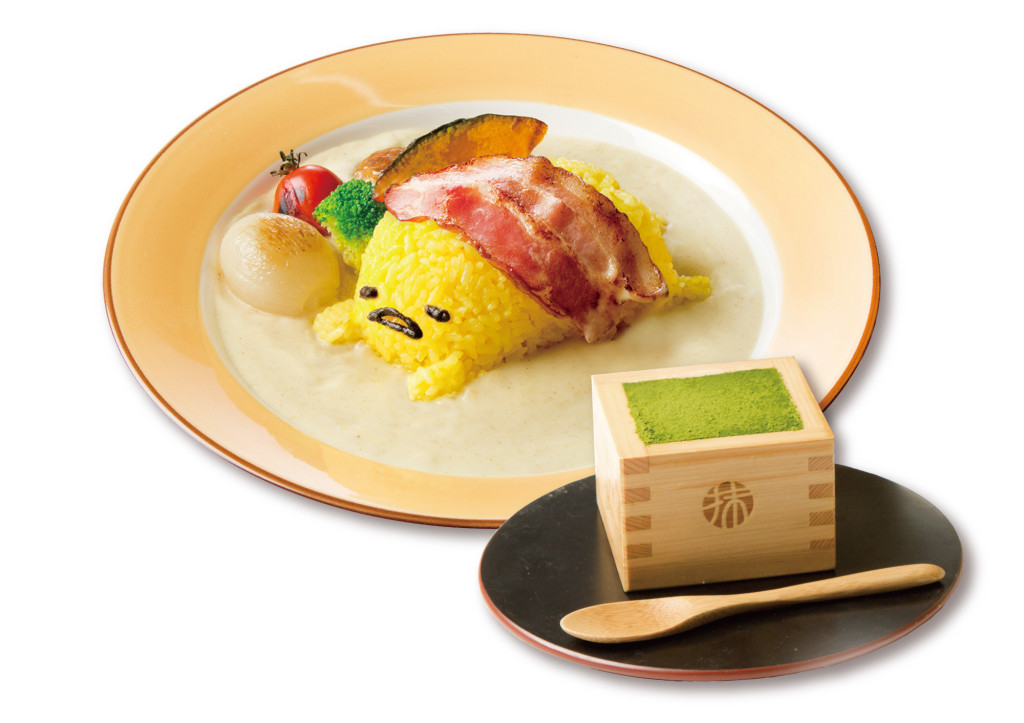 In this store, they sell Uji Matcha Tiramisu in a set of café's main menu. There are also sell the "Mountain! Roast Beef Bowl" topped with a photogenic Gudetama. You can enjoy "Gude White Curry" as well.
In this period, a special coaster will be offered if you eat/drink something in this café.
Check out the unique "Gudetama café × MACCHA HOUSE MATCHA-kan" before the rainy season is coming!
■Information
Place at :Gudetama café HEP FIVE
Opening period :June 5th to July 9th , 2017
Address:〒530-0017  HEP FIVE 7F Kakuda-cho 5-15, Kita-ku, Osaka-shi, Osaka
Phone number:06-6366-3694
Opening time:11:00~22:30 (L.O.22:00)
No closing days
Gudetama café official website: http://gudetama.createrestaurants.com/
(C)2013, 2017 SANRIO CO., LTD. APPROVAL NO.S580818
※An original coaster will be provided when you eat/drink at café. *until it lasts
※Only 5 products and drinks are sold during the period.
※Uji matcha tiramisu is only sold in a set.
Related article:Gudetama X Dessert Oukoku collaboration café introduces a new menu that includes a new burger dish and new desserts!
Related article:Gudetama×Desert Okoku open a very special collaborative café in Yokohama
RELATED ENTRIES
Mizkan Launches Gudetama Egg on Rice Collaboration With Sanrio

Mizkan launched a social media campaign last Tuesday in collaboration with Sanrio's popular character Gudetama. As part of the campaign, the lazy egg character is featuring on the packaging for Mizkan's 'Tamago Shoyu Tare,' an egg soy sauce topping for rice. There are eight designs in total, and all limited in stock.

The campaign invites foodies to make their best version of N-TKG, that's an abbreviation of natto tamago kake gohan, or natto egg on rice. 30 lucky people have the chance to win an original Quo card featuring a Gudetama design. All they need to do is follow Mizkan on Twitter and post their creation along with the Japanese hashtag #マイベストNTKG ("My Best NTKG") while quoting the campaign tweet.

N-TKG Recipe Maker

Mizkan have created a special N-TKG maker where you can make your own digital natto egg on rice. You enter six alphabetical letters which will give you a variety of toppings to creating your own dish. You can then use this as reference for actually making it in real life.


How to Make
1. Enter 6 letters into the recipe maker
2. Make your own original N-TKG using the toppings chosen by the letters you pick
3. Try making the dish yourself!

Information

#マイベストNTKG Campaign
Submission Period: June 1, 2021 – July 31, 2021
Official Website/N-TKG Recipe Maker: https://mizkan-ntkg.com/  


Gudetama Doughnuts at Floresta Celebrate the New Year

Floresta Nature Doughnuts, a doughnut cafe that hand-makes doughnuts using organic ingredients, is baking up two new Gudetama doughnuts with New Year's messages on them. They will be served from January 9 to 24.

Florest Gudetama Collab Doughnuts | ¥450 (Before Tax)

The doughnuts capture the lazy and lethargic energy of Gudetama. The crowning Gudetama is made from Japanese pumpkin and is sat on a bed of sweet white chocolate. Both doughnuts are also available as a set coming with an extra of any of Floresta's signature doughnuts.

Relax and take in the new year together with Gudetama.

New Gudetama Sticker Designs Cover All Prefectures Across Japan

Japanese online store Asunarosha is releasing a new set of Gudetama stickers this Friday (August 21) with designs featuring motifs and references to all 47 prefectures in Japan.

¥350 Each (Before Tax)

So far, we've seen Gudetama stickers with the lazy egg himself at tourist spots, practicing customs, experiencing, eating food, transforming into historical figures, and more, each tied to various cities around the country.

This time around, there are 47 stickers for all 47 prefectures in Japan. Gudetama has transformed into famous products and locations from each prefecture.


The stickers are a cute way for people in Japan to buy something related to each prefecture during this time when people are having to limit travel.


Sticking one on the back of your phone adds a bit of travel fun to your day.

Kaori's Easy Recipe: Learn to Make a Gudetama Parfait

With just a small bit of ingenuity, turn everyday food into something cute using Kaori's easy recipe! With a few simple ideas, an ordinary recipe magically transforms into a cute dish.

Today, I'll be showing you how to make a Gudetama parfait made with a yogurt mousse and topped with orange and peach jelly.

Ingredients
Yogurt Mousse Ingredients:
100g sugar free yogurt
50ml fresh cream
20g sugar
3g gelatin
*With the gelatin, mix well with 1 tbsp water

Mikan & Yellow Peach Jelly Ingredients:
100ml mikan juice (or any orange juice)
150g tinned peaches (with syrup)
5g gelatin
*With the gelatin, mix well with 1 tbsp water

1


①Mix the sugar into the yogurt well. Add in 7/10 of the fresh cream and mix well again.

②Microwave the gelatin for 10-20 seconds at 500w. Add into the mixture from ① and mix well.

2

Once the mixture has set in about ⅓ of a glass, add sliced chocolate on the inside for the eyes and mouth. I cut mine into shape using a toothpick.


Make sure the chocolate is properly fixed to the glass at this point.

3


Put your yellow peach and mikan orange into a blender (but not the gelatin part). The syrup of the peaches is already sweet so there's no need to add sugar.

②Microwave the gelatin for 10-20 seconds at 500w. Add into the blended mixture and mix well.

Pour on top of the mix inside the glass. If there are any peach pieces left, cut them up and use them as toppings.


Top with fresh cream and chopped fruit, and you're done! I stuck Gudetama's face on well and good so it looks like his chocolate face is on the outside. Be sure to try doing the same.

Kaori invites you into her world of character-themed food dishes in her recipe series. Be sure to check out her Instagram where she has uploaded many pictures of her character dishes!

Kaori Kubota (@kaopan27)

I live in Hokkaido and I love to make character themed foods, desserts and pastries♡
I want to see my family smile, so I enjoy putting in a bit of effort to make character foods and changing food into something cute♡
You can see more of my character foods and character bento boxes on my Instagram page → @kaopan72

Gudetama's Official YouTube Channel Now Has English Subtitles

The official YouTube channel for the popular character Gudetama is now posting its videos with English, Traditional Chinese and Korean subtitles.

Gudetama is a lazy egg character that was created by Sanrio in 2013. His debut saw him reach No. 2 on Tabekyara Sousenkyo, a competition that had people voting for their favourite food-inspired character. His lethargic, no-energy demeanour has earned him international popularity. The decision to include subtitles in various languages serves to further expand his sluggish influence.

Videos posted on this channel include an archive of short animations that have and are shown on Japanese television as well as new videos made specifically for the YouTube channel. Sanrio plan to add more languages in the future.

The channel is also accepting translations from viewers using YouTube's subtitle function. These translations will be reviewed and judged before consideration to post them on the channel is made.

Be sure to head on over to Gudetama's channel and subscribe for daily content!

S/D・G
©2013, 2019 SANRIO CO.,LTD.  TOKYO,JAPANⒽ
©2019 monstersegg

Gudetama & Chicken Ramen Hiyoko-chan Collaborate in Online Video

Hiyoko-chan clashed on his official Twitter page with Gudetama on March 24.

The comment section was flooded with comments from people asking them to make up. A video was then posted which showed them having made up. Gudetama kindly made an egg shaped pocket for Hiyoko-chan to join him in basking instant ramen.

The video is also an ad for the new Gudetama Chicken Ramen which comes with the following decorative faces to put on your egg with your noodles.

Make your instant ramen even more fun and get your hands on the Gudetama Chicken Ramen!

Gudetama Cafe Matcha Collaboration With MACCHA HOUSE

The Gudetama Cafe located in HEP FIVE is set to collaborate with MACCHA HOUSE―a cafe that has received huge media coverage for its Uji matcha tiramisu―from March 14 to May 6.

Uji Matcha Tiramisu: ¥600 (Before Tax)

For the collaboration MACCHA HOUSE have created Gudetama versions of their Uji Matcha Tiramisu and Houjicha Tiramisu. These fun treats will only be available for a limited time so don't miss out.

Gudetama White Curry + Uji Matcha Tiramisu Set: ¥1,400 (Before Tax)

Mountain Roast Beef Don + Uji Matcha Tiramisu Set: ¥1,600 (Before Tax)

The cafe will also sell sets of popular dishes together with the tiramisu. These delicious dishes are sure to make it onto people's Instagram pages.

Hot Matcha Latte: ¥600 (Before Tax)

There will also be a Hot Matcha Latte and Hot Houjicha Latte to enjoy. These can be ordered on their own or as a set with the tiramisu for an extra ¥400 (before tax).

Diners during the collaboration will receive a lunch mat and sticker and those who order a drink will get a coaster. Additionally, if you buy anything from the Sanrio shop "Sanrio Vivitx" on floor 4F of HEP FIVE you will receive a coupon which can be exchanged at the Gudetama Cafe for a postcard. These are available during the collaboration only, so don't miss out.

Information

Gudetama Cafe HEP FIVE

Address: HEP FIVE 7F, 5-15 Kakudacho, Kita-ku, Osaka-shi, Osaka Prefecture

Opening Hours: 11:00am-10:30pm (Last Orders 10:00pm)

No Fixed Holidays. (*Except when HEP FIVE is closed)

TEL: 06-6366-3694

Gudetama Cafe Official Website: http://gudetama.createrestaurants.com/

©1993, 2013, 2018 SANRIO CO., LTD. APPROVAL NO.S592279

Jin Akanishi & Gudetama Collaborative Cafe Opens in Tokyo's Sangenjaya Area

Japanese musician and singer-songwriter Jin Akanishi and popular Sanrio character Gudetama opened a collaborative cafe on January 4 in the  Sangenjaya area of Tokyo.

This is the first time they have collaborated. When it was announced in August last year it became the No. 1 trending tweet in Japan.

The cafe interior features Gudetama inspired designs including a cartoonised Akanishi. Expect a whole array of original themed food and exclusive merchandise.

You must book online to dine at the cafe. When reservations first opened the website traffic was so crowded that it crashed for a short time. There are only 30 seats in the cafe and over to 10,000 people tried booking at the same time. Its popularity continues into February.

Dariina Curry: ¥1,300 (Before Tax)

Jin & Gudetama's Sleeping-In Omurice: ¥1,300 (Before Tax)

Mango Jin-kun's Treat Parfait: ¥1,100 (Before Tax)

Toro Toro Jin Dan Chocolate: ¥950 (Before Tax)

Light-Up Jin & Gudetama Lemonade: ¥950 (Before Tax)

Jin & Gudetama's Lazy Latte: ¥750 (Before Tax)

Assorted Merchandise

Jin Akanishi is enjoying immense popularity in China and across Asia. Don't miss out on this rare collaboration.

Valentine's Day Arrives at Pompompurin Cafe in Collaboration With Gudetama

Sanrio's hugely popular characters Pompompurin and Gudetama will meet at the Yokohama and Nagoya branches of the Pompompurin Cafe for a special Valentine's Day and White Day menu special from January 15 to March 14.

Okota de Poka Poka Souffle Omurice: ¥1,290 (+Tax) *¥1,590 for the mug

This delightful dish has a rice ball Purin and Macaroon keeping warm under a Gudetama kotatsu souffle. Cheese sauce is hidden under the kotatsu, and when the food is combined with the added tomato sauce it makes for a richer taste and much more filling meal.

Pompompurin & Macaroon's 2 Coloured Love Love Curry: ¥1,390 (+Tax)

This mysterious black and white curry has a mashed potato Macaroon filled with a meatball and Purin made from rice. They are both lovingly surrounded by lots of hearts.

Cream Cheese Sandwich Lovely Pancakes: ¥1,290 (+Tax)

Cream cheese-filled pancake sandwiches with Purin and Macaroon's faces drawn on them, what could be cuter? The sweet and salty flavour combinations make for a tasty dessert.

Cocoa Cream On White Choco Purin: ¥590 (+Tax)

Mouths will drip at this dessert which sees a white chocolate Purin topped generously with cocoa cream.

*When ordered with a set it will be served at the set price of ¥350 (+tax).

Berry & Cream Cheese Trifle: ¥1,190 (+Tax)

Trifles are the treat that just keep on giving. This one is piled with berries, chocolate sponge cake, cream cheese and whipped cream before being topped with an ice cream Purin and Macaroon and strawberry roll cake. If you look closely you'll see Gudetama hidden in there disguised as cheesecake.

Pompompurin Bubble Tea (20 Flavours): ¥550 Each (+Tax)

From classic choices such as milk tea and coconut milk to popular matcha milk and strawberry milk there are a whopping 20 bubble teas to choose from all topped with Pompompurin's cute face.

Customers who dine at the cafe will each receive the above card calendar and lunch mat. The design of the calendar will change on February 15 until the collaboration ends.

Those who order a drink will also get the above coaster. All of these items will discontinue once the stock has been given out.

See, eat and drink cute food at the Pompompurin Cafe and treat that special someone this Valentine's season.

Information

Pompompurin Cafe Yokohama

Address: Yokohama Sotetsu Square, 2-1-5 Minamisaiwai, Nishi-ku, Yokohama-shi

Opening Hours: 10:00-21:00 (Last Orders 20:30)

Access: 5-minutes on foot from West Exit at Yokohama Station via JR

TEL: 045-311-6750

Pompompurin Cafe Nagoya

Address: BECOME SAKAE 2F, 3-32-6 Sakae, Naka-ku, Nagoya-shi

Opening Hours: 11:00-20:00 (Food Last Orders 19:30 / Drinks Last Orders 19:30)

Access: 1-minutes on foot from Sakae Station via the Meijo Line

TEL: 052-249-8320

Pompompurin Cafe Official Website: http://pompom.createrestaurants.com

©1996, 2013, 2019 SANRIO CO., LTD. APPROVAL NO.S593875

Gudetama and Goma-chan to Hold First Collaboration at Gudetama Cafe

Located just a three-minute walk from Umeda Station is HEP FIVE, a shopping mall that is home to the Gudetama Cafe themed entirely on the popular Sanrio character of the same name. For the first time ever, everybody's favourite lazy egg is collaboration with Goma-chan from the popular comedy manga Shonen Ashibe.

The two characters will get their own themed menu from January 7 to February 17 next year. Four delicious and cute-looking items will feature on the menu.

Gudetama & Goma-chan Stew: ¥1,150 (+Tax)

This chicken cream stew takes on a light blue colour which represents the ocean. It is filled with fish shaped carrots and stars which surround Goma-chan in the middle who is swimming with Gudetama on his back. You can rest assured that both your heart and stomach will be warmed by this meal.

Gudetama & Goma-chan Hamburger Plate: ¥1,250 (+Tax)

The Goma-chan white bun is a fish burger while the Gudetama carrot bun is a cheeseburger. Both come with cute Ashibe flags and both are served to you so you definitely won't go home hungry.

Gudetama & Goma-chan Water Stream Cake: ¥1,250  (+Tax)

Sweet-tooths out there will love this sweet sponge cake topped with whipped cream and featuring Goma-chan's face. It's served with a mango ice cream Gudetama and surrounded by melon jelly and assorted fruit.

Gudetama & Goma-chan Chocolate Latte: ¥650 (+Tax)

There's of course a drink option too: a hot and frothy chocolate latte with Goma-chan and Gudetama art, perfect for teatime or post-meal.

Diners at the cafe will receive a free lunch mat and sticker, and if you order the drink you'll get a coaster too.

Also, if you head on up to the Sanrio shop Sanrio Vivitix up on floor 4F of HEP FIVE you can get an exchange coupon. Show this at the cafe to receive a campaign. These are limited in quantity so be sure to get in there quick!

Information

Gudetama x Goma-chan Collaborative Menu

Running: January 7, 2019 – February 17, 2019

Address: HEP FIVE 7F, 5-15 Kakudacho, Kita-ku, Osaka-shi, Osaka Prefecture

Opening Hours: 11:00am-10:30pm (Last Orders 10:00pm)

No Fixed Holidays. (*Except when HEP FIVE is closed)

TEL: 06-6366-3694

Gudetama Cafe Official Website: http://gudetama.createrestaurants.com/

©1993, 2013, 2018 SANRIO CO., LTD. APPROVAL NO.S592279

©Hiromi Morishita・OOP / Team Goma

Pompompurin Café Introduces Christmas Menu at Yokohama & Nagoya Branches

Having already shown off the first line-up of Christmas food at the Harajuku and Umeda branches, the Pompompurin Café has unveiled an all-new cute Christmas menu arriving to the Yokohama and Nagoya branches on December 1.

Purin Santa & Gude Reindeer's Xmas Beef Tongue Stew: ¥1,490 (Pre-Tax)

Warming up both your heart and stomach this Christmas is a slowly cooked beef tongue stew which is topped cutely with our favourite Pompompurin who is wearing a Santa hat made from a walleye pollack roe mashed potato. Next to him his his trusty pal Gudetama the Reindeer who has lotus roots for antlers. Surrounding them are star shaped potatoes, carrots and assorted vegetables.

Purin Santa's Xmas Basket: ¥1,290 (Pre-Tax)

Also on the menu is an absolutely adorable burger featuring a Pompompurin design bun which is filled with a delicious patty, cheese, avocado, red onion, tomato and lettuce. It comes in a cute basket with chicken fillets and shoestring fries. This sure is one filling set!

Gift Giving♪ Chimney Honey Toast: ¥1,290 (Pre-Tax)

For dessert, you can look forward to tucking into a danish spread with honey butter and made to look like a chimney. On top of that is Pompompurin Claus made from vanilla ice and next to him Gudetama's marshmallow butt. It is all sat on top of a French floating island dessert inspired by Santa's present sack and served with an anglaise sauce which is best enjoyed together with the danish.

Purin Santa's Tiramisu Parfait: ¥990 (Pre-Tax)

Wrapping up the Christmas dessert menu is this tiramisu parfait which combines chocolate sponge cake and espresso. It's topped with tiramisu cream and decorated with vanilla ice cream Pompompurin, gateau chocolate, ladyfingers, fruits and more.

Of course, there's exclusive Christmas themed merchandise to get your hands on too at the Yokohama and Nagoya branches. Those who dine at the café will receive the above original lunch mat and postcard.

And if you order a drink you'll get the coaster pictured above. These are all available in limited supply.

Feel the Christmas spirit with a cute holiday season menu at the Pompompurin Café!

Information

Pompompurin Cafe Yokohama

Address: Yokohama Sotetsu Square, 2-1-5 Minamisaiwai, Nishi-ku, Yokohama-shi

Opening Hours: 10:00-21:00 (Last Orders 20:30)

Access: 5-minutes on foot from West Exit at Yokohama Station via JR

TEL: 045-311-6750

Pompompurin Cafe Nagoya

Address: BECOME SAKAE 2F, 3-32-6 Sakae, Naka-ku, Nagoya-shi

Opening Hours: 11:00-20:00 (Food Last Orders 19:30 / Drinks Last Orders 19:30)

Access: 1-minutes on foot from Sakae Station via the Meijo Line

TEL: 052-249-8320

Pompompurin Cafe Official Website: http://pompom.createrestaurants.com

Tuxedosam Arrives at the Gudetama Café in Time for Christmas

The Gudetama Café, themed entirely on Sanrio's hugely popular character Gudetama, is getting a visit from another one of the company's beloved characters. You will find Tuxedosam on the menu of the Umeda branch of the café from December 1 to 25.

Gudetama has been celebrating his 5th anniversary throughout this year with a range of collaborations. A collaborative menu with Badtz-Maru is still available at the café in Umeda. Now, the food-loving and smartly-dressed penguin Tuxedosam will join the celebrations this December for a special Christmas themed menu.

Tuxedosam's Gudetama Blanket Nap White Stew: ¥1,150 (+Tax)

Tuxedosam & Gudetama's Nakayoshi Hamburger Plate: ¥1,200 (+Tax)

On the menu customers can look forward to tucking into a white stew featuring a Santa Tuxedosam sleeping under a fluffy Gudetama omelette. If you'd rather a burger then the Gudetama Café has you covered – a sunny side up Gudetama atop a hamburger served with a mashed potato Tuxedosam sat on a mountain of rice.

Merry Christmas♪ Tuxedosam & Gudetama Fruit Pancakes: ¥1,150 (+Tax)

For dessert there's Gudetama pancakes crowned with ramune flavoured Tuxedosam sherbet. The sweet and sour mix of the colourful fruits and berry sauce match perfectly. This one's a must-have for Instagram feeds.

Customers who dine at the café or purchase any merchandise there will receive a free sticker.

They will also receive a lunch mat, and those who order a drink will get a coaster. These items will discontinue once stock has run out.

Celebrate Christmas along with Gudetama's 5th anniversary together with Tuxedosam at the Gudetama Café.

Information

Gudetama Cafe HEP FIVE

Running: December 1, 2018 – December 25, 2018

Address: HEP FIVE 7F, 5-15 Kakudacho, Kita-ku, Osaka-shi, Osaka Prefecture

Opening Hours: 11:00am-10:30pm (Last Orders 10:00pm)

No Fixed Holidays. (*Except when HEP FIVE is closed)

TEL: 06-6366-3694

Gudetama Cafe Official Website: http://gudetama.createrestaurants.com/

©1993, 2013, 2018 SANRIO CO., LTD. APPROVAL NO.S592279