BAND-MAID's Live Stream Show Trends in the Top 10 in US
Japanese rock band BAND-MAID held their online live show "THE DAY OF MAID" on May 10 which trended at No. 7 on Twitter in the US. This comes after the band previously trended at No. 4 in the US for another live streamed show.
THE DAY OF MAID was originally scheduled to take place at Toyosu PIT with a live audience, but due to COVID-19, it was performed without one. Comments from fans around the world flooded in the comment section of the stream, causing it to shoot to No. 7 on Twitter in the US. The show is currently archived so can be enjoyed by those who missed it.
BAND-MAID also released an official live video of Thrill from the DVD and Blu-ray release of their previous online concert, "ONLINE OKYU-JU," which was held on February 11. Check it out below.
BAND-MAID / Thrill (Official Live Video)
BAND-MAID are holding a campaign for the ONLINE OKYU-JI. 50 random lucky fans who purchase the DVD or Blu-ray between May 26 and June 30 have a chance to receive a signed poster. The campaign is taking place on Amazon Japan, Tower Records Online, HMV&BOOKS Online, Rakuten Books, and Neowing.
BAND-MAID "THE DAY OF MAID" Online Sale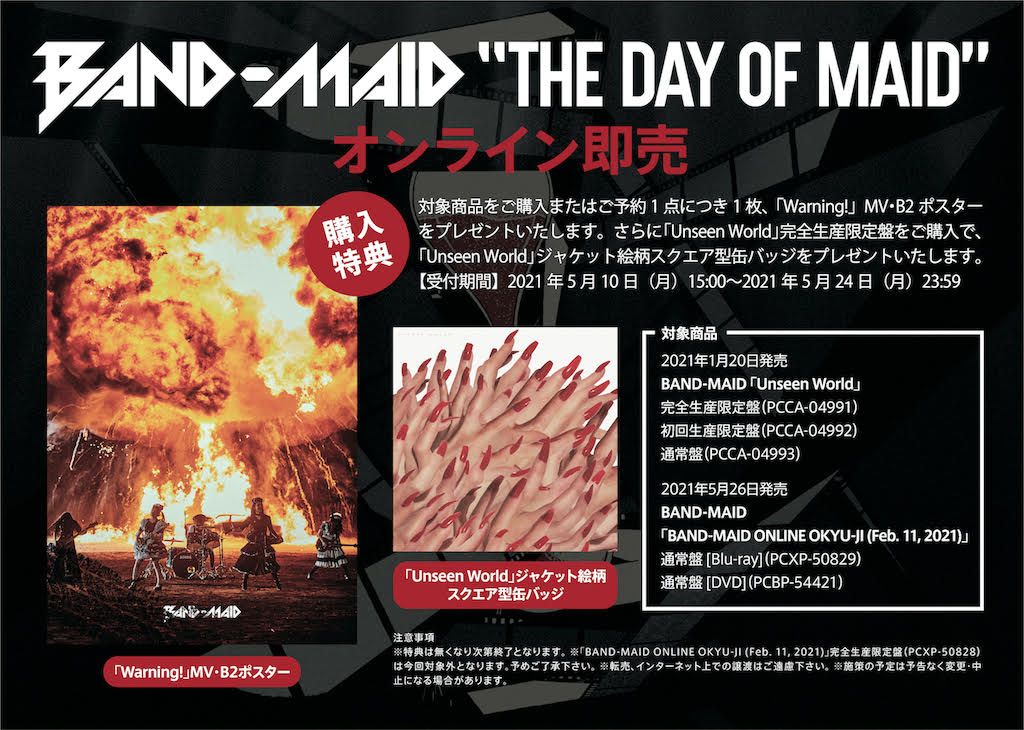 Running: May 10, 2021 – May 24, 2021
Buy Here: band-maid.artist-store.jp
BAND-MAID ONLINE OKYU-JI (Feb. 11, 2021) Product Details
Release Date: May 26, 2021
Limited Pressing Edition (2 Blu-rays+CD+Photobook) | ¥9,900 (Tax Included)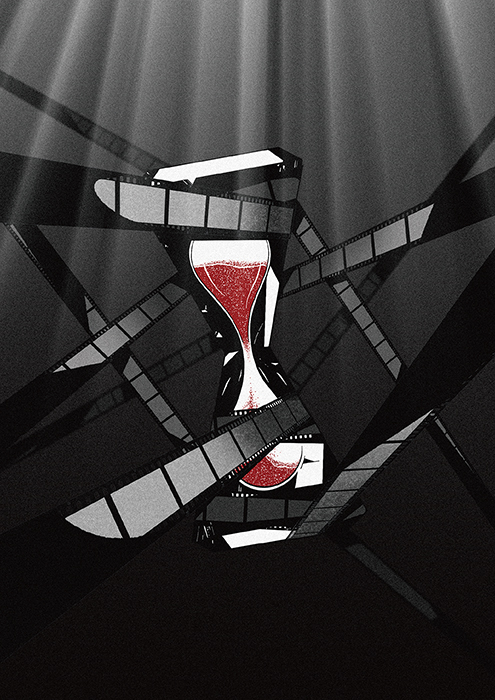 Regular Edition Blu-ray | ¥6,600 (Tax Included)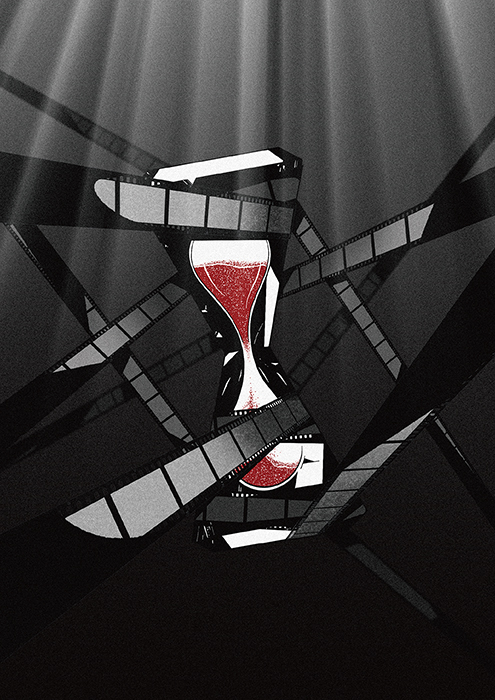 Regular Edition DVD | ¥5,500 (Tax Included)
Information
BAND-MAID "THE DAY OF MAID" US Twitter Top 10
Details: https://bandmaid.tokyo/contents/417312
Unseen World
Release Date: January 20, 2021
LinkFire: https://lnk.to/UnseenWorld_CD
・Limited Pressing Edition (2 Discs+Blu-ray+ STUDIO PHOTOBOOK): ¥7,000 (Before Tax) [PCCA-04991]
・First Press Limited Edition (CD+DVD): ¥4,000 (Before Tax) [PCCA-04992]
・Regular Edition (CD-Only): ¥3,000 (Before Tax) [PCCA-04993]
RELATED ENTRIES
BAND-MAID Release Blu-ray Of Their Worldwide Live Streamed Concert

BAND-MAID performed their online live stream concert 'ONLINE OKYU-JI' in front of fans worldwide on February 11. Fans can now relive that experience as BAND-MAID released the show on DVD and Blu-ray on May 26.

In promotion of the release, the live performance of NO GOD from the show was uploaded to their official YouTube channel.

BAND-MAID / NO GOD (Official Live Video)


The concert was seen by fans across 67 countries. Their global popularity continues to soar – they even trended at 7th place on Twitter in the US on May 10, a day known amongst fans as 'Maid Day.'


BAND-MAID recently featured on the front cover of MASSIVE magazine's 38th issue. A special interview was featured inside where the band talk about their new album Unseen World which dropped in January as well their future plans.

Information

BAND-MAID ONLINE OKYU-JI (Feb. 11, 2021) DVD & Blu-ray

Released: May 26, 2021

Limited Pressing Edition [2 Blu-rays+CD+Photobook]: ¥9,900 (Tax Included) [PCXP-50828]

Regular Edition Blu-ray: ¥6,600 (Tax Included) [PCXP-5082]

Regular Edition DVD: ¥5,500 (Tax Included) [PCBP-54421]

BAND-MAID Official Website: https://bandmaid.tokyo

BAND-MAID Announces Fan Listening Party to Promote New Album 'Unseen World'

BAND-MAID has announced a special listening party with fans to promote their new album Unseen World which was released on Wednesday (January 20).

All Masters and Princesses, which is what the band called their fans, from around the world are invited to join the party where they will be able to listen to the album at the same time as everyone else and post their thoughts on the new record together at the time of its release. The party will begin on January 20 at 21:00 (JST) and can be followed with the hashtags #bandmaid and #BMUWLP on Twitter.

BAND-MAID will be posting new content over the next couple of weeks including a special YouTube premiere which will take place on the band's official YouTube page at midnight (JST) on the same day as the new album's release.

Information

BAND-MAID – "Unseen World" Online Listening Party
Date: January 20, 2021

Time: 21:00 (JST)

Where: Twitter

How to Participate: Begin listening to Unseen World on CD, streaming platforms, or digital platforms on January 20 at 21:00. Post your thoughts on Twitter with the hashtags #bandmaid #BMUWLP

BAND-MAID YouTube Premiere
Date: January 20, 2021

Time: Midnight (JST)

Where: BAND-MAID's official YouTube channel
BAND-MAID Official Website: https://bandmaid.tokyo

BAND-MAID Release 'Manners' Music Video From New Album 'Unseen World'

Japanese maid hard rock band BAND-MAID are set to release physical editions of their 4th album Unseen World on January 20, 2021. But if you can't wait one more week, then don't worry, as the album is now available on music streaming and downloading sites, including Spotify, as of January 13.

In line with the release, the five-member maid line-up dropped a new music video for the song Manners.

BAND-MAID has announced that they will release new content every week for four weeks from January 13 starting with the music video. The video comes as the first from the new album.

BAND-MAID / Manners (Official Music Video)


To promote the release of Unseen World, a special panel exhibition will take place at participating Tower Records and HMV stores in Japan from January 20.

BAND-MAID also announced on Wednesday (January 13) the unfortunate cancellation of their concert at the Nippon Budokan which was scheduled for February 11, 2021. It will instead be replaced by a no-audience live stream at a different venue on the same day.

The members released a statement which you can read below.

Important Notice from BAND-MAID Regarding the NIPPON BUDOKAN OKYU-JI

Important Notice from BAND-MAID

To all the masters and princesses who were looking forward to BAND-MAID Nippon Budokan Okyu-ji
on February 11th, 2021. We regret to announce that we have decided to cancel the show.

We are truly sorry that we will not be able to meet you all at the Nippon Budokan.
However, we have decided that the best thing we can do now is to cancel the show.

It is truly heartbreaking to see how the pandemic situation worsens day by day, threatening
people's health, lives, and normal daily lives. We have decided to cancel this event because
we do not want our activities to put people in danger.

We understand that this decision might bring up mixed reactions, but we sincerely hope for your understanding.

When we announced Nippon Budokan exactly one year ago, we were concerned about taking on such a huge challenge.
However, throughout the past year, we have had some restrictions on our activities due to the pandemic,
but through your generous support, we worked hard and believed that we would make the Budokan okyu-ji happen.

When we announced that we would hold our okyu-ji at the Nippon Budokan, the cheers and applause that
rang out like a thunderclap were incredible, and we still strongly remember the joy that all the members felt.

We want to perform at the Nippon Budokan again someday in the best possible condition.

We have a goal to conquer the world. Although this was an important Nippon Budokan okyu-ji,
the journey towards achieving our dream has only just begun.

Even though we had to cancel many shows due to COVID-19, we found out through the online okyu-ji that
more people worldwide are waiting for us and watching us than we could have ever imagined.

Although the future is still unclear, we will continue to bring everyone joy through our music, in our own BAND-MAID way.

We will continue to move forward toward our dreams unceasingly, and we hope that you will continue to follow us.

From all of us at BAND-MAID

Source: bandmaid.tokyo

BAND-MAID Post Teaser For New Album 'Unseen World'

BAND-MAID have posted a teaser video for their upcoming fourth studio album Unseen World which is set for release on January 20, 2021.

The teaser, posted on BAND-MAID's official YouTube channel, features live footage taken from their recent online live concert to the tune of select songs from the forthcoming 12-track record. The band have released one song, After Life, from the album so far. The album will also be released digitally worldwide on January 13, one week before the release of the CD version.

BAND-MAID / Unseen World (Official Teaser Video)

BAND-MAID will post something new related to the album on January 13, 2021. They are also sett o perform at the Nippon Budokan on February 11, 2021.

Information

Unseen World
Release Date: January 20, 2021
LinkFire: https://lnk.to/UnseenWorld_CD

・Limited Pressing Edition (2 Discs+Blu-ray+ STUDIO PHOTOBOOK): ¥7,000 (Before Tax) [PCCA-04991]
・First Press Limited Edition (CD+DVD): ¥4,000 (Before Tax) [PCCA-04992]
・Regular Edition (CD-Only): ¥3,000 (Before Tax) [PCCA-04993]

BAND-MAID Release New Song 'After Life' From Upcoming Album 'Unseen World'

BAND-MAID will release their 4th album Unseen World on January 20, 2021. Fans unable to wait for the hotly-anticipated new record can enjoy the band's new track After Life that was released today (December 14). Pre-orders from the album also opened in Japan today on iTunes and Apple Music.

Unseen World will be released in three versions: the Limited Pressing Edition, First Press Limited Edition, and Regular Edition. Each edition of the new record will include 14 songs, but two will feature exclusive tracks. Their new song Youth will feature on Limited Pressing Edition copies only, while the instrumental track without holding back, which is one played at their live shows, will be on Regular Edition copies only. Additionally, the Limited Pressing Edition comes with two discs with different themes: one being 'going back to the roots' and the other 'evolving here and now.'

After Life is the first song to be released from the upcoming album, with another set to roll out before it's released.

BAND-MAID performed their third Okyu-ji online live concert on Sunday (December 13) where they performed After Life for the first time.

Information

Unseen World
Release Date: January 20, 2021
LinkFire: https://lnk.to/UnseenWorld_CD

・Limited Pressing Edition (2 Discs+Blu-ray+ STUDIO PHOTOBOOK): ¥7,000 (Before Tax) [PCCA-04991]
・First Press Limited Edition (CD+DVD): ¥4,000 (Before Tax) [PCCA-04992]
・Regular Edition (CD-Only): ¥3,000 (Before Tax) [PCCA-04993]

BAND-MAID Release Music Video For Log Horizon Opening Theme 'Different'

BAND-MAID released music video on Tuesday for their new single Different which dropped today on December 2, 2020.

Different will serve as the opening theme for the upcoming third season of the anime series Log Horizon, entitled Log Horizon: Destruction of the Round Table. The video was directed by Ryoji Aoki who has worked with BAND-MAID on many occasions. It's a simple music video filled with that infectious BAND-MAID energy.

BAND-MAID / Different (Official Music Video)


Different is available to listen to on major music streaming services in Japan. BAND-MAID will perform the song for the first time at their upcoming live stream on December 13, 2020.

BAND-MAID will release their new album BAND-MAID Unseen World will release on January 20, 2021.

Information

Different
Released: December 2, 2020

Price: ¥1,000 (Before Tax)
Stock No.: CRCP-10453
Listen Here: https://maid.lnk.to/different

BAND-MAID ONLINE OKYU-JI
Date: December 13, 2020

Time: 16:00 (JST)
Details: https://bandmaid.tokyo/contents/376042

Unseen World
Release Date: January 20, 2021
LinkFire: https://lnk.to/UnseenWorld_CD

・Limited Pressing Edition (2 Discs+Blu-ray+ STUDIO PHOTOBOOK): ¥7,000 (Before Tax) [PCCA-04991]
・First Press Limited Edition (CD+DVD): ¥4,000 (Before Tax) [PCCA-04992]
・Regular Edition (CD-Only): ¥3,000 (Before Tax) [PCCA-04993]

BAND-MAID Official Website: https://bandmaid.tokyo

BAND-MAID to Release New Album 'Unseen World' On January 20

BAND-MAID have announced that their fourth studio album Unseen World will release on January 20, 2021. It will be released in three versions: the Limited Pressing Edition, First Press Limited Edition, and Regular Edition.

Each edition of the new record will include 14 songs, but two will feature exclusive tracks. Their new song Youth will feature on Limited Pressing Edition copies only, while the instrumental track without holding back, which is one played at their live shows, will be on Regular Edition copies only. Additionally, the Limited Pressing Edition comes with two discs with different themes: one being 'going back to the roots' and the other 'evolving here and now.'

Unseen World cover art

The band members also made a collage of their fingers for the album's cover art to create a truly 'unseen world.'

Fans in Japan who buy the album can get their hands on a selection of seven different pieces merchandise depending on where they pick it up from, including items with an Unseen World logo created by band member SAIKI. These are all available on a first-come, first-served basis.

BAND-MAID will perform their third online Serving (concert) to fans around the world on December 13, 2020. They are set to perform Different for the first time, a new single being released on December 2. They will also stream their concert at the Nippon Budokan live in 2021. Until then, you can enjoy the archive of their performance from back on July 23, 2020.

Information

Unseen World
Release Date: January 20, 2021
LinkFire: https://lnk.to/UnseenWorld_CD

・Limited Pressing Edition (2 Discs+Blu-ray+ STUDIO PHOTOBOOK): ¥7,000 (Before Tax) [PCCA-04991]
・First Press Limited Edition (CD+DVD): ¥4,000 (Before Tax) [PCCA-04992]
・Regular Edition (CD-Only): ¥3,000 (Before Tax) [PCCA-04993]

BAND-MAID ONLINE OKYU-JI
Date: December 13, 2020

Time: 16:00 (JST)
Details: https://bandmaid.tokyo/contents/376042

BAND-MAID Official Website: https://bandmaid.tokyo

BAND-MAID Perform TV Anime Log Horizon: Destruction of the Round Table's Opening Theme

It has been announced that BAND-MAID's new single Different, which is set for release on December 2, 2020, will be used as the opening theme for the upcoming TV anime series Log Horizon: Destruction of the Round Table coming this January. The song will feature on BAND-MAID's highly-anticipated fourth album Unseen World which will hit shelves on January 20, 2021.

Different cover art

Unseen World comes as BAND-MAID's first release since moving labels to Pony Canyon. It will be released in three versions: the CD-only Regular Edition, the First Press Limited Edition which includes a DVD featuring instrumental music videos, and a Limited Pressing Edition which features two discs, a multi-track Blu-ray with instrumental music videos, a studio photobook, and special packaging.

BAND-MAID will perform at the legendary Nippon Buddokan in Tokyo on February 11, 2020. The concert will be held in accordance with government guidelines surrounding the pandemic.

Information

ALBUM Unseen World

Release Date: January 20, 2021
LinkFire: https://lnk.to/UnseenWorld_CD

Limited Pressing Edition (2 CDs+Blu-ray+Studio Photobook): ¥7,000 (Before Tax) [PCCA-04991]

First Press Limited Edition (CD+DVD): ¥4,000 (Before Tax) [PCCA-04992]

Regular Edition (CD-Only): ¥3,000 (Before Tax) [PCCA-04993]

Different (Single)

Release Date: December 2, 2020

Price: ¥1,000 (Before Tax)

Stock No.: CRCP-10453

BAND-MAID NIPPON BUDOKAN OKYU-JI
Date: February 11, 2021

Time: Open 17:00 / Start: 18:00

Venue: Nippon Budokan
Details: https://bandmaid.tokyo/contents/326310

BAND-MAID Official Website: https://bandmaid.tokyo

BAND-MAID Announce New Single and Album Releases

29.September.2020 | MUSIC

BAND-MAID have announced that they will release a new single on December 2, 2020 as well as a brand new studio album in January 2021 at the same time as the band moves labels to Pony Canyon.

BAND-MAID recently held online concerts for fans in July and August which saw Masters and Princesses from over 60 countries tune in.

The rock band's new single is their first in nearly eight months and comes as the first release following their live DVD and Blu-ray WORLD DOMINATION TOUR Shinka at LINE CUBE SHIBUYA which hit shelves back in April. Full details of the single have yet to be revealed, but it's been confirmed that it will include their song Different which is set to be used as the opening theme for an upcoming anime series in January. It will be the band's final release from Nippon Crown before their move to Pony Canyon.

BAND-MAID will perform at the legendary Nippon Buddokan in Tokyo on February 11, 2020. The concert will be held in accordance with government guidelines surrounding the pandemic. Pre-sale tickets are now on sale.

Concert Review: BAND-MAID's First Online Concert Rocks Fans Around the World

BAND-MAID held their first ever online Serving (concert) on July 23, 2020, which was watched by Masters and Princesses (fans) across the globe who expressed their great excitement at the performance.

Intro sound effects rang while LED lights fell on the stage as the band members stepped out to an audience-less venue. They began their set with DOMINATION, followed by their up-tempo classics Dilemma and Play. Guitarist KANAMI and bassist MISA showed off their incredible skill on their instruments as the band put on a performance that had fans feeling like they were actually there at the show.

Before we knew it, the first part of the show had concluded. For the middle section, BAND-MAID played some ballads like glory and Rinne. Guitarist and vocalist Miku Kobato then took to the mic for some MC time. She read comments which were flooding in from fans around the world, something which is only possible with a streamed show like this. Comments were in multiple languages, including English. The official hashtag for the concert (#bandmaidokyuji) made it to 2nd place on Twitter's trending page in Japan. It was proof of BAND-MAID's popularity around the globe.

Kobato carried out her signature Omajinai Time―a section of the concert performed at every show―which consists of call-and-response with the crowd of the phrases "Moe Moe" and "Kyun Kyun." The Serving resumed with DICE as BAND-MAID dashed into the final part of the 1-hour show. The band performed FREEDOM, and lastly Blooming during which bright vivid lights lit up the stage.

The members took a photo on stage while visuals appeared on the back screen. Whether BAND-MAID have an audience watching in the venue, or at home, what is certain is that they always make sure to crack up their performance to max, and then some.


Pre-sale tickets for BAND-MAID's upcoming concert at the Nippon Budokan in February 2021 are now on sale.

Photos: SAKU

BAND-MAID Announce First 'Online Serving' Live Stream Concert

BAND-MAID have announced details for their first ever no-audience, online Serving (concert) which will be live streamed on July 23, 2020.

According to the band's official website, the show will start at 4:00pm (JST). Tickets are scheduled to go on sale on July 9 from 12:00pm (JST).

In the run up to the concert, BAND-MAID have posted a live performance of their song Wonderland taken from February 14, 2020.

BAND-MAID / Wonderland (Feb. 14th ,2020)

It has also been announced that official pre-sales for the band's forthcoming performance at Nippon Budokan next year in February will go on sale on July 11, 2020.

BAND-MAID Drop Surprise Instrumental Track 'Want more!' For Free

Japanese maid outfit-clad hard rock band BAND-MAID held a live stream on May 10, 2020, aka "The Day of Maid," where they opened free downloads to a surprise instrumental track entitled Want more!.

The stream was held in response to the COVID-19 pandemic so the band could interact with fans. Comments flooded in from fans around the world.

Want more! is available to download for free via the link below. The link will expire after May 17, 2020.

BAND-MAID also just released their live DVD and Blu-ray WORLD DOMINATION TOUR 【Shinka】 at LINE CUBE SHIBUYA on April 29, 2020.4