Pokémon x Tokyo Banana Expands Across Japan
The Pokémon Tokyo Banana confection series launched its first two products that it ever released at Yume Town, Yume City, LEC, and Yume Mart branches in the South-west most part of Honshu, Shikoku, and Kyushu on May 14.
Pikachu Tokyo Banana (Banana Flavour) | Includes 2 | ¥292 (Tax Included)
Eevee Tokyo Banana (Caramel) | Includes 2 | ¥292 (Tax Included)
Heart-shaped tail ends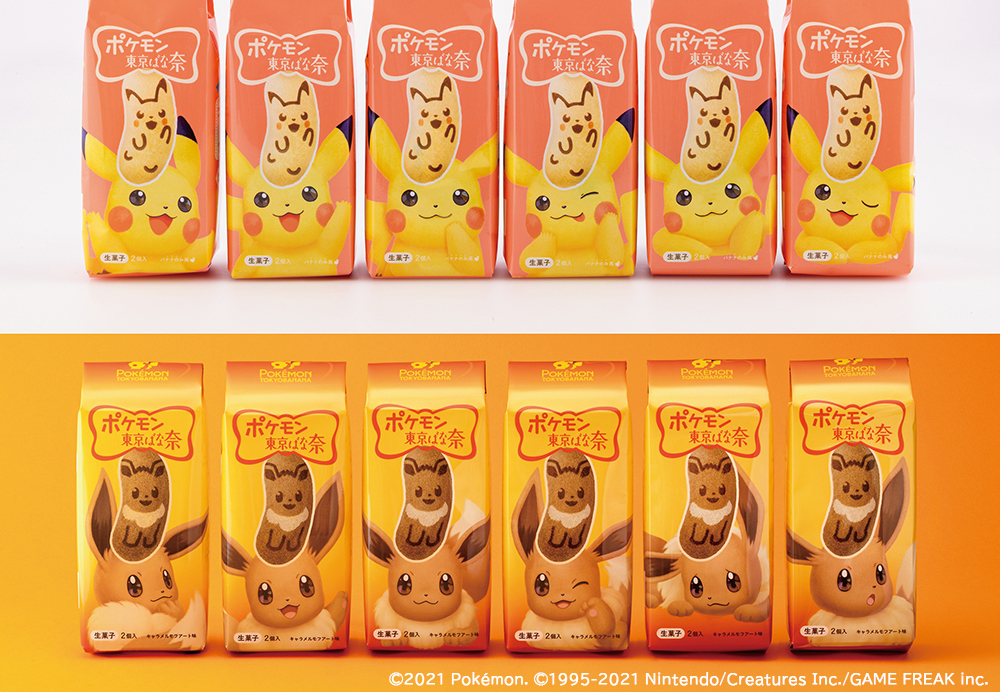 Six different packaging designs each for Pikachu and Eevee
Tokyo Banana are popular cream-filled cakes and are the official souvenir sweet of Tokyo. The Pokémon series turns these fluffy treats into cute confections for you to enjoy with your favourite Pokémon during snack time.
Pikachu was the first to enter the Pokémon Tokyo Banana series who was turned into a banana custard cream-filled sponge cake. The second was Eevee with the fluffy sponge a delicious caramel macchiato flavour and filled with sweet banana custard cream
The confections are both branded with adorable heart-shaped tails, and each comes with one of six possible packaging designs.
©2021 Pokémon. ©1995-2021 Nintendo/Creatures Inc./GAME FREAK inc.
ポケットモンスター・ポケモン・Pokémonは任天堂・クリーチャーズ・ゲームフリークの登録商標です。
RELATED ENTRIES
Pokemon GO Launches Second Hills Campaign in Japan, New CM Set in Fukiya, Okayama and Starring Mitsuki Takahata Airing Nationwide

A new commercial for Pokemon GO's second 'Let's GO to the Hills' campaign is now airing nationwide, calling on all players of the smartphone game to work up a sweat while exploring new scenery around Japan. Set in the Fukiya district of Takahashi, Okayama, the ad stars the popular actress Mitsuki Takahata. The 'Let's GO to the Hills' campaign focuses on hills and slopes, and players might find some fun new Pokemon on their travels.

The new commercial began airing nationwide on January 20, and its setting–the Fukiya district of Takahashi, Okayama–has flourished since the Edo period as a leading copper and red ocher producer. Red ocher is a byproduct of copper production and is used in many traditional Japanese crafts, even called Japan Red by some.

Several popular Pokemon appear alongside Takahata in the ad, including Chimchar, Fletchling, Hisuian Voltorb, Nyabby, Darumaka, and Charizard. Be sure to listen out for Takahata's Okayama accent!

From January 20 until July 19, a 4-meter-high real-world PokeStop will appear at the former Fukiya Elementary School in Fukiya Furusato Village. Yes, it will be linked to the game as well!

Curtains and tapestries featuring Pokemon silhouettes and dyed Japan Red will also appear in the village, and each will point the way to real PokeStops. While it might be a little off the beaten path, come enjoy Fukiya and see what kinds of Pokemon you can find!

©2023 Niantic, Inc.
©2023 Pokémon. ©1995-2023 Nintendo/Creatures Inc. /GAME FREAK inc.
ポケモン・Pokémon は任天堂・クリーチャーズ・ゲームフリークの登録商標です。

Information

'Let's GO to the Hills' – Fukiya Furusato Village, Okayama Ver.
CM Broadcast Start Date: January 20, 2023
Broadcasting Area: Nationwide
Official Site: https://www.pokemongo.jp/

Shock Your Crush with a Pikachu Engagement Ring, Available Now

U-Treasure, a company offering proper jewelry inspired by pop culture, has announced a Pikachu engagement ring! The item was made available on December 13 and can hold large diamonds from 1-1.999 carats. Each ring features a male and female Pikachu, perfect for the Pokemon master in your life. Along with this, a silver version made from cubic zirconia featuring the same design is available to pre-order until January 31, 2023.

[Pokemon] Pikachu Carat Solitaire Ring

Pokemon Shirts Introduces New Patterns from Pokemon Diamond and Pearl

On December 9, Original Japan released 32 new patterns for the popular Pokemon Shirts line, this time from Pokemon Diamond & Pearl.

With the addition of these new designs, customers can choose from a total of 493 patterns. These patterns can also be used in masks and bandanas.

32 New Patterns from Pokemon Diamond & Pearl!

The new patterns were inspired by 'Evolution and Legends.' Fans can find popular Pokemon like Giratina, Rotom, and Weavile, so be sure to check out the website for more details. 

Dark Ball and Quick Ball Buttons are Now Available!

To celebrate these new patterns, new buttons inspired by the Dark Ball and Quick Ball are now available. Fans can also choose from the traditional Pokeball, Great Ball, Hyper Ball, Premier Ball, Moon Ball, and Dive Ball. 

Report: Kyary Pamyu Pamyu's Tasty Time in Gastropolis Kobe – Sweets Edition

Kobe is filled with famous sightseeing spots like the nostalgic Ijinkan neighborhood and port. The city is packed with fashionable shops and restaurants and is highly regarded for its selection of tasty sweets!

The port city, with over 150 years of history, has fostered a unique and diverse culinary culture.

Recently, Kyary Pamyu Pamyu began starring in a series of promotional videos for the Gastropolis Kobe project. The artist traveled to the city to partake in plenty of delicious treats, and MOSHI MOSHI NIPPON went along for the ride! Here are some of the singer's favorite spots around town.

Kobe, known as a city where East meets West, is lined with sweets shops that are unique to the area.

The tea salon TOOTH TOOTH Dekoboko Sabo opened in 2019 in the Kobe City Museum and offers a menu that mixes Western food and sweets with tea and ingredients from traditional Japanese cuisine. Kyary ordered the Dekoboko Sabo Afternoon Tea Set, a collection of western sweets blended with the essence of traditional Japanese flavors. Guests are invited to enjoy their tea and sweets in a one-of-a-kind space filled with Meiji period flare and retro Western furniture. Those interested will need to make a reservation, so be sure to remember the next time you're in Kobe.

TOOTH TOOTH Decoboco Sabo

Address: 24 Kyomachi, Chuo Ward, Kobe (Inside the Kobe City Museum)

Hours: 9:30-17:30 (Last Order at 16:30) 

Closed Mondays

Official Site: https://toothtooth.com/restaurant/decoboco-sabo

The next stop was Kobe Nankin-machi, one of the three major Chinatowns in Japan. Kobe MILK is known nationwide for its Apricot Pudding, which is made with local ingredients. The raw apricot pudding is mixed with milk brought from the foot of Mt. Rokko and other ingredients from Hyogo Prefecture. Of course, Kyary ordered some, and was amazed by its fluffy texture. You can only enjoy it in Kobe–also, the shop sells other puddings mixed with seasonal fruits, so don't miss those either!

Kobe MILK

Address: Shin-Motomachi Building 1F (1 Motomachi-dori, Chuo-ku, Kobe)

Hours: Weekdays 9:30-19:00 / Weekends 9:30-19:30

Official Site: https://kobe-milk.com

For Kyary's final stop, the singer visited the Moore House, a cafe located in a building with over 100 years of history. Guests are surrounded by greenery, and the Western-style building is incredibly elegant. The Strawberry Mille-feuille Kyary ordered was created by an expert patissier and based on the strawberry mille-feuille recipe from the legendary French restaurant Maxim's de Paris in Ginza. A generous amount of custard cream complements the crispy pie crust and enhances the sweetness of the fresh strawberries. We'd recommend it with a glass of champagne–if you're of age.

Kitano Ijin-kan Moore House

Address: 2-9-3 Kitanocho, Chuo-ku, Kobe

Hours: 11:00-17:00

Closed Tuesdays

Official Site: https://www.kitanomoore.com/cafe/

The streets of Kobe are packed with sweets that you can only enjoy if you visit. Why not come experience these incredible spots like Kyary did?

Kobe Sweets Trailer: https://youtu.be/Sx9B1ZdAvlI

Pokemon and Puma Collaborate for the First Time: Shoes, Apparel, and Bags Available Now

Puma and Pokemon are joining forces for the first time. The Puma x Pokemon collection officially went on sale on November 12, offering fans a collection of sneakers, bags, apparel, and more.

The playful new collection incorporates iconic images of popular Pokemon like Pikachu, Bulbasaur, Charmander, and Squirtle. The shoe lineup includes popular models like the Slipstream, Suede Classics, and Rider FV. Pokemon can be found hiding on the shoe's tongue, insole, and heel, and fans are sure to love these stylish kicks. For apparel, customers can grab cotton T-shirts, crew-neck sweatshirts, hoodies, sweatpants, and more. Complete your look with a beanie or messenger bag. 

The Puma x Pokemon collection is on sale at Puma Store Harajuku Cat Street, Puma Store Osaka, Puma Store Odaiba, Puma Store Fujimi, Puma Store Kyoto, Puma Sapporo Factory, Puma Store Fukuoka, and the official Puma online store. 

Information

Pokemon x Puma

Release Date: November 12, 2022

Details/Online Shop: https://jp.puma.com

Mister Donut Reveals Limited-Time Pokemon Christmas Collection

Mister Donut has revealed its annual Pokemon Christmas collaboration. This marks the 5th year that the popular sweets chain is teaming up with the legendary franchise, and starting on November 9, fans can find themed sweets and merchandise for a limited time. 

Pikachu Snowman Donut

Christmas Collection Donut Set

New to the lineup in 2022 is the Pikachu Snowman Donut. This will be sold alongside the always-popular standard Pikachu Donut which will be sold in a cute Christmas sleeve. Customers can also look forward to the sleepy Pikachu Donut and the fluffy Jigglypuff Donut this holiday season.

Mister Donut Blanket (White)

Mister Donut Glasses (Set of 2)

The Christmas Set will include the Mister Donut Pokemon Blanket, which is available in two patterns, as well as a pair of Pokemon glasses. Fans are sure to enjoy these new illustrations of Pikachu and Jigglypuff made exclusively for the collaboration. 

Pikachu Donut

 

The popular Pikachu Donut is back! The fluffy yeast pastry is filled with whipped cream with a pudding flavor and chocolate coating. 

Pikachu Snowman Donut

 

Also filled with whipped cream, the Pikachu Snowman Donut is coated with white chocolate.

Be sure to check out this exclusive collection of sweets and goods before they're gone!

©2022 Pokémon. ©1995-2022 Nintendo/Creatures Inc. /GAME FREAK inc.

ポケットモンスター・ポケモン・Pokémonは任天堂・クリーチャーズ・ゲームフリークの登録商標です。
Nintendo Switchのロゴ・Nintendo Switchは任天堂の商標です。

Information

Mister Donut Pokemon Christmas Collection

On Sale:

Donuts: November 9 – late December 2022 (While supplies last)

Goods: November 9 (While supplies last)


Official Site: https://www.misterdonut.jp

Artist Yu Nagaba Creates New Patterns for Pokemon Shirts in Special Collaboration

Pokemon and Original Inc. are back with some new Pokemon Shirts in collaboration with the popular visual artist Yu Nagaba! Customers can head onto the official Pokemon Shirts website now to grab one of these cute new Pikachu-inspired designs. 

The apparel brand Original Stitch was created by an engineer working in Silicon Valley who wanted to make it easier to shop for clothes. After launching a test service in 2013 and establishing the brand's parent company, Original Inc., in 2015, the company began developing its custom shirt service. Those buying from the site can customize every detail of their shirt and order in as little as five minutes. These shirts are carefully tailored by craftsmen at a factory in Japan.

Two New Designs Made in Collaboration with Popular Artist Yu Nagaba

Two printed patterns and one unique embroidery have been added to the collection for a limited time. Yu Nagaba's designs can be used to cover entire shirts or can be used as accents on collars and sleeves. Customers can even use the embroidery on a plain shirt to make something more subtle. 

Yu Nagaba's casual depiction of Pikachu shows why his art is so beloved. Silly and subtle, both Pokemon fans and fans of Nagaba's art are welcome to snag one of these shirts before they're gone. Check out the website for more details.

Pattern: Yu Nagaba (White)

Pattern: Yu Nagaba (Black)

Embroidery: Pikachu (Yu Nagaba)

ANNA'S by Landtmann in Shibuya Scramble Square Now Offering Halloween Sweets

ANNA'S by Landtmann, a cafe located inside +Q Beauty on the 6th floor of Shibuya Scramble Square, has begun selling two Halloween cakes! These spooky sweets will be available until October 31, 2022.

Halloween Mont Blanc

Halloween Poison Apple

Guests will be able to snag the Halloween Mont Blanc and Halloween Poison Apple cakes, available for ¥580 each including tax. The Mont Blanc is filled with pumpkin custard and Chantilly cream. The Poison Apple is a sweet and sour cake featuring a blend of chocolate mousse covered in red glaze and applesauce with apple pulp.

Which of these two adorable cakes would you like to enjoy this autumn?

Second Sylvanian Families Sweets Buffet to Open with a Christmas Theme

Keio Plaza Hotel in Tokyo will hold a special Christmas-themed Sylvanian Families buffet starting November 1, 2022. This is the second Sylvanian Families event following the previous Halloween-themed buffet, which became extremely popular. Some guests even bring their own Sylvanian Families dolls!

Starting in November, visitors can enjoy a full lineup of 20 scrumptious dishes inspired by the cake shop found in Sylvania Village. Some sweets are also inspired by the many beloved characters found in the series, and anyone wanting to get into the Christmas spirit won't want to miss this exclusive event. For those without a sweet tooth, some light lunches will also be available.

The restaurant will also erect a decorative display of Sylvanian Families enjoying a Christmas party and a sweet diorama made exclusively of desserts by the pasty chef. Guests can enjoy tea time while getting lost in this magical world, so get excited about the Christmas season!

1. Sweets Inspired by the World of Sylvanian Families

2. Become Enthralled by a Wonderful Winter World of Sweets

3. Exclusive! Sweets Diorama and Sylvanian Families Photo Spot

4. Light Meals Perfect for Winter and Burgers Featuring Original Illustrations

5. A Special Plan to Enjoy the Buffet with Sylvanian Families Babies

Information

Sweets Collection with Sylvanian Families

Running: November 1 – December 31, 2022

Venue: Keio Plaza Hotel's Jurin Restaurant

Price: ¥5,500 (Adults) / ¥3,000 (Children 4-12) *Children under 3 free

Details/Reservations: https://www.keioplaza.co.jp/event/autumn-sweets/#event02

Official Pokemon Baby Brand Monpoke Reveals Autumn/Winter Collection

Monpoke, the official Pokemon baby brand, has released the lookbook for its 2022 Autumn/Winter collection! New items include pajamas, jackets, and other apparel and sundries for infants and toddlers. Monpoke, which launched in 2019, has added two new familiar Pokemon to the lineup this time around–Gengar and Mimikyu. 

Nighttime-only Diapers featuring Sleepymon Design

Pikachu and the Nighttime Adventure, the Second Book in Rikako Matsuo's Monpoke Picture Book Series

The adorable diapers will help keep babies dry all night, and these helpful products will be released nationwide in early November 2022. The new picture book will be released on September 21, so be ready to add it to your nighttime reading routine.

©Pokémon. ©Nintendo/Creatures Inc./GAME FREAK inc.

Hilton Tokyo Odaiba to Hold Second Touken Ranbu ONLINE Collaboration Sweets Buffet

From October 21 until November 30, 2022, Hilton Tokyo Odaiba will hold the Touken Ranbu ONLINE Special Buffet ~Black & White~ event! This second collaboration with the popular series will be held Grillogy Bar and Grill on the second floor.

Dessert Menu

Drink Menu

Drink Order Bonus: Original Coaster (8 varieties)

At the buffet, guests can enjoy luxurious dishes inspired by characters from the sword-centered game and anime series. The desserts blend Japanese and Western cuisine, and special cocktails will be available during the first phase, each coming with a special coaster as a bonus! In addition, original goods will be on sale at the venue, so don't miss it!

Information

Touken Ranbu ONLINE Special Buffet ~Black & White~

Running: October 21 – November 30, 2022

Reservation Start Dates and Times: 

Lottery Opens: September 16, 12:00~

General Reservations Open: October 6, 12:00~

*Lottery reservations and general reservations will be open
for the first and second runs.

*Please see the official website for the full reservation schedule.

Venue: Hilton Tokyo Odaiba 2F Restaurant, Grillogy Bar and Grill

*Reservations required

Tickets/Details: https://odaiba.site/

Online Shop: https://touken-yorozuya.com/

Yokohama Royal Park Hotel to Hold Halloween Sweets Fair in October

From October 1 until October 31, Yokohama Royal Park Hotel will hold a special Halloween Fair at its delicatessen and lounge Coffret. In addition to six playful sweets from the Halloween Frankenstein to the Halloween Mummy, two types of autumn bread featuring pumpkin and purple sweet potato will be available, allowing guests to enjoy the taste of the season!


Halloween Frankenstein

Halloween Cat

Halloween Mont Blanc

Halloween Mummy

Halloween Pudding

Halloween Pound Cake

Pumpkin Cream Fondue / Halloween Anpan

  

Come enjoy this Halloween with some cute and silly sweets!

Information

Halloween Fair

Running: October 1 – October 31, 2022
Venue: Coffret Delicatessen and Lounge, 1F
Hours: Lounge 10:00-20:00 (*Cakes served starting at 11:00) /
Delicatessen 11:00-20:00
Reservations: 045-221-1111 (Representatives available 11:00-20:00)