Hentai Shinshi Club and kojikoji to Perform Theme Song for Final Eureka Seven: Hi-Evolution Film
It was announced on the official Eureka Seven website that Hentai Shinshi Club and singer-songwriter kojikoji will perform the theme song Eureka for the upcoming third and final entry to the Eureka Seven: Hi-Evolution film trilogy. The song is featured on Hentai Shinshi Club's 1st album ZURUMUKE which was released digitally on May 14 and will hit shelves on CD on June 16.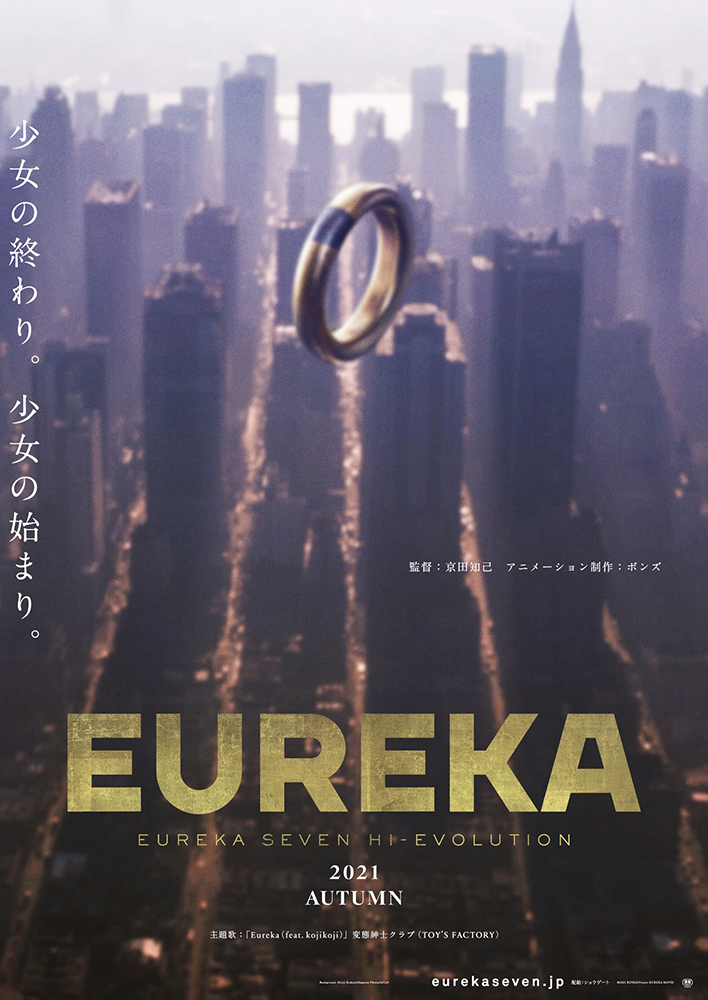 The Eureka Seven anime series first aired in 2005. It follows Renton Thurston and the mecha pilot Eureka who set out on a journey to understand the world they live in. The Hi-Evolution film trilogy began in 2017 with the release of the first film. The second film was released the following year in 2018, and the final entry will drop this autumn. It was originally slated for release in 2019 but was delayed to summer of this year due to the COVID-19 pandemic, but it has been pushed back again.
Comments from the Staff (Translated by MMN)
Tomoki Kyoda (Director)
"We're living in a difficult time right now. There are songs out there which are really popular now for expressing that pain, which I of course listen to as well. But at the same time, I think it would be good for people to hear songs filled with love and happiness too for the fact that we are indeed going through something tough at the moment. The [main theme] we've done [for this last film] is a male and female duet, which might be unexpected, and is written in the same style as the climax of the first Eureka Seven series. I hope people feel all kinds of emotions when listening to this song."
Hentai Shinshi Club
GeG
"I couldn't believe it when we were in discussions for this – I was so, so happy getting to work with an anime that I love and I've always watched, and the fact that it's the finale too! We invited kojikoji on board and the song turned out really well, so please hear it for yourselves in the movie theatre!"
WILYWNKA
"Now I want to go to the movie theatre myself, see this film, and hear this song. I am so happy to have received such a wonderful opportunity. Please go listen to it yourselves at the theatres!"
VIGORMAN
"It's an honour that our song is being used in the finale of this epic story. It's even become my favourite song. Please enjoy hearing our new song, 'Eureka,' when you coem to the end of the film in theatres."
kojikoji
"I am overjoyed and feel privileged to be a part of the main theme of this incredible work. Thank you so much. I sang in such a way that you can feel warm and happy. Please enjoy."
Hentai Shinshi Club 1st Album "ZURUMUKE"
Hentai Shinshi Club's first album ZURUMUKE was released digitally on May 14. A CD release is set for June 16. For more details, please visit the band's official website.
Look forward to hearing Hentai Shinshi Club's Eureka (feat. kojikoji).
©2021 BONES/Project EUREKA MOVIE
RELATED ENTRIES
Pompo: The Cinéphile Anime Film Stationery, Key Rings, Clothes and Other Items Released

The anime film adaptation of Shogo Sugitani's manga series Pompo: The Cinéphile was released on June 4, 2021, and to promote it, the Japanese anime and manga merchandise website Movic is now stocking a new collection of items.

Double Ticket Files | ¥400 (Tax Included)

Scenario Notebook | ¥800 (Tax Included)

Ballpoint Pen | ¥680 (Tax Included)

Key Ring | ¥880 (Tax Included)

Smartphone Cover | ¥3,300 (Tax Included)

T-Shirt | ¥3,300 (Tax Included)

Tote Bag | ¥1,320 (Tax Included)

Calendar | ¥1,760 (Tax Included)

The film's story follows Pompo-san, a talented film producer, and her assistant Gene, who is given the task to direct a film written by Pompo.

(C)2020 杉谷庄吾【人間プラモ】/KADOKAWA/映画大好きポンポさん製作委員会

Mountain Climbers and Admirers Gather at Mt.TAKAO BASE CAMP Exhibition

Tokyo sneaker culture brand atmos is now holding an exhibition titled "First steps with Salomon Presents by atmos" until June 20.

Mt.TAKAO BASE CAMP is a guest house located just 3-minutes on foot from Takaosanguchi Station. Equipped with showers, lockers, and a cafe/bar, it's a hot spot amongst mountain climbers. It's there that atmos and Salomon are hosting the exhibition in collaboration with UND, an art duo made up of illustrators FACE and SHINKNOWNSUKE, themed on mountains.

Visitors are made with a giant piece of UND art at the entrance window of two hikers. They iwll also be handed an exclusive zine which includes a map of Mt. Takao.

Information

First steps with Salomon Presented by atmos at Mt.TAKAO BASE CAMP 

Running: June 5, 2021 – June 20, 2021

Address: Mt.TAKAO BASE CAMP, 1799-3 Takaocho, Hachioji-shi, Tokyo

Official Website: https://www.atmos-tokyo.com/

Anime CD Drama Series DIG-ROCK Gets Lottery Merch Release

Maru Kuji, a Japanese anime merchandise website that works on a lottery system, released a new collection of DIG-ROCK merch on May 31.

The Line-Up

DIG-ROCK is a popular CD drama series that's part of Team Entertainment's CD drama label MintLip. The is centred on DIGNITY PRODUCTION, a talent agency that manages many popular talent, specifically the fictional bands RUBIA Leopard and Impish Crow. It's a tale of friendship and conflict. In the latest series, titled -dice-, the mysterious band HOUND ROAR have entered the fray.

The merch line-up includes large posters, towels that come with bromides, acrylic key holders with designs taken from the CDs, pins, folders, and more.

Information

Maru Kuji x DIG-ROCK

Order Window: May 31, 2021 – July 5, 2021

Price: ¥715 Per Turn (Tax Included)

Official Website: https://marukuji.jp/

Animate Announces Hetalia World: Stars Online Event With New Artwork

Japanese anime and manga merchandise chain Animate has announced a Hetalia: World Stars digital fair which will begin on June 19. Eight official new pieces of original artwork have been illustrated for the event.


Hetalia: World Stars is an ongoing anime series and adaptation of Hidekaz Himaruya's manga of the same name which is serialised in Shueisha's Jump Comics+. The comedy series features characters based off different countries such as Italy, Germany, and Japan.

The online event, which will run from June 19 to July 11 both in-store at Animate and their online shop in Japan, will gift fans one of eight possible cards featuring the above-pictured illustrations for every ¥1,000 they spend or pre-order on Hetalia: World Stars related books and merchandise, or for every CD, Blu-ray, or DVD they buy. Each illustration sees the characters eting a different kind of food.



Animate will also will a range of merchandise with the same designs at the fair, such as acrylic stands, pins, and more.

(C)日丸屋秀和/集英社・ヘタリアW★S製作委員会

Celebrate Sasuke Uchiha's Birthday at Fuji-Q Highland's Naruto x Boruto Summer Event

Fuji-Q Highland began its 'NARUTO x BORUTO Fuji Hidden Leaf Village' event on Wednesday which is set to run throughout summer until August 29. The event is taking place to celebrate the birthday of the popular character Sasuke Uchiha from the Naruto franchise.

During the event, a keyword rally will take place, and a special menu will be served up.

Keyword Rally

Guests must play and ride six Naruto-themed attractions at the park where they will be able to collect keywords related to the Uchiha family. Those who manage to answer all the questions correctly will receive one of two free exclusive pins. The Sasuke & Itachi design will be available from June 9 to July 22 and the Uchiha Family design from July 23 to August 29. Check out the designs below, both of which are must-grabs for fans of Sasuke and the Uchihas.

Pin Design 1: Sasuke & Itachi (Uchiha Brothers) | Available: June 9, 2021 – July 22, 2021 

Pin Design 2: Sasuke & Sakura & Sarada (Uchiha Family) | Available: July 23, 2021 – August 29, 2021

Special Menu

Guests will also be able to enjoy a special menu line-up including a ramen dish served at Ichiraku, the ramen bar at Fuji-Q Highland which is themed on the same eatery of the same name in Naruto, and two cakes at Fuji-Q Highland's official hotel resort and spa.

Uchiha Brother's Spicy Ramen | ¥1,500 (Tax Included)

Uchiha Brother's Print Cake

Uchiha Family's Print Cake


ⓒ岸本斉史 スコット/集英社・テレビ東京・ぴえろ

Information

Uchiha's Summer
Running: June 9, 2021 – August 29, 2021

Where: Fuji-Q Highland

Official Website: https://www.fujiq.jp/

2021 Sanrio Character Ranking: Cinnamoroll Takes Home the Crown For the Second Year in a Row

Sanrio announced the final results and winners of the 36th Sanrio Character Ranking, an annual event where fans vote for their favourite Sanrio character to see who is the most popular. A total of 21,346,750 votes were submitted for 2021.

2021 Sanrio Character Ranking: General Ranking

Comments from the Winners

1st Place: Cinnamoroll
"I'm going to treasure this feeling forever! Thank you all for your support!♪"



2nd Place: Pompompurin
"Thanks so much for cheering me on!♡ I'm so grateful for all the love!"



3rd Place: Pochacco
"I can't believe I got 3rd again this year! It's thanks to all your support! I'm going to try hard next year too!"

2021 Sanrio Character Ranking: Collaboration Category

This year sees Cinnamoroll take the top spot for the second year in a row. In the first round-up of announcements, Cinnamoroll was already at number one, but in the second round-up he dipped to 2nd place. That didn't stop him however as after gaining over 2.3 million votes, he grabbed that shiny crown once again. Pompompurin, who is celebrating his 25th anniversary this year, came in 2nd again, and Pochacco in 3rd again. Hello Kitty, who ranked 5th last year, came in 6th place this year – a place she kept since the second round-up. SHOW BY ROCK!! who will commemorate her 10th anniversary next year came in 8th once again. Kuromi, who received much love from overseas fans this year, climbed from last year's 7th to 5th this year, making it the first time she has clocked in the Top 5 spot in 11 years. Cogimyun came in 10th after coming in 13th last year, making it her first time in the Top 10.

The Collaboration Category, which began in 2013, saw 27 entrees from different businesses and creators. Popular creators Azuki and Hapidanbui took 1st place this year.

Takara Tomy's 'Pretty Series' Releases Rice as Part of 10th Anniversary Project

Last year, Takara Tomy launched a special project in celebration of the 10th anniversary of the Pretty Series rhythm game, which has continued into and through 2021. As part of the project, the company introduced a side project called the 'Support Everyone's Home Project' to bring together fans and locals across all regions of Japan to help promote those regions, their products, and famous sightseeing spots.

Pretty Rice promo illustration

Planting the rice

The first location to be part of the project is the town of Ugo in Akita Prefecture. Yui Yumegawa, the blonde-haired, rice-loving idol character and protagonist of Idol Time PriPara, has been appointed the official ambassador of Ugo. The town is known for its Akita Komachi brand of rice which Yui is helping to promote. As part of the project, people will be able to help farm the rice together with local children in Ugo. The rice they are cultivating is packaged and sold as Pretty Rice. The packaging of the rice features a cute illustration of Yui.

The project has much more planned for the future with even more characters set to become spokespeople for regions across Japan.

© T-ARTS / syn Sophia / テレビ東京 / PSプロジェクト

Information

Akita Pretty Rice

Released: June 2, 2021

Shipping: Late November 2021

Price: ¥5,940 (Tax Included)

Bonus: Includes an original novelty

Official Website/Buy Here: https://minnano-furusato-ouen.jp/

Baskin-Robbins Japan Releases T-Shirt Collection Inspired by 9 Ice Cream Flavours

Japanese fashion brand LEPSIM teamed up with Baskin-Robbins to release a t-shirt collection at LEPSIM stores and the online shop .st on June 2.

The Line-Up

Baskin-Robbins Flavour T | ¥3,850 (Tax Included)

Baskin-Robbins Recipe T | ¥3,850 (Tax Included)

Multipurpose Pouch

LEPSIM is a fashion brand specialising in clothes, cosmetics, lifestyle goods, maternity ware, and more, all of which is aimed at "making women smile." This ties in with Baskin-Robbins' motto of "We make people happy" which it does so in Japan with its 1,200 branches. The tee collection features two different kinds of t-shirts inspired by nine ice cream flavours you can order at Baskin-Robbins. The 'Flavour T' includes classic vanilla, azuki bean, colourful orange sorbet, and musk melon colours, as well as 2 tie-dye designs based on their Caramel Ribbon and Love Potion 31. The 'Recipe T' line-up is a more stylish and sophisticated take with ice cream colours and sleek typography. Each t-shirt also comes with a vinyl multipurpose pouch which is perfect for storing cosmetics, face masks, and other little bits and bobs.

The Quintessential Quintuplets ∬ School Rock Themed Merchandise Releases in Ikebukuro

The The Quintessential Quintuplets ∬ anime series teamed up with THE CHARA SHOP for a special event inside Ikebukuro Marui in Tokyo which is set to run until June 17.

Merch Line-Up

Pins | 6 Designs (Chosen Randomly) | ¥440 Each (Tax Included)

Micro Fibre Clothes | 5 Designs | ¥660 Each (Tax Included)

Key Rings | 5 Designs | ¥880 Each (Tax Included)

Mug | ¥1,650 (Tax Included)

Large Acrylic Stand | 5 Designs | ¥1,980 Each (Tax Included)



Mini Acrylic Art | 5 Designs | ¥2,200 Each (Tax Included)

B2 Tapestry | 5 Designs | ¥3,300 (Tax Included)

Fans of the anime series can get their hands on presales of a collection of 'school rock' themed merchandise. And for every ¥3,000 spent on items, you can enter for the chance to win extra free he Quintessential Quintuplets ∬  goodies too.

Information

The Quintessential Quintuplets ∬ x THE CHARA SHOP

Running: June 2, 2021 – June 15, 2021

Location: Ikebukuro Marui (Floor 7F)

Address: 3-28-13 Nishi-Ikebukuro, Toshima-ku, Toyo, 171-0021, Japan
Opening Hours: 11:00-20:00 (Until 18:00 on June 15)

Yuki Tokuda x Village Vanguard Cute Illustration Collection Released

Popular Japanese illustrator Yuki Tokuda, who is known for their adorable artwork, released a collection of items exclusively on Village Vanguard on Friday.

The Line-Up

Girl & Animals Mug | ¥1,430 (Tax Included)

Densetsuno Usagi Tote Bag | ¥2,310 (Tax Included)

Ebiten iPhone Case  (12/12 Pro/12mini) | ¥2,530 (Tax Included)

Densetsuno Usagi Acrylic Key Ring | ¥715 (Tax Included)

Sankakukin Acrylic Key Ring | ¥715 (Tax Included)

Densetsuno Usagi Pin | ¥385 (Tax Included)

Sankakukin Pin | ¥385 (Tax Included)

Hitogata-kun Pin | ¥385 (Tax Included)

Sticket Sheet | ¥605 (Tax Included)

Yuki Tokuda is a Japanese illustrator whose line-up of original characters have proven extremely popular with people on Japanese social media, including Hitogata-kun, his unnamed girl character, and line-up of mysterious animals and creatures. His work spans books, illustrations, 3D sculptures, and more.

©YUKI TOKUDA

CIVILIAN Release Their Second Album 'Tōmei'

Japanese rock band CIVILIAN released their second album Tōmei on June 2, four years after their first album eve hit the shelves. The album hopes to serve as a beacon of hope and strength to listeners regardless of the time or era it is being listened to.

The CD cover for regular edition copies of Tōmei

The new record includes Zenbu Anata no Sei which has become a tradition for the band to play live, Sekai Fusekai which is the opening theme for the anime series The Misfit of Demon King Academy, the first season opening theme Senya Souka and second season opening theme Shirube for the anime series Mo Dao Zu Shi, and more.

CIVILIAN frontman Koyama Hidekazu performed a YouTube Live show on June 5. The band are also set to perform at TSUTAYA O-EASRT in Shibuya, Tokyo, in celebration of their 5th anniversary. The concert is titled"CIVILIAN 5th Anniversary Live "FIVE" -Tōmei, Tōmei, Tōmei-.

Several members of other Japanese bands posted comments to CIVILIAN about their new album Tōmei. This includes Jin, Asahi (Necry Talkie), MIOYAMAZAKI, Shinoda (hitorie), Katagiri (Hakubi), and Fullkawa Honpo.

Comments from fellow musicians on CIVILIAN's Tōmei


Jin


"Civilian sings loud about the things that people avert their eyes from; the unpleasant things, the painful things. Perhaps if we sing about the neat and tidy things, we can live a much easier life. But that's not the path these guys chose. Today, they sing about the most unpleasant things and the most important things while covered in blood. 'Yep, this is music,' is what [this record] has me thinking."


MIOYAMAZAKI (Mio, Vocalist)


"The energy woven into each and every track has that typical CIVILIAN weight, density, readiness, and delicateness to it. When I go to make an album, I feel more of a quiet pressure and light expectation while delivering my feelings to fans in a way that's like asking questions. I wondered if CIVILIAN are the same in that sense while I digested the album (if I'm wrong, sorry!) I love this album. When I'd finished listening to it, I tried to think if there was anything else like it, and I settled upon it maybe being something like this: it has that same feeling of satisfaction as when you binge a foreign drama series. But I want to binge it again from the start, and I can, and that's why music is great. I've said it already, but I love this album. Congratulations on the new album release. I look forward to standing on stage with you again someday."



Asahi (Necry Talkie)
"You're a band that continues to transform, but the thing that never changes is your roots. I can't imagine where on earth the gentle personality that is [vocalist] Koyama was hiding such emotions as these. It's a dark, kind, and wonderful album. I personally really like the feel of the heavy sound."



Fullkawa Honpo

"Congratulations on the album release. This might be imprudent of me, but I personally was looking forward to how CIVILIAN would express themselves in the current world we live in. CIVILIAN's songs always make me feel a 'craving.' That craving is a thirst for life, a desire for self-fulfilment, and love. It's a craving and desire that takes many forms. The three members of CIVILIAN, and everyone else, have had to restrain themselves in a variety of ways this past year. This album, which was completed under such circumstances, is the very embodiment of that craving and desire. What I felt from listening to it was to never stop wanting something, even if you can't get your hands on it, or you experience pain. Hearing the very sound of that desire, even in the current times we're living in, made me want to continue living and wanting. Thank you for that feeling of craving during the crappy situation we're in right now."



Shinoda (hitorie)

"Life has been tough, so this album was a relief to listen to. The world has been pretty shitty, so hearing Koyama's voice and CIVILIAN's sound was a nice fit over everything. Let's all continue looking after our health and loving and hating humans."



Katagiri (Hakubi)


"It was scary going to my first concert, but even so, I still clung onto your music. That day and ever since, your music has lit my path with its piercing, kind, strong, weak lyrics and sound which attach themselves to some pain somewhere deep inside me that I can't reach and that won't go away, and which dig themselves deep into me somewhere I'm unaware of. Thank you. I don't know how many times I should say it."

Popular Japanese Animators Make Recycling Themed Looped Animations For World Environment Day

Suntory Beverage & Food teamed up with popular Japanese online animators to created looped animations for the company's Bottle to Bottle recycling project. The animations were released on their special site on June 2.

Participating Animators

Keiichi Arai (@himaraya)
https://twitter.com/himaraya

Izumi Kanae (@izmizum)
https://twitter.com/izmizum

Kairi Unabara (@kyli_u)
https://twitter.com/kyli_u

eieioooo (@eieioooo_tw)
https://twitter.com/eieioooo_tw

Okubo (@terakubonnu)
https://twitter.com/terakubonnu

Sawako Kageyama (@batako42)
https://twitter.com/batako42

Kumadomo (@a_m_desu)
https://twitter.com/a_m_desu

Heihachi (@ph4_18c)
https://twitter.com/ph4_18c

misato. (@misato08280)
https://twitter.com/misato08280

Yoriko Mizushiri (@yoriko)
https://twitter.com/yoriko

Munuone (@munuone)
https://twitter.com/munuone

Eugene (@eugene_winter_)
https://twitter.com/eugene_winter_

Suntory Beverage & Food collaborated with various stakeholders to roll out its Bottle to Bottle post-consumption recycling project. To promote its environmental efforts, it joined hands with 12 popular Japanese animators who created looped animations to convey to young people the process of how bottles are recycled and reused. The animations were released on June 5 – World Environmental Day.

Check out the animations at the Next Recycle website below.