HATSUNE MIKU Digital Stars 2021 Online Event Announced For August
Crypton Future Media has announced that the 'HATSUNE MIKU Digital Stars 2021' online music event will take place on August 29, 2021 as part of their Digital Stars project. The club event sees fans come together to party online.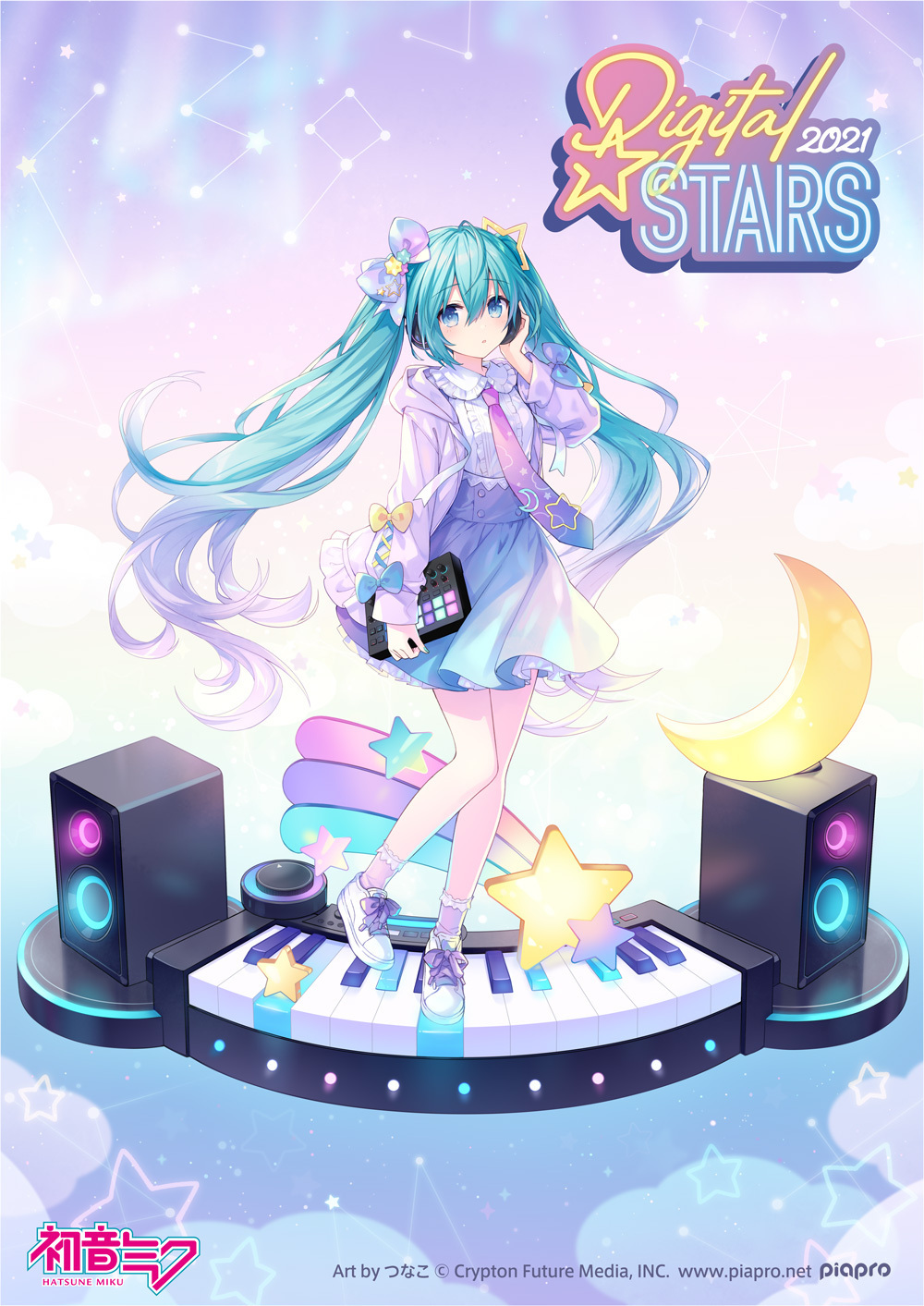 Merchandise for the event is available to buy on HOBBY STOCK between May 20 and June 10.
The HATSUNE MIKU Digital Stars 2021 Compilation, a CD which is part of the annual Digital Stars series, was also released at music stores in Japan on May 18.
For more information on the event, check the official website below.
RELATED ENTRIES
Boat Race Tokoname in Aichi Prefecture to Screen Popular Films at Drive-in Theater

The Boat Race track at BOATRACE Tokonome will be home to a 3-day Drive-in Theater event on November 19, 20, and 21. The vast west parking lot will welcome guests to enjoy three films from the safety and privacy of their vehicles. In past years, the Hamanako, Tokuyama, Naruto, and Mikuni locations have participated. Now, it's Tokoname's turn!

Selected Films

La La Land (with subtitles) – November 19, 2021

© 2017 Summit Entertainment, LLC. All Rights Reserved.

The Secret Life of Pets 2 (dubbed) – November 20, 2021

© 2019 Universal Studios. All Rights Reserved.

A Whisker Away – November 21, 2021

© 2020「泣きたい私は猫をかぶる」製作委員会

This lineup of films can be enjoyed by families, lovers, and friends. The final film, A Whisker Away, is a coming-of-age fantasy set in the city of Tokoname. Visitors can enjoy these films on one of the largest air screens in Japan, at 722 inches. Don't miss some additional boat race content that even beginners can enjoy!

Information

BOATRACE de DRIVE-IN THEATER in BOATRACE Tokoname

Dates: November 19, 20, 21 – Doors open at 18:00, film starts at 19:00

Address: BOATRACE Tokoname West Parking Lot (4-111 Shinkaicho, Tokoname-shi, Aichi)

Official Site: https://boatrace-driveintheater.com

Sanrio Puroland Announces Snow Globe-Themed Christmas Event

This holiday season, Sanrio Puroland will hold its Puro Christmas celebration from November 5 until December 26, 2021. The snow globe-themed event is sure to bring some cheer to the Tokyo area!

Snow Globe Lights

Photo Spots

Puro Christmas Special Greeting

Kitty & Daniel's Party-Party Christmas

Exclusive Menu

Puro Christmas Limited-Time Merchandise

'The Puro Christmas' Musical Show

Guests will be treated to an entire world of Sanrio characters within a glittering snow globe, and each of them will be wearing limited-edition Christmas costumes. Seasonal photo spots and opportunities to spend time with characters will line the space, along with Christmas trees and other holiday decorations!

The special Christmas food menu features a Santa Claus theme and dishes are dotted with red and green. Exclusive snow globe-themed merchandise available for purchase includes keychains, pins, and sweets that are perfect to give as a gift this holiday season. In addition, a special four-day event 'Kitty & Daniel's Party-Party Christmas' will invite guests to enjoy a full buffet while watching a live performance and partaking in a photo session after the meal!

First performed in 2018, 'The Puro Christmas' musical show is making a comeback this year after becoming a big hit with fans. 

© 2021 SANRIO CO., LTD. TOKYO, JAPAN  著作 株式会社サンリオ

Music Festival Celebrating 10 Years of Senbonzakura Announced

Senbonzakura continues to be one of Hatsune Miku's most popular songs, even ten years after its initial release. To celebrate an entire decade of the song, a special live performance will be held in Chiba featuring a number of popular performers who have performed Senbonzakura sometime over the past ten years. 

The first round of acts have just been announced, and the event will take place at the Maihama Amphitheater in Chiba on November 21, 2021. 

Performers include Vocaloid producer and bassist of Wagakki Band Asa, talented female vocalist +α/Alfakyun., violinist and cosplayer Ayasa, and massively popular YouTuber UMI☆KUUN. Also appearing is Sachiko Kobayashi, an enka singer who performed Senbonzakura at the 66th Kouhaku Uta Gassen New Year special in 2015, and Marasy, a pianist who performed the song in a 2013 Toyota Prius commercial. The MCs for the show include streamer-turned-pro host Hyakka Ryoran and voice actress Saki Fujita, who performs the character voice for Hatsune Miku. 

Those who purchase a ¥30,000 (Tax Included) ticket will receive a commemorative golden happi coat and will guarantee a seat in the first five rows of the venue. The ¥15,000 (Tax Included) ticket will include a pink happi coat. General admission will cost ¥8,500 (Tax Included). 

More information regarding the second round of performers will be released soon, along with more details on exclusive merchandise to be sold at the venue. 

Information

Senbonzakura 10th Anniversary Festival ~The Fearlessly Fashionable Revolution!~

Date: November 21, 2021

Address: Maihama Amphitheater (Chiba)

Doors open at 14:00, show begins at 15:00

Live Performers

Asa/+α/Alfakyun./Ayasa/UMI☆KUUN/Sachiko Kobayashi/Marasy, and more!

MC

Hyakka Ryouran/Saki Fujita

Senbonzakura Festival Site: http://senbonzakurafes.com/

Senbonzakura 10th Anniversary Site: https://whiteflame.jp/10th-senbonzakura/

MUSER FEST.2021 -MUSIC AID- Event Holds Spin-Off Event for One Night Only

Last month's MUSER FEST.2021 -MUSIC AID- event isn't quite over! A spin-off event, ZIP-FM presents LIVE LIVE! Super Collaboration with MUSER FEST.2021, will be broadcast online on October 22 at 21:00. Since August, collaborative live performances have been planned with different guest artists each month on ZIP-FM's LIVE LIVE! With MUSER FEST.2021 program hosted by CHAI. This event is the culmination of these plans and the lineup is sure to get fans pumped. 

Performing artists include YUNA from CHAI, Suzuka and Mizyu from Atarashii Gakko!, Tabu Zombie from SOIL & "PIMP" SESSIONS, and Shingo Suzuki from Ovall. Ryo Kishimoto from fox capture plan will also join the live performance as a supporting artist. An archived stream will be available for two weeks after the live show, and tickets are on sale now on the official MUSER website. 

 

Information

ZIP-FM presents LIVE LIVE! Super Collaboration with MUSER FEST.2021

Broadcast Date: October 22, 2021 from 21:00-22:00

Price: 2,000YELL – ¥2,200 (Tax Included) *Includes access to archive

Buy Tickets: https://muser.link/__b/events/573 

Archive Available from October 23 – November 5 at 23:59

Archive Ticket Sales Period: October 23 – November 5 at 23:59

Official Site: https://muser.link/

Hatsune Miku Magical Mirai 2021 Official Album on Sale, Copies Limited

KARENT, the Vocaloid music label, just released the official album for Hatsune Miku's Magical Mirai 2021 concert! The album release comes prior to the Magical Mirai 2021 concert tour, set to be held at Intex Osaka and Makuhari Messe in October and November. 

The tracklist includes the event's theme song Hatsune Creation Myth, produced by cosMO, and Kaito's 15th-anniversary track Rainy Snow Drop by Re:nG. The album is a mash-up of songs by tons of different Vocaloid personalities and includes the bonus track HappY EnD, a fan favorite. A DVD containing a special music video of the theme song will be included, and some fans may even find a live ticket to the concert in their CD case! Specific stores carrying the album will be giving away specific bonuses while supplies last, so be sure to check the official website. Copies are extremely limited–don't miss out!

Art by 左 © Crypton Future Media, INC. www.piapro.net

Seaside Park Nagoya in Kinjofuto Event Offering Exciting Activities This Fall

Seaside Park Nagoya in Kinjofuto is coming to Makers Pier in Nagoya City on October 16 and 17, as well as October 30 and 31. The event will feature 30 different activities for both parents and children to enjoy, along with workshops where kids can learn new things, such as cardboard crafts and lunch totes. 

For those more adventurous types, bouldering and slacklining will invite guests to stretch and refresh their bodies while enjoying the sea air. Even beginners can safely enjoy some of these more strenuous activities, as instructors will be on site. Plenty of unique experiences will keep little ones busy discovering and exploring. 

 




When the sun goes down, the Night Cinema will begin, and guests can enjoy a movie beneath the stars. How would you like to come and relax by the seaside? 

Information

Seaside Park Nagoya in Kinjofuto

Dates: 

October 16, 17 from 10:00-20:00

October 30, 31 from 10:00-20:00

*After 5:00, all activities except movie screenings will be closed. 

Address: Inside Maker's Pier 

Official Site: https://seasidepark.info/

Cafe Opens to Celebrate 10th Anniversary of Hatsune Miku's Song 'Senbonzakura'

Manga cafe Akihabara Nagomido will hold a limited-time collaboration cafe to celebrate the 10th anniversary of Vocaloid Hatsune Miku's popular song Senbonzakura! The event will run from September 30 until November 7, 2021. 

Menu at a Glance

Drinks (with coaster and muddler) *Muddler can be taken home. 

Senbonzakura Rice Curry: ¥1,390 (Tax Included) 

Full-Bloom Sakura Parfait: ¥1,390 (Tax Included) 

Collaboration Cafe Limited Gacha Goods

Limited-edition Pins (8 varieties): ¥400 per spin (Tax Included) 





Gacha Lottery Prize: B2 Poster

Goods

Senbonzakura Mug: ¥1,500 (Tax Included) 

Senbonzakura Bag: ¥1,500 (Tax Included) 

Senbonzakura B2 Tapestry: ¥3,000 (Tax Included) 

 

Senbonzakura Acrylic Stand: ¥1,900 (Tax Included) 

Senbonzakura Light-Up Acrylic Stand: ¥2,500 (Tax Included) 

Senbonzakura x Akihabara Nagomido Castella (Plain): ¥1,000 (Tax Included)

Senbonzakura x Akihabara Nagomido Castella (Cherry Blossom): ¥1,000 (Tax Included) 

Kurousa-P Acrylic Keychain: ¥700 (Tax Included) 

Kurousa-P Acrylic Stand: ¥800 (Tax Included)

Lacquered Chopsticks: ¥3,300 (Tax Included) 

Lacquered Bookmark: ¥770 (Tax Included) 

WAKUPITA Mask (2 varieties, Miku Crest & Butterfly and Sakura): ¥1,000 each (Tax Included)

Guests can enjoy various cherry blossom displays throughout the event space, so be sure to stop by if you're in the area!

Hatsune Miku and GUMI's Popular Duets to be Compiled In New Vocaloid Album

Vocaloid speciality label KARENT has announced that the upcoming "Digital Stars feat. MIKU & GUMI Compilation CD" album will be available for pre-order from September 13, 2021. The physical copy will be released on October 27, followed by the "Digital Stars feat. MIKU & GUMI" online music event, scheduled to be held on November 21. The music video for the event theme song "Unsung Melody" was uploaded prior to the CD pre-order date announcement.

Unsung Melody

The album starts with 'Unsung Melody,' a song written by monaca:factory, and is full of popular duet songs featuring Hatsune Miku and GUMI (Megpoid), such as 'GETCHA!' and 'Sayonara no Asa,' along with a selection of remixes. You can enjoy 12 songs unique to the 'Digital Stars' album, featuring club scene leaders such as DJ Shimamura and Dubscribe, as well as Vocaloid producers from Japan and overseas.

The physical album will come with store-specific freebies, featuring artwork by illustrators Souda and Mawaru Sanso. The goods include clear files and cans badges, depending on the location.

 

Art by のう © Crypton Future Media, INC. www.piapro.net © INTERNET Co., Ltd.

※VOCALOID is a registered trademark of Yamaha Corporation

Racing Miku 2021 Inspires Three New Perfumes, Now Available for Pre-Order

Perfume distributor Fairytail has started selling three new fragrances based on Racing Miku 2021! The items went on sale August 2 through the company's online shop and Amazon. 

RACING MIKU 2021 Eau de Parfum: ¥3,080 (Tax Included)

RACING MIKU 2021 Eau de Parfum Private: ¥3,080 (Tax Included)

RACING MIKU 2021 Eau de Parfum Tropical: ¥3,080 (Tax Included)

RACING MIKU 2021 Fragrant Hand Gel Set: ¥990 (Tax Included)

Racing Miku is a popular incarnation of the Vocaloid Hatsune Miku, created to support those in motorsports. Since 2010, she has been the mascot character for the Hatsune Miku GT Project, and is drawn by a different creator each year. These three fragrances each feature a unique portrait of the symbolic character, and were drawn by popular illustrator Morikura En. 

The RACING MIKU 2021 Eau de Parfum is sporty and cool, with notes of citrus that give off a crisp and refreshing scent. The Eau de Parfum Private is more feminine, with a gentle aura of bergamot and citrus, followed closely by elegant notes of rose and peony. If you're looking for a perfume perfect for summer, the Eau de Parfum Tropical is a more powerful fragrance characterized by the bursting sweet scents of mango and passionfruit. Which one do you think would suit you the best? 

Also on sale, the easy-to-carry fragrant hand gel set is perfect to pop in your purse and use while you watch the race. The set comes in two designs: the super cute Racing Miku 2021 Nendoroid version, or the sleeker GOODSMILE RACING version. 

After smelling just one of these scents, you'll want to collect them all!

Naruto and Boruto Summer Event Begins at Nijigen no Mori

Nijigen no Mori, an amusement park located on Awaji Island in Hyogo, began a summer event at its Naruto and Boruto-themed zone on July 22 which is set to run until September 30.

Event-exclusive stickers

The event includes a huge water gun event where 25 litres of water will be sprayed to cool down guests during the hot summer event. With themed character panels displayed around the park, join Naruto and the gang, including Zabuza and Haku, for some summer fun. All guests receive a free original sticker too.

© 岸本斉史 スコット/集英社・テレビ東京・ぴえろ

Information

NARUTO&BORUTO SHINOBI-ZATO
Running: July 22, 2021 – September 30, 2021

Location: Nijigen no Mori

Opening Hours: 10:00-18:00
Price: Free (But park entry payment required)
Official Website: https://nijigennomori.com/naruto_shinobizato/

BanG Dream! Girls Band Party x Fuji-Q Highland Summer Event Announced

Fuji-Q Highland is set to host a summer event in collaboration with the mobile rhythm game BanG Dream! Girls Band Party from August 7 to September 12.

This marks the amusement park's 4th collaboration with the game which will see newly-illustrated artwork of the characters decorating the attractions, a special talk show hosted by the voice actresses, limited-time announcements on the attractions recorded by the voice actresses, a themed food menu, original merch, and more.

A digital stamp rally will also take place which will have guests locating life-sized panels of seven characters which they need to scan with their smartphone. This will give them a special voiced story. Those who obtain all the digital stamps by scanning all the panels will receive a free novelty as well as an original voiced guide for boarding the amusement park train. The train too will be decorated in BanG Dream! artwork.

©BanG Dream! Project ©Craft Egg Inc. ©bushiroad All Rights Reserved.

MIDTOWN ART PALETTE Brings Dreamy Digital Artwork to Tokyo Midtown For Summer

Tokyo Midtown's annual MIDTOWN ART PALETTE has returned again for the summer, opening on July 16 and running until September 5. This year, the event delivers a Digital Art Garden with gorgeous dream-like digital artwork.

Digital Art Garden

Last year's event

Experience a distinctively Japanese way to stay cool and refreshed on a wooden veranda with light and mist dancing through the outdoor space inspired by traditional Japanese rock gardens. Find yourself bewitched by an enchanting summer evening as the digital art transforms throughout the day.

This year's event is being held with all proper social distancing measures in place.

Take digital art home with you with AR fireworks

Locate five QR codes dotted around Tokyo Midtown which when accessed via your smartphone will award you with artistic AR fireworks, allowing you to enjoy fireworks with you wherever you point the camera on your screen, including at home.