Azur Lane's Sirius Gets Two 1/8 Scale Figures On AmiAmi
AmiAmi is now taking pre-orders for two new figures of Sirius from the video game Azur Lane: the 'Azur Lane Sirius 1/8 Complete Figure' and 'Azur Lane Sirius Light Equipment ver. 1/8 Complete Figure'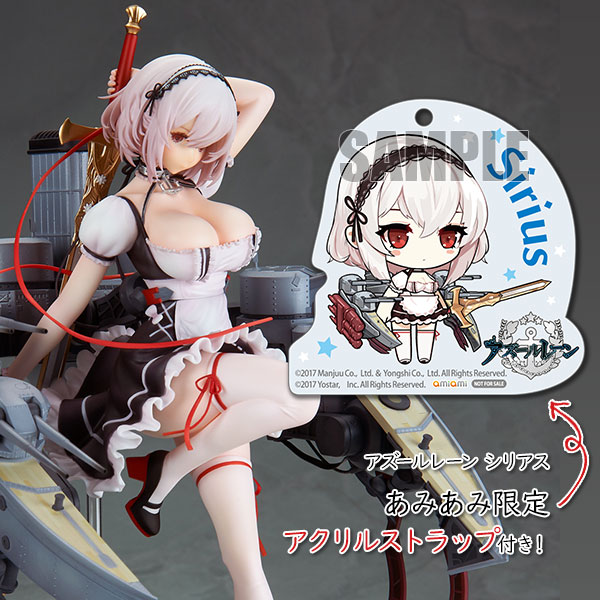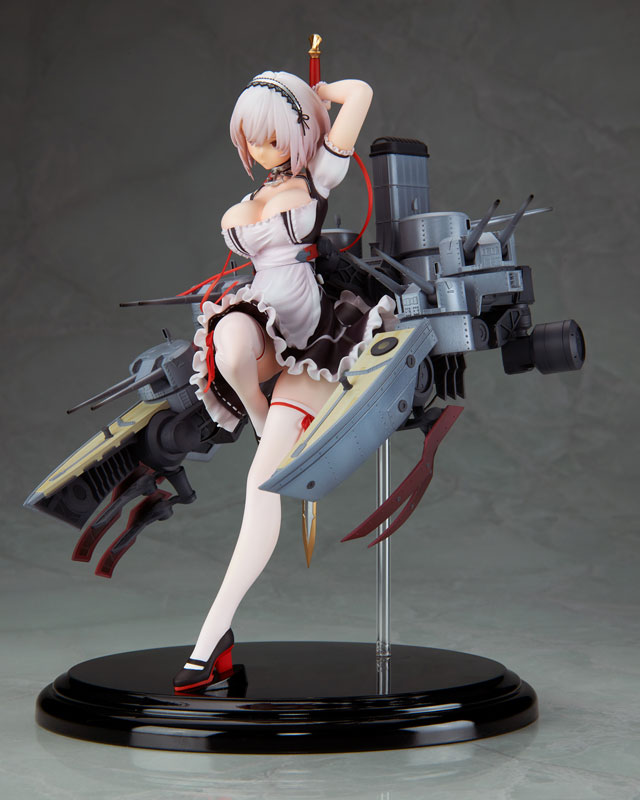 'Azur Lane Sirius 1/8 Complete Figure | ¥25,850 (Tax Included)
The figures are cute and detailed recreations of the Dido Class Sirius from the popular naval warfare game. They feature her Royal Navy maid outfit and weapon in glorious 1/8 scale for your collection.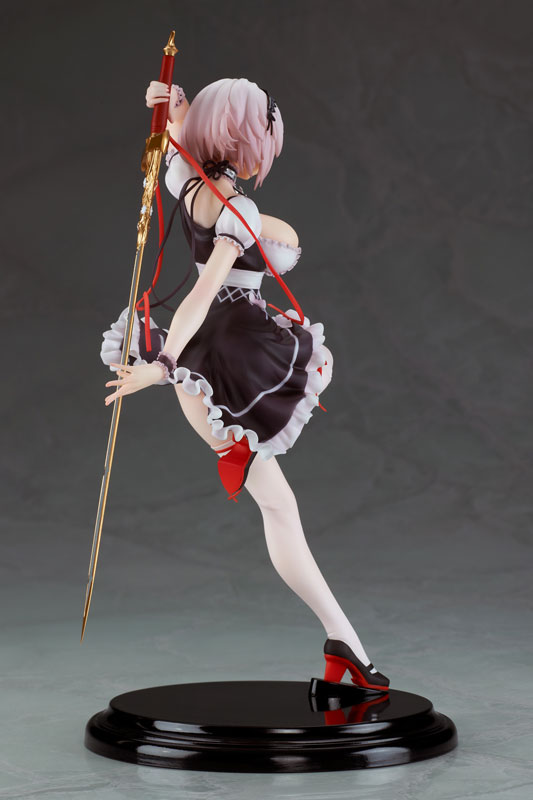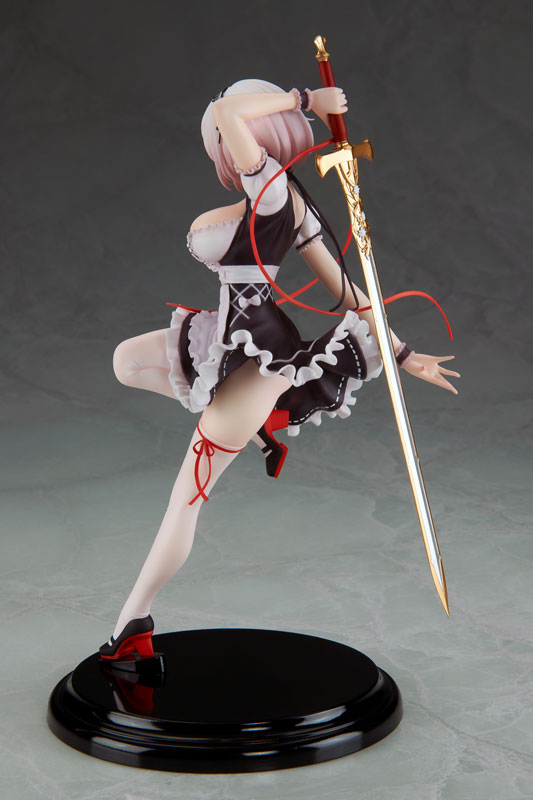 Azur Lane Sirius Light Equipment ver. 1/8 Complete Figure | ¥15,950 (Tax Included)
Pre-orders are open now and include the figures on their own or with a special bonus. Check the links at AmiAmi below for more details.
© 2017 Manjuu Co.,Ltd. & Yongshi Co.,Ltd. All Rights Reserved.
© 2017 Yostar, Inc. All Rights Reserved.
RELATED ENTRIES
Tokyo Revengers Anime's Takemichi Hanagaki and Mikey Figures by BANPRESTO Revealed

BANPRESTO are set two release two new realistic figures of Takemichi Hanagaki and Mikey from the anime series Tokyo Revengers in July and August respectively at game centres in Japan.

The figures are detailed recreations of the two characters which look like they've jumped straight out of the anime. Everything from the facial expressions to the poses, winkles in their uniforms, and hair have been crafted with careful consideration. BANPRESTO describes the figures as being the same size "as the characters' heads" from the anime series, so they sound pretty tall, and will make fine additions to any figure collection.

BANPRESTO is also releasing a collection of nine large-sized Tokyo Revengers towels over the next three weeks. The towels are 82cm x 50cm, so can be used for decoration as well as after you get done out the bath or shower.

Finally, the new line-up includes a series of plush toys too featuring chibi versions of the characters – perfect for hanging on your bag. All of these items are rolling out at game centres across Japan.

©︎和久井健・講談社/アニメ「東京リベンジャーズ」製作委員会 ®︎KODANSHA

Painfully Kawaii Sanrio Figures Feature the Characters Sleeping Peacefully

Takara Tomy Arts is rolling out a new sleepy collection of Sanrio character figures at capsule toy machines in Japan this month.

The adorably dozing collection

Pochacco

Tuxedosam & Hello Kitty

The line-up includes Hello Kitty, Kerokerokeroppi, Pochacco, Badtz-Maru, and Tuxedosam with their heads leaning to the right, perhaps exhausted from being cute all day long. This is the first line-up in a series of these figures. And if you line more than one up together, it looks like they're sleeping on each others' shoulders.

©2021 SANRIO CO.,LTD. APPROVAL NO. S620286

Sarutahiko Coffee x BE@RBRICK Limited-Edition Bear Figure Releases

Sarutahiko Coffee reached its 10-year milestone on June 8. To celebrate, the Japanese coffee chain launched a 10 year anniversary promotion on the same day.

The coffee giant released its 10th Anniversary Mocha No.1 Blend and 10th Anniversary Mocha No.1 Superior Java Blend for its first rollout of the promotion. For its second release, Sarutahiko is teaming up with MEDICOM TOY's popular BE@RBRICK figure series to release an original model at its Ebisu and The Bridge Harajuku Station branches as well as its online store.

The palm-sized figure is coloured Sarutahiko's iconic blue colour and features a brown logo on its chest. It's a simple but cute design and is a perfect gift to coffee lovers.

Information

BE@RBRICK x Sarutahiko Coffee Figure

Released: June 8, 2021

Price: ¥1,800 (Tax Included) *Max. 2 per person

Available: Sarutahiko Coffee Ebisu / Sarutahiko Coffee The Bridge Harajuku Station / Sarutahiko Coffee Online Shop

Sarutahiko Coffee Online Shop: https://shop.sarutahiko.co

Sarutahiko Coffee Official Website: https://shop.sarutahiko.co/
*Available while supplies last

Sonny Angel Doll Series Releases Japanese Good Luck Collection

The new Sonny Angel Japanese Good Luck Series was released on May 27, the same month when the popular doll series reached its 17th anniversary milestone. The series sees Sonny Angel wearing a range of traditional Japanese lucky charms to deliver healing and happiness to people.

 

The Line-Up

 

A Lucky Cat with a cute bell on his neck. His raised left hand/paw will bring you good luck.

A hat depicting Mount Fuji, a symbol of Japan. Pine, bamboo and plum leaves are illustrated on the folding fan.

Daruma are brightly coloured hollow dolls decorating houses in Japan so that our wishes will come true.

The Raccoon Dog has a long history as a strange, even supernatural animal and is known to be a shape shifter.

 

A Guardian Dog is thought to ward off evil spirits. This one is decorated in a houndstooth pattern, also known to be a sign of good luck.

 

Ebisuten is the god of "prosperous business". The sea bream in his hand, a fish often served on New Year's Day and at weddings, is a symbol of "congratulations".

 

The packaging

Gift bag

The packaging features a mikuhiki design. A mizuhiki is a decorative cord made from twisted paper. If you purchase four or more dolls as part of this series on Sonny Angel's online store, you'll also receive a free gift bag.

Good Smile Company Releases New Love Live! Nijigasaki High School Idol Club Figures

Good Smile Company released two figures on May 13 as part of their POP UP PARADE series. They include Emma Verde and Rina Tennoji from the anime series Love Live! Nijigasaki High School Idol Club.

POP UP PARADE Emma Verde / POP UP PARADE Rina Tennoji – ¥3,900 Each (Tax Included)

POP UP PARADE is a new series of figures by Good Smile Company that are easy to collect with affordable prices and speedy releases! Each figure typically stands around 17-18cm in height and the series features a vast selection of characters from popular anime and game series.

Emma Verde

A figure of Emma Verde in her "Nijiiro Passions!" costume! Emma has been recreated with a bright smile on her face.

Rina Tennoji

A figure of Rina Tennoji in her "Nijiiro Passions!" costume! Enjoy her "Auto Emotion Convert Rina-chan Board" and slightly visible face underneath!

The figures are available to purchase worldwide from Good Smile Company – links below.

© 2020 プロジェクトラブライブ!虹ヶ咲学園スクールアイドル同好会

Japanese "REAL GIRL'S CLOTHING" street fashion brand X-girl has teamed up with MEDICOM TOY to release their own BE@RBRICK block-type figure.

BE@RBRICK X-girl 2021 1000% | ¥63,800 (Tax Included)

BE@RBRICK X-girl 2021 100% & 400% | ¥16,500 (Tax Included)

Glow-in-the-dark function

The bear figure features a high-quality clear blue body and comes in two sizes: the life-size 1000% edition which is glow-in-the-dark and is branded with the colourful X-girl logo, and the 100% & 400% set.

Don't miss out on these exclusive models.

BE@RBRICK TM & Ⓒ 2001-2021 MEDICOM TOY CORPORATION. All rights reserved.

That Time I Got Reincarnated as a Slime's Rimuru Gets 1/7 Scale Figure

Japanese figurine brand SHIBUYA SCRAMBLE FIGURE is releasing its new 1/7 scale Rimuru Temptest -Ultimate Ver.- figure which features Rimuru from the anime series That Time I Got Reincarnated as a Slime.

Bonus item for buyers

Fans who purchase the figure from SHIBUYA SCRAMBLE FIGURE's online store, Amazon Japan, or ABEMA Shopping will receive the below-pictured Rimuru Temptest -Slime Ver.- figure too.

Participating Sites: SHIBUYA SCRAMBLE FIGURE公式ストア/ Amazon/ ABEMA Shopping

Rimuru Tempest -Ultimate Ver.- 1/7 Scale Figure | ¥38,500 (Tax Included)

©川上泰樹・伏瀬・講談社/転スラ製作委員会

Naruto Shippuden's Gaara Gets G.E.M. Series Complete Figure

Fans of Naruto: Shippuden's Gaara Kazekaga won't want to miss out on the new G.E.M. Series Complete Figure now available for pre-order worldwide on AmiAmi.

Potential spoilers ahead for the Naruto: Shippuden story.

G.E.M. Series NARUTO Shippuden Gaara Kazekage Complete Figure | ¥13,530 (Tax Included)

The Fifth Kazekage maintains his cool and collected personality in this detailed figure as he utilises his sand powers.

©岸本斉史 スコット/集英社・テレビ東京・ぴえろ

BEASTARS Anime's Legosi and Louis Get Hot Figure Releases

Online hobby store AmiAmi is now taking pre-orders for two new 1/8 scale figures of Legosi and Louis from the BEASTARS anime series which are sure to prove favourable for fans of the Legosi x Louis ship. Both figures are available to pre-order worldwide.

BEASTARS Gray Wolf Legosi 1/8 Complete Figure | ¥10,450 (Tax Included) | Releasing: Late September 2021

The Legosi figure has the gray wolf series protagonist shirtless showing off his furry pecks. The detail on his fur and the crinkles in his clothing makes this a high quality must-have for any fan of BEASTARS.

BEASTARS Shishigumi's Louis 1/8 Complete Figure | ¥10,450 (Tax Included) | Releasing: Late October 2021

The Louis figure imagines him walking the streets as the boss of the Shishigumi, donning a jet black suit looking slick, stylish, and oozing confidence.

©板垣巴留(秋田書店)/BEASTARS製作委員会

Demon Slayer: Kimetsu no Yaiba Nezuko 1/8 Scale Figure Released by ANIPLEX+

ANIPLEX+ opened orders for a new 1/8 scale of Nezuko Kamado from the popular TV anime series Demon Slayer: Kimetsu no Yaiba on Tuesday (March 23).

The gorgeous figure recreates Nezuko in the middle of using her Pyrokinesis power.

©吾峠呼世晴/集英社・アニプレックス・ufotable

Haikyu!! Anime Character Shinsuke Kita Nendoroid Figure Released

Orange Rouge, a Japanese brand that focuses on merchandise of male characters, released a new Nendoroid figure of the Haikyu!! character Shinsuke Kita on Tuesday (March 9).

The figure comes with several face parts that can be swapped out to create different expressions. There's also various props like a volleyball, jersey, lunch bag, and more to create plenty of different poses. A must-add to the collection for any fan of Haikyu!!

©古舘春一/集英社・「ハイキュー!!」製作委員会・MBS

Cute Fishing Cat Figures Reel Their Way to Capsule Toy Machines Across Japan This Summer

Japanese figure brand G Suta is releasing a new collection of cute figurines of cats fishing with fishing rods at capsule toy vending machines across Japan at the end of June.

5 Designs (Mixed/Munchkin/Calico/Scottish Fold/Norwegian Forest) – ¥200 Each (Tax Included)

These cute furballs are perfect for sitting on the sides of desks, tables, computers, as well as on shelves and elsewhere. And you of course don't need to worry about feeding them as they can catch their own fish themselves!

Information

Fishing Cats

Japanese Product Name: 釣り日和~猫たちのひまつぶし~

Release Date: Late June 2021

Price: ¥200 (Tax Included)

Designs: 5

Where: Capsule toy vending machines found everywhere across Japan

Official Website: https://yell-world.jp/